Vegan Oreo cupcakes are mega delicious and literally a sweet sin. There are days when I need a Soul candy deluxe . These fine cupcakes are just the thing, calories aside. I came up with the idea because I wanted to really score at a coffee party. Normally I'm not such a fan of industrially produced cookies, as in this case the Oreos. In this particular case, however, I knew it had to be something imposing and a healthy, oil-free cake wasn't going to cut it. I opened my laptop, did a little research and suddenly I had the solution in my head. Vegan Oreo Cupcakes, here we go!
Vegan Oreo Cupcakes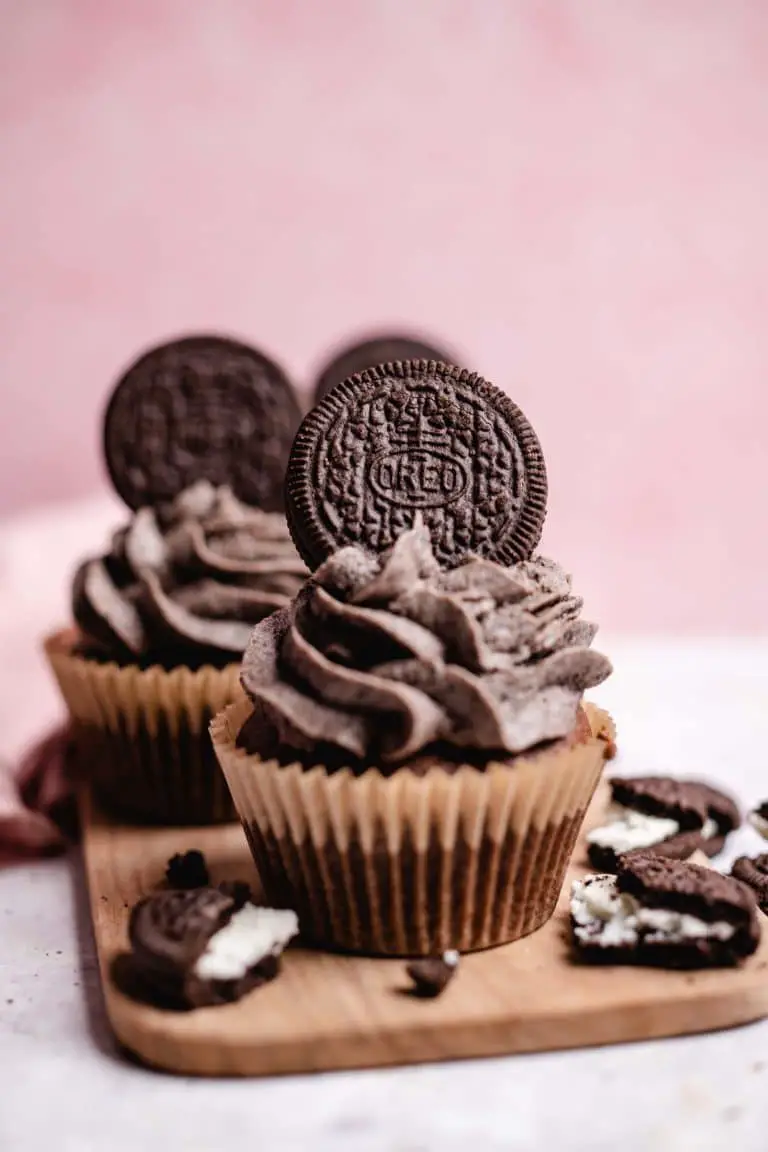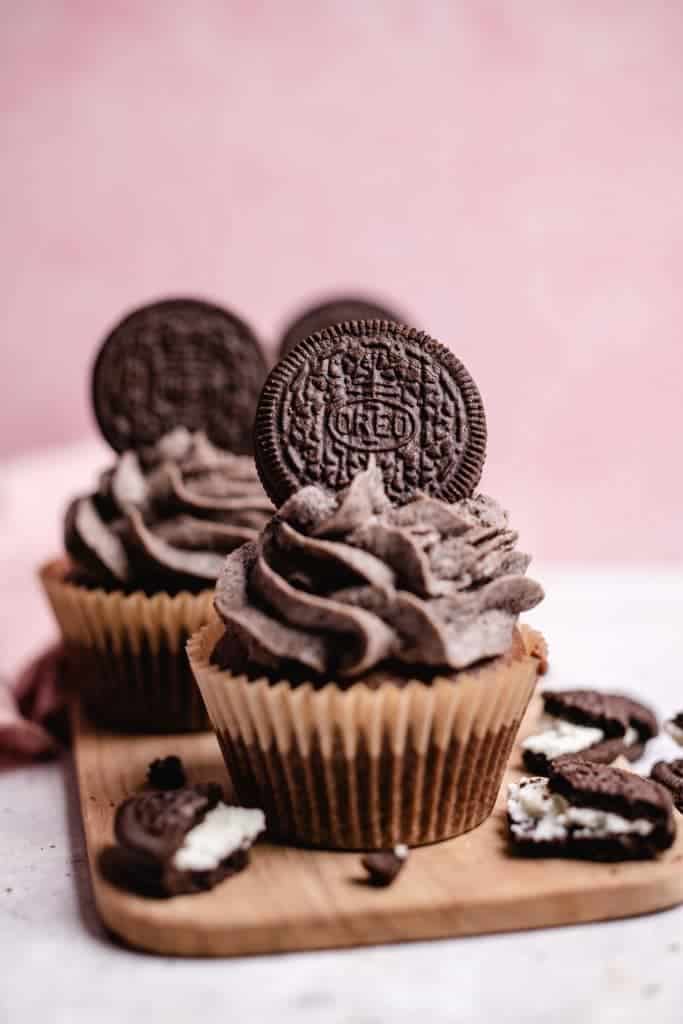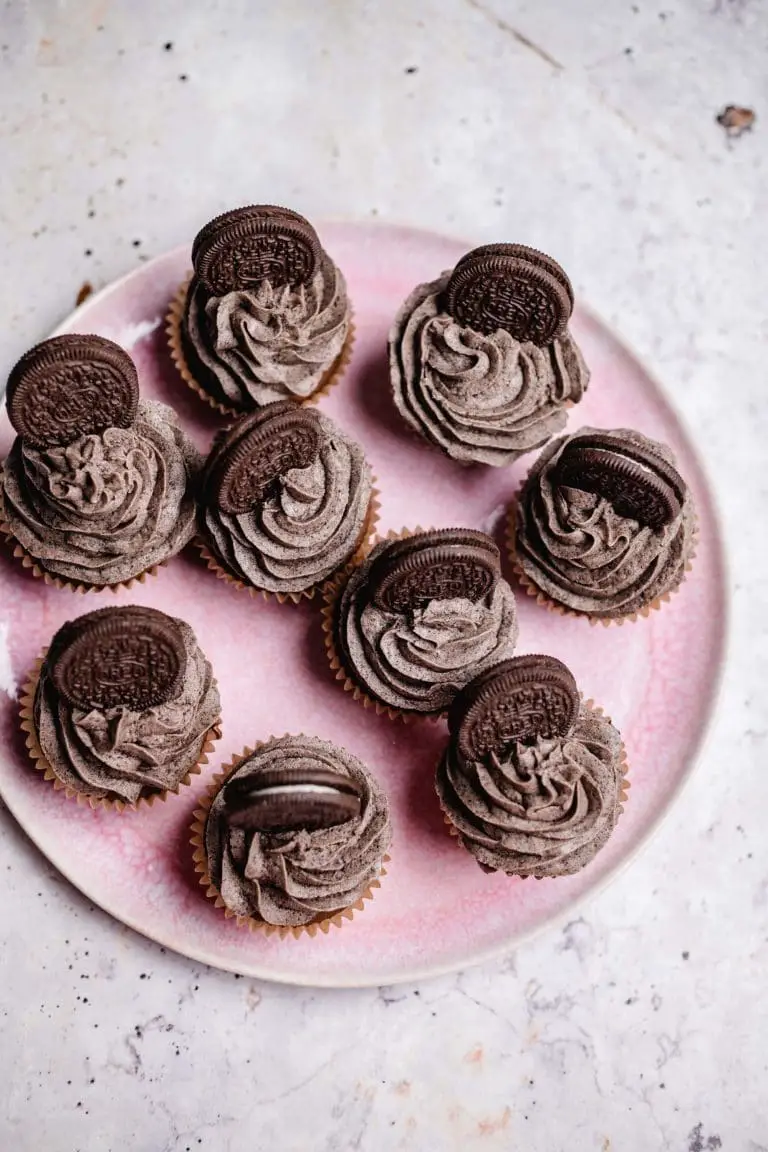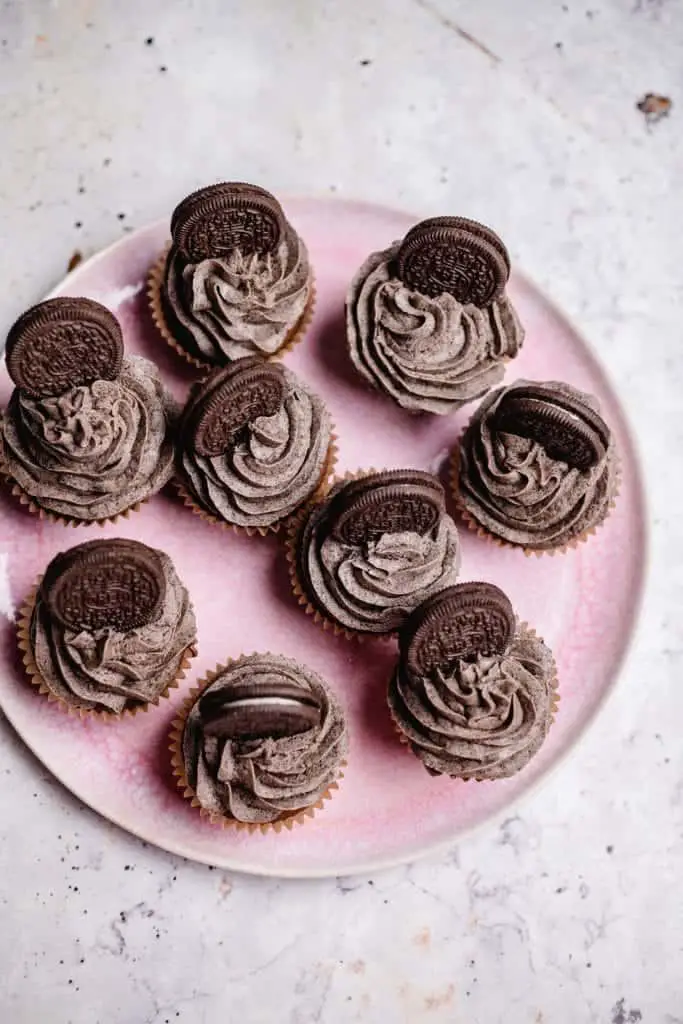 Those who know me know that this kind of recipe does not really fit into my scheme. Just recently I released a free baking e-book "The Ultimate Vegan Baking Guide +33 Recipes" which you can easily get for free by signing up for the newsletter. In this booklet, I specifically address the topics of gluten-free and oil-free baking. One or the other may now think to themselves that this recipe does not fit so at all.
My motto is generally 80% healthy eating + 20% fun = 100% sexy. What do I mean by that? A basically whole food, plant-based diet, but one that also allows for fun. In this context, the fun category includes, for example, these fine cupcakes, ice cream, or other desserts, snacks and processed foods. I'm thinking, for example, of the Beyond Meat Burger, which I think you can have once in a while. Beyond Meat By the way, the Beyond Meat Burger won first place in the current issue of Stiftung Warentest. I am very happy about this, because it might convince one or the other skeptic to try a plant-based burger.
https://www.test.de/Veggie-Burger-Patties-im-Test-Jeder-zweite-ist-gut-5740508-5740512/
TIP: Sign up for my newsletter and get my new e-book in your email inbox for free.
Oreos are vegan, did you know that?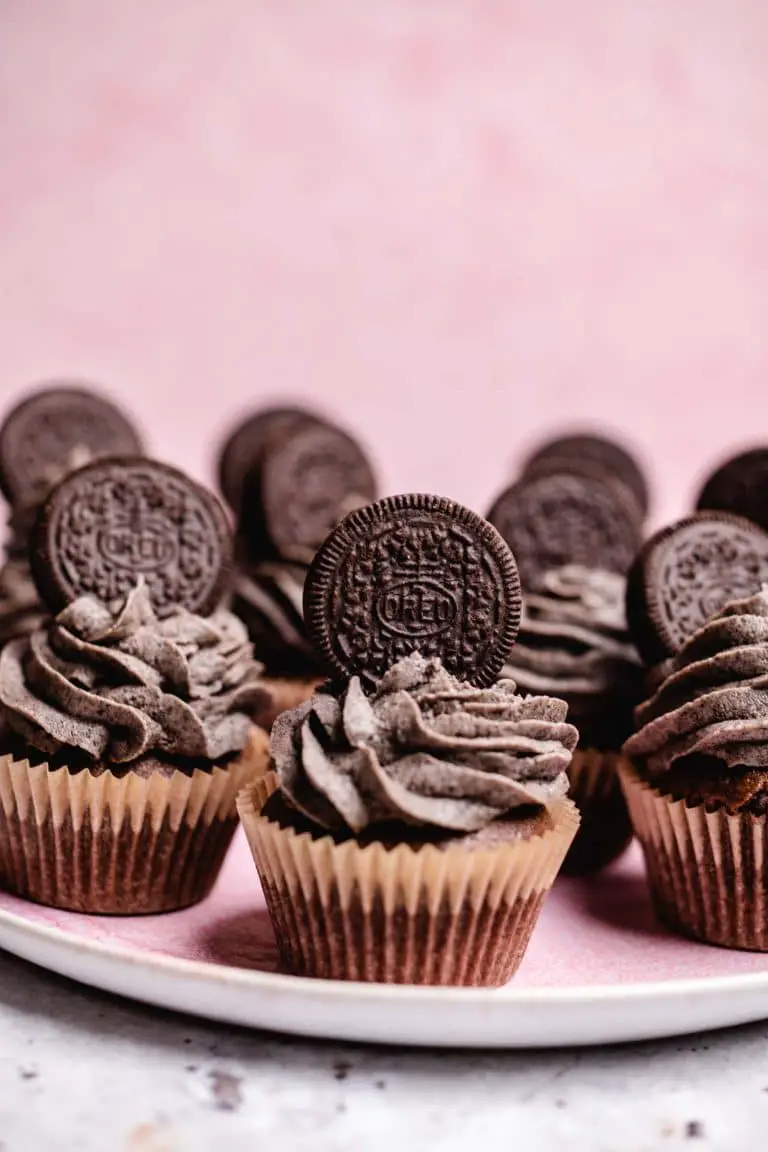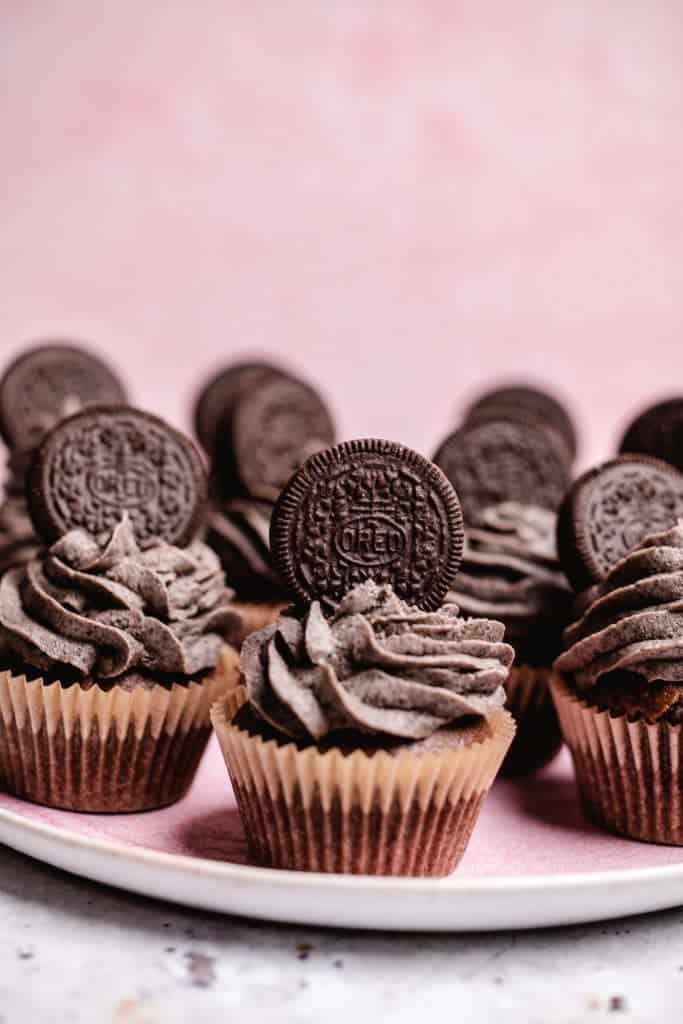 Did you know that Oreos are vegan? I honestly didn't, but an Insta post brought it to my attention. It's funny how you always have to look so closely at what's in a product. It often gets on my nerves when I've discovered something delicious and then, just before the end of the ingredient list, milk powder or some other animal substance appears once again.
The cupcake consists of a base (in this case a chocolate muffin) and a topping of margarine, sugar and Oreos. Heard that right, the frosting is with Oreos, yippie! The muffins are made with flaxseed egg, vegetable milk, baking soda, apple cider vinegar, maple syrup, raw cane sugar, oil, apple pulp, cocoa powder, almond flour, oat flour and fine spelt flour. The spelt flour can always be replaced with a gluten-free flour blend. However, in this case, that doesn't help so much because there is gluten in the Oreos. There is also a gluten-free alternative that I here at Amazon endeckt have.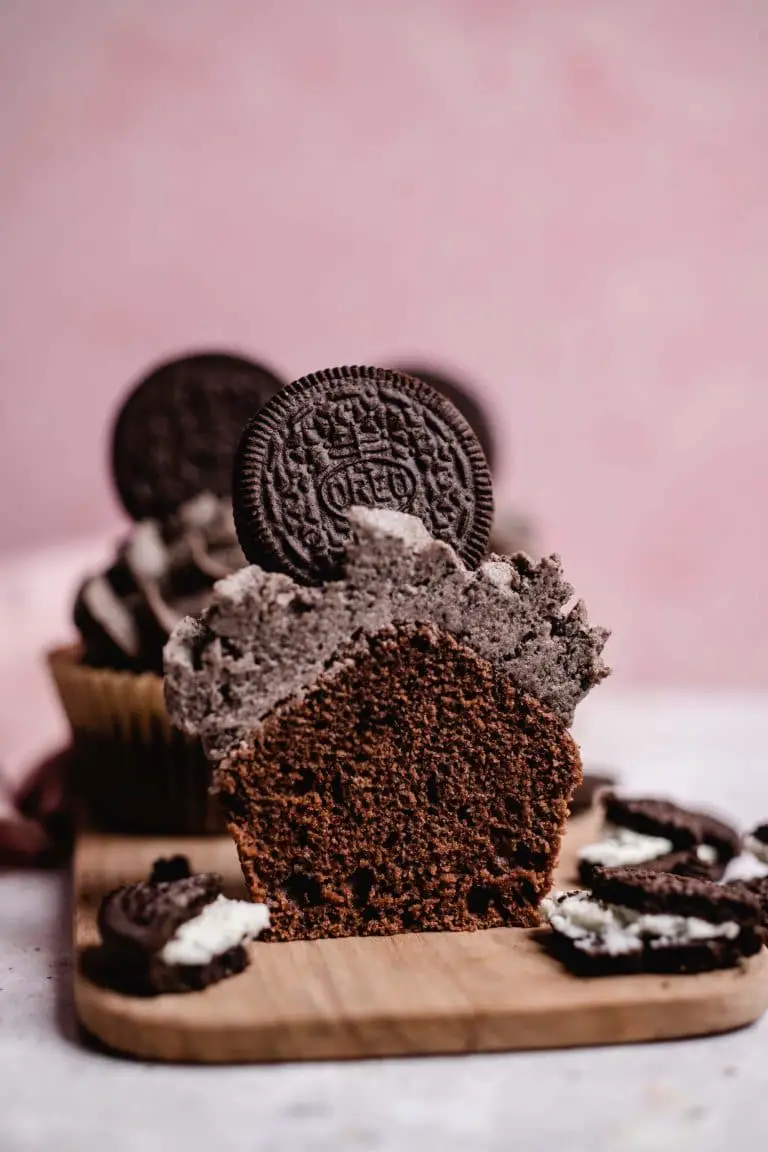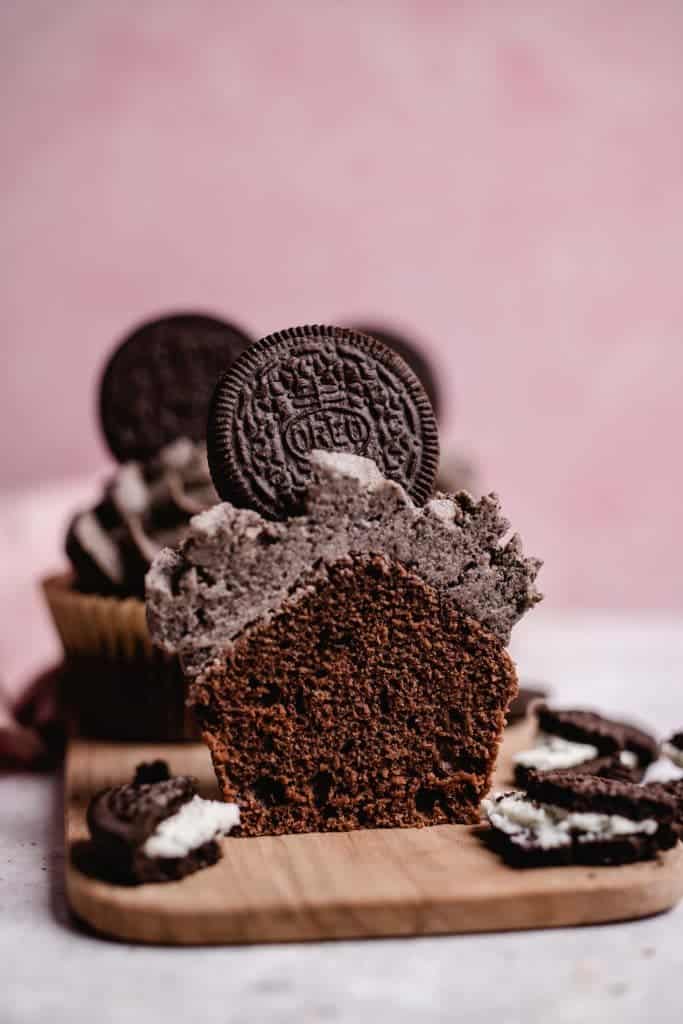 The frosting consists of only three ingredients, margarine, powdered sugar and Oreos.
If you're not in the mood for Oreo cupcakes today, I recommend the following muffin or cupcake creations:
We summarize: The muffins take just 45 minutes, including prep time, and come out with just a few. Muffin baking tray, ready and go!
The vegan Oreo cupcakes are :
Locker & Fluffig
chocolaty
Perfectly sweet
rich
Easy to manufacture
Well, are you ready for these fine, chocolaty sins? I wish you a lot of fun with the Nachbacken and of course via a rating at the very bottom of this page. If you post a picture, use the hashtag #veganevibes.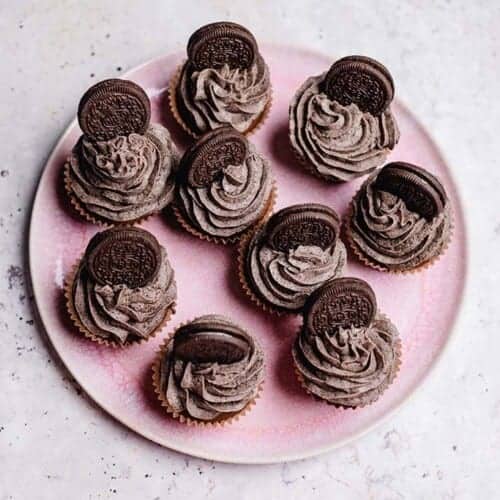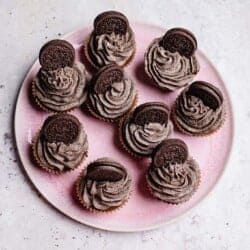 Vegan Oreo Cupcakes
Delicious vegan Oreo cupcakes made from a delicate chocolate cupcake topped with an Oreo buttercream. Irresistibly delicious sweet sin. Especially suitable to leave a lasting impression at the next coffee party. Creamy, sweet, fluffy and delicious.
AUTOR: VEGANEVIBES
Anleitung 
Preheat the oven to 190deg (convection) 210deg (top/bottom heat) and line a muffin baking tray for 12 muffins with muffin cups or lightly grease. Mix the vegetable milk with the apple cider vinegar and set aside.

Prepare the flaxseed eggs in a large baking bowl and let them sit for 5 minutes.

Add the baking soda to the vegetable milk and apple cider vinegar mixture and stir. It should foam slightly.

1 ½ tbspn Baking soda,

1 tbspn Apple cider vinegar,

115 ml Plant milk

Add the sugar, maple syrup and plant milk mixture to the flaxseed eggs and stir. Add applesauce, oil and salt and continue stirring.

2 Piece Flaxseed eggs,

1 tbspn Apple cider vinegar,

115 ml Plant milk,

75 ml maple syrup,

80 g Raw cane sugar,

65 g Frying and baking oil,

245 g Apple pulp,

A pinch of salt

Now add cocoa powder, almond flour, oat flour and spelt flour and mix until smooth. The dough should not be too firm or too liquid, so that it is easy to portion.

60 g Cocoa powder,

60 g Almond flour,

25 g Oatmeal,

100 g Spelt flour

Divide with a spoon into the muffin moulds evenly.

Place in the oven and bake

for 30-35 minutes.

With a toothpick pierce the muffin when it comes out clean, they are ready. Remove from the oven and allow to cool completely.

For the frosting, place margarine, powdered sugar and Oreos in a blender and blend to a fine cream.

120 g Margarine,

200 g Powdered sugar,

8 Piece Oreo cookies

Pour into a piping bag and decorate the completely cooled muffins with it. Decorate each with an Oreo cookie and enjoy. Important: The muffins must be completely cooled, otherwise the frosting will melt on top. If the buttercream is too soft and does not work well, place it in the refrigerator again and let it set.

Keep the rest (if any) in an airtight box in the fridge for up to a week.
Nährwertangaben
Serving:
1
Piece
Calories:
326
kcal
Carbohydrates:
43
g
Protein:
4
g
Fat:
18
g
Saturated Fat:
7
g
Trans Fat:
1
g
Sodium:
139
mg
Potassium:
125
mg
Fiber:
4
g
Sugar:
30
g
Vitamin A:
364
IU
Vitamin C:
1
mg
Calcium:
30
mg
Iron:
2
mg