Vegan chocolate chip muffins are easy and quick to make. There are days and those when it just has to go fast. It is exactly for these days that I have created this recipe, a delicious and simple soul food that is also healthy. At the moment, the days can often be very monotonous, especially because you don't get together with so many people. I am a very social person and need the exchange with other people. To be honest, that's when I really come alive. Of course, sometimes I like to be alone and enjoy the time without distractions and a good podcast. Nevertheless, I'm happy when people are finally allowed to party in larger groups again, travel is possible without restrictions and you're allowed to shop without a mask. That's how long I pass the time with delicious muffins, are you with me?
Vegan chocolate chip muffins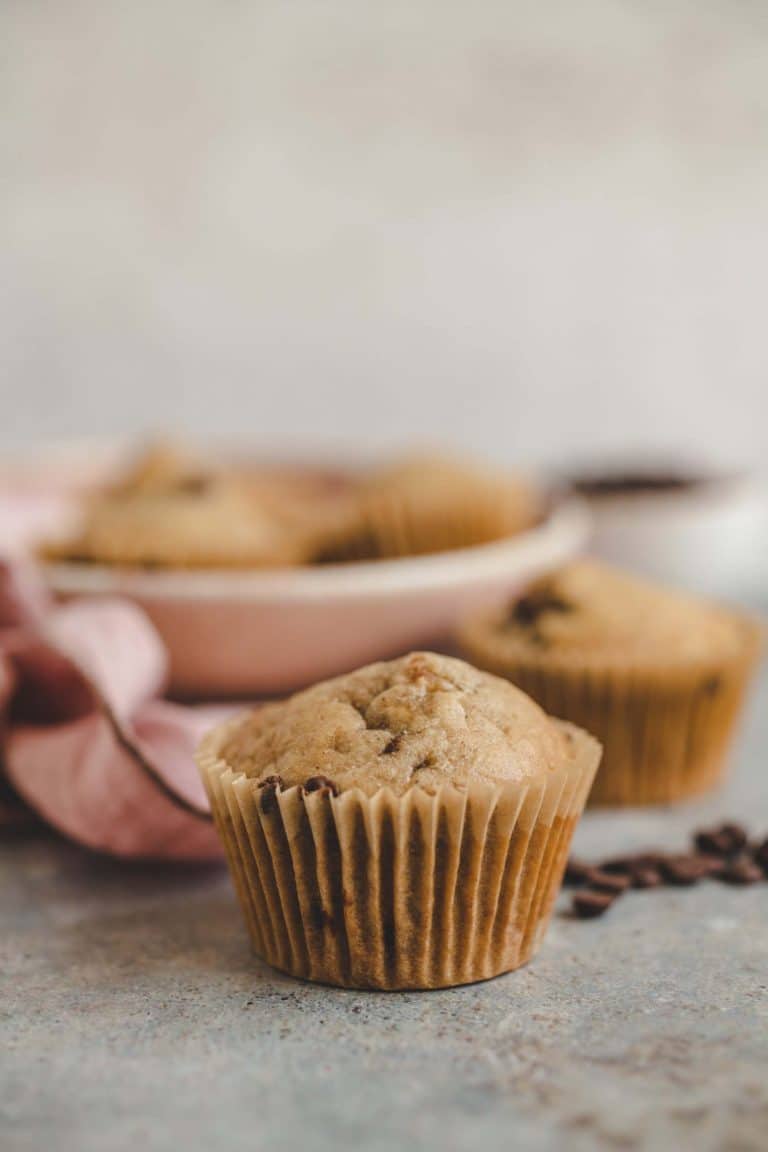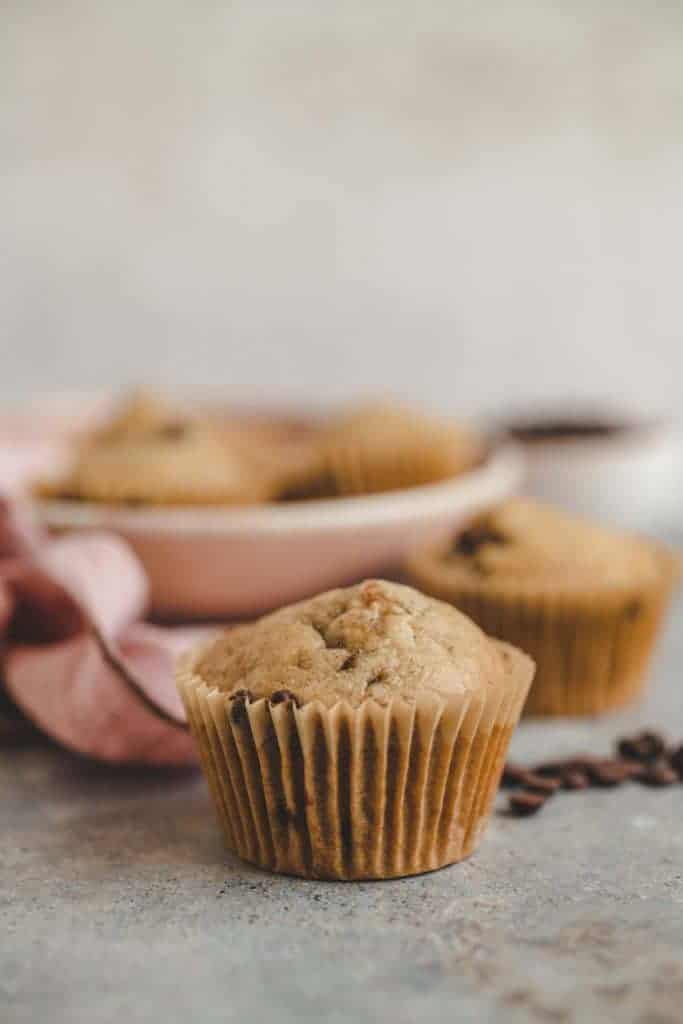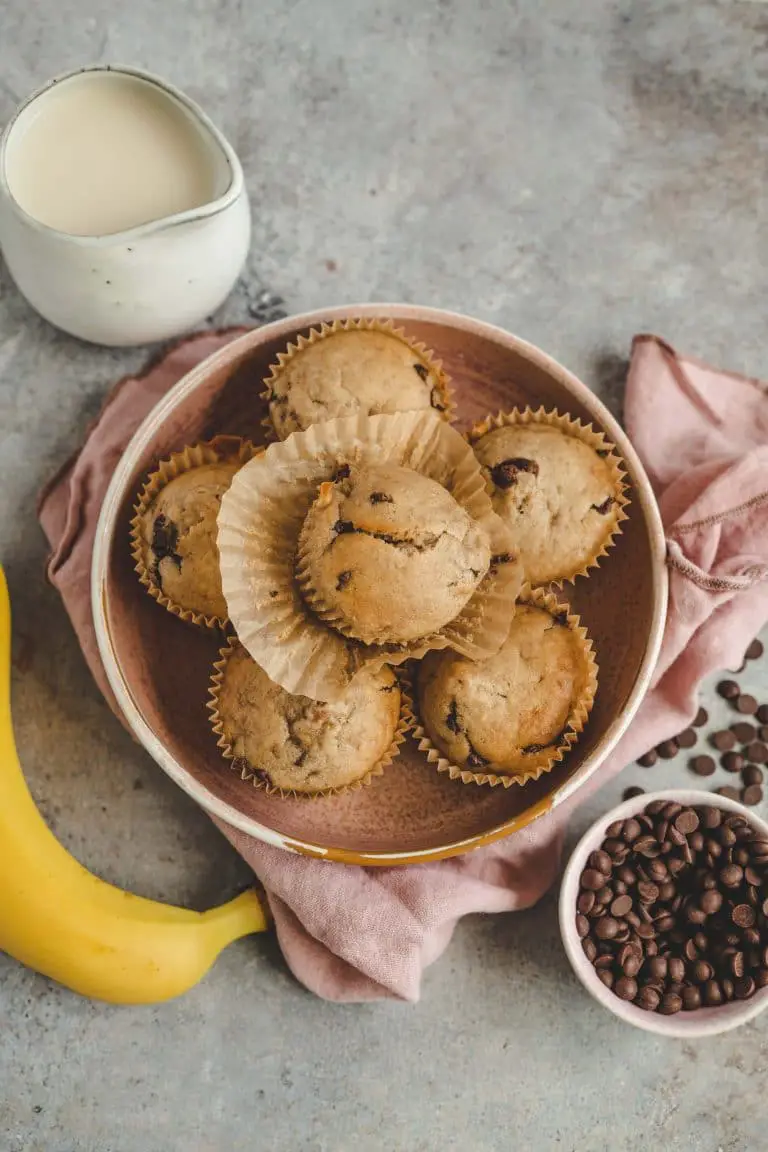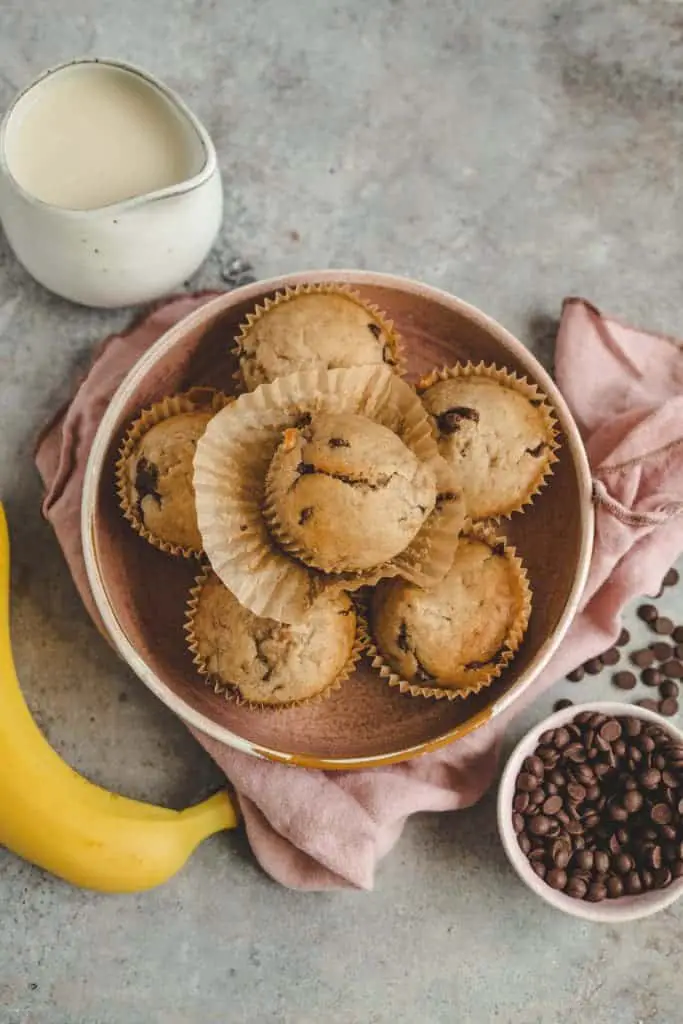 Meanwhile, there are already a handful of muffin recipes on this blog, but just no chocolate chip muffins yet. I definitely missed them and so today we have the recipe to go with it. Of course, once again oil-free with fine almond paste. However, if you prefer to bake with oil, you can replace the nut puree 1:1 with oil. Why I like to bake oil-free and what other tips and tricks I have in store, you can find in my current free e-book "The Ultimate Vegan Baking Guide +33 Recipes".
One thing I can promise you, these little beauties have a short half-life. That was definitely the case with us. Sometimes my husband tells me to hide all the goodies somewhere he won't see them right away. Otherwise, he grabs one every time he walks by and that can add up quite a bit calorically. Then it's back to running a lap with the Huskies.
TIP: Sign up for my newsletter and get my new e-book "The Ultimate Vegan Baking Guide +33 Recipes" in your email inbox for free.
Simple vegan baking without oil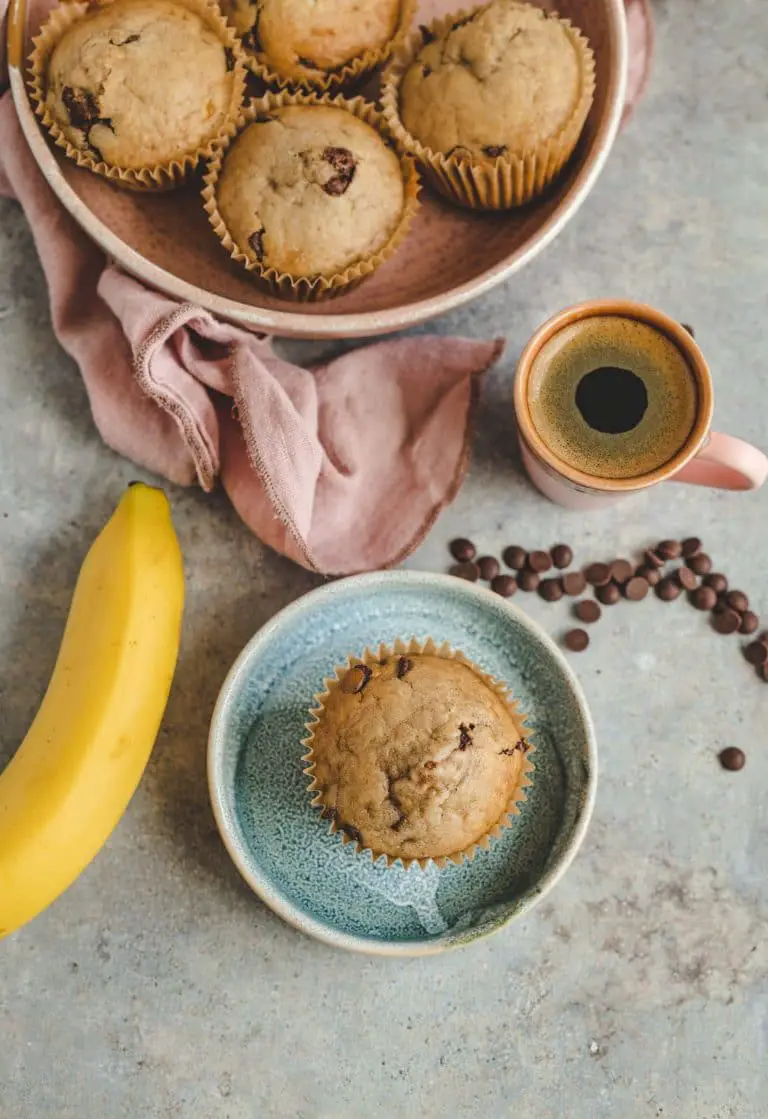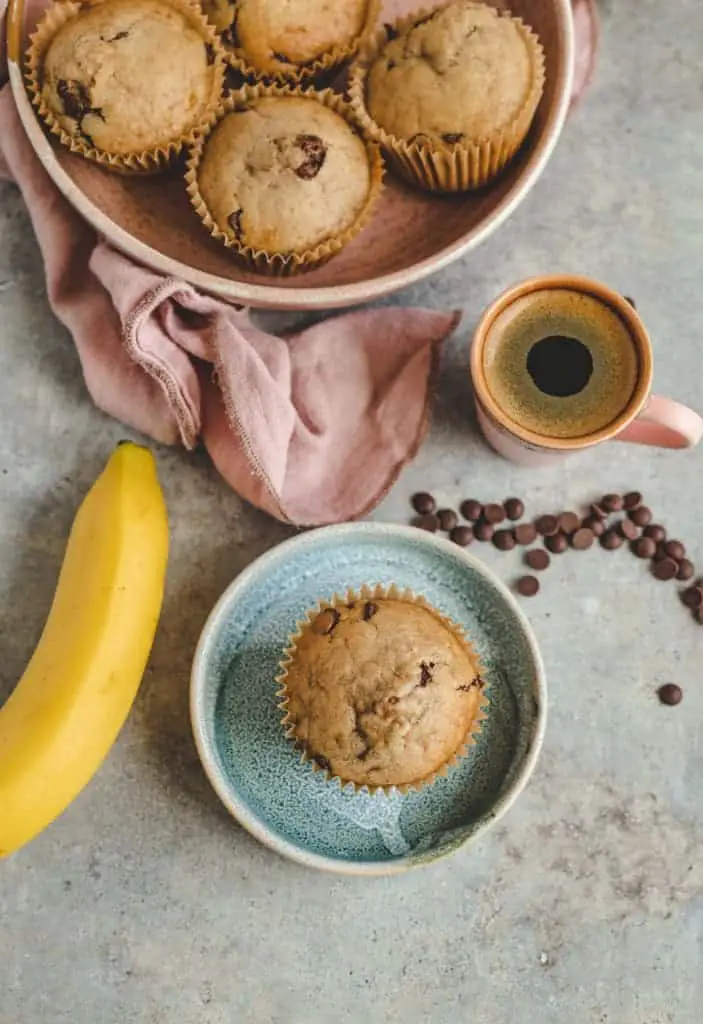 These small, fine beauties definitely go well with a delicious hot drink. I'm a big fan of a tall cappuccino with soy milk, hot chai chocolate, caramel latte with CBD, or a vegan golden milk.
If you're not in the mood for chocolate chip muffins today, I highly recommend the following muffin or cupcake creations:
We summarize: The muffins take just 40 minutes, including prep time, and use only 9 ingredients. Muffin baking tray, ready and go!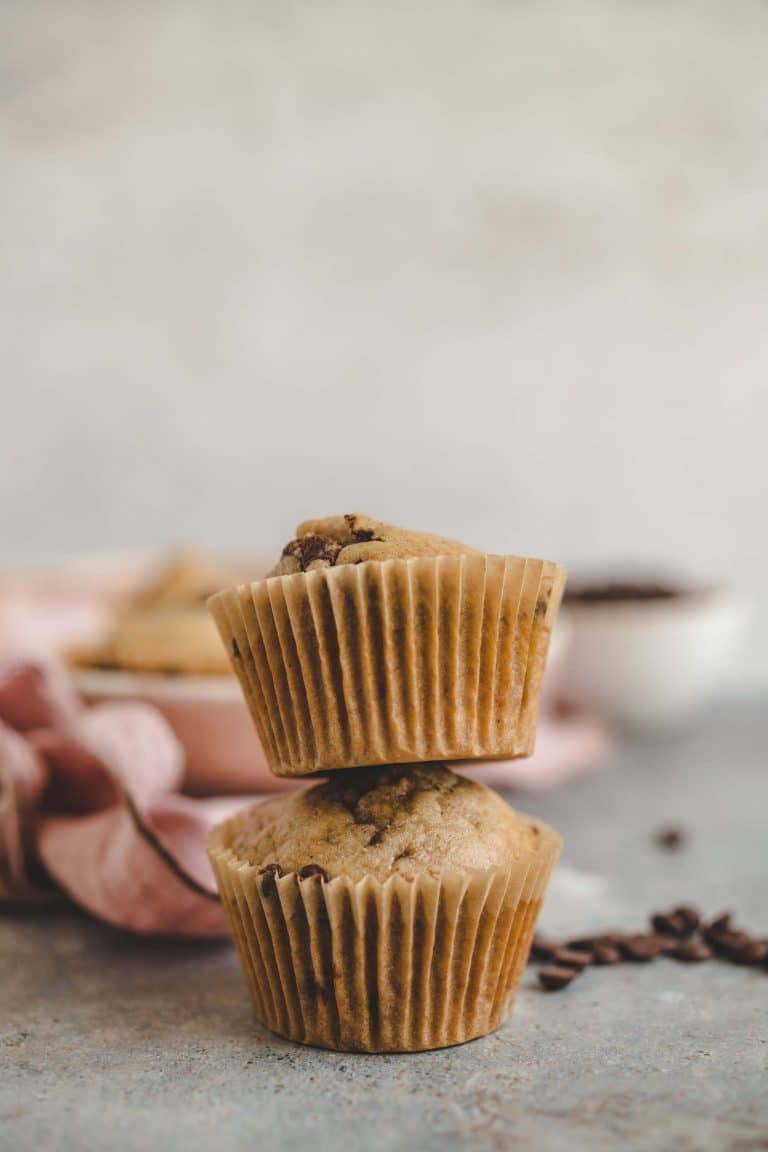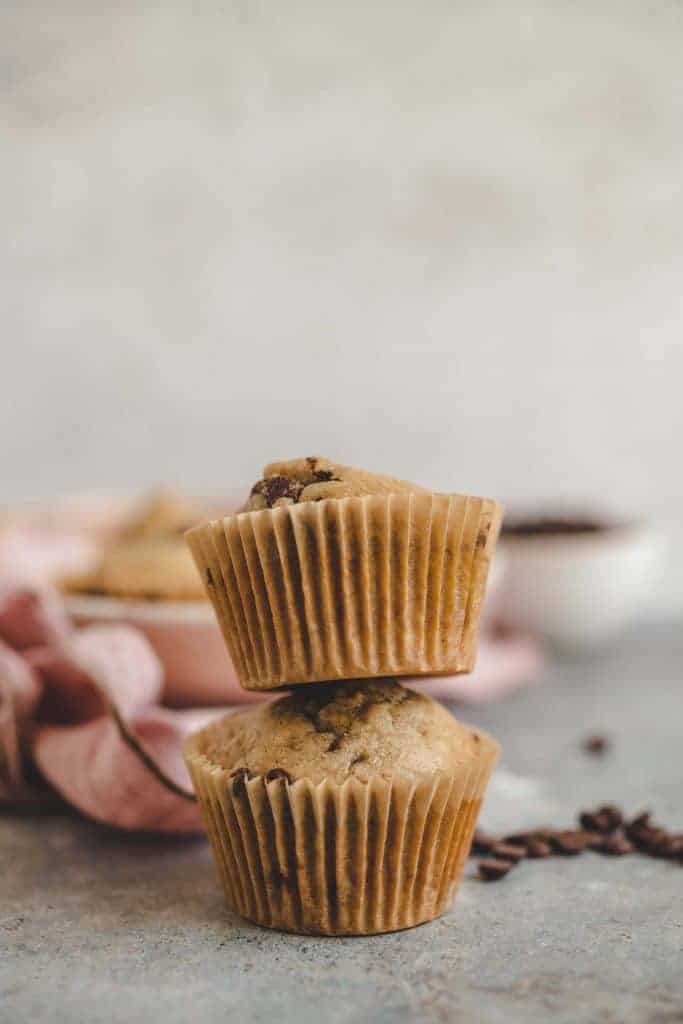 The chocolate chip muffins are :
Locker & Fluffig
chocolaty
Perfectly sweet
Bananig
Easy to manufacture
Well, are you ready for these fine, chocolaty sins? I wish you a lot of fun baking and of course a review at the bottom of this page. If you post a picture, use the hashtag #veganevibes.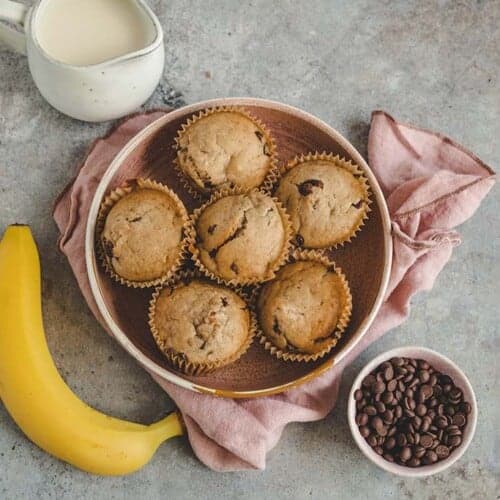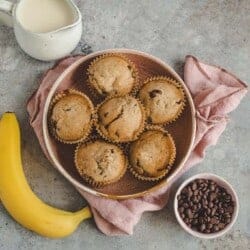 Chocolate Chip Muffins (oil free)
Juicy chocolate chip muffins made with fine spelt flour, bananas and dark vegan chocolate drops. An ideal snack for the whole family and very popular with children. Vegan, oil free, gluten free option.
AUTOR: VEGANEVIBES
Anleitung 
Preheat the oven to 175 degrees (convection) 195 (upper-lower heat) and line a muffin baking tray for 12 muffins with muffin cups or grease lightly if needed.

For the muffins, place spelt flour, raw cane sugar, baking powder, cinnamon and bourbon vanilla in a large baking bowl and stir with a whisk until everything is well combined and any coarse lumps have dissolved.

180 g Spelt flour,

70 g Raw cane sugar,

2 tbspn Baking powder,

1 tbspn Cinnamon,

½ tbspn Bourbon vanilla ground

In a second, additional bowl, add bananas, almond paste and vegetable milk and stir until a uniform liquid is formed.

2 Bananas,

45 g Almond paste,

125 ml Plant milk

Add the liquid to the large baking bowl and stir with a silicone scraper or whisk until a uniform batter is formed.

If the dough is too liquid, add a little more flour, if too dry, add more vegetable milk.

Finally, add in the dark chocolate drops and fold in.

100 g Dark chocolate drops

Divide with a spoon into the muffin moulds evenly.

Put in the oven and bake for

20-25 minutes

. Use a wooden stick to check if the muffins are baked through. If so, then the wooden stick comes out dry. If dough is still stuck, then bake for another 10 minutes and check again.

Remove from the oven and allow to cool completely. enjoy!

Can be stored in an airtight container in the refrigerator for up to 5 days.
Nährwertangaben
Serving:
1
Piece
Calories:
198
kcal
Carbohydrates:
31
g
Protein:
4
g
Fat:
6
g
Saturated Fat:
2
g
Trans Fat:
1
g
Cholesterol:
1
mg
Sodium:
27
mg
Potassium:
253
mg
Fiber:
4
g
Sugar:
13
g
Vitamin A:
381
IU
Vitamin C:
6
mg
Calcium:
46
mg
Iron:
2
mg