Salted Caramel always sounds good, especially if it's healthy then. Today it's going to be super healthy and delicious and I'm excited to share this recipe with you. The special feature is the roasted cashews, which give these fudgy little balls an irresistible taste. Straight out of the fridge, I couldn't think of a better snack. There are already some Bliss Balls recipes on my site, but these little beauties are a special highlight.
Healthy vegan Bliss Balls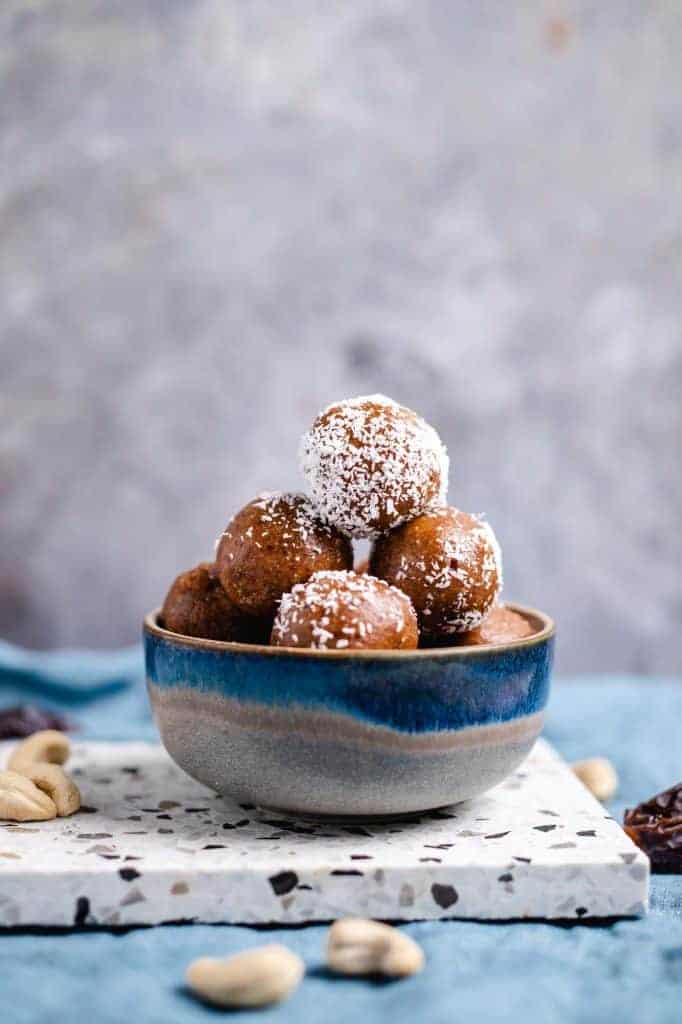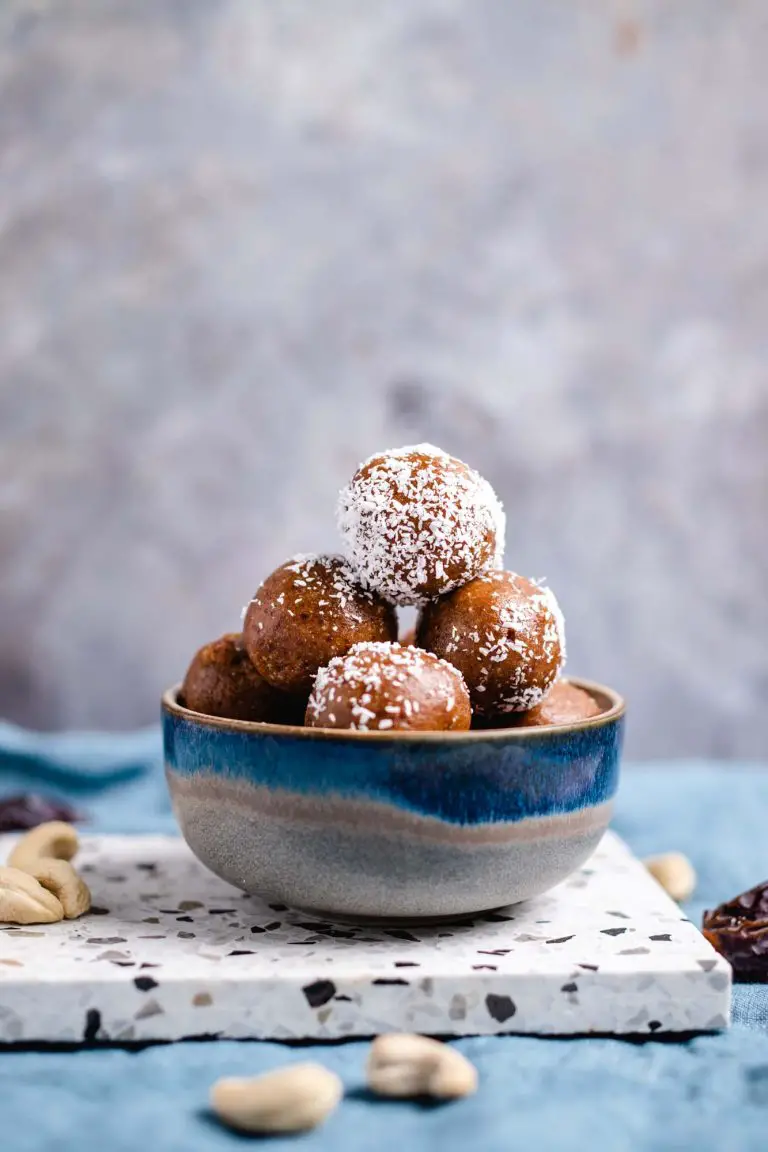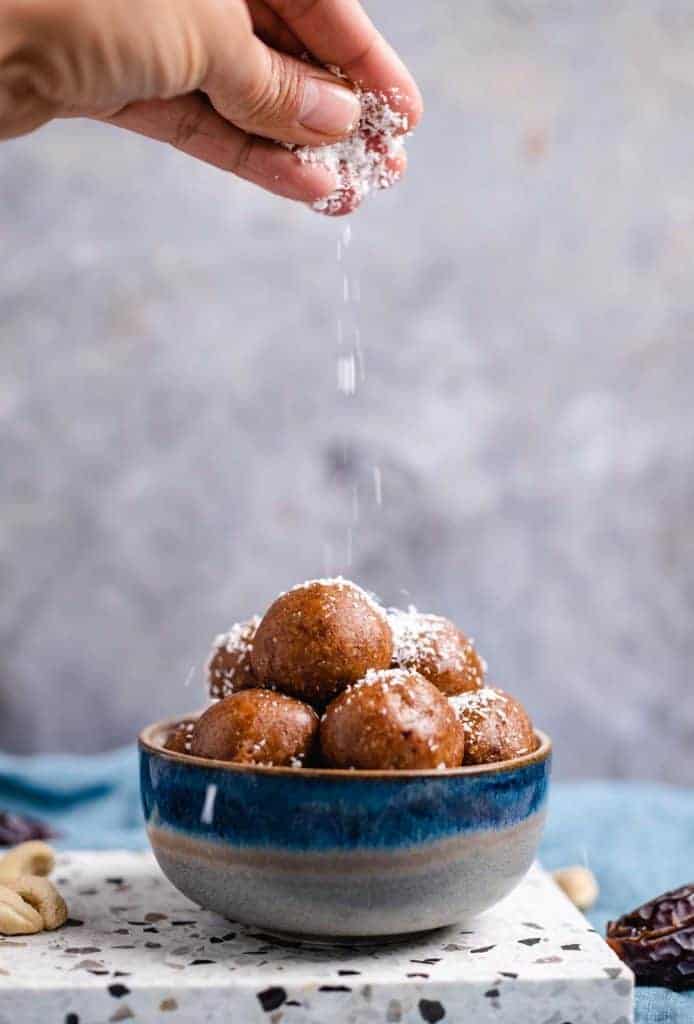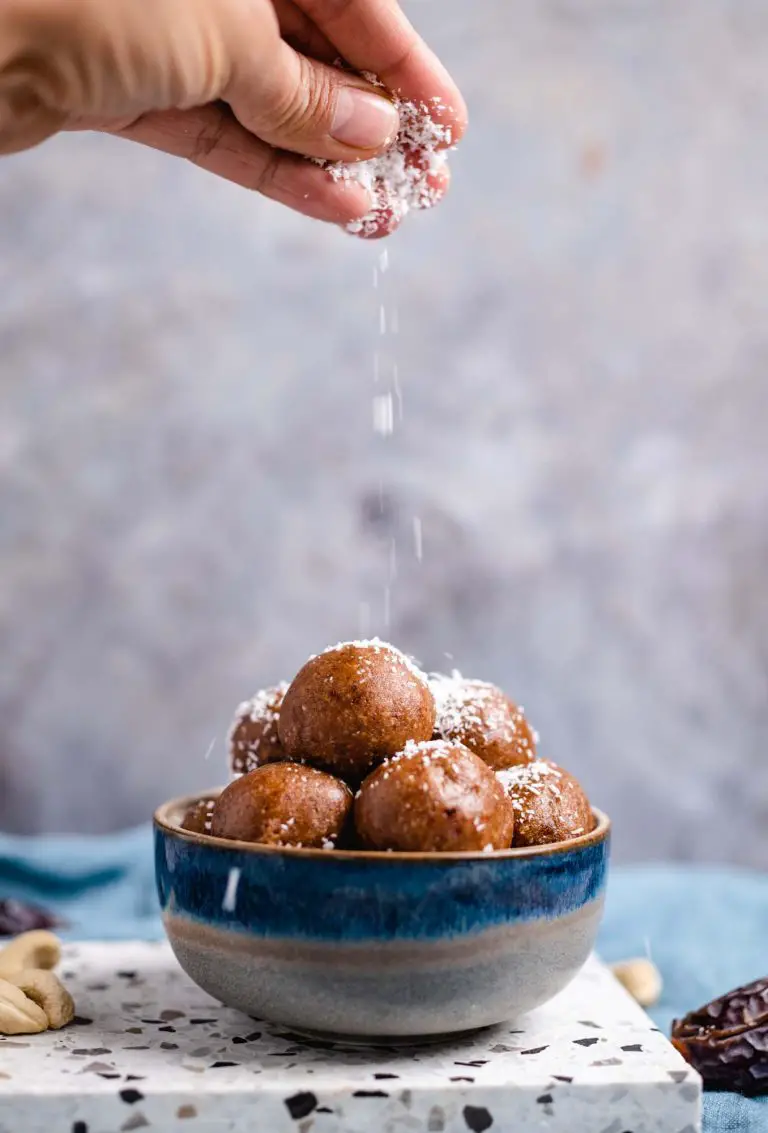 Bliss Balls or Energy Balls are one of my favorite snacks, along with stuffed dates. Simple and quickly rolled, they provide you not only with energy, but with the most valuable nutrients. Here, the dates are particularly noteworthy, which are actually already a candy of nature without anything.
Rich in valuable dietary fiber
Naturally high glucose content of 60-70%, ideal healthy energy dispenser
Rich in minerals, such as iron, folic acid, zinc and potassium
contain the amino acid tryptophan, precursor of the sleep hormone melatonin
rich in valuable vitamins
vegan salted caramel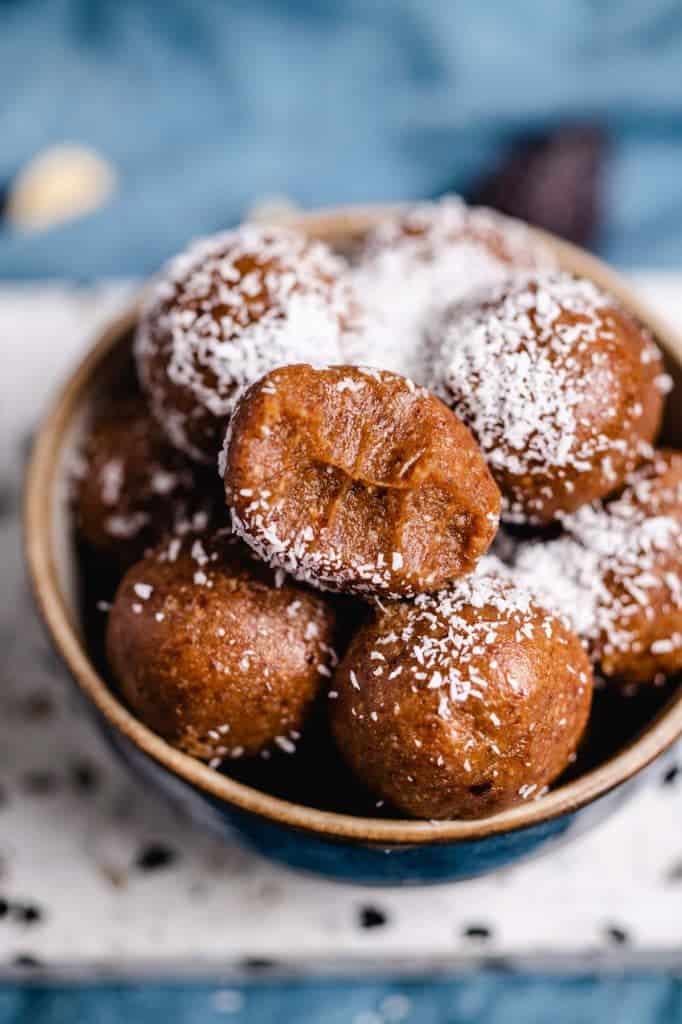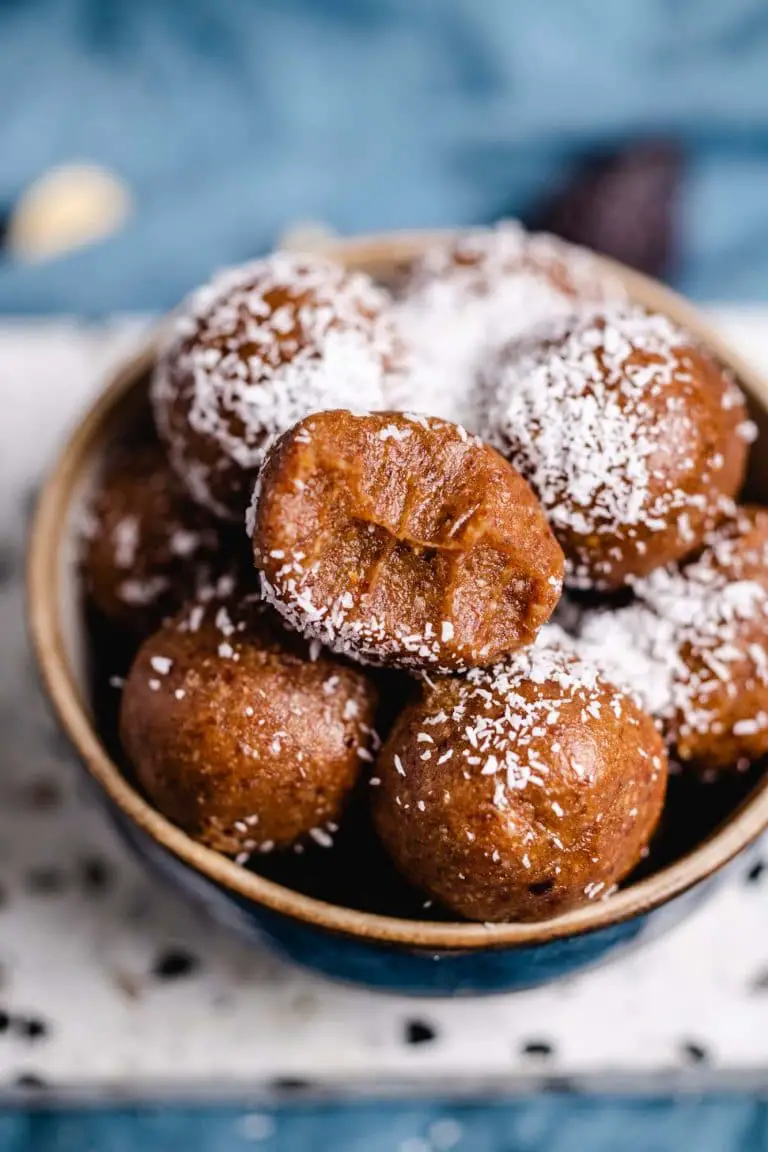 Our sweet beauties are made quickly and easily. Preheat oven and gently roast cashews in it. Off into the blender and grind to a fine nut flour. Pit dates and add to cashews along with shredded coconut, salt, and bourbon vanilla. Mix everything together to form an even dough that is easy to roll.
TIP: If dates are not soft enough, soak in hot water about 15 minutes before processing or add a small sip of hot water while blending.
By the way, cashews roasted also taste just incredibly good without anything! To do this, simply roast the cashews in the preheated oven (140 degrees convection or 160 degrees top-bottom heat) for 15 minutes.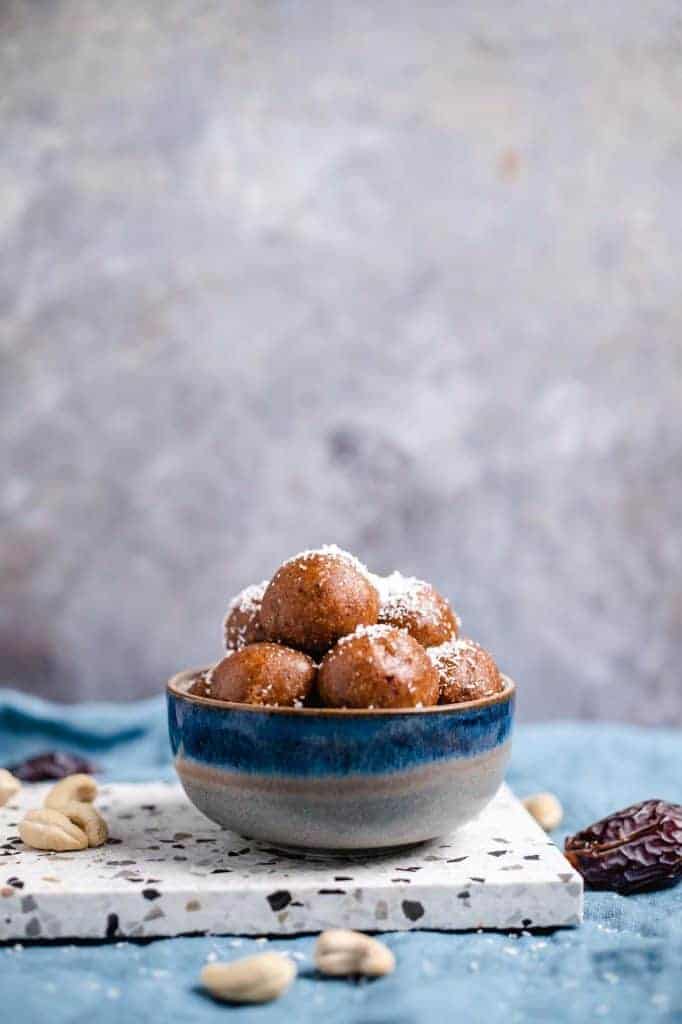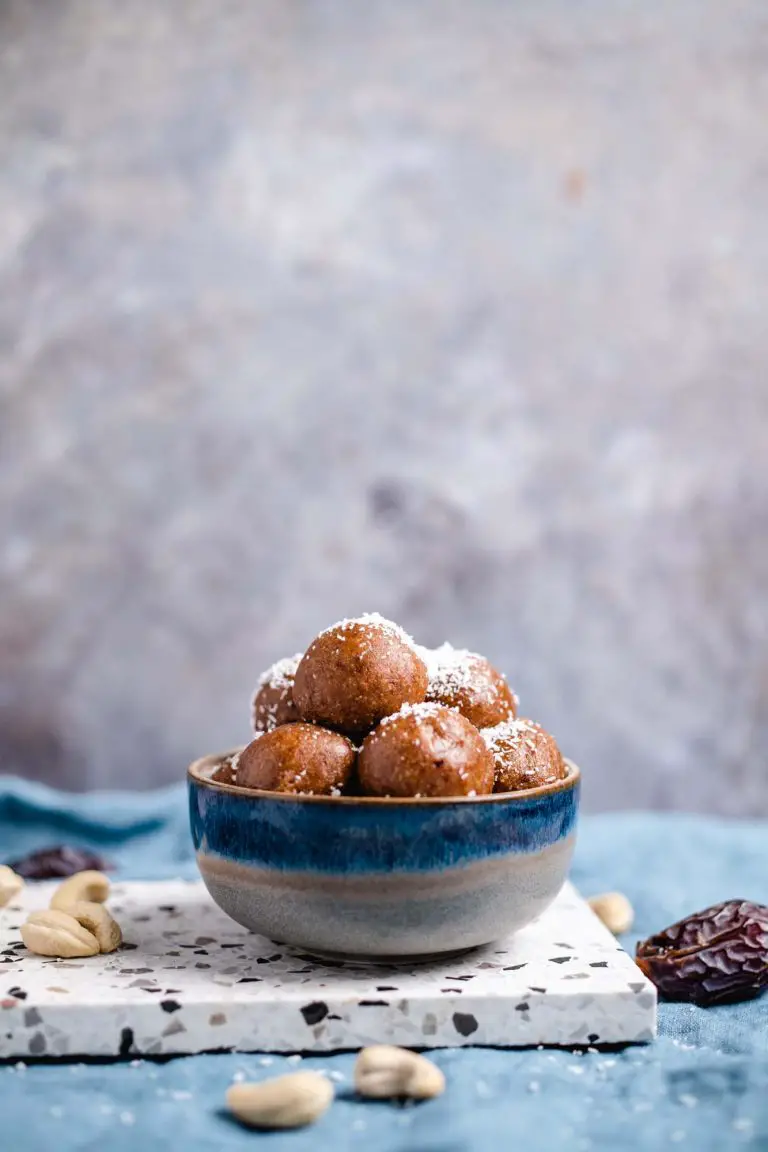 If you're not in the mood for Salted Caramel today, I highly recommend the following delicious Bliss Balls or Energy Balls:
Get started with these delicious vegan snacks. I hope you enjoy the reel and of course about a review at the bottom of this page. If you post a picture, use the hashtag #veganevibes.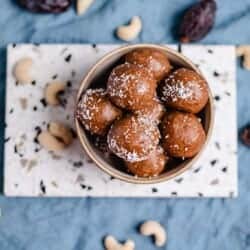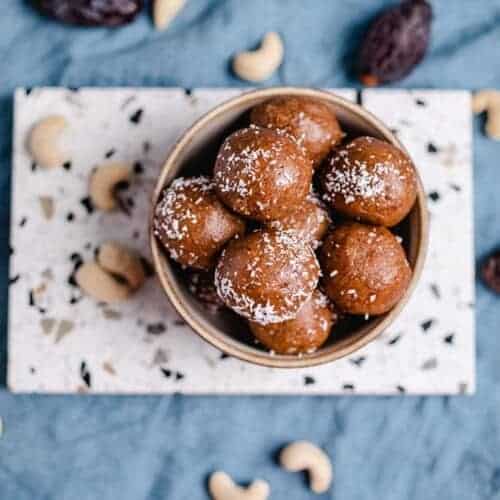 Salted Caramel Bliss Balls
Delicious Bliss Balls made with dates, roasted cashews and shredded coconut that taste like Salted Caramel. The perfect snack for in between. Quick to make, healthy and high in fiber. Vegan and gluten free.
AUTOR: VEGANEVIBES
Anleitung 
If dates are very hard, soak in hot water for 15 minutes before processing and strain. For high quality Medjool dates, this step can be ignored as the dates are usually soft enough.

Preheat oven to 140 degrees convection (160 degrees (upper-lower heat) and spread cashews on a baking sheet (with permanent baking mat or baking paper).

Place in the oven and roast for 15 until they have turned a light brown color.

Remove from oven and place in blender while still hot.

Grind to a fine flour.

Add dates and shredded coconut and blend until a uniform dough is formed. This should be slightly sticky, but not too dry.

40 g Coconut shavings,

1 strong pinch of sea salt

TIP: Be sure to mix long enough for the dough to form a lump. This may take a few minutes depending on the blender.

With wet hands, form 12 balls weighing about 30g. If you roll by hand, moisten the palms of your hands a little.

TIP: Let Bliss Balls soak in the refrigerator for one night, then they become really delicious. Straight from the fridge they are best.

Place remaining bars in a resealable box and store in refrigerator or freezer. In the refrigerator they last about 1 week, in the freezer up to 4 weeks.
Nährwertangaben
Serving:
1
Piece
Calories:
132
kcal
Carbohydrates:
20
g
Protein:
2
g
Fat:
6
g
Saturated Fat:
3
g
Polyunsaturated Fat:
1
g
Monounsaturated Fat:
2
g
Sodium:
1
mg
Potassium:
211
mg
Fiber:
2
g
Sugar:
16
g
Vitamin A:
36
IU
Vitamin C:
1
mg
Calcium:
18
mg
Iron:
1
mg