Vegan quinoa pan is the answer to all those days when you just don't know what to cook. There is no time for something elaborate and it should be quick, healthy and also taste good. I feel that way a lot, especially when I'm not in the kitchen developing recipes anyway. Especially on my office days, time is running and suddenly it's already noon again. My husband and I look at each other with hungry faces and I'm suddenly glad I still have precooked quinoa in the fridge. 20 minutes later, our favorite dish is already on the table. Let's get started.
Vegan quinoa pan, simple and delicious!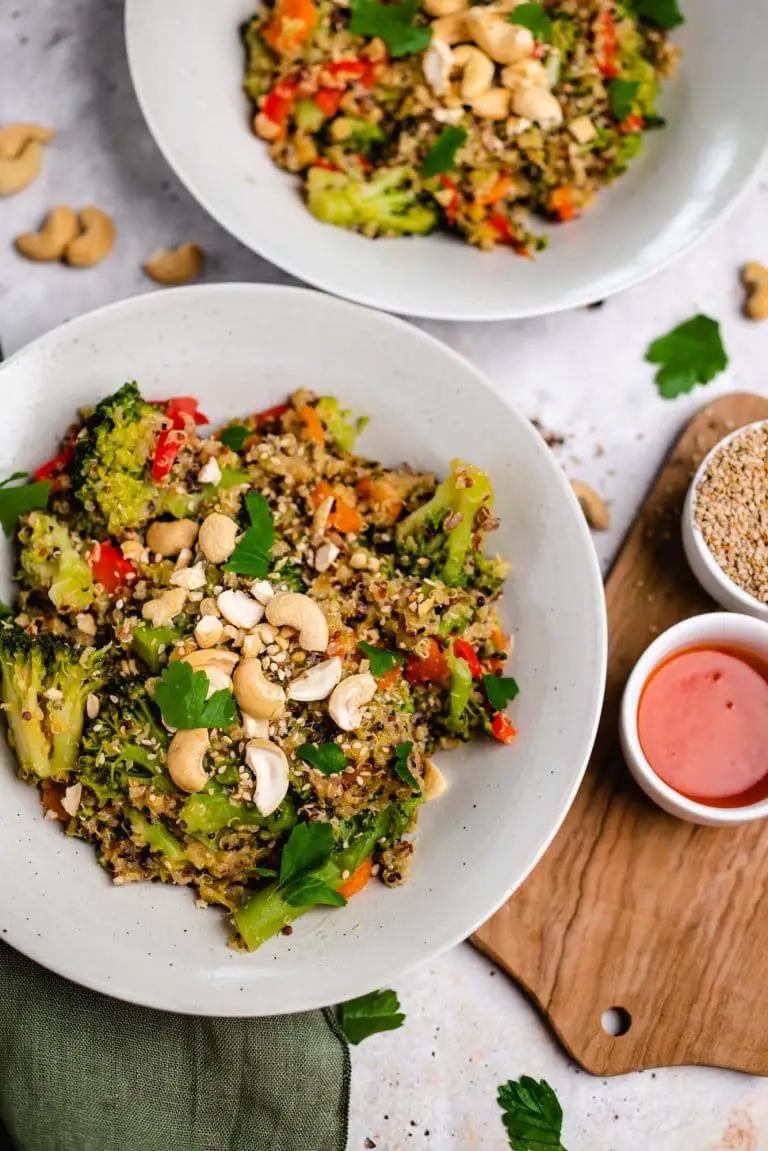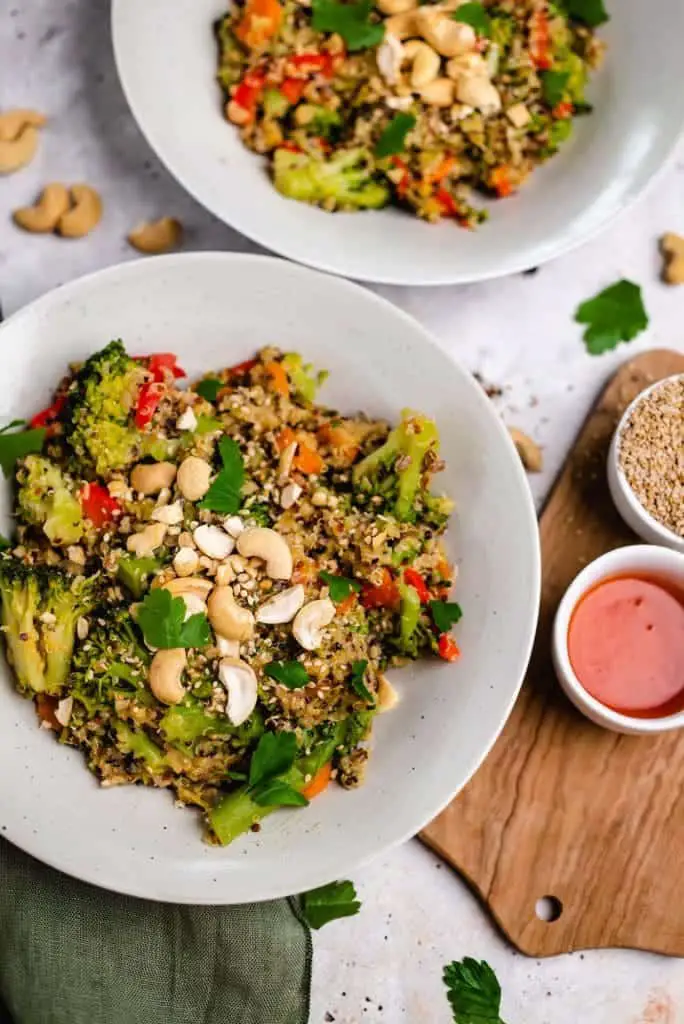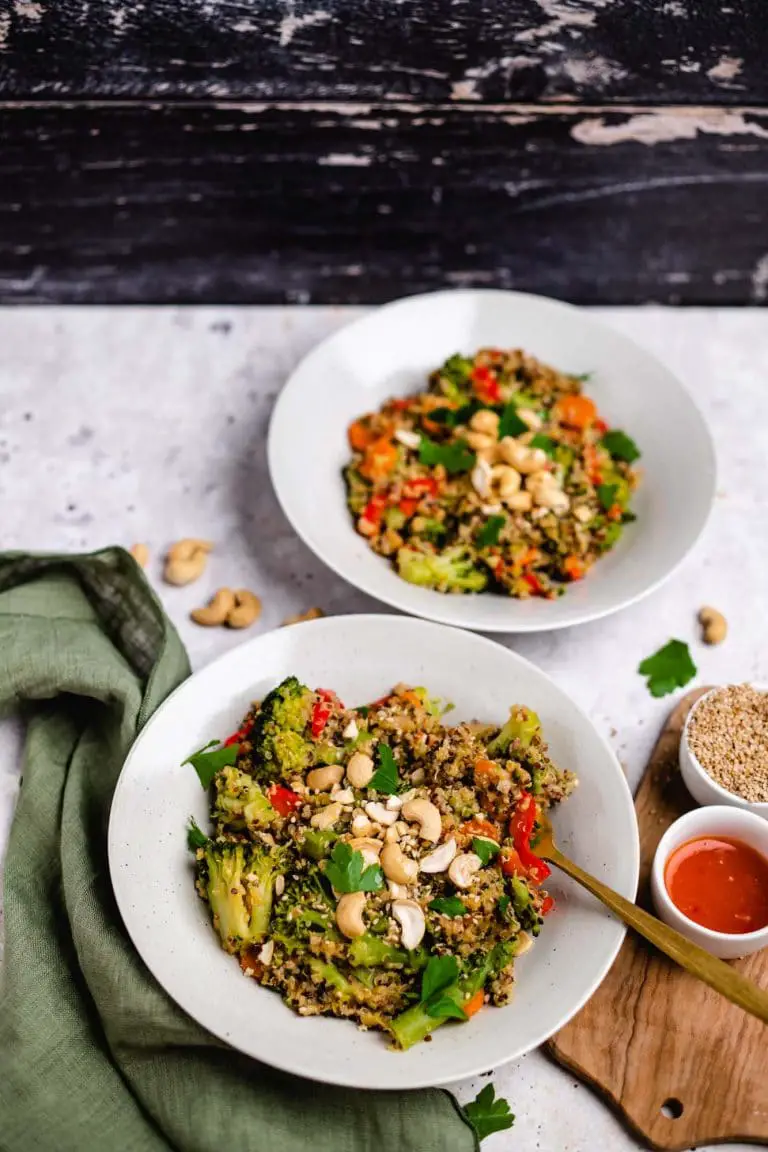 This simple one consists of three components, quinoa, vegetables and a fine sauce. All this is topped with oven-roasted cashew nuts, which make the symbiosis perfect. Honestly, you could snack on the nuts without the quinoa pan and get hooked, they are just so delicious. By the way, here's a recipe for my beloved roasted cashews "Asia Style".
I like to precook the quinoa for the whole week and store it in an airtight box in the fridge. This saves an enormous amount of time and I can conveniently take out a portion of it just when I need it. For the sauce, we need tamari, maple syrup, almond paste, lime juice and a Bird Eye chili (or other chili of choice).
Otherwise, the vegetables are still missing! I use carrots, peppers, green onion and broccoli (blanched). Here you can let your imagination run wild and see what else your vegetable drawer in the fridge has to offer. Beans and zucchini are also particularly delicious in the pan.
Cook quinoa quickly and easily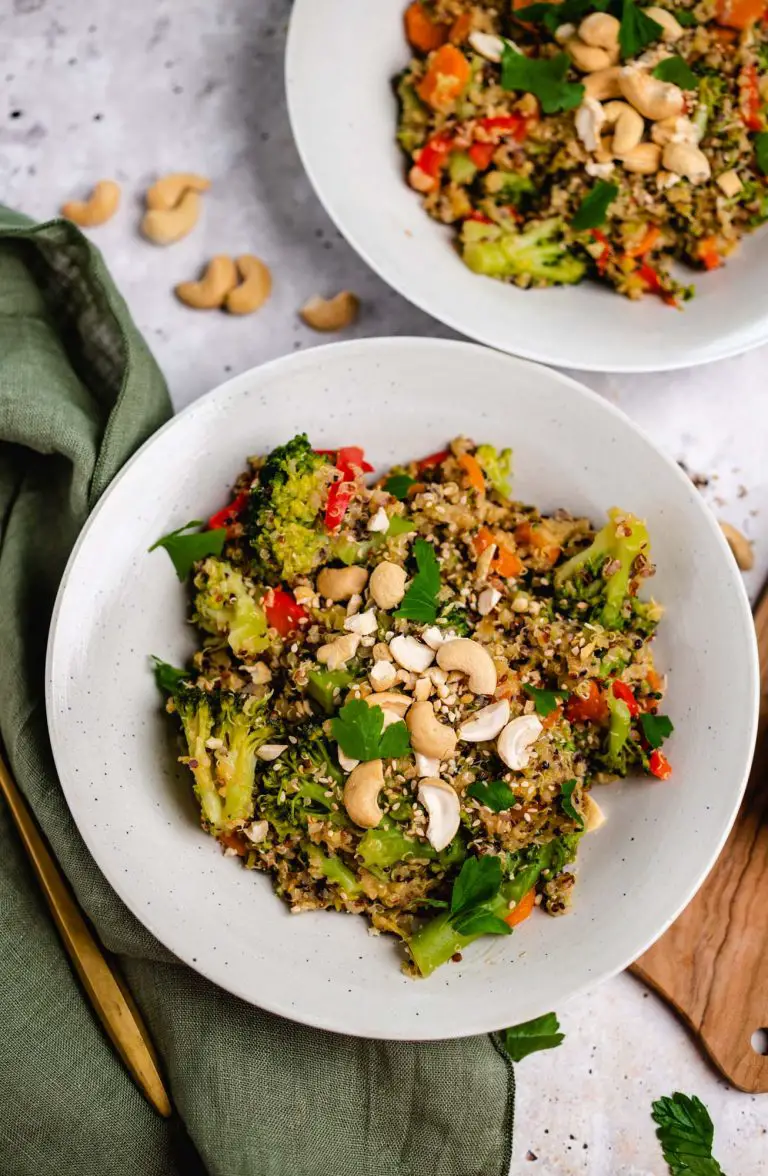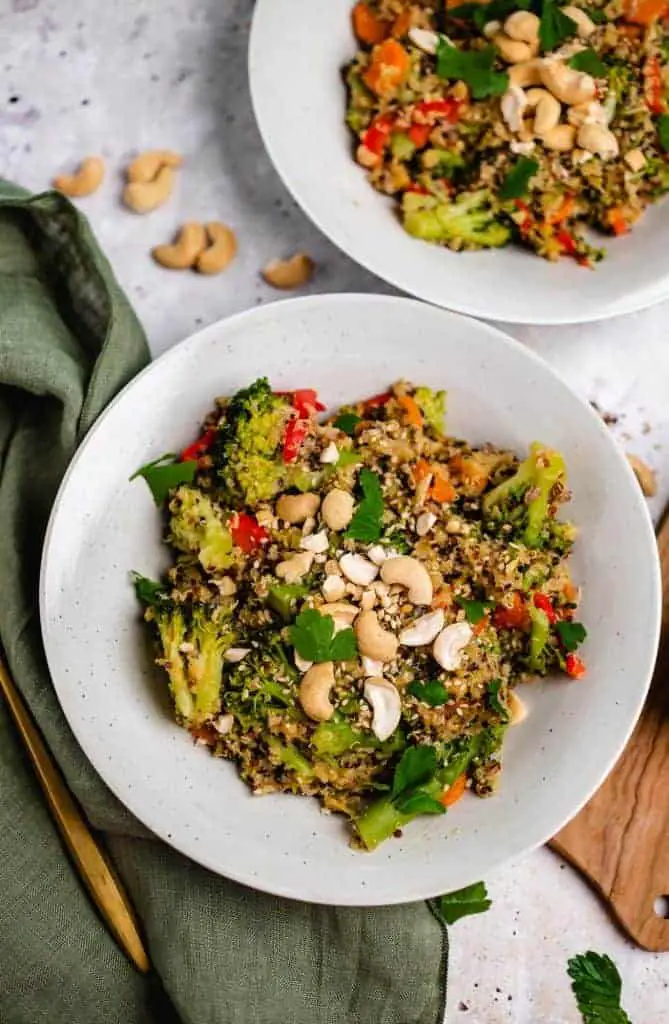 Quinoa is really super quick and easy to cook. I usually put the quinoa in a pot and fill it up with water, let it boil briefly, and then immediately take the heat off.
Then I strain the quinoa, add fresh water at the correct dosage(1 part quinoa to 2 parts water) and boil for 10 minutes. Then remove from heat and let swell for another 10 minutes. Ready.
TIP: Quinoa should always be washed sufficiently with hot water (or as I do, boil briefly and strain cooking water), otherwise it can taste somewhat bitter due to the saponins it contains. If soaking was forgotten, that's not a problem either. The pseudo cereal could then have a slightly bitter note, but this is not a big deal.
Simple dishes with quinoa
TIP: By the way, the crispy tofu "Asian Style" goes perfectly with it.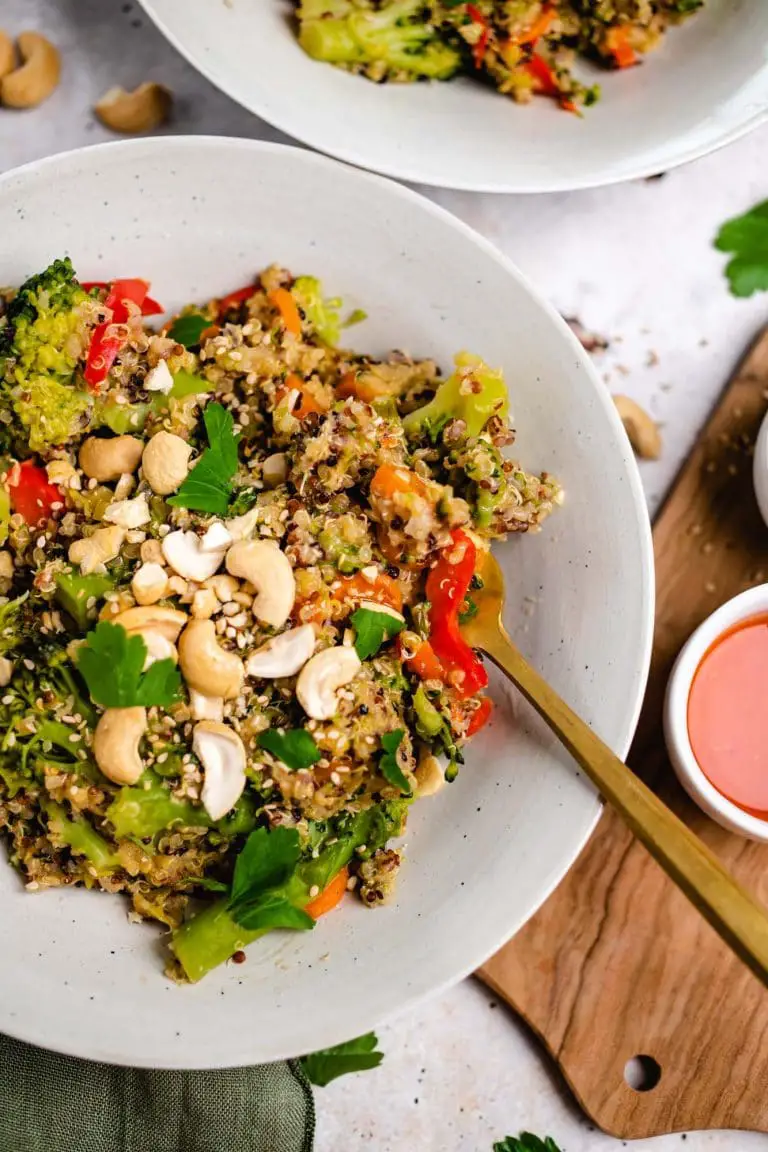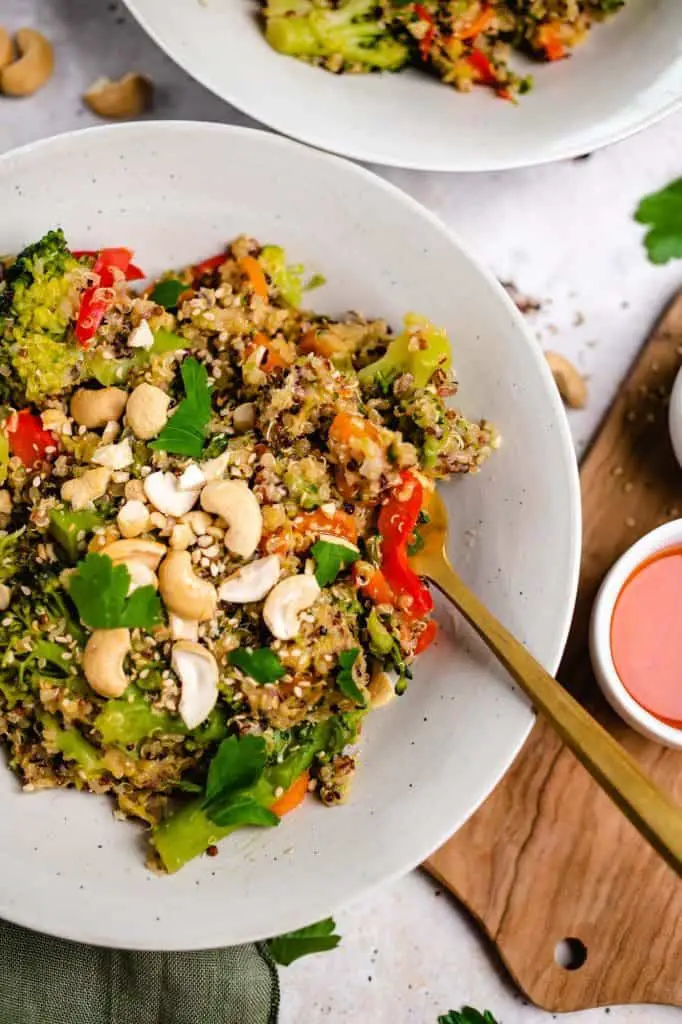 The vegan quinoa pan is:
aromatic
filling
Quickly made
High fiber
Easy to manufacture
Let's get started with this delicious vegan dish. I wish you a lot of fun with the re-cooking and am happy about a review at the bottom of this page. If you post a picture, use the hashtag #veganevibes.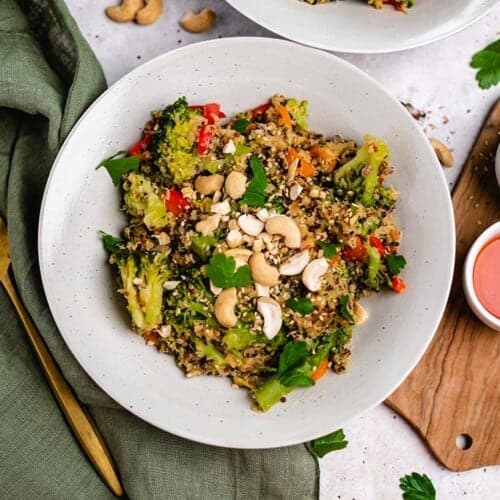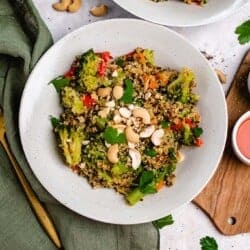 Vegan quinoa pan (20 minutes)
Simple and delicious main dish with quinoa, crunchy vegetables and a fine sauce. Quickly made with precooked quinoa, this skillet is perfect for a quick and easy weekday meal. Gluten free and high in fiber.
AUTOR: VEGANEVIBES
Anleitung 
FOR THE QUINOA , cook quinoa according to package directions, set aside and let cool.

Blanch the broccoli, rinse with cold water and set aside. TIP: I put the broccoli florets in a saucepan, fill it with water until the bottom is covered and heat once on high until the water boils. Cover, remove heat, let stand

5 minutes

and drain water. This is enough for the broccoli to be lightly blanched, but still firm to the bite.

Optional: Roast cashew nuts at 120 degrees (convection) 140 degrees (upper-lower heat) on a baking tray without oil in the oven. After

15-20 minutes

they have a great roasted flavor without burning.

FOR THE SAUCE Place tamari, almond paste, lime juice and Bird Eye Chili in a small bowl. Stir well with a whisk until a uniform sauce is formed. Set aside.

60 ml Tamari,

15 g Almond paste,

30 ml Lime juice,

1 Bird Eye Chili

FOR THE REST heat a large frying pan, add sesame oil, sauté green onion until translucent. Add carrots, bell bell pepper, and broccoli and stir vigorously. Add quinoa and continue to stir. Pour sauce on top and mix well.

15 ml Sesame oil,

3-4 Piece Spring onion,

60 g Paprika,

150 g Broccoli,

150 g Carrots

Season to taste and add seasoning if necessary.

To serve, first place one serving in a plate (feel free to preheat plate), add roasted cashew nuts, Asian sauce and black sesame seeds and enjoy!

Basil or other fresh herbs to taste,

Black sesame seeds,

Asian sauce

Leftovers keep for 3 days in the refrigerator or up to 8 weeks in the freezer.
Nährwertangaben
Serving:
1
Portion
Calories:
735
kcal
Carbohydrates:
110
g
Protein:
28
g
Fat:
22
g
Saturated Fat:
3
g
Sodium:
887
mg
Potassium:
1287
mg
Fiber:
14
g
Sugar:
5
g
Vitamin A:
7009
IU
Vitamin C:
59
mg
Calcium:
125
mg
Iron:
9
mg