Broccoli lemon pasta casserole is my go-to for spring. I'm a big fan of sun and warm weather and finally the time has come. It's spring and the trees are starting to bloom, a real feast for the eyes. In addition, the first flowers and shrubs awaken from hibernation. I enjoy the first rays of sunshine and especially use the breaks for a good dose of vitamin D. In the winter I supplement with vitamin D & K drops, but in the summer I use the power of nature. In terms of dishes, I'm now more in the mood for light fare again, and this combination with a fine, lemony sauce fit the bill perfectly. Paired with a springtime salad, this recipe makes a delicious meal for lunch or dinner. I'd say we'll get started together.
Broccoli lemon pasta casserole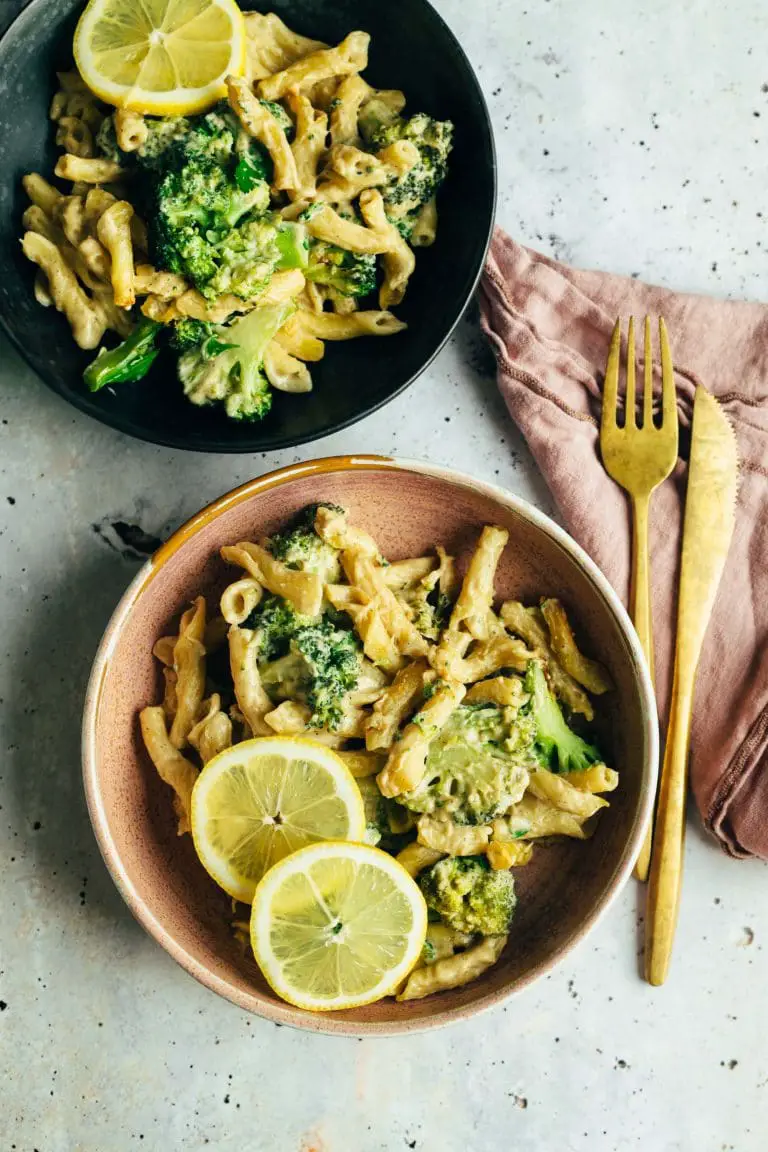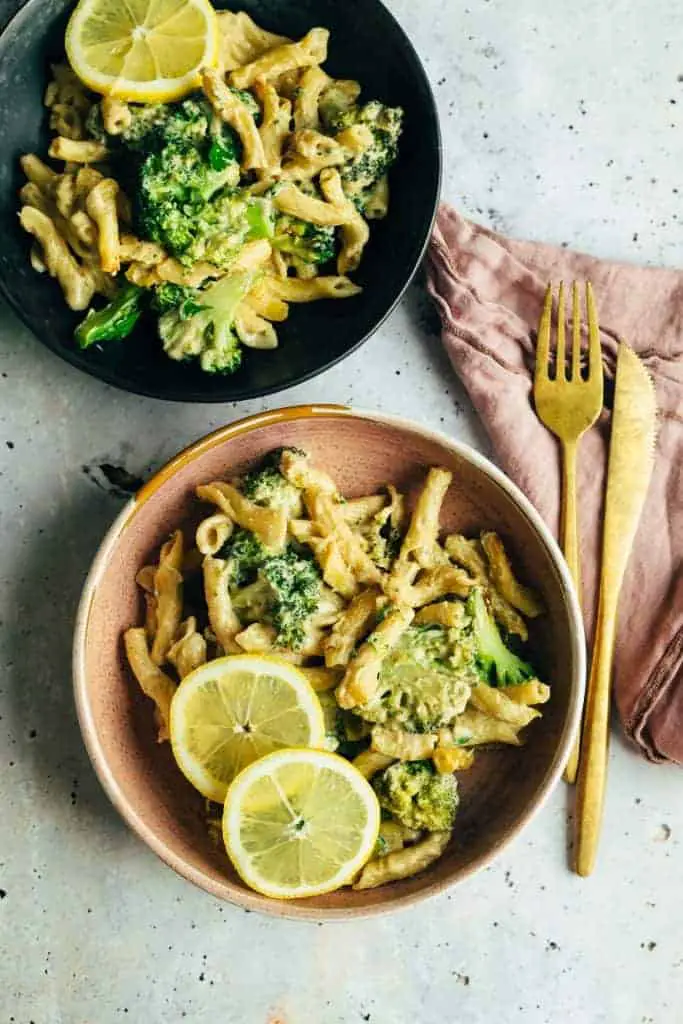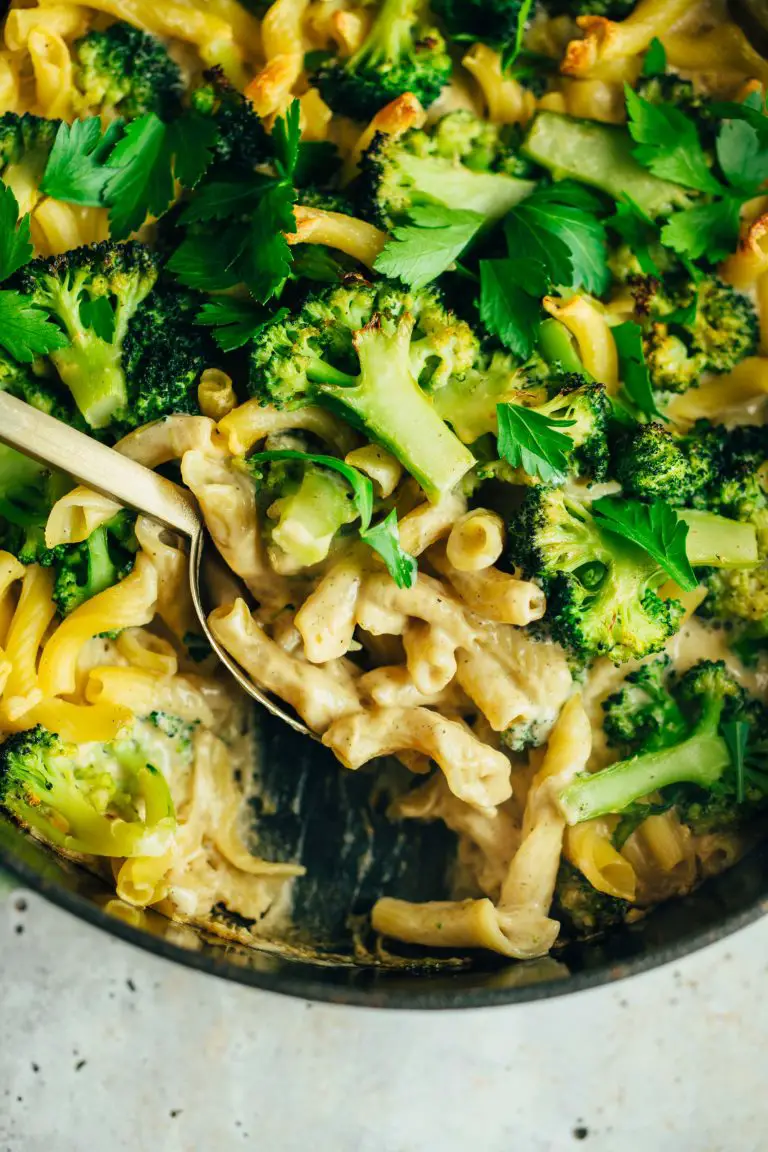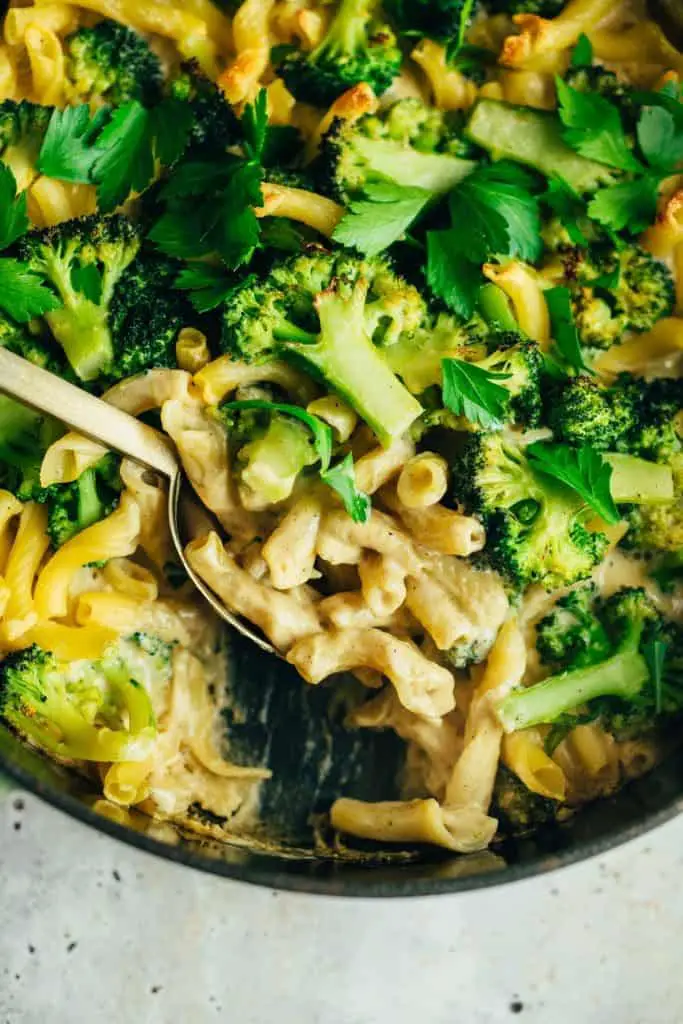 The preparation takes a little bit, but with good music in your ear, even that flies by without any problems. Cook the pasta, but not all the way through, strain 2 minutes earlier. This is important because our pasta cooks again in the oven. After all, we want pasta that is firm to the bite at the end and not soft, cooked-through pasta. The broccoli is also cooked briefly in salted water beforehand, but only briefly and crisp. Again, cooked once more in the oven and we do not want to overdo it. Both pasta and broccoli should still be al dente in the finished dish.
While the two ingredients are simmering, we prepare the sauce. Cashews, vegetable milk, nutritional yeast flakes, garlic granules, salt, pepper, Italian herbs, chili, lemon juice, garlic and miso. This all goes together in a high-powered blender and is blended into a fine sauce. Then it's time to start mixing. The pasta and broccoli go into an ovenproof casserole dish, along with the sauce. Mix vigorously once until everything is well combined and place in the oven. Now we have to wait a little longer and set the table.
TIP: If you want extra cheese, you can top the casserole with vegan cheese. I super like the one from SOYATOO, also for pizzas (unpaid brand name) https://kokku-online.de/soyatoo-pizzapasta-herr-berta-streuschmelz/. (also seen at REWE)
How healthy is broccoli actually?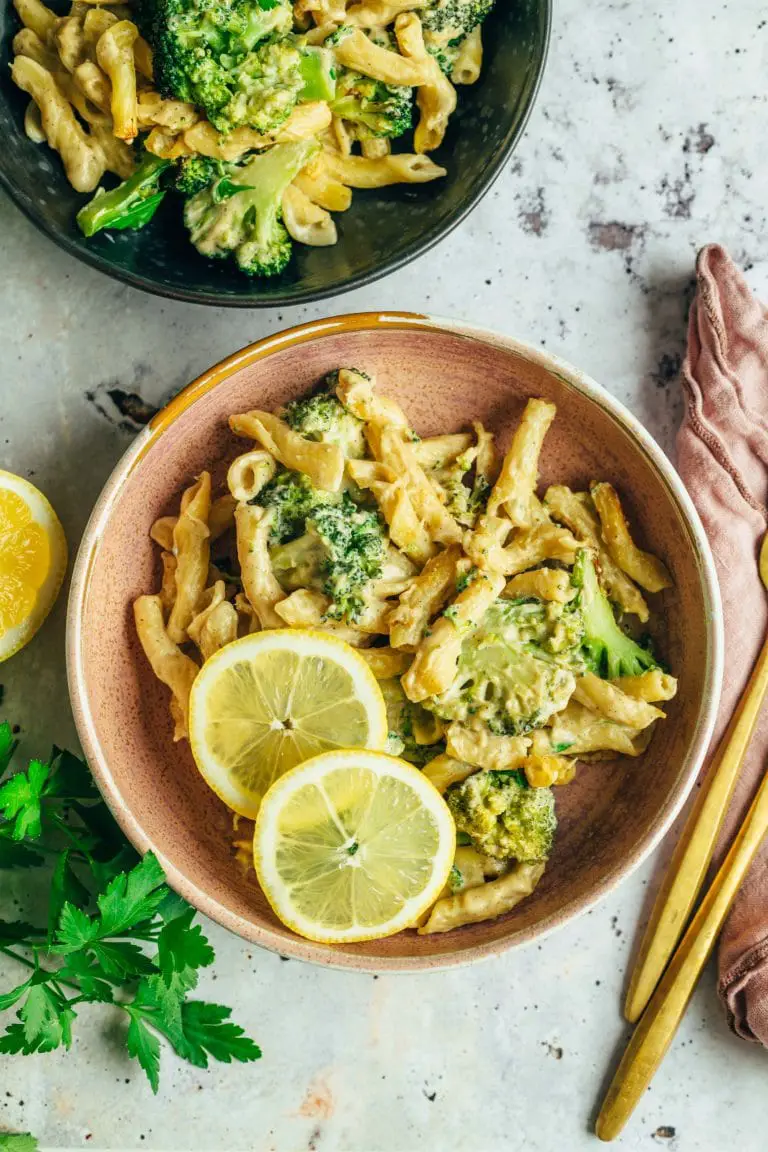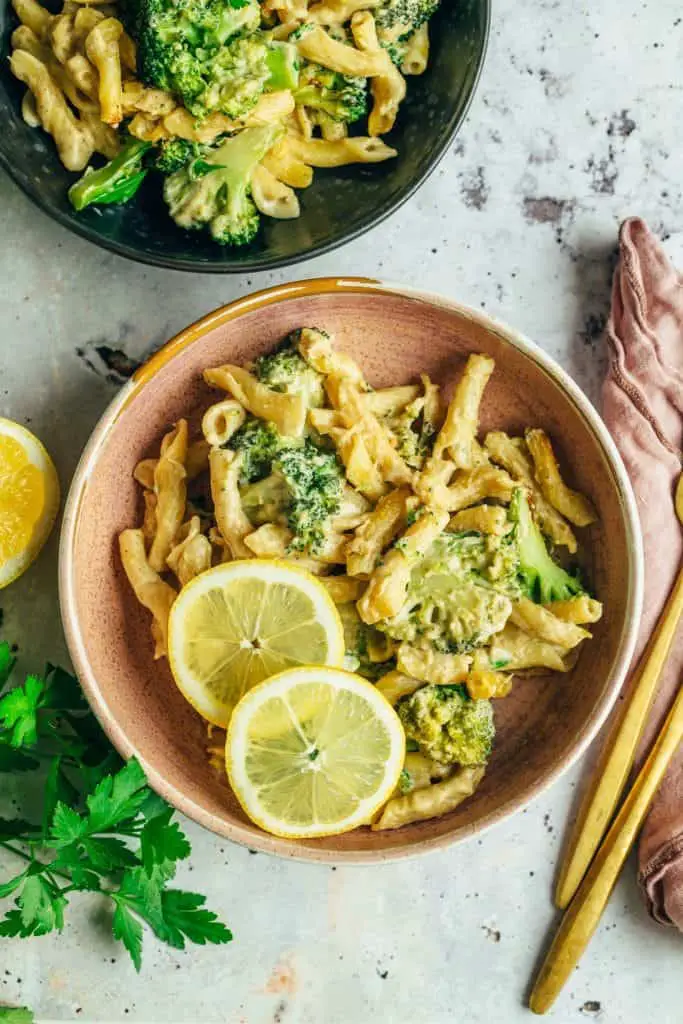 There are many stories about broccoli and I wanted to show you why broccoli is so healthy:
Rich in vitamins C, E, K and B vitamins
Rich in calcium, magnesium, iron, zinc and potassium
Only 43 calories per 100g
Very high nutrient density (= few calories and many vitamins and minerals).
Has antioxidant effect (can act oxidative stress and prevent diseases)
Bioactive compounds can act against inflammatory processes in the organism
According to studies, the secondary plant compounds contained can prevent against various types of cancer and osteoarthritis
Extremely interesting is the substance sulforaphane, which in studies has been able to protect the intestine from diseases and show a positive effect in osteoarthritis.
TIP: Always cut broccoli into florets and leave them for some time before processing, this way the sulforaphane content is highest. If you don't have time, add some mustard or mustard seeds (ground) and increase the content of the valuable plant substance. It is best not to boil broccoli in water for very long, but to blanch or steam it briefly. In this way, valuable vital substances are preserved.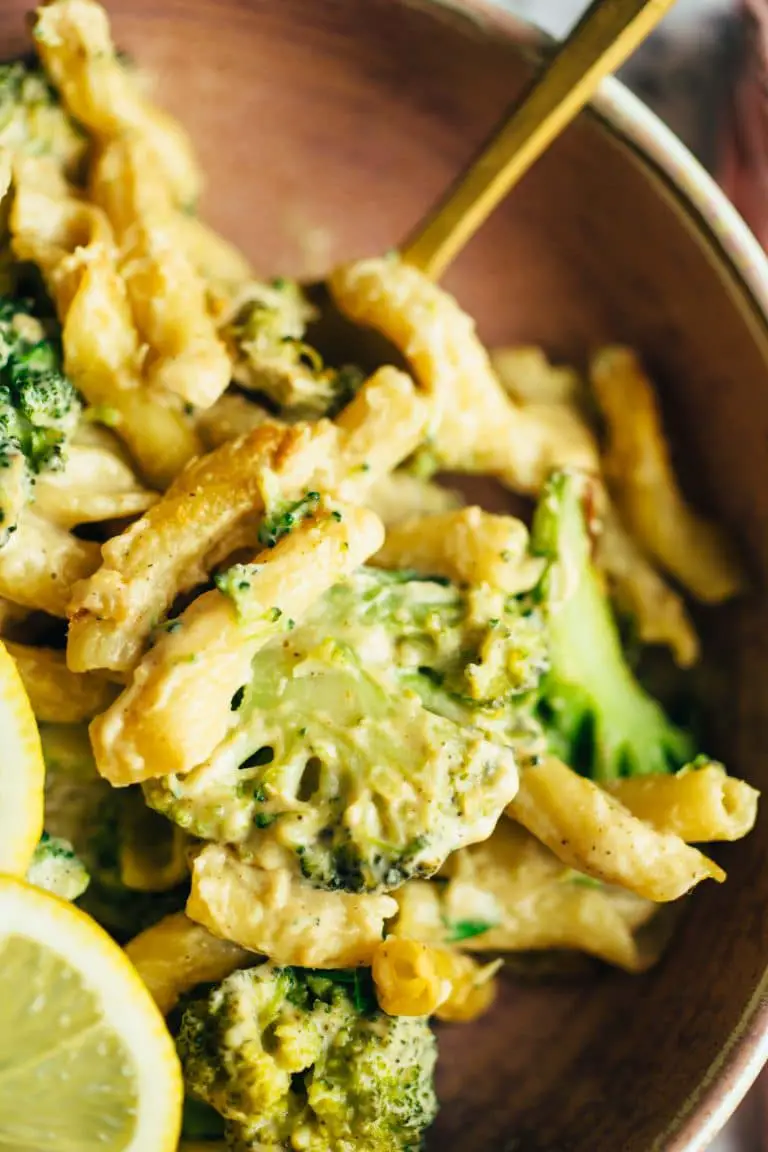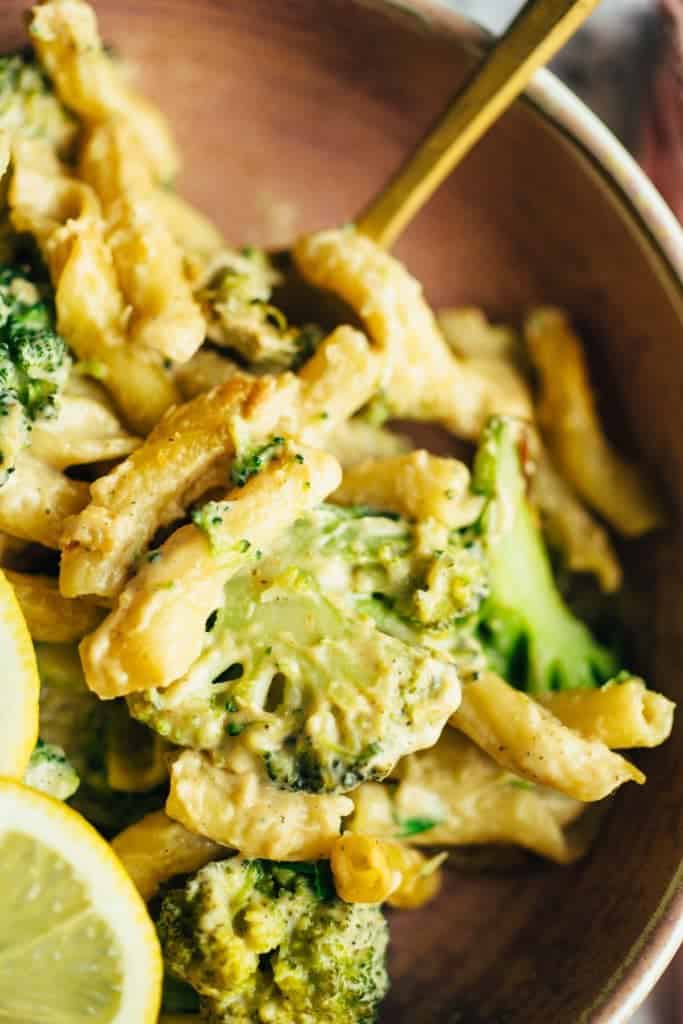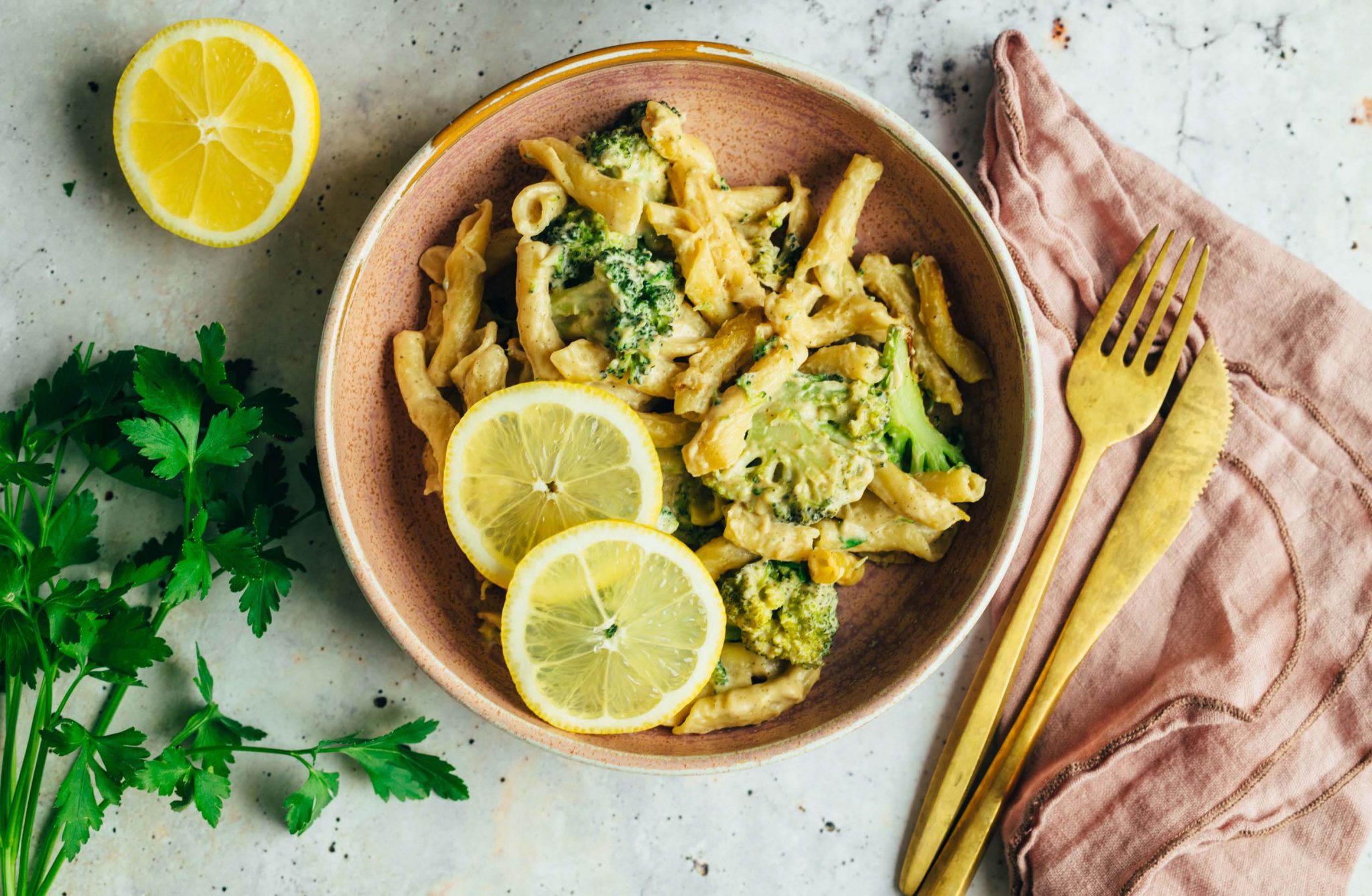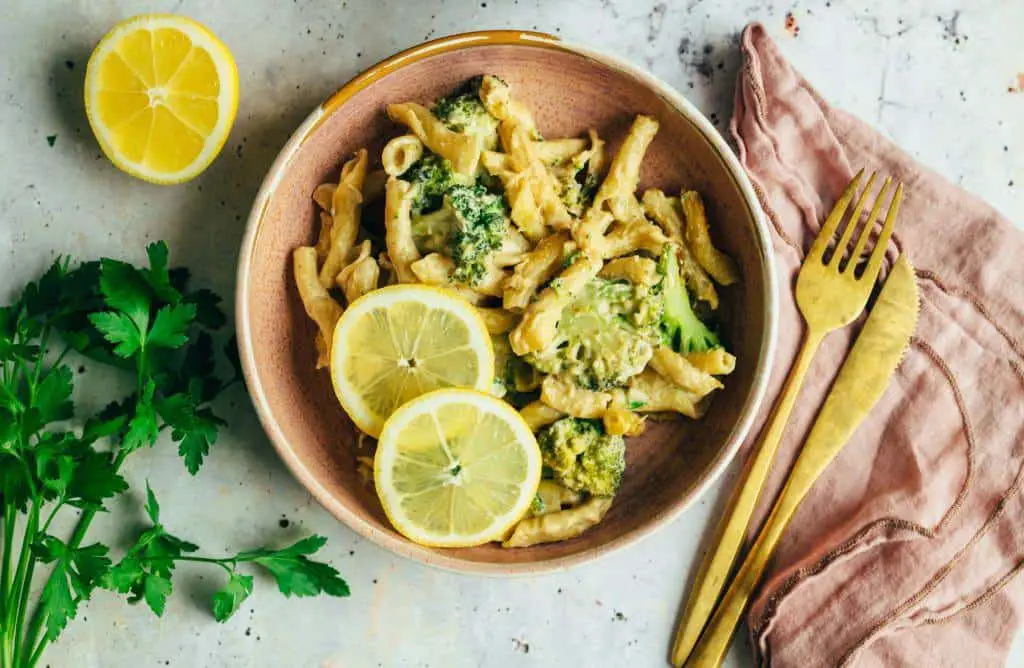 If you'd rather try a different casserole today, I recommend the vegan cannelloni, vegan lasagna or vegan Shepherds Pie.
The vegan broccoli lemon pasta casserole is:
aromatic
creamy
Lemony
filling
Easy to manufacture
Let's get started with this delicious vegan casserole. I wish you a lot of fun in the recooking and look forward to a review at the bottom of this page. If you post a picture, use the hashtag #veganevibes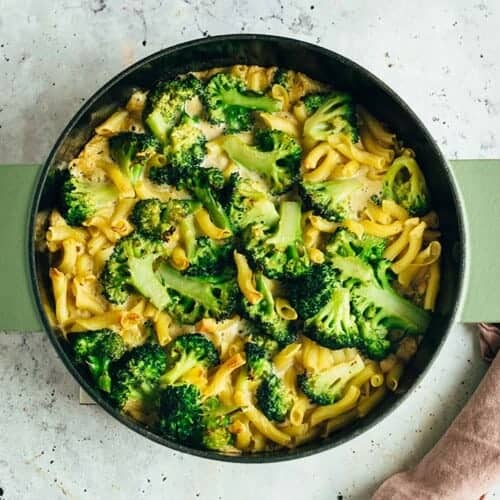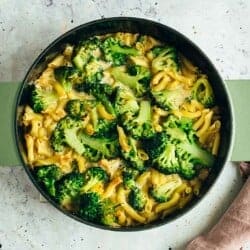 Broccoli lemon pasta casserole
Vegan casserole broccoli, pasta and a creamy sauce with lemon and miso. Delicious vegan dish that is quick to make and makes a wonderful lunch or dinner when combined with a salad. Vegan, gluten-free, rich in valuable vitamins and minerals.
AUTOR: VEGANEVIBES
Anleitung 
FOR THE BROKKOLI Put water, salt and broccoli florets in a pot and heat until the water boils. Simmer for 5 minutes. Strain the water and set aside.

350 g Broccoli,

1 Liter Water,

A pinch of salt

FOR THE PASTA Bring water to a boil, add salt and pasta. Stir and cook according to package directions. IMPORTANT: Reduce cooking time by 2 minutes so that the pasta is still nice and firm to the bite. Strain and set aside.

350 g Pasta,

2 Liter Water,

A pinch of salt

NOW preheat oven to 190 degrees (convection) or 210 degrees (top-bottom heat) and provide a medium casserole dish.

FOR THE CASHEW-LEMON SAUCE, provide a high-powered blender, add in cashews, plant milk, nutritional yeast flakes, Italian herbs, garlic granules, Bird Eye Chili, salt, lemon juice and miso and blend on high speed for 60 seconds until fine.

30 g Cashews,

250 ml Plant milk,

2 tbspn Nutritional yeast flakes,

2 tbspn Italian herbs,

1 tbspn Garlic granules,

1 Bird Eye Chili,

½ tbspn Salt,

Pepper to taste,

45 ml Lemon juice,

2 Garlic cloves,

1 tbspn white miso

Place the broccoli and pasta in a baking dish and pour the cashew-lemon sauce over them. Mix well with a spoon and smooth. Optionally sprinkle 1-2 hands of vegan cheese. Place in preheated oven and bake for

20 minutes

.

Remove from oven, let set for 5 minutes and position on plates.

Garnish with fresh herbs and vegan parmesan of choice. enjoy!

Vegan parmesan,

Basil or other fresh herbs to taste

Keep leftovers covered in the fridge for 2-3 days.
Nährwertangaben
Serving:
1
Portion
Calories:
288
kcal
Carbohydrates:
52
g
Protein:
12
g
Fat:
4
g
Saturated Fat:
1
g
Sodium:
83
mg
Potassium:
427
mg
Fiber:
4
g
Sugar:
4
g
Vitamin A:
534
IU
Vitamin C:
60
mg
Calcium:
103
mg
Iron:
2
mg