Simple vegan gravy is indispensable for a successful Christmas menu. Aromatic it should be, quickly made and above all vegan. Who knows me knows that it can always go fast with me. Of course, that's not always the case and there are recipes here and there that are a bit more elaborate in design. By and large, my premise is: Simple, fast and with sensational taste. There are just under 4 weeks until Christmas and it looks like we will all be sitting around the Christmas tree together with the family after all. Reason enough to make a big pot of sauce, because it just always goes. To dumplings, roasts, vegetables, casseroles and many other delicious dishes.
Vegan gravy quick and easy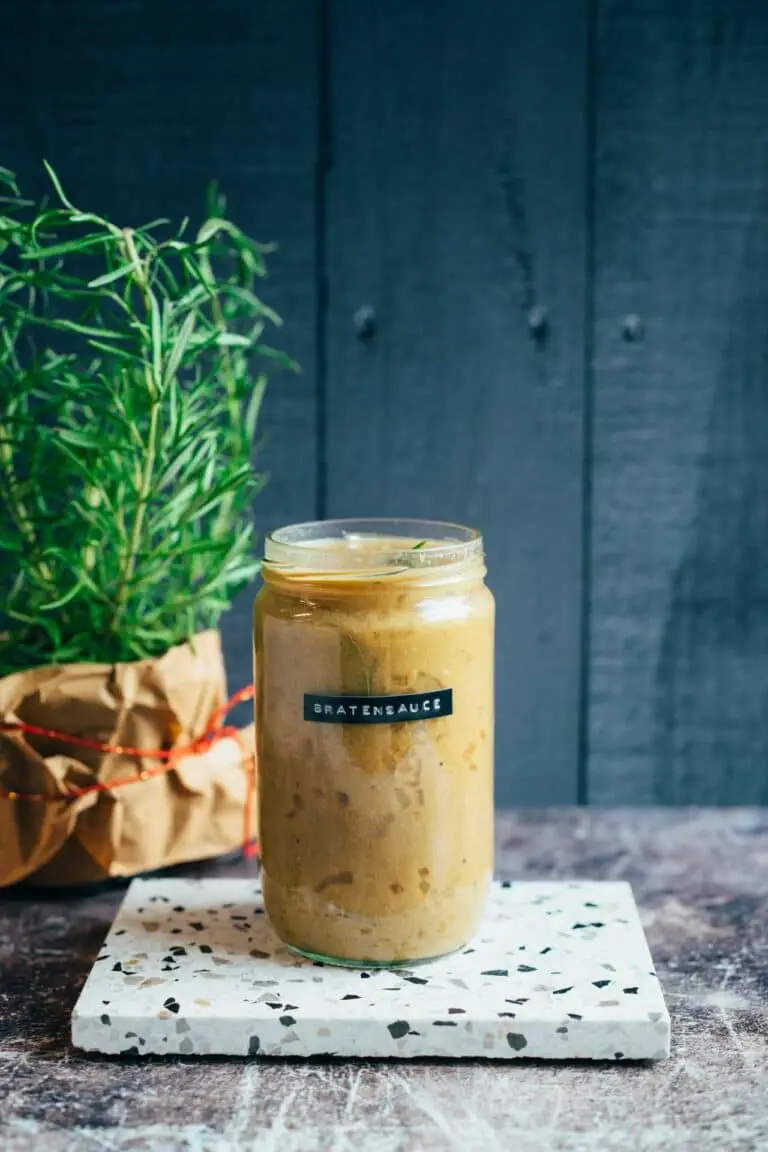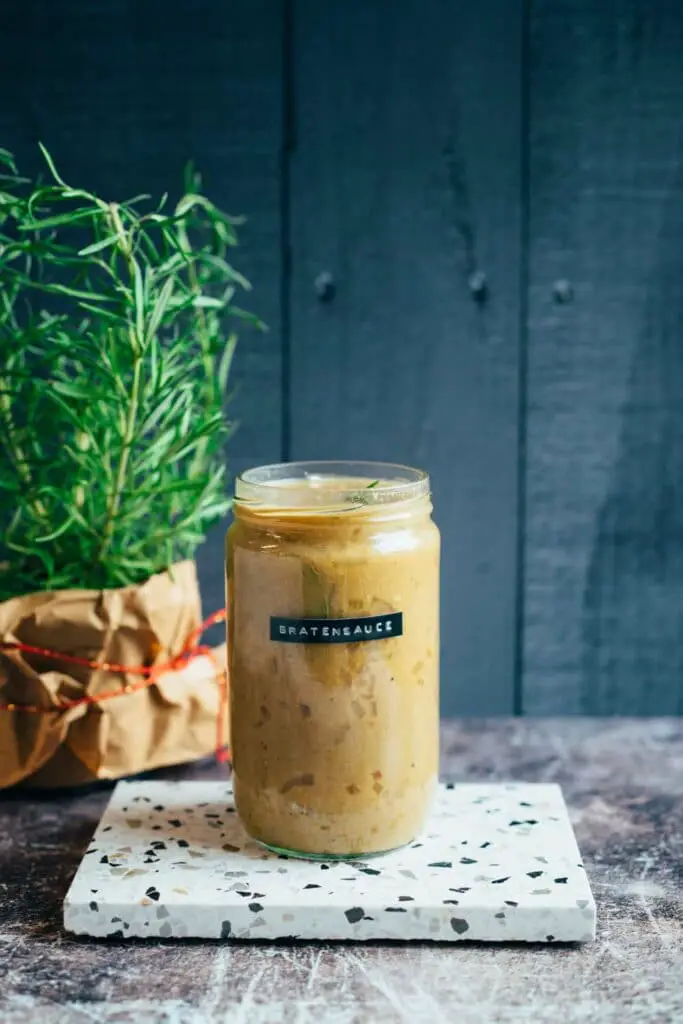 Gone are the days of pre-packaged products from the supermarket. Making this sauce is simple and there is no reason to rely on an industrially mixed powder in a bag. Frying oil, onion, garlic, starch, water, yeast flakes, tamari (or soy sauce), vegetable broth, pepper and a bay leaf for flavor. That's all we need to make this fine sauce.
TIP: I use a white onion in the original recipe, but you are also very welcome to use red onions. The more intense you want the flavor to be in the sauce, the longer you should roast the diced onion in the pan. The resulting roasted aromas provide a more intense flavor. Please do not overdo it, if it burns too much then unfortunately it becomes inedible.
Vegan sauce without mushrooms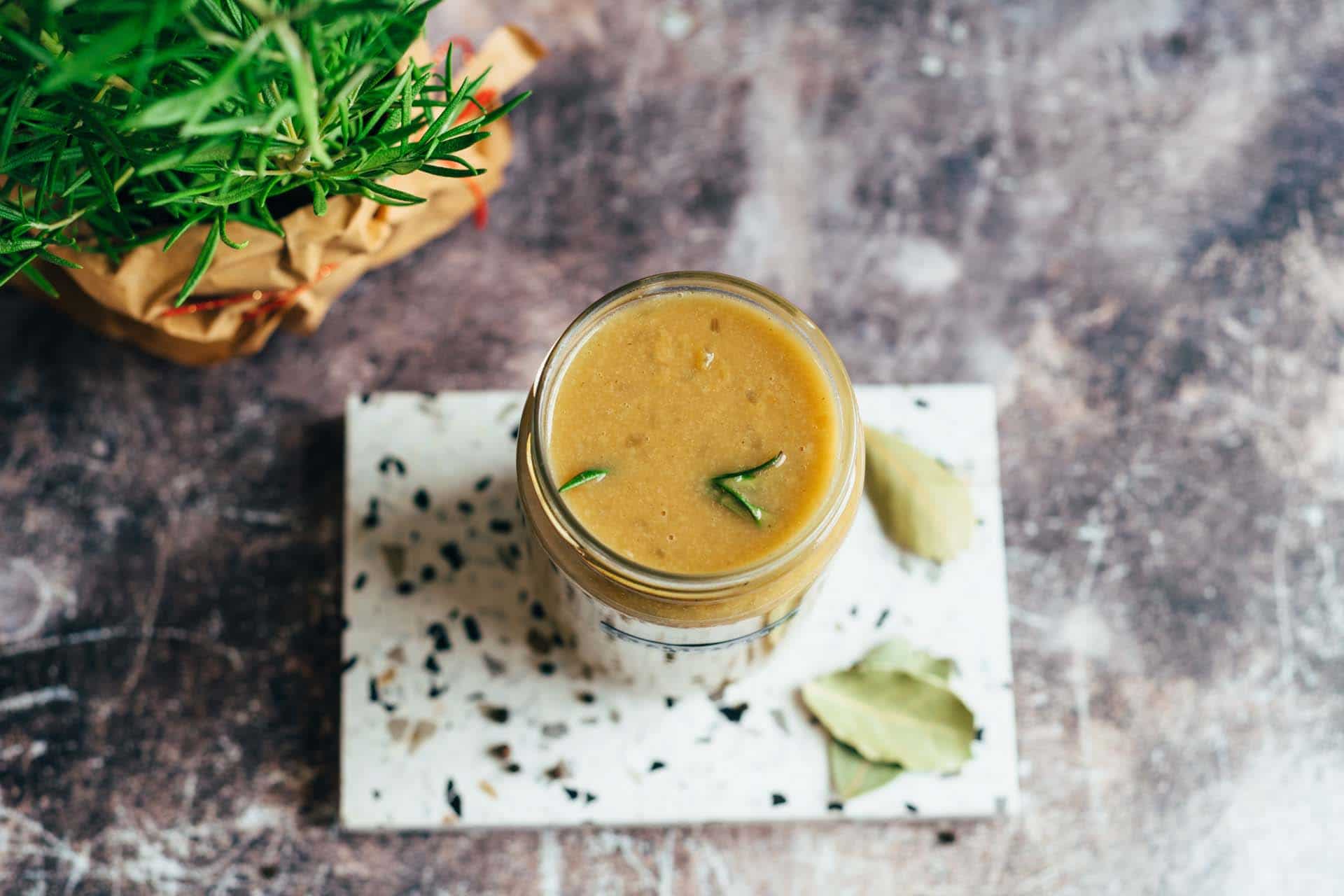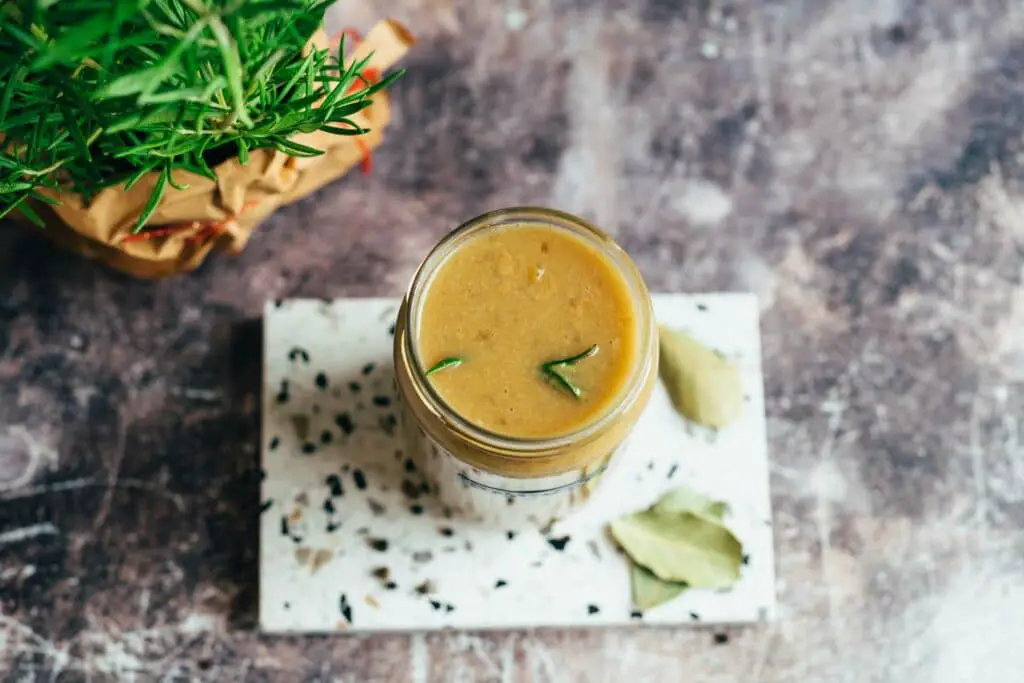 In very many recipes for vegan gravy you can find mushrooms. The background is that they are good tastemakers. However, there are people who do not like mushrooms per se or simply do not have any in the house. Mushrooms are nice for a sauce, but they don't have to be. If you still don't want to do without it, you are welcome to chop the following types of mushrooms and sauté them together with the onion and garlic.
Shiitake
Dried porcini mushrooms(soak in hot vegetable broth for 10 minutes before using).
Chanterelles
When using fresh mushrooms, I recommend the addition of a cup, for dried ones a small hand full. I was surprised at how good the sauce tasted without the addition of mushrooms. The main flavor carriers are nutritional yeast flakes and tamari. Both provide an intense, slightly salty flavor that goes perfectly with hearty dishes.
What can I use the vegan gravy for?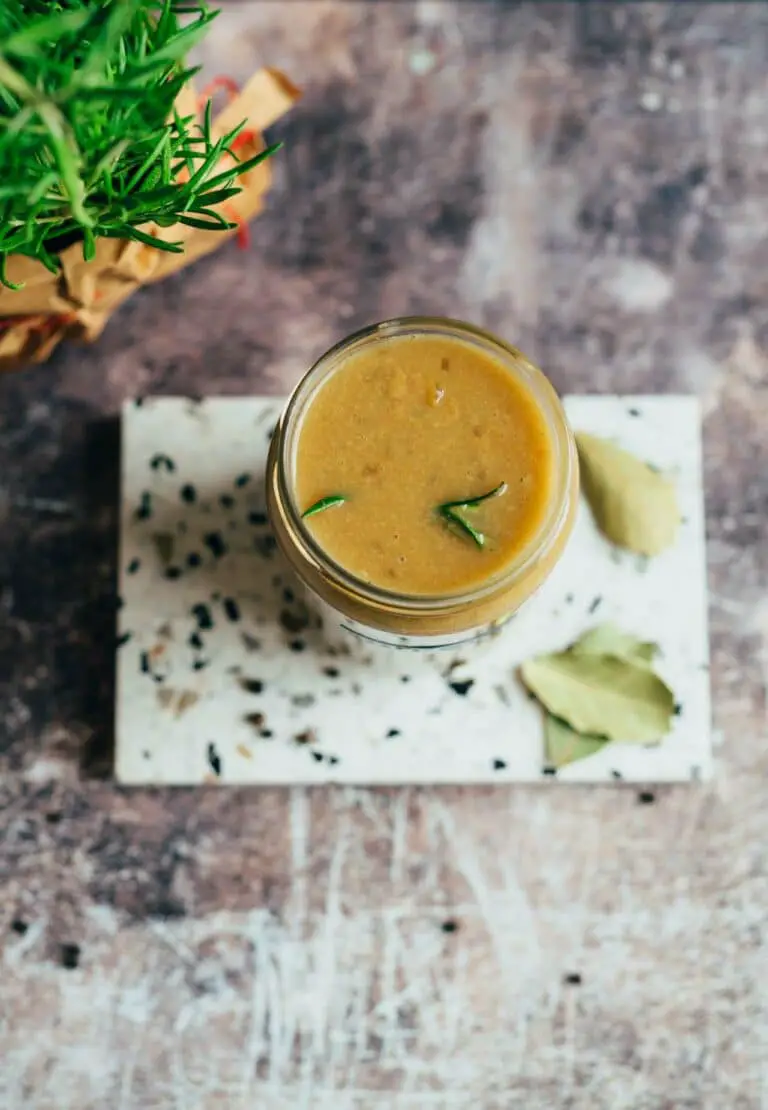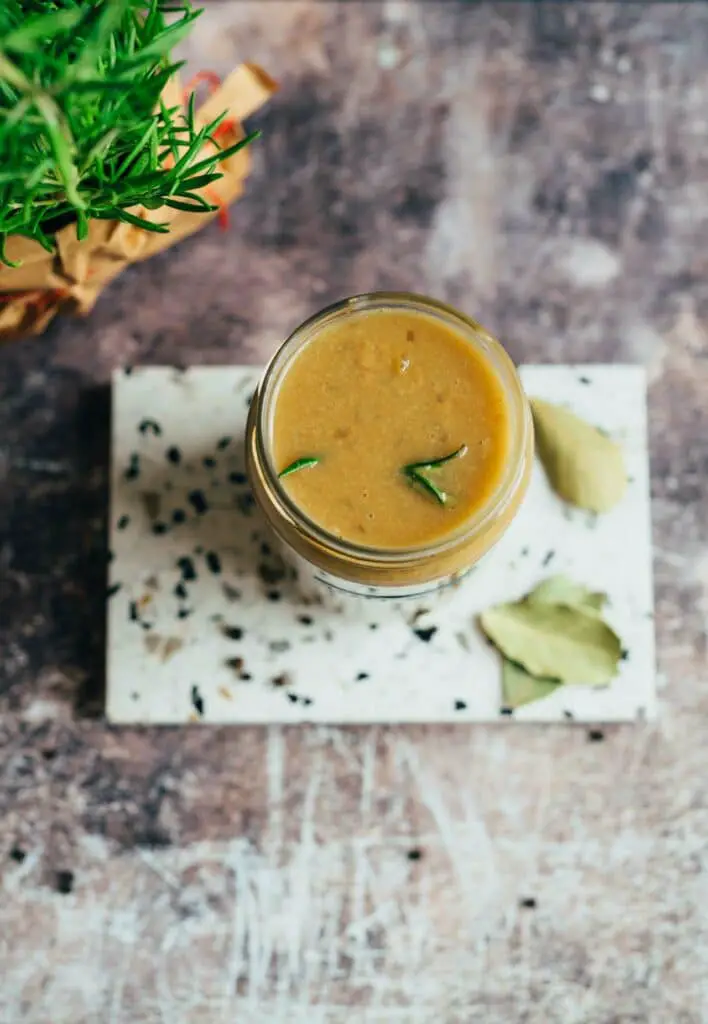 It is best for my festive nut roast with glaze, vegan roast in puff pastry, protein roast, quick roast, mushroom roast and the homemade mashed potatoes or with roasted root vegetables from the oven.
TIP: If you want to make the sauce in advance. It keeps up to 5 days airtight in the refrigerator. When reheating, simply place in a saucepan and heat with a small sip of water. Alternatively, heat in steamer or microwave.
Frozen, the sauce will keep for several weeks and can be thawed as needed. This is done overnight at room temperature or in a steamer (oven). Most devices have special programs for this purpose.
The simple vegan gravy is
versatile
aromatic
Few ingredients
Simply made
Good durable
Are you as big a sauce fan as I am? Then I look forward to a review at the bottom of this page. If you post a picture, then like to use the hashtag #veganevibes.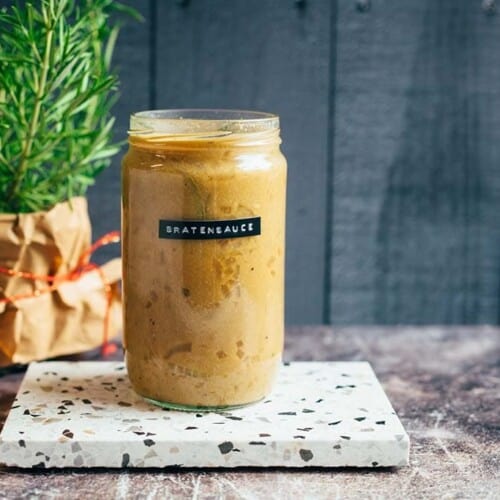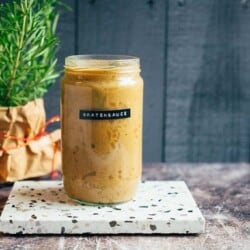 vegan gravy (gluten-free, 15 minutes)
Simple, gluten-free gravy with few ingredients. Quickly made in just 15 minutes, versatile and keeps well. Perfect for your vegan Christmas menu.
AUTOR: VEGANEVIBES
30

ml

Frying oil

or another high-heat oil or margarine, if oil-free use 2 tbsp. broth

110

g

white onion finely chopped

Equivalent to one medium onion alternatively shallots or red onions

2

Piece

Garlic cloves

finely chopped or 1 tsp garlic granules

500

ml

Vegetable broth

4

tbspn

Nutritional yeast

1

tbspn

Tamari plus more according to taste

or any other soy sauce of your choice

3

tbspn

Cornstarch dissolved in about 3 tablespoons of water and stir until smooth

alternatively another gluten-free starch/flour of choice

Black pepper to taste

Bay leaf

optional

Vegetable cream to taste

optional
Anleitung 
Put the pan on the stove and heat.

Heat the frying oil in it. If oil-free, simply use 2 tablespoons of the vegetable broth.

Add the onion and garlic and sauté a little. Deglaze with vegetable stock and stir once. Add nutritional yeast, tamari and cornstarch dissolved in water and bring to a boil once. Taste once and season to taste with fresh pepper and a bay leaf.

110 g white onion finely chopped,

2 Piece Garlic cloves,

500 ml Vegetable broth,

4 tbspn Nutritional yeast,

1 tbspn Tamari plus more according to taste,

3 tbspn Cornstarch dissolved in about 3 tablespoons of water and stir until smooth,

Black pepper to taste,

Bay leaf,

Vegetable cream to taste

Remove bay leaf after cooking and finely blend sauce with a magic wand to taste. Optionally add some vegetable cream for refinement.

Enjoy with a vegan roast of your choice.

Keeps airtight in the refrigerator for up to 5 days. Shelf life several months frozen
Nährwertangaben
Serving:
1
Portion
Calories:
61
kcal
Carbohydrates:
4
g
Protein:
1
g
Fat:
5
g
Saturated Fat:
1
g
Sodium:
343
mg
Potassium:
40
mg
Fiber:
1
g
Sugar:
1
g
Vitamin A:
178
IU
Vitamin C:
1
mg
Calcium:
4
mg
Iron:
1
mg