"Mama Mia, how can you have a vegan Make lasagna? That's a disgrace!" That's about what an original Italian mama might say. But she could also say, "Mama mia, the vegan lasagna tastes great and the lentils, the béchamel sauce, a dream!" Honestly, this vegan lasagna more than a dream. The layers are perfect, the béchamel sauce nice and creamy and the Lentil Bolognese tomato-fruity. From my point of view, it could not be more ideal. Oh yes, my husband overeaten on this dish by his own account – no wonder, it was supposed to be enough for 6 people and not 2.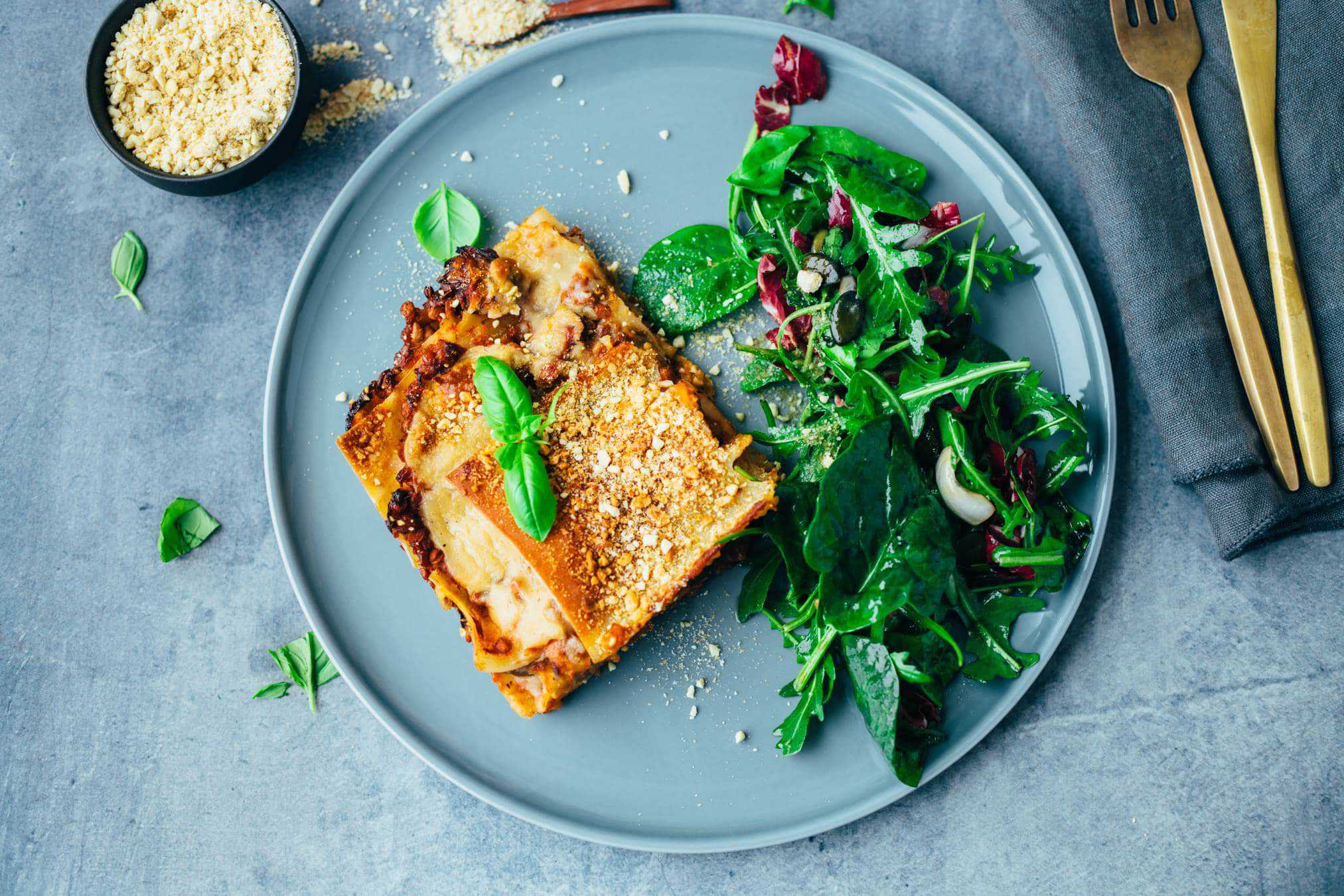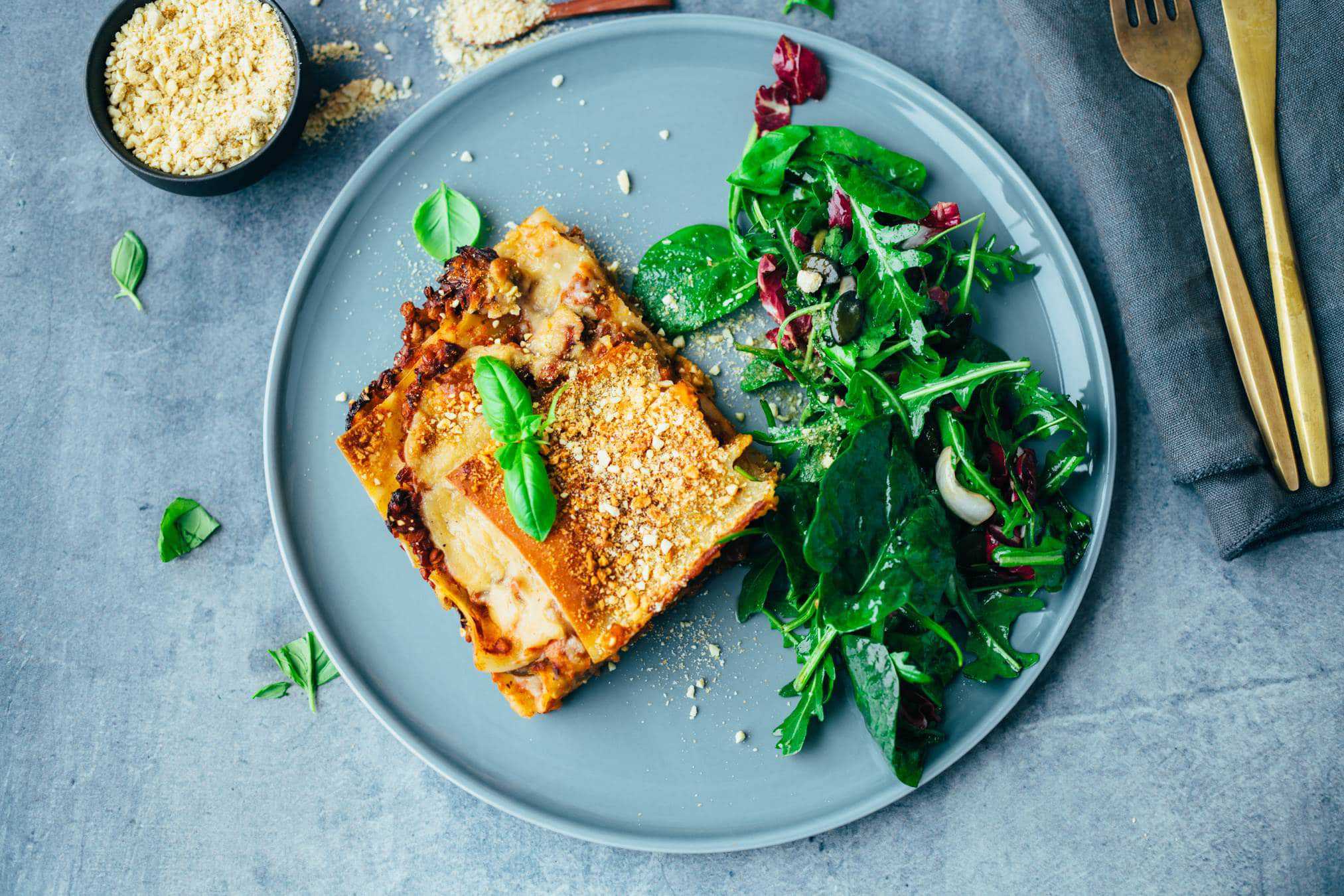 Mama Mia – vegan lasagna but tastes quite delicious
Seit langem wollte ich diesen Italiaischen Klassiker endlich mal wieder machen. Actually, only one thing bothered me a little: the preparation time! Lasagna is always one of those recipes for me that I only make when I have endless amounts of time. This makes me smile and think of our acquaintance, who makes a real orgy out of preparing a lasagna. It usually starts with a bottle of red wine, then the pasta is prepared homemade. The ragout and béchamel sauce follow, followed by a baking time of over an hour (the wine is usually empty by then). I'd say we shorten it a little bit? Agreed?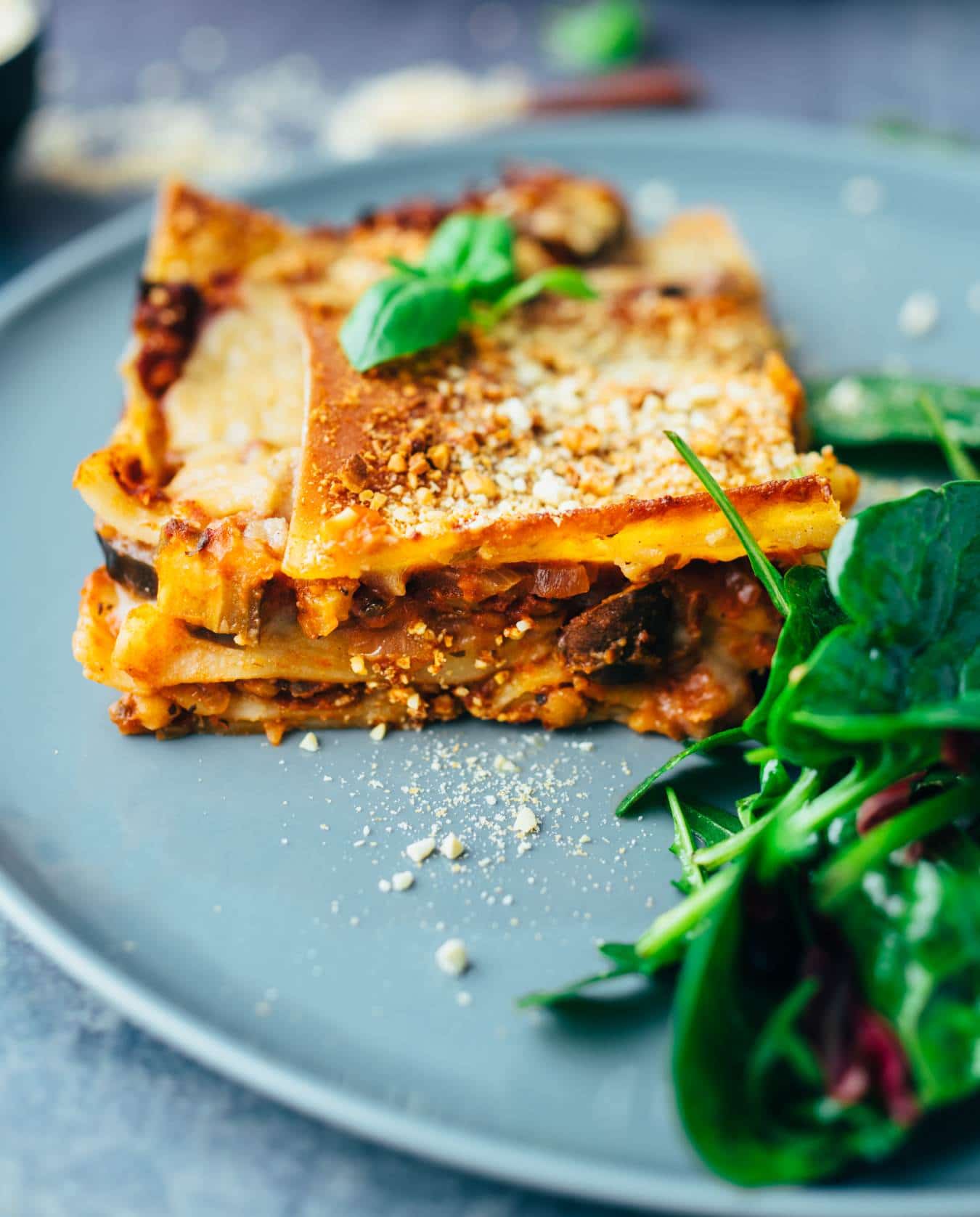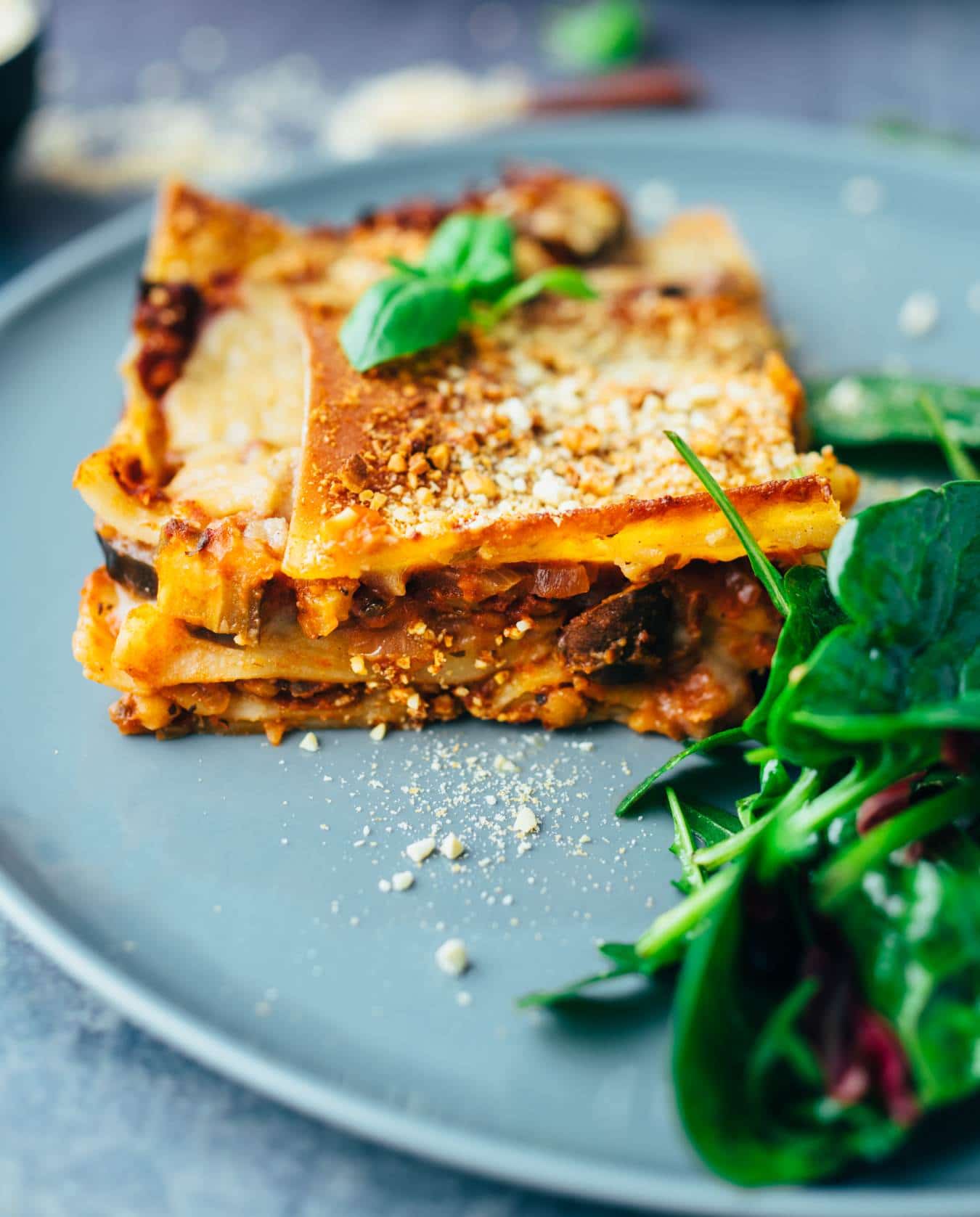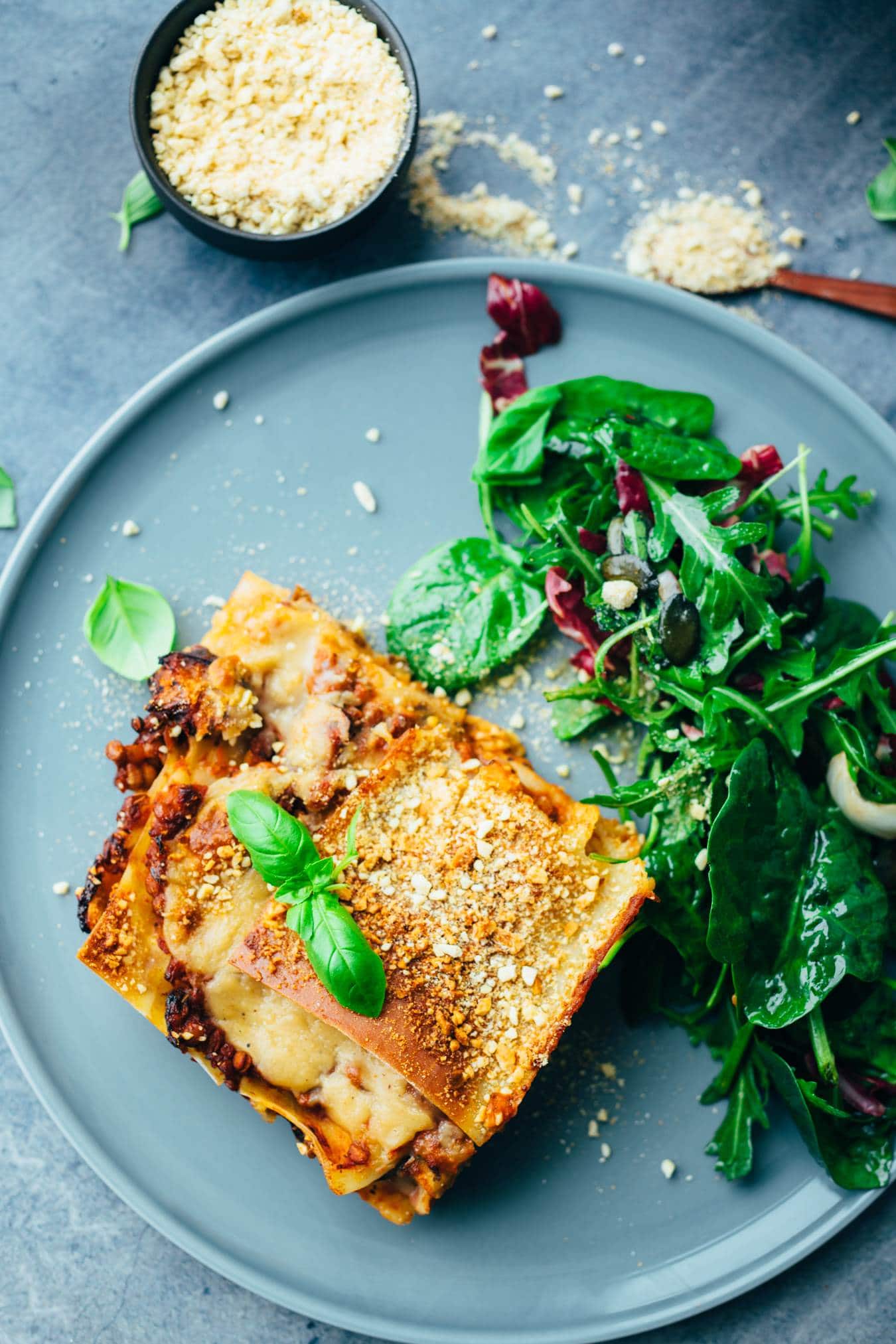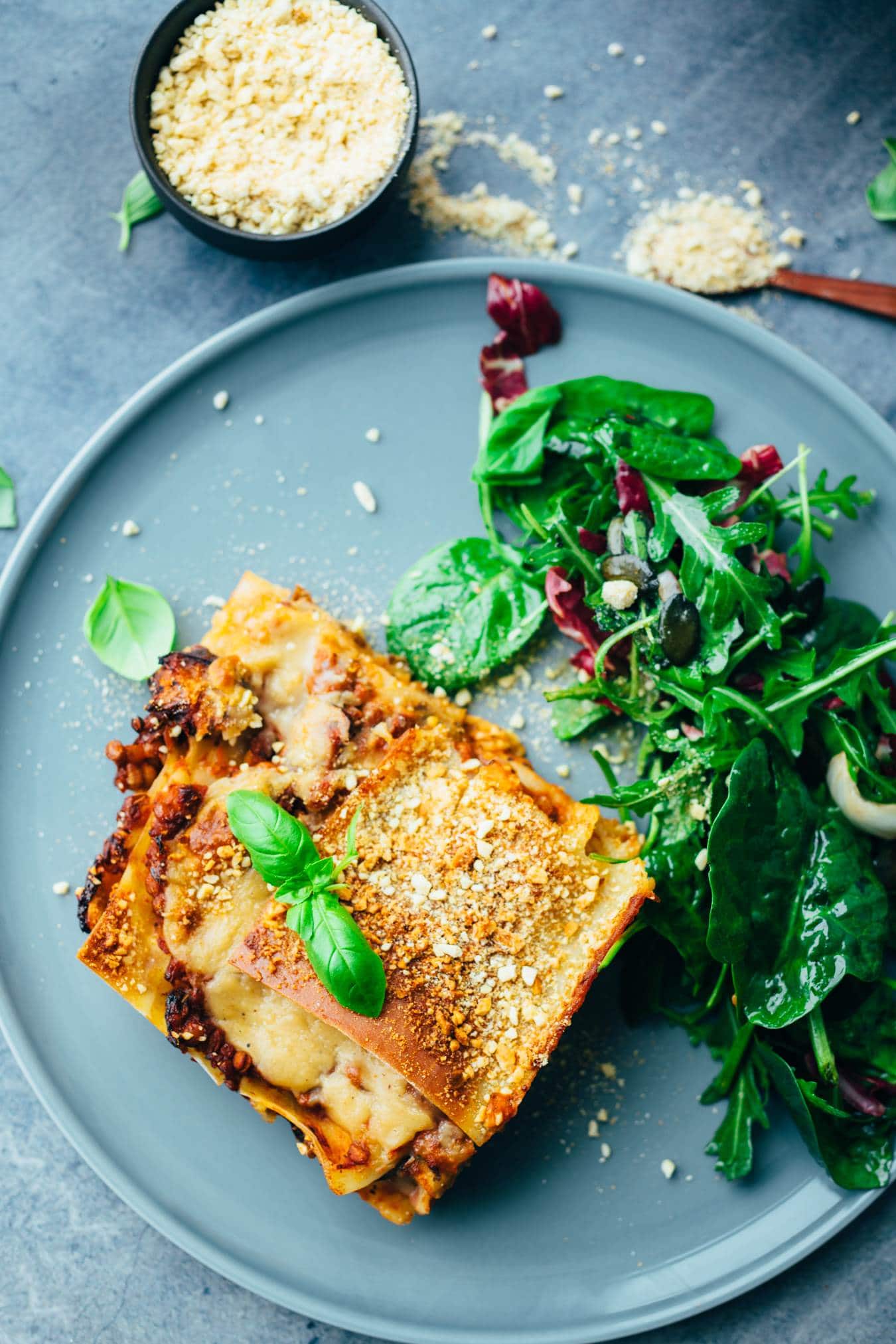 Preparation is everything, so the vegan lasagna will be a precision landing
In my view, there are two rules when preparing a lasagna:
Planen Sie genügend Zeit ein. I suggest about two hours, 45 of which is baking time and 15 minutes cooling time. One hour is reserved for the preparation and cooking of the two sauces. This way you can finish everything super chilled out and make a great side salad on the side (a must from my perspective!).
You prepare the Lentil Bolognese (= the vegan ragout) the night before, saving you time and stress. The bolognese can be left in the refrigerator for one night and tastes just a little bit better. Alternatively, you could cook two portions Bolognese and freeze one portion. I would always make the béchamel sauce fresh, because otherwise it thickens unnecessarily and must first be reboiled with water.
The ingredients for the vegan Lentil Bolognese are manageable and simple. You can find the detailed recipe here. There are two things to keep in mind when making béchamel sauce: Use heat sparingly and stir! The good news for all who love gluten free Cooking or have an intolerance: I made the béchamel sauce with my gluten free flour mix and it turned out great. However, any other flour will work, such as spelt flour or wheat flour.
The lasagna sheets are also available gluten-free, but this time I opted for the very simple durum wheat version. Do you have experience with gluten-free lasagna sheets? Then feel free to comment below.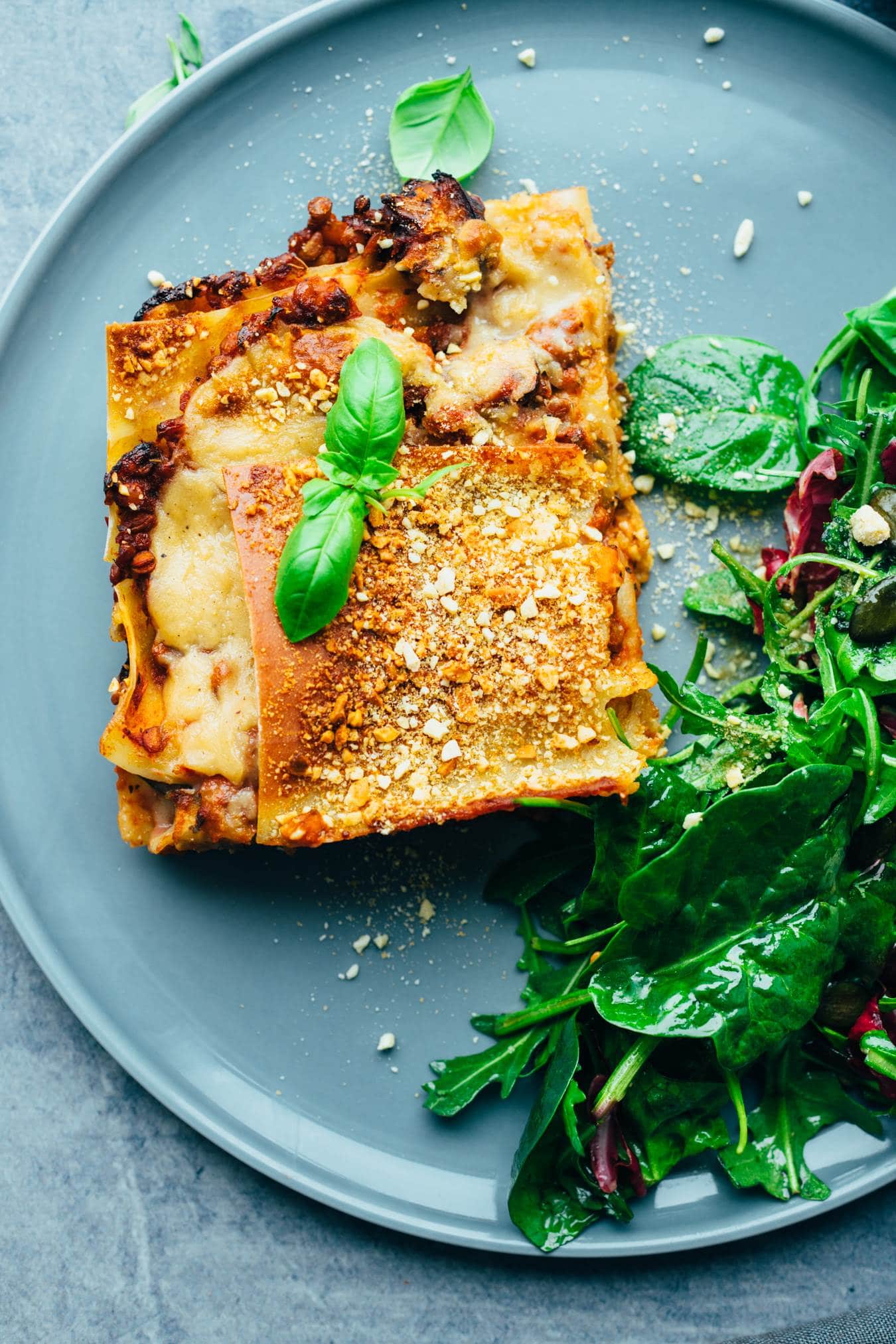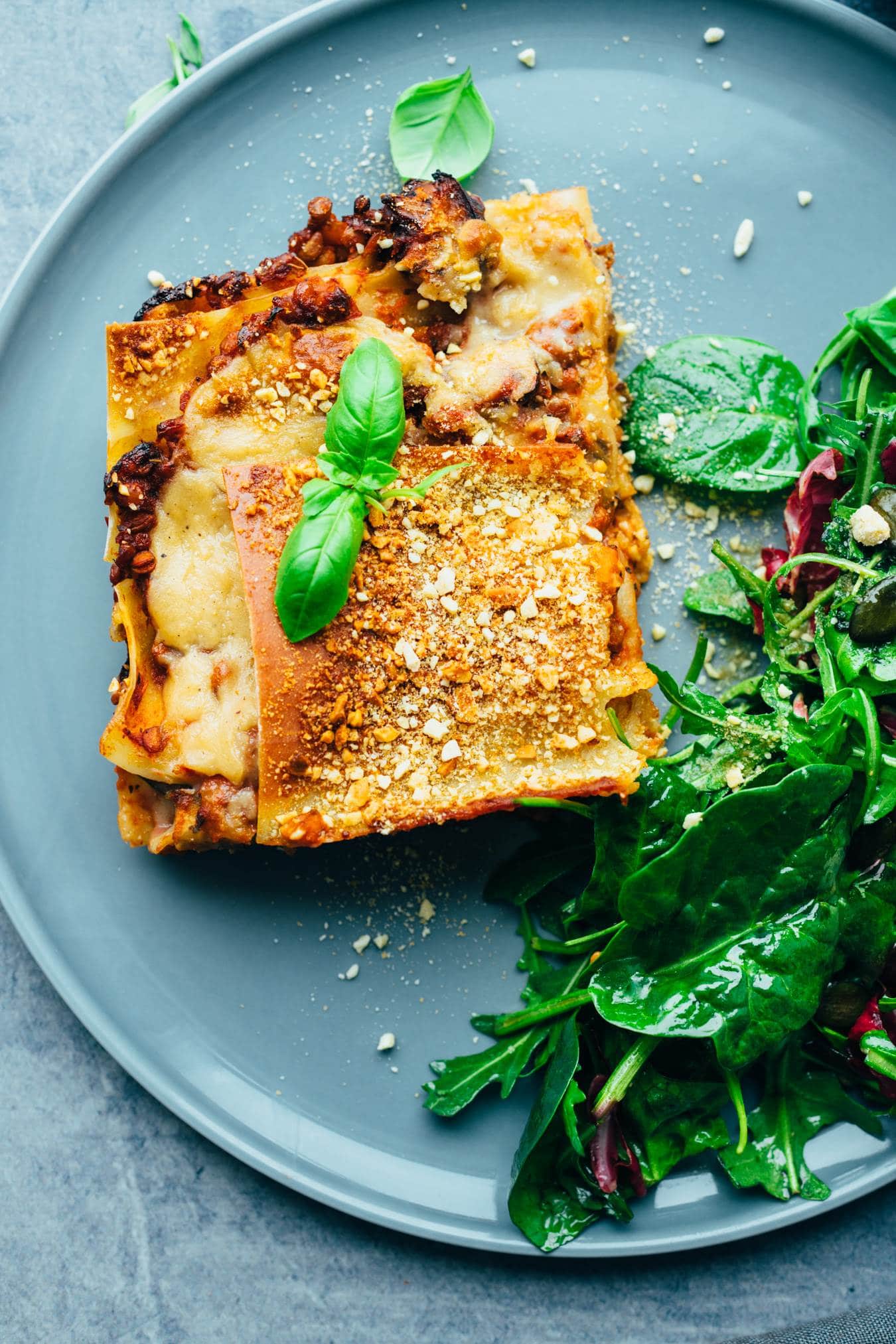 Very well to fits a side salad with great balsamic dressing, such as. my favorite salad .
The simple vegan lasagna is:
Fruity Tomato
Crispy on top, soft and juicy inside
Creamy
filling
Easy to make
Are you ready for this wonderful Italian dish? I wish you a lot of fun in recooking and of course a review at the bottom of this page. If you post a picture, use the hashtag #veganevibes.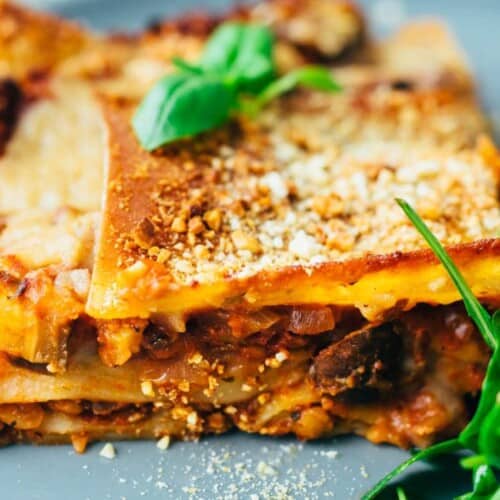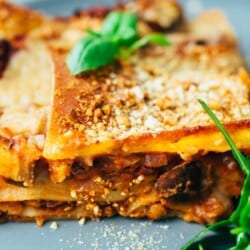 Einfache vegane Lasagne
Fruchtig-Tomatige, aromatische, klassisch italienisch gewürzte Lasagne. Schichten aus herzhafter Linsenbolognese und veganer Bechamelsauce ummanteln die leckeren Lasagneblätter. Getoppt mit Olivenöl und veganem Parmesan. Ein perfektes Gericht für die ganze Familie
AUTOR: VEGANEVIBES
FÜR DAS RAGOUT:
450

g

Aubergine

in Stücke geschnitten (entspricht einer kleinen Aubergine)

210

g

Champignons

geputzt und in Scheiben geschnitten (10 Champignons)
ZUM SERVIEREN:
Gemischten Salat mit Balsamico Dressing

Frisches Basilikum
Anleitung 
Eine Portion Linsenbolognese,

450 g Aubergine,

210 g Champignons

FÜR DIE BECHAMEL SAUCE einen Topf auf mittlerer Hitze erhitzen, vegane Margarine schmelzen und Mehl hineingeben. Mit einem Rührbesen intensiv rühren, bis sich alles zu einer sämigen Paste verbunden hat. Etwas Hafermilch hineingießen, rühren, wieder Hafermilch dazugießen und weiterrühren, bis sich alles gut verbunden hat. Vorsicht Temperatur, Sauce soll nicht am Boden anbrennen. Unter Rühren Aufkochen, jetzt sollte die Bechamel Sauce langsam dickflüssig werden. Falls zu dünn, etwas mehr Mehl hineinsieben! Ansonsten kann es klumpen und immer kräftig rühren. Hitze wegnehmen und beiseitestellen.

50 g glutenfreie Mehlmischung,

600 ml Hafermilch oder eine andere Pflanzenmilch,

1 Messerspitze Muskat,

2 EL Hefeflocken,

1 TL Kurkuma,

½ TL Meersalz,

Frisch geriebenen Pfeffer nach Belieben,

50 g vegane Margarine

Ofen auf 220 Grad vorheizen und Auflaufform bereitstellen.


SCHICHTEN: Eine Schicht Bechamelsauce am Boden verteilen, Lasagneblätter darauf verteilen, dann eine Schicht Linsenbolognese und diesen Vorgang Schicht für Schicht wiederholen. Zum Schluss eine letzte Schicht Bechamelsauce mit Lasagneblätter bedecken und mit veganem Parmesan bestreuen. Ich mag es, wenn die Lasagneblätter richtig schön kross und fast verbrannt sind. Falls das nicht gewünscht ist, mit einer Schicht Linsenbolognese abschließen. Optional mit einem Schuss Olivenöl beträufeln.

½ -1 Packung Lasagneblätter aus Hartweizengries oder glutenfrei,

Optional: Einen Spritzer Olivenöl,

3-4 EL veganen Parmesan

In den Ofen geben und 45 Minuten backen. Die Lasagne ist fertig, wenn sie schön goldbraun ist und sich die Blätter etwas wellen. Backzeit kann von Ofen zu Ofen abweichen, einfach nach 40 Minuten regelmäßig ein Auge darauf werfen.


Aus dem Ofen nehmen und 10-15 Minuten abkühlen und setzen lassen. In Stücke schneiden und mit einem Beilagen Salat, veganem Parmesan, Olivenöl und Basilikum servieren.

Gemischten Salat mit Balsamico Dressing,

Veganen Parmesan,

Extra natives Olivenöl,

Frisches Basilikum

Hält bis zu 3 Tage luftdicht verschlossen im Kühlschrank oder 1 Monat im Gefrierschrank. Idealerweise im Dampfgarer erhitzen.

Notizen
NOTIZEN /HILFREICHES ZUBEHÖR:
Nährwertangaben
Serving:
1
Portion
Calories:
325
kcal
Carbohydrates:
21
g
Protein:
5
g
Fat:
9
g
Saturated Fat:
1
g
Sodium:
147
mg
Potassium:
370
mg
Fiber:
4
g
Sugar:
11
g
Vitamin A:
225
IU
Vitamin C:
2.4
mg
Calcium:
163
mg
Iron:
1.5
mg