"Mama Mia, how can you have a vegan Make lasagna? That's a disgrace!" That's about what an original Italian mama might say. But she could also say, "Mama mia, the vegan lasagna tastes great and the lentils, the béchamel sauce, a dream!" Honestly, this vegan lasagna more than a dream. The layers are perfect, the béchamel sauce nice and creamy and the Lentil Bolognese tomato-fruity. From my point of view, it could not be more ideal. Oh yes, my husband overeaten on this dish by his own account – no wonder, it was supposed to be enough for 6 people and not 2.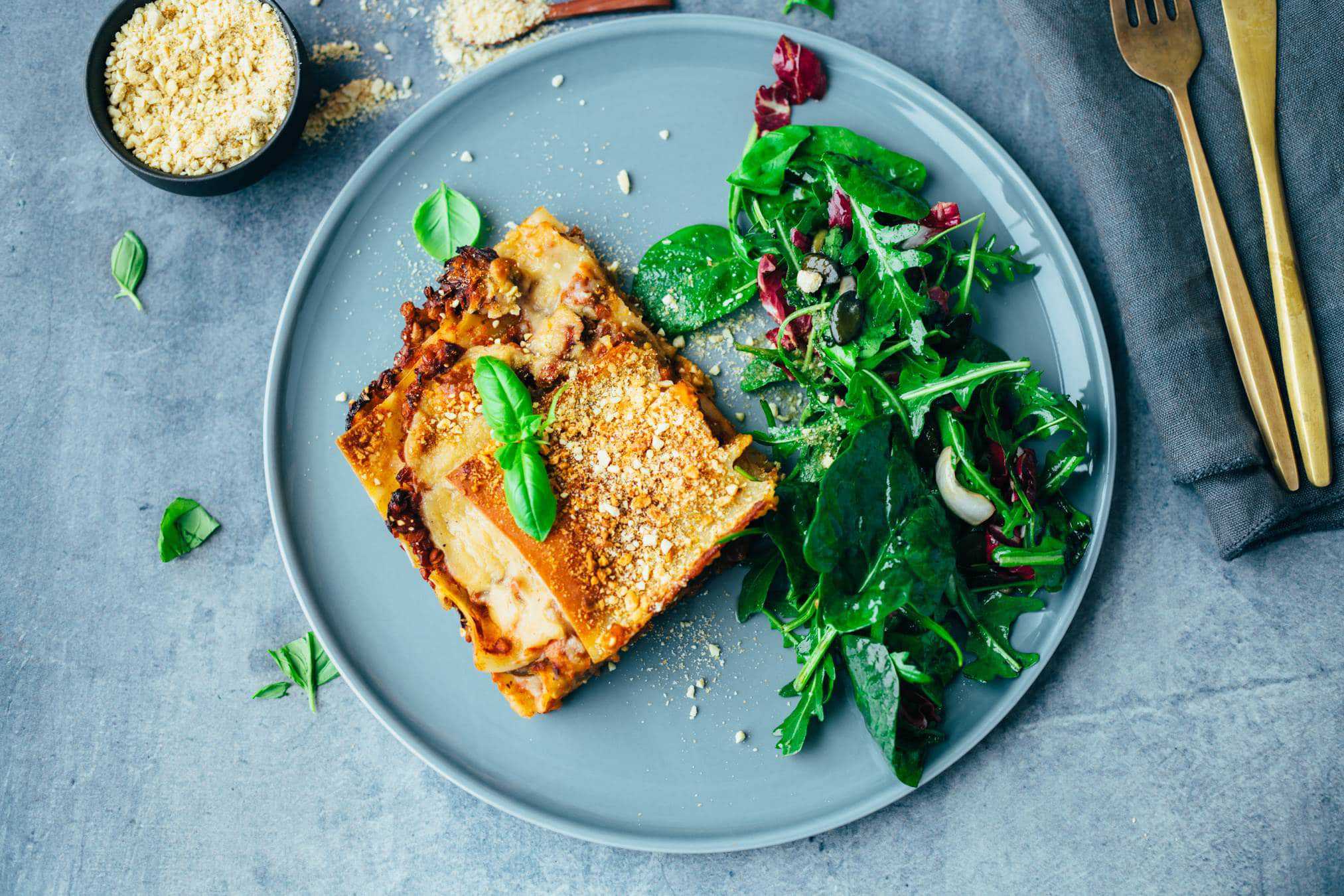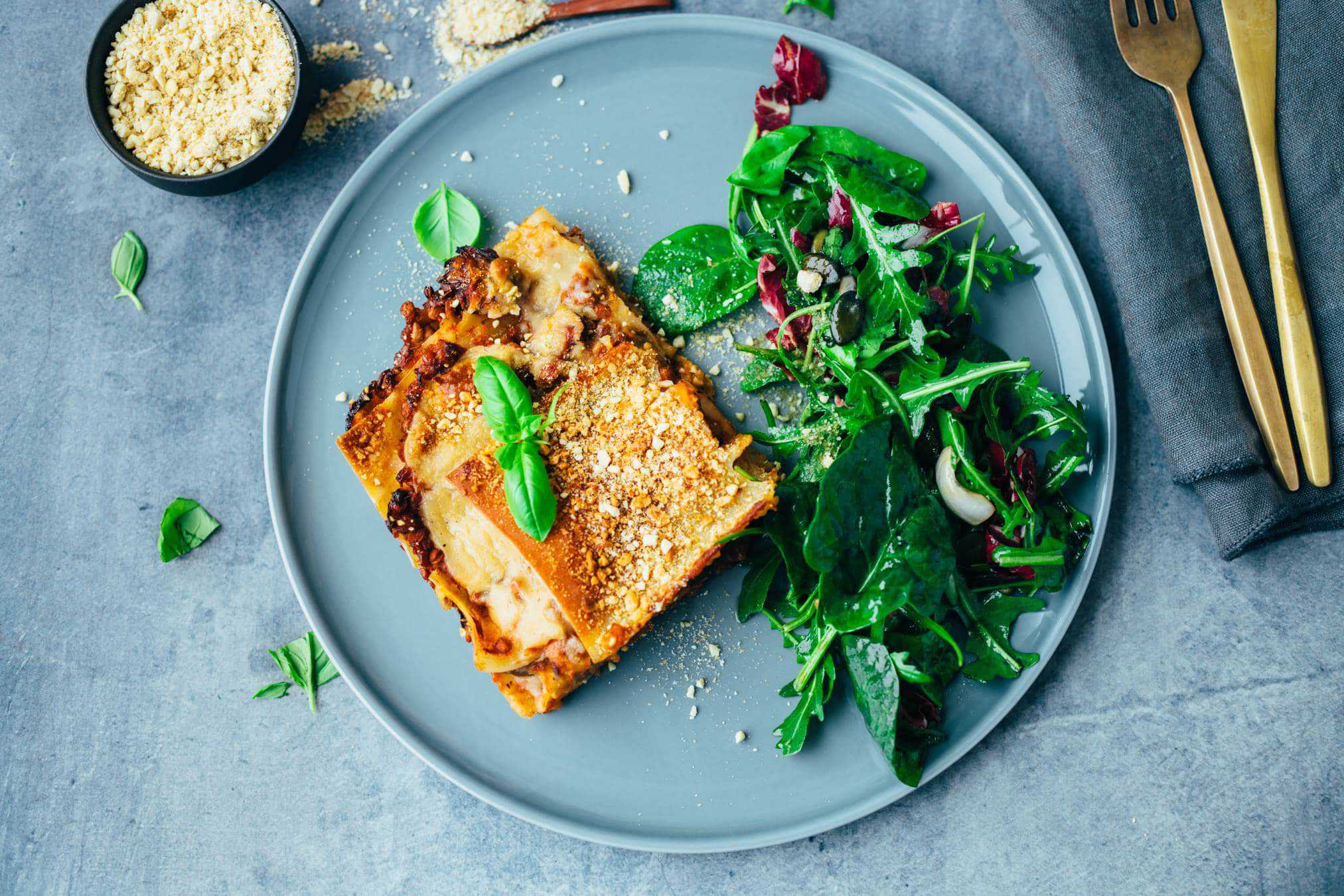 Mama Mia – vegan lasagna but tastes quite delicious
Seit langem wollte ich diesen Italiaischen Klassiker endlich mal wieder machen. Actually, only one thing bothered me a little: the preparation time! Lasagna is always one of those recipes for me that I only make when I have endless amounts of time. This makes me smile and think of our acquaintance, who makes a real orgy out of preparing a lasagna. It usually starts with a bottle of red wine, then the pasta is prepared homemade. The ragout and béchamel sauce follow, followed by a baking time of over an hour (the wine is usually empty by then). I'd say we shorten it a little bit? Agreed?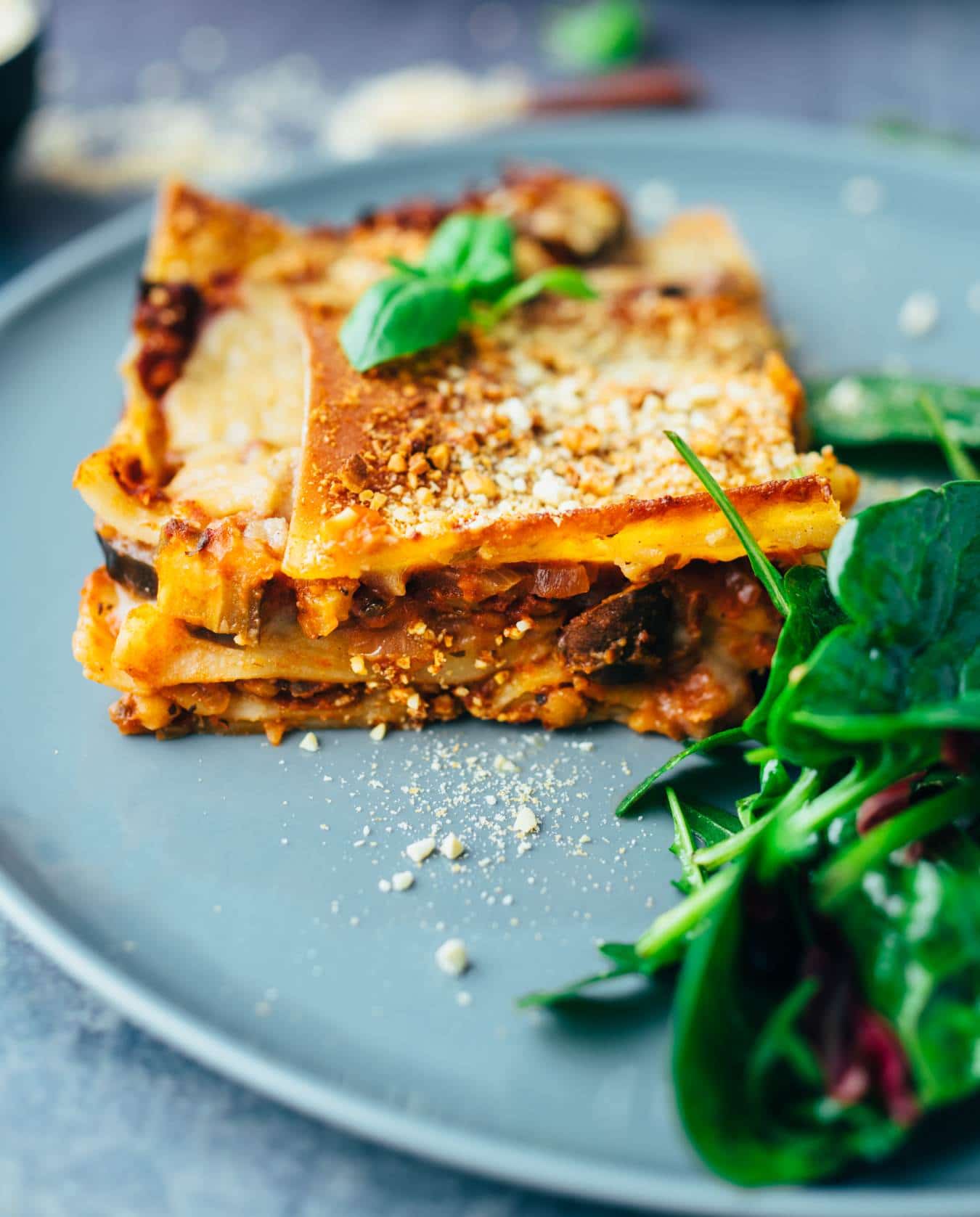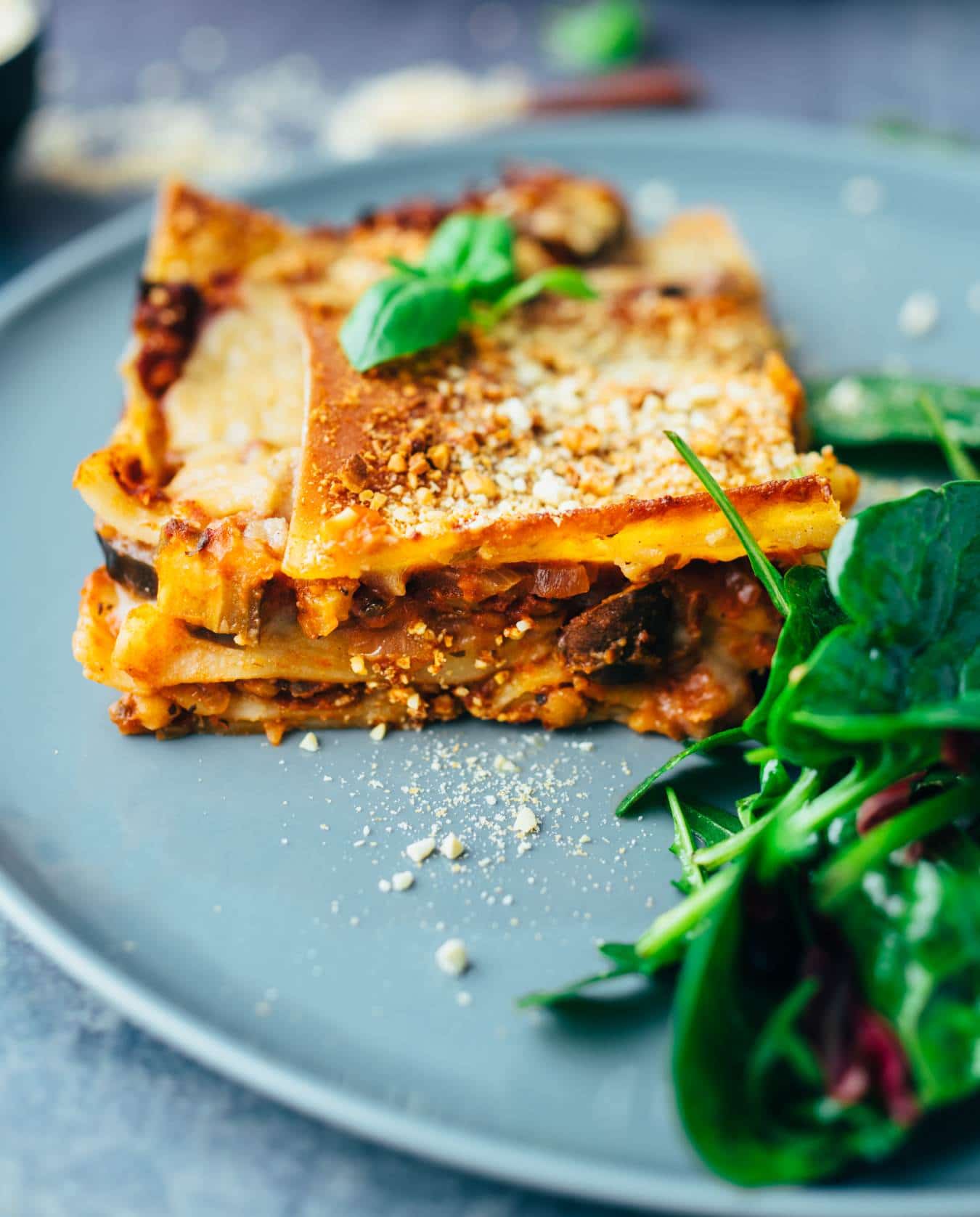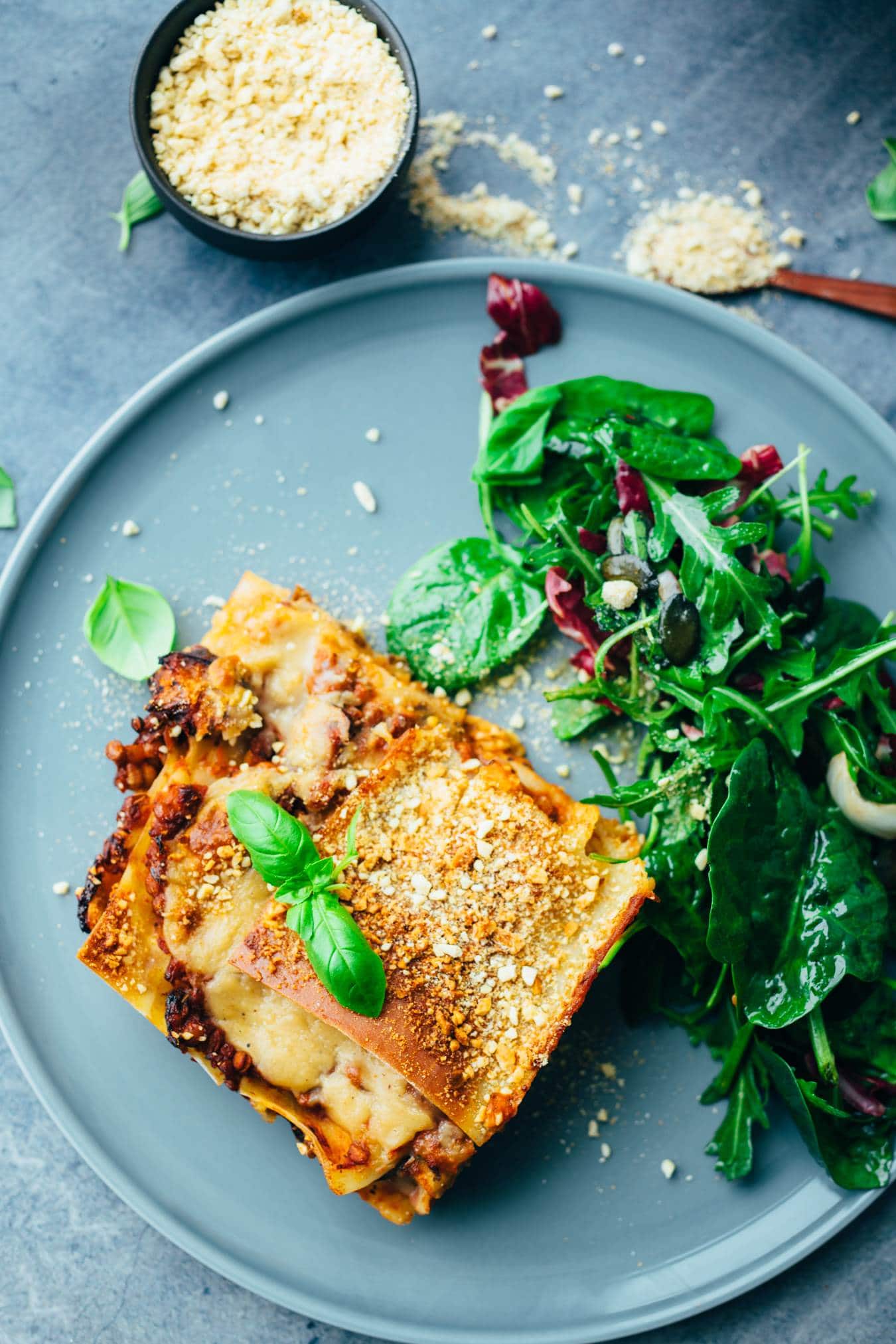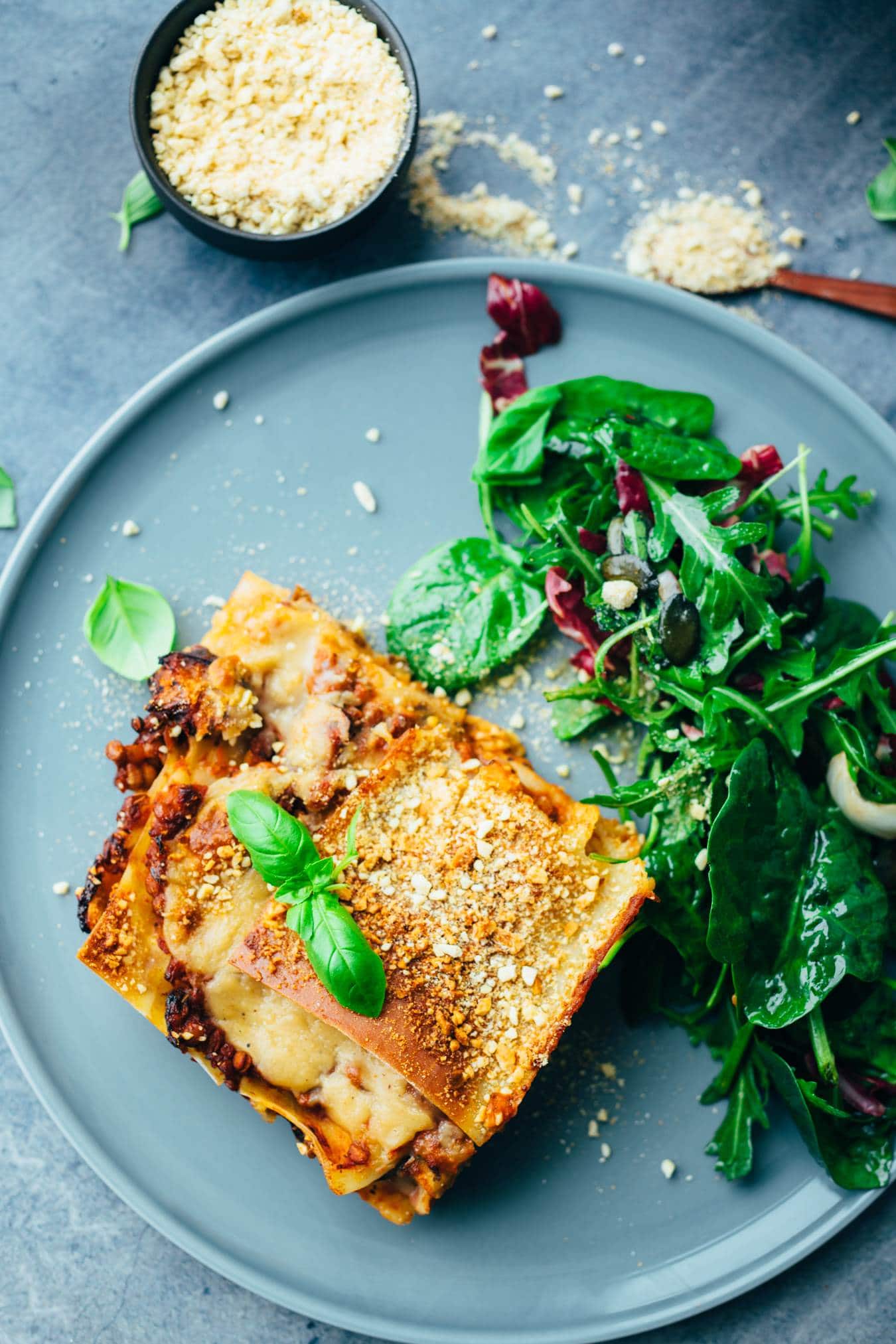 Preparation is everything, so the vegan lasagna will be a precision landing
In my view, there are two rules when preparing a lasagna:
Planen Sie genügend Zeit ein. I suggest about two hours, 45 of which is baking time and 15 minutes cooling time. One hour is reserved for the preparation and cooking of the two sauces. This way you can finish everything super chilled out and make a great side salad on the side (a must from my perspective!).
You prepare the Lentil Bolognese (= the vegan ragout) the night before, saving you time and stress. The bolognese can be left in the refrigerator for one night and tastes just a little bit better. Alternatively, you could cook two portions Bolognese and freeze one portion. I would always make the béchamel sauce fresh, because otherwise it thickens unnecessarily and must first be reboiled with water.
The ingredients for the vegan Lentil Bolognese are manageable and simple. You can find the detailed recipe here. There are two things to keep in mind when making béchamel sauce: Use heat sparingly and stir! The good news for all who love gluten free Cooking or have an intolerance: I made the béchamel sauce with my gluten free flour mix and it turned out great. However, any other flour will work, such as spelt flour or wheat flour.
The lasagna sheets are also available gluten-free, but this time I opted for the very simple durum wheat version. Do you have experience with gluten-free lasagna sheets? Then feel free to comment below.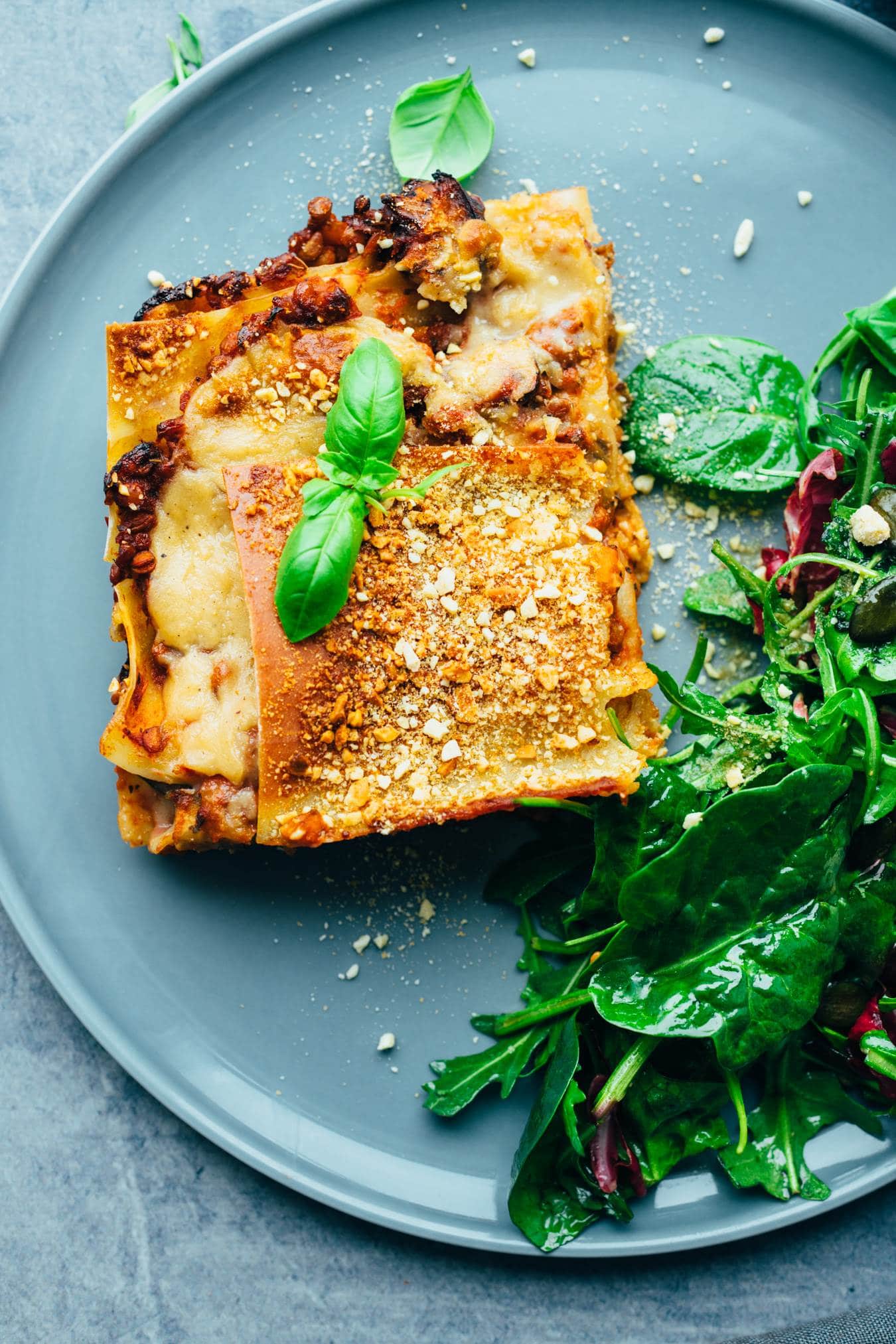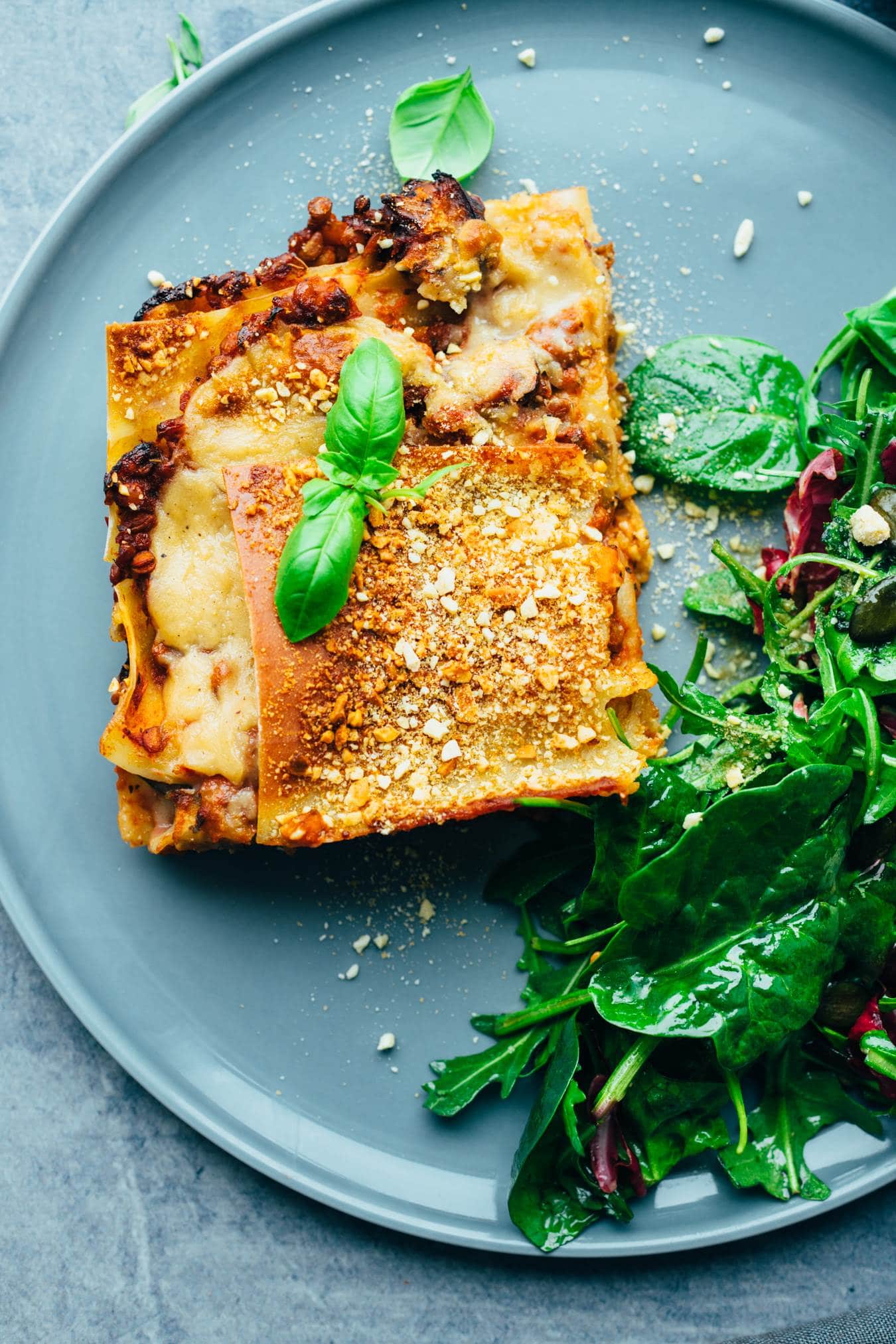 Very well to fits a side salad with great balsamic dressing, such as. my favorite salad .
The simple vegan lasagna is:
Fruity Tomato
Crispy on top, soft and juicy inside
Creamy
filling
Easy to make
Are you ready for this wonderful Italian dish? I wish you a lot of fun in recooking and of course a review at the bottom of this page. If you post a picture, use the hashtag #veganevibes.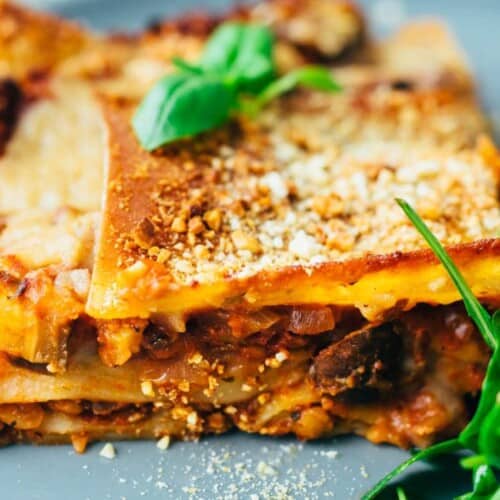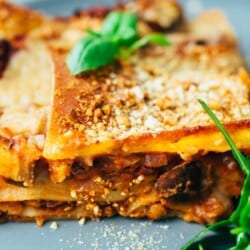 Simple vegan lasagna
Fruity tomato, aromatic, classic Italian seasoned lasagna. Layers of hearty lentil bolognese and vegan béchamel sauce coat the delicious lasagna sheets. Topped with olive oil and vegan parmesan. A perfect dish for the whole family
AUTOR: VEGANEVIBES
FOR THE RAGOUT:
450

g

Eggplant

cut into pieces (equivalent to a small eggplant)

210

g

Mushrooms

cleaned and sliced (10 mushrooms)
TO SERVE:
Mixed salad with balsamic dressing

Fresh basil
Anleitung 
A portion of lentil bolognese,

450 g Eggplant,

210 g Mushrooms

FOR THE BÉCHAMEL SAUCE heat a saucepan over medium heat, melt vegan margarine and pour in flour. Stir intensely with a whisk until everything is combined into a creamy paste. Pour in some oat milk, stir, pour in more oat milk and continue stirring until well combined. Careful temperature, sauce should not burn on the bottom. Bring to a boil while stirring, now the béchamel sauce should slowly thicken. If too thin, sift in a little more flour! Otherwise, it may clump and always stir vigorously. Remove from heat and set aside.

50 g gluten free flour mix,

600 ml Oat milk or another plant milk,

1 Pinch of nutmeg,

2 tbspn Yeast flakes,

1 tbspn Turmeric,

½ tbspn Sea salt,

Freshly grated pepper to taste,

50 g vegan margarine

Preheat oven to 220 degrees and provide baking dish.


LAYERS : Spread a layer of béchamel sauce on the bottom, top with lasagna sheets, then a layer of lentil bolognese and repeat this process layer by layer. Finally, cover a final layer of béchamel sauce with lasagna sheets and sprinkle with vegan Parmesan. I like the lasagna sheets to be really nice and crispy and almost burnt. If this is not desired, finish with a layer of lentil bolognese. Optionally drizzle with a dash of olive oil.

½ -1 Pack lasagna sheets of durum wheat semolina or gluten free,

Optional: a drizzle of olive oil,

3-4 tbspn vegan parmesan

Put in the oven and bake for 45 minutes. The lasagna is ready when it is nice and golden brown and the leaves curl a bit. Baking time may vary from oven to oven, just keep an eye on it periodically after 40 minutes.


Remove from oven and let cool and set for 10-15 minutes. Cut into pieces and serve with a side salad, vegan parmesan, olive oil and basil.

Mixed salad with balsamic dressing,

Vegan parmesan,

Extra virgin olive oil,

Fresh basil

Keeps up to 3 days airtight in the refrigerator or 1 month in the freezer. Ideally, heat in a steamer.

Notizen
NOTES /HELPFUL ACCESSORIES:
Nährwertangaben
Serving:
1
Portion
Calories:
325
kcal
Carbohydrates:
21
g
Protein:
5
g
Fat:
9
g
Saturated Fat:
1
g
Sodium:
147
mg
Potassium:
370
mg
Fiber:
4
g
Sugar:
11
g
Vitamin A:
225
IU
Vitamin C:
2.4
mg
Calcium:
163
mg
Iron:
1.5
mg