Simple vegan pancake soup, or frittata soup, is the classic from Austria. I have loved this soup since I was a kid. First we had pancakes, usually with applesauce and cinnamon sugar, and the next day we made pancake soup from the leftovers. At this point I would like to apologize to you personally. why? Because of my bad spelling! A reader complained yesterday in the comments that yes, my blog is really nice and the recipes work too. I think you know there's something else coming here. Correctly spotted, because she said that the spelling errors bothered and I didn't understand the imperative. She doesn't want to list any more mistakes now either, or I would hate her. I actually had German Leistungskurs, but that was over 20 years ago and I would never claim to be a pro at grammar and spelling. When I write my texts, I do it from my gut, without spending hours thinking about whether it's one hundred percent correct. My TIP: If you have a problem with my spelling and or grammar, you can easily jump to the ingredients with the button "to the recipe".
Vegan pancake soup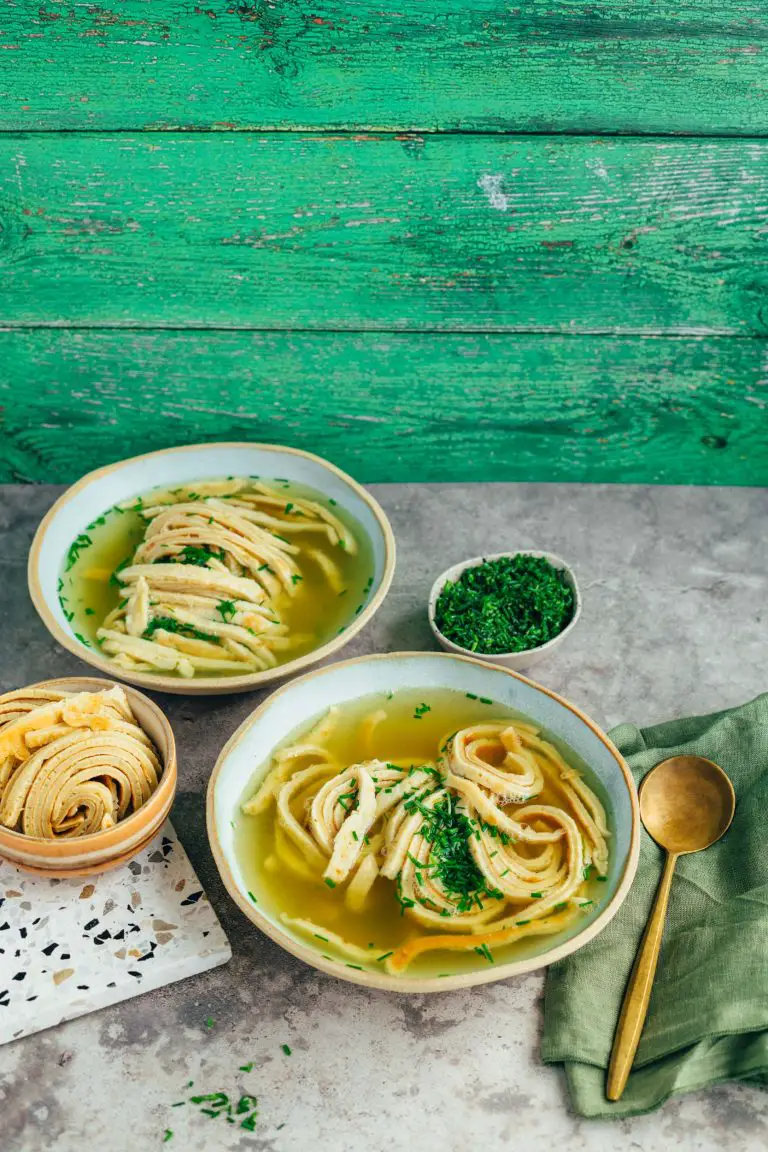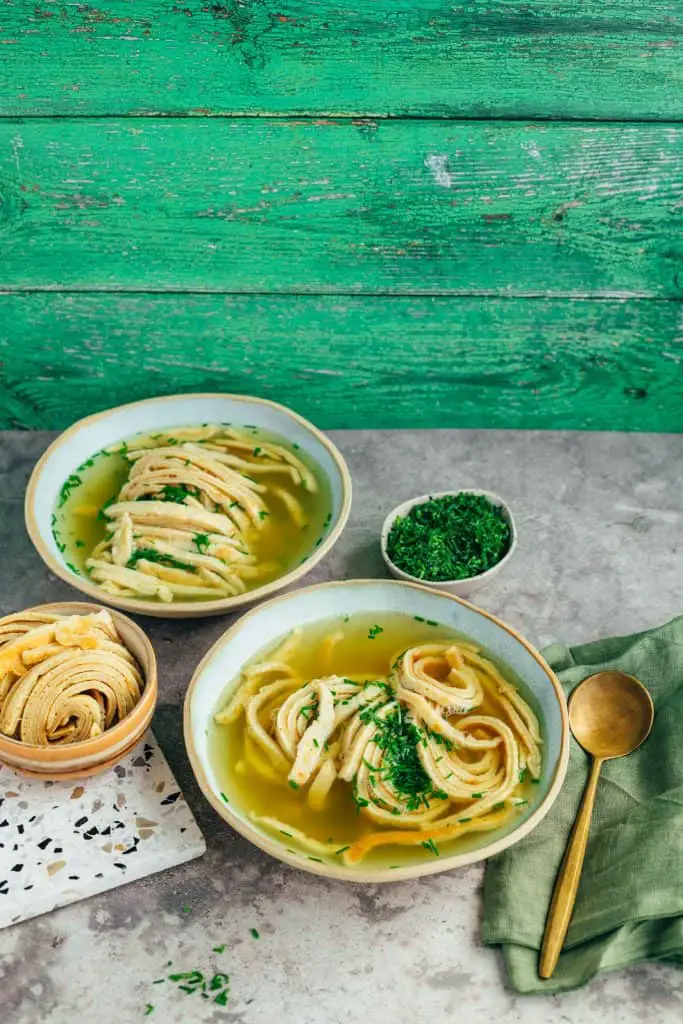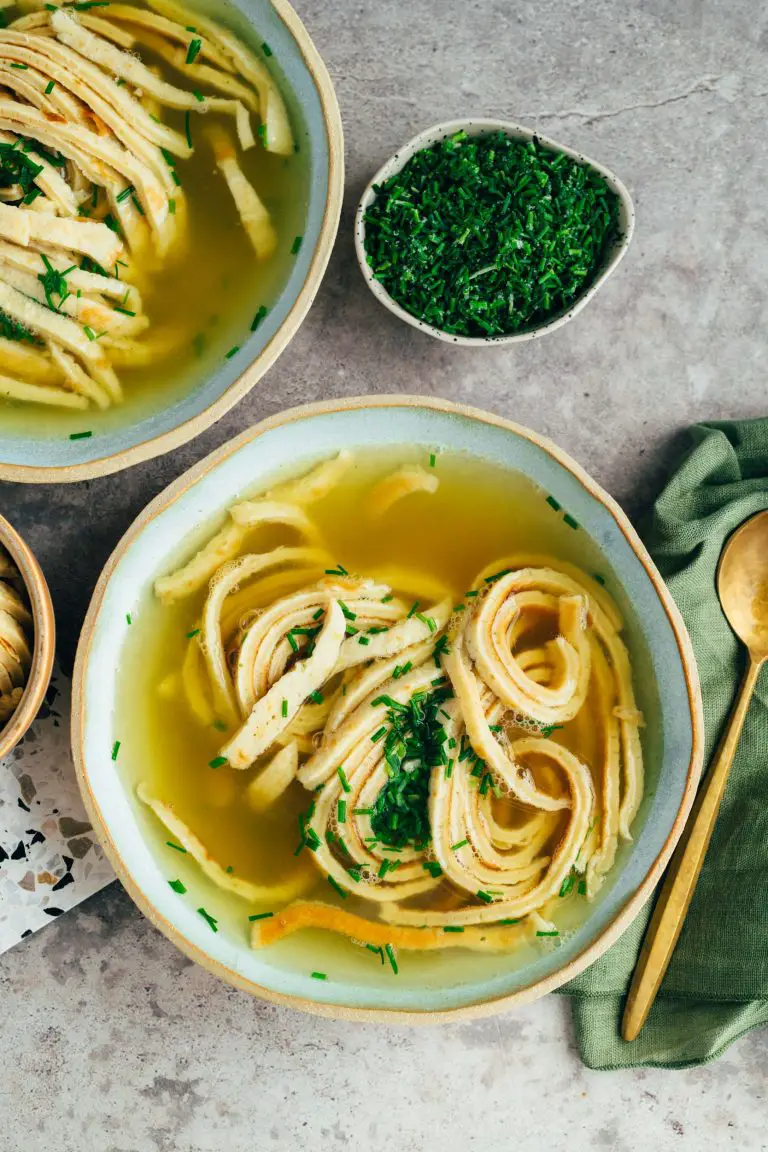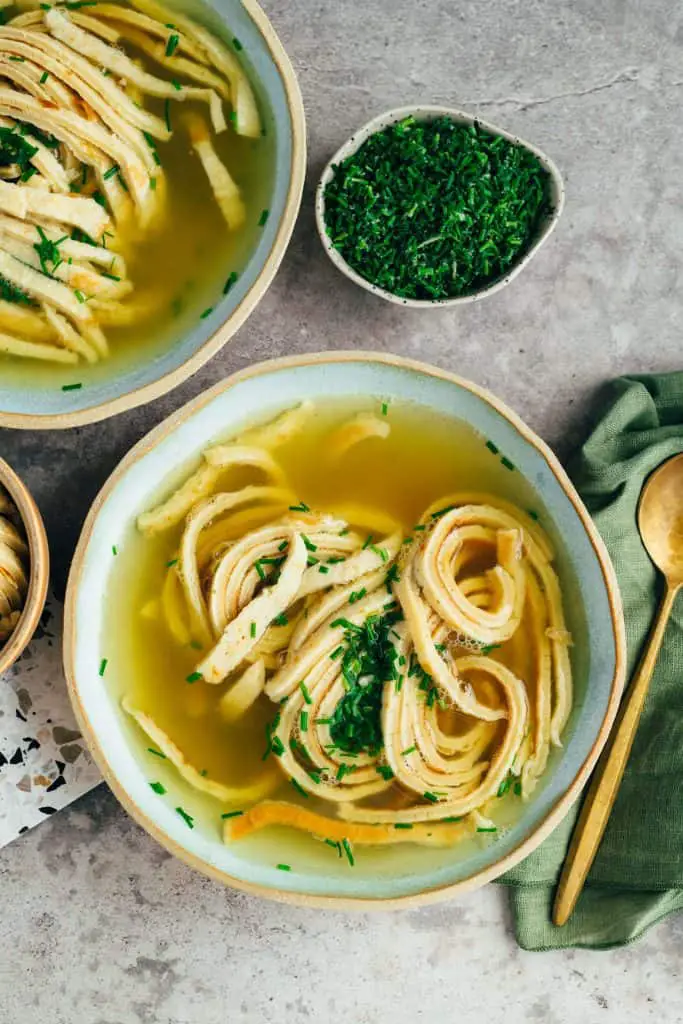 But now I have philosophized enough about spelling and grammar. The soup consists of a broth and pancakes. Sounds simple and it is. There is only one important thing to consider and that is the cooling time of the pancakes. More about that later.
First of all, let's get to the ingredients. For the broth, I use a ready-made, organic broth. If you like, you can make them yourself. For this, simply boil down some greens and refine with spices of your choice. For the pancake batter we need vegetable milk, spelt flour (or a gluten-free flour mixture), baking powder, chickpea flour and salt. This is worked into a smooth batter and fried out in batches in the pan to make pancakes. Finally, do not miss the refinement with chives, which gives the whole the final flavorful touch.
Sounds super simple, right? Let's move on to the two major hurdles that can ruin the recipe:
Frying the pancakes: A well-coated pan can work wonders here. Otherwise, the dough may stick and it will be necessary oodles of oil to get the desired result. For turning, it is best to use a silicone spatula and slowly release the dough from the pan, starting at the edge. Then, with a more vigorous movement completely release from the bottom of the pan and turn. If you are a professional, you can also do a professional flip in the air.
It is essential that the pancakes are completely cooled before adding them to the soup. If you add them to the soup immediately after they are cooked, the result will be a slimy mush, because the fritters or pancakes will dissolve in the hot broth. It is best to leave it overnight and put it into the hot broth the next day, do not boil it!
Vegan pancake soup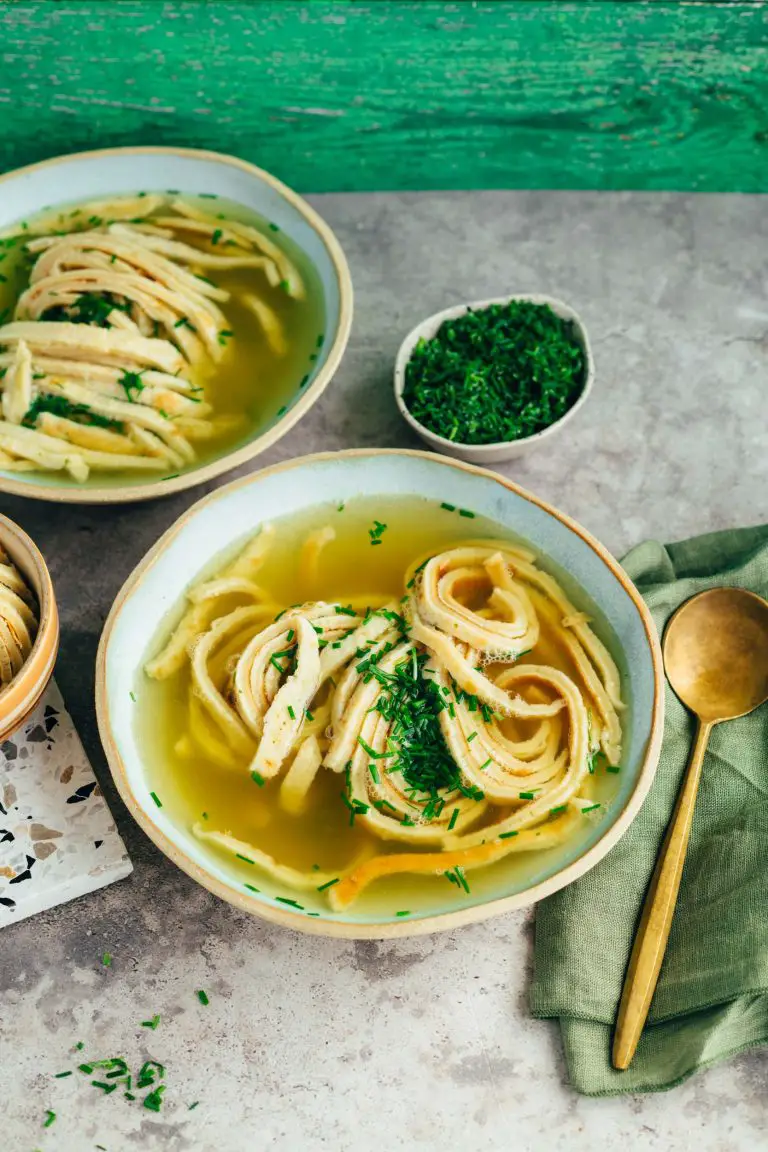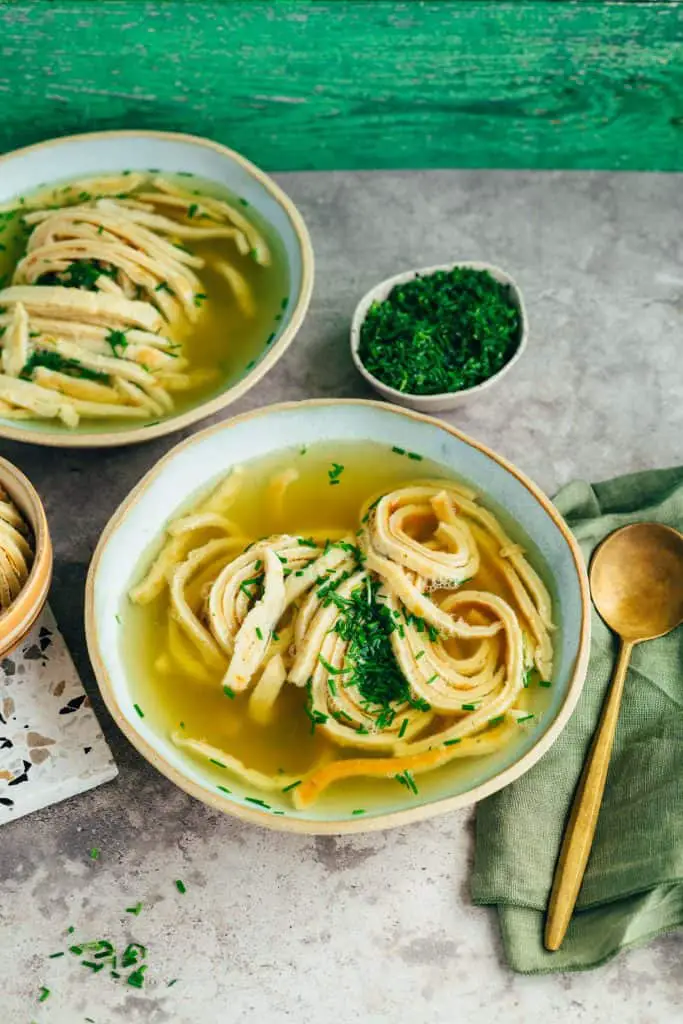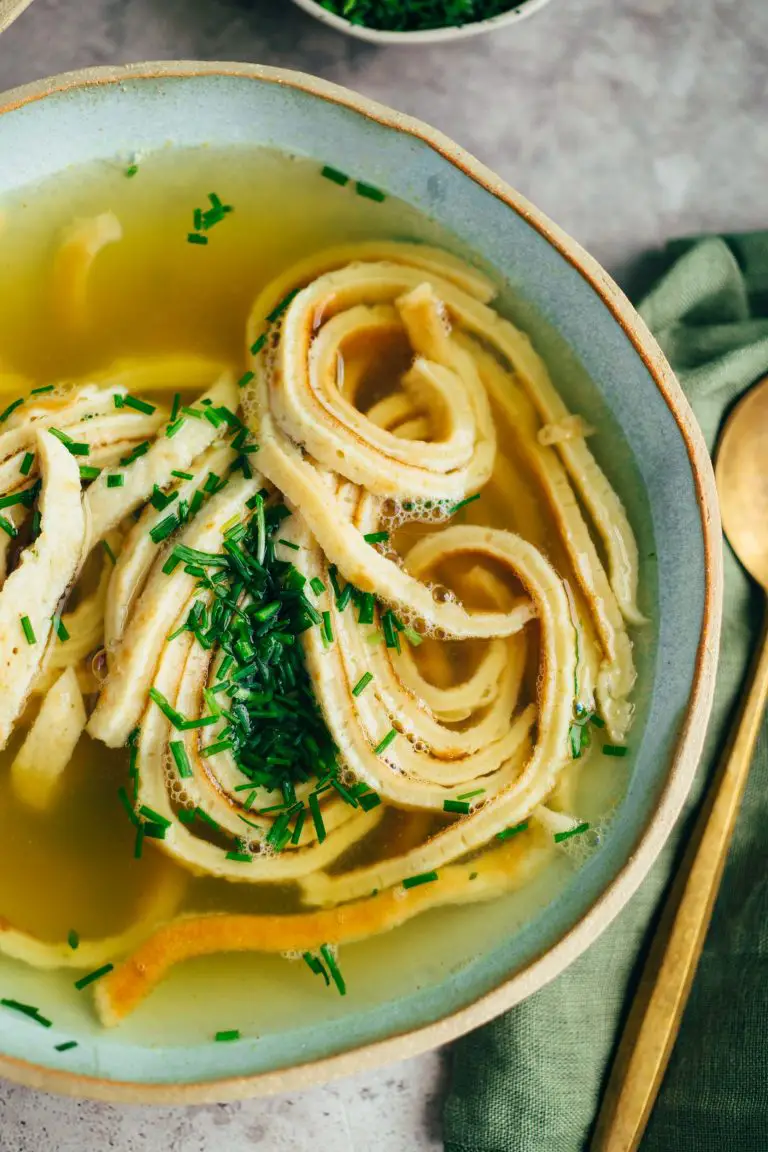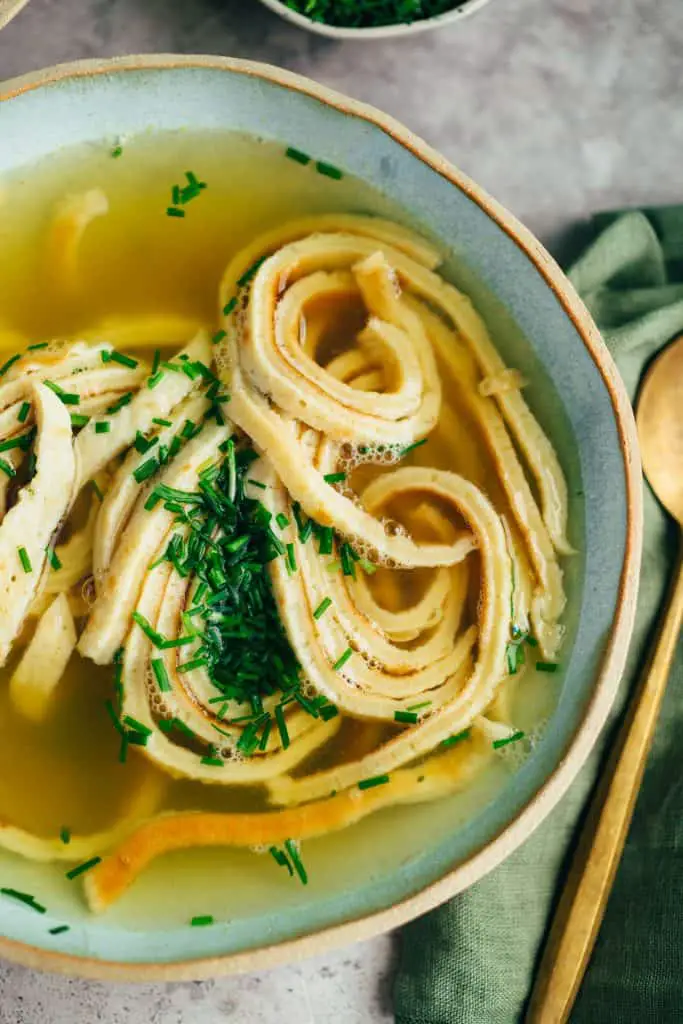 That says it all for today's pancake soup. If you are in the mood for other Austrian specialties today, I recommend my pancakes au gratin, or goulash with jackfruit.
The simple frittata soup (pancake soup) is:
Warming
saturating
aromatic
spicy
austrian
Are you ready the delicious and tasty, vegan and warming soup? I wish you a lot of fun in recooking and of course a review at the bottom of this page. If you post a picture, use the hashtag #veganevibes.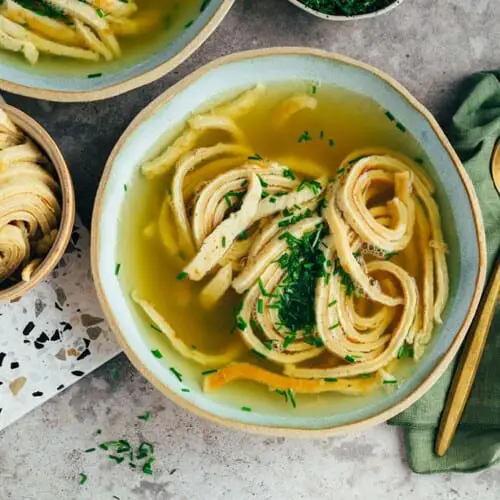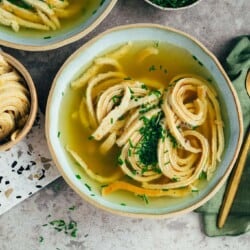 Frittaten soup (pancake soup)
Aromatic frittata soup made from fine broth and pancake strings. Vegan interpreted, Austrian classic. A wonderful, filling dish for every day. Ideal as an appetizer or light lunch or dinner. Gluten free option, lactose free.
AUTOR: VEGANEVIBES
1

Liter

Vegetable broth

I use a ready-made organic soup powder, alternatively cook broth from greens

200

ml

Plant milk

unsweetened, I use oat milk

100

g

Spelt flour

Wheat flour or gluten-free flour blend of choice

10

g

Chickpeas flour

alternatively soy flour, or guar gum

½

tbspn

Baking powder

Frying oil or other high heat oil for baking out
TO REFINE (optional):
Chives

fresh

parsley

fresh
Anleitung 
In a baking bowl, add vegetable milk, flour, chickpea flour, baking powder and salt. Using a hand mixer or whisk, blend until smooth, which should be much more liquid than a cake batter. Set aside.

200 ml Plant milk,

100 g Spelt flour,

10 g Chickpeas flour,

½ tbspn Baking powder,

1 strong pinch of salt

Put pan on the stove, heat and pour a small amount of oil. Pour about a ladleful of pancake batter into the pan and spread evenly.

Frying oil or other high heat oil for baking out

Bake for about

2-3 minutes

until the surface of the pancake is almost cooked through. Using a spatula, carefully loosen batter from pan around edges, drive under batter and flip in one quick motion. Bake for another minute and transfer to a plate. Continue until the dough is used up.

Allow pancakes to cool and set for at least

4 hours

or preferably overnight.

Just before serving, make vegetable broth from one liter of water and vegetable broth powder. With regard to the dosage, please observe the packaging instructions.

Once the broth is hot, roll up cold pancakes and cut into thin strips.

Put pancake strips in plates and pour hot broth over them. Refine with chives or parsley and enjoy!

NOTE : Do not cook pancake strips in the broth in any case, otherwise they lose their shape and are no longer firm to the bite.

Vegetable broth without pancake strips can be stored up to 5 days in an airtight container. Pancakes without broth can be stored in an airtight container in the refrigerator for up to 3 days.
Nährwertangaben
Serving:
1
Portion
Calories:
145
kcal
Carbohydrates:
25
g
Protein:
5
g
Fat:
2
g
Saturated Fat:
1
g
Sodium:
1041
mg
Potassium:
92
mg
Fiber:
4
g
Sugar:
4
g
Vitamin A:
730
IU
Vitamin C:
4
mg
Calcium:
78
mg
Iron:
2
mg