Vegan pancakes take me back to my childhood. My mother often made them and baked them, filled with cottage cheese and cream. We always had freshly cooked meals and I absolutely can't complain about my mom's cooking skills, on the contrary! When I came home from school at noon, there were always very fine things. Mostly vegetarian and packed with lots of fresh vegetables. Some days she would whip up a dessert and the most popular were the pancakes, with a fine filling. I still have the scent of the past in my nose. For me, that was reason enough to make this Austrian recipe vegan for once. What can I say, I love it. Let's get started together with this fine dessert, a real treat for the soul.
Vegan pancakes, au gratin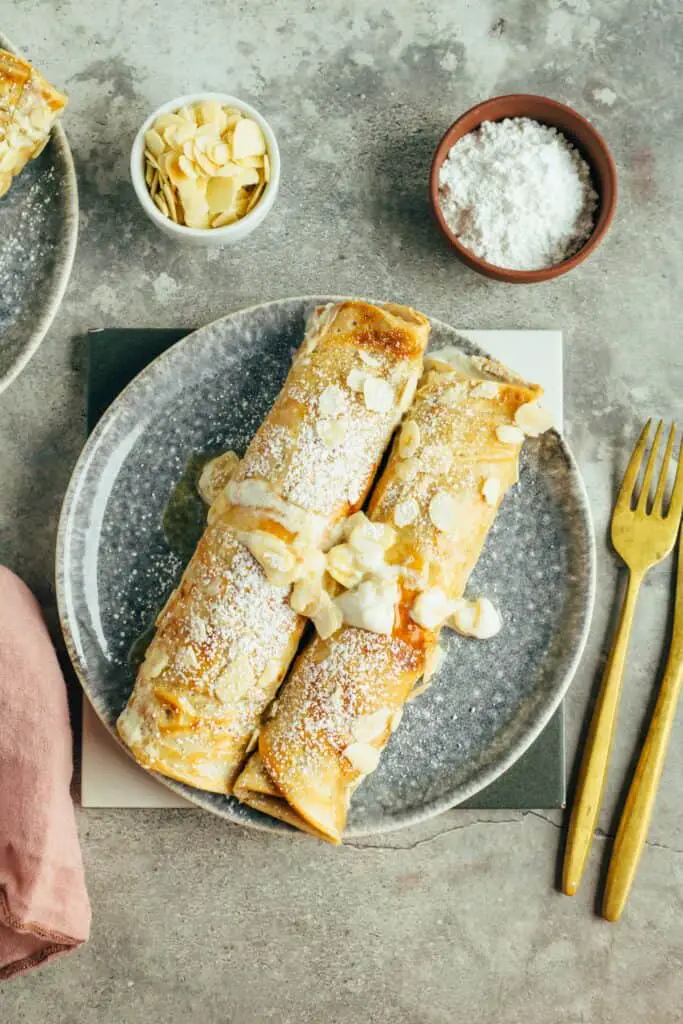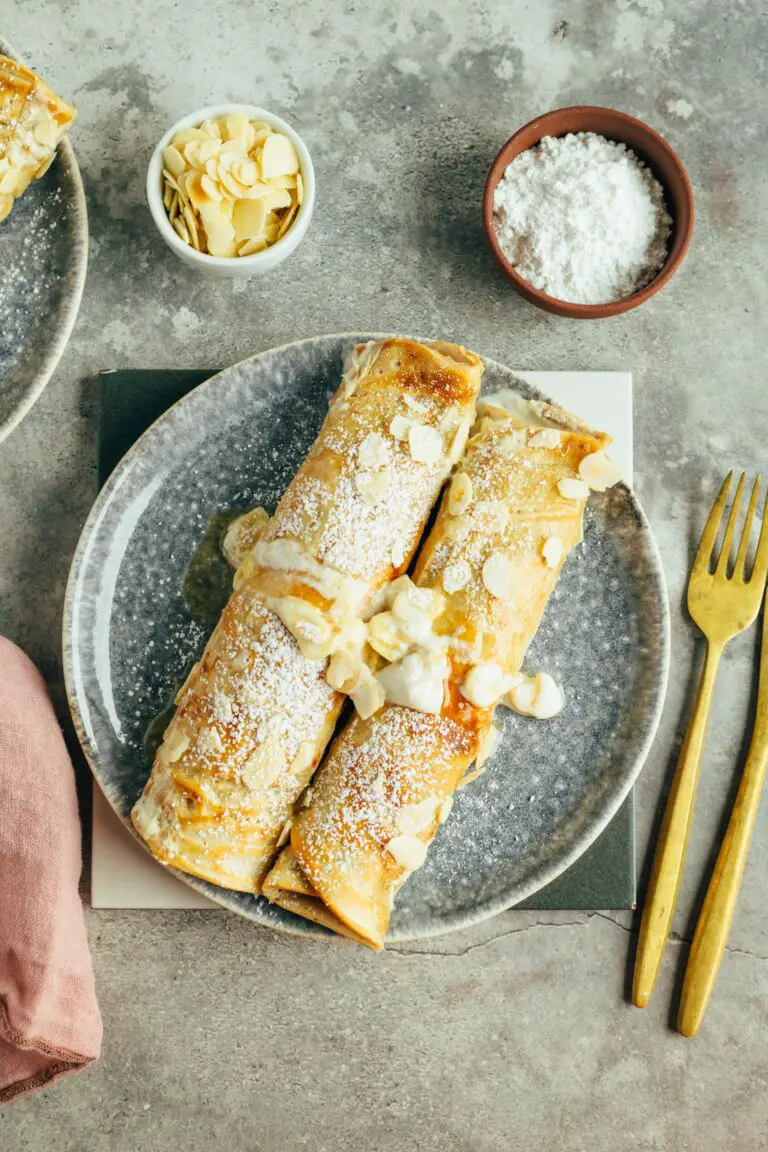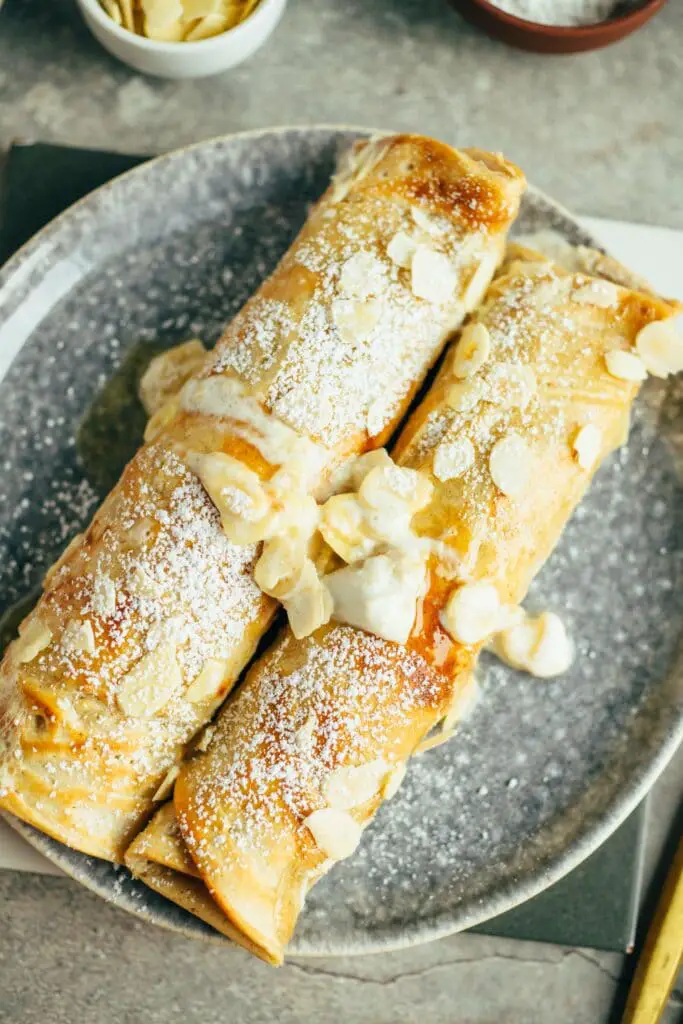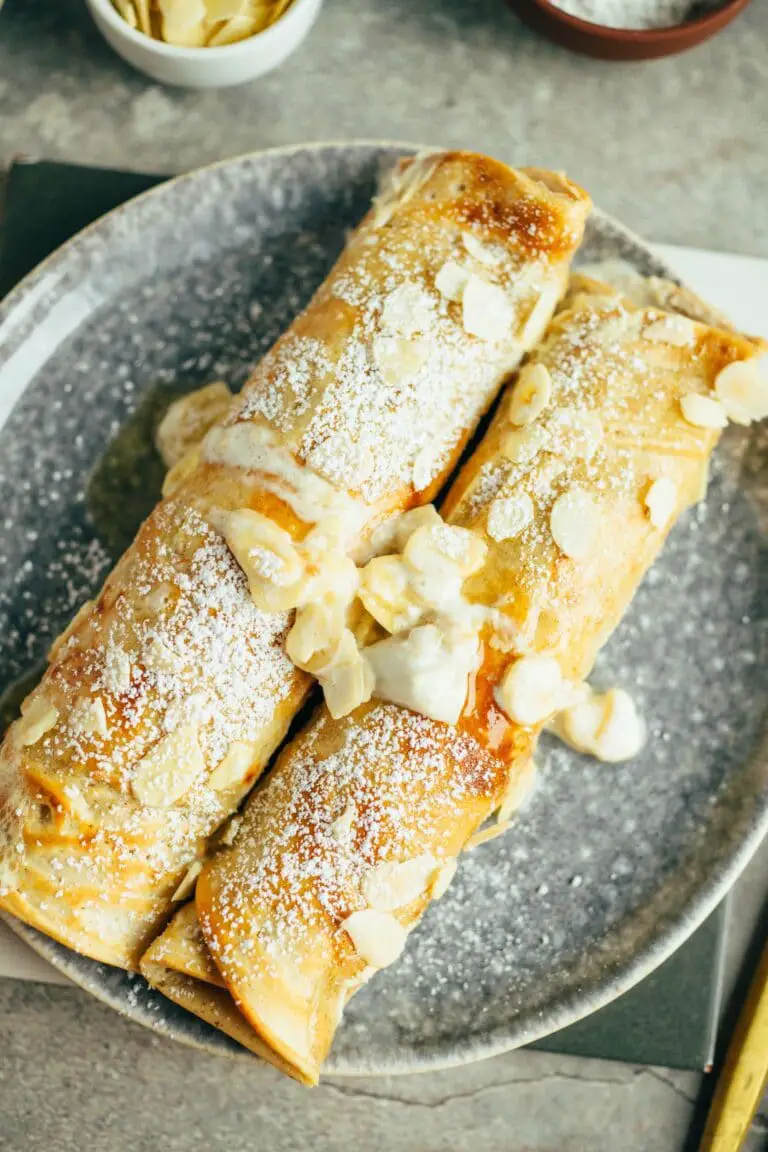 What are pancakes, anyway? They are the Austrian equivalent of German pancakes, only a little thinner. They are also called pancakes and are popular not only in Austria but also in all countries and territories of the former Austrian Empire, or the former Austro-Hungarian Monarchy. Sweet or savory are conjured up in them in all imaginable variations on the table. If you Google "pancakes," you'll find countless recipes, from poppy seed pancakes, to variations with jam, to carrot-paprika variations.
Let's move on to the individual steps of production. First of all, we make the filling, the main ingredient of which are soaked cashews. Here you will find detailed instructions for soaking. Together with vegetable cream, vegetable milk, raw cane sugar, bourbon vanilla, (optional) orange oil and optional xanthan gum we mix a fine cream, which is also the filling for the pancakes.
TIP: If you'd like to bring a nice, light acidity to this dish, feel free to substitute vegetable ricotta for half of the cashews. 100g cashews and 100g cottage cheese instead of 200g cashews.
The only thing missing is the batter for the thin pancakes. I put vegetable milk, flaxseed egg, oil (or applesauce), fine spelt flour and salt in my high-powered blender and run the dough program once. Of course, you can also use a bowl and a whisk to make it. I then heat a pan and bake out one pancake at a time. Important! Do not let it get too thick. To do this, I take a spatula and spread the batter evenly in the pan.
Pancakes au gratin, vegan Austrian cuisine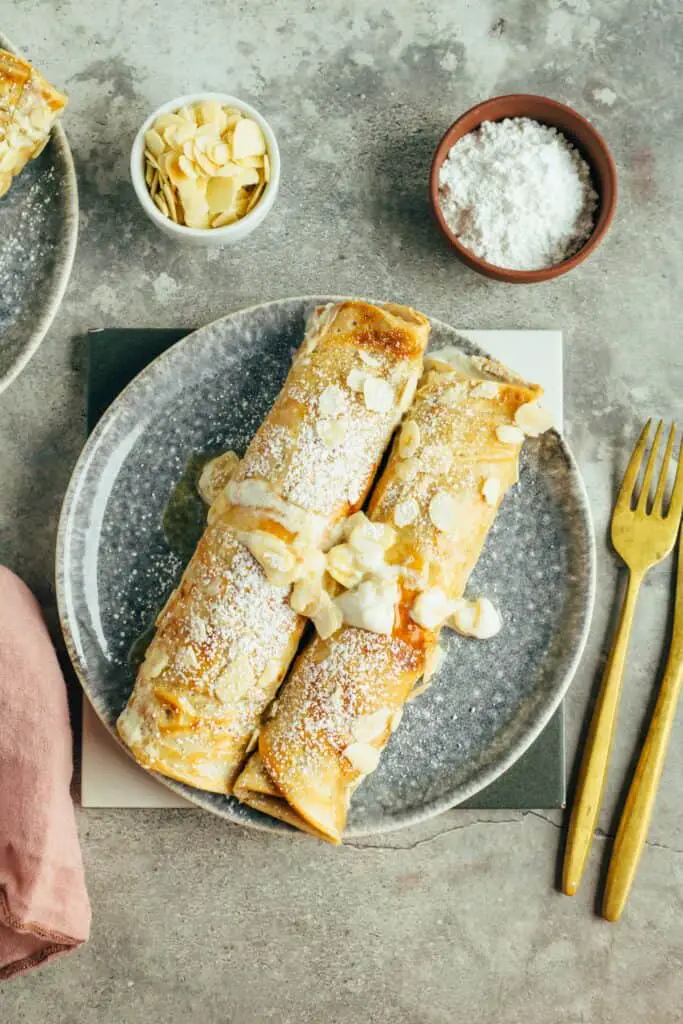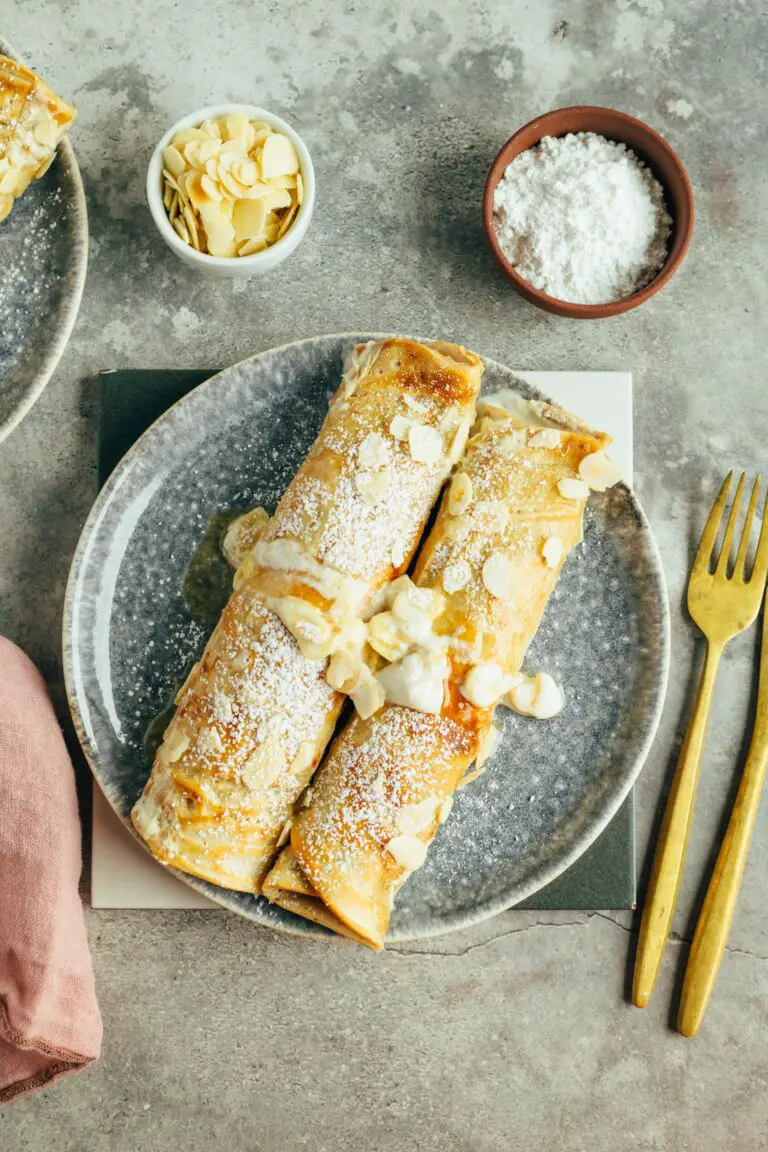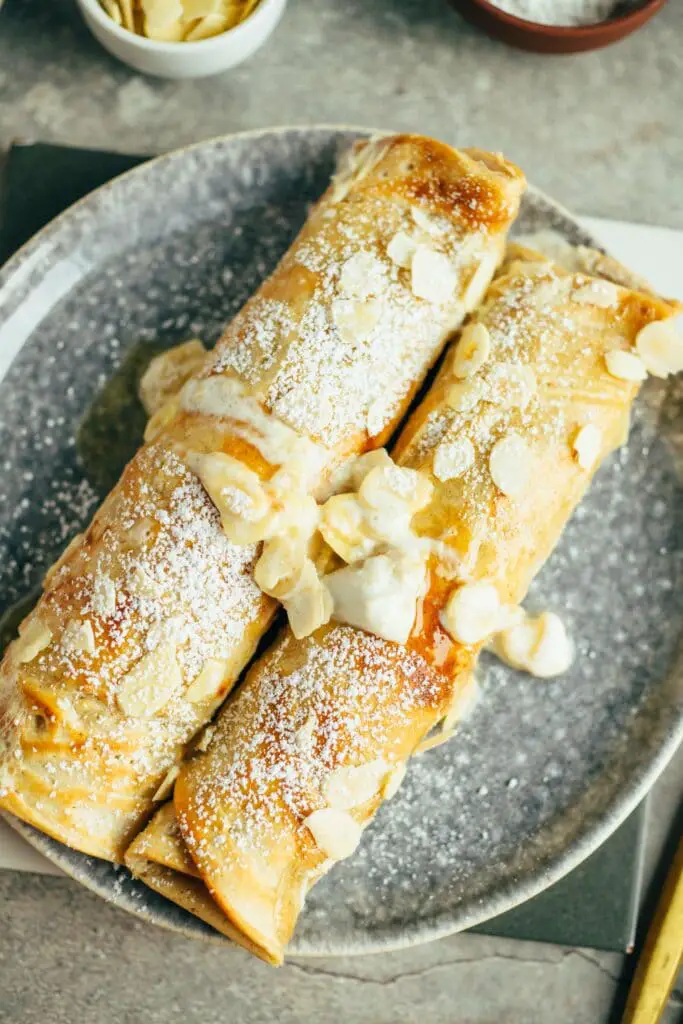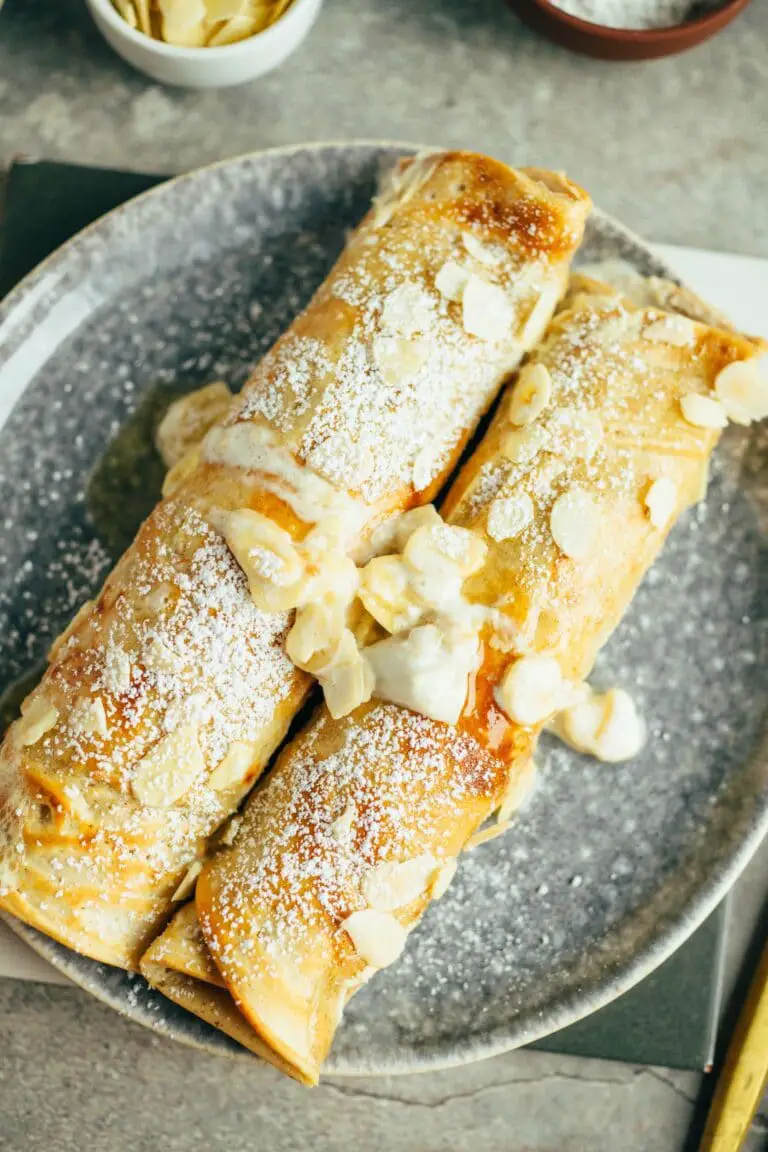 Now it's off to the oven after we do the final steps. The pancakes are individually coated with a layer of cream, rolled up and placed directly into a baking dish. Once this step is done, only one small thing is missing. Vegetable cream! This is poured over the finished, rolled pancakes and spread with a brush. Now off into the oven! Shortly before the end of the baking time there is a little refinement with almond flakes.
Note: Do not put the almond flakes in the oven at the beginning of the baking time, otherwise they will burn. I add them only 5 minutes before the end of baking.
Let's get to the tips and tricks so that this dish also succeeds with quite a lot of certainty:
Always soak cashews, so they can be blended really fine. If you have a very powerful high-powered blender, you don't necessarily need to soak, though the result won't be quite as fine as it would be with soaking time.
Xanthan gum is once again a must-have to give the filling a nice stability. In my household, I always have the natural thickener on hand.
The pan for baking out the pancakes should be well coated and/or greased. This allows the pancakes to flip easily and not stick to the pan. I use a Teflon-coated pan and am very satisfied. TIP : Better grease a little more instead of letting it stick.
Add the flaked almonds to the pancakes shortly after the baking time has elapsed, otherwise they will turn black and burn.
Let set for about 5-10 minutes before serving, this makes it easier to portion the filled pancakes.
Vegan Austrian recipes
Other than that, nothing can really go wrong, except that it's too little and you get to bake another batch. A wonderful sweet main dish that is an absolute vegan soul food in my view.
The vegan pancake is:
Pleasantly sweet
creamy
saturating
vanilla
simply made
I hope you enjoy baking and of course about a review at the bottom of this page. If you post a picture, use the hashtag #veganevibes.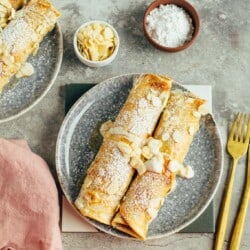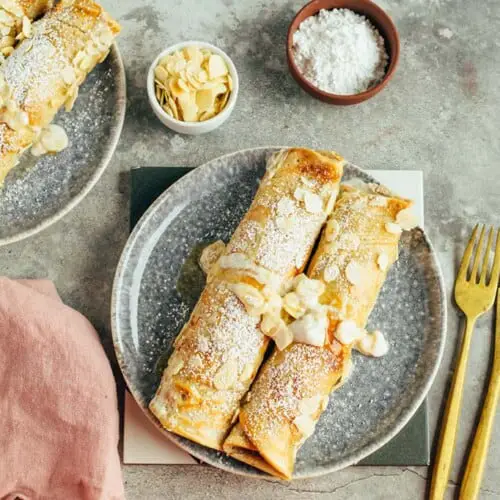 Vegan pancakes au gratin
Simple, vegan pancakes filled with a fine cream of cashews and vegetable curd. Baked in the oven and finished with flaked almonds. An Austrian main dish that makes you full and happy. Vegan and lactose free.
AUTOR: VEGANEVIBES
FOR THE CASHEW CREAM:
100

g

Cashews

soaked, 1 cup

100

g

Vegetable curd

½ cup, alternatively very creamy yogurt (coconut, soy) or more cashews.

125

ml

Vegetable cream

½ cup

125

ml

Plant drink

½ cup

15

g

Raw cane sugar

1 tablespoon, or other sweetener of choice

¼

tbspn

Bourbon vanilla

¼

tbspn

Xanthan Gum

optional 30ml lemon juice, 2 tablespoons, for a slight touch of acidity
FOR THE DOUGH:
1

Piece

Flax seed egg

15g flaxseed meal + 45ml hot water

30

ml

Oil

2 tablespoons, or applesauce if oil free

500

ml

Plant milk

2 cups

240

g

fine spelt flour

1 1/3 cups, I use spelt flour type 630, if using gluten free flour add in 1 tsp carob bean gum for better binding.

250

ml

Vegetable cream for gratinating

1 cup
TOPPING:
1

Handful of flaked almonds
Anleitung 
Soak cashews, go directly to detailed instructions here.

FOR THE CASHEW CREAM Place cashews, vegetable ricotta, vegetable cream, vegetable drink, raw cane sugar, bourbon vanilla and (optional) orange oil or lemon juice in a high-powered blender and blend to a fine cream.

100 g Cashews,

100 g Vegetable curd,

125 ml Vegetable cream,

125 ml Plant drink,

15 g Raw cane sugar,

¼ tbspn Bourbon vanilla,

optional 30ml lemon juice, 2 tablespoons, for a slight touch of acidity

In the last step, add xanthan gum and mix again. Now the cream should be nice and creamy and spreadable. Set aside.

FOR THE DOUGH , flaxseed egg, oil, vegetable milk, spelt flour and salt in a bowl and whisk until smooth. Use alternative mixer.

1 Piece Flax seed egg,

30 ml Oil,

500 ml Plant milk,

240 g fine spelt flour,

1 Pinch of salt

Heat a frying pan and grease with a little oil or margarine if needed.

Pour a ladleful of batter into the pan and spread evenly.

Bake for about 2 minutes, until you can see on the surface that the dough is almost cooked through (this is when there is only a small layer of liquid dough on the surface).

Turn gently with a spatula.

Transfer to a plate and continue baking until the dough is used up.

Heat oven to 220 degrees convection (240 degrees top-bottom heat) and provide a baking dish.

Take one pancake each and spread generously with cashew cream. Roll up with the coated side facing inward and place in the baking dish. Continue until all pancakes are used up.

Pour vegetable cream over the lined up pancakes and optionally brush on. Put in the oven and bake for

15 minutes

.

250 ml Vegetable cream for gratinating

After

10 minutes

baking time, sprinkle flaked almonds over the pancakes and bake for 5 minutes more.

1 Handful of flaked almonds

When the baking time is over, remove from the oven and let set for another 10 minutes.

Sprinkle with powdered sugar while still hot, arrange on plates and enjoy!

Best fresh, is only partially suitable for reheating and not for freezing.
Nährwertangaben
Serving:
1
Piece
Calories:
677
kcal
Carbohydrates:
73
g
Protein:
22
g
Fat:
33
g
Saturated Fat:
5
g
Trans Fat:
1
g
Sodium:
169
mg
Potassium:
568
mg
Fiber:
10
g
Sugar:
21
g
Vitamin A:
628
IU
Vitamin C:
11
mg
Calcium:
238
mg
Iron:
5
mg