Mars ice cream bars are dangerous, especially when they are within the radius of my kitchen and couch. You know how you don't want to get up from the couch, but then you remember that there's something delicious in the fridge? It's already done for you. It is unwound from the ceiling at record speed and snuck into the kitchen. There they are, innocently lying in the freezer, the sweet little Mars ice cream bars, waiting to be snacked on. Your conscience says no, no way, you've already eaten way too much today. However, it doesn't take long for another voice to speak up. Oh, come on, you've already been out with the dogs today and you've done yoga too. That can't be so bad to indulge in a delicious chocolate ice cream bar right now. You can guess how the story ends. In any case, I know exactly why I do not lose weight despite exercise. No matter, these Mars ice cream bars are 100 percent worth it.
Vegan Mars ice cream bars, an irresistible treat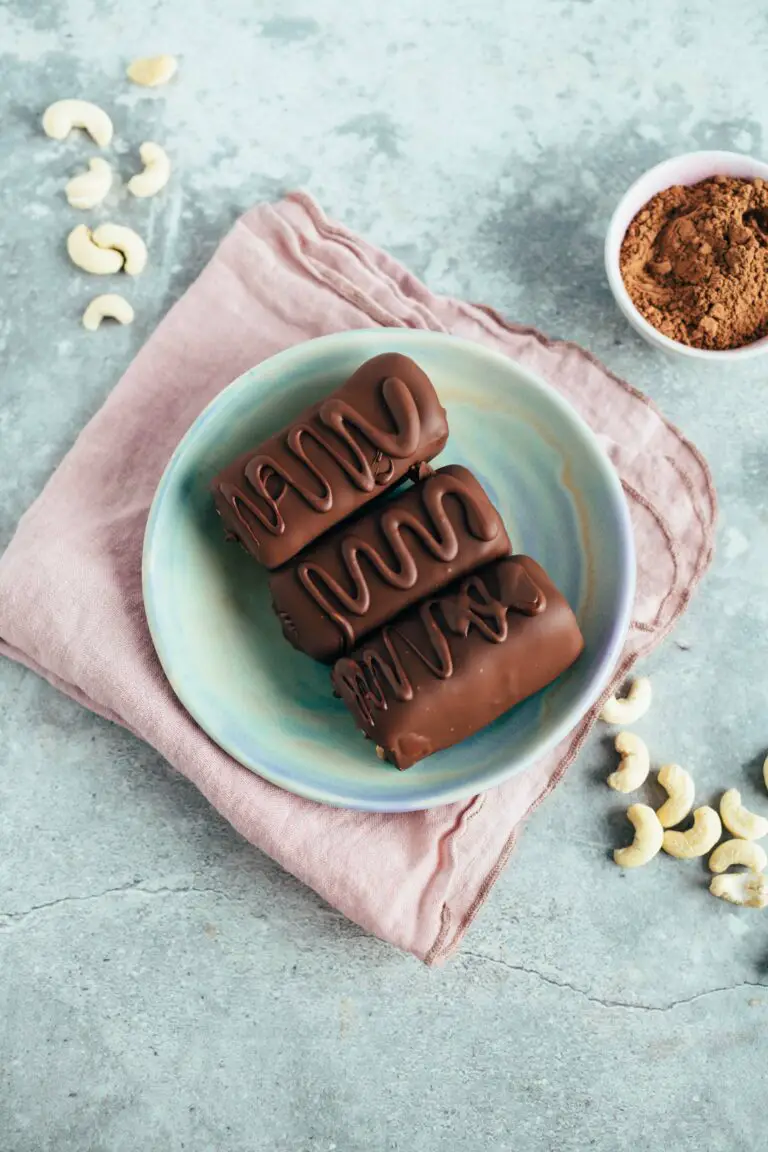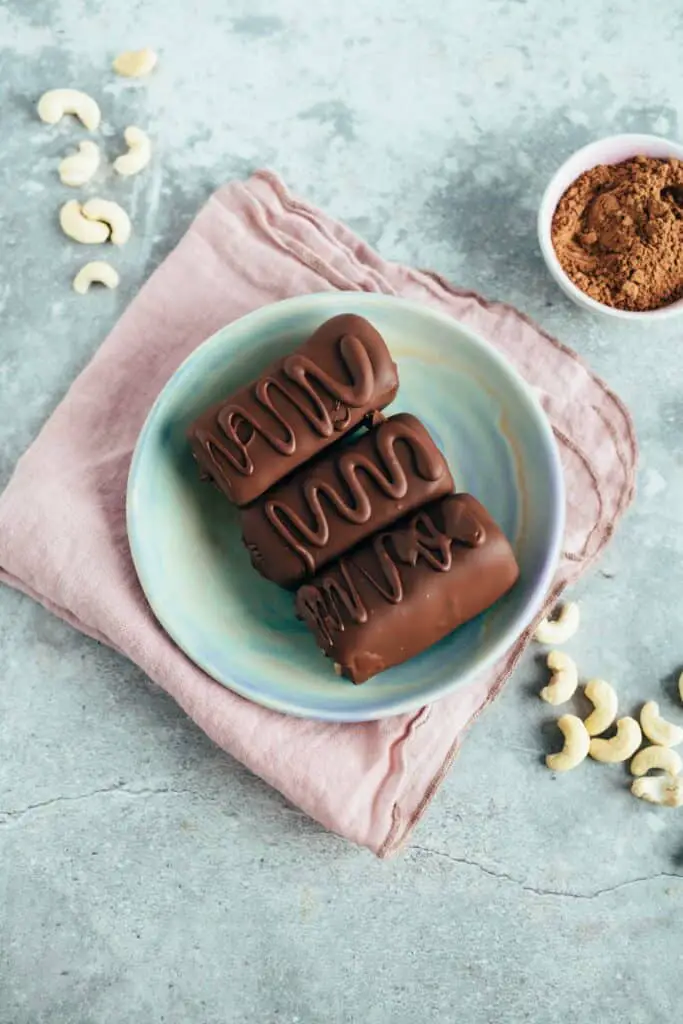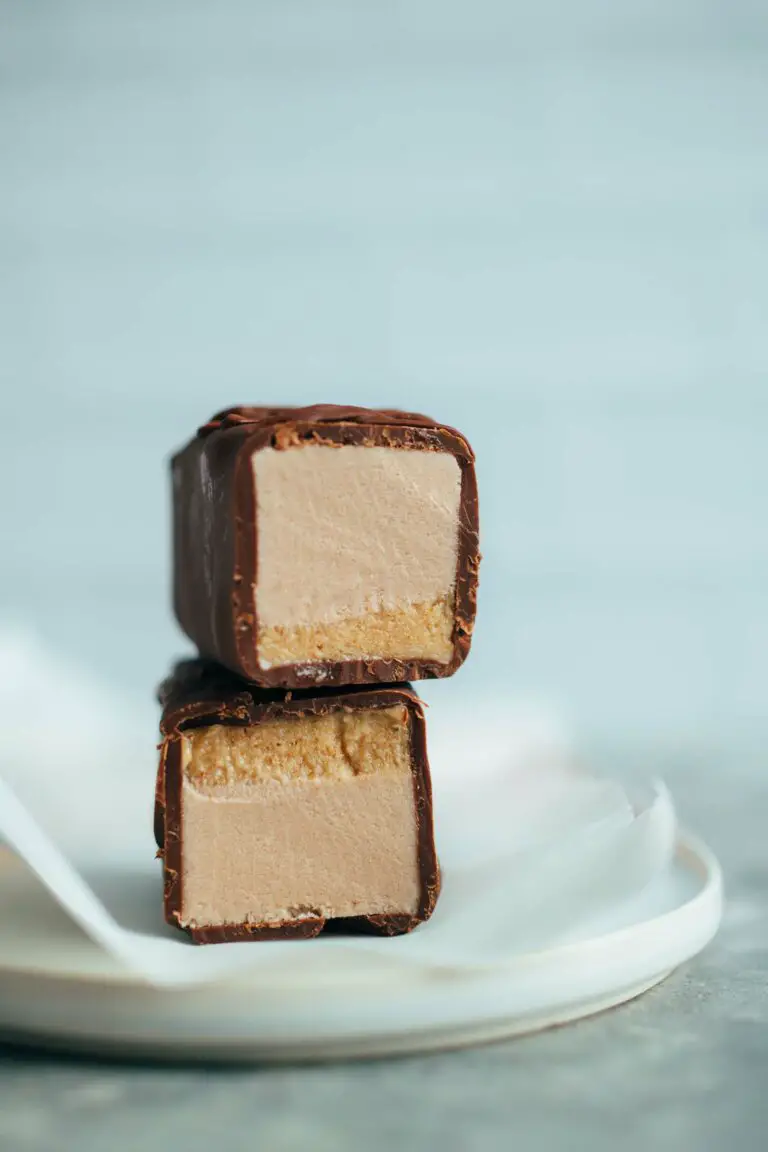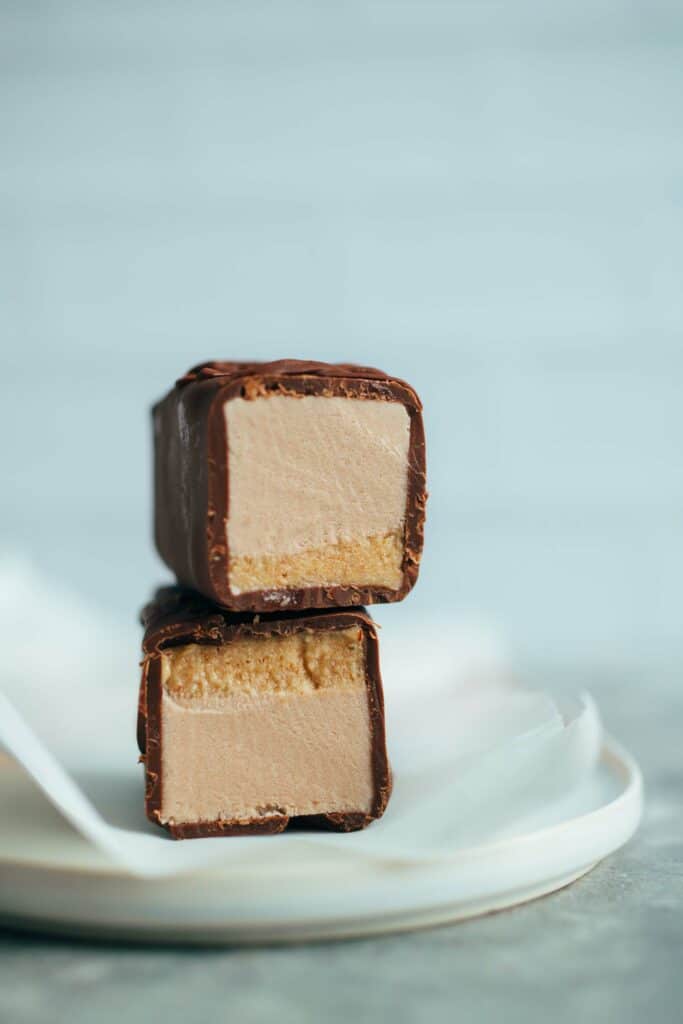 Today's bars consist of three layers, a creamy ice cream layer, topped with a melt-in-your-mouth date caramel layer and covered with a fine chocolate shell.
The base for the chocolate vanilla ice cream is once again my beloved cashews, plant milk, coconut milk, raw cane sugar, agave syrup, cocoa powder, pinch of salt, vanilla and xanthan gum.
TIP: Xanthan gum or E 415 sounds a bit daunting, but it is a completely natural product that is also approved for organic foods. Xanthan gum is indispensable because it ensures that the ice cream becomes really really creamy. Theoretically, it could be done without, but the result will be far from good. I always have it at home as it is also perfect for binding cheesecakes, sauces and other goodies.
The date caramel is a tiny bit different from the recipe I already have on the site. It is still a little diluted with coconut milk, so that it melts a little easier and literally melts in your mouth. Finally, the fine bars are covered with chocolate, more about this later.
Make vegan ice cream yourself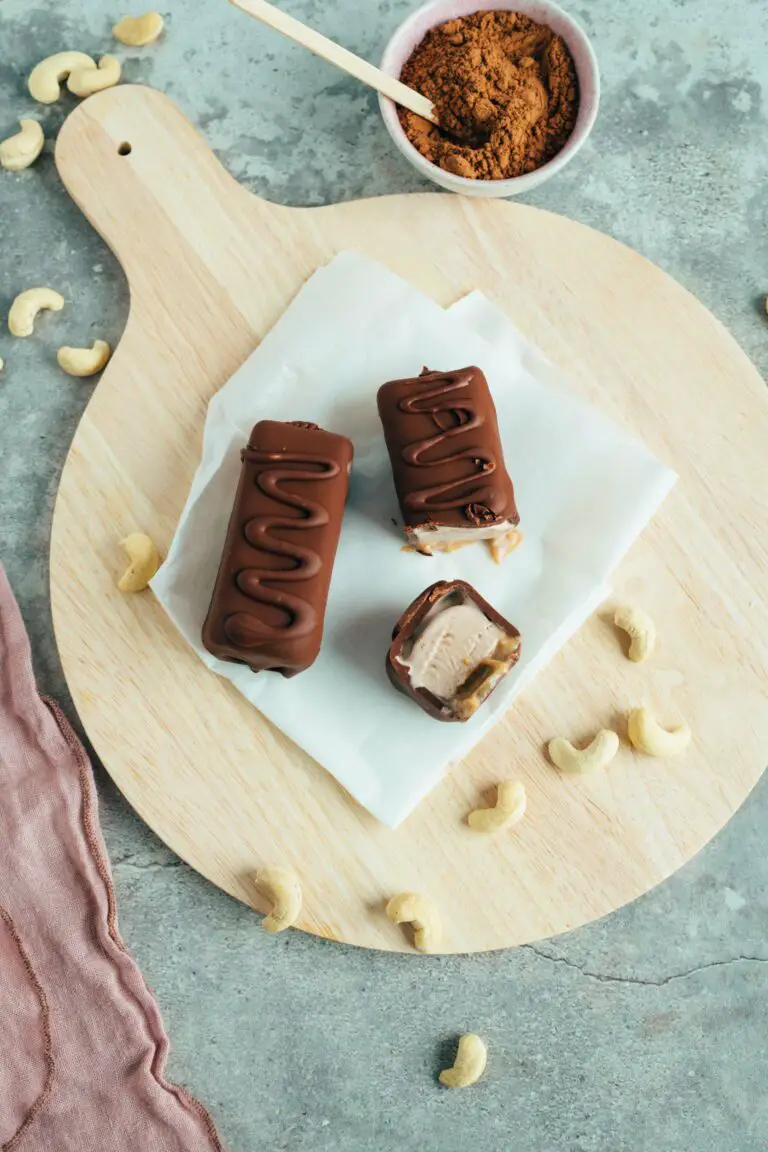 Here are a few words about the other ingredients:
You should definitely soak the cashews if you don't have a good blender. Here you will find detailed instructions on how this can best succeed.
Sugar! Here I recommend a mixture of raw cane sugar and agave syrup. Alternatively, maple syrup would also work. Otherwise, I'd love to ask you what sugar alternatives you prefer for making ice cream.
The chocolate coating is a challenge in this case, as the chocolate on the cold bars sets quickly and can become quite thick. No problem, you might think, but then the chocolate won't last long and who has half a kilo in the cupboard to cover the Mars bars? So I have two options for you. Option number 1: You don't coat the bars completely, but drizzle the chocolate over the bars with a spoon. Option number 2: You dilute the chocolate with cocoa butter or a little oil and make it more liquid, so not so much chocolate can stick so quickly and the layer becomes thinner.
Ice cream bar vegan and quickly made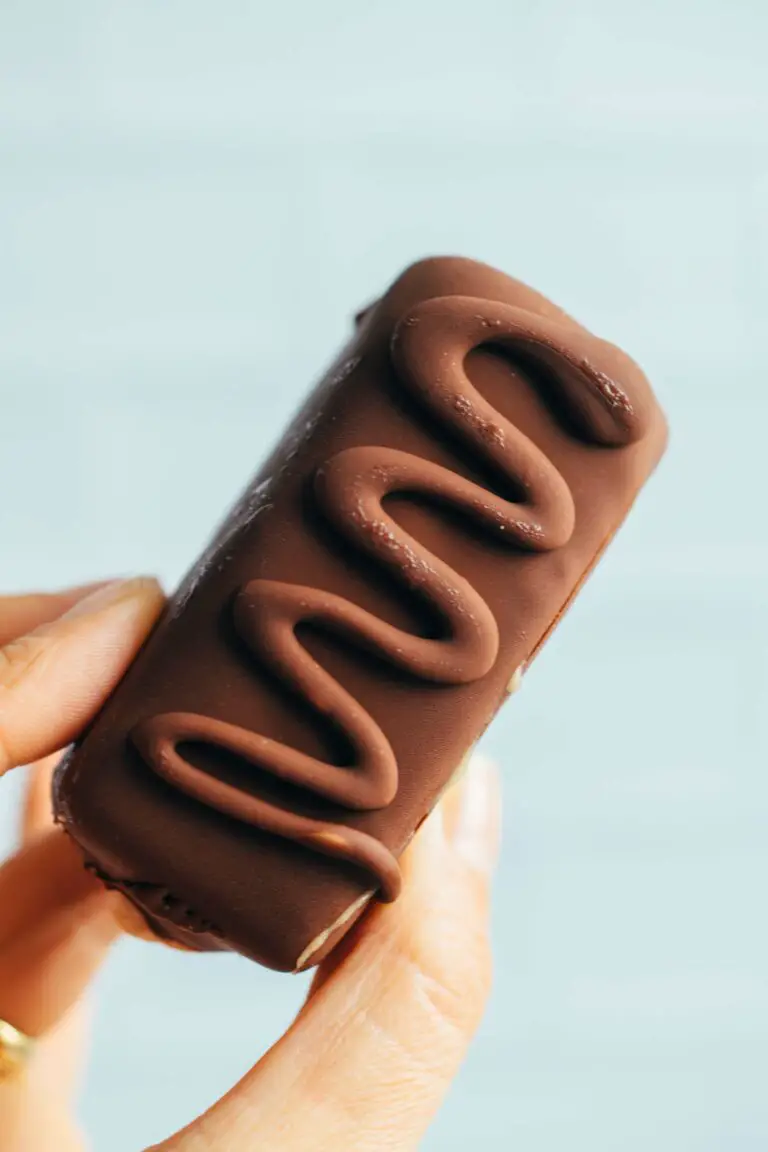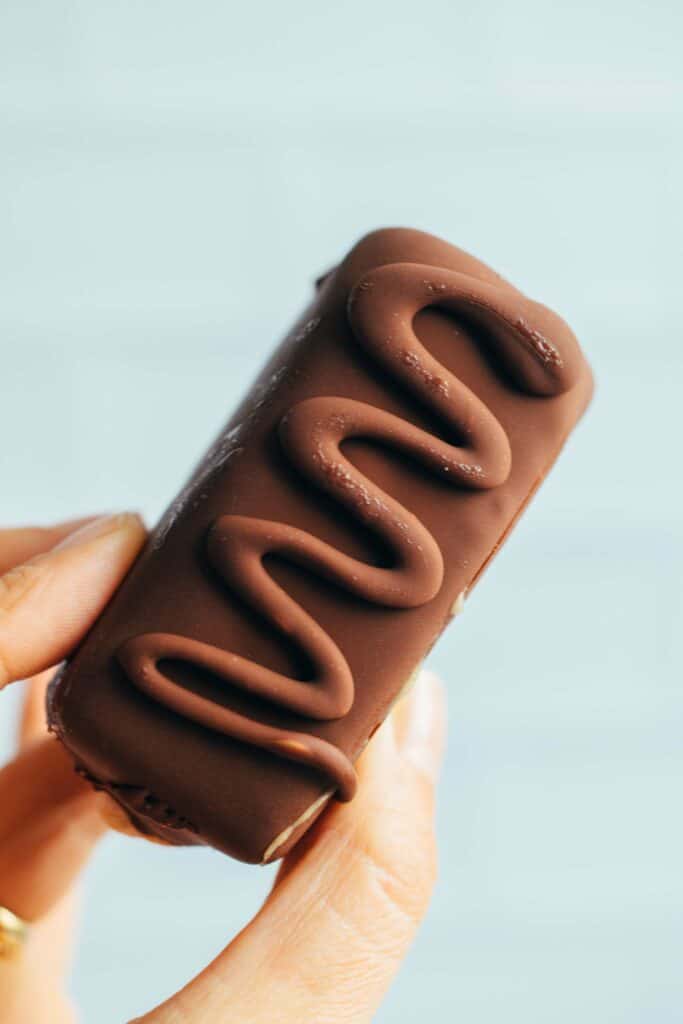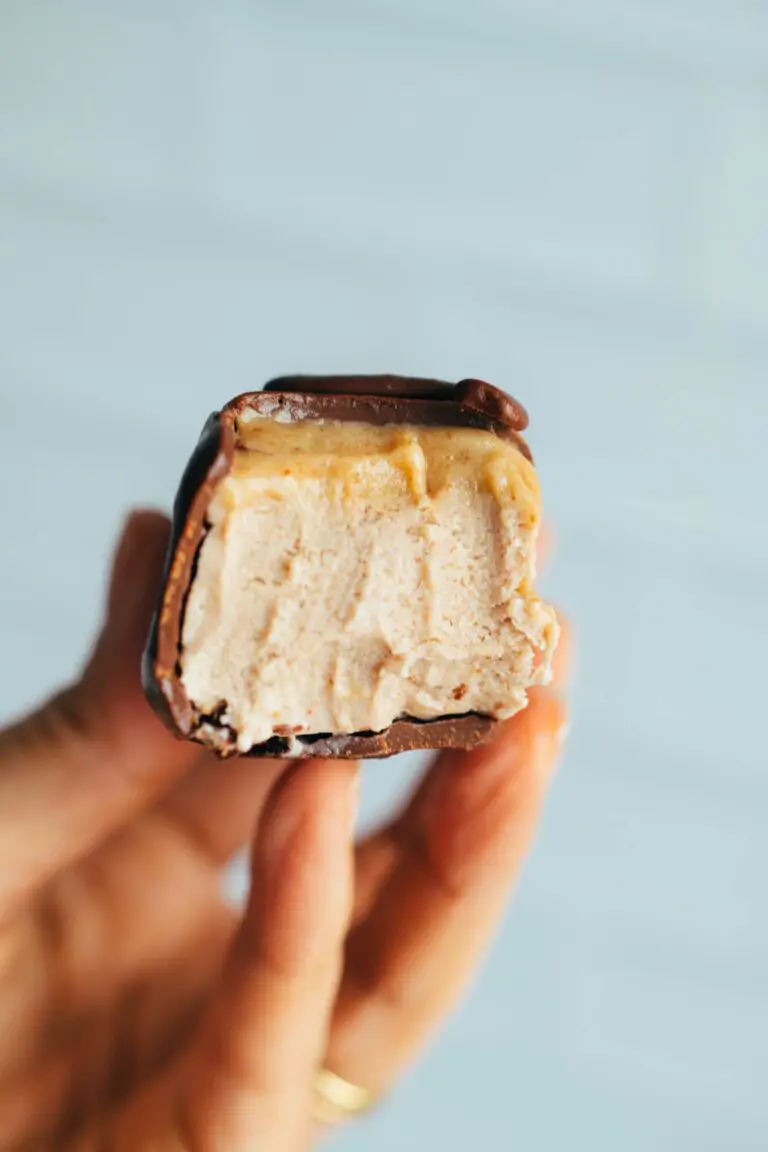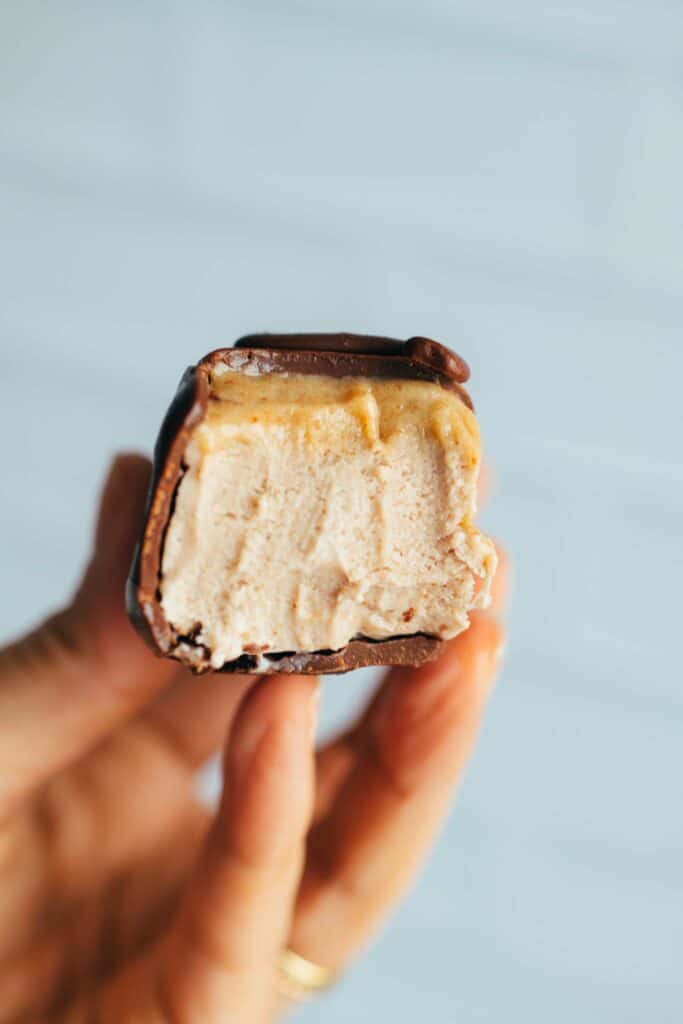 Besides the ingredients, it also depends on your equipment. A powerful blender is very important for the result. I use a Blendtec(advertising since brand name), which I have linked below. However, any other high speed blender will also work. In addition, I use an ice cream maker, which is optional is, but makes the ice cream a good tick creamier and speeds up the freezing:
WITHOUT ice cream maker the ice cream will not be as creamy, will form more crystals and will take longer to freeze. If you don't have an ice cream maker and still want a creamier consistency, I recommend vigorously stirring the ice cream mixture once every hour.
WITH ice cream maker the ice cream becomes very creamy. I've linked you below to the device I use. However, any standard ice cream maker will work for this recipe.
Other than that, there's not much else to consider, except that you should allow for a little time and patience when making it. If you're in the mood for another ice cream variation today, I highly recommend my booklet, which you can get for free by subscribing to my newsletter. Otherwise, let's get going with these fine bars that will literally sweeten your day.
The Mars ice cream bars (with and without ice cream machine) are:
Chocolate vanilla
creamy
Caramel
Easy to manufacture
Delicately melting
If you love Mars and ice cream as much as I do, I'd love a review at the very bottom of this page. If you post a picture, use the hashtag #veganevibes.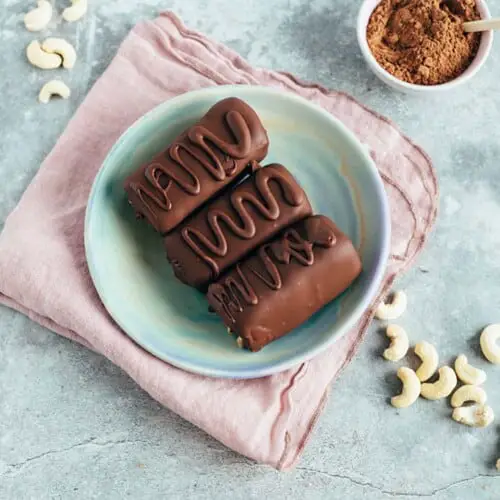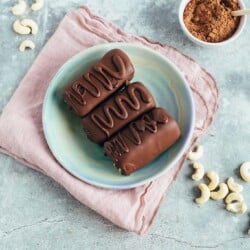 Mars ice cream bar vegan
Vegan Mars ice cream bars, made of a fine chocolate-vanilla ice cream layer, date caramel and chocolate coating. A sweet, creamy temptation, vegan, lactose-free and damn tasty. With or without ice cream maker.
AUTOR: VEGANEVIBES
FOR THE CHOCOLATE VANILLA ICE CREAM:
110

g

Cashews

soaked

150

ml

Plant milk

I use a soy vanilla milk, alternatively any other vegetable milk of choice

200

g

Vegetable cream

I use Soyatoo, alternatively another vegetable cream of choice or coconut milk

50

g

Raw cane sugar

or other sugar of your choice

15

g

Cocoa powder

45

g

Agave syrup

alternatively maple syrup, dadaurch the filling colors a thick darker

½

tbspn

Bourbon vanilla ground

or 1 tsp vanilla extract

½

tbspn

Xanthan Gum

optional but definitely recommended, I always have in the closet
FOR THE CHOCOLATE COATING:
Anleitung 
Depending on the ice cream maker, prepare device for ice cream production.

FOR THE CHOCOLATE VANILLA ICE CREAM Place cashews, plant milk, plant cream, raw cane sugar, agave syrup, bourbon vanilla, cocoa powder, and sea salt in a high-powered blender and blend until smooth. Add xanthan gum and mix again briefly, the liquid should now begin to thicken a little.

110 g Cashews,

150 ml Plant milk,

200 g Vegetable cream,

50 g Raw cane sugar,

15 g Cocoa powder,

45 g Agave syrup,

½ tbspn Bourbon vanilla ground,

A pinch of sea salt,

½ tbspn Xanthan Gum

Place in ice cream m aker and prepare according to manufacturer's instructions. Alternatively Pour into a freezer-proof mold and place in the freezer. To increase creaminess, mix once per hour with a fork. Freeze for at least 6 hours, ideally 10 hours.

FOR THE DATE CARAMEL Place dates, maple syrup, coconut milk, almond paste and pinch of salt in a high-powered blender and blend until fine.

A pinch of sea salt,

8 Piece Medjool dates,

30 ml maple syrup,

60 ml Coconut milk,

30 g Almond paste,

A pinch of salt

NOTE: If using an ice cream maker, pour ice cream directly from the ice cream maker into a mold (lined with baking paper, about 20x20cm) and smooth it out.

Spread date caramel over ice cream and smooth. Put back in the freezer. Allow to set for at least 2-3 hours or overnight.

CHOCOLATE COATING Make the chocolate coating by carefully melting it over a water bath. Optionally, stir in cocoa butter to thin the chocolate.

300 g dark vegan chocolate,

50 g Cocoa butter

Remove ice cream with date caramel layer from freezer and cut into 12 equal pieces.

Pour chocolate into a tall glass, skewer bars one at a time with praline cutlery or two wooden skewers, and cover with chocolate. Work quickly, because the chocolate quickly attracts and forms a thick layer.

ALTERNATIVELY have only a smaller amount drizzled over each bar with a spoon. Drain on a wire rack or paper. Put back in the freezer.

To serve, remove, let thaw for 5 minutes and enjoy!
Nährwertangaben
Serving:
1
Bolt
Calories:
192
kcal
Carbohydrates:
18
g
Protein:
3
g
Fat:
13
g
Saturated Fat:
6
g
Sodium:
23
mg
Potassium:
160
mg
Fiber:
1
g
Sugar:
13
g
Vitamin A:
53
IU
Vitamin C:
1
mg
Calcium:
36
mg
Iron:
1
mg