Simple vegan Thai soup, a recipe I love above all else. It's easy, quick, full of flavors and just makes you happy. Served in a large soup bowl with Chop Sticks one invites you to slurp and enjoy. Asian noodles must not be missing and here the selection is now very large. Starting with udon noodles, sweet potatoand buckwheat variants. Hot soups have already helped me through the winter, or what else can warm you up from the inside when it's minus 20 degrees? When I think of the soup, I immediately get an appetite for it. Thai cuisine has done it to me, when I think of the delicious Spring Rolls or fine, grilled skewers of oyster mushrooms. Summer may come slowly but surely, or what do you say?
Vegan Thai soup, quick and easy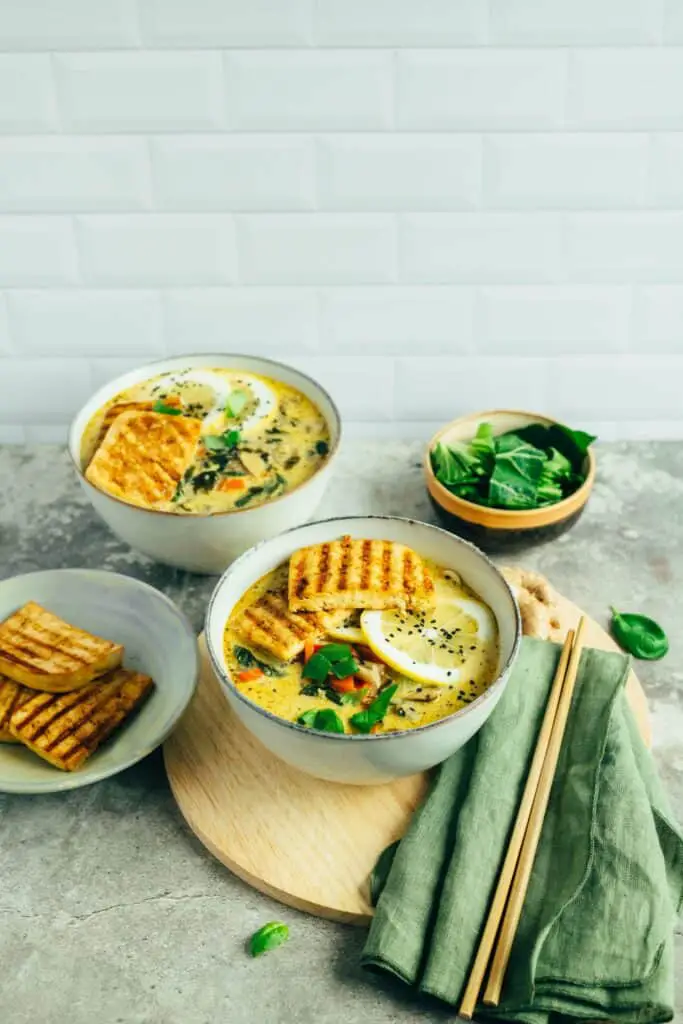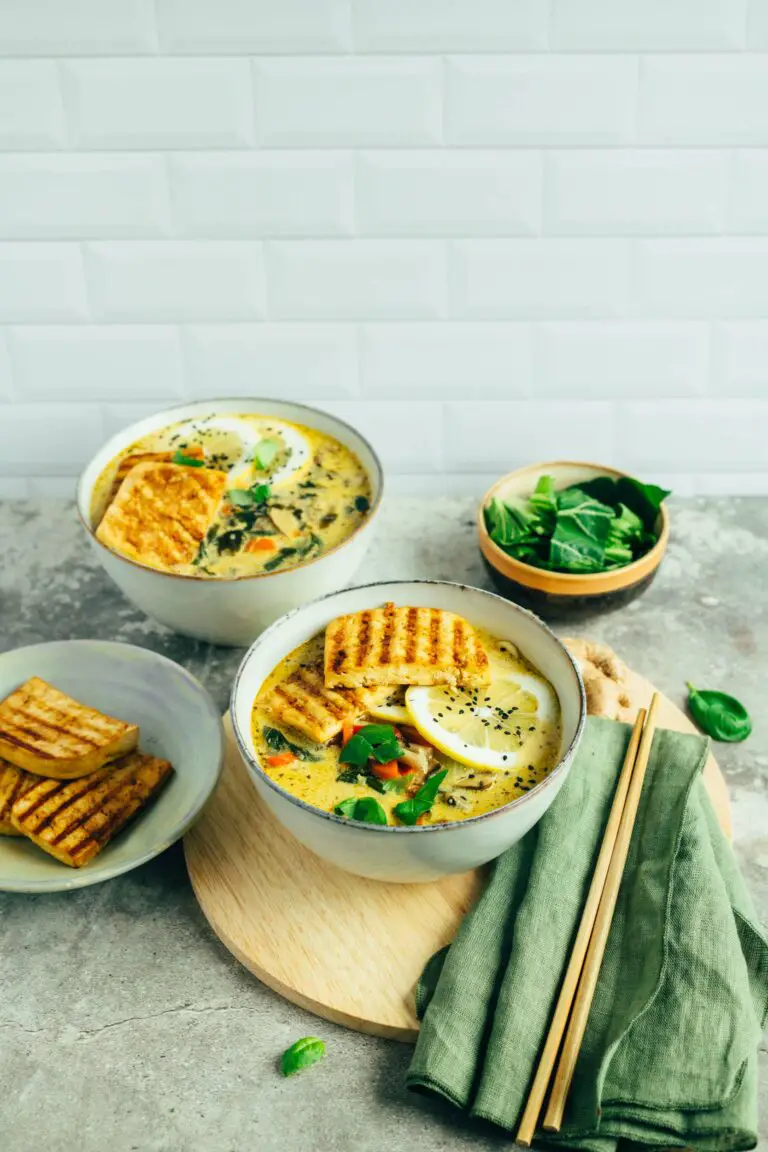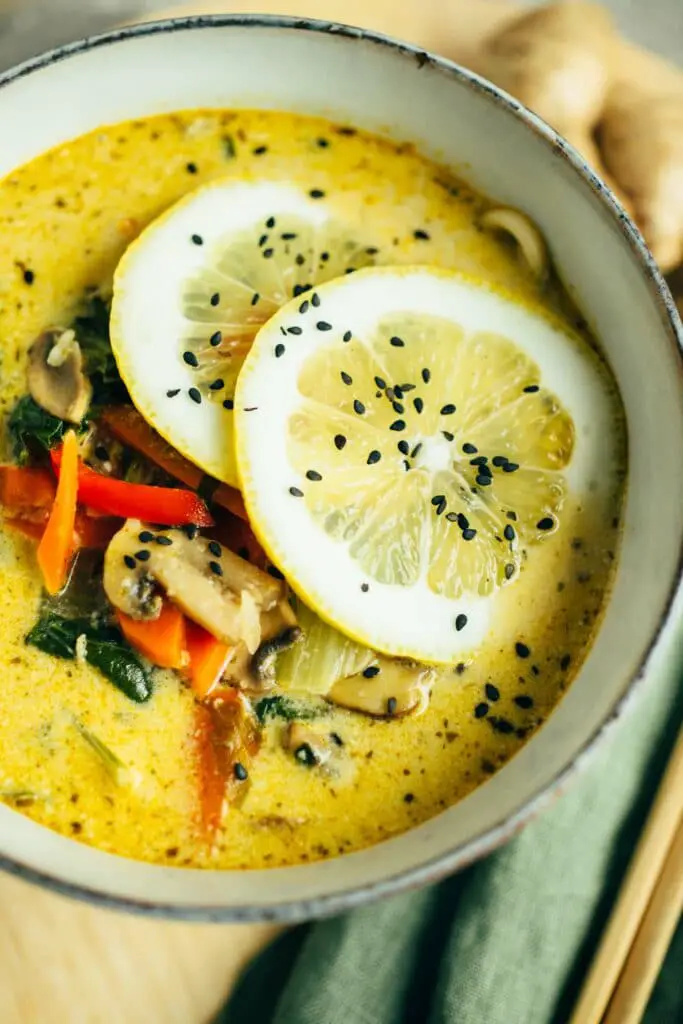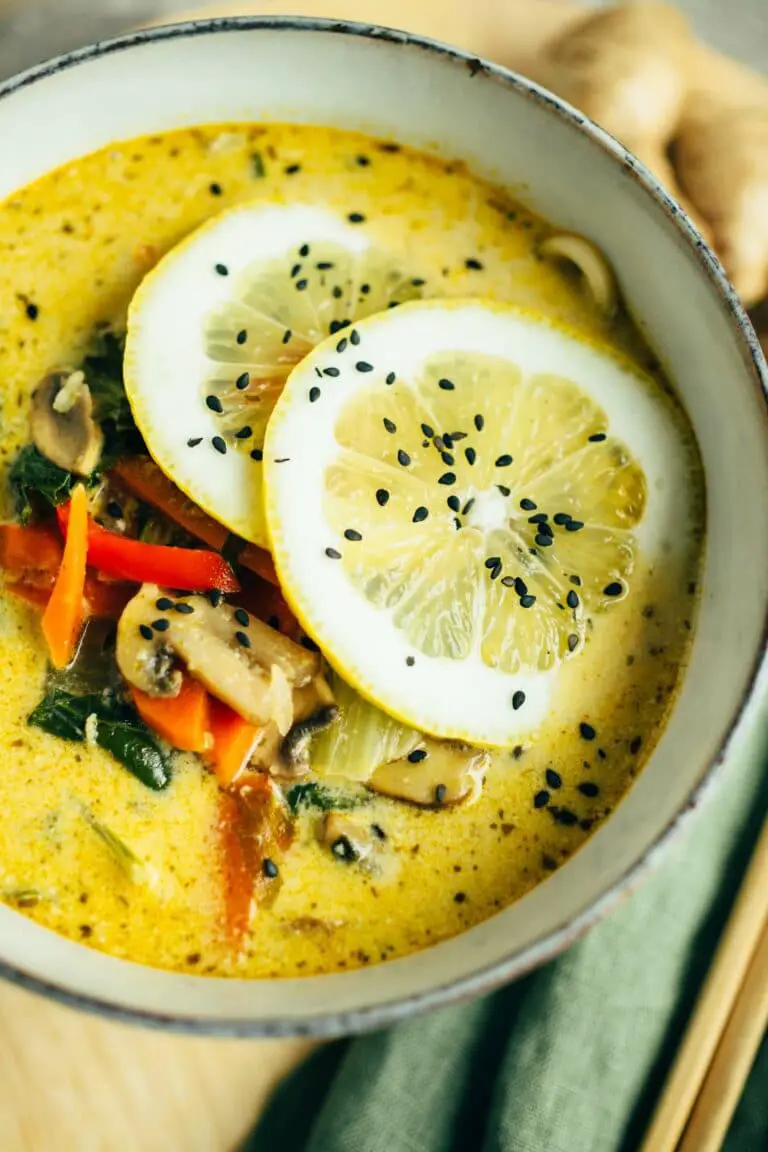 Let's get started together. For the broth we heat a little oil, add onions, ginger and garlic. Once that is stewed until translucent, we add carrots, peppers and mushrooms. I love all the vegetables in a big pot of Thai soup. You can let your imagination run wild when choosing vegetables. I added mushrooms in this case, but any other mushroom variety of your choice will work:
Oyster mushrooms
Herb mushrooms
Shitake mushrooms
Enoki mushrooms
Pom Pom Blanc
I would order from a specialty retailer from time to time and look forward like a little kid to cool, new varieties of mushrooms. However, when I go shopping at the local supermarket or organic farm, there are usually "only" mushrooms in the display. I hope that in the future we will get more and more exotic mushroom varieties into the standard assortment. Mushrooms are an incredibly high-quality, high-protein substitute for meat, and they're also much more climate-friendly to grow.
Continue with the green Thai paste. Here I have an absolute favorite, which I've linked below in the ingredients. Stir until everything is well combined and cook down for a few minutes until the vegetables have softened a touch. Deglaze with vegetable broth and coconut milk, bring to a boil and simmer over medium heat for 20 minutes.
Vegan Thai soup recipe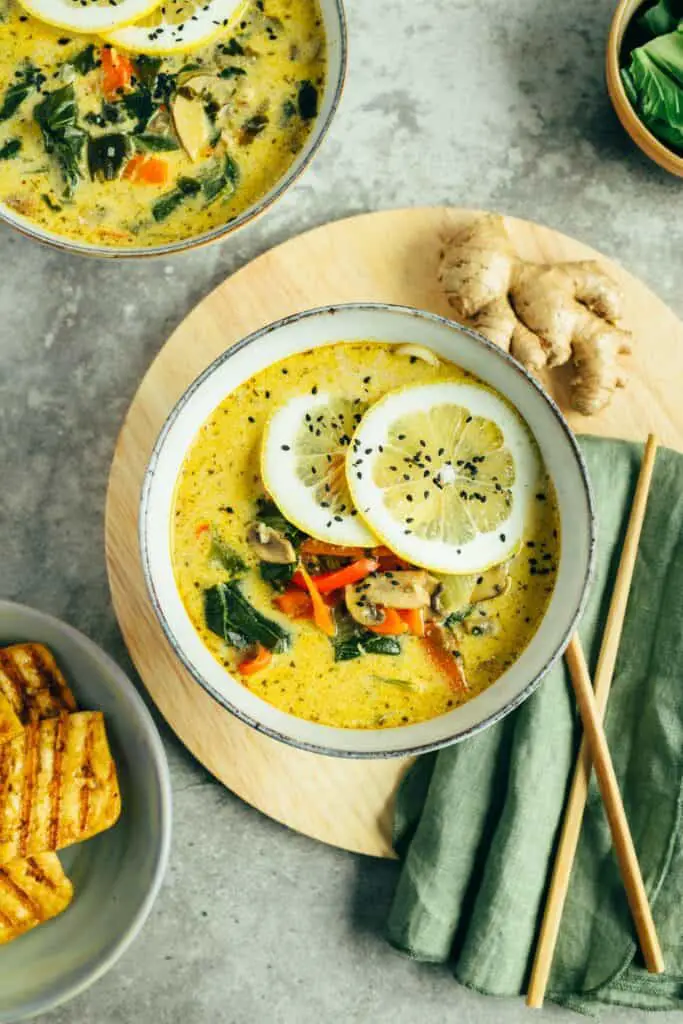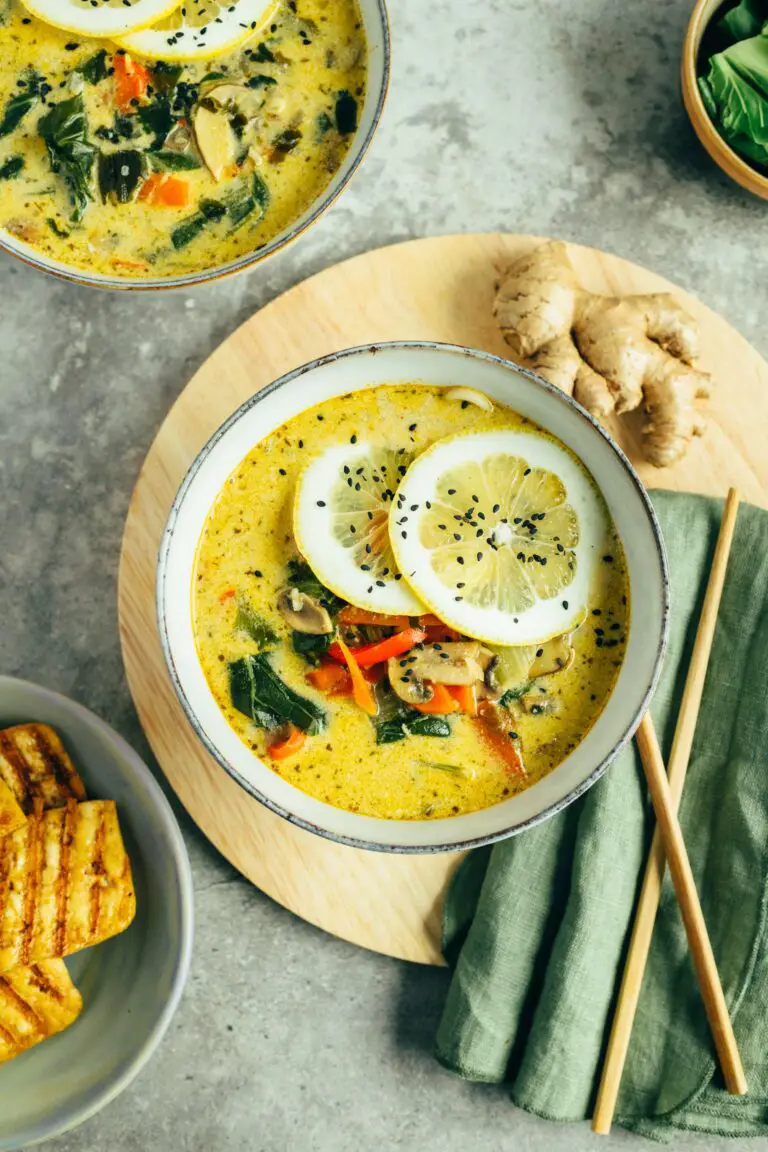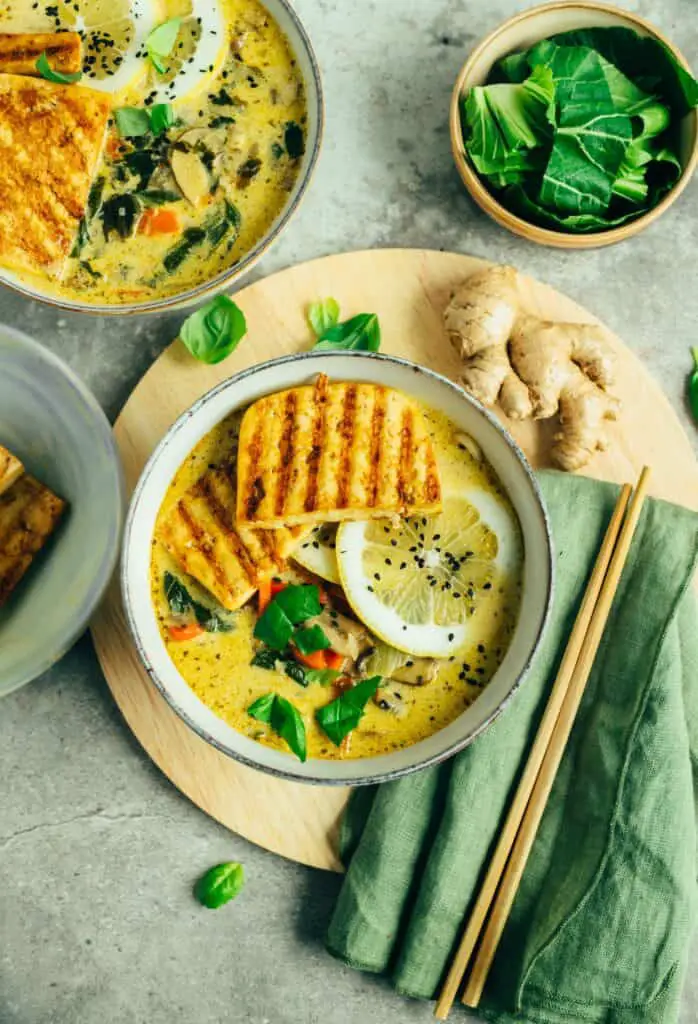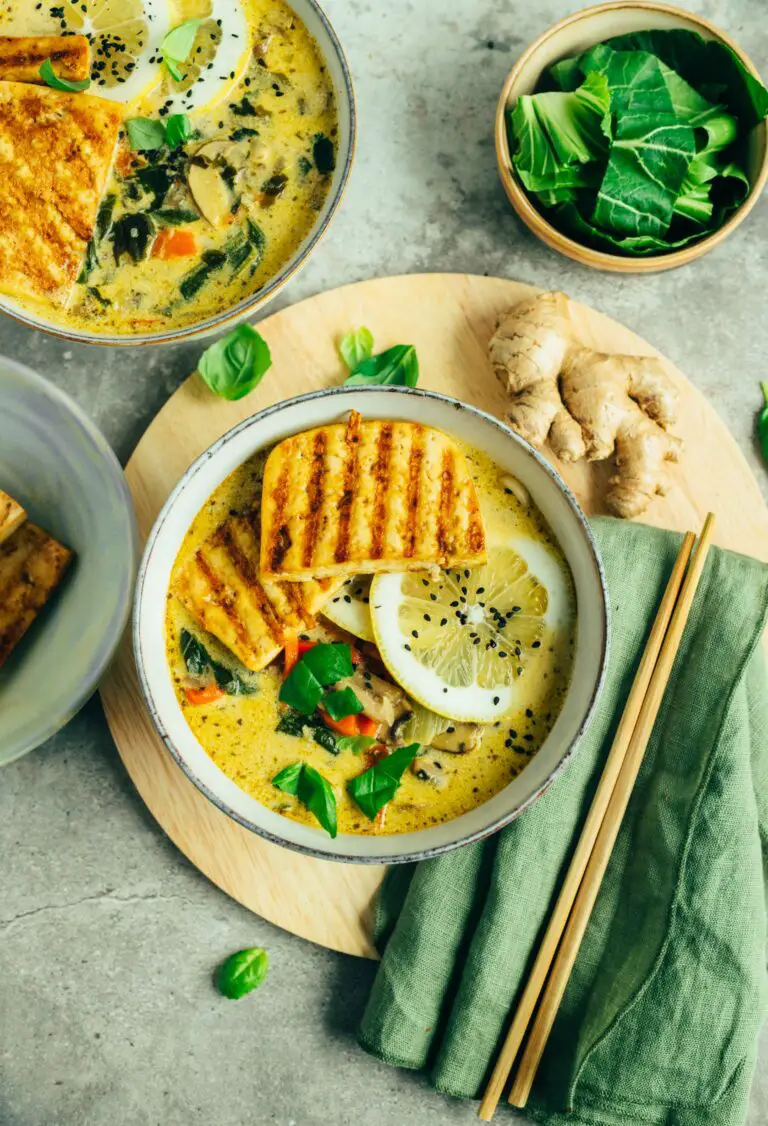 In the meantime, I prepare the pasta, which I prefer to cook separately. I chose udon noodles for this soup, but any of the other variations will work. In the meantime, there are very many different products made from wheat, spelt or even gluten-free from buckwheat or alternatives. Just choose a product that appeals to you the most. I've linked you my current favorite udon noodles below.
In the grill pan next to it, I let the tofu sizzle. To do this, I prefer to press it the day before in my tofu press, cut it into thin slices and fry it in a well-oiled grill pan. Seasoning? Here I choose a simple and delicious way to make tofu palatable. I just deglaze it with tamari, because as you know, tamari always goes, perfect!
What else is suitable to refine the soup?
Bock Choy, which I add about halfway through the cooking time
Chili peppers to taste, depending on how spicy you want the soup to be
Bamboo shoots from the jar
Lemongrass, if you can get some
Dulse, or other seaweed of choice
Fresh herbs like cilantro of your choice
Sesame seeds
That says it all for our Thai soup today. If you'd rather try a different soup today, I recommend my Peanut Butter Curry Soup or Mung Dal Soup.
The simple Thai soup is:
Warming
Slightly spicy
aromatic
creamy
asian
Are you ready the delicious and tasty, vegan and warming soup for cold days? I wish you a lot of fun in recooking and of course a review at the bottom of this page. If you post a picture, use the hashtag #veganevibes.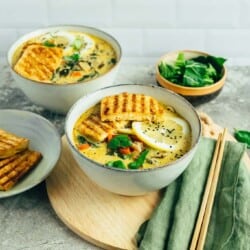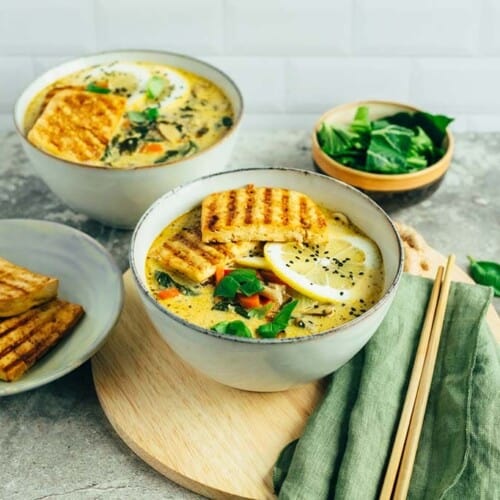 Thai soup 30 minutes (v & gf)
Quick, warming Thai soup with green curry paste, lots of vegetables and noodles. Refined with coconut milk and bok choy. A quick, warming and Asian spiced soup for the whole family.
AUTOR: VEGANEVIBES
Anleitung 
Press tofu, ideally overnight in a tofu press, or if you need to do it quickly, press for an hour. If no tofu press at hand, wrap tofu in a clean kitchen towel and weigh down with a heavy object (books) and press.

FOR THE THAI VEGETABLE BROTH Heat large pot with frying oil.

30 ml Frying oil or other high heat oil

Add onion, garlic and ginger and sauté briefly while stirring.

1 Piece red onion or 2 shallots,

2 Piece Garlic cloves,

15 g fresh ginger

Add carrots, peppers and mushrooms and stir vigorously once and sweat for 2-3 minutes.

2 Piece medium carrots,

½ Piece red bell bell pepper,

200 g Mushrooms

Add green curry paste and stir until curry paste coats vegetables. Deglaze with vegetable stock.

3 tbspn green curry paste,

1000 ml Vegetable broth

Add coconut milk, salt or soy sauce. Stir, cover and simmer for 20 minutes.

100-200 ml Coconut milk to refine,

½ – 1 tbspn Salt

Halfway through the cooking time, add the bok choy. Stir, cover again and continue to simmer.

In the meantime FOR THE TOFU Heat a grill pan or other pan of choice and pour in oil.

Put slices of tofu and fry for 3-5 minutes on each side, adding tamari. Minimize heat and set aside.

400 g Tofu nature,

30 ml Tamari

Prepare the Asian noodles according to package directions, rinse in cold water and portion into deep soup bowls.

Fill with THAI VEGETABLE BRUCE fill up, garnish tofu slices on it and refine with the toppings of your choice.

Dulse algae,

Fresh coriander greens,

Black sesame seeds,

Fresh lemon slices

Enjoy with chopsticks and spoon!

Vegetable broth without noodles and tofu can be kept in an airtight container for up to 5 days. Frozen up to 4 weeks.
Nährwertangaben
Serving:
1
Portion
Calories:
556
kcal
Carbohydrates:
60
g
Protein:
23
g
Fat:
27
g
Saturated Fat:
12
g
Trans Fat:
1
g
Sodium:
2475
mg
Potassium:
250
mg
Fiber:
6
g
Sugar:
11
g
Vitamin A:
749
IU
Vitamin C:
2
mg
Calcium:
136
mg
Iron:
3
mg