Mini Banana Pancakes and I ask right away in the round, who does not have a desire for this sensational dessert? So I would love to eat it every day, but I don't want to overeat on it either. I first saw this recipe on Instagram and really wanted to veganize it. It is just ideal as a small, fine dessert when you don't have many ingredients in the house. But you can eat it without problems also as breakfast, pancakes just different. Let's get started together.
Vegan mini banana pancakes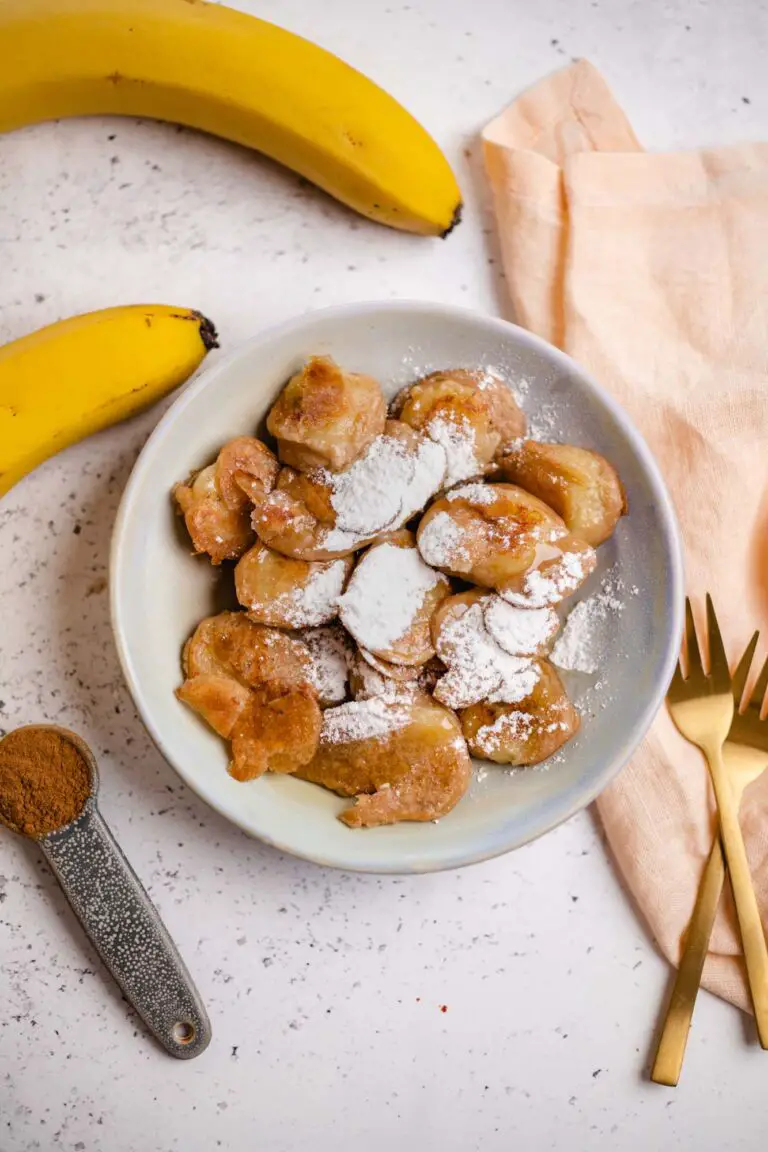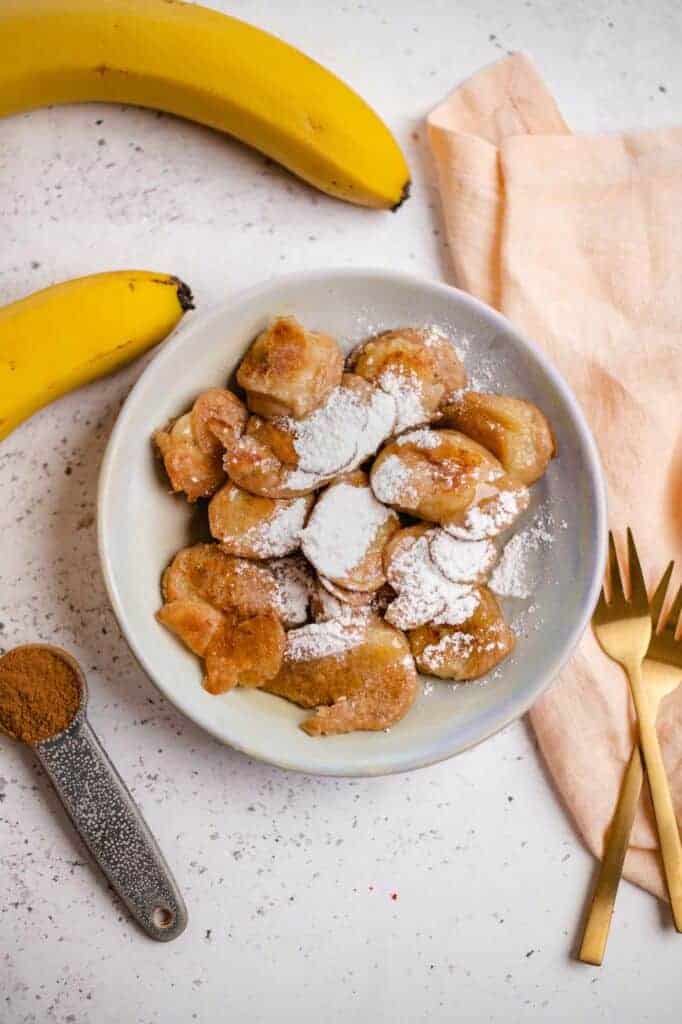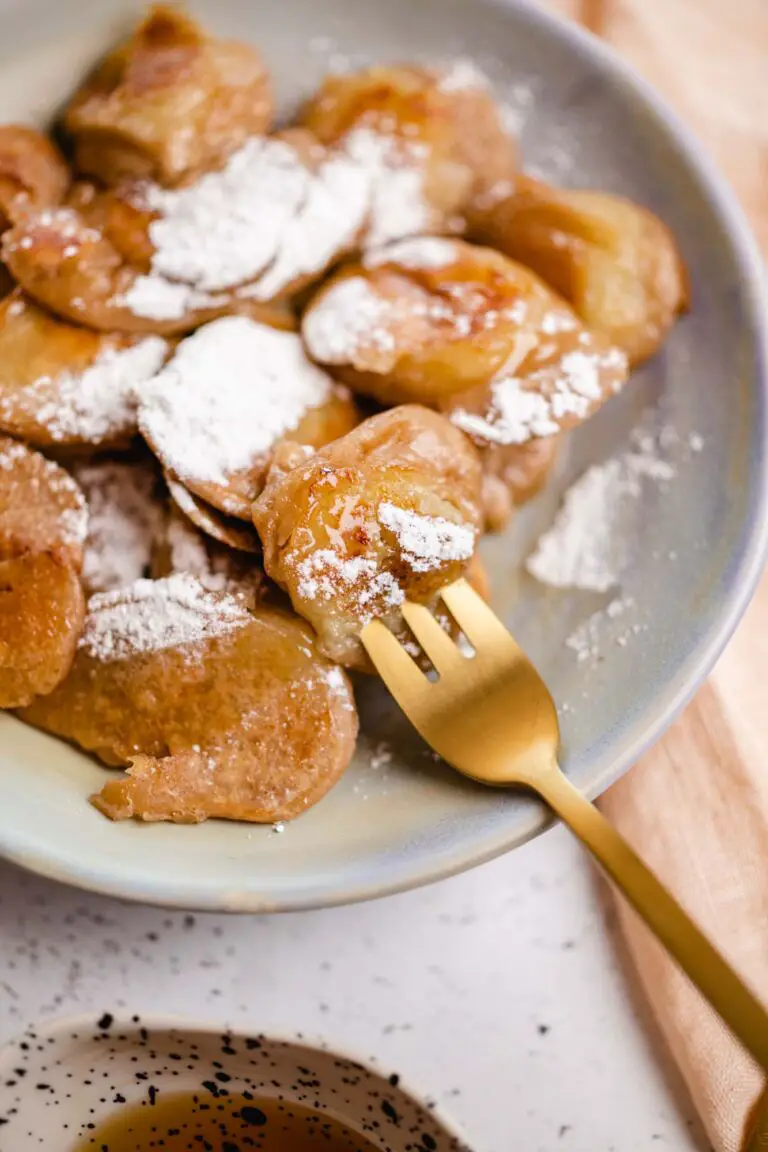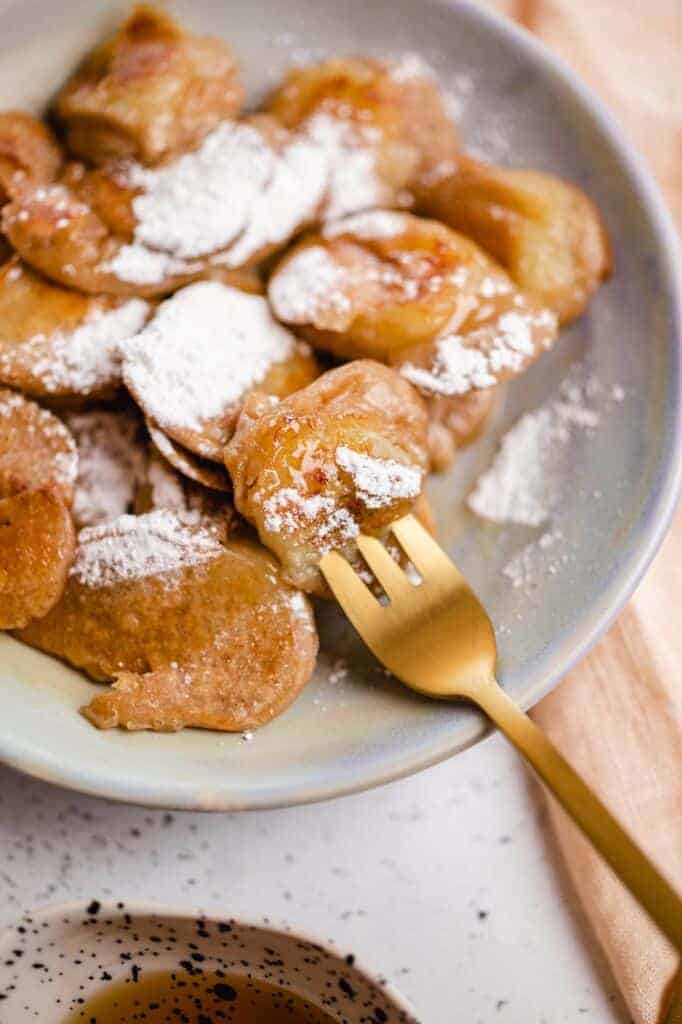 For this recipe you only need a handful of ingredients and you're ready to go. Cut the bananas into pieces, make the batter, add the bananas and fry them in a pan. For the pancakes batter we need flour baking powder, cinnamon and vegetable milk. That's all! This recipe is really simple, quick and delicious. Yummy!
Baking them out in the pan is the slightly bigger challenge, because you need a little bit of dexterity for that. It is important to use a well coated pan, otherwise the dough tends to stick and it is no fun. I use a tiny bit of oil to bake out and coat the pan with a silicone brush. Flipping the little banana pancakes requires a little patience. I use a silicone spatula, here I recommend you experiment a bit to see what works best for you.
TIP: Always make the pancake batter fresh and do not let it stand for long. Once the gluten is activated, the dough can become very tough and not coat the bananas well.
Vegan desserts made simple and fast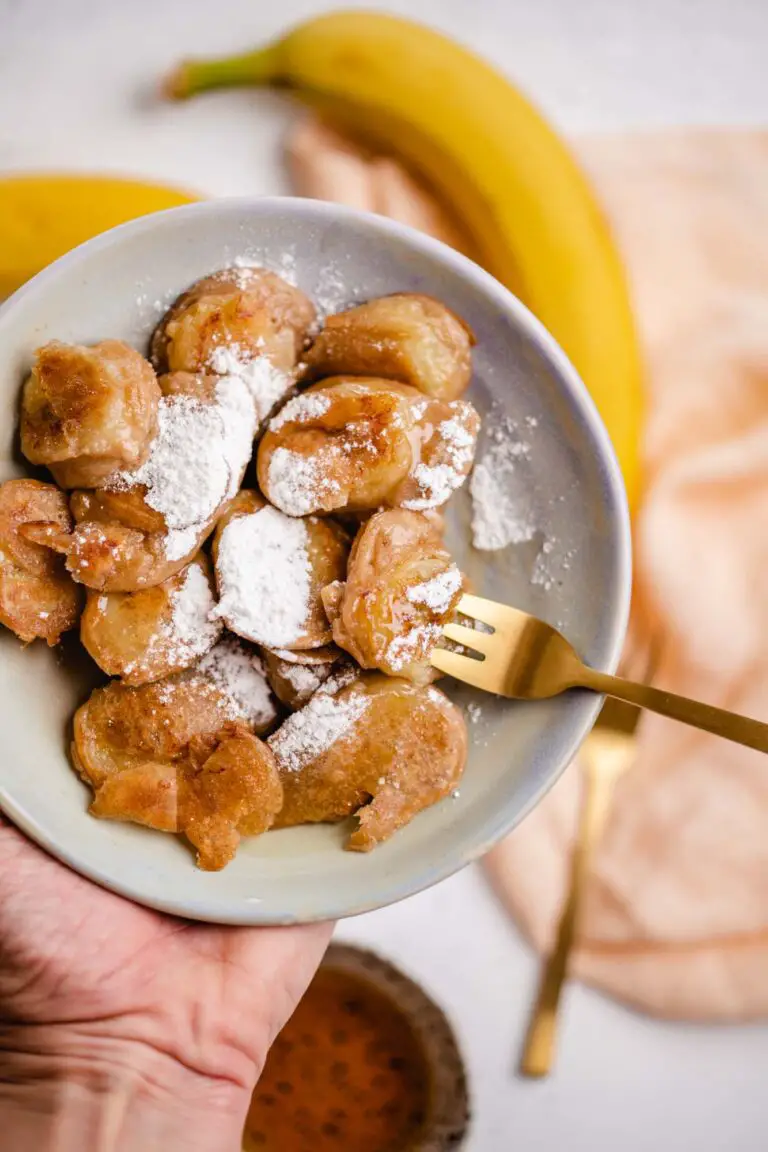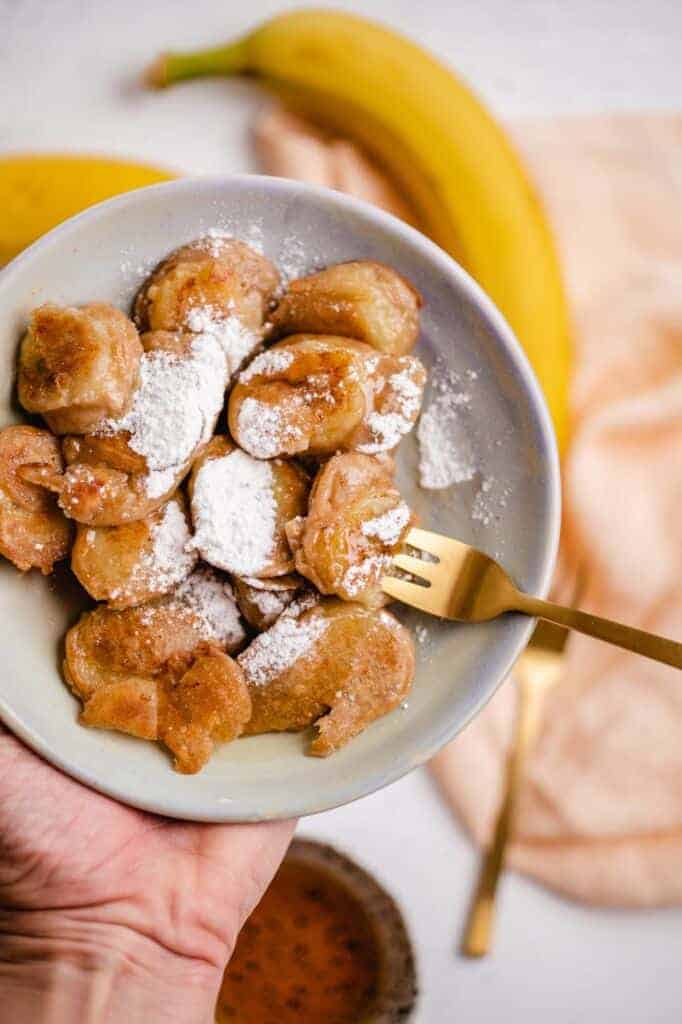 Other than that, there's not much else to consider with our dessert today. The bananas should not be so ripe, because they can quickly become mushy. For those who like to sweeten naturally, you can always omit powdered sugar as a topping and use maple syrup.
If you're in the mood for a different dessert today, I recommend the following variations:
Let's get started with this awesome mini banana pancakes. I hope you enjoy baking and of course about a review at the bottom of this page. If you post a picture, use the hashtag #veganevibes.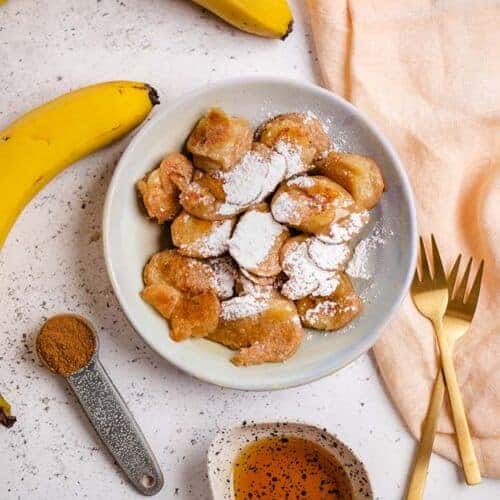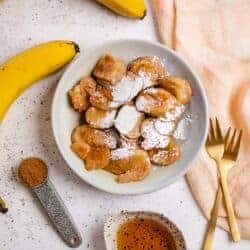 Mini banana pancakes
Mini Banana Pancakes, the name says it all, right? Fine banana pieces wrapped in vegan pancake batter. Crispy baked in the pan and finished with maple syrup. The ideal dessert for countless occasions.
AUTOR: VEGANEVIBES
Anleitung 
FOR THE DOUGH Put spelt flour, baking powder, cinnamon, salt and vegetable milk in a bowl and stir until a smooth dough is formed.

70 g Spelt flour,

½ tbspn Baking powder,

½ tbspn Cinnamon,

90 ml Plant milk,

A pinch of salt

Fold in banana pieces and gently fold until bananas are coated with batter.

Heat a well coated pan until hot and lightly grease it. Pour in batter-coated banana pieces and bake until crispy and golden brown on both sides. I use a silicone spatula to bake them out.

Place in a dessert plate and top with powdered sugar and/or maple syrup. Ideally serve with a scoop of vanilla ice cream. Best fresh!

Icing sugar to taste,

Maple syrup to taste

Note: Always prepare pancake batter fresh and do not let it stand too long, otherwise the batter will thicken and be harder to work with.
Nährwertangaben
Serving:
1
Portion
Calories:
237
kcal
Carbohydrates:
47
g
Protein:
7
g
Fat:
2
g
Saturated Fat:
1
g
Polyunsaturated Fat:
1
g
Monounsaturated Fat:
1
g
Sodium:
51
mg
Potassium:
369
mg
Fiber:
7
g
Sugar:
12
g
Vitamin A:
232
IU
Vitamin C:
11
mg
Calcium:
84
mg
Iron:
2
mg