Vegan Kaiserschmarrn isn't just any recipe, it's just awesome that it's finally online. My husband tormented me for months with his constant inquiries. When will there finally be a vegan Kaiserschmarrn? If only it had been that easy, because I tested at least over 20 different variations, recipes and my own ideas. With egg substitutes, aquafaba and other contortions. Finally, I landed on this favorite recipe. It's easy, fluffy, quick to make and leaves you wanting more. Of course, the raisins must not be missing, or how is it with you? Are you a fan of raisins or not? Let's go, let's go together.
Vegan Kaiserschmarrn – also in gluten-free?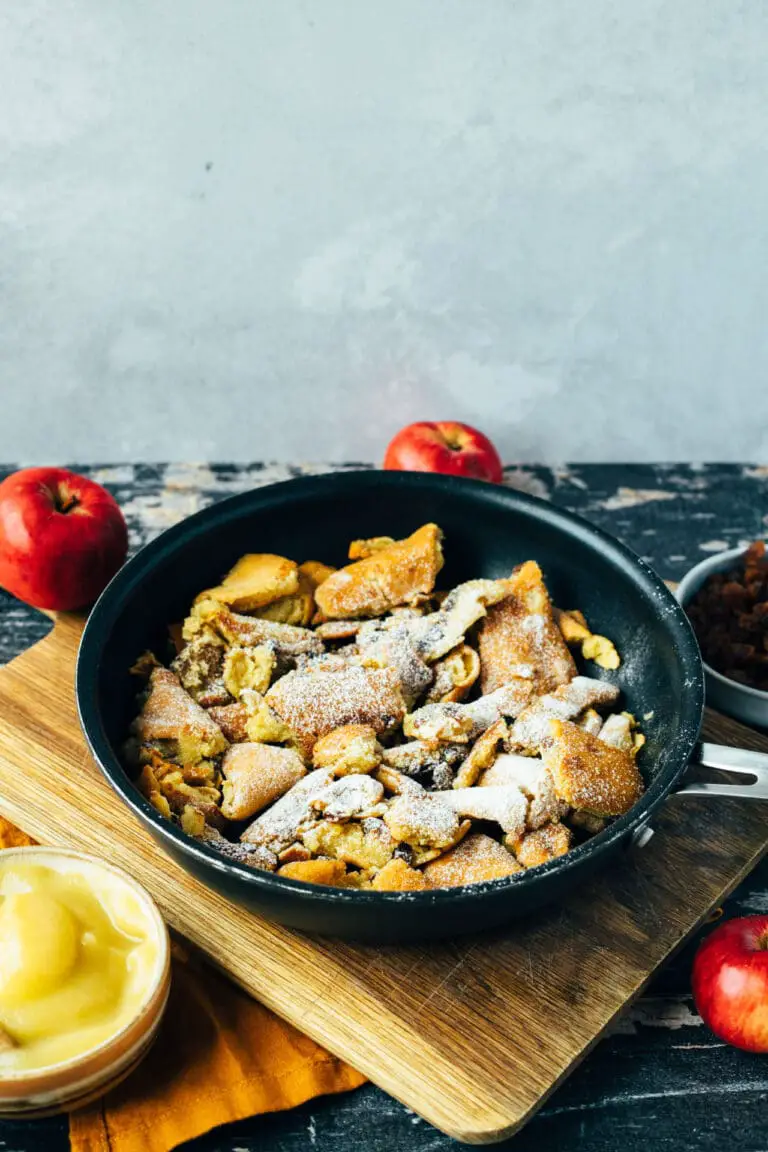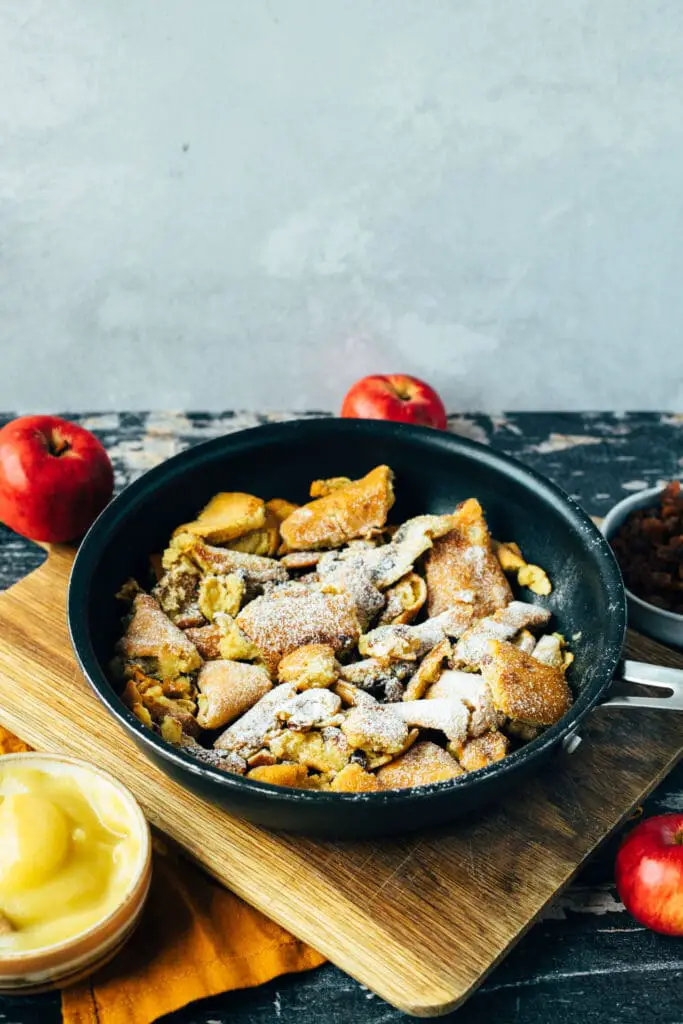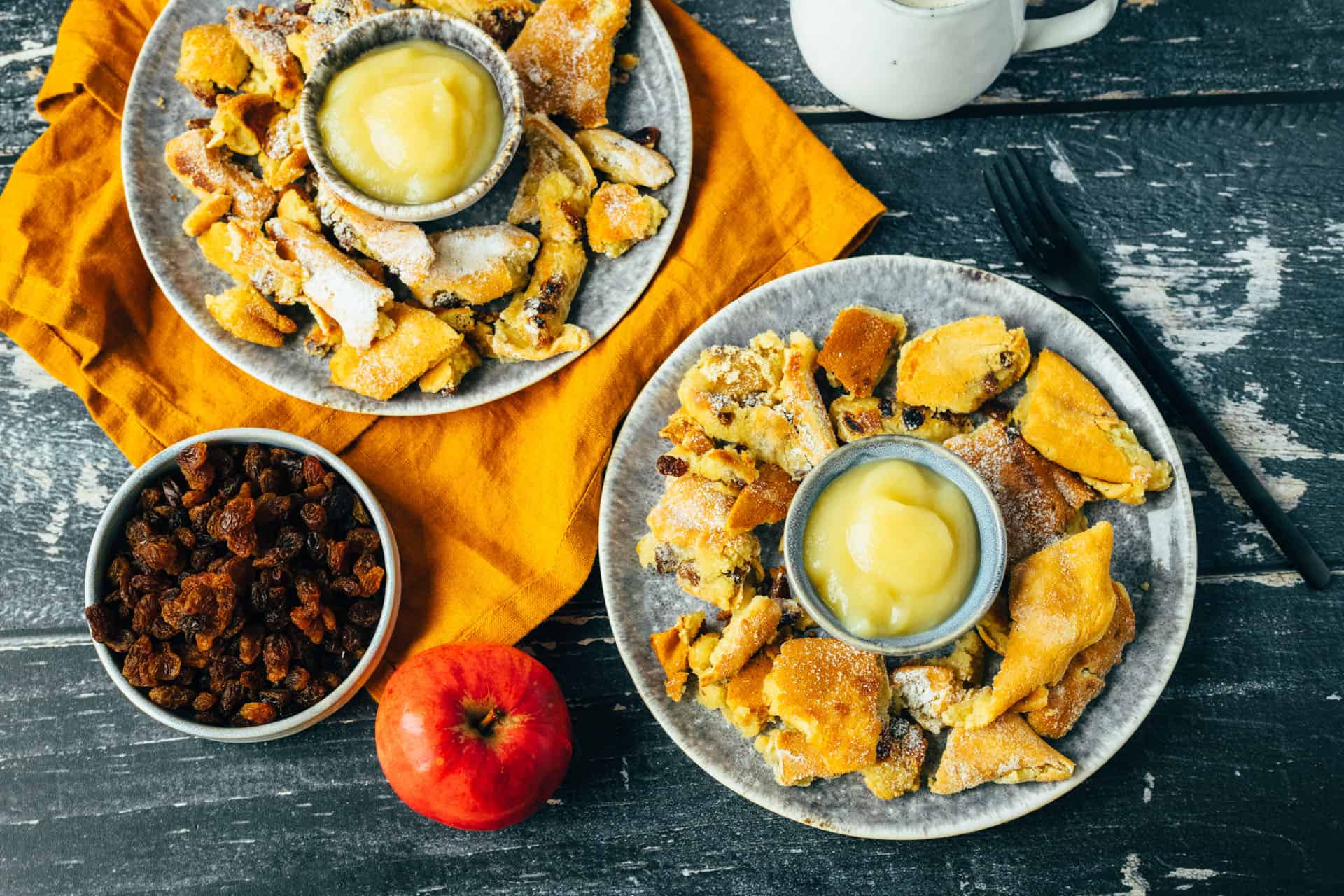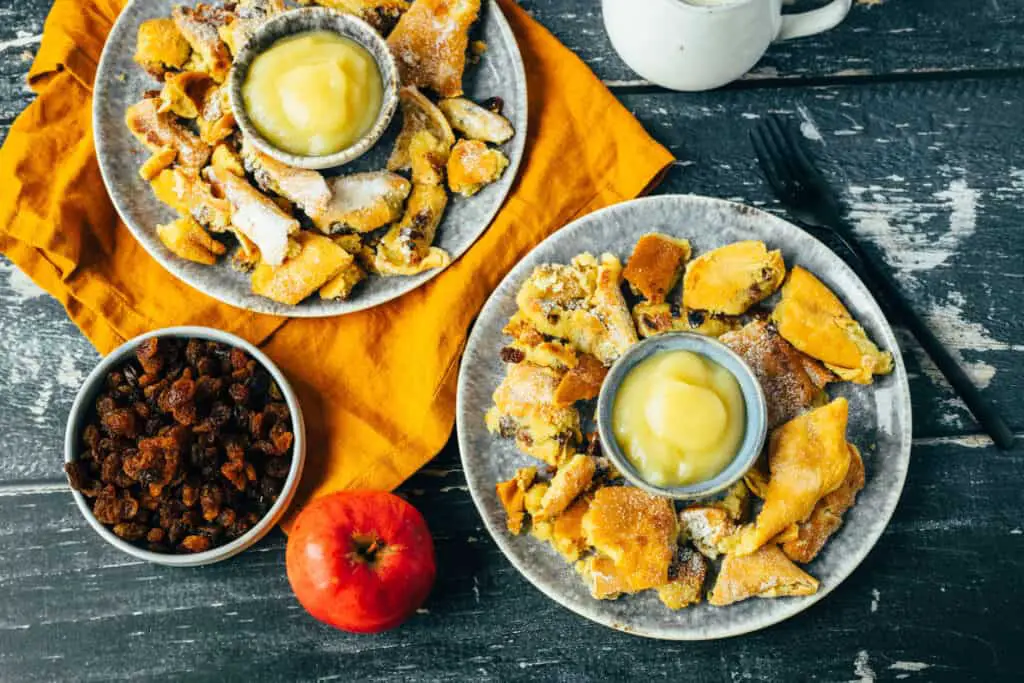 I tested the Kaiserschmarrn extensively with spelt flour, but of course I don't want to leave my gluten-free community out in the cold. The good news is that this delicious recipe also works gluten-free, with no sacrifices. I substitute my gluten-free flour blend for the flour and add 1 tsp carob bean gum for a better binding.
For the spelt flour version you only need 5 ingredients, spelt flour, baking powder, maple syrup, sunflower oil or another high heat oil and plant milk. Stir it all together and off it goes into the pan. Once the dough is lightly browned on the bottom, use a spatula to divide it into 4 pieces and flip it over. Traditionally, the dough is torn into pieces at the end, briefly baked further and the traditional Austrian dish is ready.
TIP: If you want to really chunk it up, you can caramelize your Kaiserschmarrn. To do this, add 1 tablespoon of vegan margarine and 1 tablespoon of raw cane sugar to the pan at the very end and toss the dough pieces in it.
Vegan sweet main dish easy to make yourself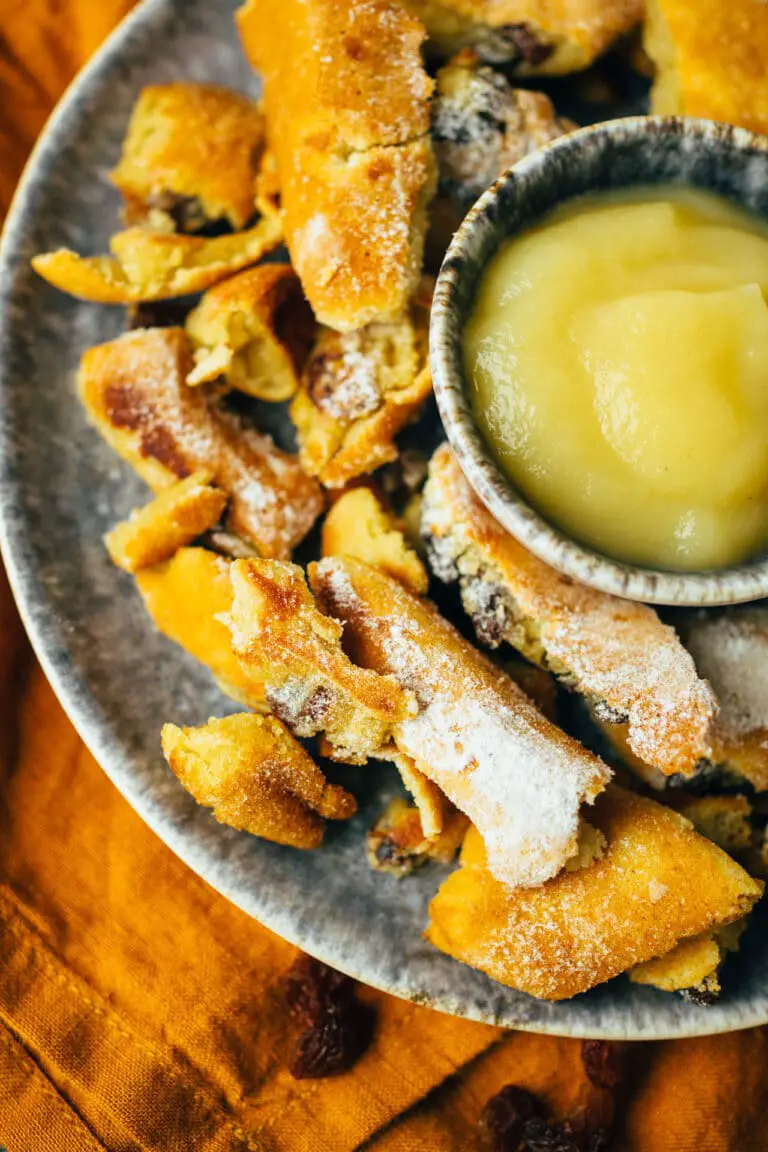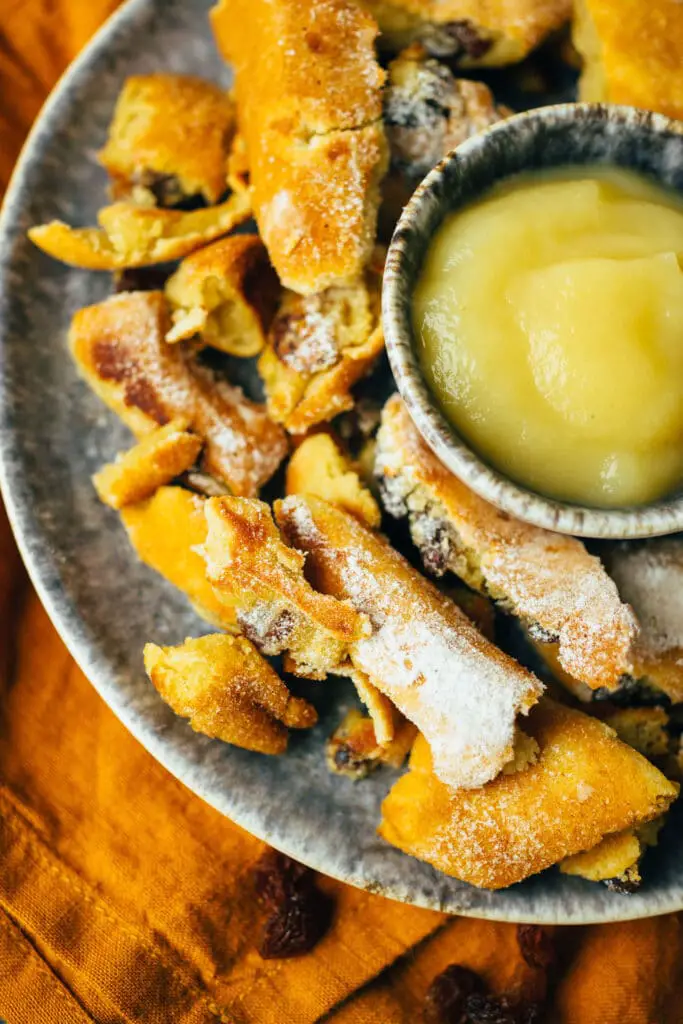 The only question is whether a Kaiserschmarrn is also healthy? My honest opinion? Yes and no! Basically, I think that there is no such thing as an unhealthy food. It always depends on what the basic diet is. A Kaiserschmarrn is certainly not something that comes on the table every day. Every now and then, however, you can treat yourself to a portion of the Austrian classic without a guilty conscience.
Beautiful alone in the selection of ingredients, you can make a lot of things healthier. Coconut blossom sugar or maple syrup instead of raw cane sugar, mix spelt flour with whole spelt flour. These would be examples of increasing the health benefits of the dish. However, from my point of view, Kaiserschmarren is mainly about one thing and that is enjoyment.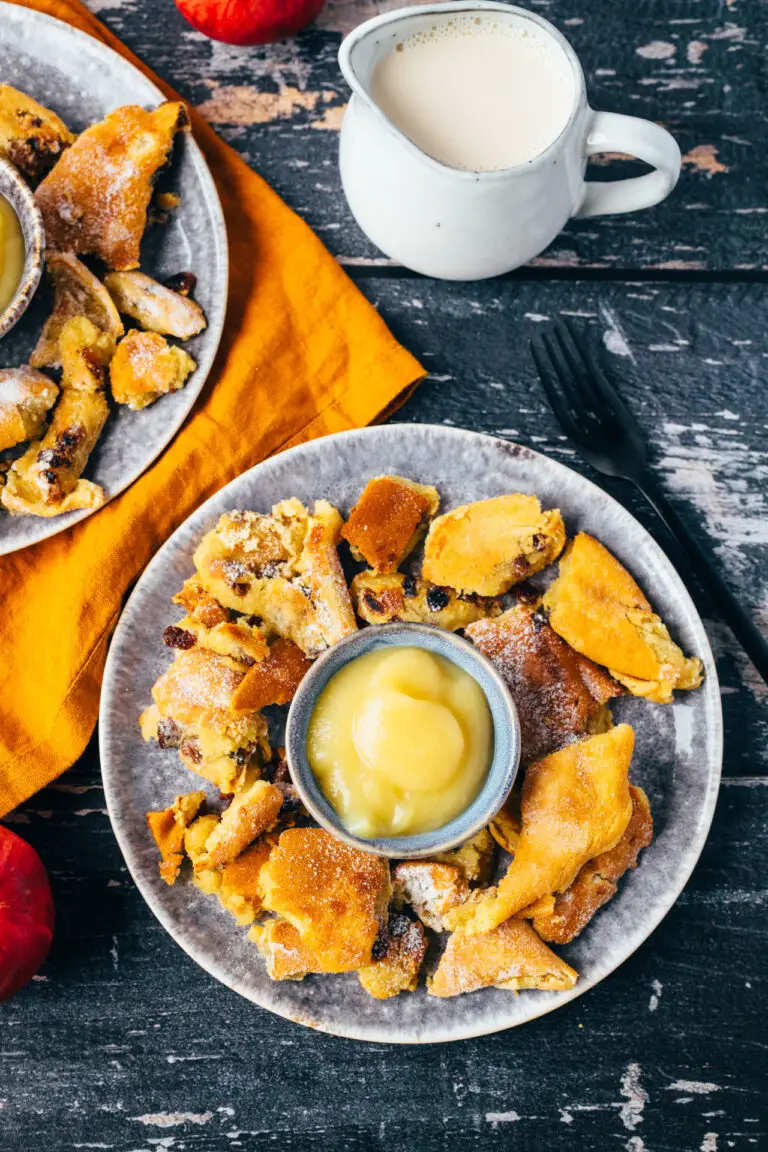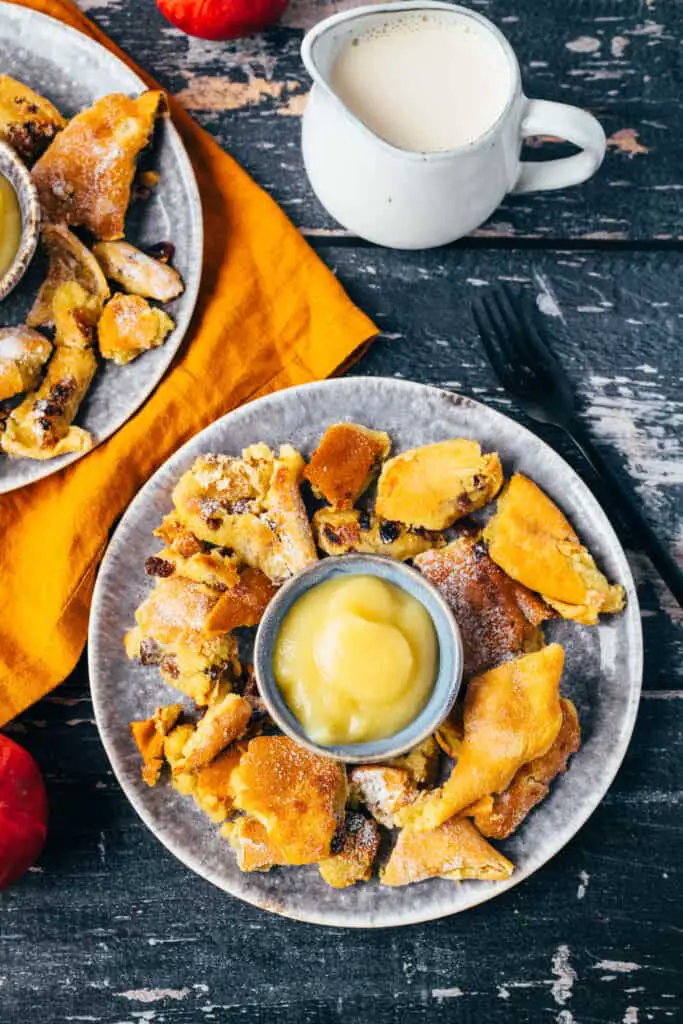 Well, do you already know what's coming next? Yes, guessed exactly right! Troubleshooting. What can go wrong during production?

Here we go:
Do not let the pan get too hot. We do need temperature to cook the dough, but not too much. I set the stove to level 6 out of 10 to give a rough setting. Too much heat will burn your underbody and the junk will end up in the garbage can.
Your pan is not well coated and/or you have not greased it. This leads us to the next fatal point, the dough sticks to the pan and cannot be turned over. I use a Teflon-coated pan and am very satisfied. TIP: Better grease a little more instead of letting it stick.
Impatience! Kaiserschmarrn is not a pancake, because it takes much longer to cook. Allow time and leave in the pan for a few minutes even after flipping. There is nothing worse than a half-cooked Kaiserschmarrn.
Vegan Austrian recipes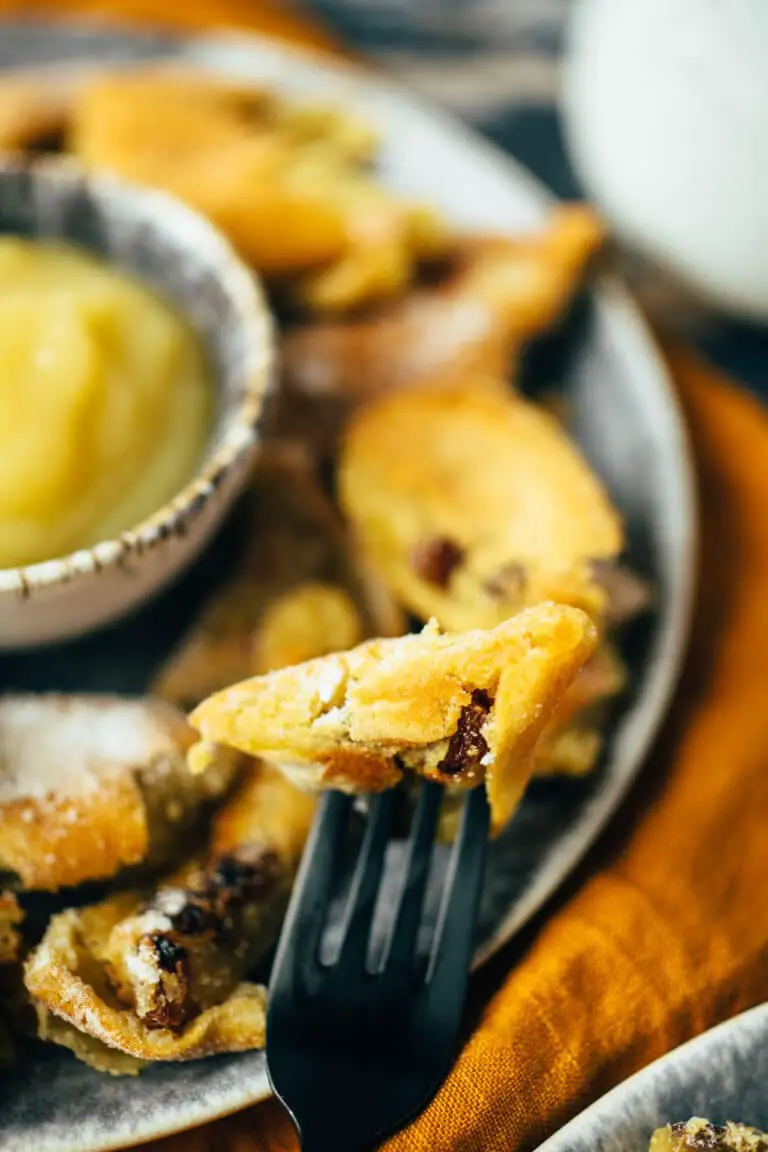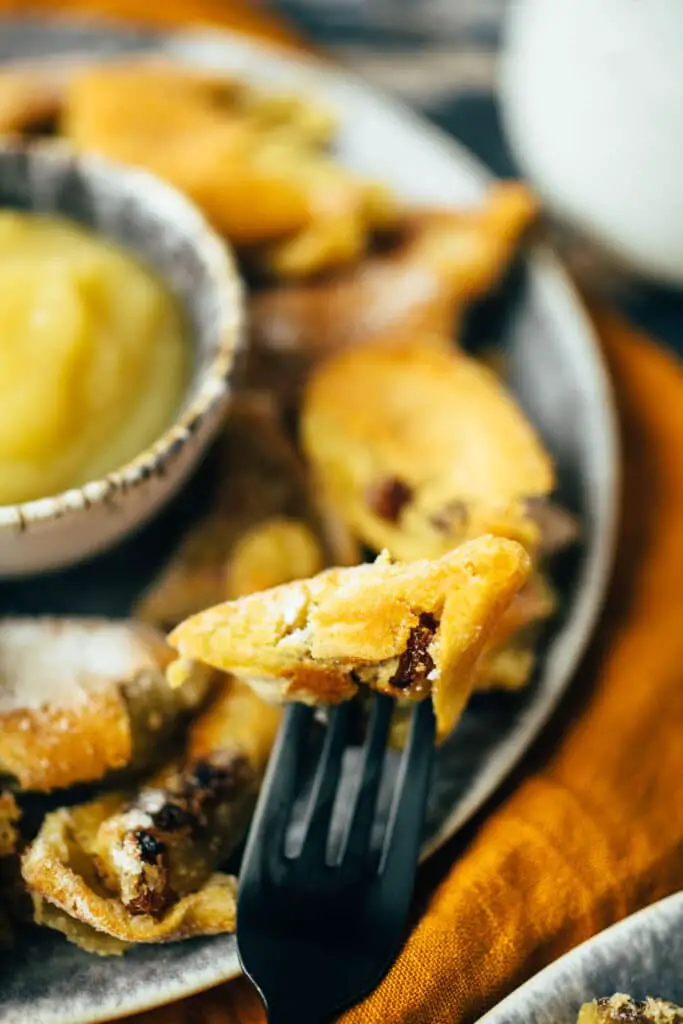 Otherwise, nothing can really go wrong. The question of whether with or without raisins still needs to be clarified, of course. By the way, a scoop of vanilla ice cream also goes very well with it. Together with a Golden Latte, hot chocolate or Pumpkin Spice Latte, you almost feel like you're in heaven.
The vegan Kaiserschmarren is:
Pleasantly sweet
soft inside and crispy outside
fluffy
Easy to make
I hope you enjoy baking and of course about a review at the bottom of this page. If you post a picture, use the hashtag #veganevibes.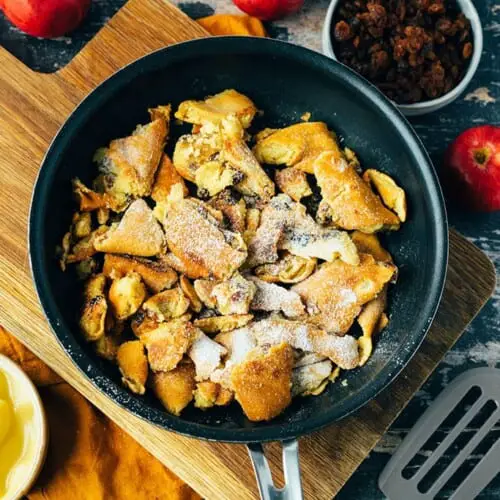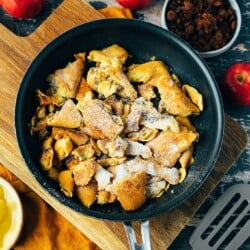 Vegan Kaiserschmarrn
Simple, vegan and geling sicherer Kaiserschmarrn, an absolute classic of Austrian cuisine reinterpreted. Quickly made, crispy baked on the outside, fluffy soft on the inside and incredibly delicious. With raisins and powdered sugar a real treat.
AUTOR: VEGANEVIBES
OPTIONAL:
Handful of raisins per serving

Powdered sugar for dusting

Applesauce to taste

Vegan vanilla ice cream
Anleitung 
FOR THE Dough first sift the dry ingredients spelt flour and baking powder into a bowl.

260 g fine spelt flour,

4 tbspn Baking powder

Add baking oil, maple syrup, and vegetable milk, stirring (preferably with a whisk) until a smooth batter is formed. Set aside.

60 ml Baking oil,

90 ml maple syrup,

360 ml Plant milk

Heat a frying pan and grease with a little oil or margarine if needed.

Pour half of the batter into the pan and spread evenly.(Optional) Spread raisins on the dough.

Handful of raisins per serving

Bake for about

5 minutes

, until the underside is browned and you can see on the surface that the dough is almost cooked through (this is when there is only a small layer of liquid dough left on the surface).

Using a spatula, divide into 4 pieces and flip. See video.

Let brown for another

2-3 minutes

and then tear into smaller pieces with a spatula.

Optionally caramelize with 1 tablespoon sugar and 1 tablespoon margarine and place on a plate. Repeat with the second portion.

Sprinkle with powdered sugar and serve with applesauce. enjoy!

Powdered sugar for dusting,

Applesauce to taste,

Vegan vanilla ice cream

Best fresh, is not suitable for reheating or freezing.
Nährwertangaben
Serving:
1
Portion
Calories:
655
kcal
Carbohydrates:
88
g
Protein:
15
g
Fat:
25
g
Saturated Fat:
17
g
Sodium:
207
mg
Potassium:
237
mg
Fiber:
12
g
Sugar:
21
g
Vitamin A:
472
IU
Vitamin C:
9
mg
Calcium:
279
mg
Iron:
5
mg