Lemon ice cream is one of my all-time favorites. I like the creamy variations better than the water-based ones. The temperatures are glorious at the moment and I'm happy for every free minute I can spend in the sun. My favorite way to relax is in the hammock in the garden, which also provides a little shade when it gets too hot. Perfectly to it fits a cool, vegan ice cream and there I have meanwhile some to offer on veganevibes.de. As of today, the popular ice cream e-book is once again available for free download.
Lemon ice cream – vegan – with and without ice cream maker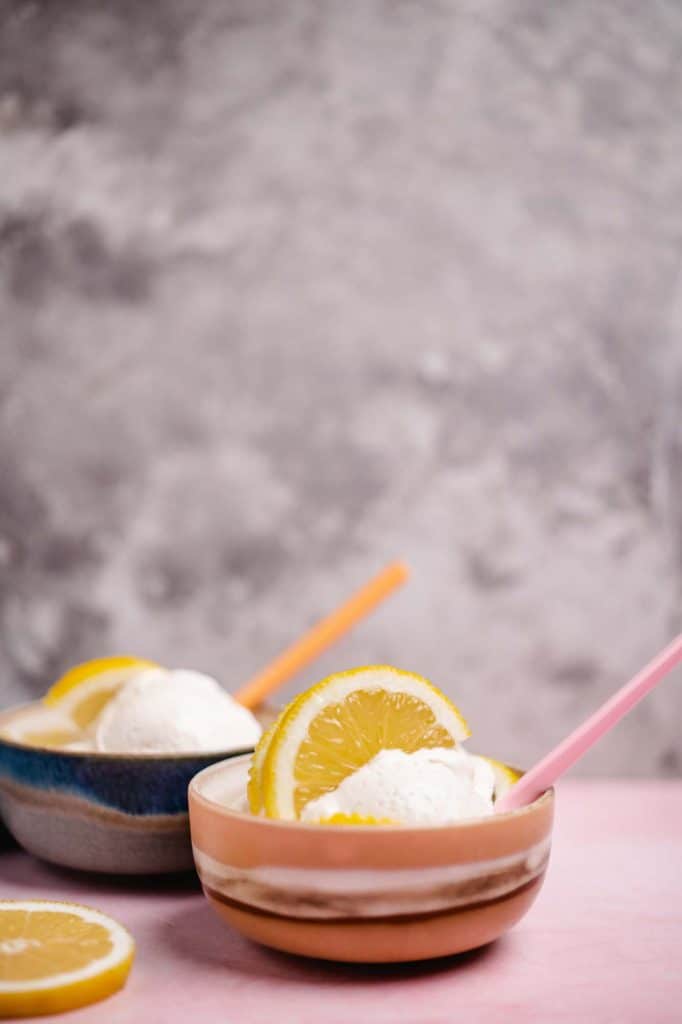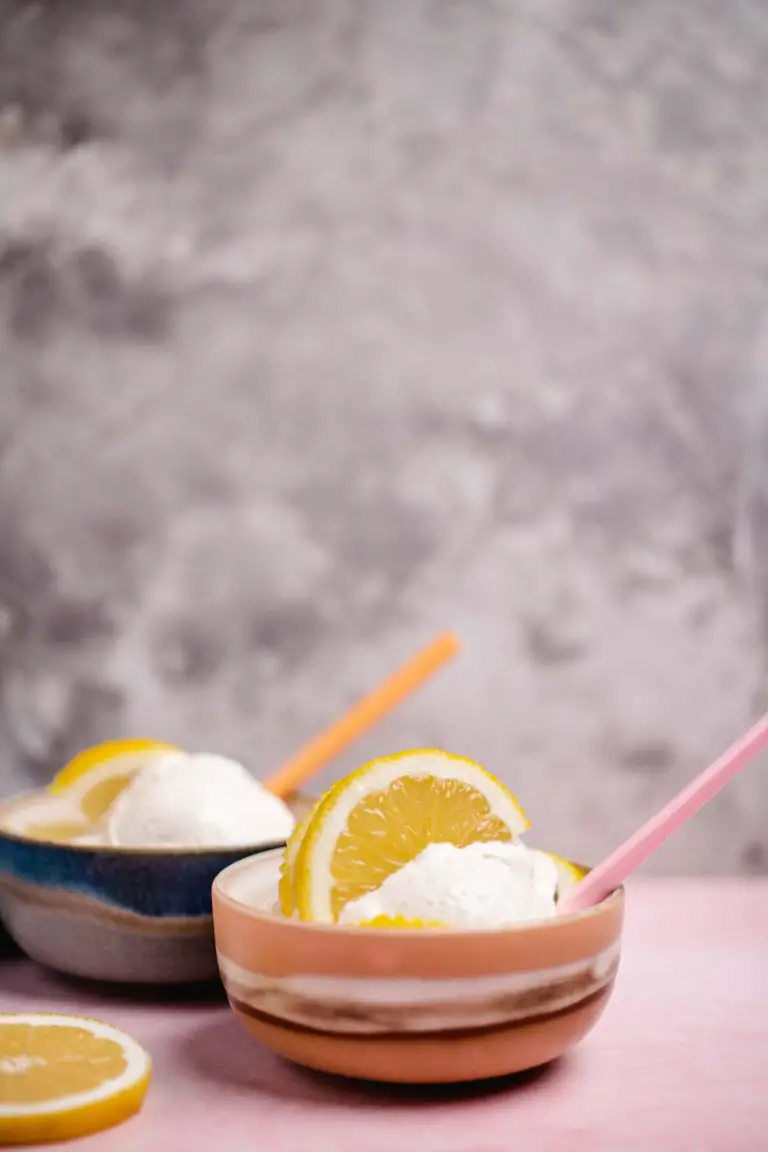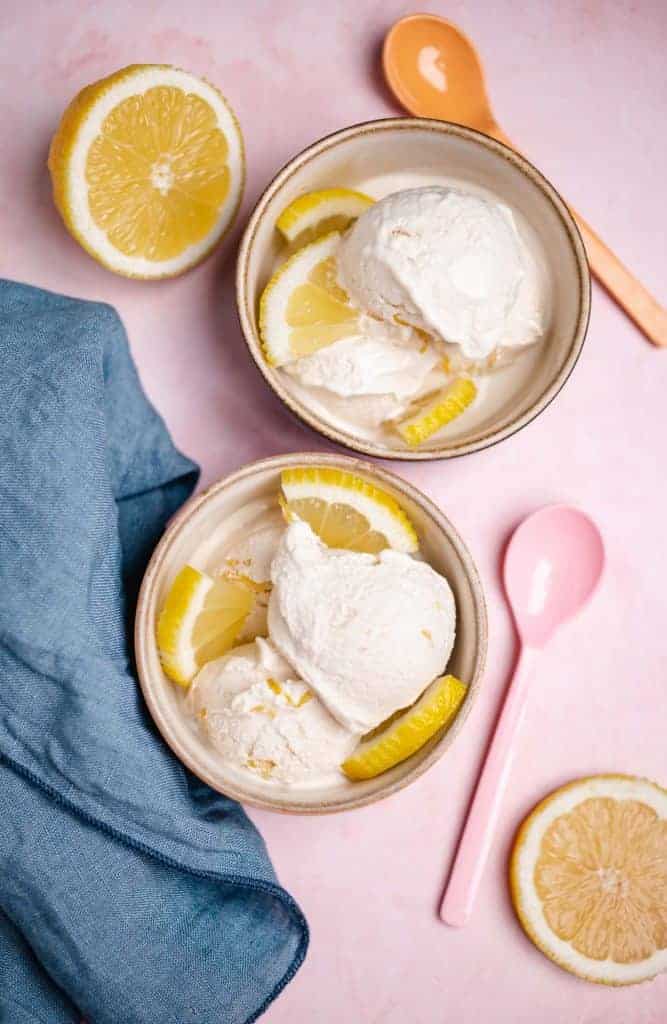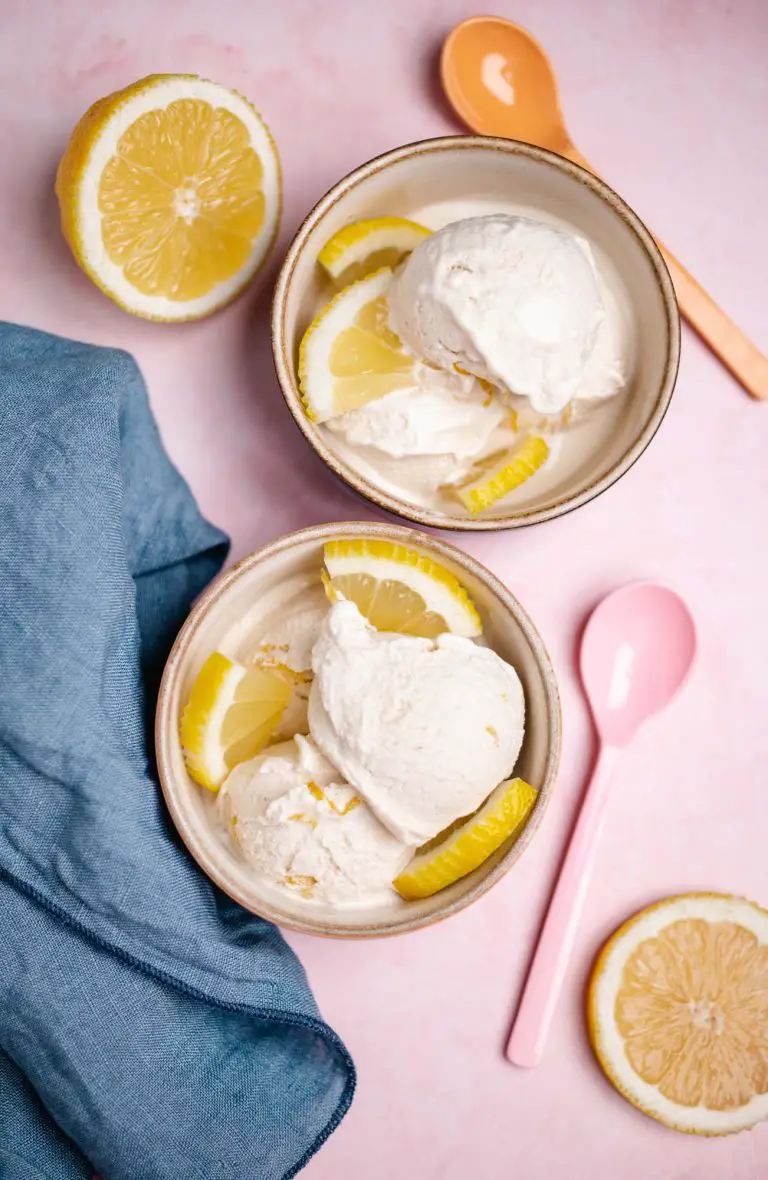 This recipe is super easy to make. The ingredient list is short and straightforward. Vegetable cream, vegetable milk, lemon juice, raw cane sugar, maple syrup, lemon zest, cashews and xanthan gum. This all goes together in the blender and is processed into a fine, creamy liquid. Then it goes directly into the ice cream machine.
TIPS: If you have a high-powered blender, then you don't need to soak the cashews. If not, you can find instructions on how to properly soak cashews here. Alternatively, you can use ready-made cashew nut puree in the same amount.
Vegan ice cream recipes
Maybe you're asking yourself if it's absolutely necessary to use an ice cream maker?
WITHOUT an ice cream maker, the ice cream will not be as creamy, will form more crystals when frozen and will take longer to freeze. If a creamier consistency is desired, ideally stir once per hour.
WITH ice cream maker the ice cream becomes really nice and creamy, in my case an A with star. I have linked below the device I use and have been very happy with for several years.
If you don't feel like lemon flavor today, I recommend the following other varieties on veganevibes.com or just download the booklet directly: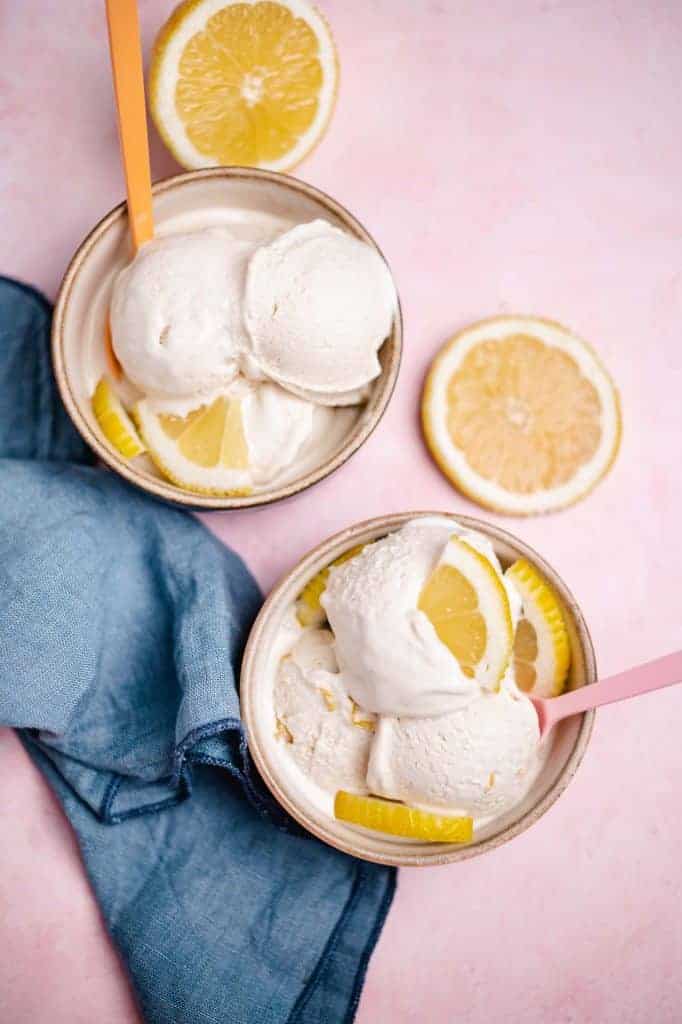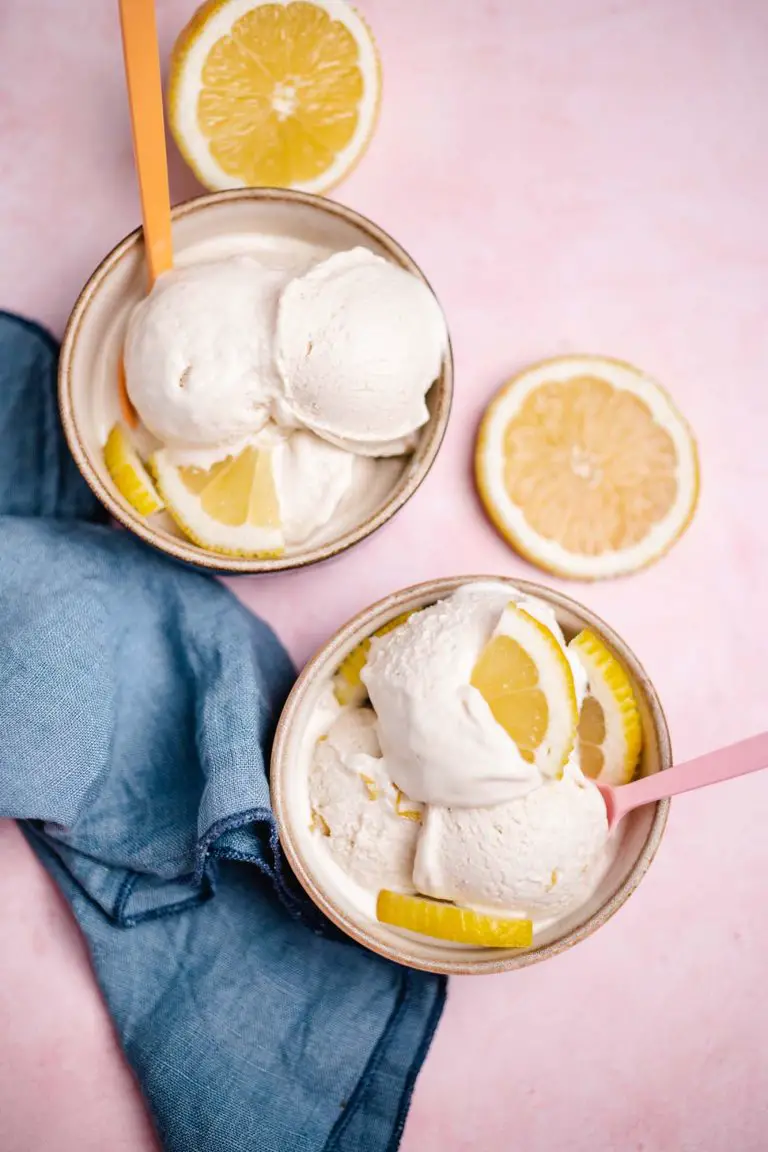 I'm imagining a giant ice cream sundae right now with all different flavors. That would be a cool thing. If I'm honest, something similar happened to me in Switzerland a few years ago. After a substantial dinner, my cousin and I ordered ice cream for dessert. The varieties were displayed on a large chalkboard and I thought, why not try everything and order up and down the menu once. The problem was that I had seen only a part and the remaining 15 varieties were covered. The astonishment was great when the waiter came out of the kitchen with a large bowl filled with more than 20 scoops of ice cream. When asked why he had not asked(after all, there were only two of us), he said that some guests also order a whole bottle of vodka for themselves and at some point he stopped asking.
The Creamy vegan lemon ice cream (with and without ice cream maker)
Lemony
creamy
Pleasant acidity
Easy to manufacture
fruity
If you love lemon ice cream as much as I do, I'd love a review at the very bottom of this page. If you post a picture, use the hashtag #veganevibes.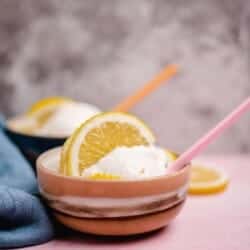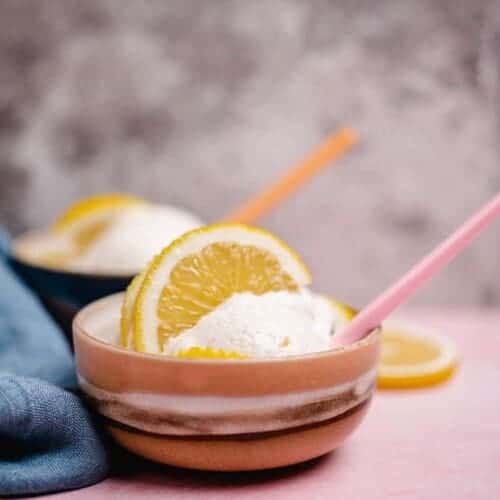 Creamy vegan lemon ice cream (with and without ice cream maker)
Vegan lemon ice cream, with or without ice cream maker. The preparation is simple and the list of ingredients is short. A sweet, creamy temptation, vegan, lactose-free and versatile and super delicious.
AUTOR: VEGANEVIBES
Anleitung 
Prepare the device for ice cream production.

FOR THE LEMON ICE CREAM Place all ingredients except the xanthan gum in a high-powered blender and blend to a uniform liquid. Add the xanthan gum at the very end and mix in.

100 g Vegetable yogurt,

350 ml Almond milk or another vegetable milk,

400 ml Vegetable cream,

100 ml Lemon juice,

140 g Raw cane sugar,

30 ml maple syrup,

90 g Cashews,

1 tbspn Grated organic lemon,

½ tbspn Xanthan Gum

Place in ice cream maker and prepare according to manufacturer's instructions. Alternatively, pour into a freezer-proof mold and place in the freezer. To increase creaminess, mix once per hour with a fork. Freeze for at least 6 hours, ideally 10 hours.

To serve, remove, let thaw for 5 minutes, portion with an ice cream scoop and arrange in dessert bowls or ice cream cones. Garnish with desired toppings and enjoy!
Notizen
*Cooling time 10 hours only when used without an ice cream maker
Nährwertangaben
Serving:
1
Ball
Calories:
182
kcal
Carbohydrates:
25
g
Protein:
3
g
Fat:
9
g
Saturated Fat:
2
g
Polyunsaturated Fat:
1
g
Monounsaturated Fat:
5
g
Sodium:
82
mg
Potassium:
157
mg
Fiber:
1
g
Sugar:
22
g
Vitamin A:
7
IU
Vitamin C:
5
mg
Calcium:
68
mg
Iron:
1
mg