Shakshuka is something I've wanted to make for so long and it's finally here. The #veganuary is in full swing and I am happy to see so many people trying out the vegan lifestyle. I can still remember when I started, along with my husband a few years ago. In the beginning everything was foreign, without meat, that was still ok. However, I could not imagine living without eggs and cheese. It was just part of my life for too long and I was literally addicted to the taste of cheese. Mainly mountain cheese had done it to me and it was first very hard for me to do without everything. Follow me on Instagram @veganevibes and I'll show you some behind the scenes photos, for example the first vegan dish we ever made.
Shakshuka vegan, simple and delicious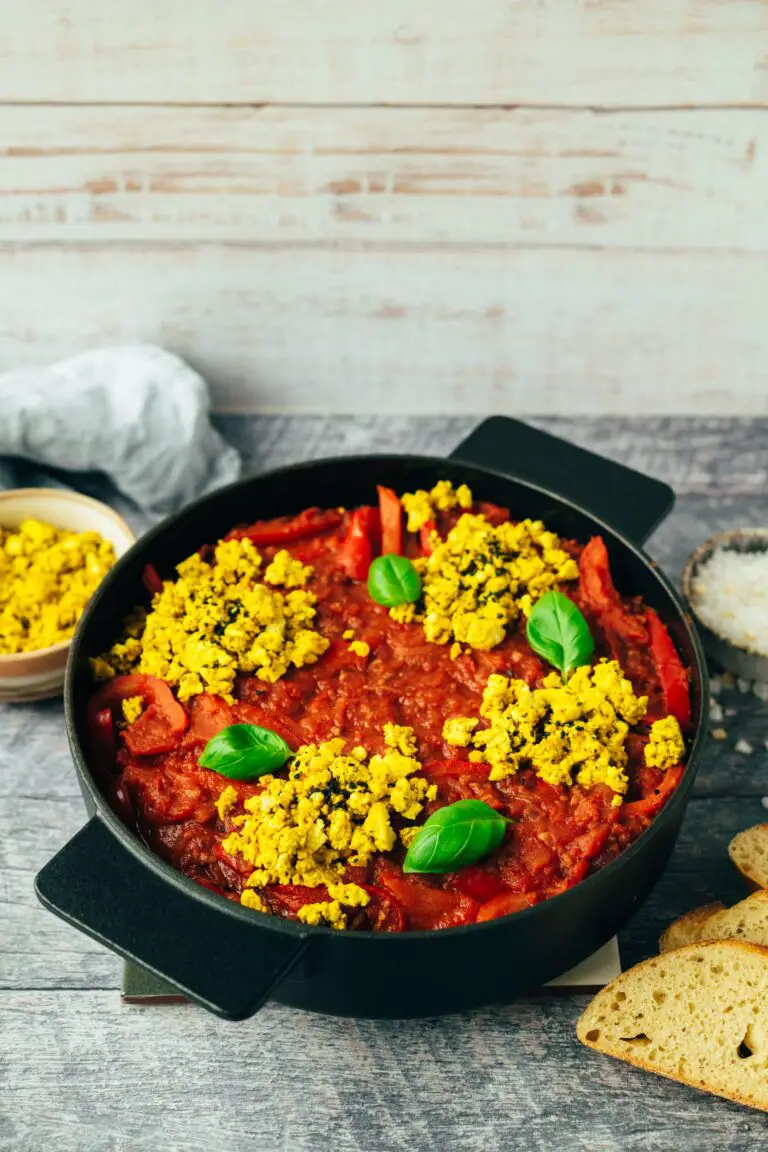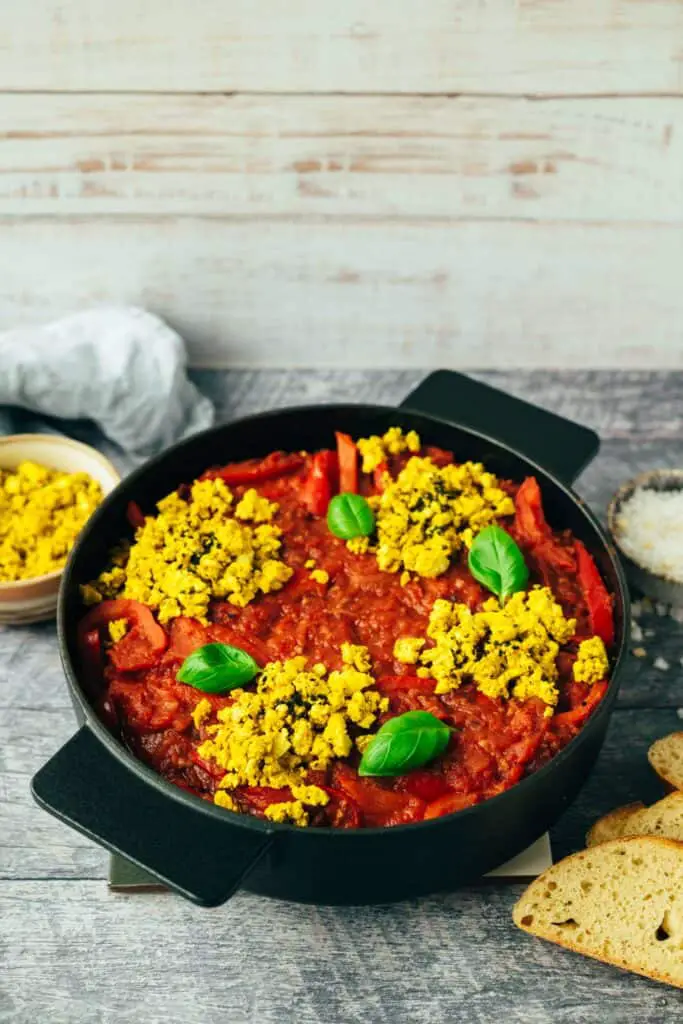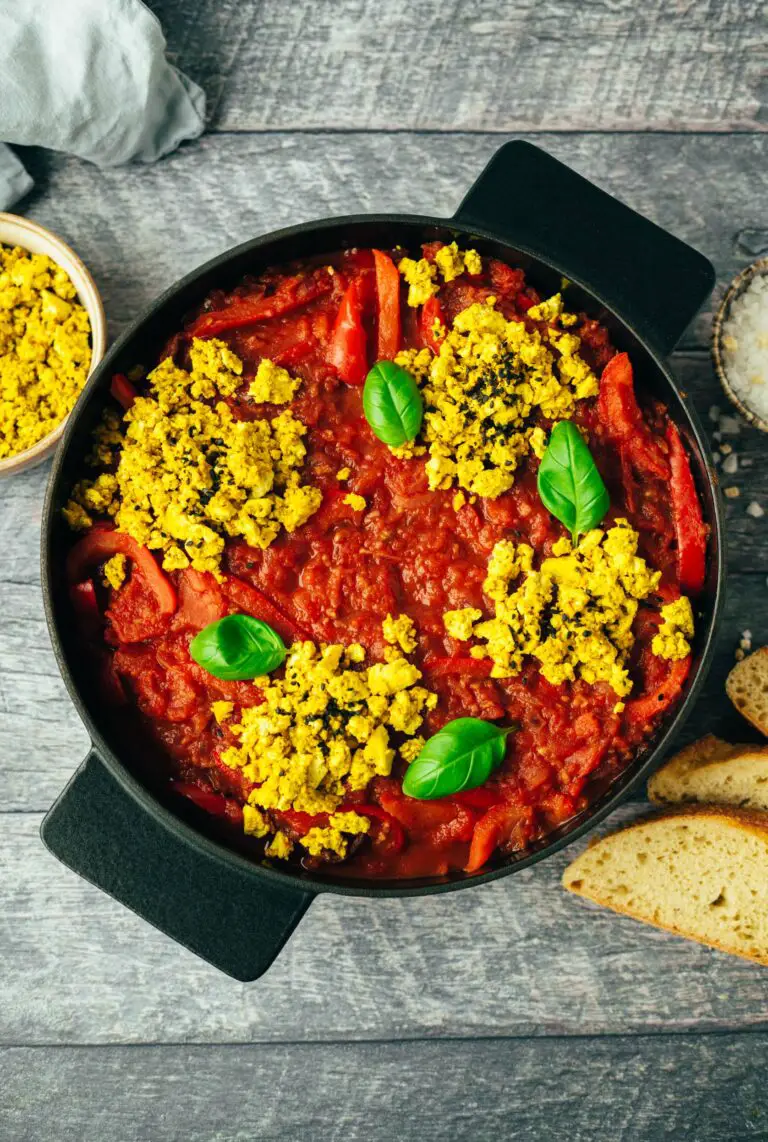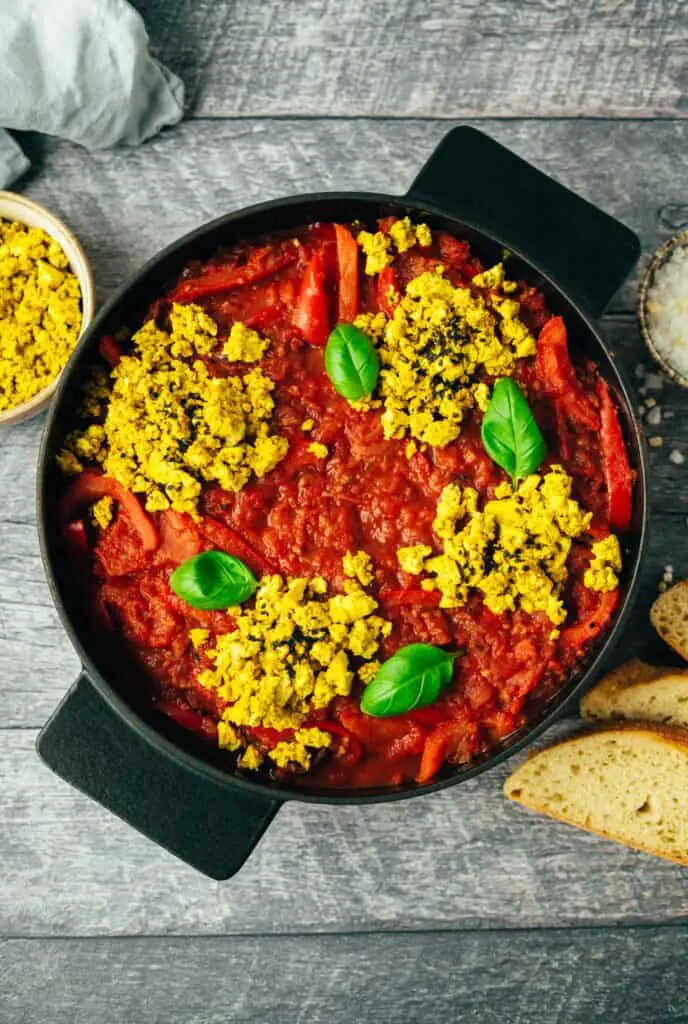 I first puzzled for a while how to veganize the dish easily and deliciously. The signature item is the poached egg on top of the tomato and bell pepper sauce, and that's what I initially wanted to recreate vegan. To be honest, I quickly got away from the idea because I found it too complicated. Then I asked myself the central question of what is really important and central to shakshuka. For me, it's not necessarily the poached egg, but the eggy flavor. So I made a final decision to make a tofu scramble and dress some clusters of it on the tomato bell pepper base and it worked great.
The tomato bell pepper base is quickly made from some olive oil, red onion, garlic, red bell bell pepper, canned tomatoes, cumin, sweet paprika, smoked paprika, Bird Eye chili and coconut blossom sugar.
Simple vegan breakfast ideas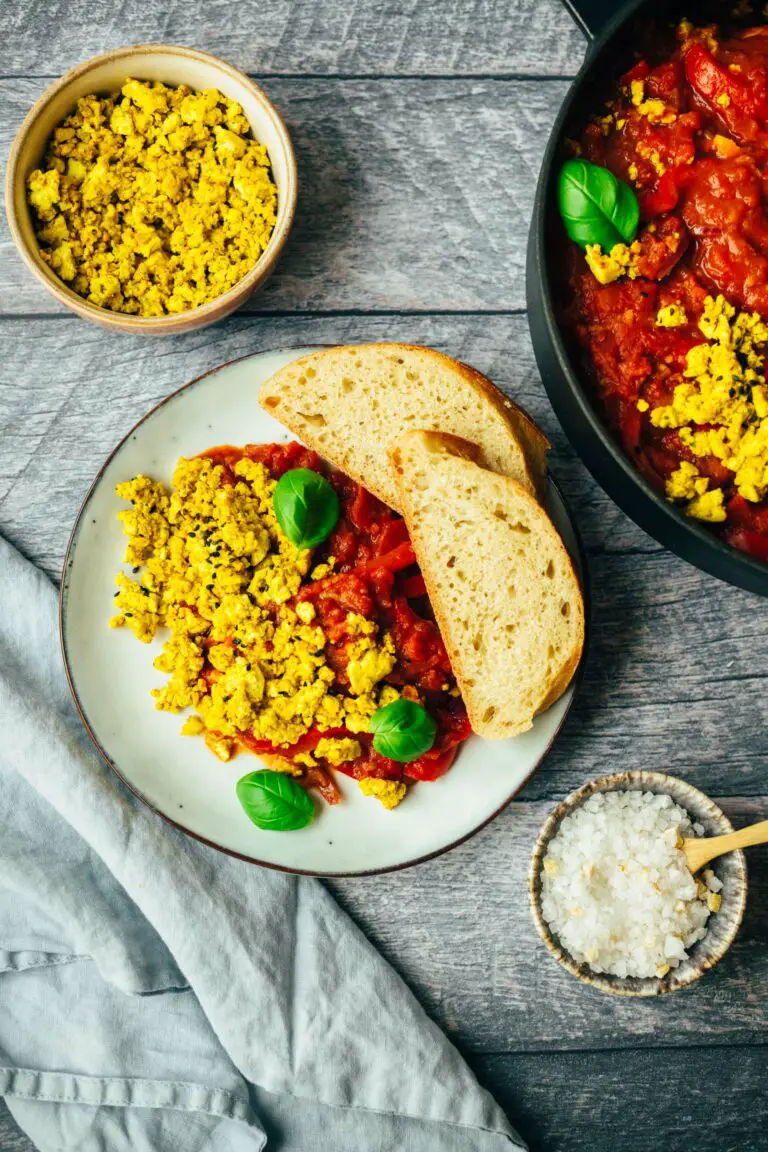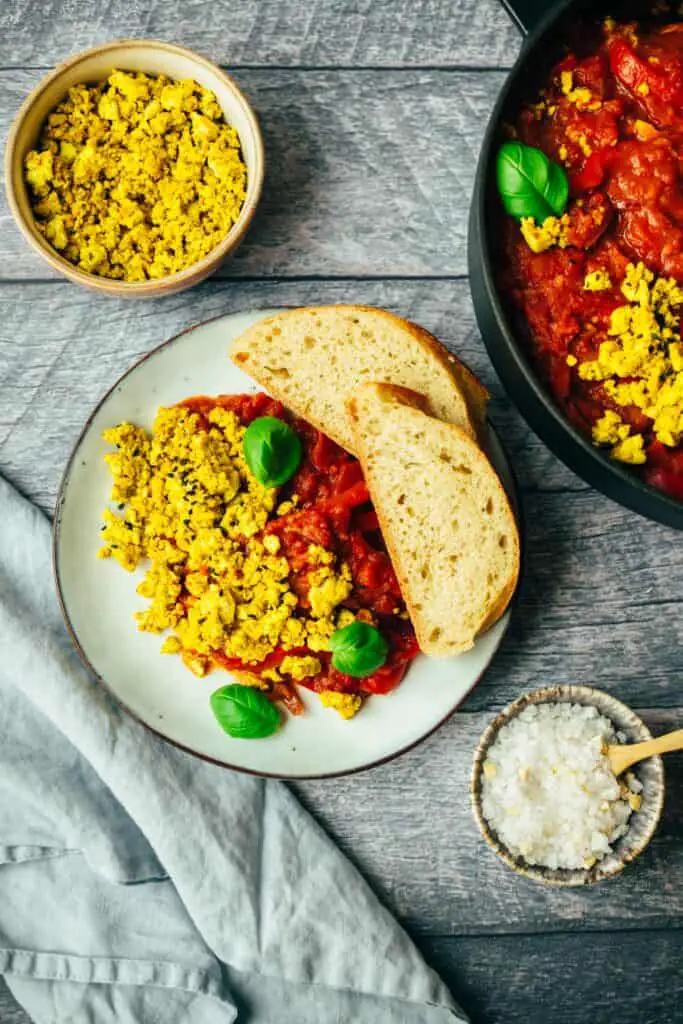 The vegan scrambled eggs from tofu is super quick and easy to make. Crumble the tofu, fry in a pan with a little oil (or water) and season with Kala Namak, turmeric and pepper.
TIP: For perfect results, it is best to place tofu in a tofu press one night or at least four hours beforehand and squeeze the liquid out of the tofu. If you often work with tofu, I can recommend the press that I use. I have linked it to you here.
When the tofu scramble is ready and the tomato-paprika base has finished simmering, then it's time to start dressing. To do this, simply keep the sauce in the pot and crumble the vegan egg over it in clusters. I still have the scent in my nose right now, a dream!
Hearty vegan breakfast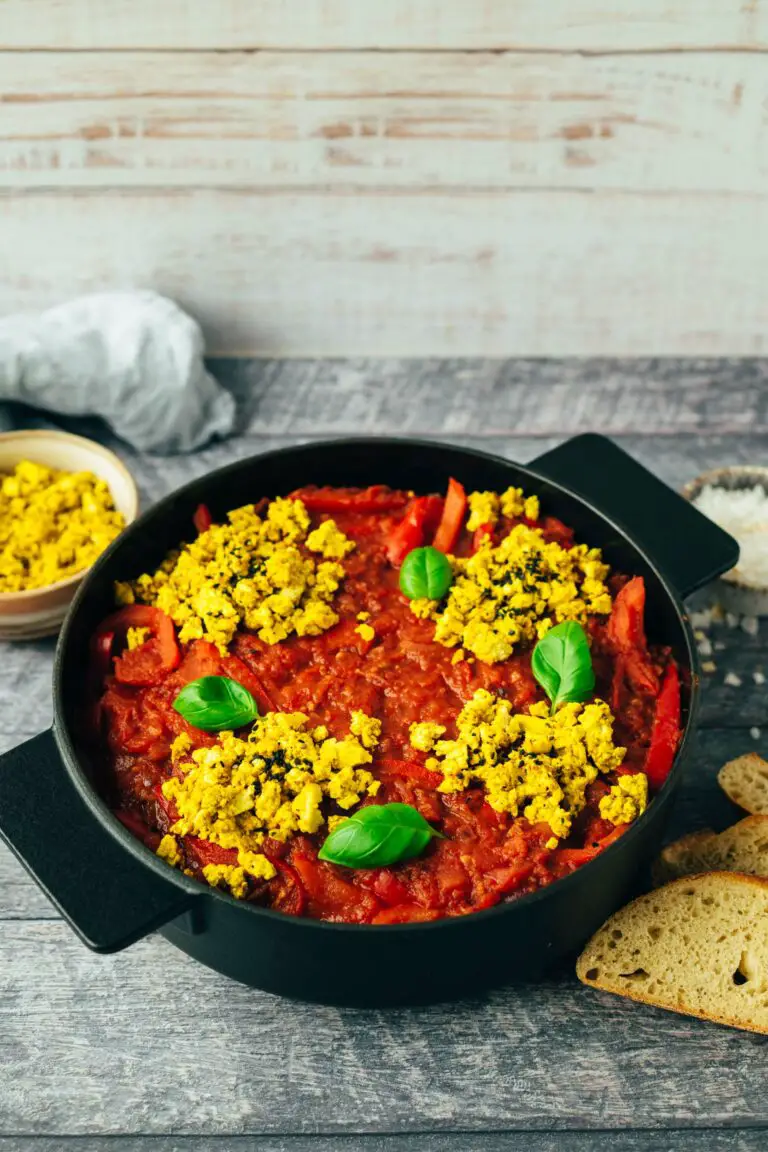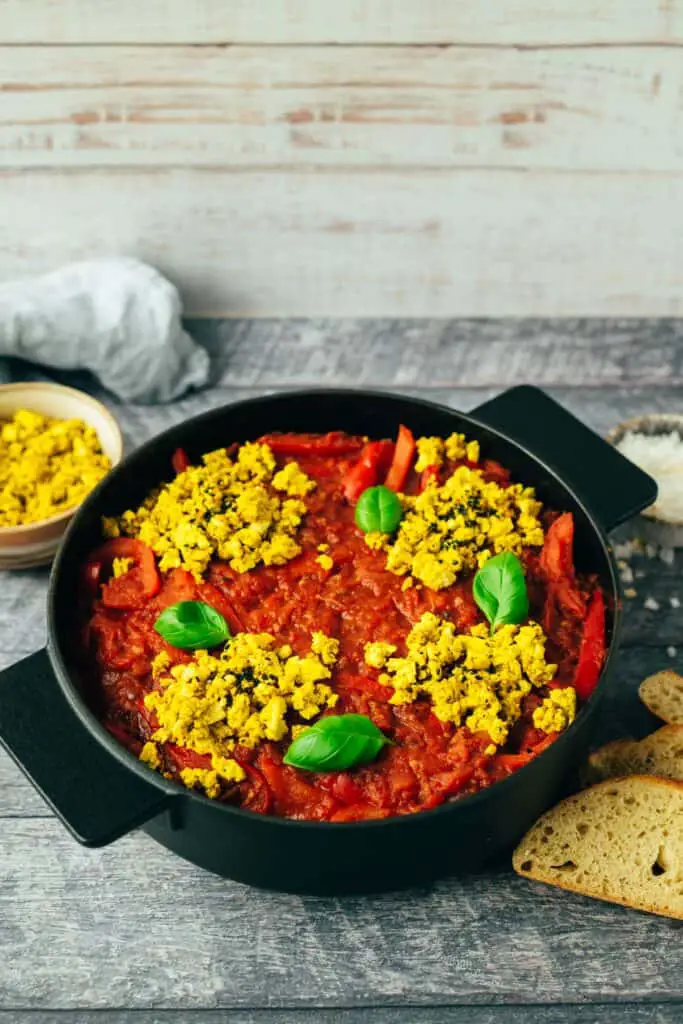 Although I'm really the sweet type, I've fallen in love with many savory vegan breakfasts. Especially for brunch it makes sense to present many different dishes and there a shakshuka simply can not be missing. Goes well with my chickpea omelets, egg salad, jackfruit salad and freshly baked spelt rolls. For all friends of the gluten-free diet, I have a recipe for a very tasty gluten-free bread.
If you still want something sweet, I recommend my poppy seed lemon pancakes, pumpkin pecan pancakes or the chai porridge with tahini caramel. For the bun fans, a homemade blackberry chia jam or the Nutella goes perfectly.
I hope I could give you some inspiration for a successful vegan breakfast. But now we start right away with our vegan shakshuka. I wish you a lot of fun with the imitation and of course about a rating at the bottom of this page. If you post a picture, feel free to use the hashtag #veganevibes.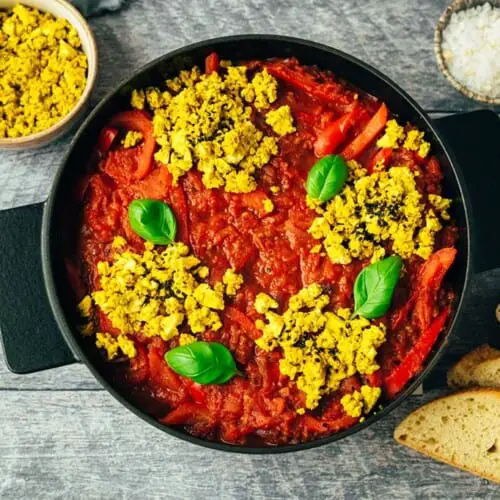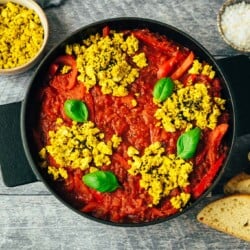 Shakshuka vegan & gluten free
Israeli delicacy made with a tomato and bell pepper sauce, topped with vegan scrambled tofu. Delicious with fresh herbs and bread for an extended Sunday breakfast or brunch. Vegan, gluten-free and suitable for a low-carb diet.
AUTOR: VEGANEVIBES
FOR THE SHAKSHUKA:
15

ml

Olive oil

if oil-free use water or vegetable broth

1

Piece

red onion

peeled and diced

3

Piece

Garlic cloves

peeled and pressed, or finely diced

1

Piece

red bell bell pepper

Core removed and cut into strips

800

g

Tinned tomato pieces

alternatively 800g tomato passata

1

tbspn

Cumin

ground

1

tbspn

Sweet bell pepper

1

tbspn

smoked paprika powder

optional, simply omit if not at hand

1

Bird Eye Chili

or another chili of your choice

1

tbspn

Coconut blossom sugar

or maple syrup
FOR THE VEGAN EGG:
220

g

Tofu

depending on the manufacturer between 200-250g, for a better result, "press" tofu in a tofu press beforehand.

1

tbspn

Kala Namak

black ayurvedic salt that provides an "egg-like" taste

½

tbspn

Turmeric

Black pepper
TOPPING + GARNISHES:
Hot sauce

I use the Srirachs from complete organics *unpaid brand mention

Fresh herbs to taste

Bread
Anleitung 
FOR THE TOMATO-PAPRIKA SAUCE Heat pot or roaster and pour in olive oil. Add in the onion, garlic and bell bell pepper strips and sauté until hot. Remove heat after 1-2 minutes, otherwise the garlic can burn quickly. Add coconut blossom sugar, cumin, sweet paprika, smoked paprika, bird eye chili and sauté briefly. Deglaze with the tomatoes and mix well.

15 ml Olive oil,

1 Piece red onion,

3 Piece Garlic cloves,

1 Piece red bell bell pepper,

800 g Tinned tomato pieces,

1 tbspn Cumin,

1 tbspn Sweet bell pepper,

1 tbspn smoked paprika powder,

1 Bird Eye Chili,

1 tbspn Coconut blossom sugar

Cover and simmer for

10 minutes

.

In the meantime VEGAN RAW prepare.

To do this, heat a small frying pan, put a little oil.

Add crumbled tofu, Kala Namak, turmeric and pepper. Stir until everything is well combined. If the mixture is too dry, add a little water or vegetable broth. Once the vegan egg is nice and hot, arrange in clusters on top of the vegan shakshuka.

220 g Tofu,

1 tbspn Kala Namak,

½ tbspn Turmeric,

Black pepper,

Salt to taste

Serve with fresh herbs, sprouts, hot sauce and bread and enjoy!

Hot sauce,

Fresh herbs to taste,

Bread,

Black sesame

Best fresh.
Notizen
Note: Calorie calculation without side dishes
Nährwertangaben
Serving:
1
Portion
Calories:
133
kcal
Carbohydrates:
13
g
Protein:
8
g
Fat:
7
g
Saturated Fat:
1
g
Sodium:
1149
mg
Potassium:
662
mg
Fiber:
4
g
Sugar:
9
g
Vitamin A:
1112
IU
Vitamin C:
16
mg
Calcium:
95
mg
Iron:
3
mg