Nutella ice cream is my absolute favorite ice cream right now and it took me a long time to finally make it as a recipe. The other day I got a comment from a reader complaining about why I named a recipe "Nutella Overnight Oats." I honestly didn't think anything of it because it tastes like Nutella and is made with hazelnut butter and cocoa. The reader said it couldn't be done at all because Nutella is so unhealthy and it's an absolutely false comparison to name this recipe that way. In a way he's right, but is it really that wild? There are also many healthy vegan recipes on blogs that imitate Raffaello, Ferrero Rocher, or Snickers and call it that. What do you think? Can I call this hazelnut cocoa ice cream without a guilty conscience Nutella ice cream? I'm eager to hear your feedback.
Nutella ice cream – vegan – with and without ice cream maker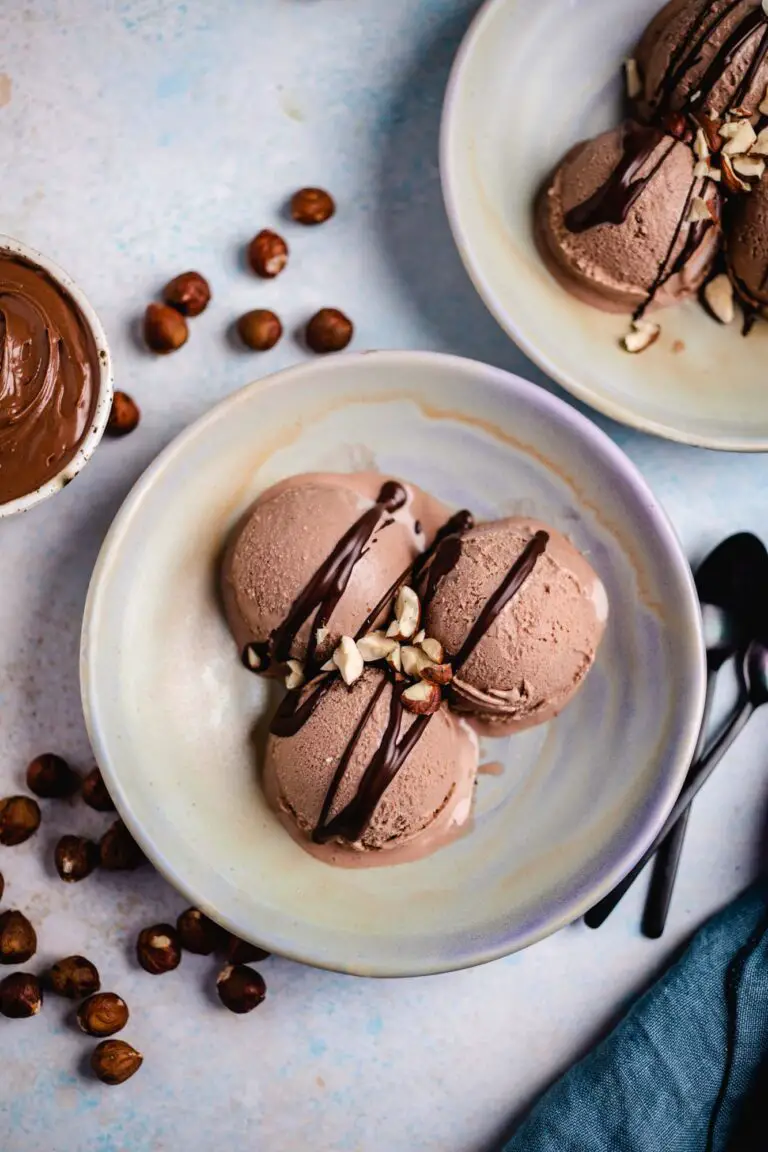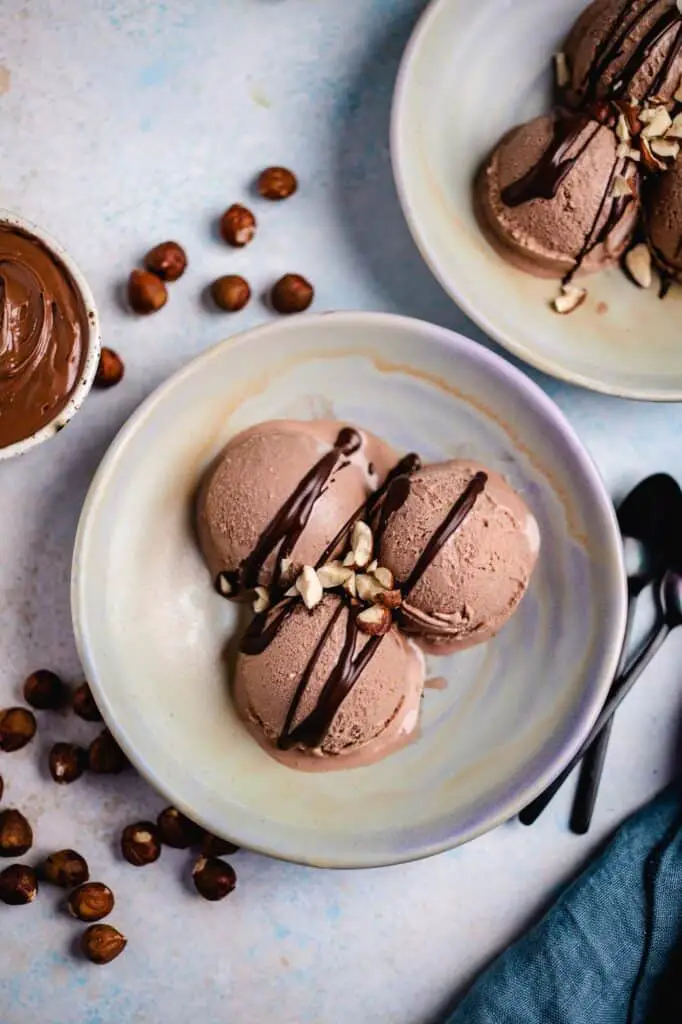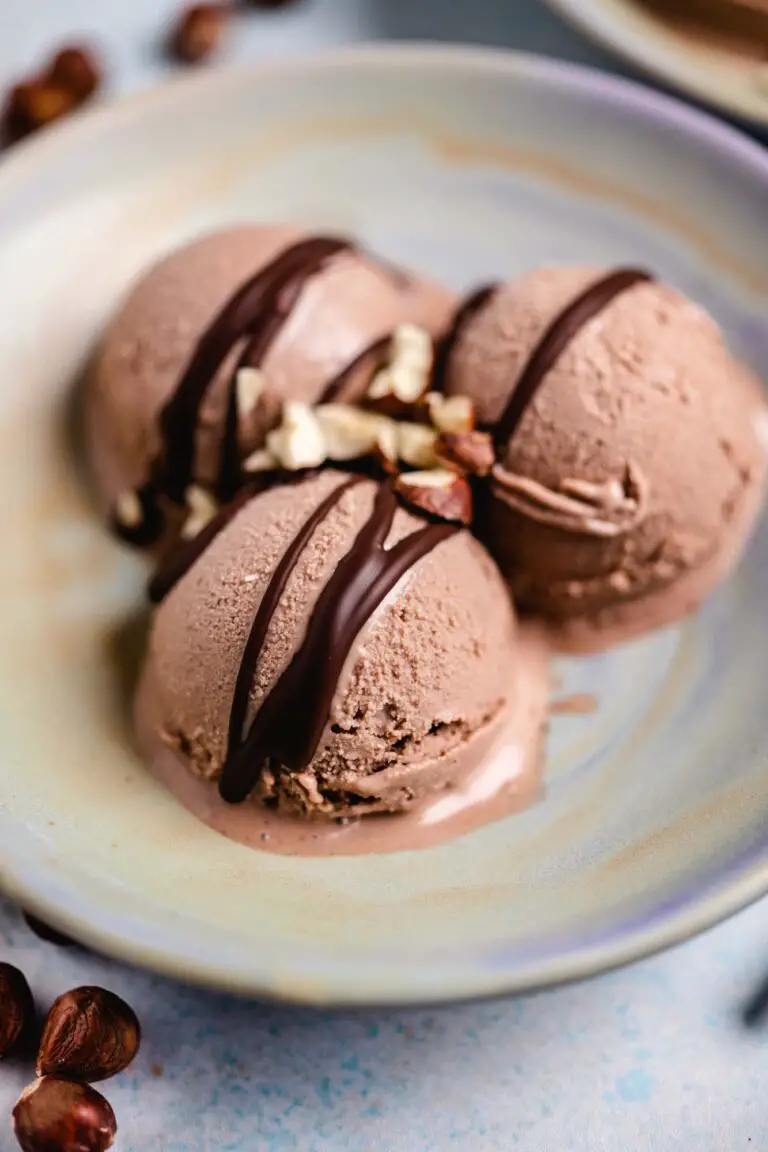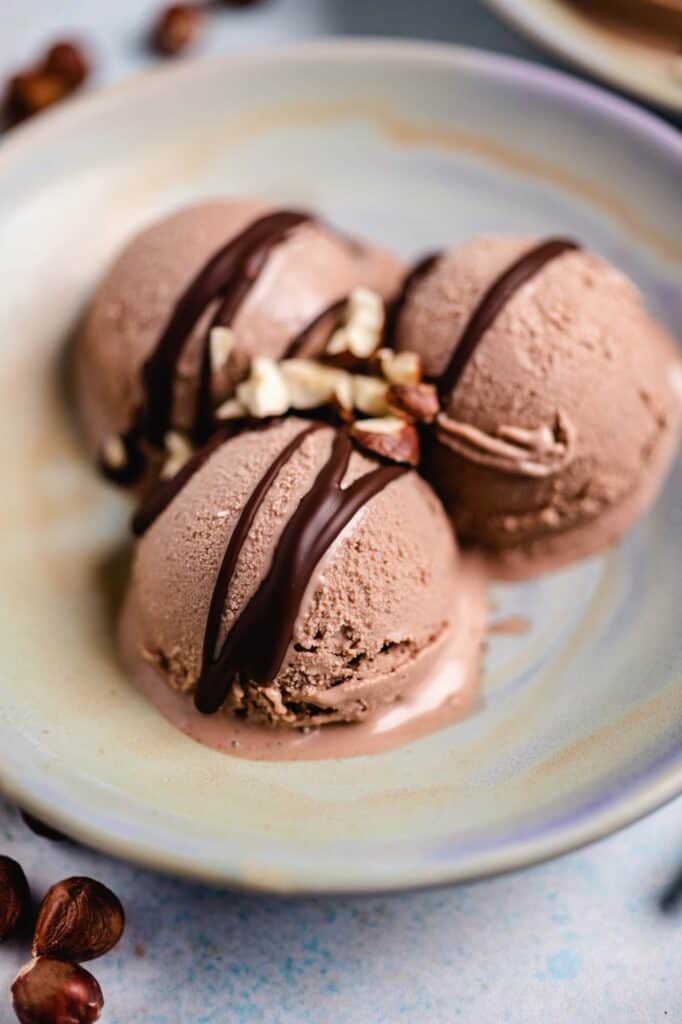 Our ice cream today is made with a soy cream base. For those who do not want to use soy, there are of course alternatives. It is only important that the vegan cream has a relatively high fat content, otherwise the ice cream will not be very creamy. If you don't want to use store-bought cream, you can make the vegan cream yourself. A suitable recipe for it can be found here. The best alternative to soy cream in my view is coconut cream or coconut milk, if you like the taste. For example, my husband doesn't like coconut flavor, so I prefer to use soy.
Let's get to the making of this delicious recipe. I use my high-powered blender and add in plant milk, soy cream, raw cane sugar, hazelnut butter, cocoa powder and bourbon vanilla. That's all, too, and blend on high until a fine liquid is formed. Now follows my ultimate ice cream tip and that is xanthan gum. I've posted about it many times before and absolutely love this natural binder that is also approved for organic foods. It makes the ice cream incredibly creamy and gives it the final touch. So if you have the opportunity to buy xanthan gum, I would definitely recommend it.
TIPS: You can make hazelnut puree very well yourself, here I have a tutorial.
Make vegan ice cream yourself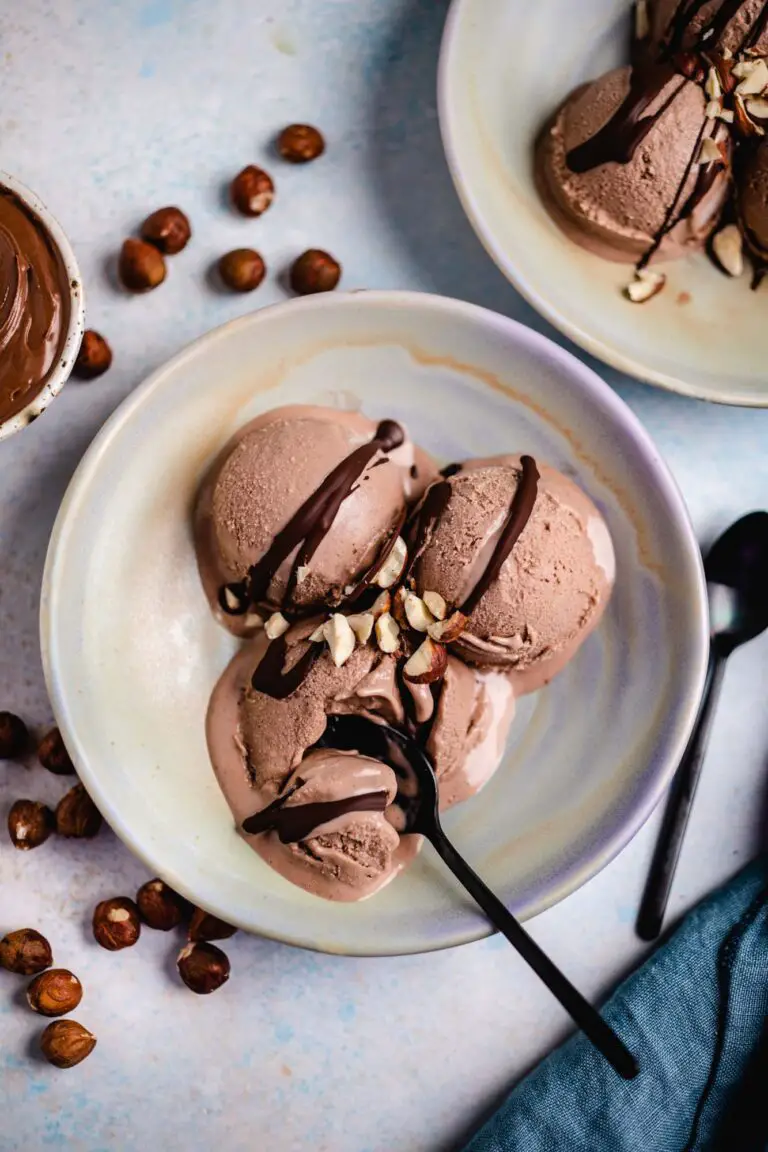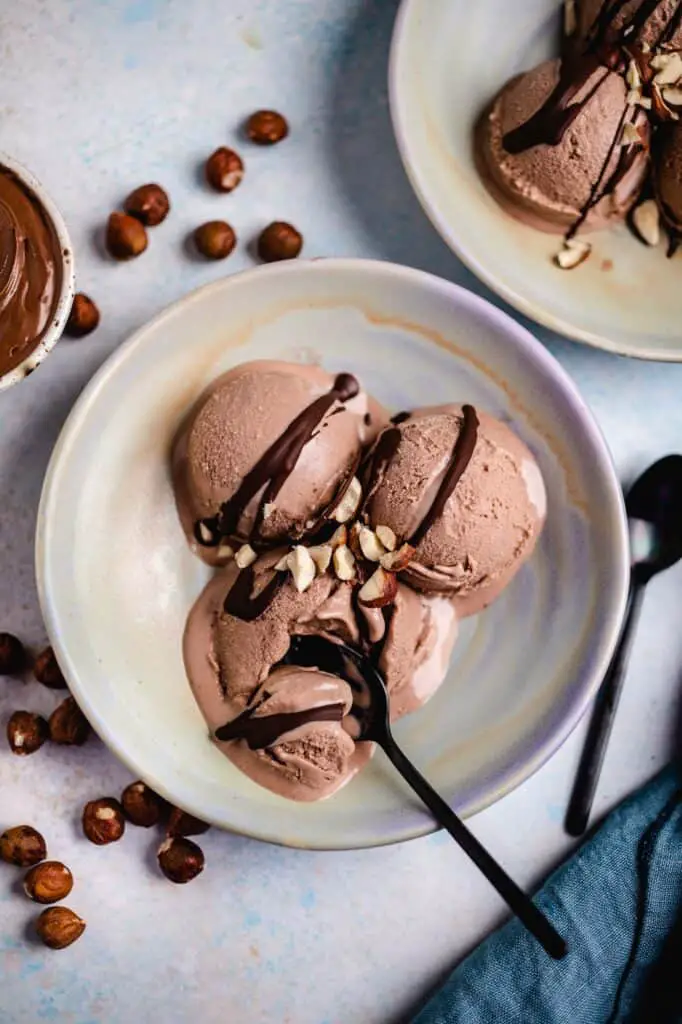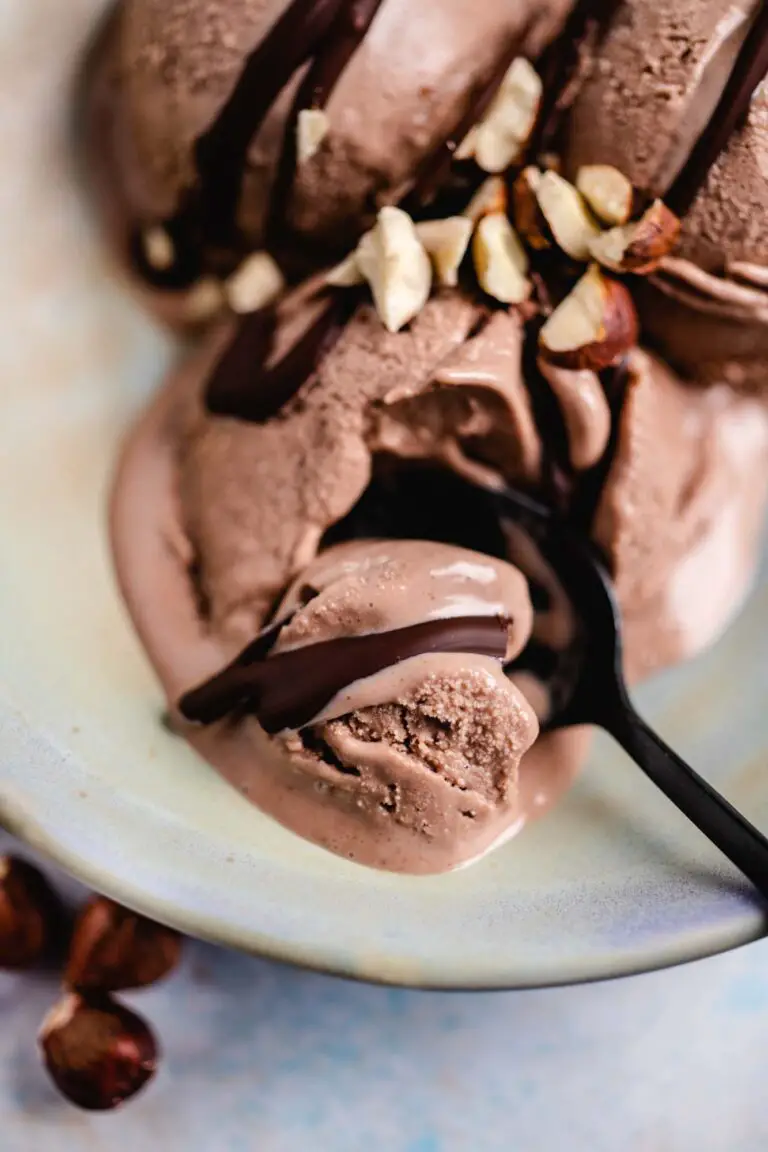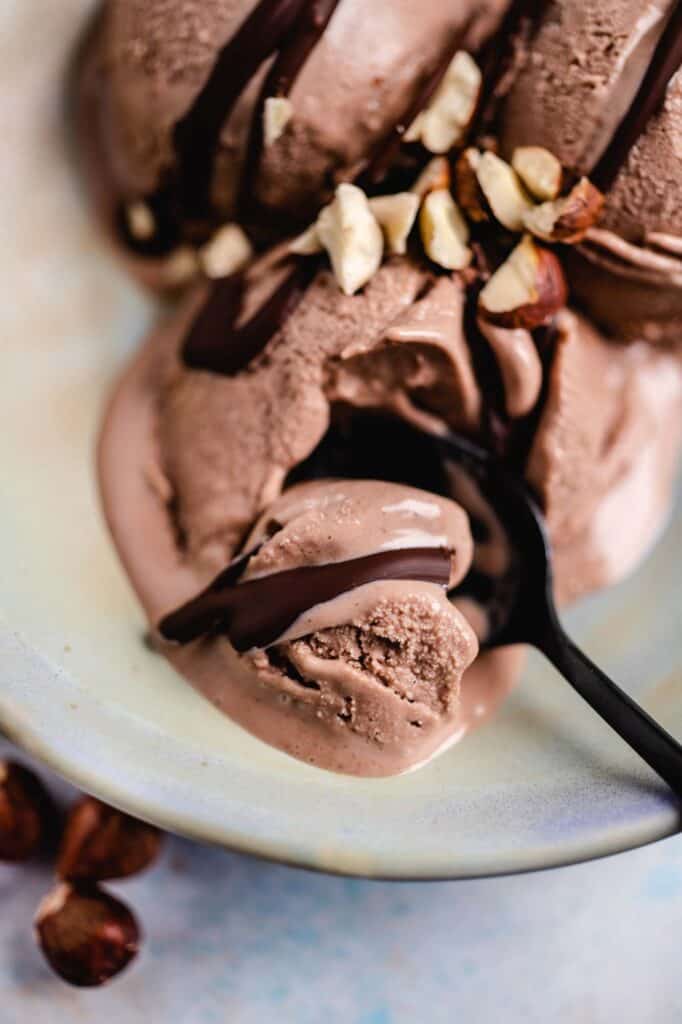 A good ice result always depends on what equipment you use. Personally, I use a Blendtec, which I have linked below. However, any other high speed blender will also work. The second important helper is an ice cream maker, which is not mandatory, but makes the ice cream much creamier and shortens the waiting time a bit.
NOTICE:
– WITHOUT an ice cream maker, the ice cream will not be as creamy, will form more crystals when frozen and will take longer to freeze. If a creamier consistency is desired, ideally stir once per hour.
– WITH ice cream maker the ice cream becomes really great creamy, in my case an A with star. I have linked you below to the device I use. However, any standard ice cream maker will work for this recipe.
Other than that, there's not much to consider because this recipe is really simple and tastes wonderful. I topped the ice cream with extra melted chocolate and chopped hazelnuts. You are welcome to let off steam here. If you want even more chocolate in the ice cream, then you could drizzle in extra melted chocolate.
For those who can not have enough ice cream, here is another small selection of ice cream recipes:
The vegan Nutella ice cream (with and without ice cream maker)
Hazel-nutty
creamy
Chocoaldig
Easy to manufacture
Delicately melting
If you love Nutella ice cream as much as I do, I'd love a review at the very bottom of this page. If you post a picture, use the hashtag #veganevibes.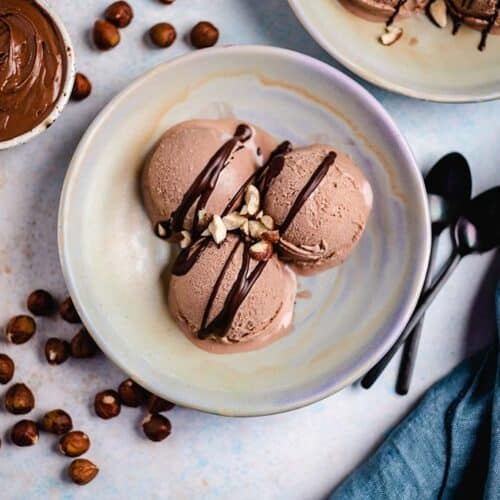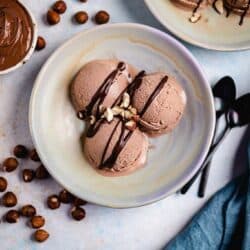 Vegan Nutella ice cream (with and without ice cream maker)
Vegan Nutella ice cream, with or without ice cream maker. The preparation is simple and the list of ingredients is short. A sweet, creamy temptation, vegan, lactose-free and very tasty.
AUTOR: VEGANEVIBES
TOPPING:
melted chocolate to taste

chopped hazelnuts to taste
Anleitung 
Depending on the ice cream maker, prepare device for ice cream production.

FOR THE NUTELLA ICE CREAM Place plant milk, plant cream, raw cane sugar, maple syrup, hazelnut butter, cocoa powder, and bourbon vanilla in a high-powered blender and blend until smooth. Add the xanthan gum at the very end and mix again briefly until the liquid thickens slightly.

450 ml Plant milk,

400 ml Vegetable cream,

120 g Raw cane sugar,

30 ml maple syrup,

90 g Hazelnut puree,

22,5 g Cocoa powder,

1 tbspn Bourbon vanilla ground,

1 tbspn Xanthan Gum

Place in ice cream maker and prepare according to manufacturer's instructions. Alternatively, pour into a freezer-proof mold and place in the freezer. To increase creaminess, mix once per hour with a fork. Freeze for at least 6

hours

, ideally

10 hours

.

To serve, remove, let thaw for

5 minutes

, portion with an ice cream scoop and arrange in dessert bowls or an ice cream cone. Garnish with desired toppings and enjoy!

melted chocolate to taste,

chopped hazelnuts to taste
Notizen
*Time based on creation without ice cream machine
Nährwertangaben
Serving:
1
Portion
Calories:
197
kcal
Carbohydrates:
24
g
Protein:
4
g
Fat:
11
g
Saturated Fat:
1
g
Polyunsaturated Fat:
1
g
Monounsaturated Fat:
7
g
Sodium:
54
mg
Potassium:
249
mg
Fiber:
2
g
Sugar:
21
g
Vitamin A:
184
IU
Vitamin C:
4
mg
Calcium:
86
mg
Iron:
1
mg