Yogurette ice cream, where are my lovers and lovers? I used to love Yogurette, even though I was aware that it has never really been healthy. I still have the taste of yogurt, strawberries and chocolate in my head. That's exactly why I've wanted to make ice cream out of it for a long time. The moment I wanted to get started immediately was a visit to DM when I discovered dried organic strawberries. Immediately I was hooked, thinking the flavor must be intense enough for a homemade ice cream. No sooner said than done, I also immediately made my way to the kitchen and tested. The result turned out phenomenal and I can't wait to see how you like it. Feel free to let me know more in the comments.
Yogurette ice cream – vegan – with and without ice cream machine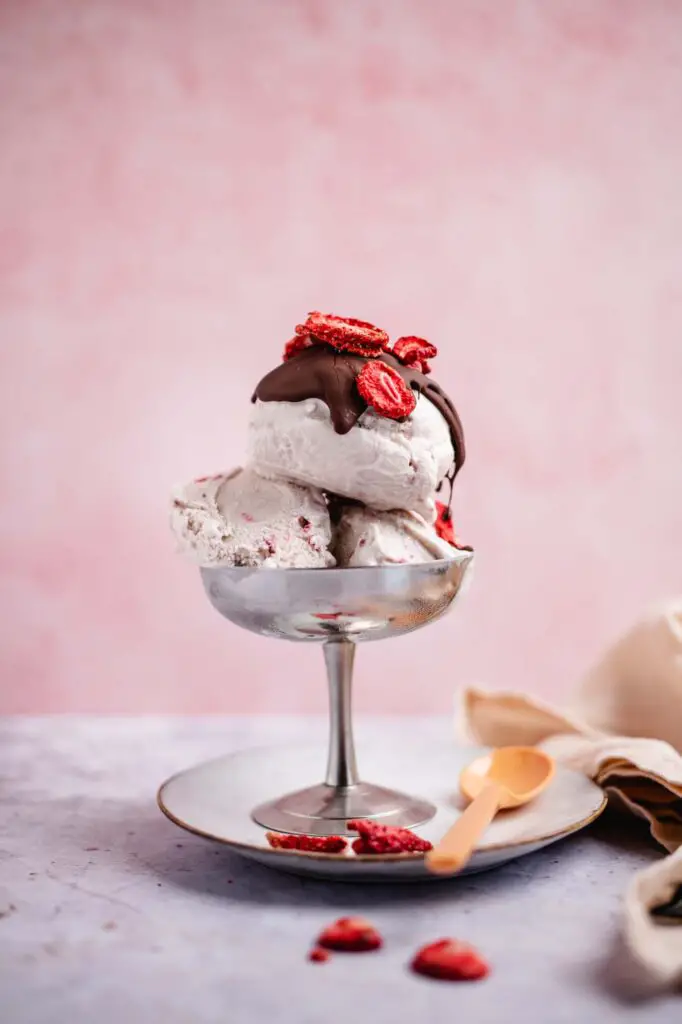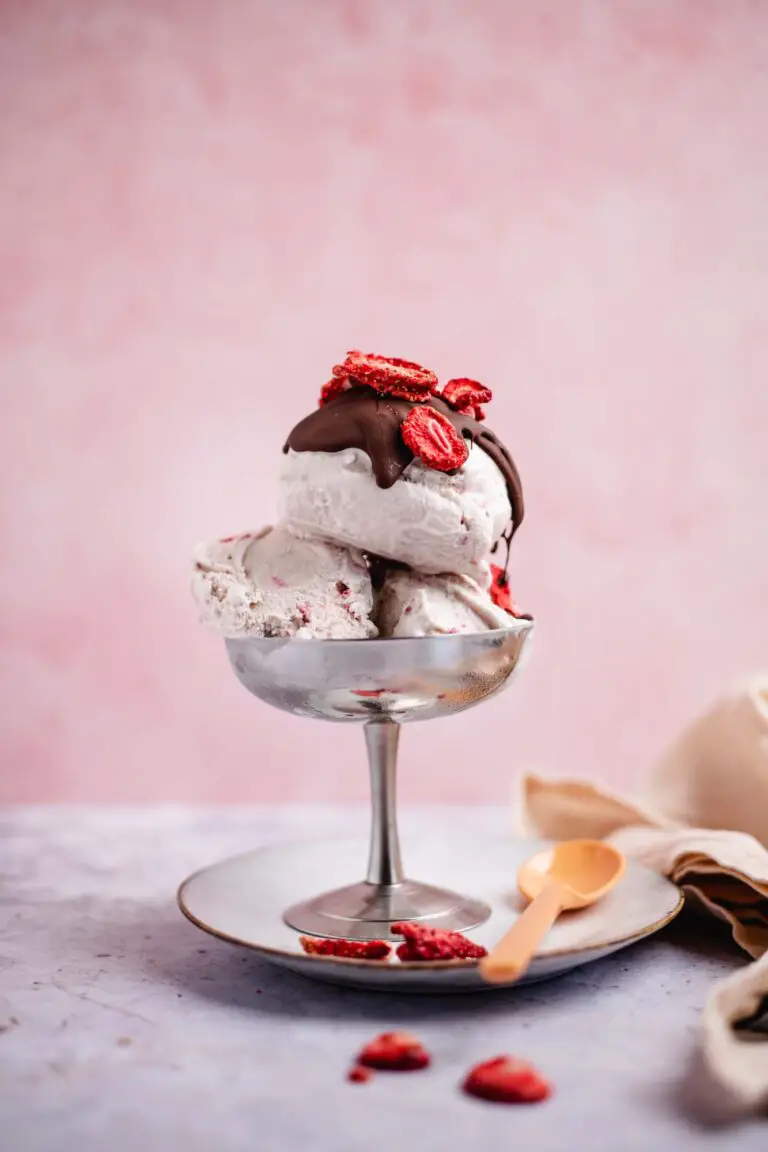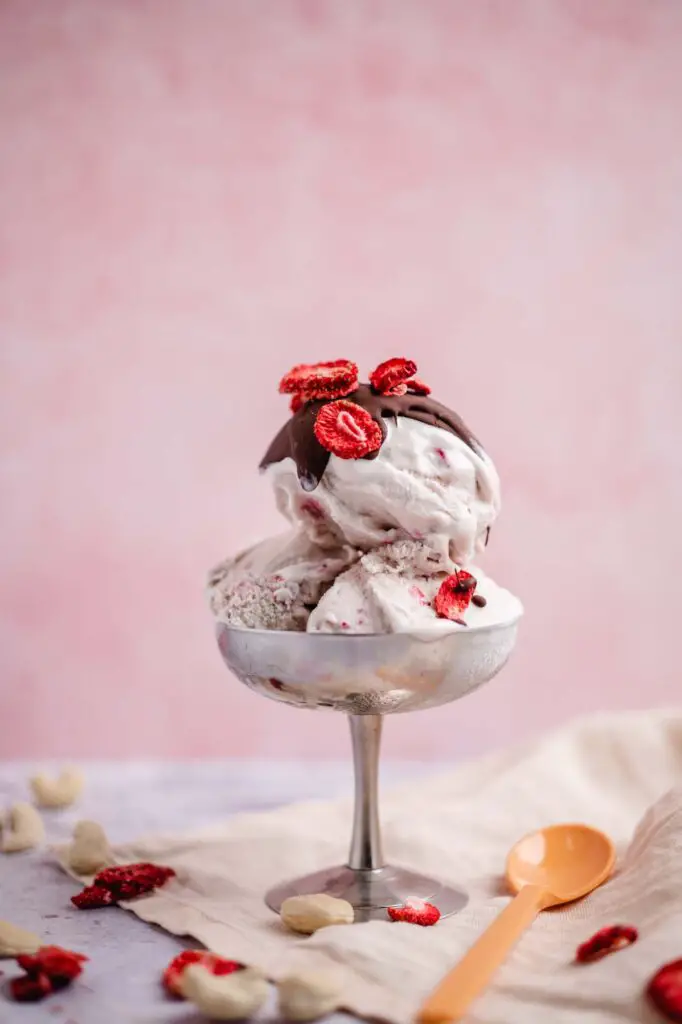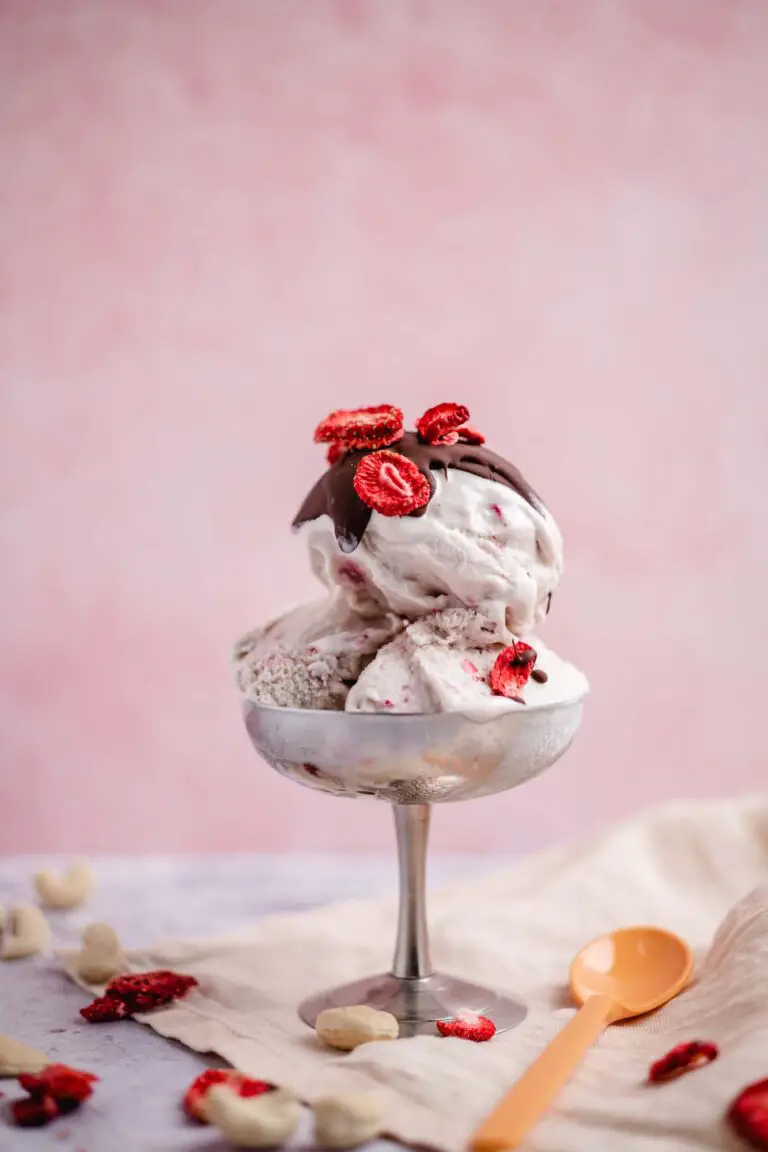 Making it is simple and straightforward, especially if you own an ice cream maker. As a first step, I cut the dried strawberries into smaller pieces and set them aside. Now the base for the ice cream is made from plant milk, vegetable cream, raw cane sugar, agave syrup, cashews, vegetable yogurt and xanthan gum.
TIP: Add xanthan gum only after all other ingredients have already been processed into a creamy liquid. This is how it binds best. By the way, xanthan gum is an absolute miracle product in the production of ice cream and is also a thickening agent that is also approved for organic foods. Therefore, you can use it without a guilty conscience.
At the very end, I fold in the strawberries and put the measurements into the ice cream maker. Now all it takes is a little patience until the ice cream is ready. I then put it in an ice chest and put it in the freezer for a few hours. About 15 minutes before portioning, I take it out and scoop the balls. Finally, add a layer of melted chocolate on top and the vegan Yogurette ice cream is ready.
Simple recipes for vegan ice cream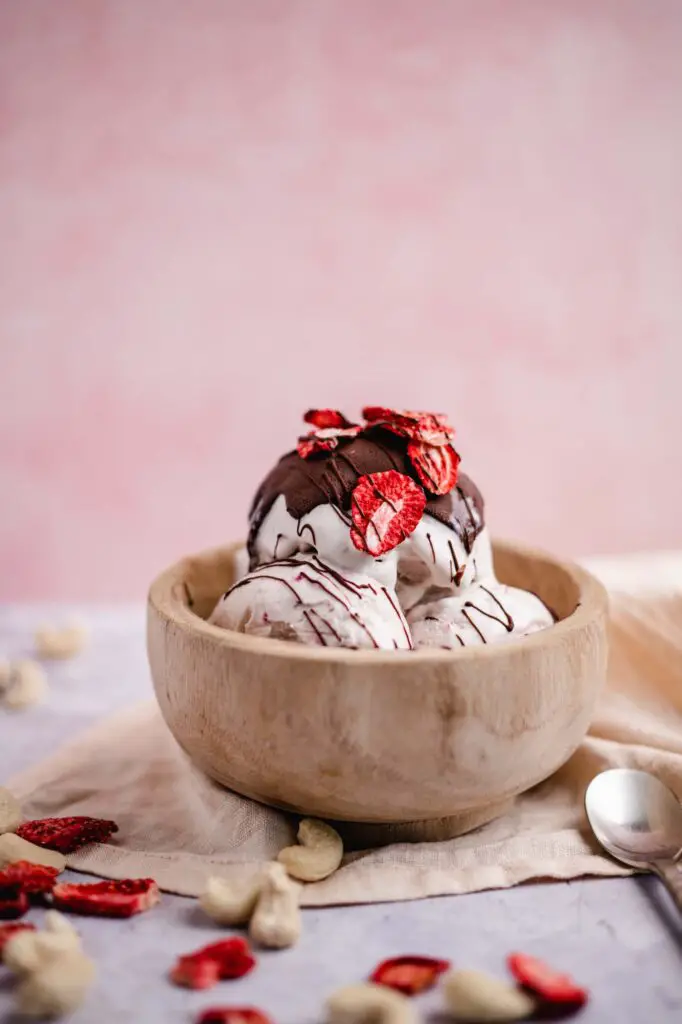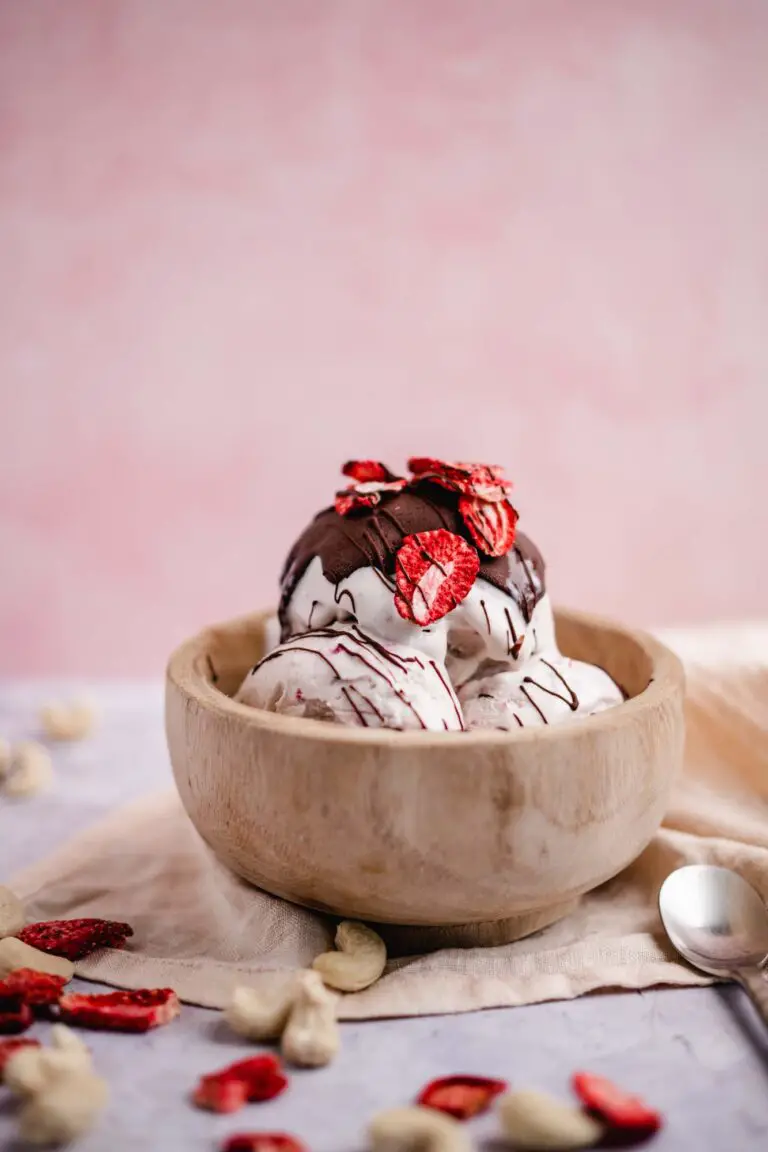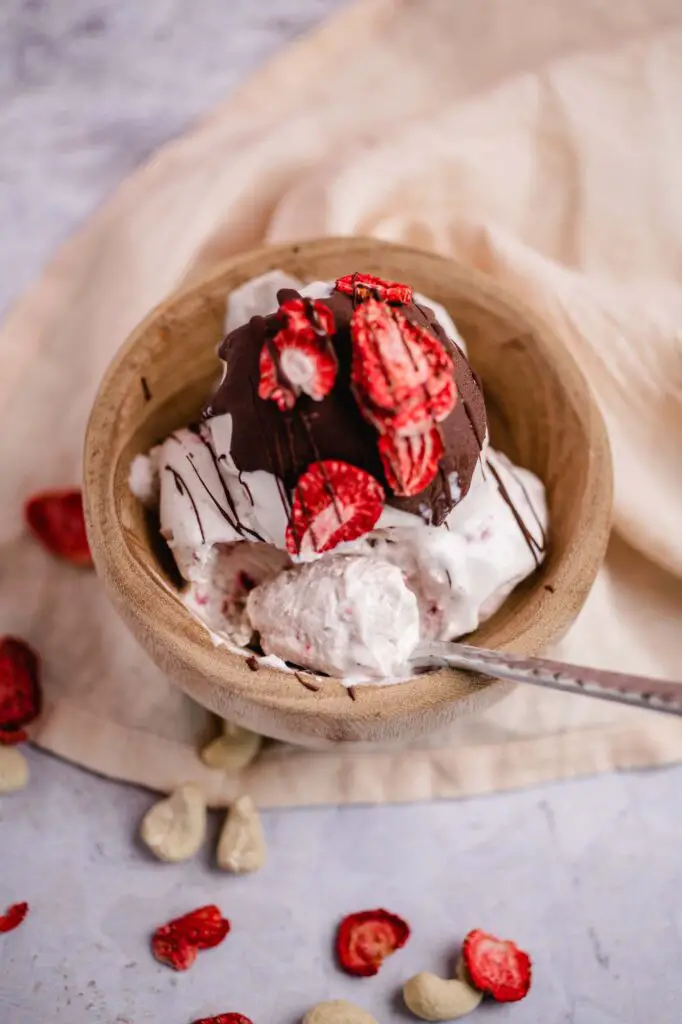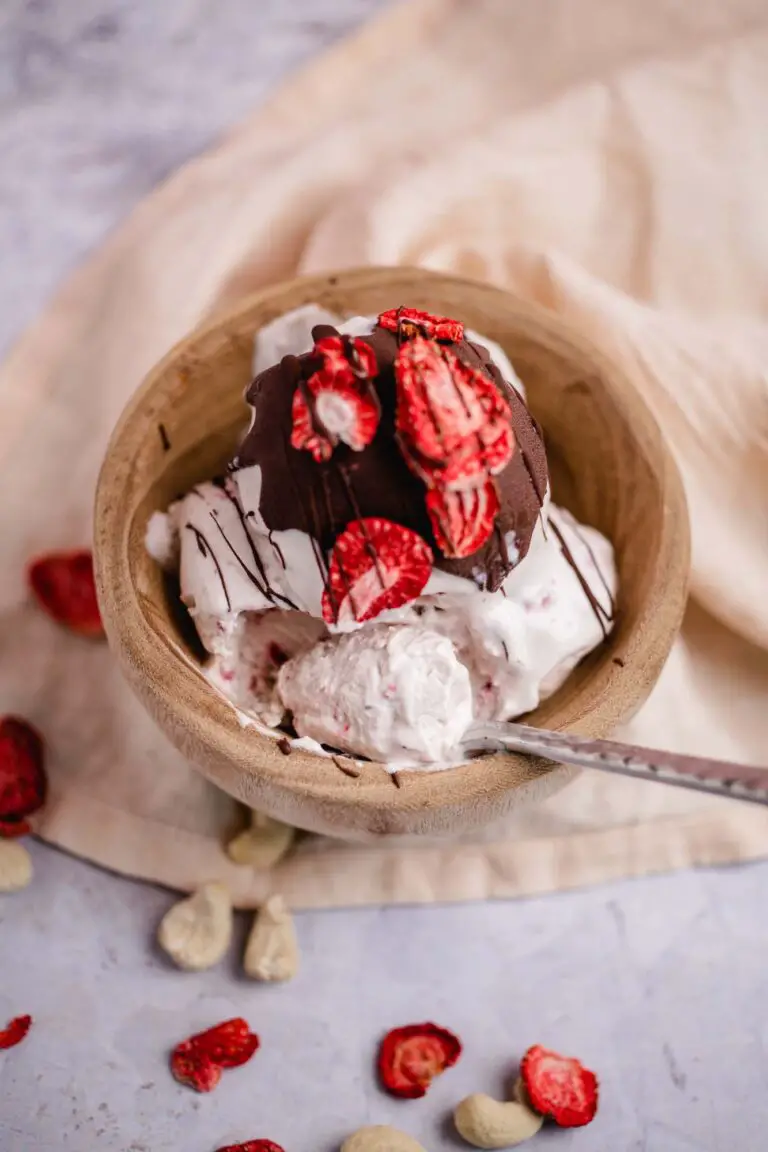 Besides good raw materials, of course, it also depends on your equipment. Once again, I would like to emphasize how important a good high-performance blender is. Personally, I use a Blendtec (advertising since brand name), which I have linked below. However, any other high speed blender will also work. The second important helper is an ice cream maker, which is not mandatory, but makes the ice cream much creamier and speeds up the manufacturing process:
NOTICE:
WITHOUT ice cream maker the ice cream will not be as creamy, will form more crystals when freezing and will take longer. If a creamier consistency is desired, ideally stir once per hour.
WITH ice cream maker the ice cream becomes really great creamy, in my case a one with star. I have linked you below to the device I use. However, any standard ice cream maker will work for this recipe.
Are dried strawberries actually healthy?
Well, what do you think? One thing is certain: strawberries in general are very healthy, but what exactly do freeze-dried berries have to offer? I have gone on a search for you.
Strawberries are frozen gently, at low temperature and retain their structure and flavor
Due to the gentle process, hardly any nutrients are removed from them, which means that the valuable vitamins and minerals remain contained
Rich in valuable antioxidants
Other than that, there's not much to consider except that you can already look forward to the end result. I decorated the ice cream at the end with a nice layer of melted chocolate. If you're up for more, you can also mix in dark vegan chocolate drops. If you want to get fancy and maybe even plan a sundae, you could add vegan yogurette and plant-based cream on top. Then the feast is perfect.
This vegan ice cream is super creamy, fruity, and pleasantly sweet. For me, the perfect dessert, for which, as you know, there is always room (no matter how full you are).
The Yogurette ice cream is (with and without ice cream machine):
fruity
creamy
versatile
Easy to manufacture
Delicately melting
If you love Yogurette as much as I do, I'd love a review at the very bottom of this page. If you post a picture, use the hashtag #veganevibes.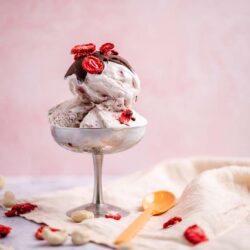 Yogurette ice cream (with and without ice cream machine)
Vegan Yogurette ice cream, with or without ice cream maker. For those who love the taste of fruity strawberries, yogurt ice cream and chocolate. A sweet, creamy temptation, vegan, lactose-free and versatile and incredibly delicious.
AUTOR: VEGANEVIBES
Anleitung 
Depending on the ice cream maker, prepare device for ice cream production. Coarsely chop dried strawberries and set aside.

Provide a high-powered blender. Add plant milk, plant cream, raw cane sugar, agave syrup, cashews, and plant-based yogurt to a high-powered blender and blend on high speed for about 2 minutes until creamy. Now add the xanthan gum and mix again. At this point, the liquid should already thicken slightly. Pour directly into the ice cream maker and fold in the dried strawberries.

450 ml Plant milk,

400 ml Vegetable cream,

140 g Raw cane sugar,

30 ml Agave syrup,

100 g Cashews,

120 g vegetable yogurt,

1 tbspn Xanthan Gum,

100 g dried strawberries

PREPARATION WITH THE ICE CREAM MAKER : Prepare the ice cream according to the manufacturer's instructions. PREPARATION WITHOUT ICE CREAM MAKER : Pour into a freezer-proof mold and place in the freezer. To increase creaminess, mix once per hour with a fork. Freeze for at least 6 hours, ideally 10 hours.

To serve, remove, let thaw for 5 minutes, portion with an ice cream scoop and arrange in dessert bowls or an ice cream cone. Garnish with melted chocolate and enjoy!

100 g dark vegan chocolate drops
Nährwertangaben
Serving:
1
Ball
Calories:
228
kcal
Carbohydrates:
30
g
Protein:
4
g
Fat:
11
g
Saturated Fat:
3
g
Polyunsaturated Fat:
1
g
Monounsaturated Fat:
6
g
Cholesterol:
1
mg
Sodium:
58
mg
Potassium:
211
mg
Fiber:
1
g
Sugar:
26
g
Vitamin A:
182
IU
Vitamin C:
5
mg
Calcium:
88
mg
Iron:
1
mg