Chocolate Nut Brittle is a fine dessert or snack made of nuts, chocolate and fine sweetness from maple syrup. I have made it before without chocolate to the pumpkin mousse, here cover it with an extra thick layer of Schoki. Why not, actually? Perfect for the small hunger in between, for example before and after sports, during meetings or long car rides.
Nut Chocolate Brittle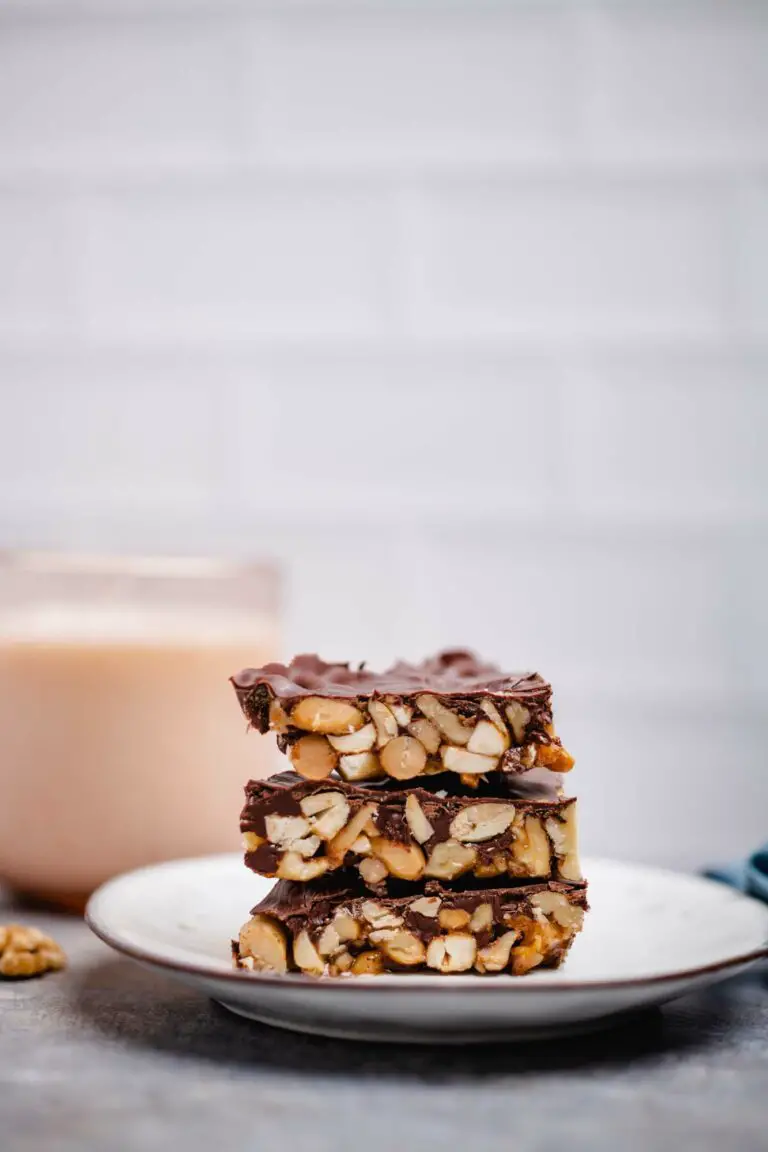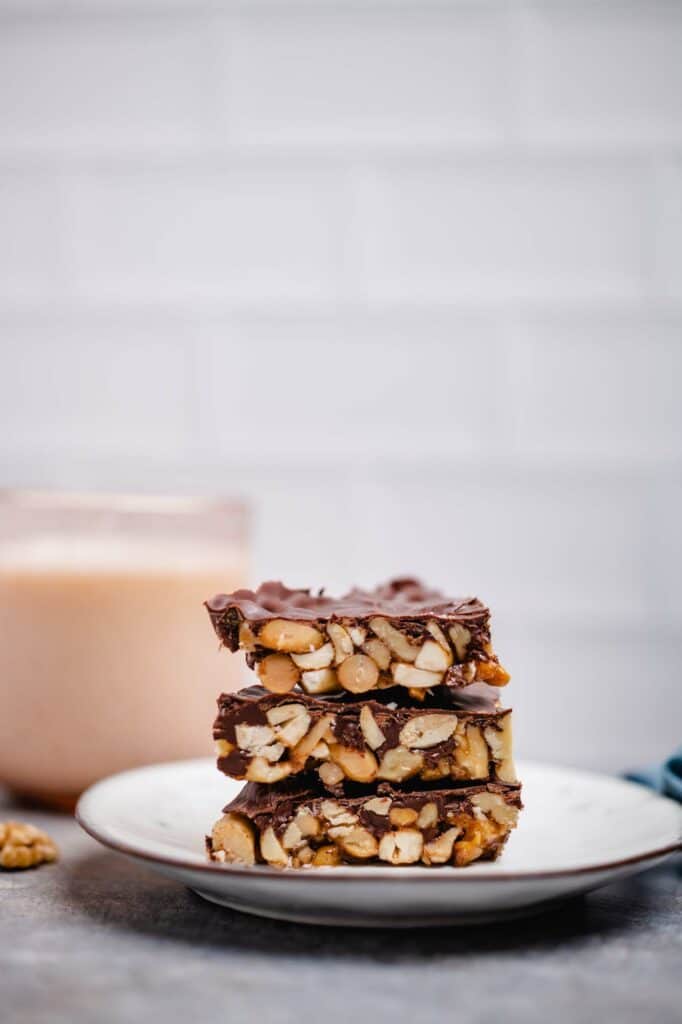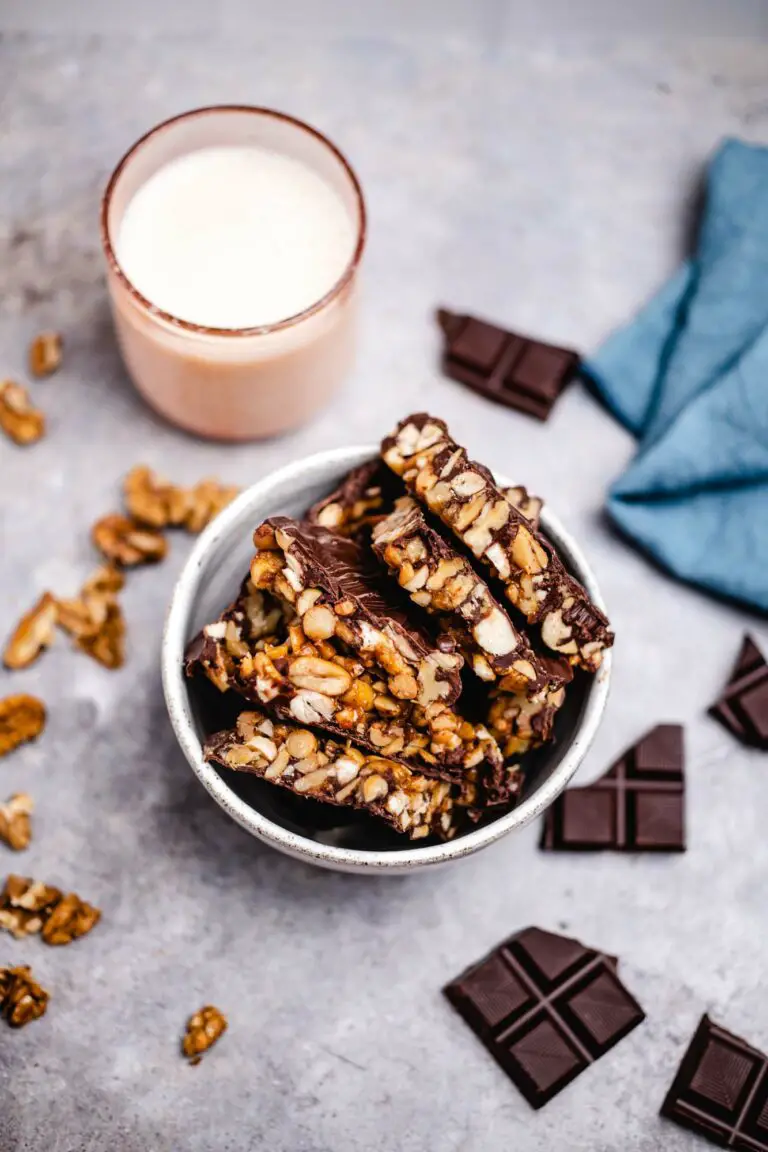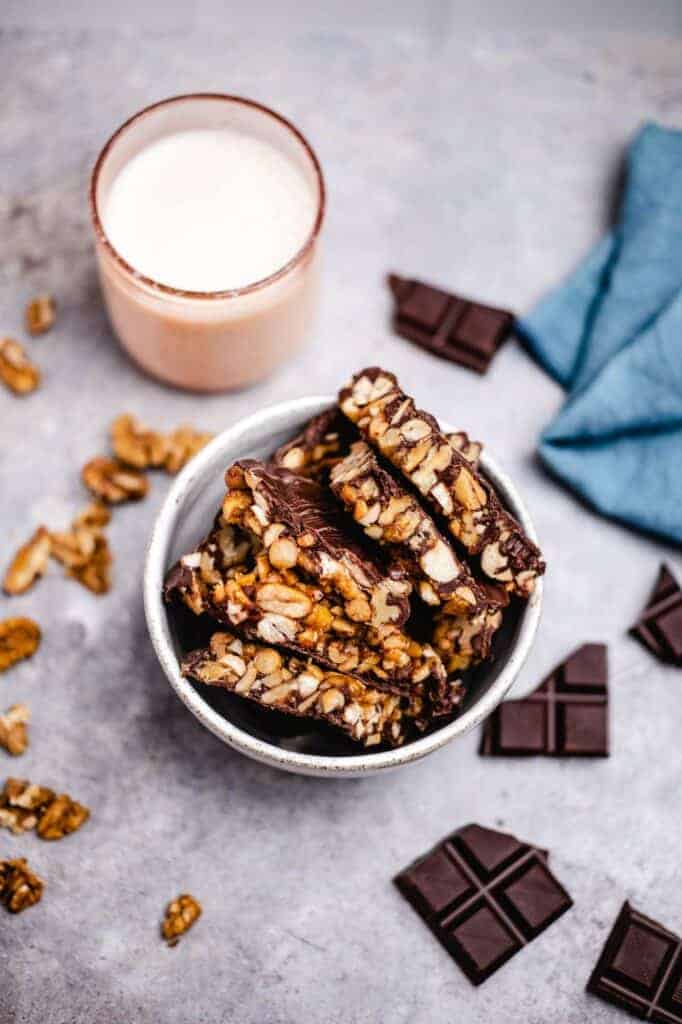 What exactly is a nut brittle? The name originally comes from the United States and is made from peanut butter, peanuts and a large amount of sugar. It is dried and then broken apart, hence the name "brittle".
Fun Fact: Brittle translates to "dry" because it is imperative that the brittle air dry and become firm. The drier it gets, the harder it becomes.
In our case, the snack becomes much healthier and naturally sweetened. Mixed nuts, maple syrup, nut puree, bourbon vanilla and a hefty pinch of salt. That's it with the ingredients.
TIP: Almost all types of nuts and seeds are suitable for the brittle:
Hemp seeds, pumpkin seeds, sunflower seeds
Vegan desserts that are simple and delicious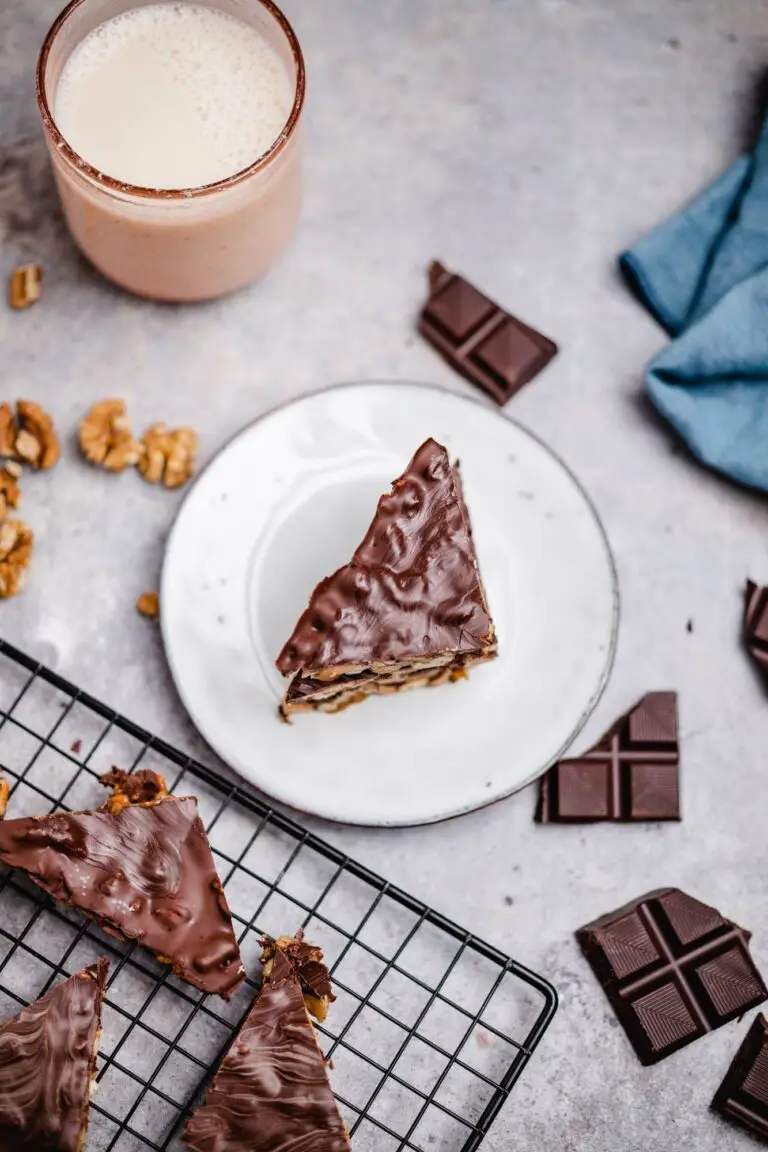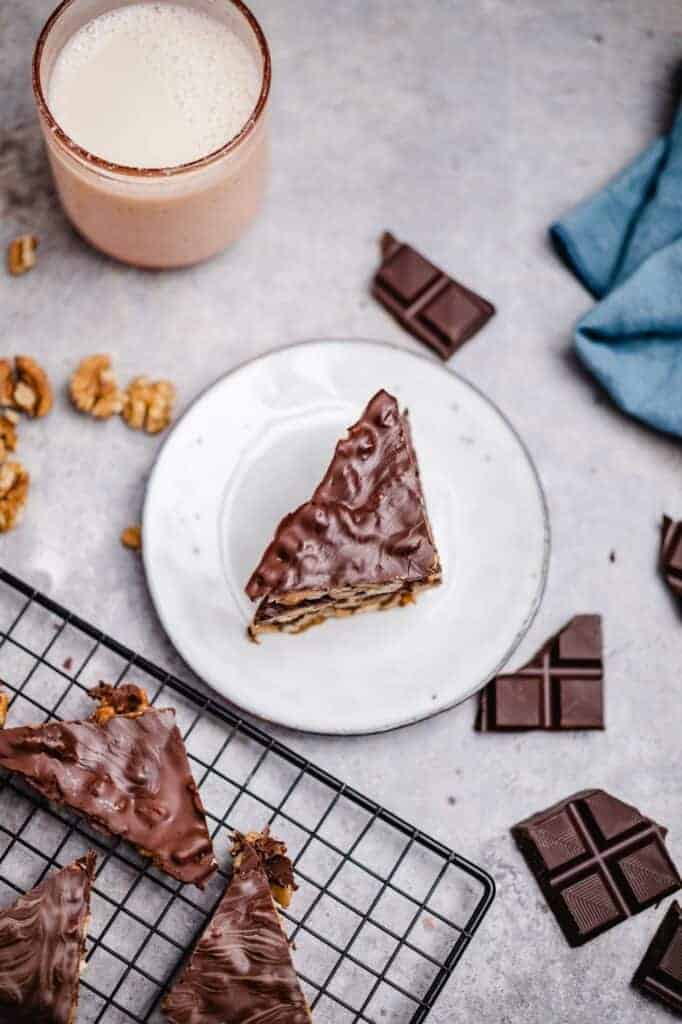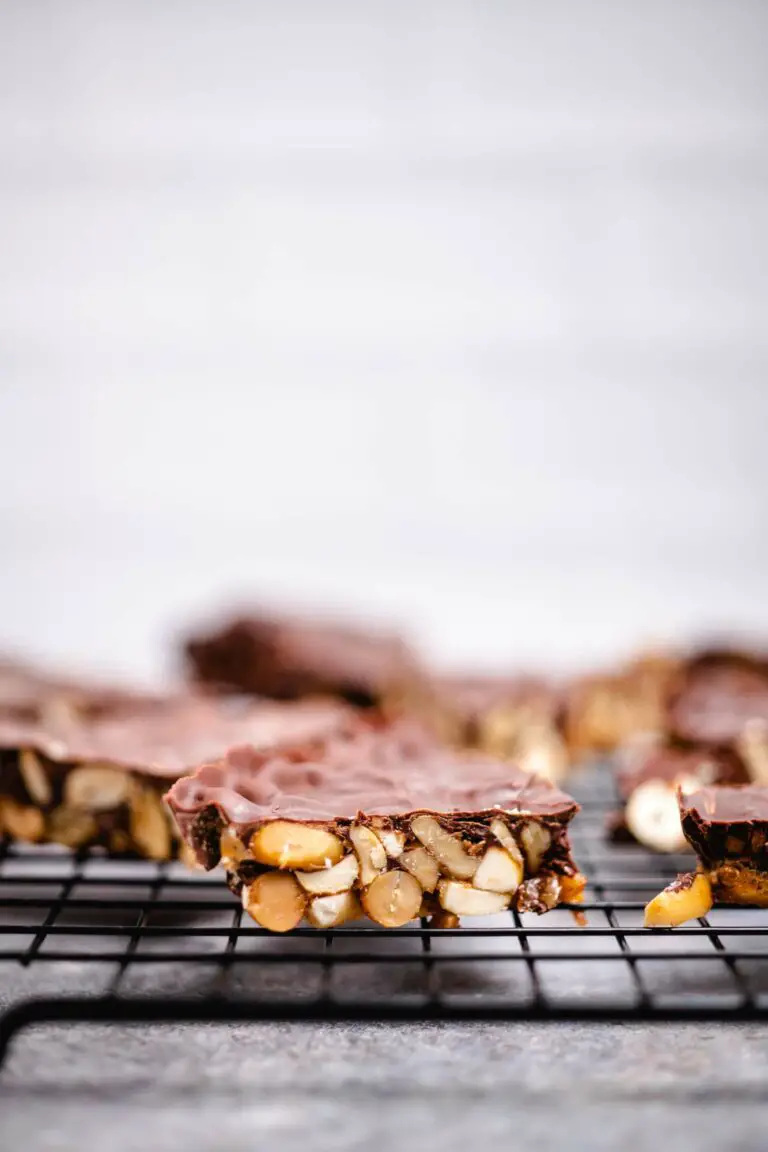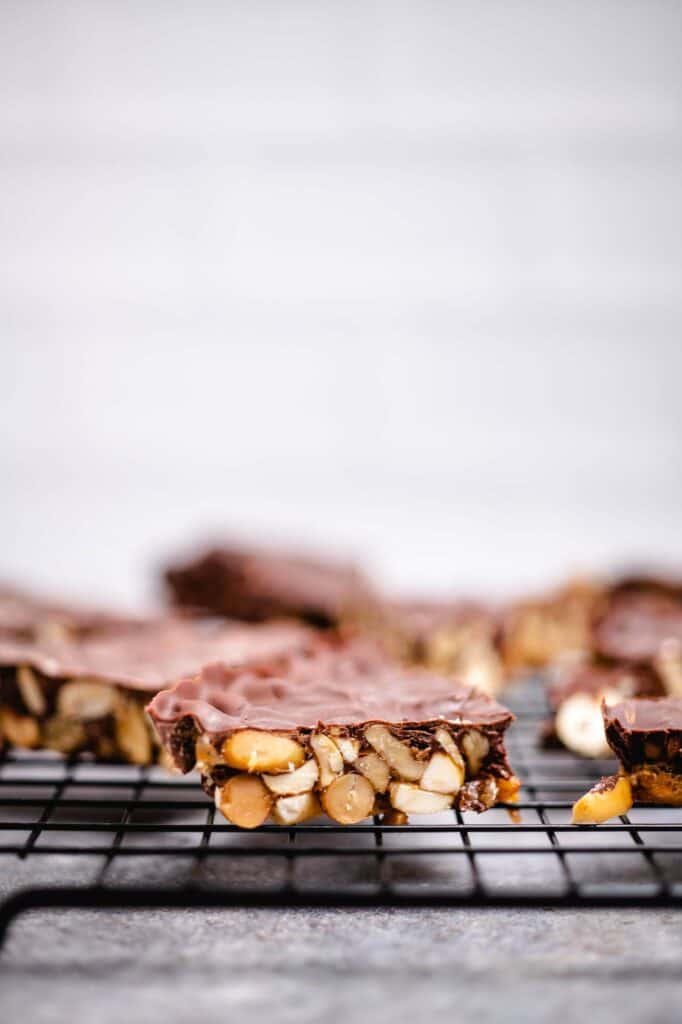 Nothing can really go wrong with this simple and delicious recipe. If you are looking for another healthy snack today, I have the following suggestion for you:
The Nut Brittle is:
nutty
Naturally sweetened
Crisp
Few ingredients
Simply made
You love vegan chocolate brittle as much as I do? Then I look forward to a review at the bottom of this page. If you post a picture, feel free to use the hashtag #veganevibes.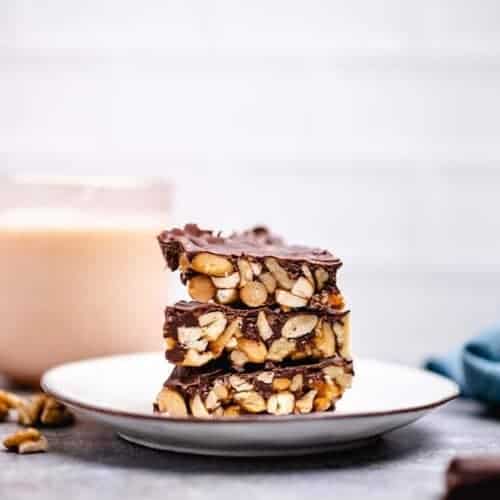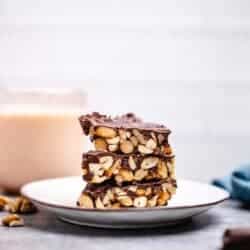 Nut Chocolate Brittle (v & gf)
Nut-chocolate Brittle made from fine nuts, naturally sweetened with anhorn syrup and nut puree. Fine vegan snack, ideal for the small chocolate craving. Vegan, gluten-free and outrageously delicious.
AUTOR: VEGANEVIBES
Anleitung 
Preheat oven to 150 degrees (convection) or 170 degrees (top/bottom heat) and line a baking tray with baking paper.

Coarsely chop nuts and spread on a baking sheet lined with parchment paper. Put in the oven and roast for

8-10 minutes

.

Meanwhile, provide a bowl. Add in maple syrup, almond paste, baking powder, bourbon vanilla and a pinch of salt and mix.

80 ml maple syrup,

30 g Almond paste,

½ tbspn Baking powder,

¼ tbspn Bourbon vanilla,

A strong pinch of salt

Remove nuts from oven and add directly to maple syrup almond paste. Mix and pour directly into a brownie pan lined with baking paper. Press down lightly and return to oven.

Note: If you don't want to use a mold, you can spread the nut mixture directly on a baking sheet lined with parchment paper.

Turn up the heat to 170 degrees (convection) or 190 degrees (top/bottom heat) and bake for 10 minutes.

Remove from the oven, cool and meanwhile melt the chocolate on low temperature. Pour over the brittle and spread evenly. Allow to set completely.

150 g dark vegan chocolate

Break it out, cut it or enjoy!

Leave residues at room temperature and allow to dry. The brittle becomes firmer and drier with time.
Nährwertangaben
Serving:
1
Portion
Calories:
263
kcal
Carbohydrates:
15
g
Protein:
5
g
Fat:
23
g
Saturated Fat:
5
g
Polyunsaturated Fat:
12
g
Monounsaturated Fat:
5
g
Sodium:
6
mg
Potassium:
144
mg
Fiber:
3
g
Sugar:
9
g
Vitamin A:
5
IU
Vitamin C:
1
mg
Calcium:
43
mg
Iron:
1
mg