Thin Mints or Thin Mints are on the menu today. I always find it interesting to translate English terms into German. Today's Thin Mints are a really good example. I really thought about how to translate them for a long time. At first I had the idea to call it After Eight, but I quickly abandoned that idea. It doesn't make sense to draw a comparison here. The Original After Eights consist at the core of a sugar-mint mass, which is coated with dark chocolate. We are also dealing with mint here, but in a completely different context. The fine pastry is simply refined with mint oil and then covered with chocolate. So if the After Eights name is dropped, what else should I call these little beauties? I simply went with the original name, Thin Mints. Please don't nag me about Anglicisms,I'll say "I'm sorry" in advance.
Vegan Thin Mints or Mint Thins?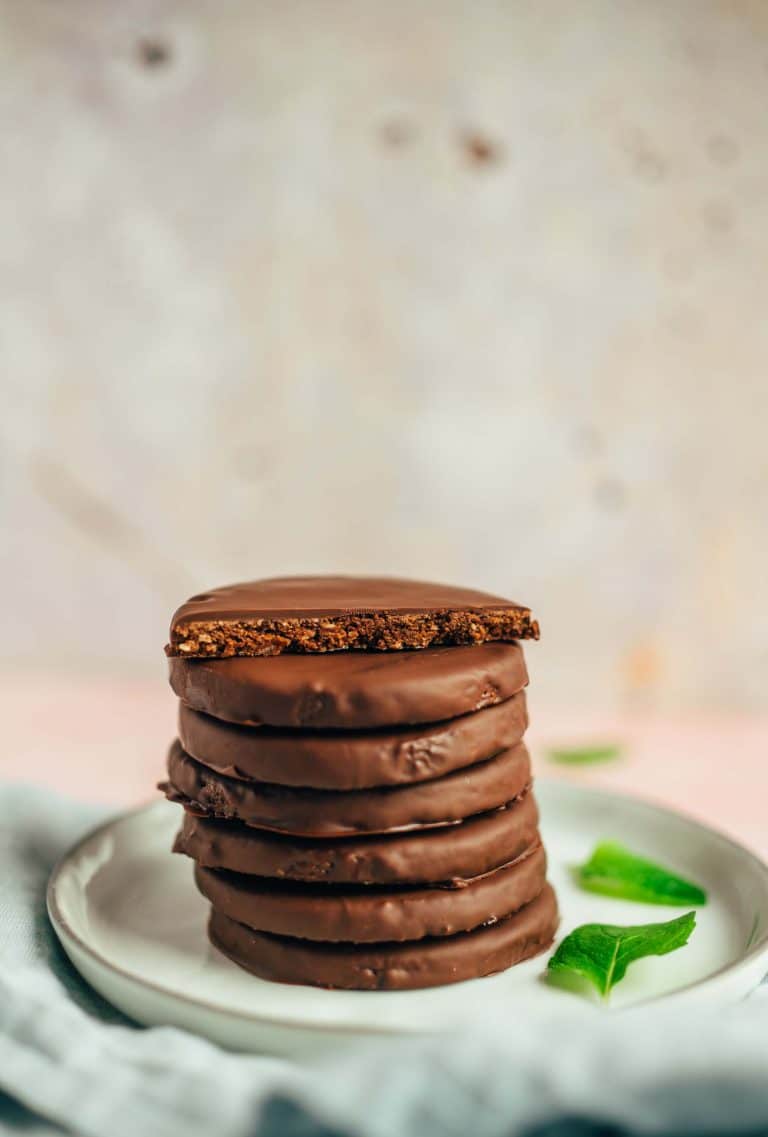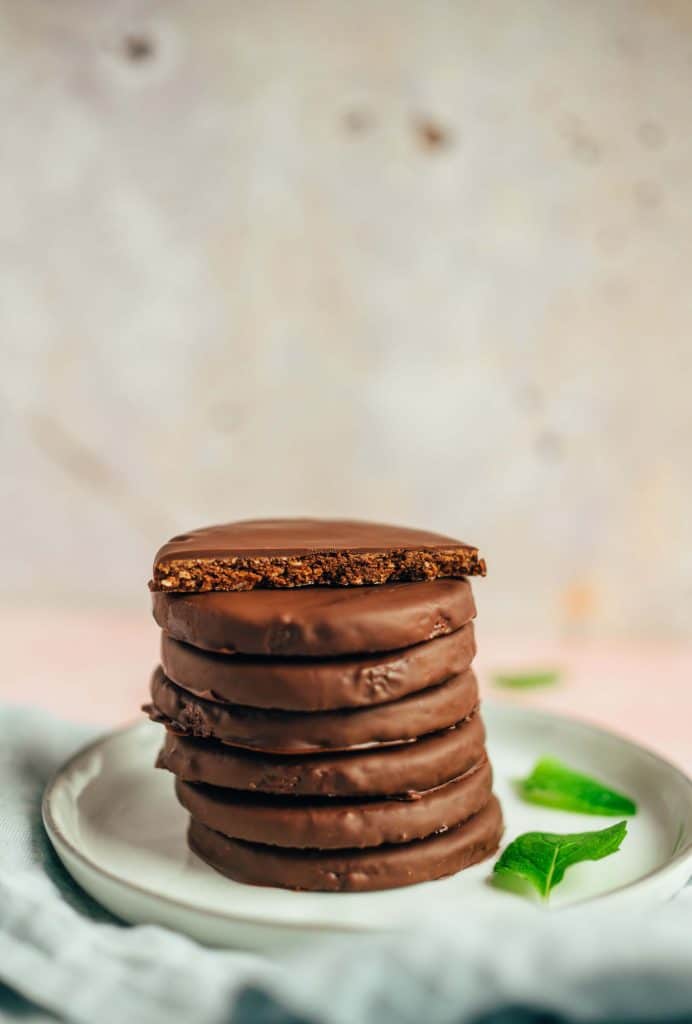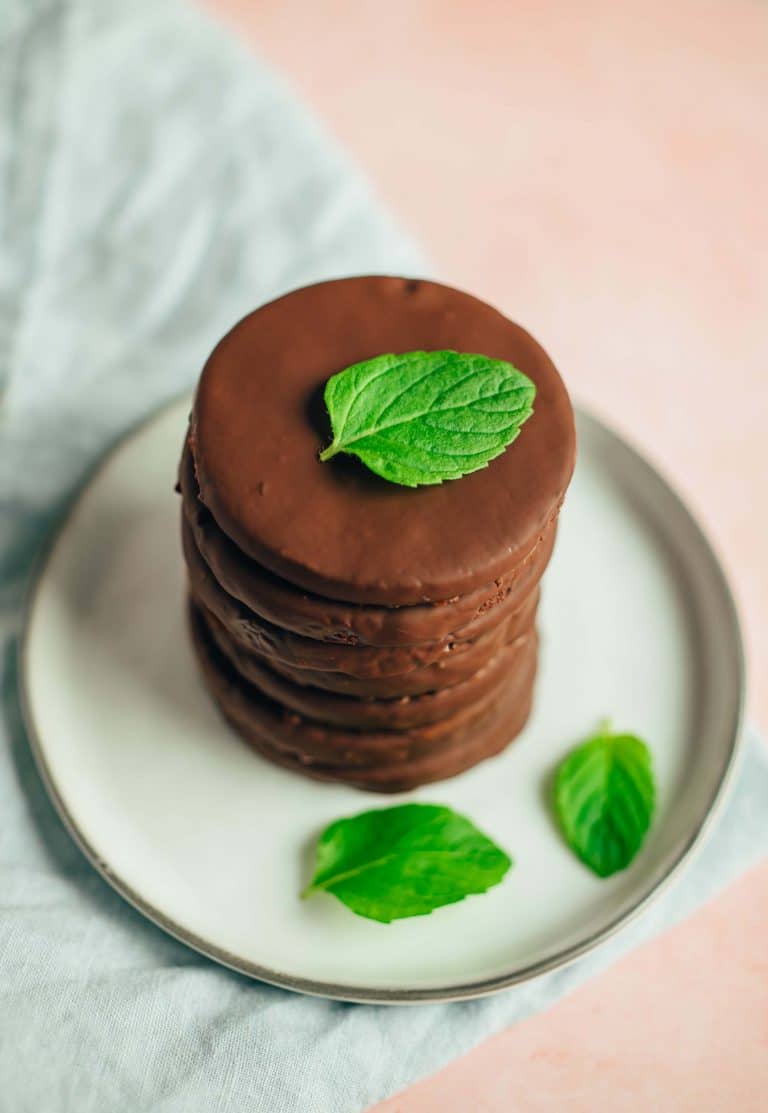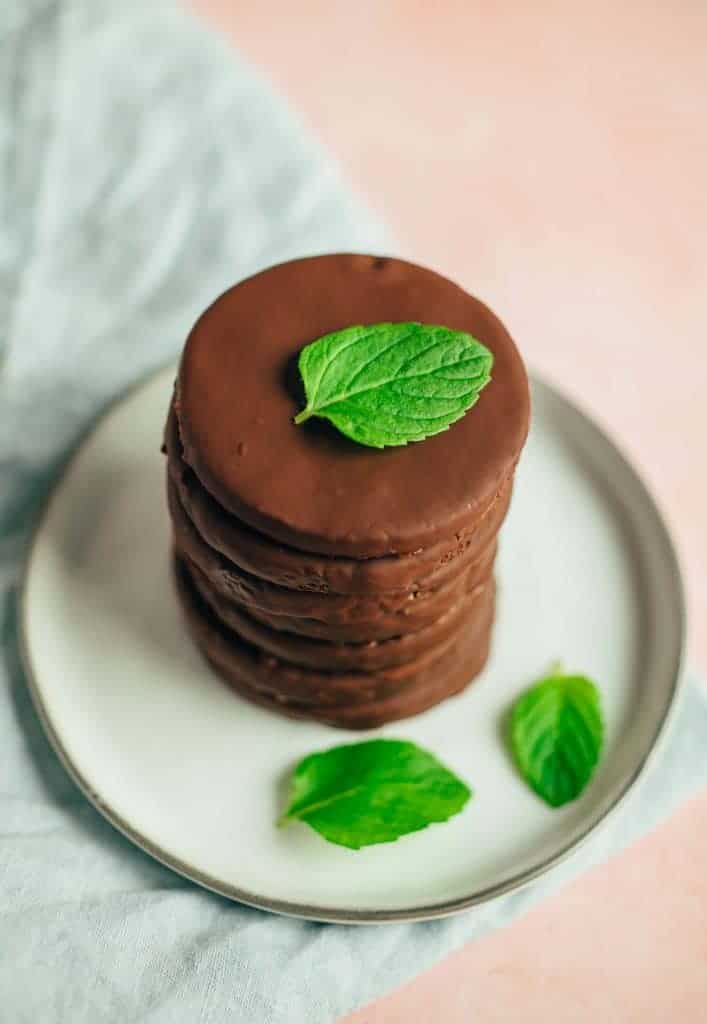 After pondering for a long time what to finally call the cookies, I was already faced with the next challenge. What is the difference between Thin Mints and Mint Thins? In my research, I noticed that some bloggers choose Thin Mints and others choose Mint Thins as their name. I then looked into it a bit more and personally came to the conclusion to call the After Eight "similar" confection Mint Thins and my variant Thin Mints. I really, really hope that's true. In the meantime, I'll have my American-English friend Sohrab check it out briefly. In return, I'll just make him a batch of them the next time he comes.
The base for these sweet, pepperminty little cookies is a chocolate cookie made with coconut butter, maple syrup, coconut blossom sugar, plant milk, almond flour, gluten-free flour blend, cocoa powder, salt and pure, organic peppermint oil. It's really fun to bake these little sweets, especially when the whole kitchen smells like peppermint during the process. I use a pure peppermint essential oil, but there are also peppermint extracts specifically designed for baking.
TIP: For peppermint oil, you can choose between peppermint flavors developed specifically for baking(https://amzn.to/3rREtLC) or all-natural essential oils(https://amzn.to/3qYBSOY).
You can't go wrong with the frosting, which is basically just melting the dark vegan chocolate and frosting the cookies with it. That's all!
Healing properties of peppermint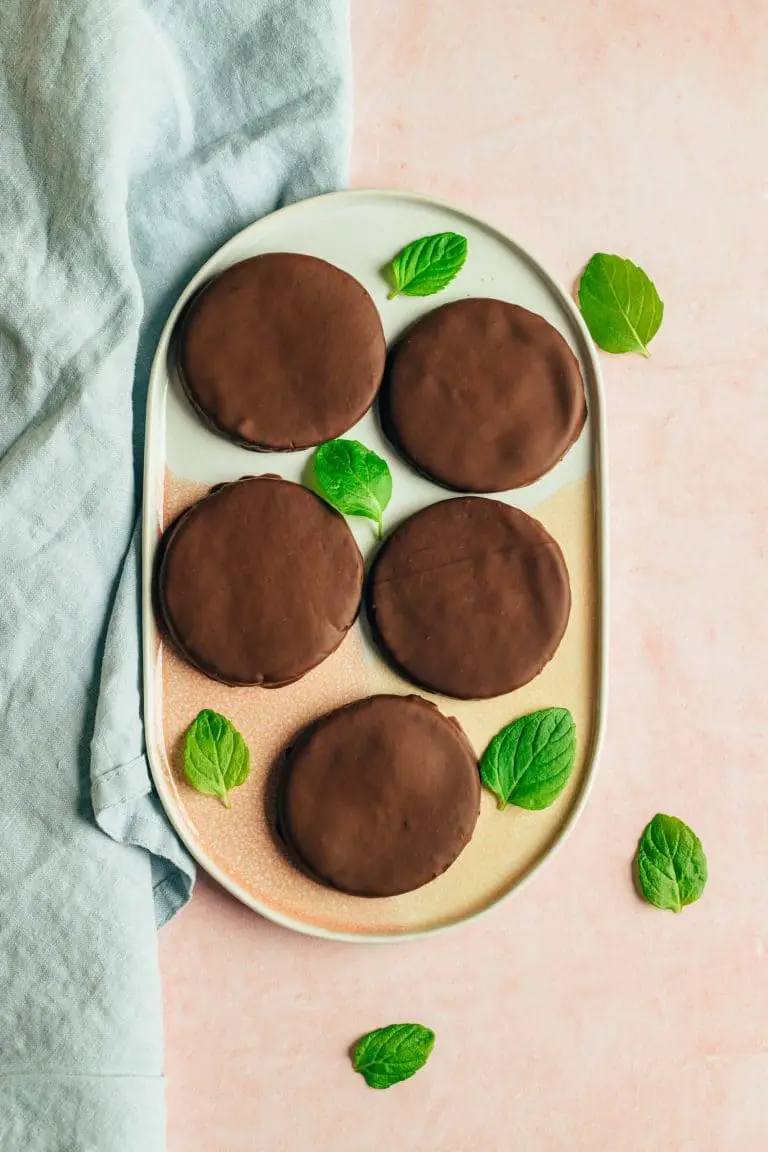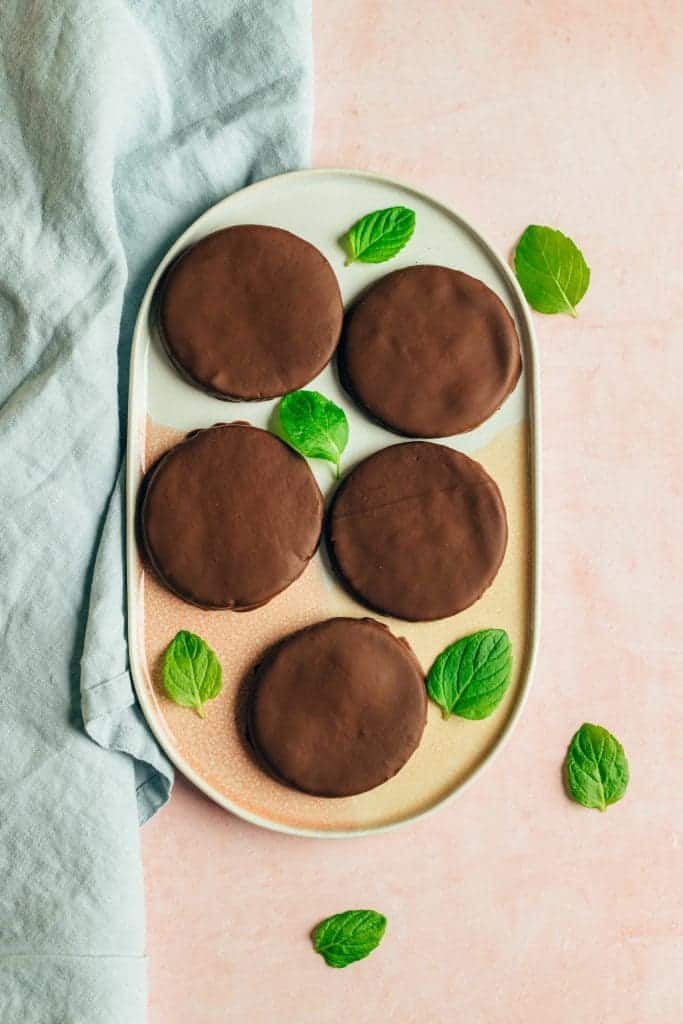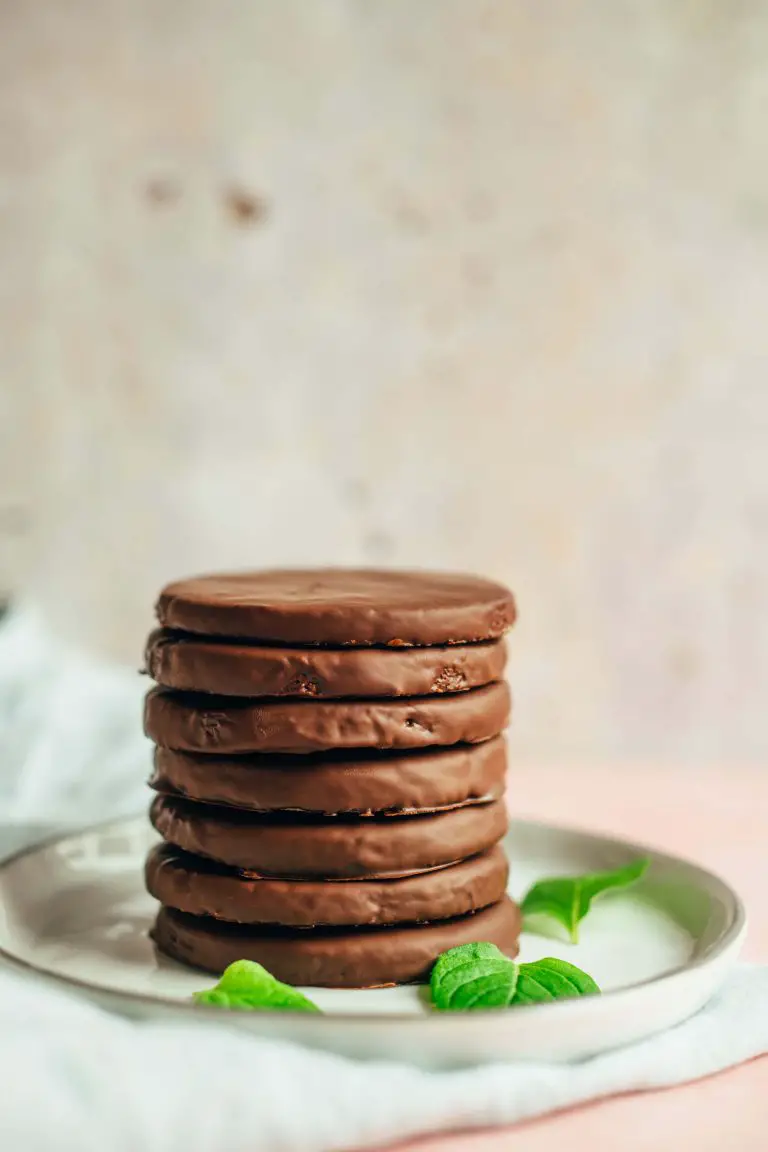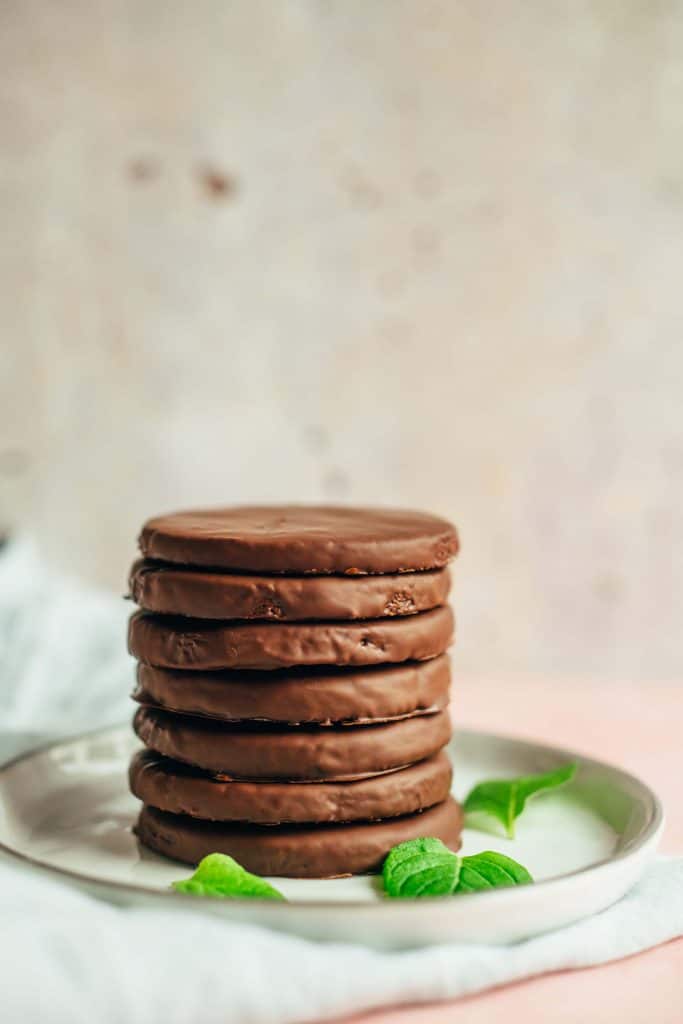 Close your eyes and think of fresh peppermint. How does that make you feel? I immediately think of the intense aroma and a slight coolness that rises to my nose. Mint is refreshing, tastes delicious in many dishes and has many healing properties. The plant actually comes from England, where it was bred about 300 years ago. Basically there are two different types, the Moroccan mint with light green leaves and a milder aroma. The second variety is the English mint or spearmint, which has a higher menthol content and is therefore much more intense in taste.
Peppermint oil is said not only to taste good, but also to be excellent for tension headaches. The oil contained, also called menthol, is said to help as well as paracetamol. Studies have shown that. Maybe next time I should take the test and treat a headache with peppermint oil instead of a headache pill. Here are some more ways to use mint essential oil:
For cold, common cold and flu (antiseptic, expectorant properties).
Gastrointestinal discomfort (is said to be effective against abdominal pain, flatulence and irritable bowel syndrome).
Cosmetics (cleansing, purifying and detoxifying properties)
TIP: The advantage of pure essential oils is their versatility, whereas aromas are developed for a specific purpose only (e.g. baking).
Get started with these healthy, oil-free, gluten-free and whole-food cookies. I hope you have fun making it and of course I'm happy about a review at the bottom of this page. If you post a picture, use the hashtag #veganevibes.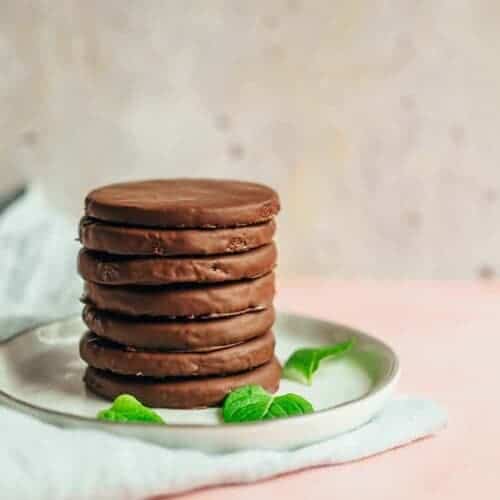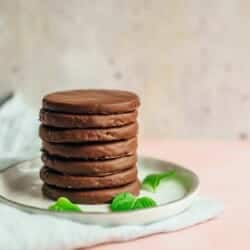 Vegan Thin Mints
Fine cookies with essential mint oil and chocolate coating. Wholesome ingredients like coconut puree, almond flour and coconut blossom sugar make the cookies a treat for the palate with no regrets. Gluten free, oil free and lactose free. For all lovers of healthy sweets with intense mint flavor.
AUTOR: VEGANEVIBES
FOR THE CHOCOLATE MINT COOKIE:
FOR THE CHOCOLATE COATING:
150

g

dark vegan chocolate

coarsely chopped

optional 13-26g cocoa butter, 1-2 tablespoons, for liquefying the chocolate
Anleitung 
FOR THE CHOCOLATE MINT COOKIES Preheat the oven to 180 degrees (convection oven) or 200 degrees (upper-lower heat) and line a baking tray with a permanent baking mat or baking paper.

In a baking bowl, add almond flour, raw cane sugar, cocoa powder, gluten-free flour blend, peppermint oil, and a pinch of salt (optional: bourbon vanilla). Stir with a whisk until everything is well combined.

96 g Almond flour,

50 g Raw cane sugar,

30 g Cocoa powder,

15 g Gluten free flour mix,

A pinch of salt,

3-5 Drop Peppermint oil,

optional ¼ tsp bourbon vanilla

Add coconut puree, plant milk and maple syrup and stir with a wooden spoon or silicone spatula until a compact dough is formed.

75 g Coconut puree,

30 ml Plant milk,

30 ml maple syrup

Roll out on a lightly floured surface and cut out round cookies. The size may vary, as well as the final number of pieces.

Place on baking sheet, place in oven and bake for

10-12 minutes

. The longer you bake, the harder the cookies will be.

Remove from oven and let cool completely.

FOR THE CHOCOLATE COATING Gently melt the chocolate over a water bath. If necessary, stir in 1-2 tablespoons of cocoa butter to make the chocolate thinner and easier to coat.

150 g dark vegan chocolate,

optional 13-26g cocoa butter, 1-2 tablespoons, for liquefying the chocolate

Coat one cookie at a time with the melted chocolate, place on a draining rack and allow to set at room temperature. enjoy!

Store remaining Thin Mints in an airtight container in the refrigerator for up to one week. Best when chilled!
Notizen
Calorie calculation without cocoa butter
Nährwertangaben
Serving:
1
Piece
Calories:
161
kcal
Carbohydrates:
12
g
Protein:
3
g
Fat:
13
g
Saturated Fat:
7
g
Sodium:
3
mg
Potassium:
64
mg
Fiber:
2
g
Sugar:
7
g
Vitamin A:
12
IU
Vitamin C:
1
mg
Calcium:
33
mg
Iron:
1
mg