Spekulatius Tiramisu is my personal highlight of the season. Creamy, crunchy and Christmasy. All in one jar and so delicious. I'm already looking forward to when it's finally Christmas and I can indulge in all the vegan goodies. My menu is set and starts with a fine beetroot carpaccio, followed by a delicious protein roast, topped off with this lovely tiramisu. It is also quick because the base is not baked, but also consists of speculaas cookies. The only thing that takes a little time is caramelizing the apples. But that is actually also done in no time. Who wants to try this delicious and simple dessert? Get in the kitchen and let's go!
Speculoos tiramisu recipe – simple and fast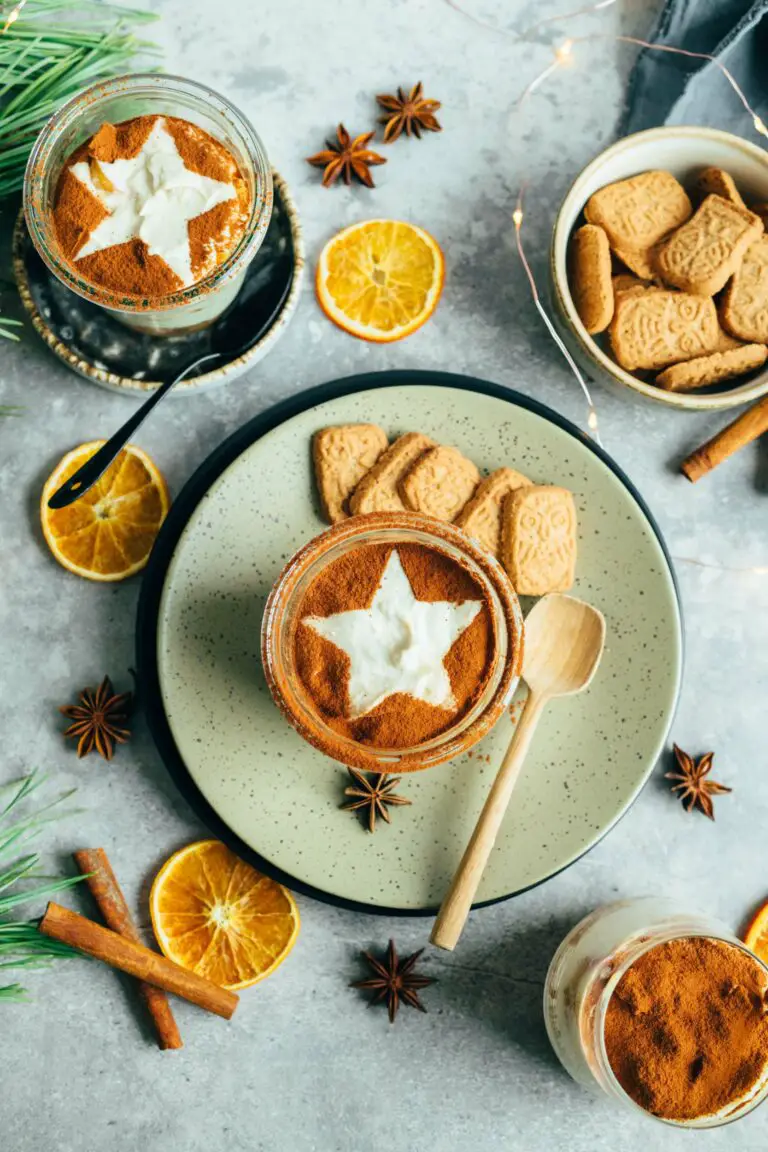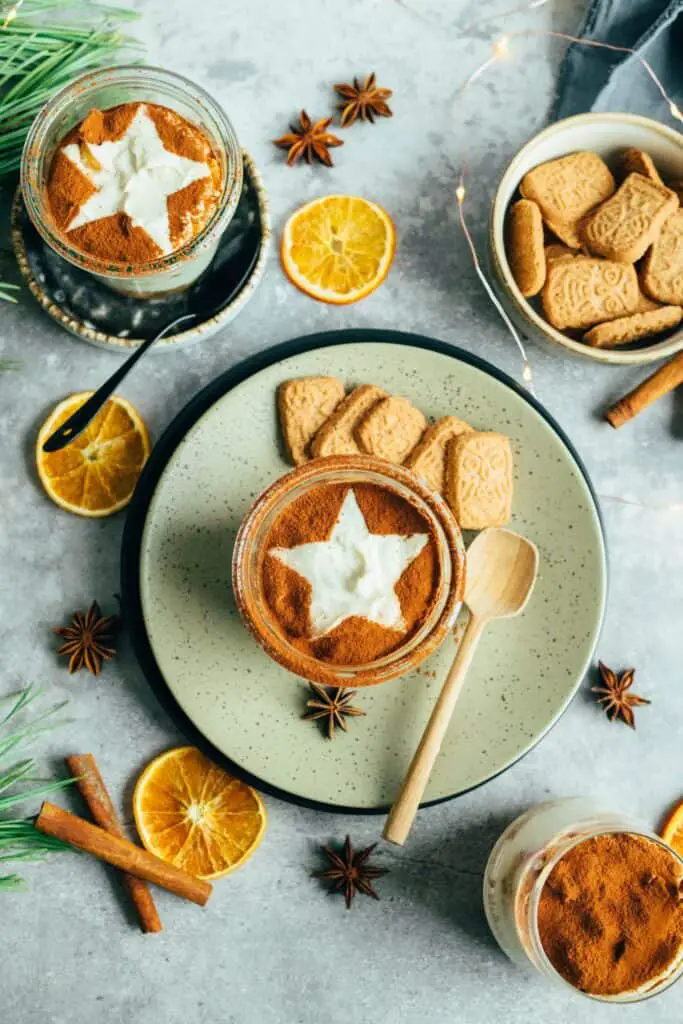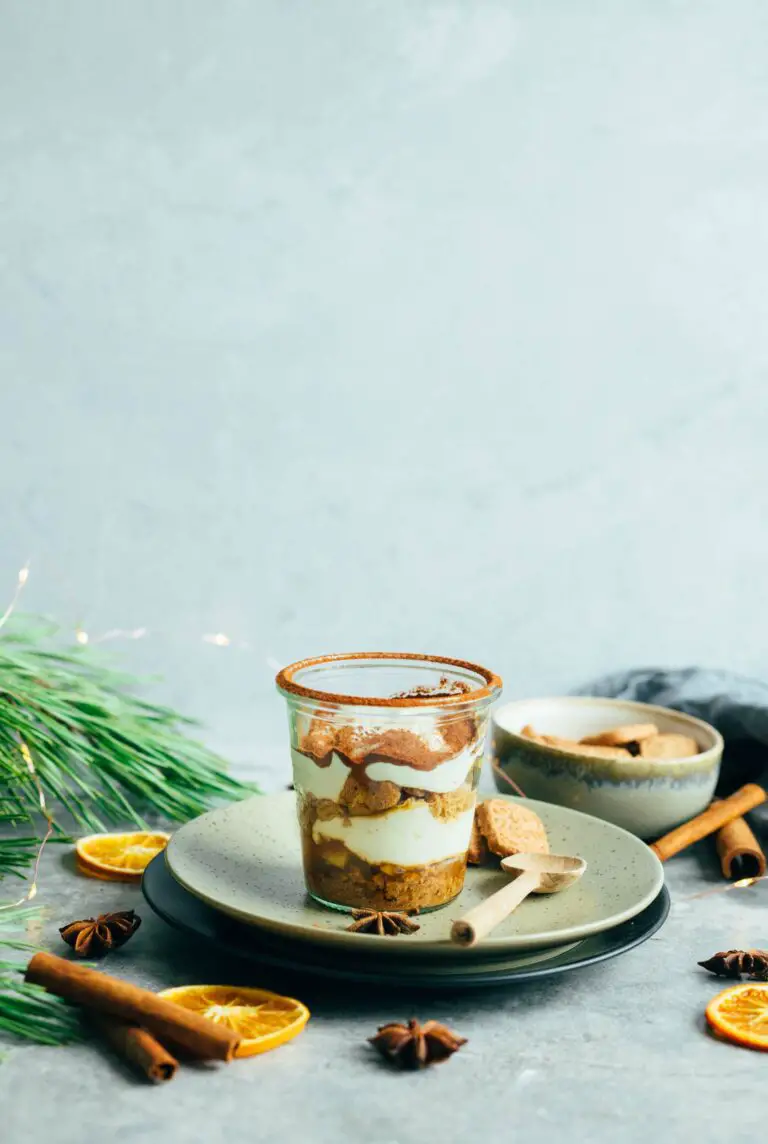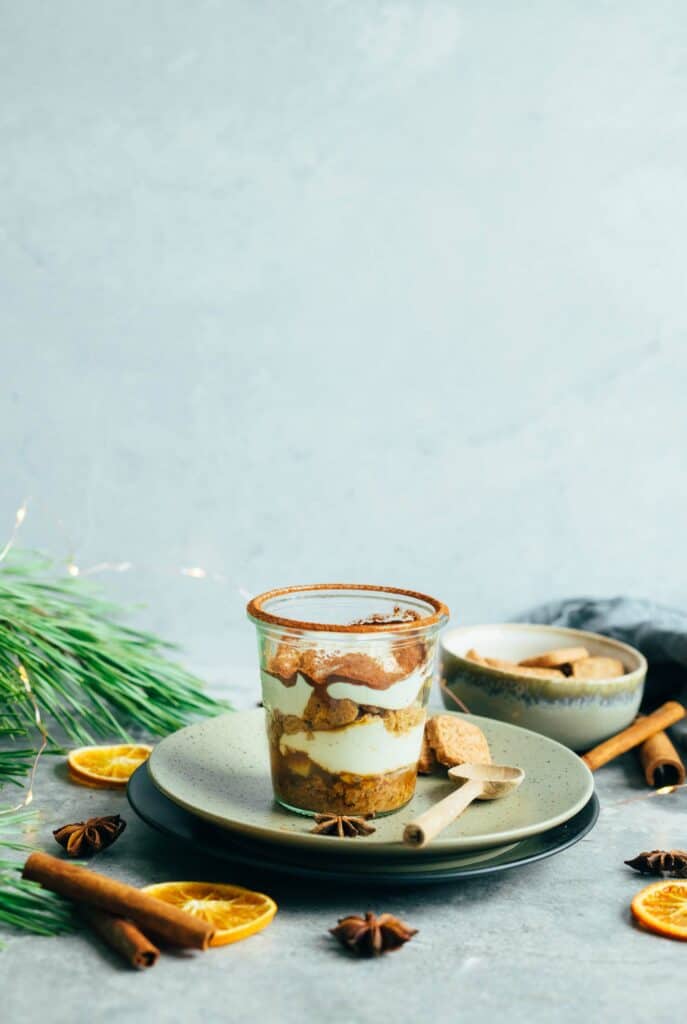 The fine dessert consists of three main components, caramelized apples, a homemade mascarpone cream and speculaas cookies. This is all piled on top of each other and finished with a thick layer of cocoa. What more could you ask for? That's right, a plate of cookies after the dessert is eaten. As we all know, sweets always go.
It's quick and easy to make, and you should be able to get the ingredients at any well-stocked supermarket or online store. What I can recommend you is a good blender. I use a Blendtec, which processes the cashews into a really firm, delicious mascarpone even without soaking. You can find the model I use in my store. Here I only recommend products that I have tested myself and found to be good.
I use a coated pan to caramelize the sugar. Do you perhaps have any experience with cast iron pans that you can share with the community? That would be great. Let's help together, give tips and support each other.
Speculoos tiramisu without egg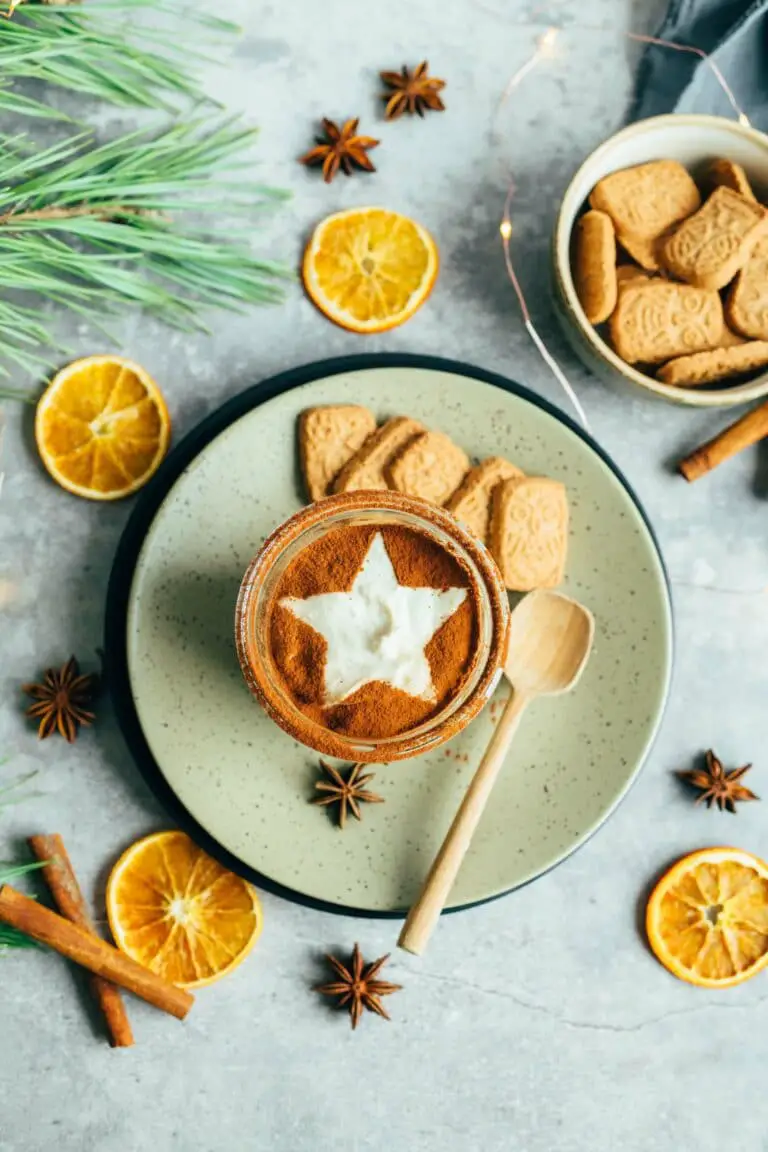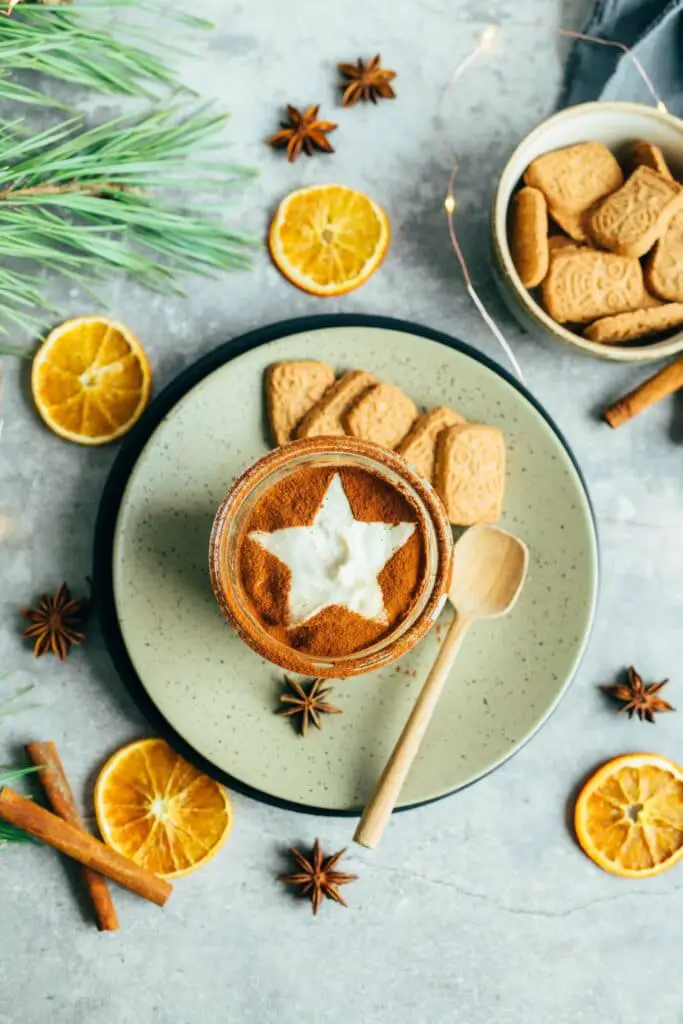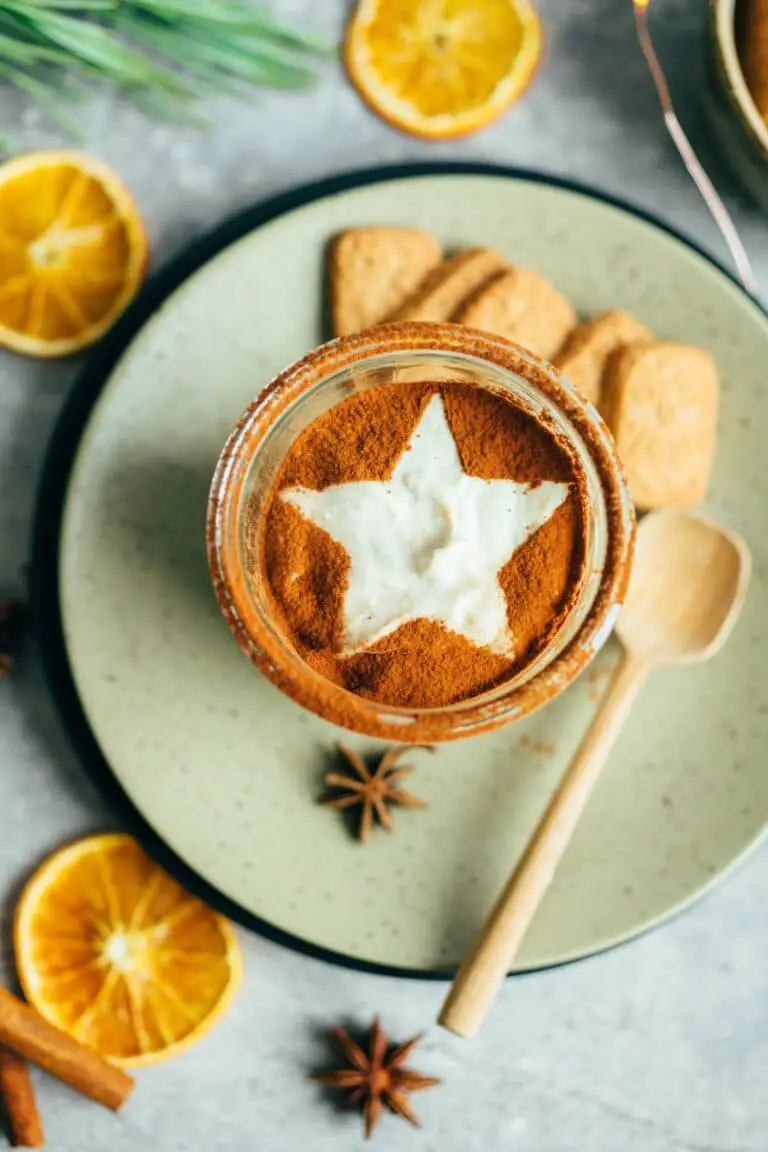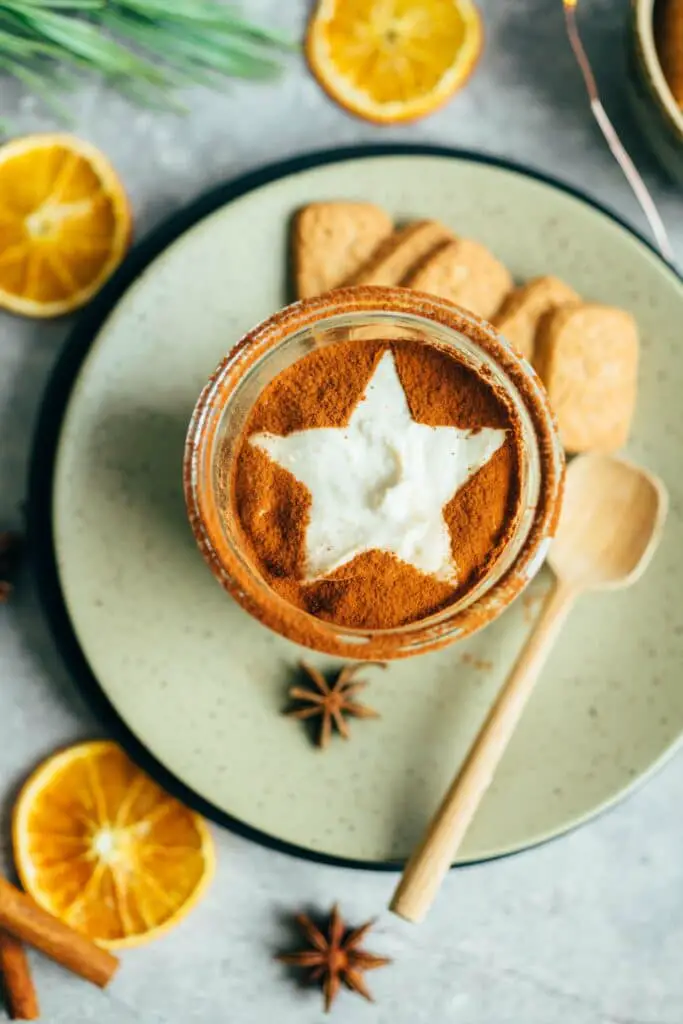 Maybe you are now asking yourself why exactly you should choose this tiramisu? The difference from a "normal" tiramisu is the fruity from the apples and the crunchy from the speculoos. I like this super much and can only recommend everyone to try this combination once.
Is there anything else you should be aware of?
Caramelize: the sugar becomes hot when melted, do not touch under any circumstances. This can lead to burns.
Apples: Many bloggers peel the apples, I do not do that because the peel is very healthy and I use only organic apples. Conventional apples I would peel.
Cashews & Xanthan Gum: The cashews do not necessarily need to be soaked. If your blender isn't that powerful, or you just have the time and inclination, here are instructions for soaking. Xanthan gum is a natural thickener and ensures that the mascarpone becomes really nice and creamy. I recommend it in many dishes and have linked you to the product I use in the ingredients list.
Spekulatius: If you don't want to use store-bought cookies, here's a recipe to make your own.
What else goes with our vegan tiramisu? For your Christmas menu, it's a delightful finish that will wow your guests. For more Christmas ideas, feel free to download the free e-book with lots of easy recipe ideas. Only for a short time!
The vegan speculoos tiramisu is:
christmas
creamy
Naturally sweetened
fruity
Simply made
Not in the mood for speculoos today? Then try my raw vegan tiramisu, plain tiramisu or tiramisu tart.
Love healthy desserts as much as I do? Then I look forward to a review at the bottom of this page. If you post a picture, then like to use the hashtag #veganevibes.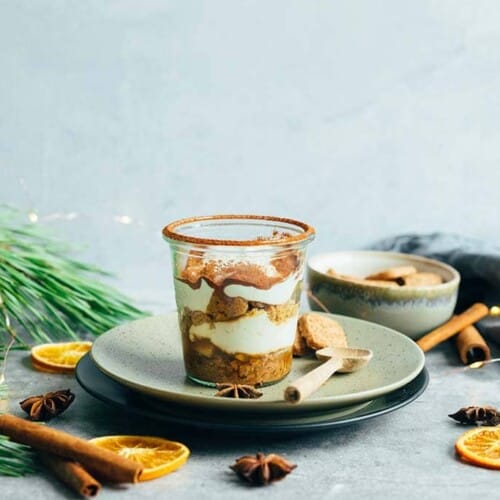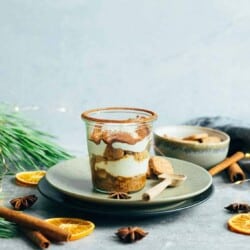 Vegan speculoos tiramisu
Christmas tiramisu made with fine cashew mascarpone, caramelized apples and crunchy speculoos cookies. Vegan, lactose-free and topped with fine cocoa.
AUTOR: VEGANEVIBES
FOR THE CARAMELIZED APPLES:
FOR THE VEGAN MASCARPONE
200

g

Cashews

soaked at will *not necessary with a strong blender

250

g

Vegetable yogurt

alternatively vegetable milk (250ml) Note: With yogurt the cream gets a pleasant acidity.

80

ml

maple syrup

or other liquid sweetener of choice

15

ml

Lemon juice

with pleasure some grated lemon peel (or orange peel if at hand)

¼

tbspn

Bourbon vanilla

ground

¼

tbspn

Xanthan Gum
OTHER INGREDIENTS:
150

g

vegan speculoos

150

ml

Espresso

maximum lukewarm or best cold
TOPPING:
Cocoa powder

raw, at will

Optional for a Christmas flavor 1 tsp cinnamon

add a pinch of cloves and nutmeg
Anleitung 
FOR THE CARAMELIZED APPLES Put sugar in a pan and melt under heat. Stir as little as possible, but simply wait until the sugar is liquid. Add apple pieces, lemon juice, and cinnamon, stir to combine, and let melt into the caramel for

3 minutes

. Remove from heat, set aside and allow to cool.

400 g Apples,

2 tbspn Raw cane sugar,

½ tbspn Cinnamon,

60 ml Lemon juice

For the MASCARPONE place all ingredients (except xanthan gum) in a high-powered blender and blend to a fine cream. At the end (optional) add xanthan gum, mix again briefly. Set aside.

200 g Cashews,

250 g Vegetable yogurt,

80 ml maple syrup,

¼ tbspn Bourbon vanilla,

1 Pinch of salt,

¼ tbspn Xanthan Gum,

15 ml Lemon juice

TIRAMISU layer, prepare dessert glasses for this and crumble 2/3 of the speculoos into small pieces. Pour a sip of espresso over the top. Divide evenly among all the glasses. Top each with 1 heaping tablespoon of caramelized apples. Pour in 1-2 tablespoons of mascarpone and repeat until all ingredients are used.

150 g vegan speculoos,

150 ml Espresso

Cover and place in the refrigerator. Allow to infuse for at least 4 hours or preferably overnight.

Dust with optional cocoa just before serving.

Cocoa powder,

Optional for a Christmas flavor 1 tsp cinnamon

Store leftovers in an airtight container in the refrigerator for up to 3 days. However, fresh is best.
Nährwertangaben
Serving:
1
Portion
Calories:
406
kcal
Carbohydrates:
48
g
Protein:
9
g
Fat:
22
g
Saturated Fat:
4
g
Cholesterol:
5
mg
Sodium:
163
mg
Potassium:
444
mg
Fiber:
3
g
Sugar:
22
g
Vitamin A:
221
IU
Vitamin C:
11
mg
Calcium:
98
mg
Iron:
3
mg