For my Christmas menu ordinary one is not enough for me Brownie not. I want to have something special, that certain something that guests rave about after a successful evening. Thereby I found the idea of Apples and Cinnamon ingenious, then still caramelized and with Vanilla ice cream ? Unbeatable. After all, everyone should be really nice and satisfied. Besides, there is always room for a great Dessert is always room for a great one, at least that's the way it is in our family. First comes the presentation and then the dessert. Afterwards, everyone lounges around on the couch watching and schmaltzy Christmas movies while enjoying a cozy nightcap.
Christmas brownie with caramelized apples? What!?!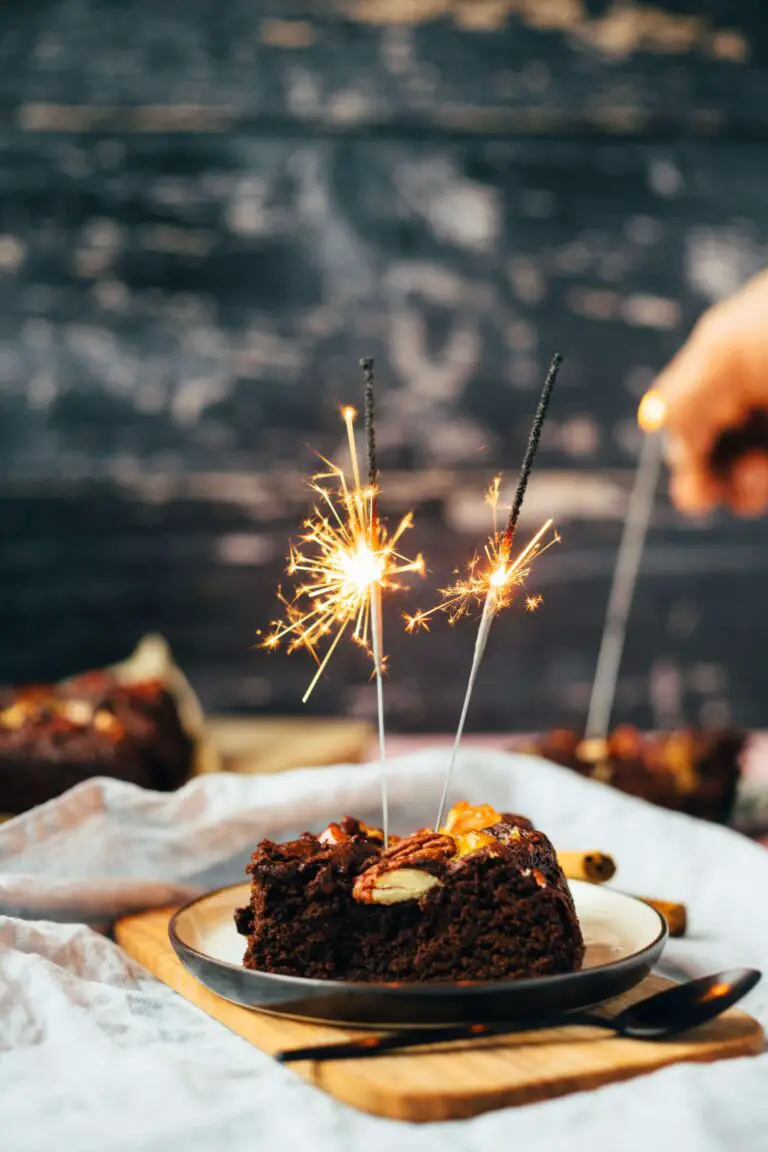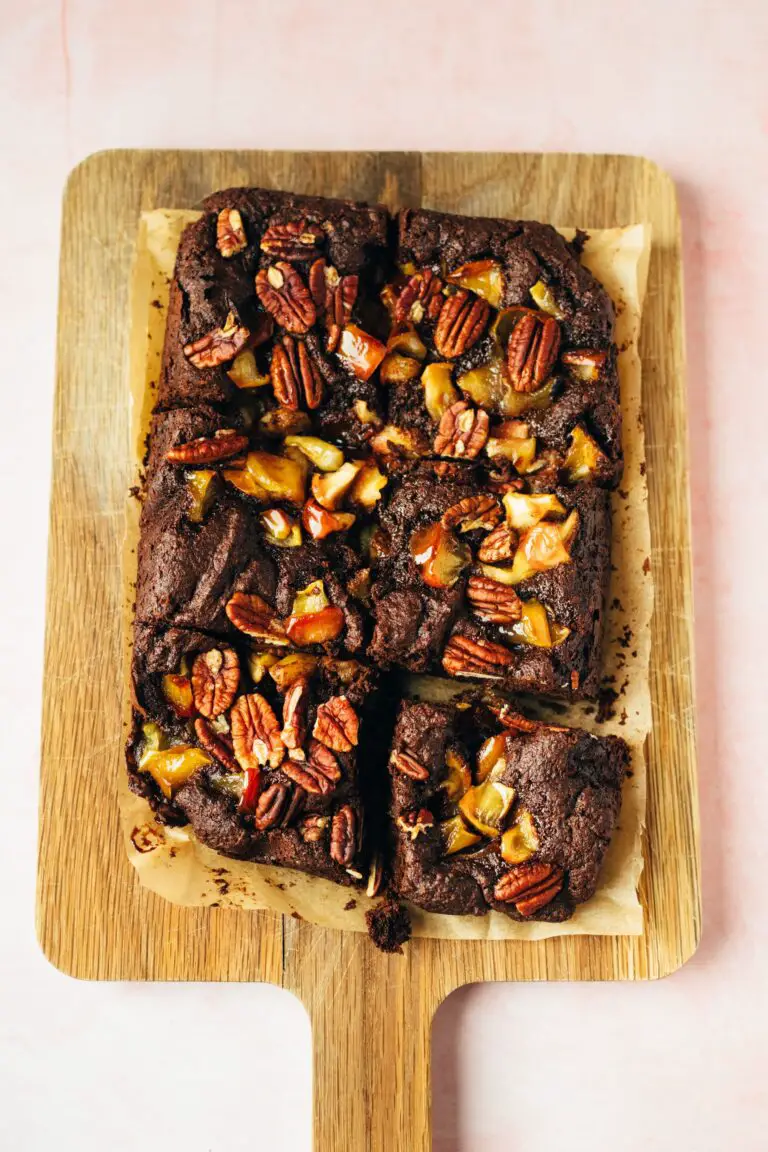 The basic recipe is similar to my best vegan Brownie recipe? Vegan margarine, apple pulp, raw cane sugar & coconut blossom sugar, flaxseed eggs, fine spelt flour, cocoa powder, baking powder and a pinch of salt. It comes only still Cinnamon in the dough to make the whole thing a tad more Christmas to make. Of course, other Christmas spices are allowed, such as:
Cloves
Allspice
Anise
Vanilla
Nutmeg
Cardamom
The topping this time is an absolute highlight with caramelized apples and pecans . Very, very tasty with a slight baked apple touch. But because this is still not enough, there is still a scoop Vanilla ice cream in addition. That's it now? No, not by a long shot, because there is still melted chocolate over the Vanilla ice cream . I simply believe that when it comes to dessert, enough is NEVER enough.
What I got for Christmas? A belly.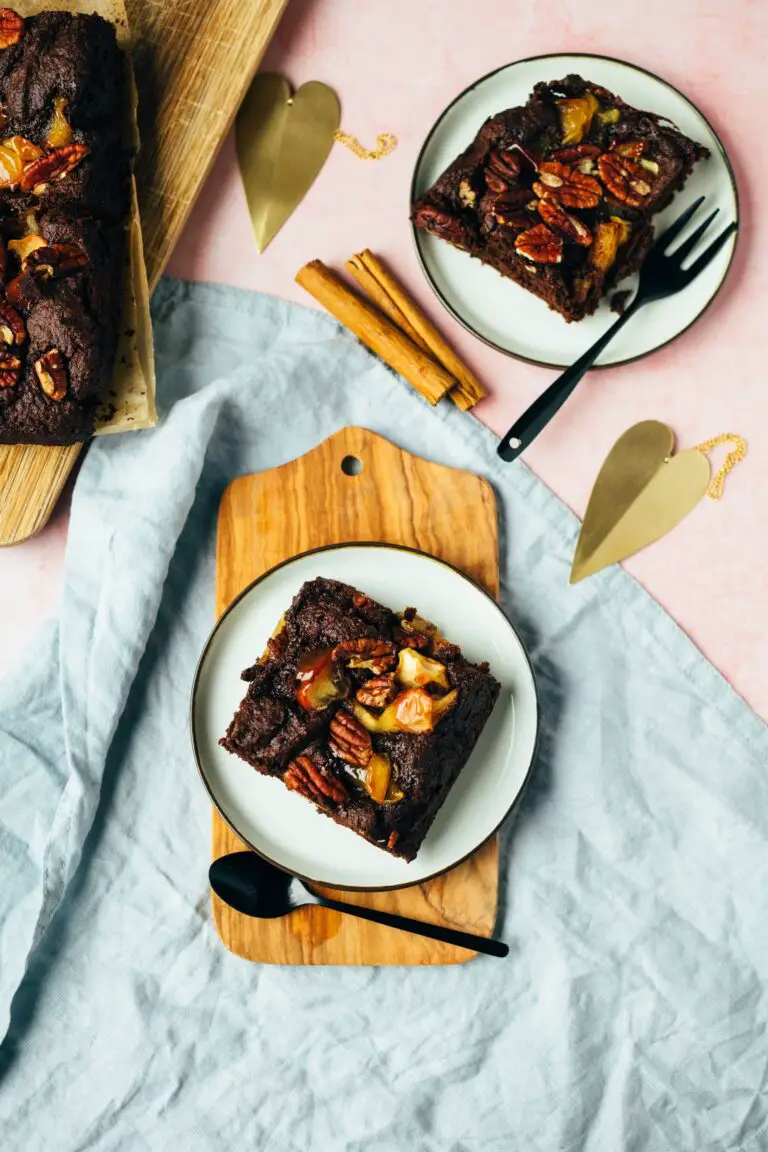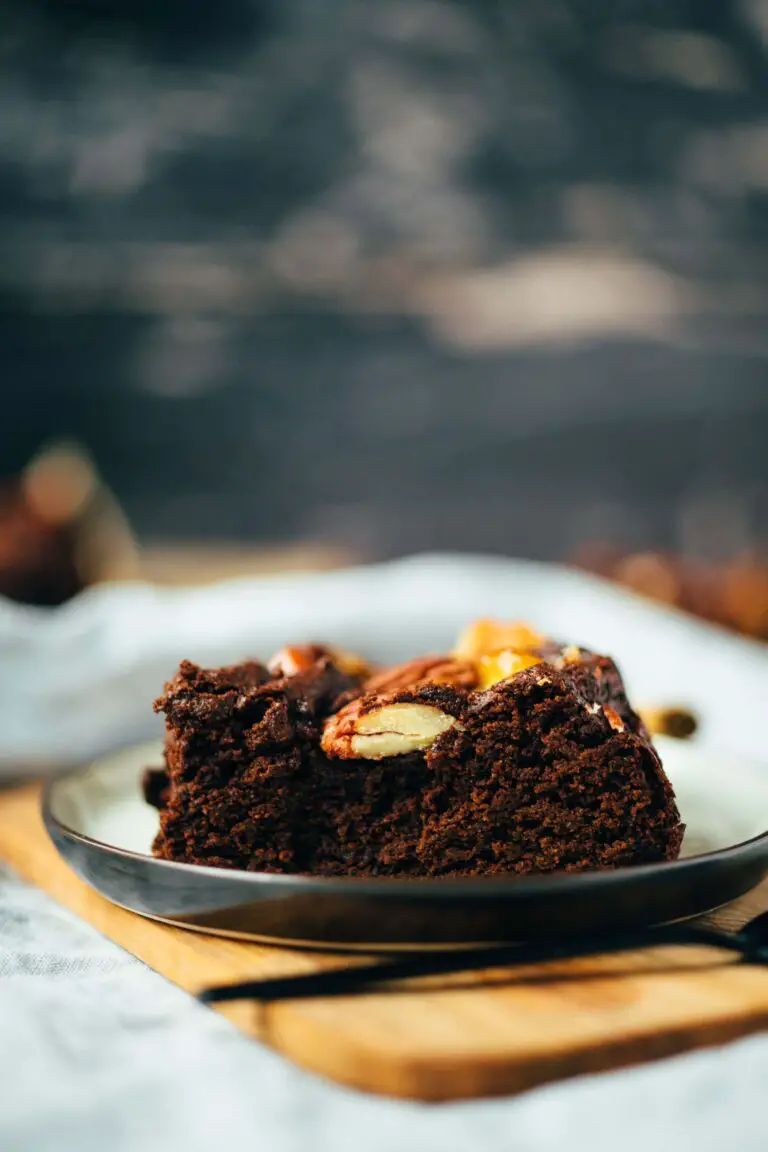 This fine Recipe unfortunately does not fall under the category "super low fat", but that's not what I want to achieve with it. Especially at Christmas it is important that the dishes taste in theory everyone, whether they are vegan or avowed omnivore. For me, it's about togetherness and everyone should enjoy eating. The taste is in the foreground and a few more calories are allowed on the plate. Personally, I am most happy when I have made everyone full and happy with my vegan dishes made everyone full and happy.
Caramelized apples + brownie + vanilla ice cream = ecstasy
If you are looking for a vegan christmas menu a starter, then I recommend a pear salad with caramelized pecans, followed by a festive roast with sauce and Potato gratin . Then the conclusion is this wonderful dessert. We will do the sugar withdrawal in January, promised!
The Christmas brownie with caramelized apples is:
rich
Fudgy
chocolatey
fruity
Caramel
I wish you in any case a lot of fun with the Nachbacken and of course about a review at the bottom of this page. If you post a picture, use the hashtag #veganevibes.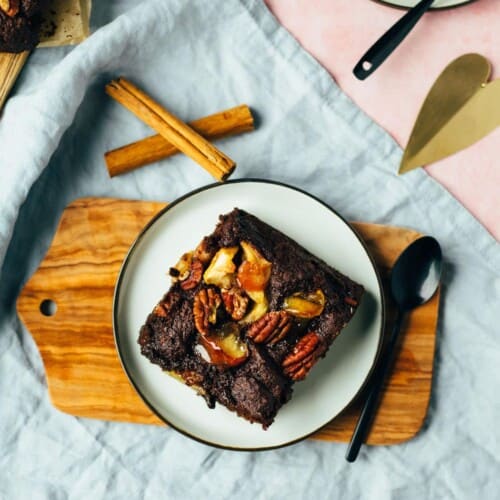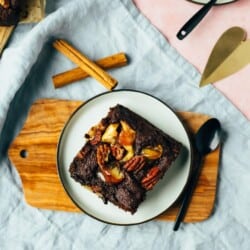 Christmas brownie with apples and caramel sauce
Christmas brownie with caramelized apples and cinnamon. Combined with a homemade vanilla ice cream, it's the perfect dessert for your vegan Christmas menu.
AUTOR: VEGANEVIBES
2

Piece

medium apples

diced

62,5

g

Raw cane sugar

2-3

tbspn

Water

3

Piece

Flaxseed eggs

21g (3EL flaxseed meal + 135ml (7,5EL)water)

90

g

vegan margarine

I take organic alsan, melted

30

g

Apple pulp

Note, apple pulp is without added sugar, applesauce is already added sugar

100

g

Raw cane sugar

if not at hand, simply use more of the other sugars

100

g

Coconut sugar

if not at hand, simply use more of the other sugars

125

g

Fine spelt flour Tpy630

alternatively use wheat flour, whole wheat flour or gluten-free flour mixture

65

g

Cocoa powder

1

tbspn

Tartar baking powder

½

tbspn

Bourbon vanilla

ground

1

tbspn

Cinnamon

¼

tbspn

Sea salt
TO SERVE:
Melted dark chocolate

vegan vanilla ice cream

homemade (VEGANE VIBES RECIPE)
Anleitung 
FOR THE CARAMELIZED APPLES medium pan with 5 tablespoons of sugar +2 tablespoons of water put on the stove and heat. Once the sugar begins to melt and turn slightly brown, add apple pieces and stir. Turn down heat a bit and let apples caramelize until liquid evaporates. Set aside.

2 Piece medium apples,

62,5 g Raw cane sugar,

2-3 tbspn Water

TIP: Don't worry if sugar clumps form at the beginning. These dissolve again over time.

Place flaxseed eggs in a large baking bowl, stir and allow to thicken briefly.

Melt margarine in a small saucepan and set aside.

Preheat the oven to 180 degrees and line a baking pan (about 20x20cm) with baking paper.

Add melted margarine to flax eggs and mix well.

Add apple pulp, raw cane sugar, whole cane sugar and coconut blossom sugar and continue stirring until everything is well mixed.

30 g Apple pulp,

100 g Raw cane sugar,

100 g Coconut sugar

Place a sieve over the baking bowl and sift in the flour and cocoa powder.

125 g Fine spelt flour Tpy630,

65 g Cocoa powder

Add baking powder, vanilla, and sea salt and work into a uniform dough.

1 tbspn Tartar baking powder,

½ tbspn Bourbon vanilla,

1 tbspn Cinnamon,

¼ tbspn Sea salt

Pour the batter into the baking pan and smooth it out. Spread caramelized apples and pecans on top.

Place in the oven and bake for 25 minutes until the corners are dry and the brownie top is nicely baked through.

OPTIONAL: In the meantime, melt the chocolate.

Remove from the oven and allow to cool completely.

Cut into 15 pieces and remove from baking pan and serve optionally with a scoop of vanilla ice cream and caramel sauce. enjoy!

Store leftovers in an airtight box at room temperature. Can be kept in the freezer for up to one month.
Nährwertangaben
Serving:
1
Brownie
Calories:
170
kcal
Carbohydrates:
27
g
Protein:
1
g
Fat:
7
g
Saturated Fat:
1
g
Sodium:
129
mg
Potassium:
36
mg
Fiber:
2
g
Sugar:
18
g
Calcium:
19
mg
Iron:
1
mg