Vegan chocolate cake is the quintessential classic and is super easy to make. Sometimes chocolate is the only thing that helps against everything. Bad mood, negative Corona news, unattractive dates or meetings with unpopular relatives. Just eat a thick piece of chocolate cake with cream and everything suddenly runs like clockwork again. It also allows for a quick daydream while piercing the fork through the thick layer of chocolate. How about just lying on a beautiful beach listening to the sound of the ocean or sitting in an overgrown garden at a winery in Italy enjoying the sunset. Yep, a slice of chocolate cake invites you to dream. At least that's how I feel. The vegan icing on the cake as a final touch, makes even the last critics melt away. My dears, let's get started together with this simple and brilliant chocolate cake.
Vegan chocolate cake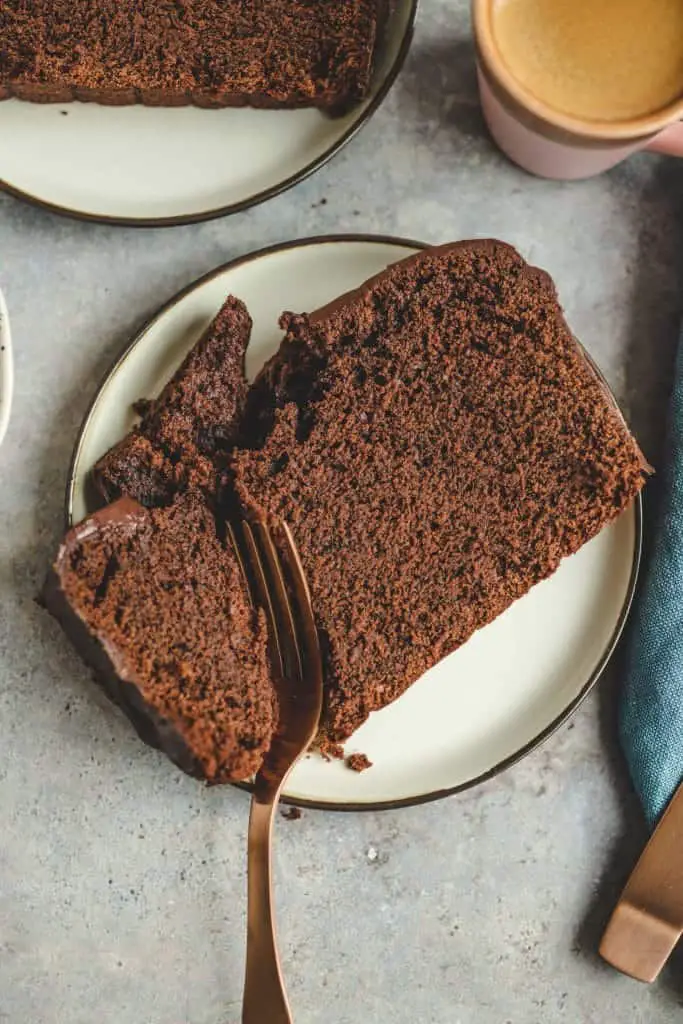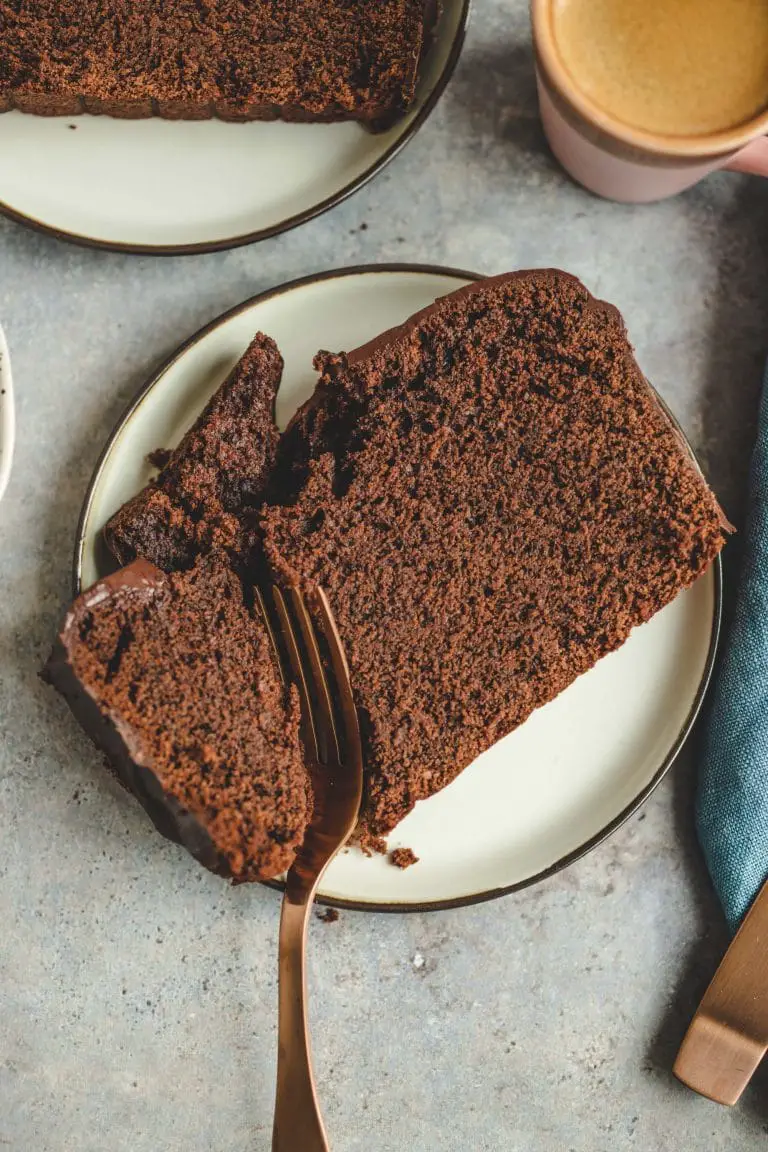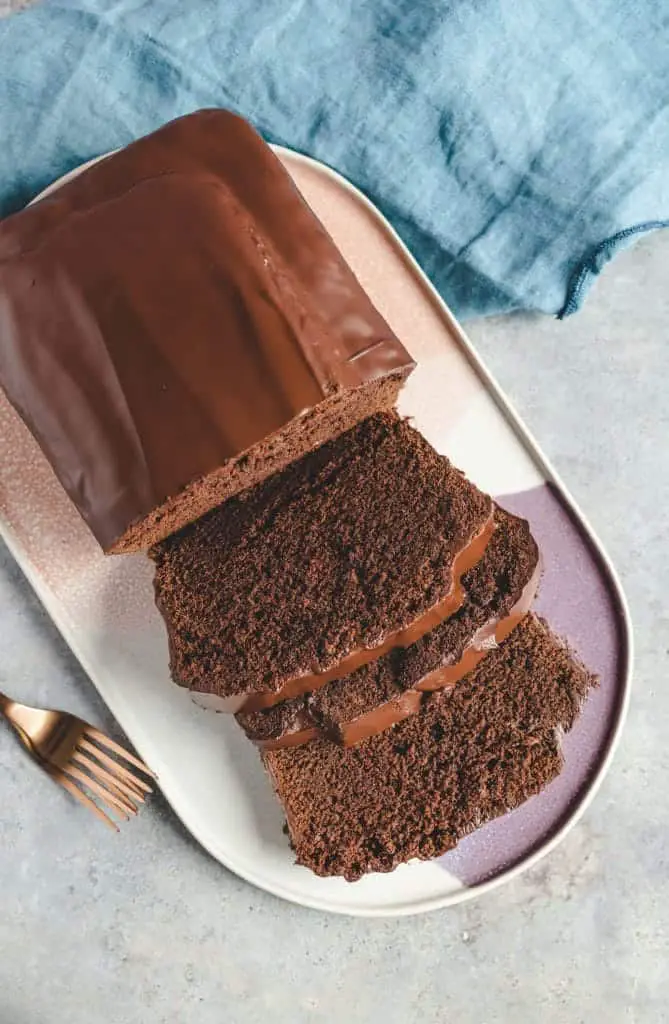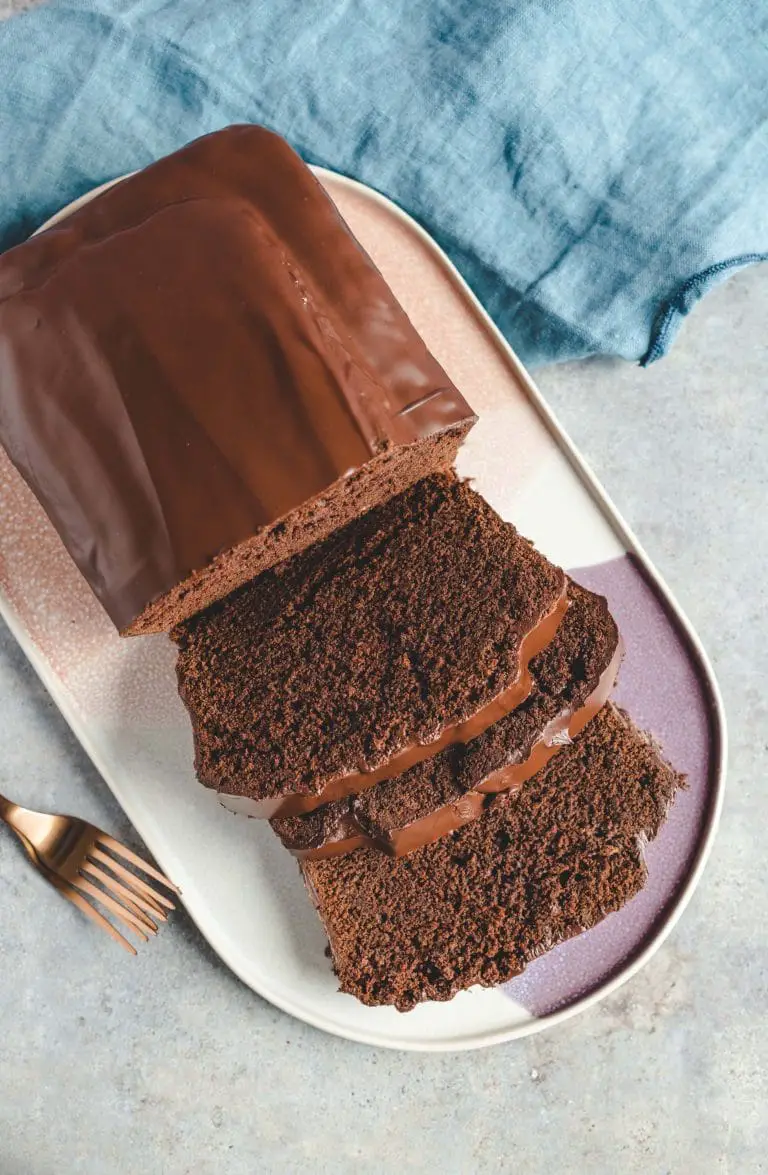 Our cake today is simple, fluffy and chocolatey. Those who like to avoid gluten are just as golden, as there is also an option with gluten-free flour blend. As usual, the ingredient list is simple and straightforward with spelt flour (or gluten-free flour blend), raw cane sugar, cocoa, baking powder, bourbon vanilla and a pinch of salt. It continues with vegetable milk, melted margarine and melted dark chocolate. First, the dry ingredients are mixed together and then the wet ones are added. Whisk or silicone spatula once to make a fine batter and pour into the mold. Put in the oven, bake and start daydreaming already.
TIP: For those using gluten-free flour or flour blend, please check if a binder is already included. Most often, these are guar gum or xanthan gum. If so, you don't need to worry about anything else. If not, then I recommend you add 1 tsp guar gum or ¼ tsp xanthan gum.
Simple vegan chocolate cake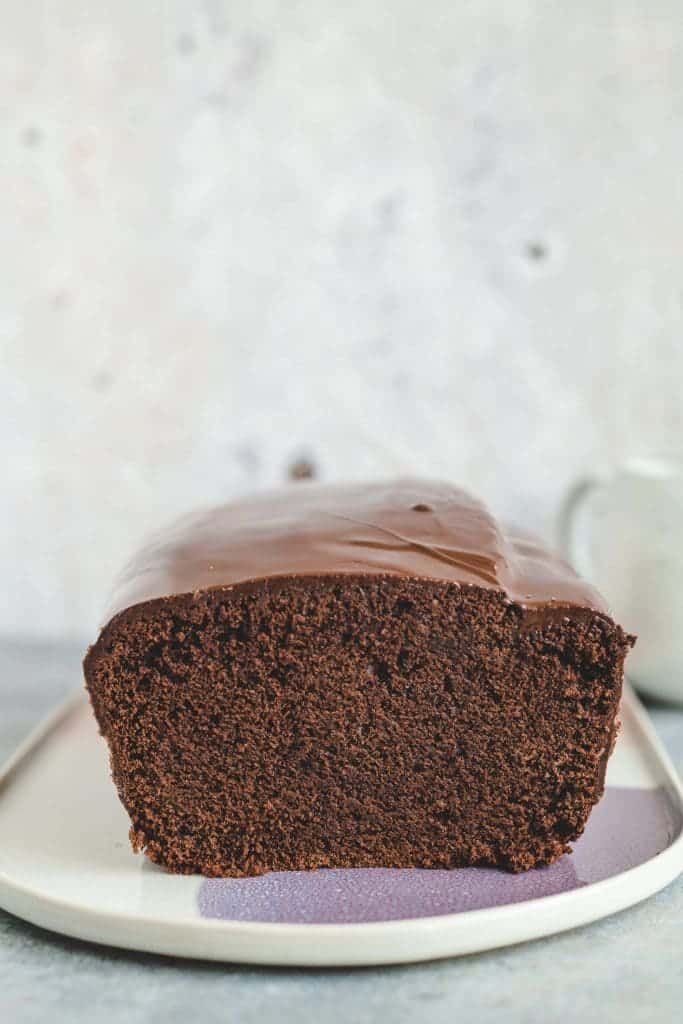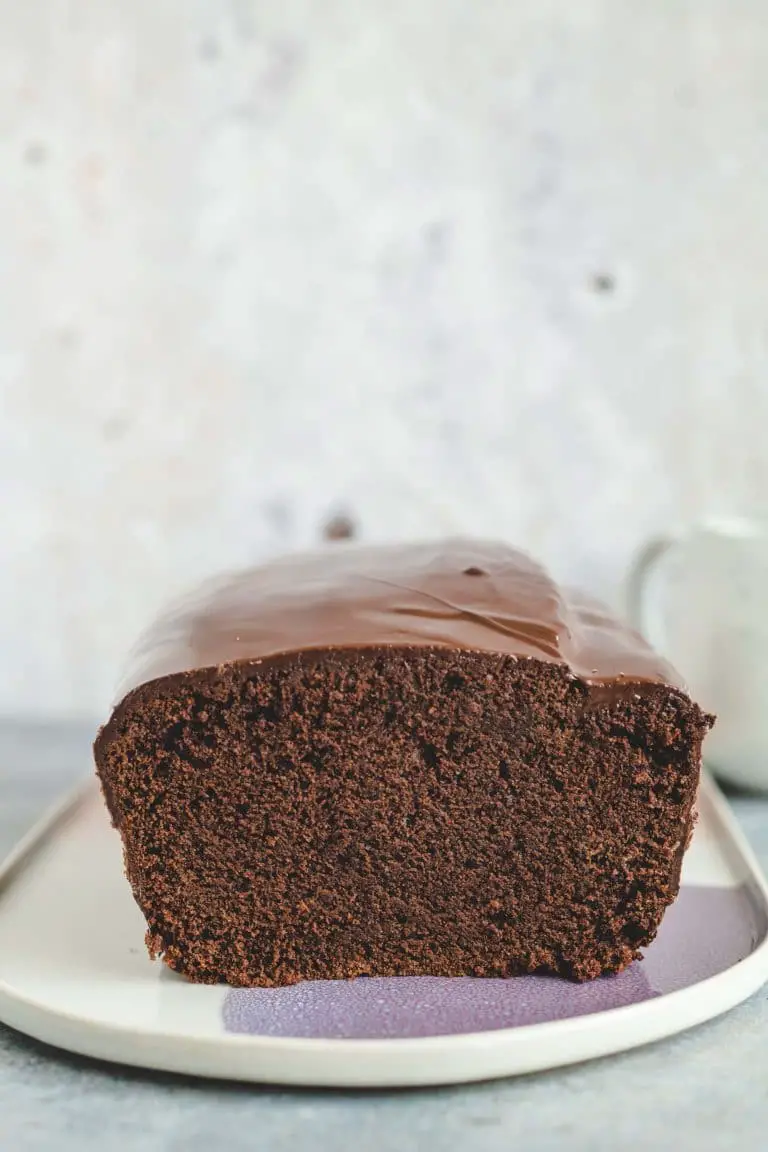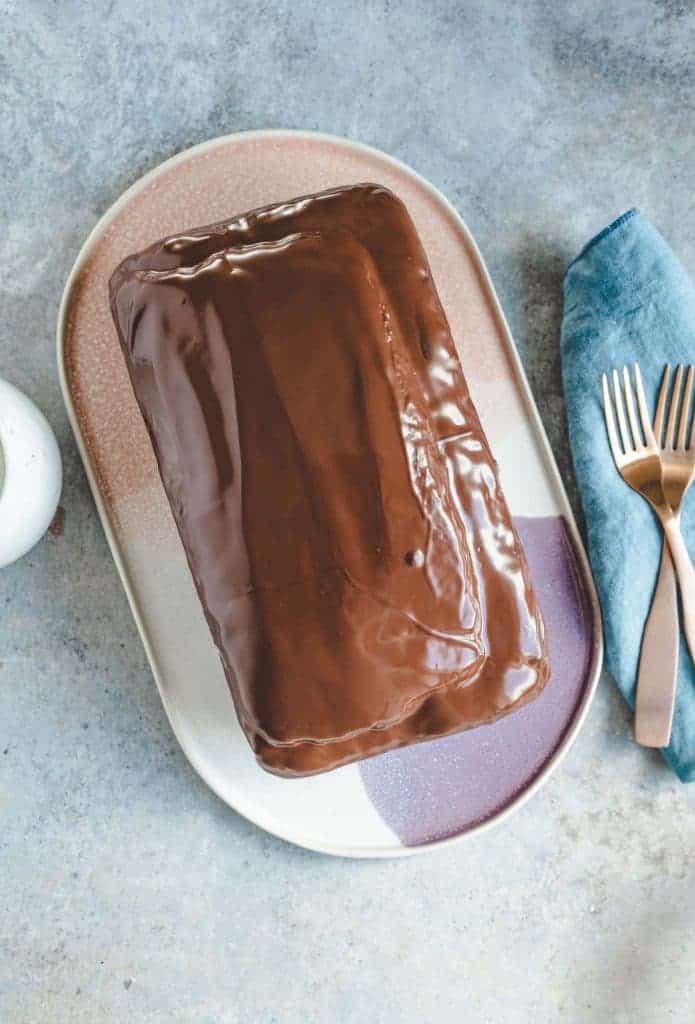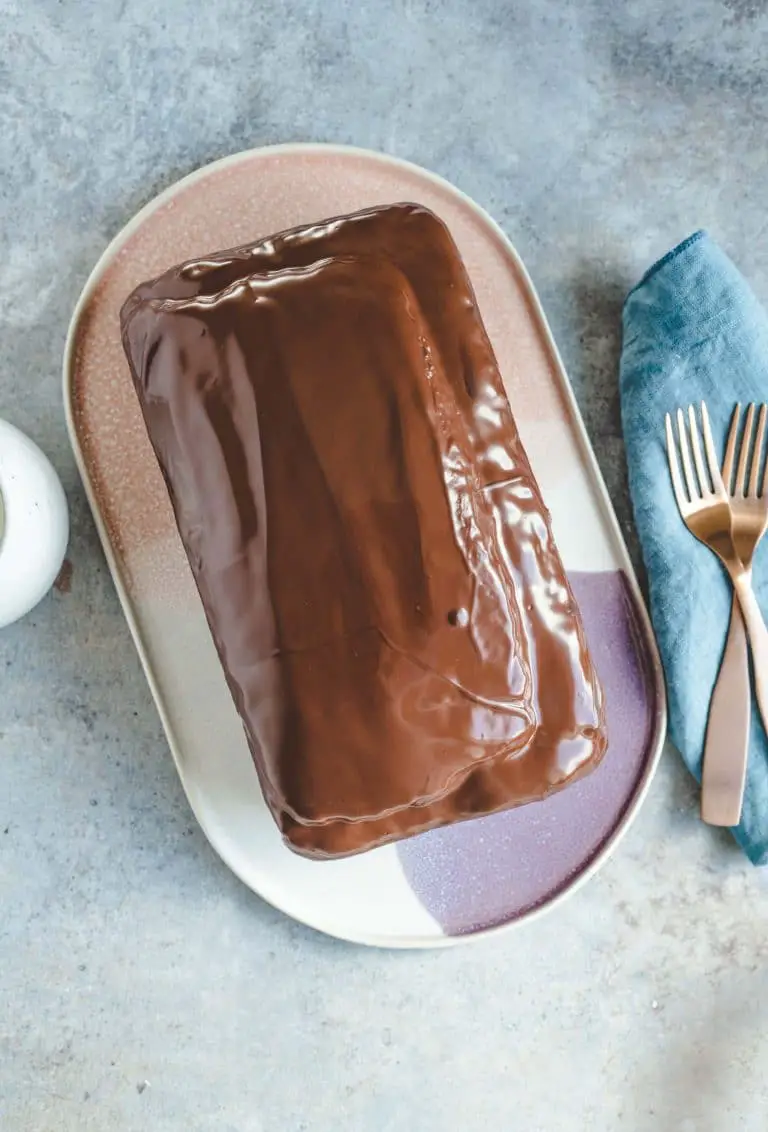 A small tip on the side on the subject of gluten-free nutrition is a documentary from Arte, which I saw yesterday and found extremely exciting. Here you come directly to the contribution.
Let's get back to our classic chocolate cake. I bake it in a loaf pan, but you can bake it in a springform pan if you like. Quantity wise, I would use a 24cm diameter springform pan. The next step is also to go into the oven. The dough should rise well and be a joy to watch.
After the allotted baking time is up, I always do another chopstick test to see if the cake is really cooked through. This can save you from unpleasant surprises, because it's hard to tell from the outside what the cake looks like on the inside. The dough can also always behave differently depending on which flour was used. If the stick comes out dry, the cake is done. If some dough still sticks to it, then you should extend the baking time by another 15 minutes and check again.
TIP: I never rely on the baking time alone, but always do an additional stick test. This way I can make sure that the cake is really baked through.
Vegan baking quick and easy
Meanwhile, you can already find a wide selection of chocolatey temptations on veganevibes.de. Starting with the blackberry chocolate cake, vegan cherry chocolate cake, Swiss walnut chocolate cake, world's best cupcakes with chocolate frosting or the chocolate cake.
Let's get started with this fine chocolate cake. I hope you enjoy baking and of course about a review at the bottom of this page. If you post a picture, use the hashtag #veganevibes.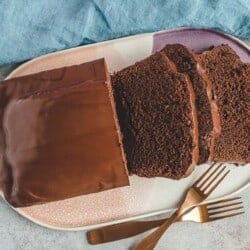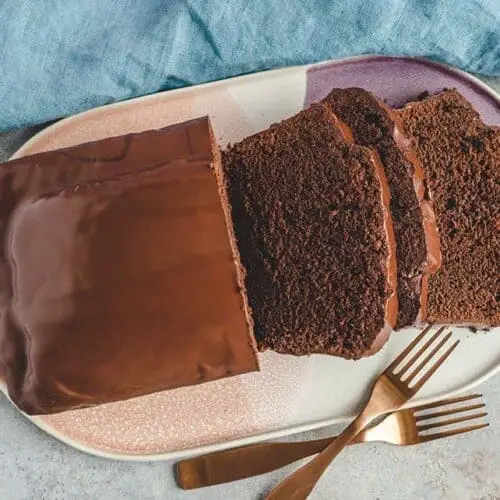 Vegan chocolate cake
Simple, moist, vegan chocolate cake, covered with dark, vegan chocolate. Easy and quick to make, fluffy and moist inside, crunchy outside thanks to the chocolate coating. Perfect for the next coffee party. Vegan, gluten free option.
AUTOR: VEGANEVIBES
Anleitung 
Carefully melt the vegan chocolate for the dough over a water bath and set aside.

150 g dark vegan chocolate

Preheat the oven to 180 degrees (convection) or 200 degrees (top-bottom heat) and grease a loaf pan (30cm) with a little oil and dust with flour (optional).

FOR THE CAKE Place flour, raw cane sugar, cocoa powder, baking powder, bourbon vanilla and salt in a bowl and stir vigorously with a whisk until larger lumps have dissolved.

300 g Spelt flour type630 or another flour of your choice,

250 g Raw cane sugar,

50 g Cocoa powder,

2 tbspn Baking powder,

¼ tbspn Bourbon vanilla ground,

A pinch of salt

Then add oat milk, oil, apple pulp and melted chocolate (100g) and continue stirring until a uniform dough is formed.

350 ml Plant milk,

125 ml Frying and baking oil,

30 g Apple pulp,

100 g dark vegan chocolate

ALTERNATIVE: Put all ingredients in a high-powered blender, liquid ingredients first! (e.g. Blendtec) and process with the dough program to a homogeneous dough.

The dough should be neither too solid nor too liquid and should be easy to transfer to the baking pan. If too firm, add a little more almond milk, if too runny, add a little more flour. The strength may vary from one type of flour to another.

Place in the oven, bake for

60 minutes

and test with a wooden stick to see if the cake is done. When the wooden stick comes out clean, then the cake is ready. Remove from oven, let cool slightly, and transfer to a cooling rack to cool completely (preferably at least an hour).

In the meantime, melt chocolate (150g) for coating over a water bath and coat cake evenly with it.

150 g dark vegan chocolate

Cut into pieces, optionally garnish with vegan cream and enjoy.

Keeps up to 3 days in an airtight container at room temperature, in the refrigerator up to 5 days.
Nährwertangaben
Serving:
1
Piece
Calories:
297
kcal
Carbohydrates:
43
g
Protein:
5
g
Fat:
12
g
Saturated Fat:
9
g
Sodium:
35
mg
Potassium:
113
mg
Fiber:
5
g
Sugar:
22
g
Vitamin A:
115
IU
Vitamin C:
2
mg
Calcium:
59
mg
Iron:
2
mg