Healthy butter fingers because I am addicted to chocolate. You could of course think about it and do something about the chocolate addiction, however, it's not like I'm getting withdrawal symptoms yet. Therefore, I continue to pursue my "mild" addiction and am pleased with this new creation. Whole grain puffed rice and maple syrup becomes a delicious filling that is healthy and leaves you wanting more.
Healthy Butterfinger candy bar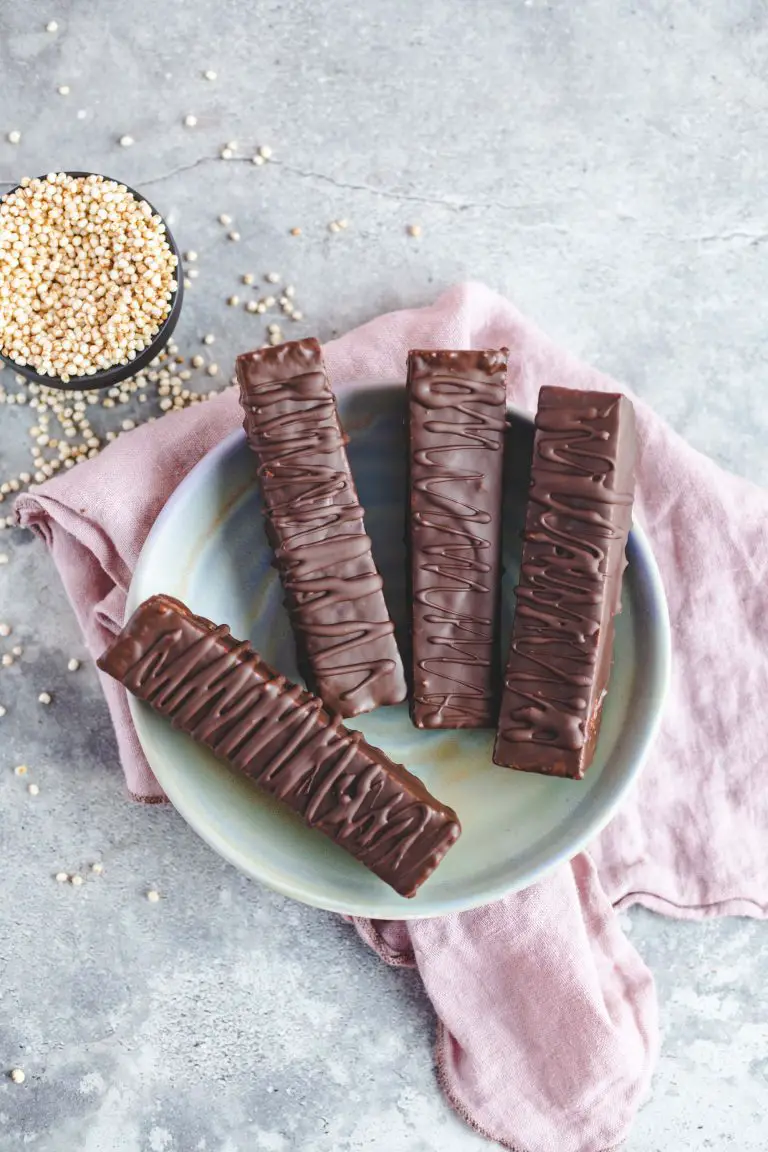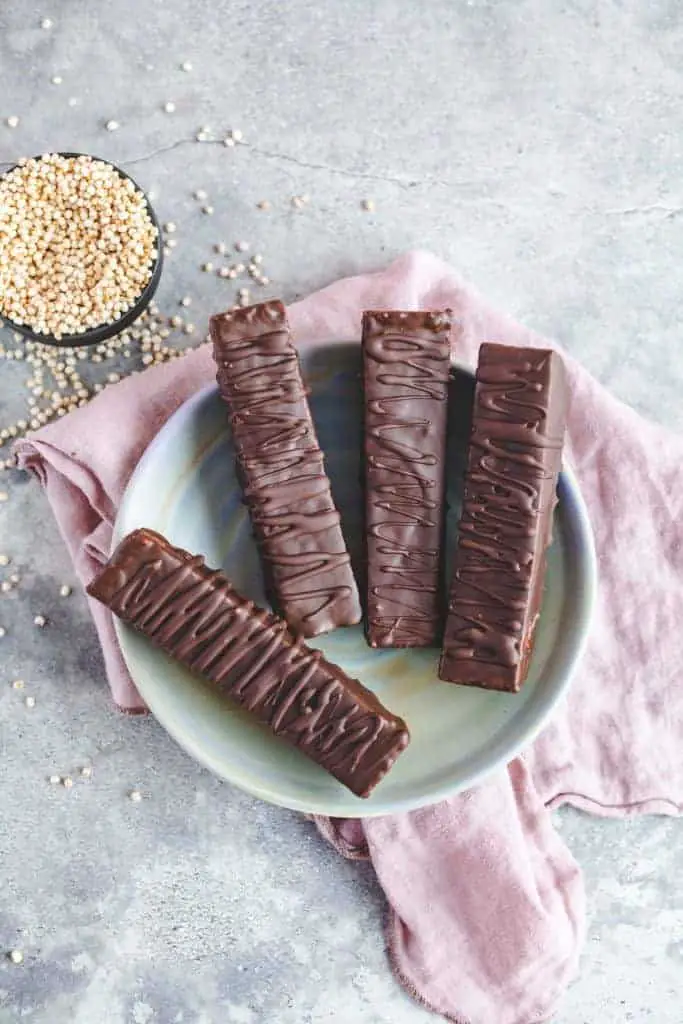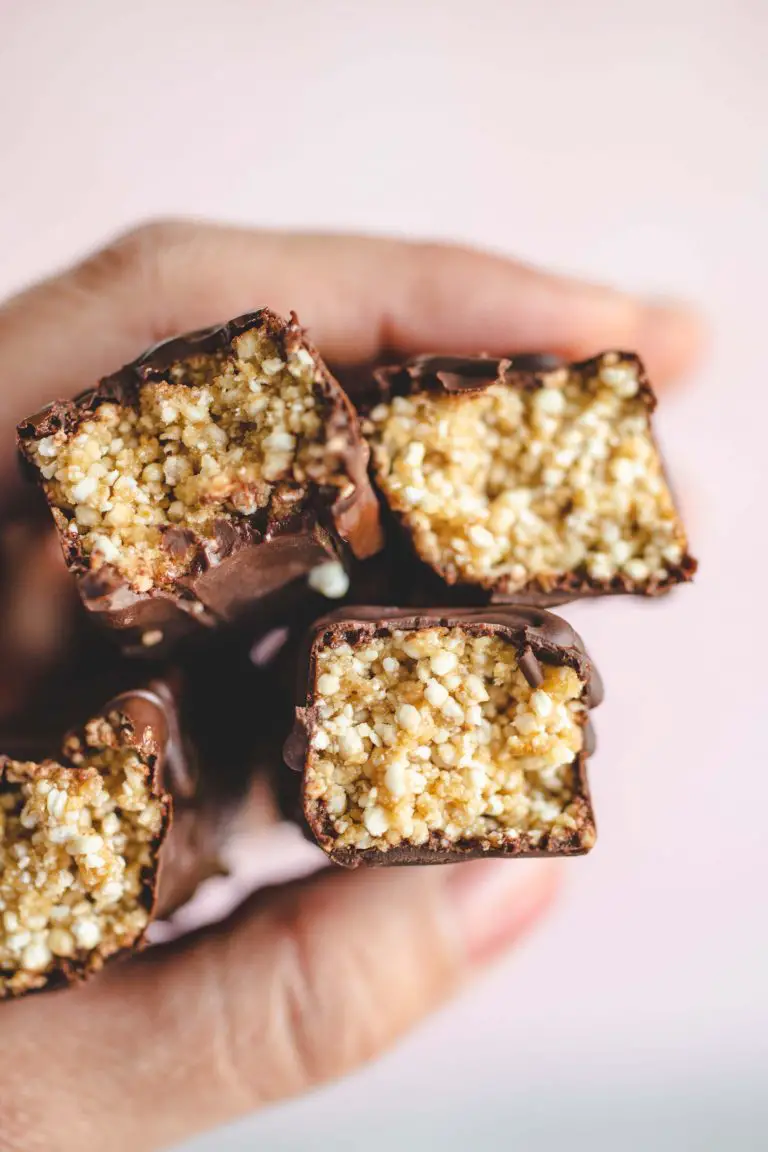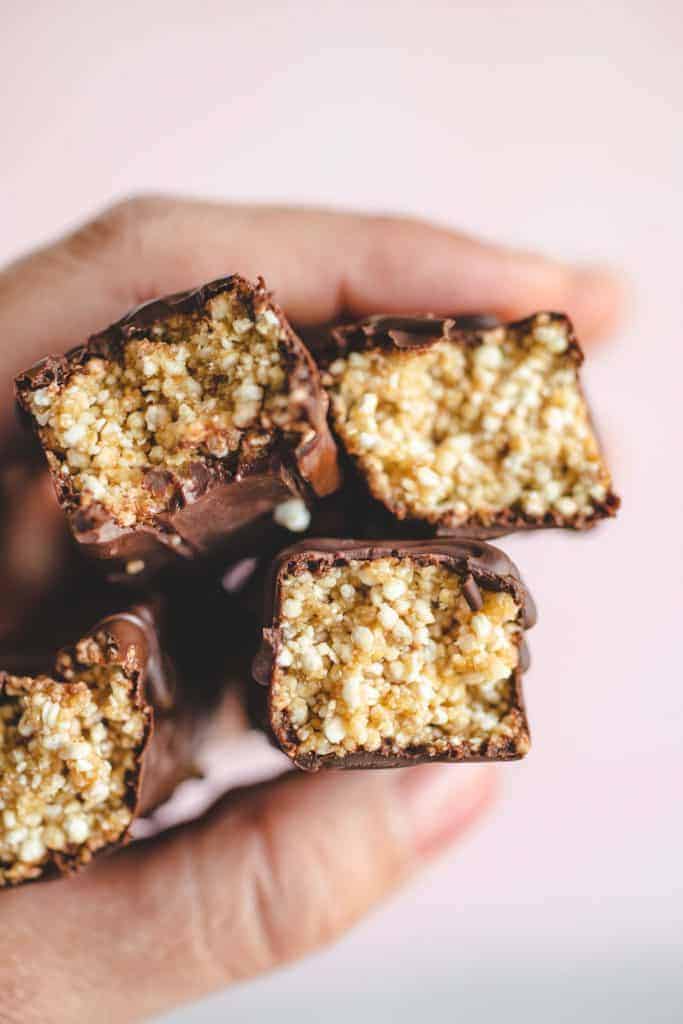 I love it quick and easy and that absolutely applies to this recipe. Few ingredients meet maximum flavor. The puffed rice goes into my Magimix and I watch it get ground finer and finer. However, not quite fine, because after all we still want to have a nice crisp. Mixing, however, makes it easier to work the cereal pops together with the maple syrup. Add said maple syrup and nut puree and continue to mix vigorously until a kneadable mass is formed.
We now press this "dough" into a king cake mold until everything is completely flat and compact. Put it in the freezer or refrigerator and start melting the chocolate. Now the little beauties are also immediately coated with the dark Schoki and ready are the healthy, vegan Butterfingers.
Vegan butter fingers without butter? Yes!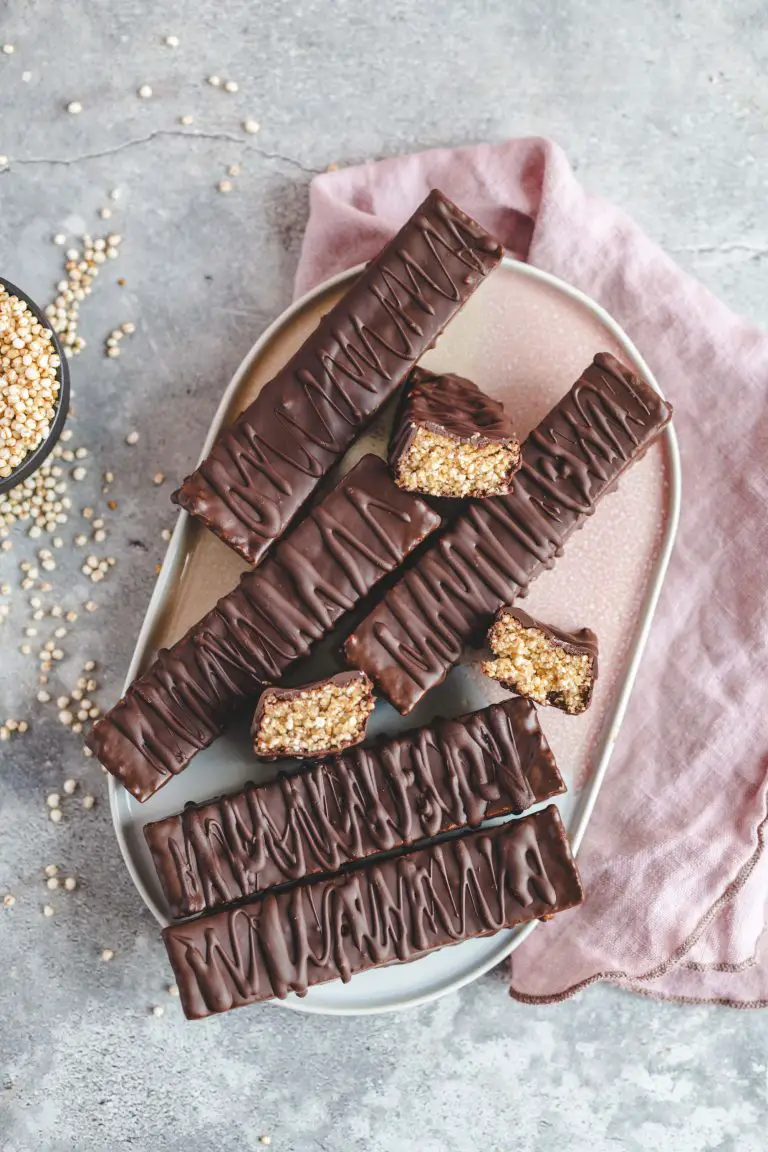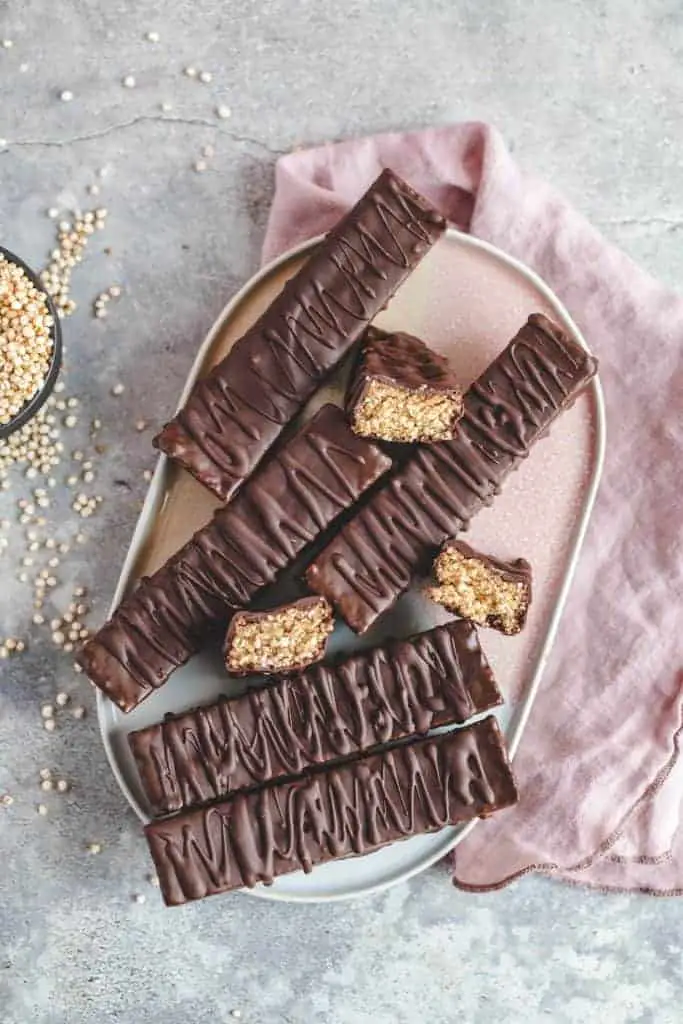 In the mood for some different chocolate fun today? Then I recommend you the following recipes:
Vegan chocolate bar, oil free and gluten free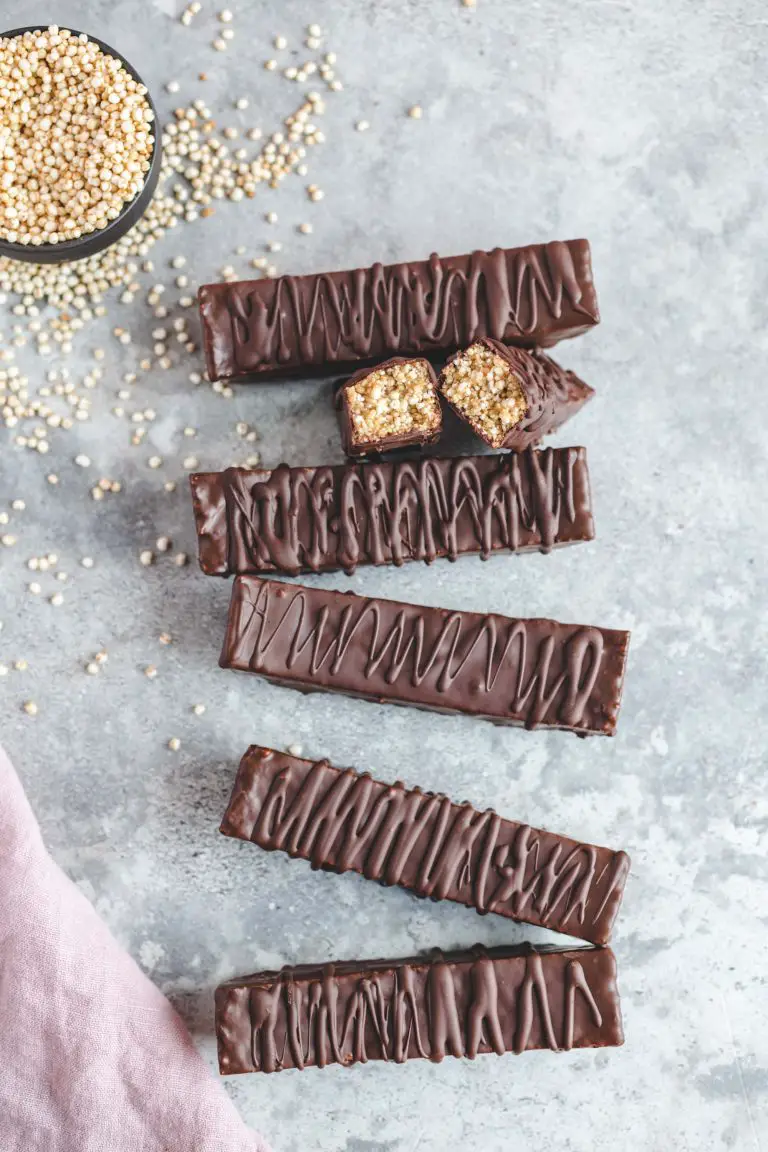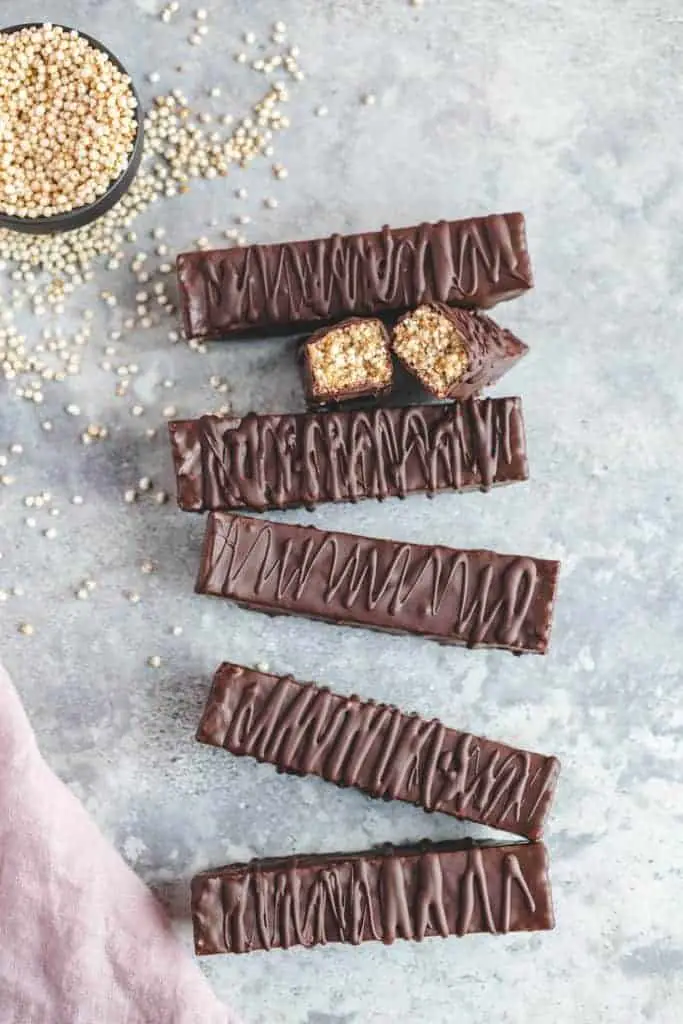 Chocolatey-grainy, Butterfingers pair perfectly with a vegan latte, golden milk, or espresso.
The vegan butter fingers are:
chocolatey
Full of healthy micronutrients
Naturally sweetened
Oil-free
Let's get started with these crunchy-sweet bars. I wish you a lot of fun baking and of course a review at the bottom of this page. If you post a picture, use the hashtag #veganevibes.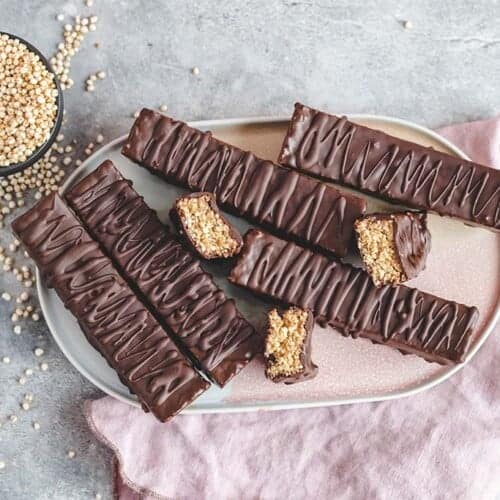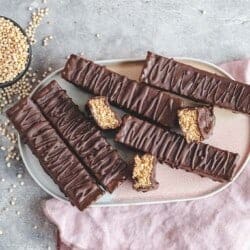 Vegan butter fingers (5 ingredients) öf + gf
Delicious, chewy and chocolatey vegan Butterfingers for the chocolate craving in between, vegan, oil-free and naturally sweetened. The perfect healthy snack for the whole family.
AUTOR: VEGANEVIBES
Anleitung 
Line king cake pan (or similar sized pan) with baking paper. Set aside.

Place puffed rice in a blender and blend on high speed for 1-2 minutes until slightly combined.

Add nutmeal, maple syrup, salt and (optional) shredded coconut and continue blending until a malleable mixture is formed.

180 g Nut puree,

100 ml maple syrup,

1 Pinch of salt,

30 g Coconut shavings

Press into king cake pan until dough is even and smooth.

Place in the freezer for

30 minutes

.

In the meantime, melt the chocolate.

180 g dark vegan chocolate

Remove Butterfingers from freezer and cut into 10 equal-sized bars with a knife.

Coat individually with the chocolate and place on a draining rack. Repeat until all bars are coated.

180 g dark vegan chocolate

Wait until the chocolate has set and enjoy!

Place remaining slices in a resealable box and store in refrigerator or freezer. In the refrigerator they last about 1 week, in the freezer up to 4 weeks.
Nährwertangaben
Serving:
1
Piece
Calories:
200
kcal
Carbohydrates:
18
g
Protein:
4
g
Fat:
13
g
Saturated Fat:
3
g
Sodium:
2
mg
Potassium:
167
mg
Fiber:
2
g
Sugar:
7
g
Vitamin A:
1
IU
Calcium:
74
mg
Iron:
3
mg