Do you love Chocolate pudding as much as I do? It's just a thing that always reminds me of my childhood and I get in a good mood just thinking about it. When I was a kid, I was always allowed to take the leftovers from the Pot nibble. How I loved it when the Pudding was already firm but still warm. Pudding make is actually not so hard and with the right ingredients it becomes totally creamy, incredibly chocolaty and simply irresistible. Are you ready for the creamiest, most delicious chocolate pudding ever? Then let's get started.
Creamy vegan chocolate pudding, the best news ever!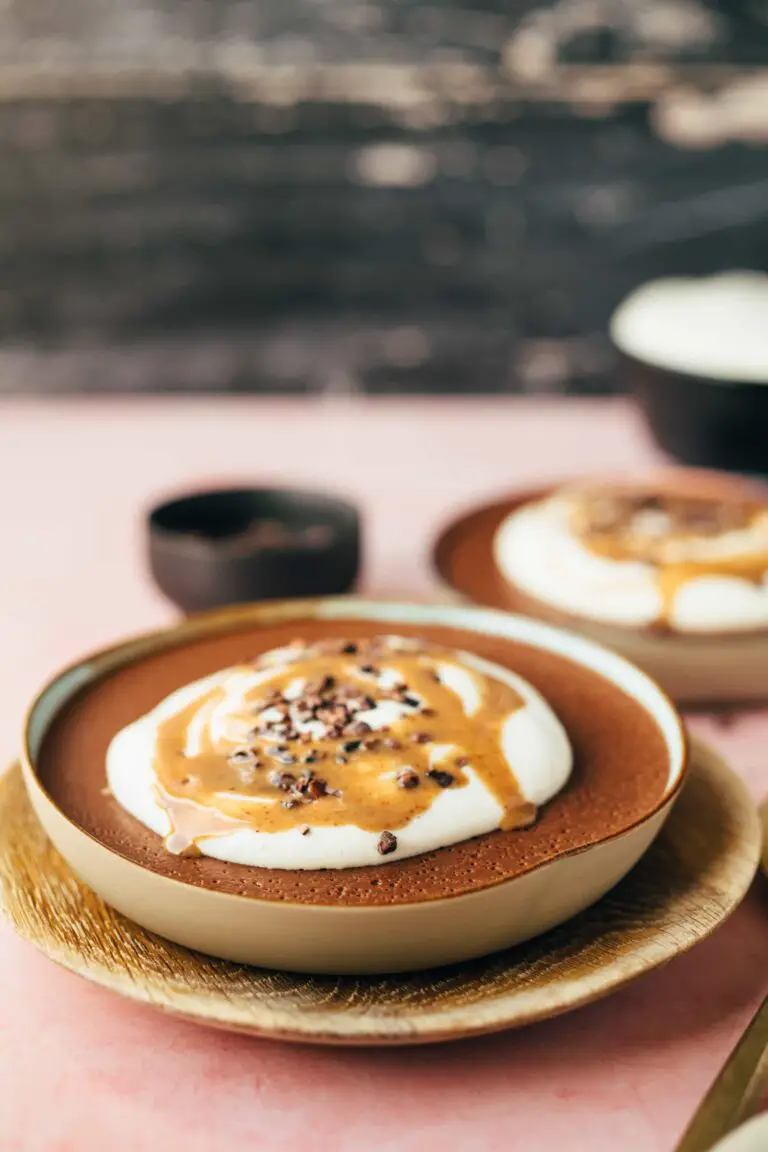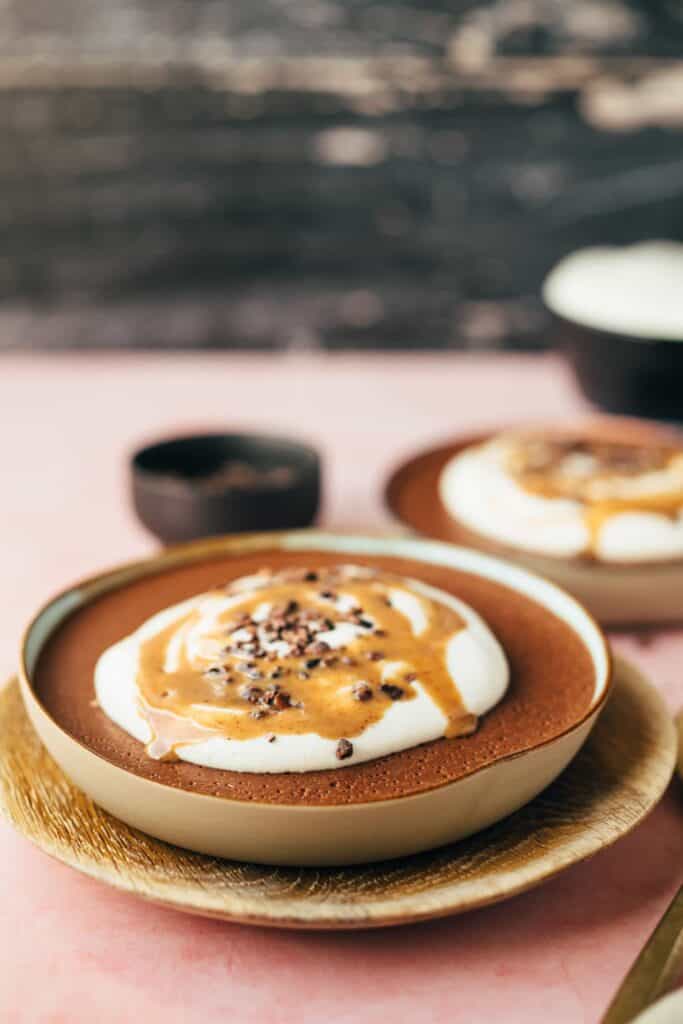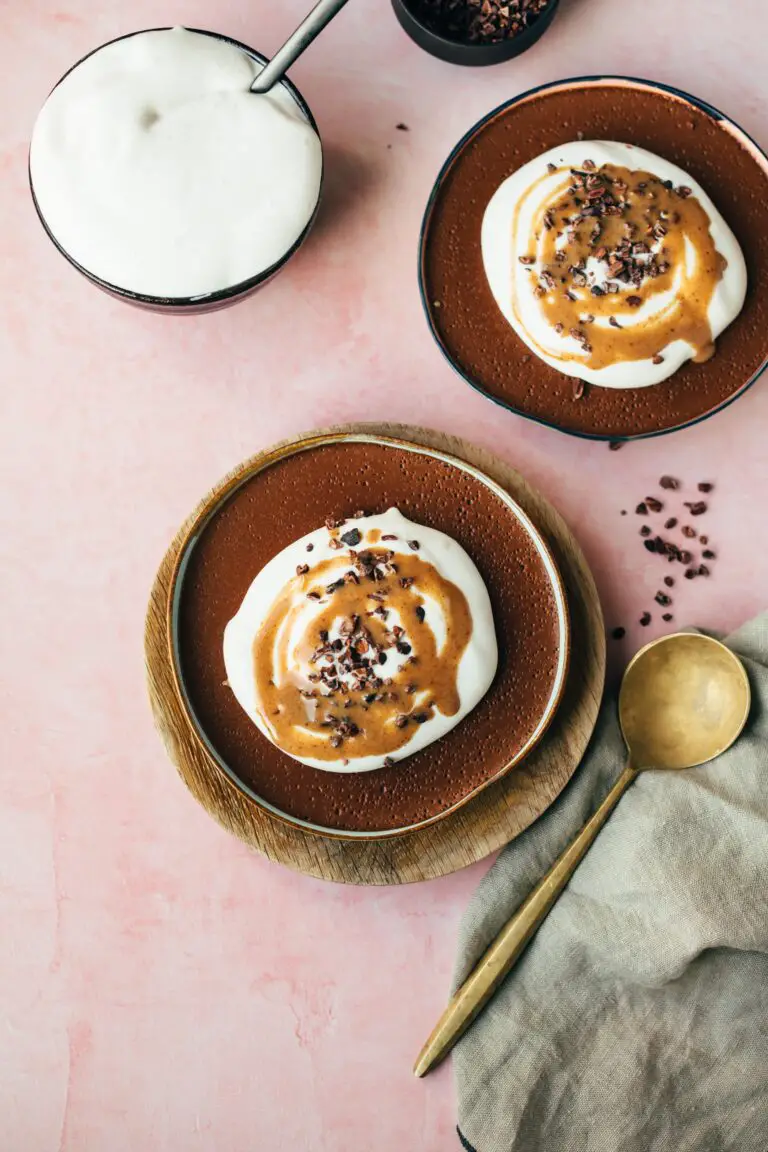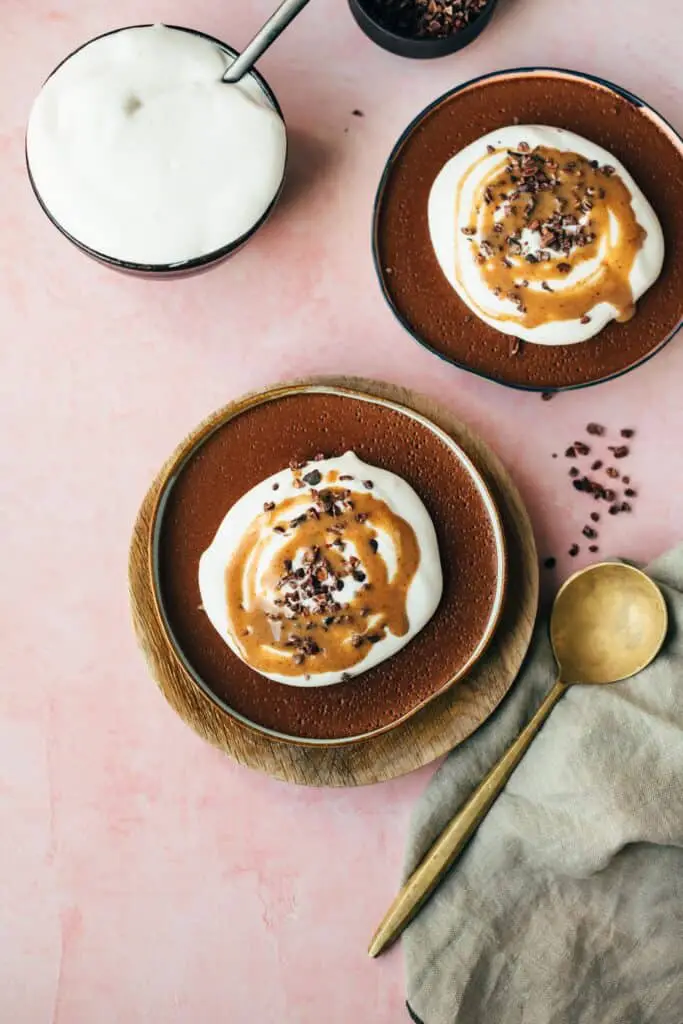 The ingredient list is short and straightforward, to be more precise today we need 8 ingredients and a good blender. Oat milk Cocoa powder, cornstarch, cashews, maple syrup, Medjool dates, vanilla and a pinch of salt. The soaked cashews provide a wonderful creaminess that you can't get with just oat milk, unfortunately. Oat milk is really a great plant-based milk alternative and also tastes great in muesli. Unfortunately, it lacks the necessary fat content for puddings. That's why I combine them with soaked cashews in this case, it makes for a great creamy texture. Here are my TOP 3 plant-based milks for making pudding:
Cashew milk
Soy milk or soy vanilla
Make vegan pudding yourself? No problem.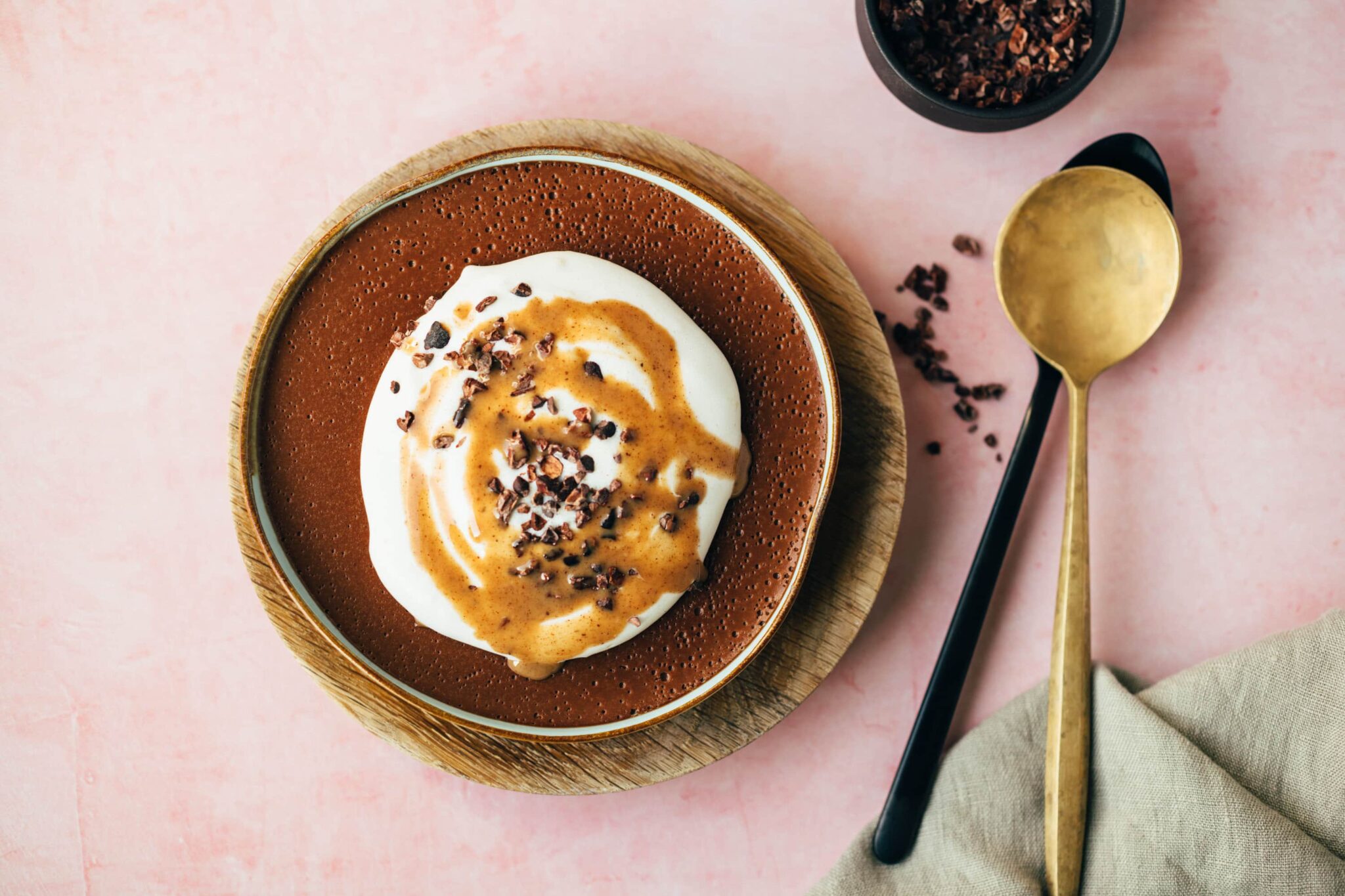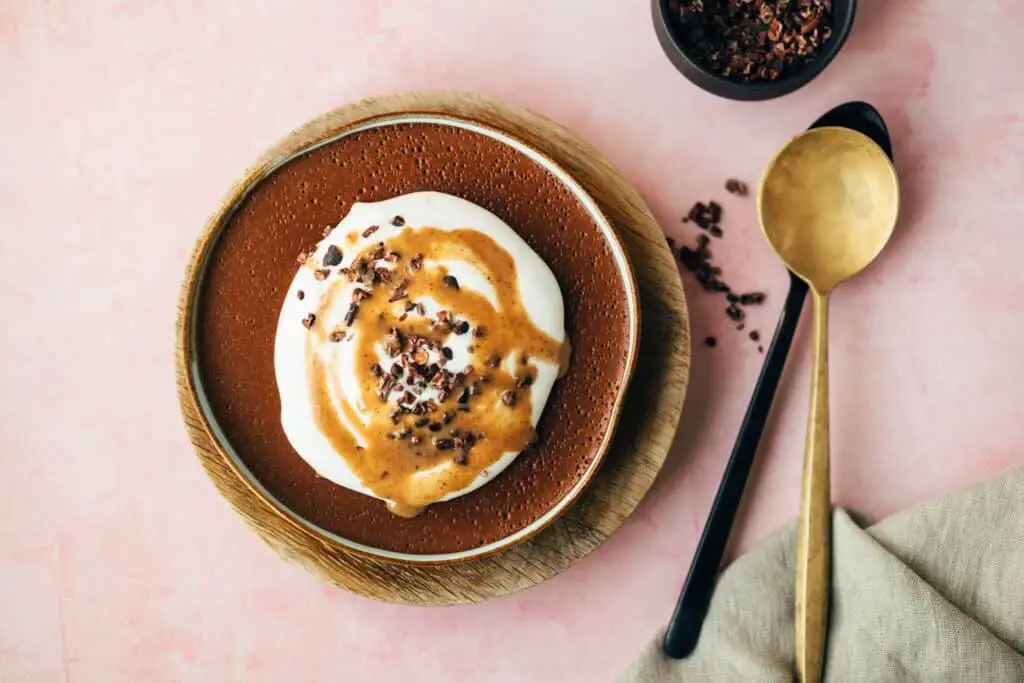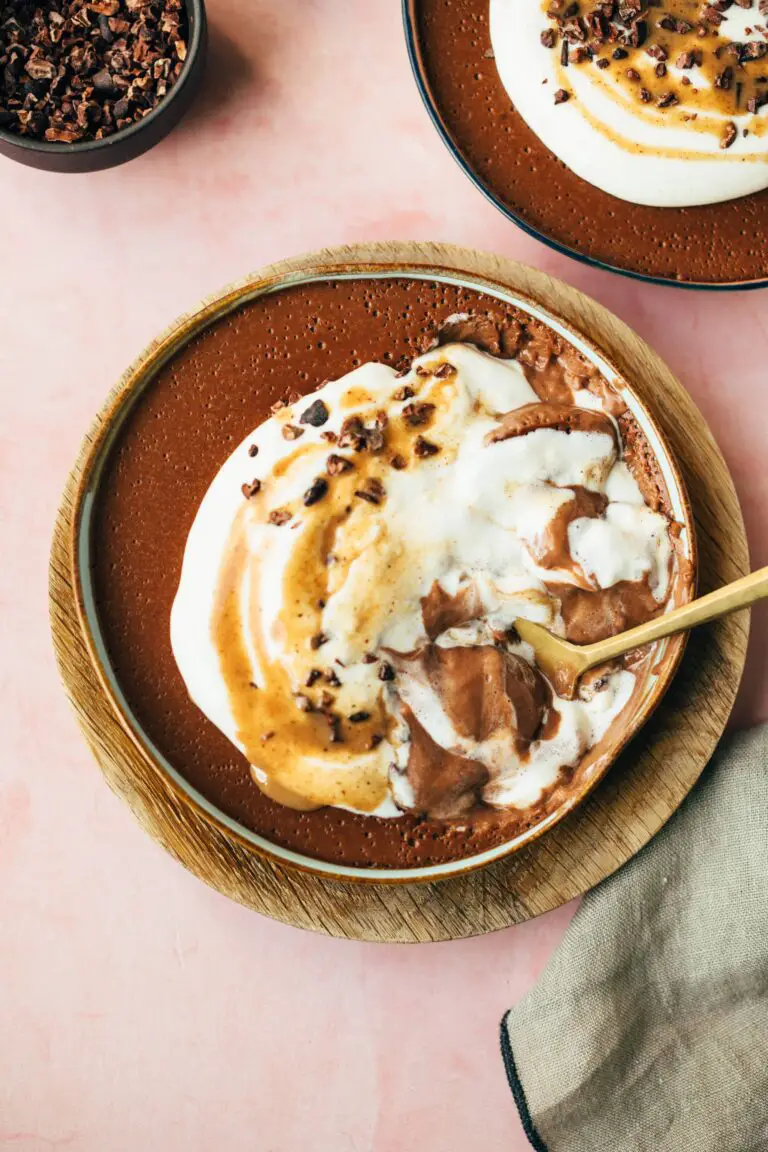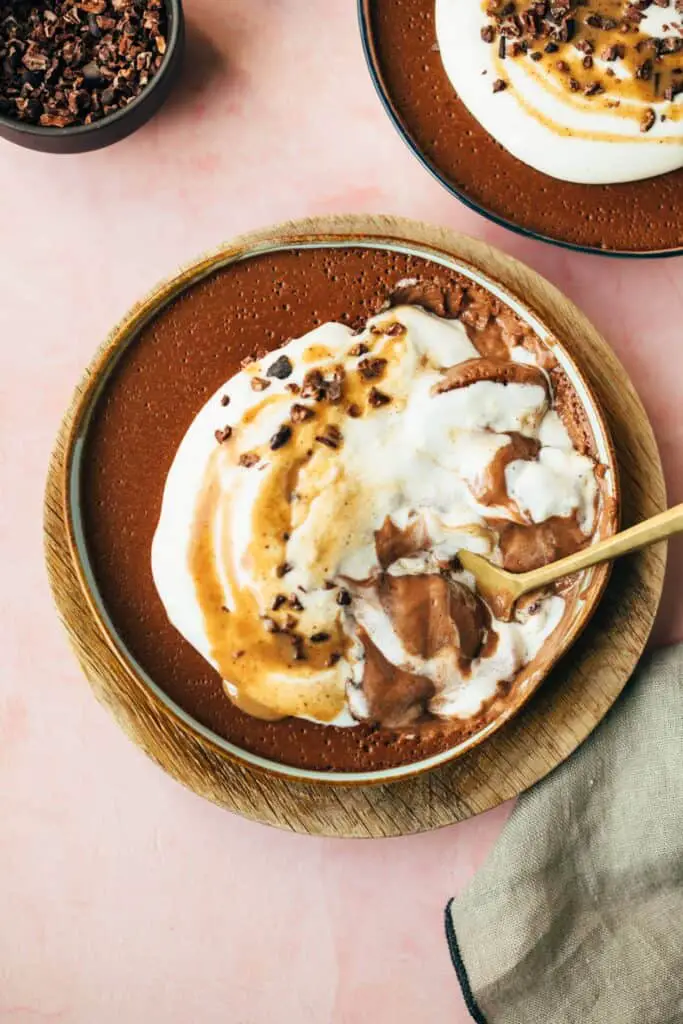 You know what I really find amusing? When I look at such a bag for ready-made chocolate pudding look at. There are exactly three things in it: Cornstarch, cocoa and a Additive that no one needs. So why not just pudding itself make? With few ingredients and completely without additives.
Here are a few more tips to make sure the pudding turns out really well:
Heat: Be careful when boiling down! Do not let it get too hot and stir constantly so that nothing burns. Especially if cashews are used, it can burn even faster. Keep patience and work slower rather than burn the pudding.
Starch: Always mix with a liquid first and never process undiluted. Starch forms lumps very quickly and who wants that in their pudding?
Cool: Allow time for the pudding to cool really well. If you like your pudding lukewarm, no problem, though I like to let it set for a few hours at room temperature. This is how it tastes best to me personally.
What else goes with our vegan pudding? Of course, it always goes very well as Dessert to any Main course . For those who like a different flavor, I recommend my vegan caramel pudding.
The super creamy chocolate pudding is:
chocolatey
creamy
Natural sweetened
Few ingredients
Simply made
You love chocolates Pudding just like me? Then I look forward to a review at the bottom of this page. If you post a picture, then like to use the hashtag #veganevibes.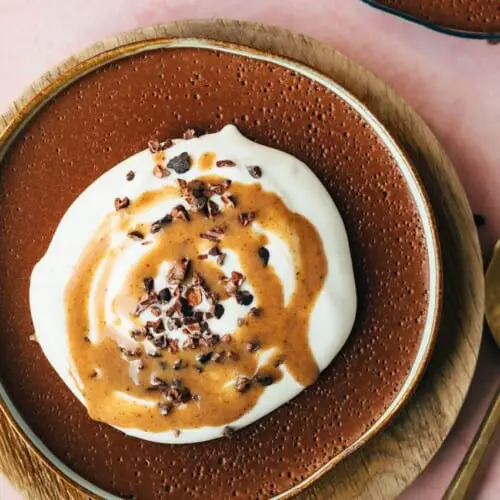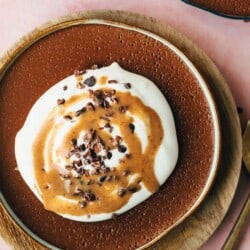 Super creamy chocolate pudding
Incredibly creamy vegan chocolate pudding with cashews, naturally sweetened, vegan, lactose-free topped with fine vegetable cream.
AUTOR: VEGANEVIBES
TOPPING:
Soy cream

beaten with 1/2 tsp xanthan gum until stiff
Anleitung 
Soak cashews in hot water for one hour.

After the soaking time, strain and add to a high-powered blender along with the oat milk, cornstarch, cocoa powder, maple syrup, dates, bourbon vanilla, and salt and blend for at least 60 seconds to a fine liquid.

75 g Cashews,

500 ml Oat milk,

40 g Cornstarch,

22 g Cocoa powder,

45 ml maple syrup,

3 Medjool dates,

½ tbspn Bourbon vanilla,

A pinch of salt,

Optional for a Christmas flavor 1 tsp cinnamon

Place in a saucepan and bring to a boil over medium heat, stirring constantly. Bring to a boil once and cook for another 3 minutes until the starch thickens the pudding.

Remove from heat and pour into 3-4 dessert glasses and let cool completely.

Optional: garnish with soy cream and cocoa nibs.

Soy cream,

Or coconut cream,

Cocoa nibs

Store leftovers in an airtight container in the refrigerator for up to 3 days.
Nährwertangaben
Serving:
1
Portion
Calories:
312
kcal
Carbohydrates:
53
g
Protein:
6
g
Fat:
10
g
Saturated Fat:
2
g
Sodium:
111
mg
Potassium:
337
mg
Fiber:
3
g
Sugar:
33
g
Vitamin A:
287
IU
Calcium:
218
mg
Iron:
2
mg