Lamingtons my dears, or a little Aussie Vibes here in springtime Germany. Have you ever been to Australia? I certainly haven't yet, or maybe I have? With your finger on the map definitely. The saying is old, I know. The Lamingtons I discovered quite by chance on the Internet and thought to myself, you must also be able to make in vegan. No sooner said than done, I researched, tried and had to accept a few losses in this experiment this time. The dough just didn't want to go the way I wanted. Since giving up is not an option for me, I just kept going and eventually this incredibly delicious lamingtons came out. With homemade Chia jams filling and lots of coconut. I can only recommend it to you.
Lamingtons, vegan and outrageously delicious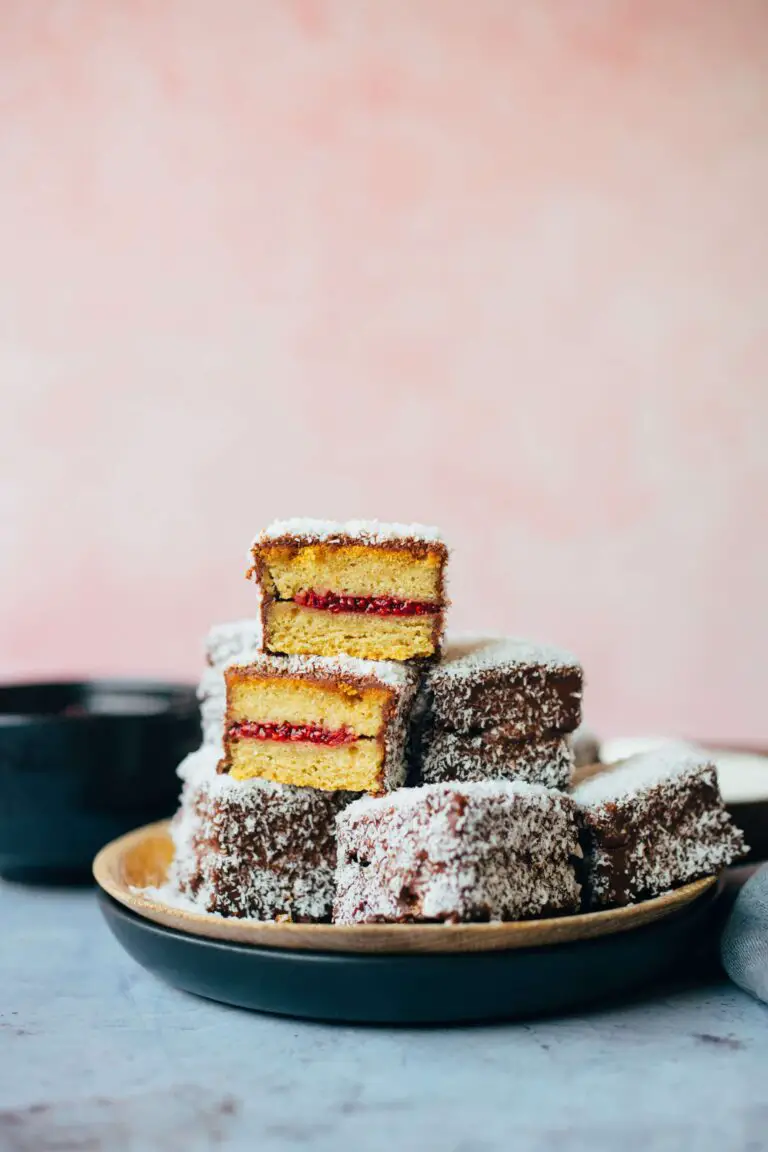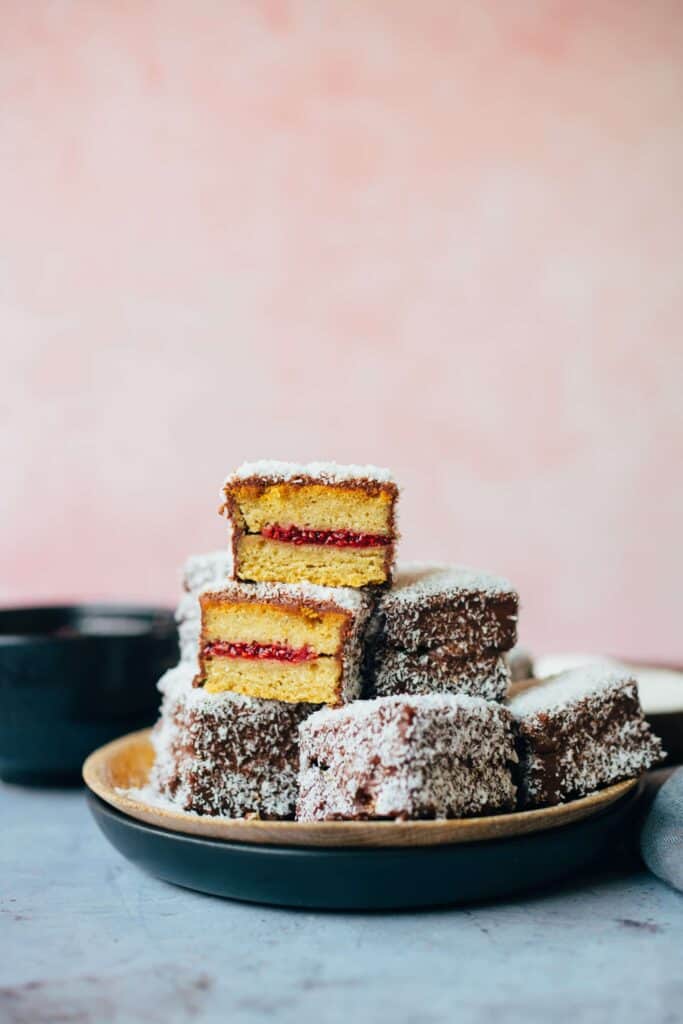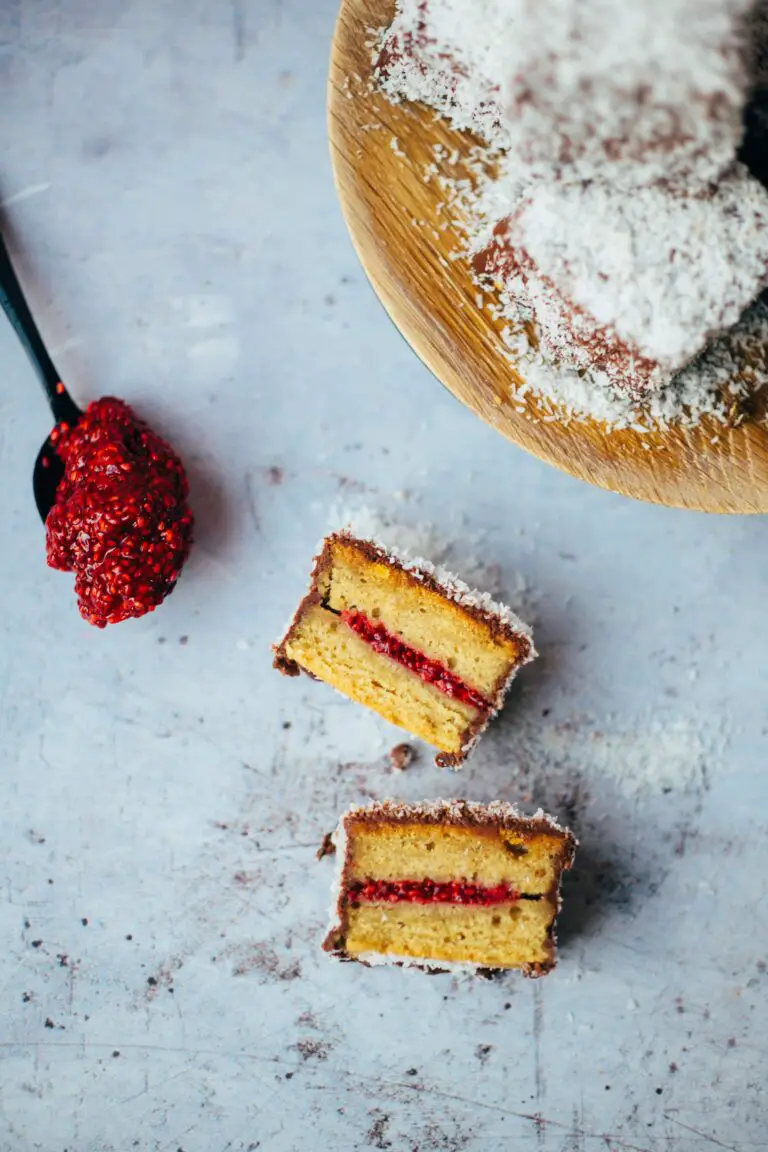 It does take a bit of work to assemble this outrageously delicious "pastry" . But I can promise you that the effort will be worth it and every bite into the little beauties will reward you.
The base consists of a simple Sponge cake which this time is not baked in the king cake pan, but in a square one. Brownie mold baked. I have a not quite square shape, but that is not a problem either. Since I still Raspberries I had at home, I immediately made a portion of my beloved Chia jam and filled the Lamingtons with it.
The big challenge with this Recipe is the coating with chocolate. This is first melted and then diluted again. This made processing easier. I use cocoa butter for this, but coconut oil also works. Then simply lift each small pastry with a fork and generously coat with chocolate. Place on a draining rack and let stand there for a short time until the chocolate becomes a little firmer. Attach coconut shavings on all sides and the little sweet sins are ready.
TIP: I like to store them in the refrigerator, then the shell is especially crisp.
Lamingtons meets Cupavci or Australia meets Balkans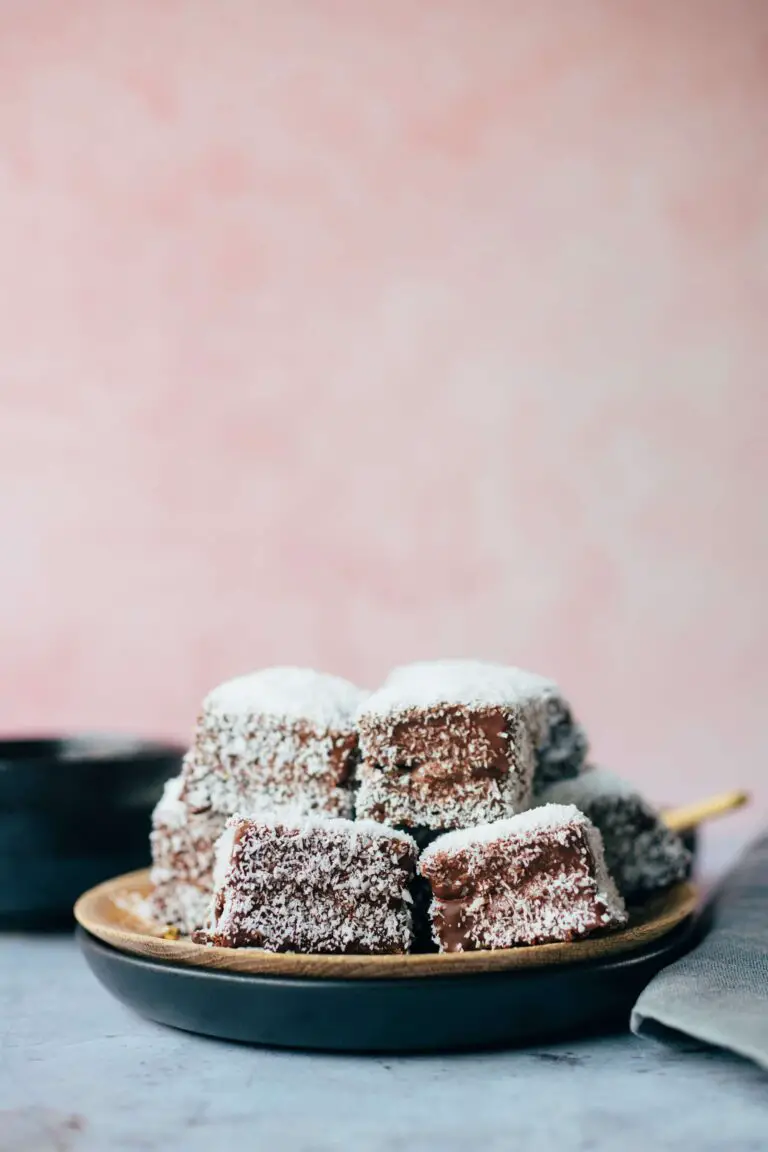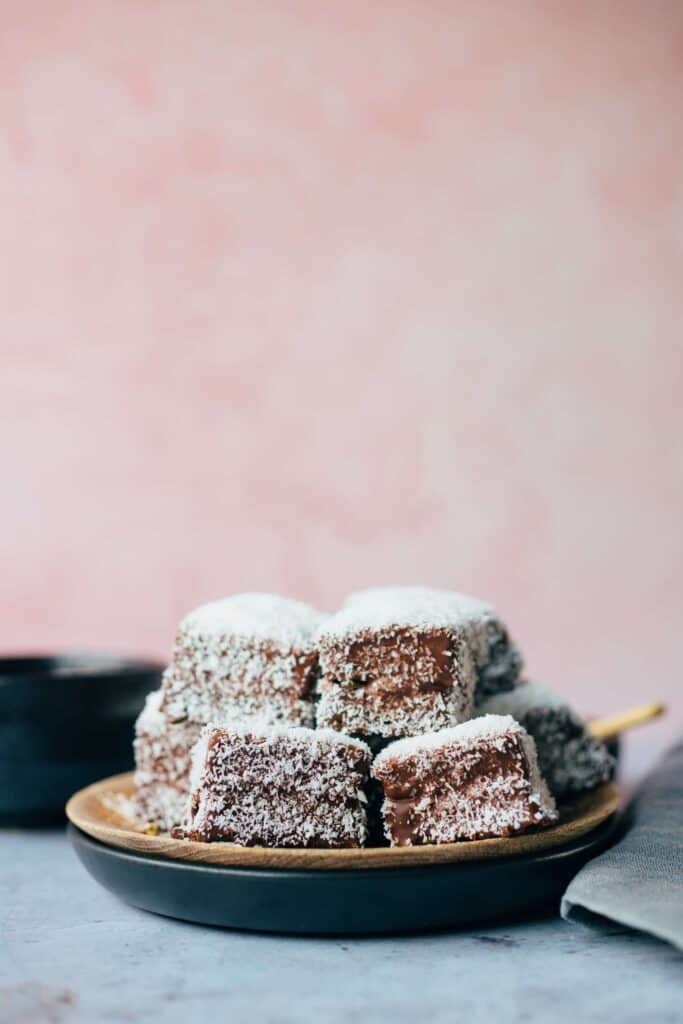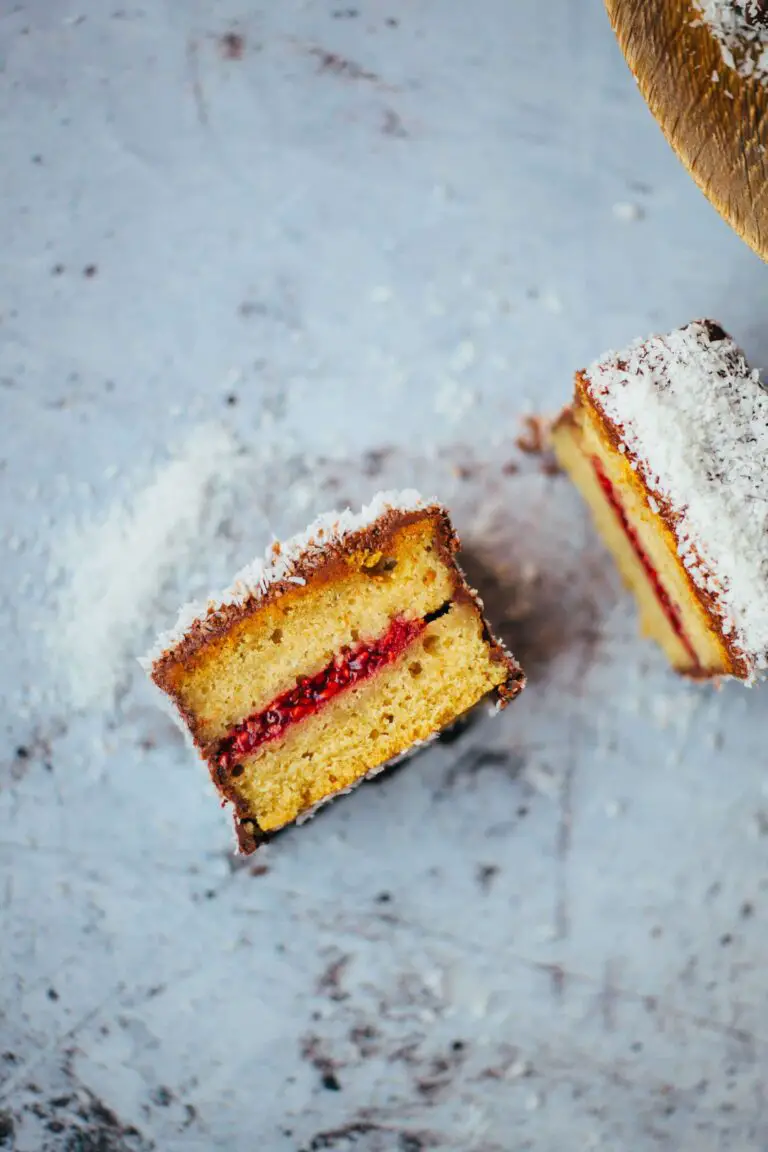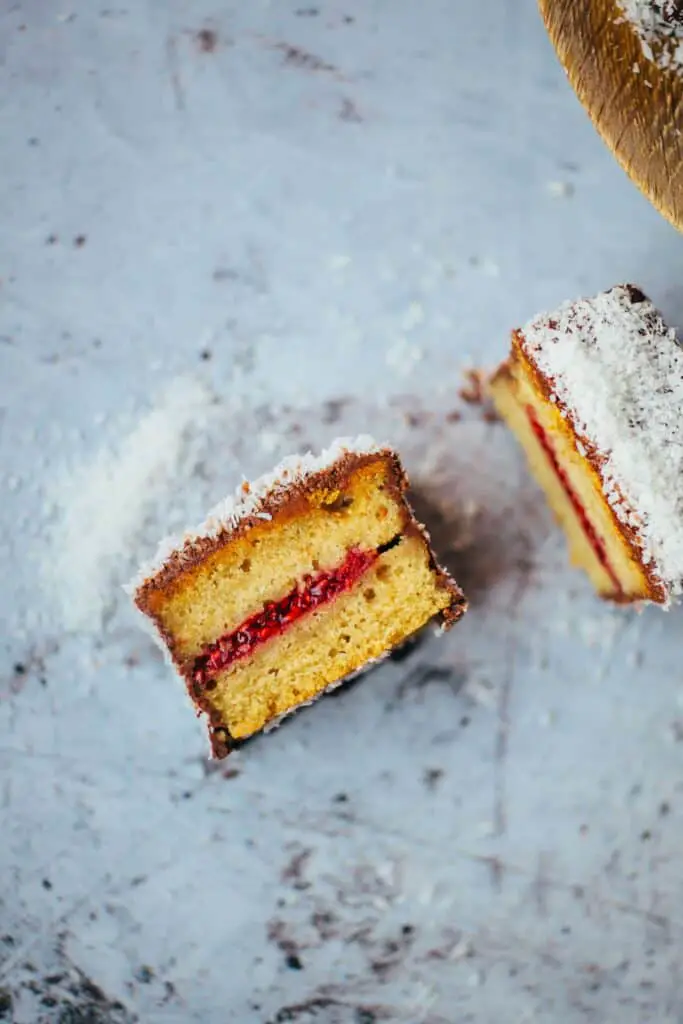 What are the pitfalls in making the recipe? I have compiled the most important points for you:
For the gluten-free version, simply use my Gluten free flour mix and add ½ tsp xanthan gum.
Cake base do not bake too long, otherwise it will be slightly dry. Test the sticks and if ready, remove from the oven quickly
The size of the Lamington's I like them "mini", but you can also make them twice as big and only make 12 pieces.
The Dilute chocolate necessarily otherwise you will need more chocolate and the coating will not be as quick and easy.
The Attaching the coconut shavings is a bit tricky I like to wait until the chocolate is a little more solid and not quite liquid and then sprinkle the coconut shavings on the sides while rotating and lifting the base (sounds complicated, but I'm sure you can do it!).
If you don't feel like Lamingtons today, then I recommend you try my Bounty Bar , Chocolate bar or vegan Snickers bar .
I'd say get started with these yummy Sweets . I hope you enjoy baking and of course about a review at the bottom of this page. If you post a picture, use the hashtag #veganevibes.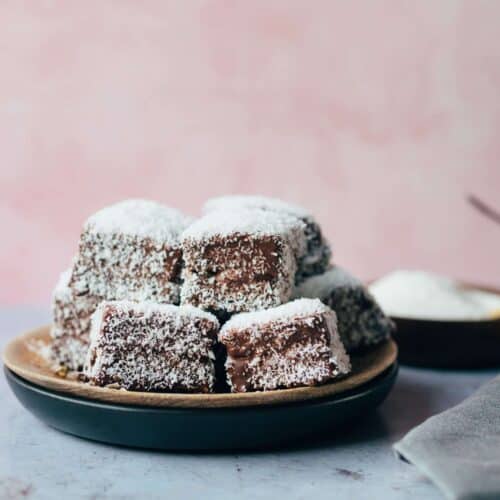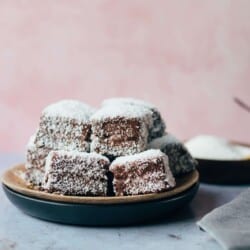 Lamingtons (vegan)
Super tasty lamingtons or cupavci (that's what they are called in the Balkans). Delicious dessert of fine sponge cake filled with raspberry jam, drenched in chocolate and decorated with coconut shavings. For snacking in between, as a dessert or healthier candy for the children's birthday party.
AUTOR: VEGANEVIBES
FOR THE FILLING
100

g

Chia jam with raspberries

or bought raspberry jam
Anleitung 
Preheat oven to 175 degrees and grease a brownie pan (23x23cm) a little and dust with flour (optional). Alternatively, line with baking paper.

Note: The dough can be prepared either by hand with a mixing bowl and whisk or with a mixer (see video). I use the dough program here.

FOR THE DOUGH Put almond milk, baking soda and apple cider vinegar in a mixing bowl and mix lightly. The liquid should now foam slightly.

250 ml Almond milk,

3,5 g Baking soda,

15 ml Apple cider vinegar

Add applesauce, raw cane sugar, cooking and baking oil, spelt flour or gluten-free flour blend, baking powder, bourbon vanilla and sea salt and stir with a wooden spoon or food processor until everything is combined into a smooth batter.

15 g Applesauce,

67 g Raw cane sugar,

60 ml Frying and baking oil,

235 g fine spelt flour type630,

15 g Cornstarch,

8 g Baking powder,

½ tbspn Bourbon vanilla ground or 1 tsp vanilla extract,

A pinch of sea salt

If the dough is too firm, add a little more almond milk, if too runny, add a little more flour. The strength may vary from one type of flour to another.

CAUTION : Do not stir too long, otherwise the driving force of the natron will be destroyed.

Pour the dough into the prepared loaf pan.

Put in the oven and bake for

30 minutes

.

Wooden stick test: Use a wooden stick to test if the cake is done. When the wooden stick comes out clean, then the cake is ready. Remove from the oven and allow to cool completely.

Now carefully melt chocolate over a water bath, dilute with cocoa butter or coconut oil. Set aside.

250 g vegan dark chocolate chips,

60 g Cocoa butter

Remove dough from mold and cut into 24 equal squares. Depending on your preference, you can make the lamingtons larger and cut only 12 squares.

Cut dough squares in half to make two halves, a top and a bottom.

Fill the bottom with 1-2 tsp of jam each and put the lid on.

100 g Chia jam with raspberries

Pour chocolate over the finished lamingtons and place on a draining rack.

Sprinkle all around with coconut flakes and let set. enjoy!

Store covered at room temperature for up to 5 days, keep frozen for a few weeks.
Nährwertangaben
Serving:
1
Piece
Calories:
181
kcal
Carbohydrates:
21
g
Protein:
3
g
Fat:
10
g
Saturated Fat:
6
g
Sodium:
57
mg
Potassium:
60
mg
Fiber:
3
g
Sugar:
10
g
Vitamin C:
1
mg
Calcium:
42
mg
Iron:
1
mg