Jackfruit Burger is actually already available on veganevibes, however, you can not compare the two variations. One is a "Pulled" version and today's recipe is a fine, compact patty. Firm to the bite, flavorful and even suitable for the grill. I think they are just mega good and could make some again right away. At the moment it's barbecue season anyway and you can never have enough vegan recipes for it. Personally, I find that a burger just always goes, and when wonderful roasted flavors come into play, I'm happy as a clam.
Simple Jackfruit Burger (grill friendly)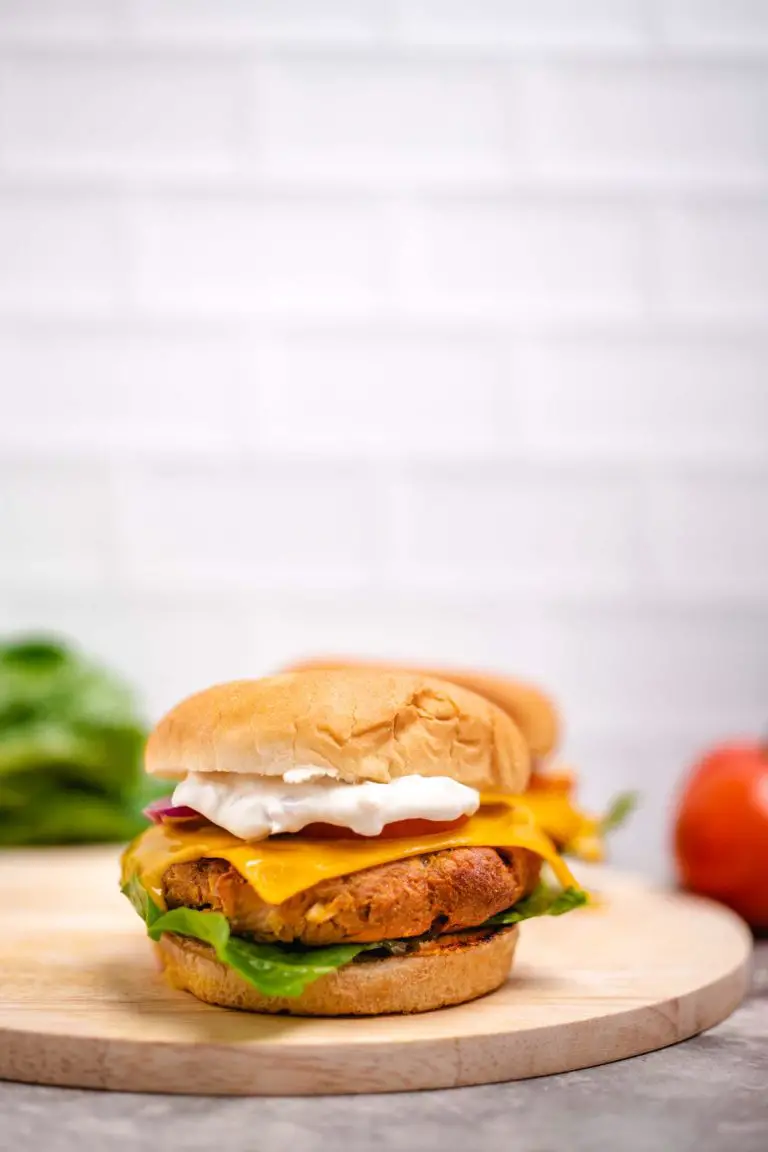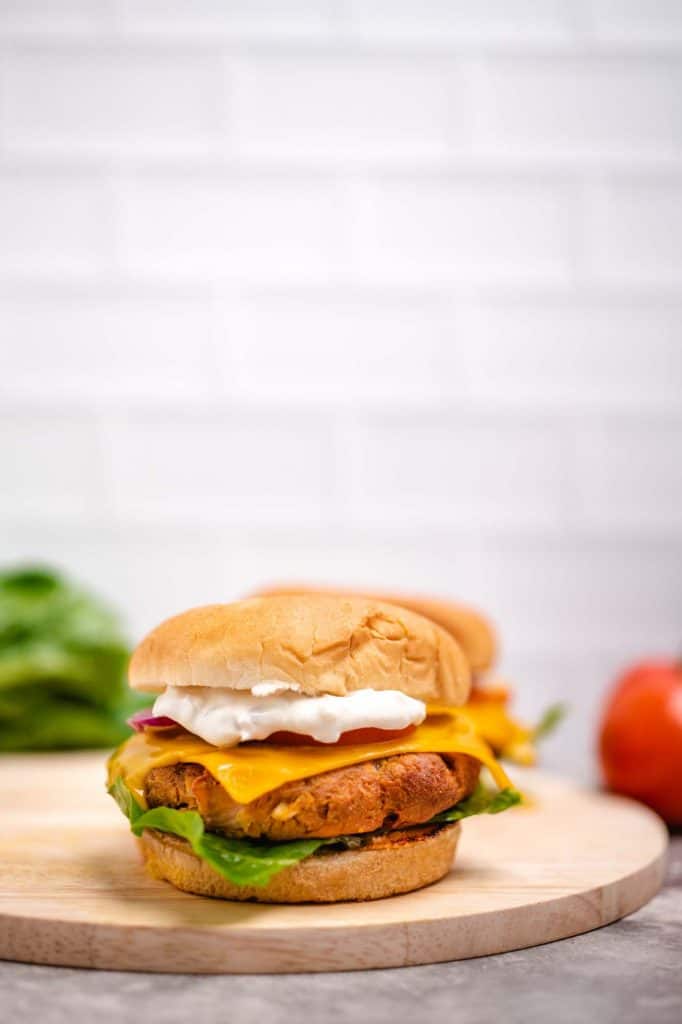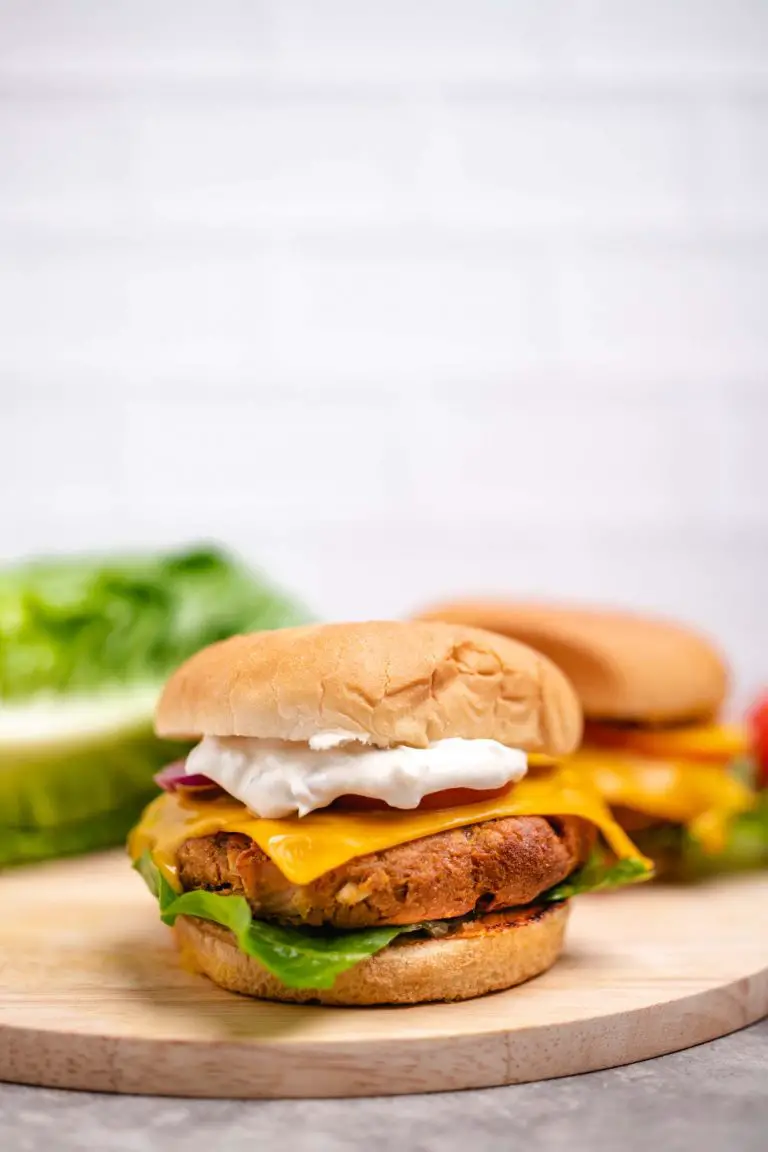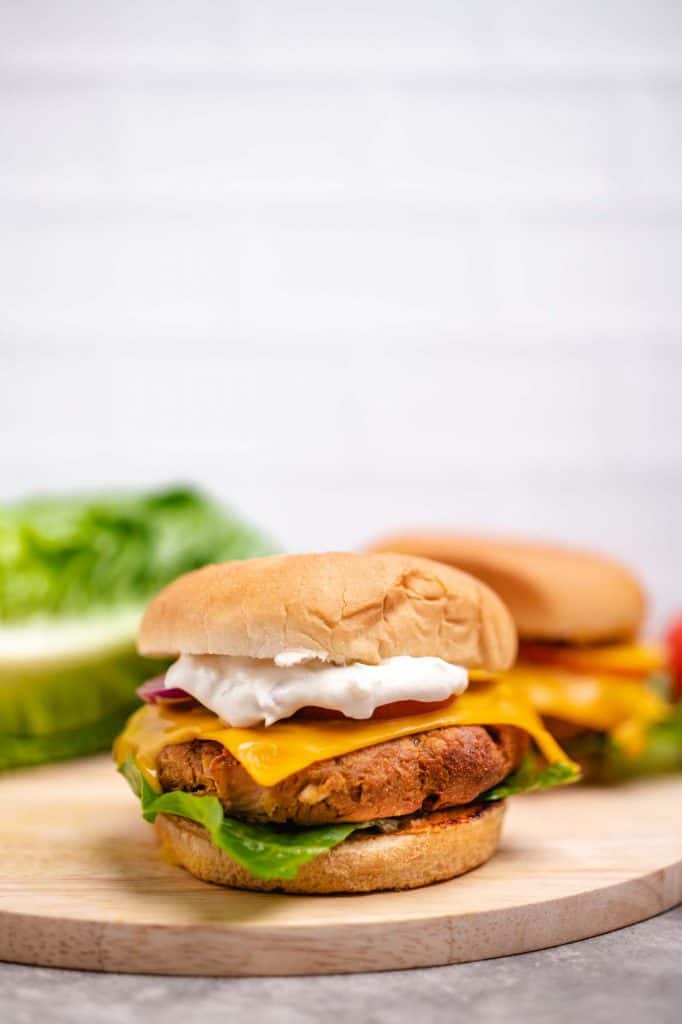 Today's patties are made with jackfruit meat, a meat substitute that ends up in my kitchen very regularly. The exotic fruit has very many advantages, among other things, the flesh remains nice and fibrous and firm to the bite, even during cooking and grilling. Unlike meat, jackfruit is full of important fiber and antioxidants. Taste they are relatively neutral and therefore incredibly versatile.
For the patties we need chickpeas, jackfruit, onion, garlic granules, BBQ seasoning, Worcestershire sauce (optional), salt, mustard and chickpea flour. That's all there is to it. The chickpea flour provides a great binding without making the patties too dry. The fibers of jackfruit and chickpeas provide a wonderful texture. For me, overall, a more than successful burger pattie.
Vegan burgers quick and easy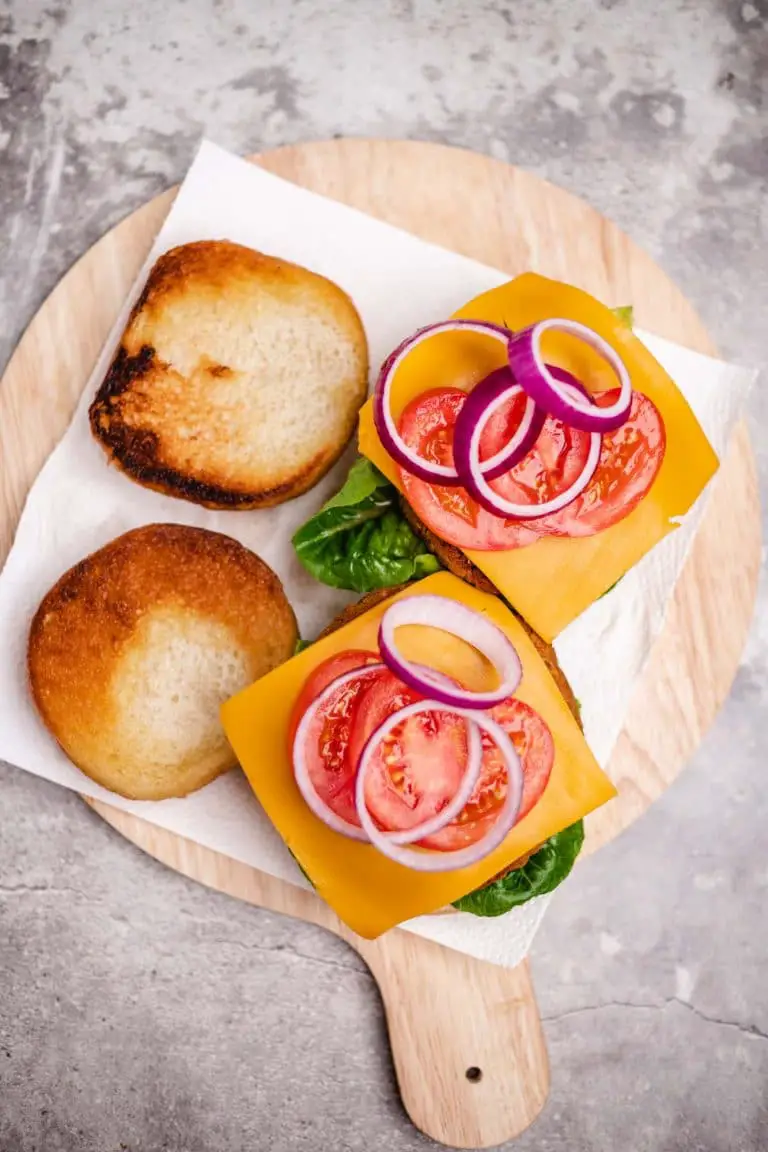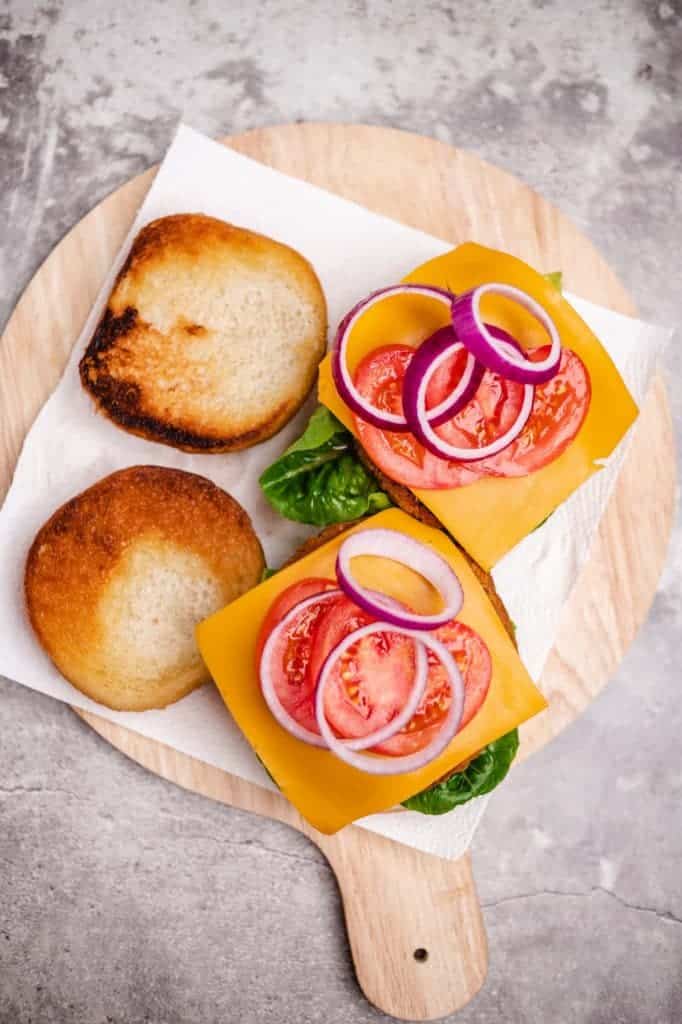 The patties are perfect and now only the remaining ingredients are missing. Buns, lettuce, tomato slices, pickles, onion rings and a tasty sauce. Here this time I was in the mood for a homemade remoulade. You can find the recipe for it here.
If you're not in the mood for a jackfruit burger today, I have some wonderful alternatives for you:
This recipe is so simple and delicious that I am almost at a loss for words. It also makes you full, I can promise you that! For me, after two burgers, it was definitely time to call it a day. I may make a round of these burgers for my meat-loving friends sometime soon. Let's see what the response is.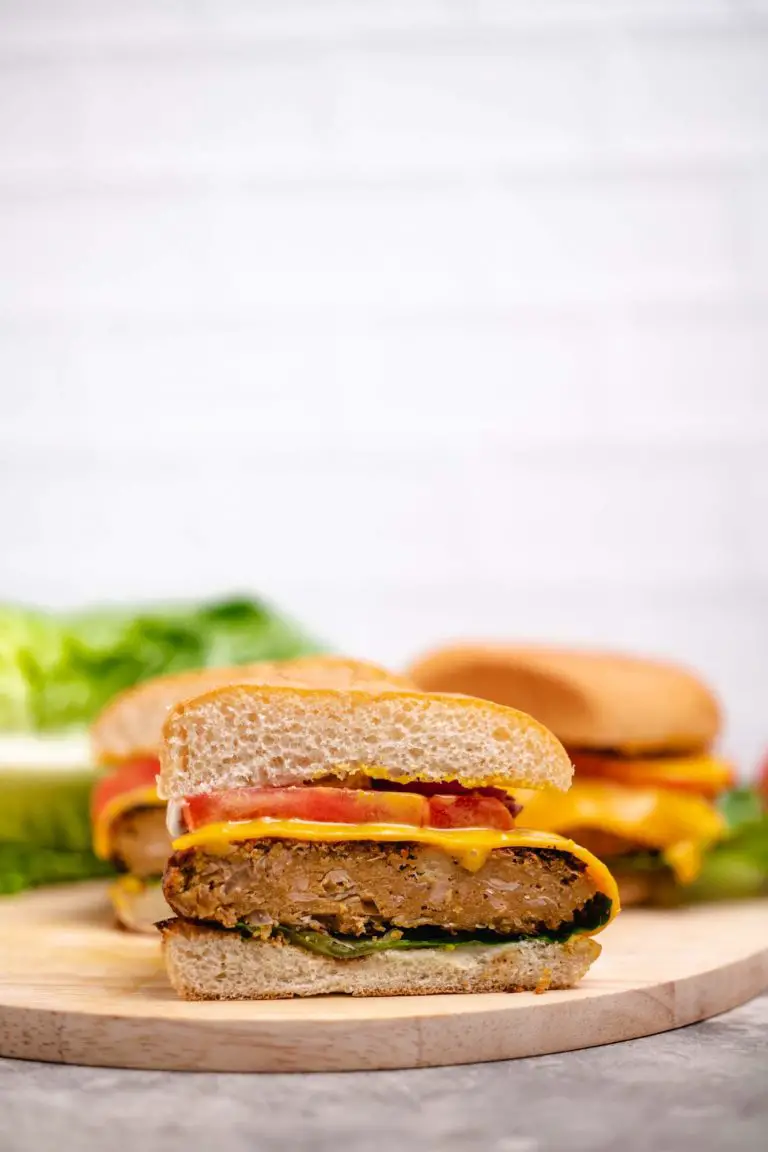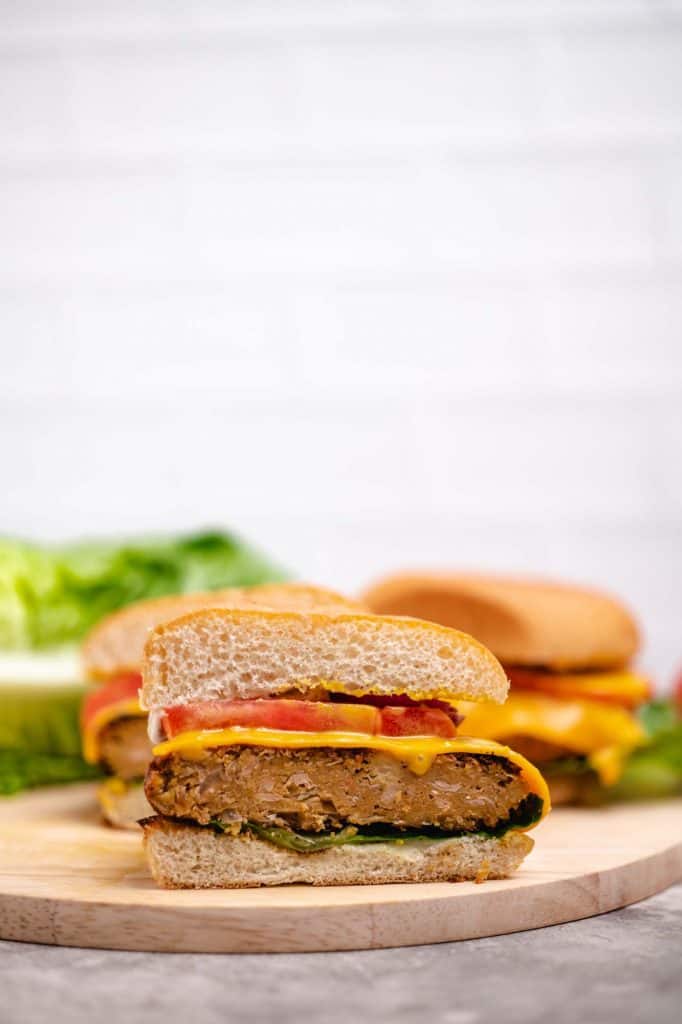 The simple jackfruit burger (grill friendly) is:
hearty
Easy to manufacture
aromatic
versatile
Fibrous consistency
Extremely tasty
What goes with this hearty jackfruit burger? Smoky vegan bacon, sweet potato wedges and a favorite salad. For dessert, I'm thinking a delicious fudge brownie ice cream.
Well did you get a craving for this hearty burger? I wish you a lot of fun with the re-cooking and of course I am happy about a review at the bottom of this page. If you post a picture, use the hashtag #veganevibes.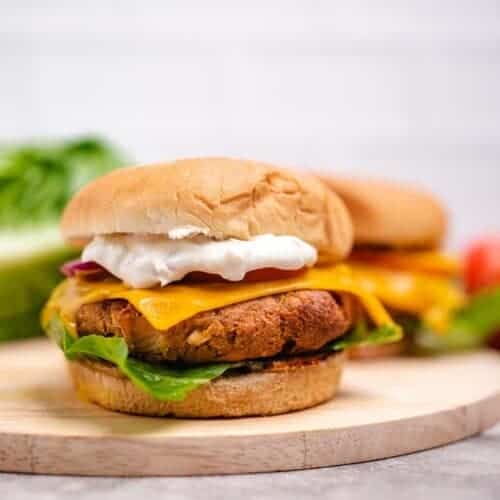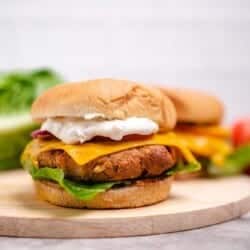 Jackfruit Burger (grill friendly)
Incredibly flavorful jackfruit burger perfect for grilling. Firm to the bite and fibrous, thanks to jackfruit and chickpeas. Quick to make, incredibly delicious, high in fiber and gluten free.
AUTOR: VEGANEVIBES
FOR THE JACKFRUIT PATTIES:
265

g

Chickpeas

equivalent to 1 can or jar – drained

400

g

Jackfruit

I take the ones from Jacky F from Alnatura, https://jackyf.de/

110

g

red onion

finely chopped (equivalent to a medium onion)

1

tbspn

Garlic granules

or 1 clove of garlic finely chopped

2

tbspn

BBQ spice

or any other spice mixture of your choice

½

tbspn

Salt

1

tbspn

spicy mustard

110

g

Chickpea flour

Oil

for baking out or grilling
TO SERVE:
Burger Buns

Salad leaves

Tomato slices

Onion

cut into rings

Pickles

sliced

Burger sauce of your choice

for example homemade BBQ sauce or remoulade
Anleitung 
Preparation : Drain chickpeas, optionally saving chickpea water for making aquafaba (instructions for making and recipes here). Drain jackfruit, rinse briefly with cold water and dry lightly. "Tear" with a fork or your hands to make the flesh nice and fibrous.

FOR THE JACKFRUIT PATTIES provide large bowl. Place chickpeas, jackfruit, onion, garlic granules, BBQ seasoning, salt and spicy mustard in a bowl and mix with your hands until everything is well combined.

265 g Chickpeas,

400 g Jackfruit,

110 g red onion,

1 tbspn Garlic granules,

2 tbspn BBQ spice,

½ tbspn Salt,

1 tbspn spicy mustard

Add chickpea flour and blend until compact.

Cover, place in refrigerator, and allow to infuse for at least an hour or overnight.

After the cooling time, remove from the refrigerator and divide into four equal portions. If you like the patties smaller, make 6 servings.

Preheat oven to 200degrees convection (or 220 top bottom heat) and bake patties for 15 minutes.

Note: Pre-baking in the oven is important so that the patties are cooked through on the inside. On the grill or in the pan, they are then seared for just a few minutes on both sides.

Heat grill or skillet and place patties directly on grill or in skillet. For pan frying, I recommend using a little oil so the patties don't get too dry. For grilling, generously brush the pre-baked patties with oil to make them nice and crispy on the outside.

Slice burger bun, toast briefly (optional), place lettuce leaf on bottom, place pattie on top, tomato slices, onion rings and pickles. Refine with sauce of choice and enjoy!

Burger Buns,

Salad leaves,

Tomato slices,

Onion,

Burger sauce of your choice,

Pickles

Patties will keep (unbaked) covered in the refrigerator for 2-3 days, preferably fresh.
Notizen
Note: Calorie calculation for the patties only.
Nährwertangaben
Serving:
1
Pattie
Calories:
262
kcal
Carbohydrates:
52
g
Protein:
10
g
Fat:
3
g
Saturated Fat:
1
g
Polyunsaturated Fat:
1
g
Monounsaturated Fat:
1
g
Sodium:
61
mg
Potassium:
766
mg
Fiber:
9
g
Sugar:
25
g
Vitamin A:
149
IU
Vitamin C:
17
mg
Calcium:
82
mg
Iron:
3
mg