Jackfruit casserole for spring days like this. Today you can really feel that spring is just around the corner. The sun is shining and the first bushes are beginning to bloom. The days are getting longer and I am happy to go for a walk with the dogs in the early evening. It is the well-known transitional period, which often invites to do sports outside a little lighter dressed. I am always careful in this area because I get chilled easily. This is exactly why I love healthy and warming dishes in the transitional period, which make me happy from the inside out and strengthen the immune system. That includes this casserole, chock full of veggies, nourishing jackfruit and a creamy topping of potatoes. I didn't forget the beans, of course, for an extra serving of fiber.
Jackfruit casserole, healthy soul food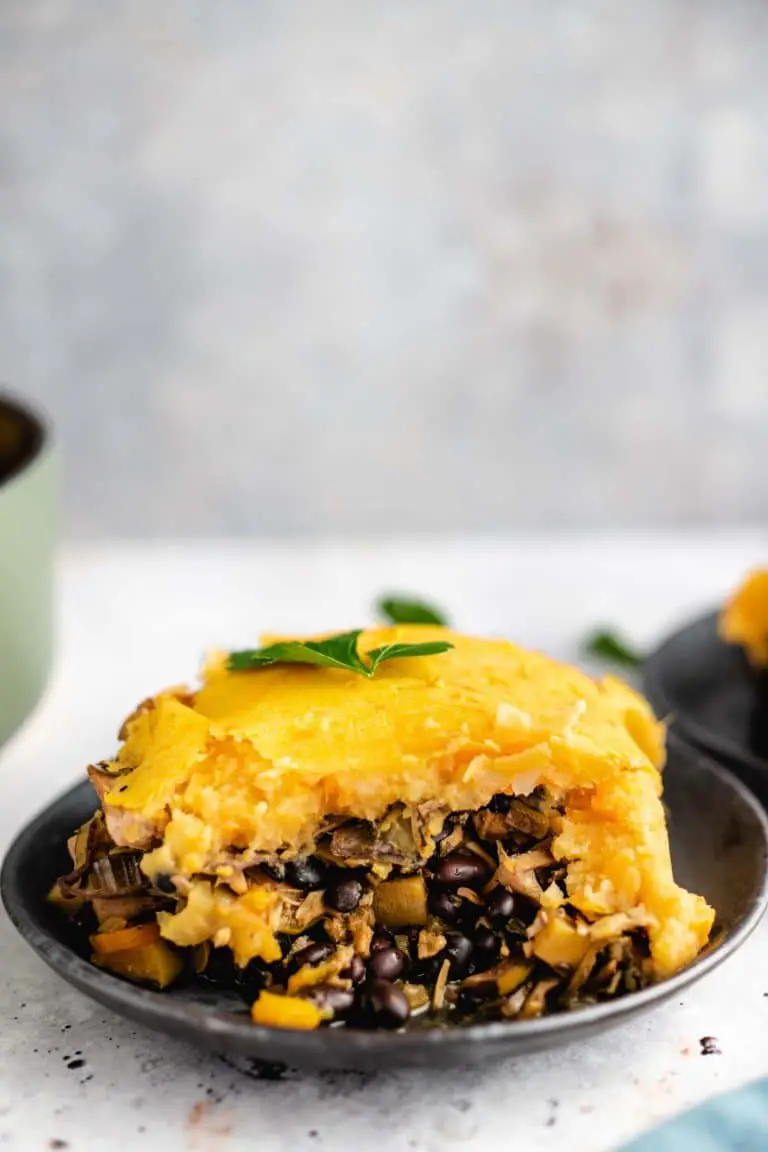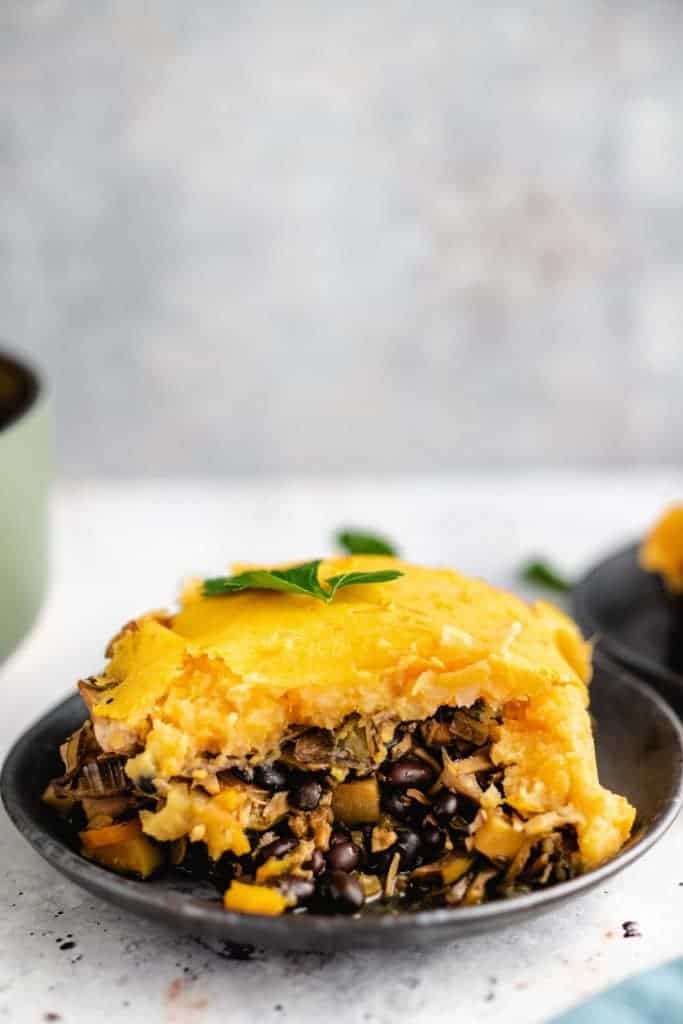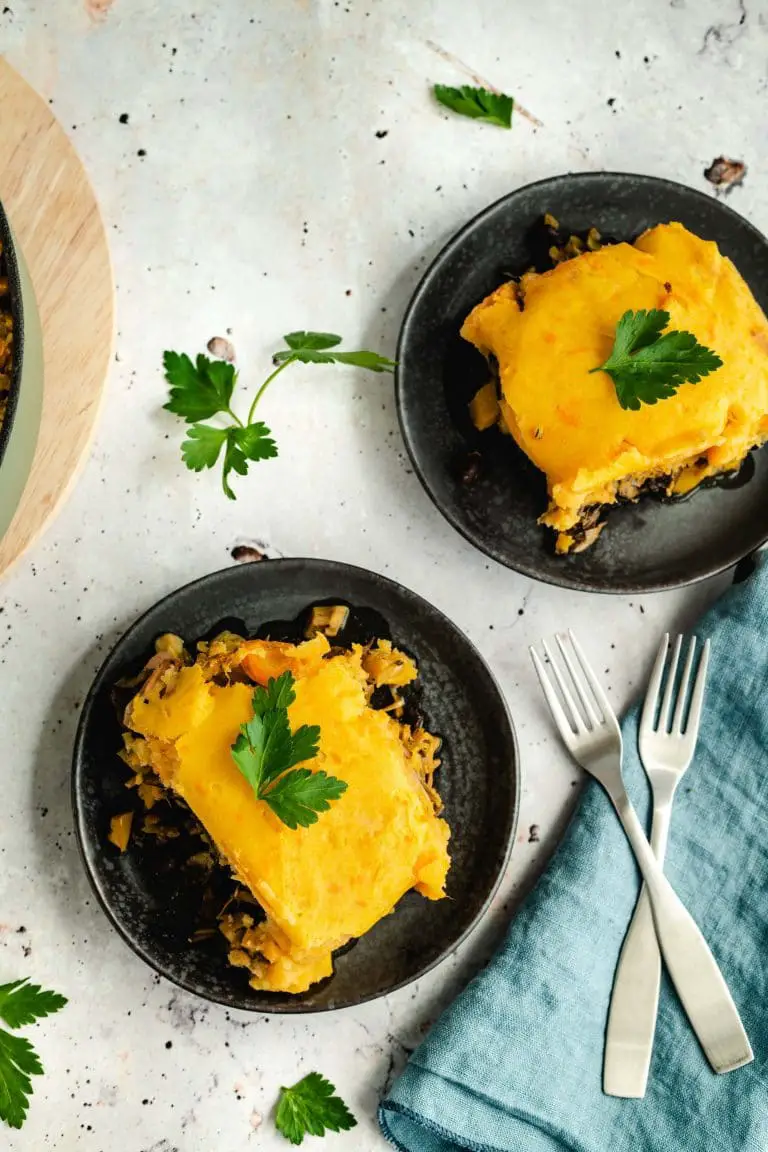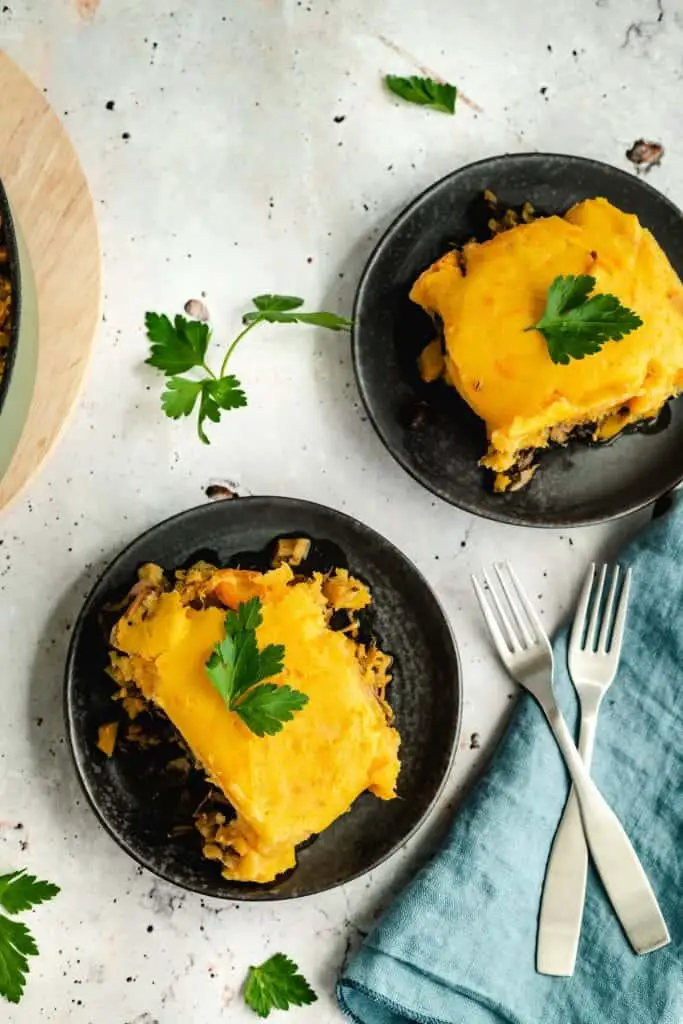 Preparation takes some time, but with a good audiobook, even that is done quickly. First of all, prepare the mashed potatoes. Peel the potatoes and cut into cubes. Then boil them in salted water until they are nicely cooked. Alternatively, you could cook the potatoes in a pressure cooker or steamer.
While the potatoes simmer away, I prepare the stuffing from onions, garlic, celeriac, bell peppers, carrots, turmeric, thyme, rosemary, salt, bell pepper, soy sauce, maple syrup, molasses, black beans and jackfruit . Once it's all nicely combined in the pan and simmered covered for a few minutes, it goes directly into the baking dish. The mashed potatoes are spread, smoothed out and off to the oven.
TIP: You can vary the spices and go in a more exotic direction. For this purpose, for example, a fine curry mixture or garam masala is suitable. If you want to add a little more heat, you can use chilies of your choice.
How healthy are black beans actually?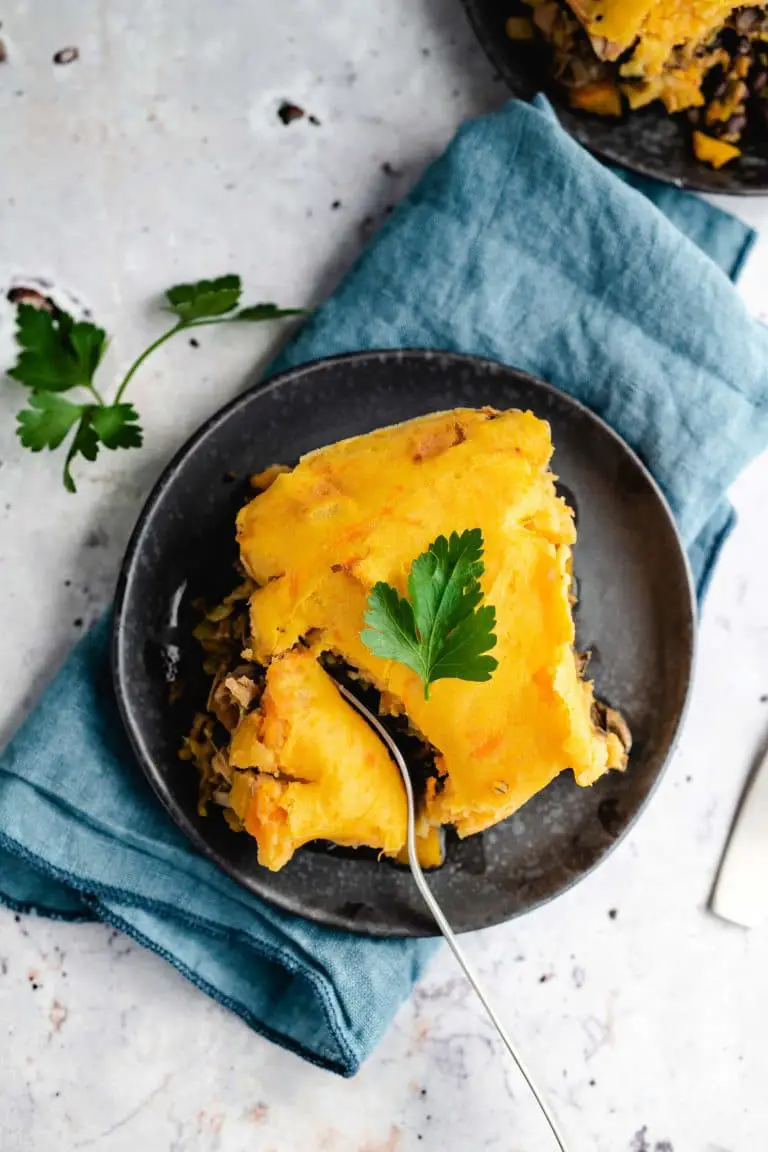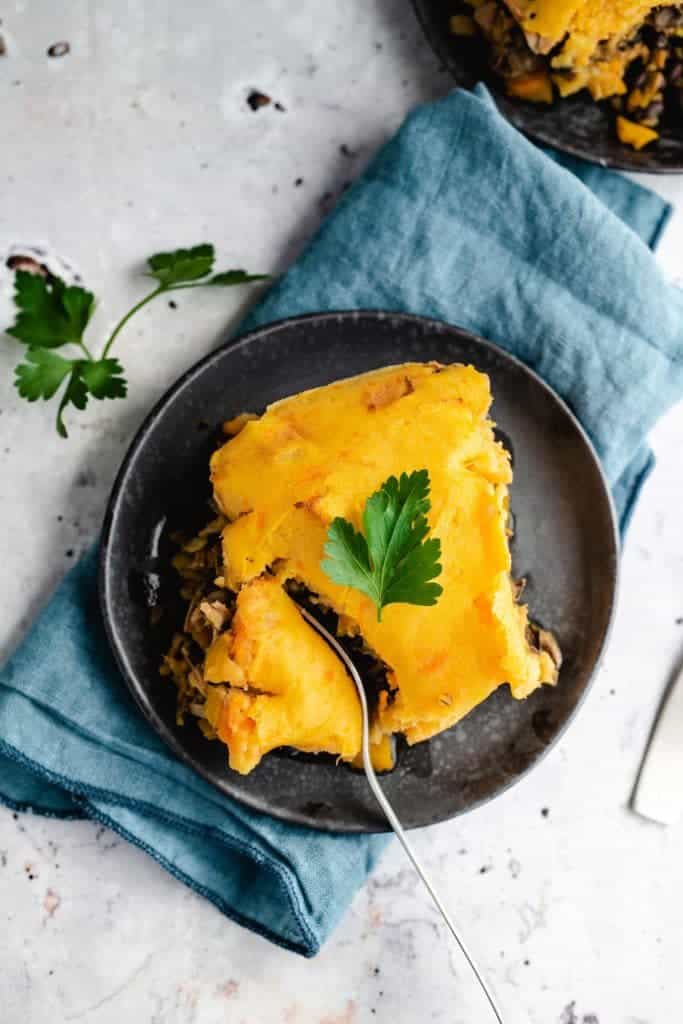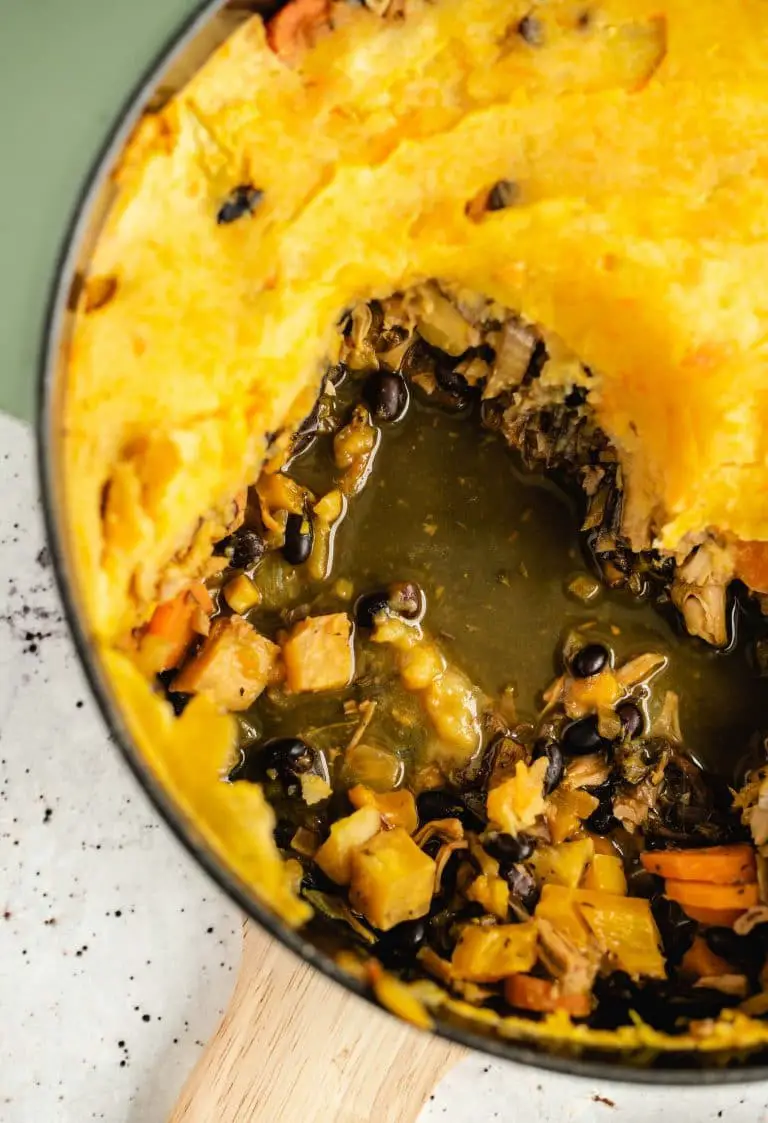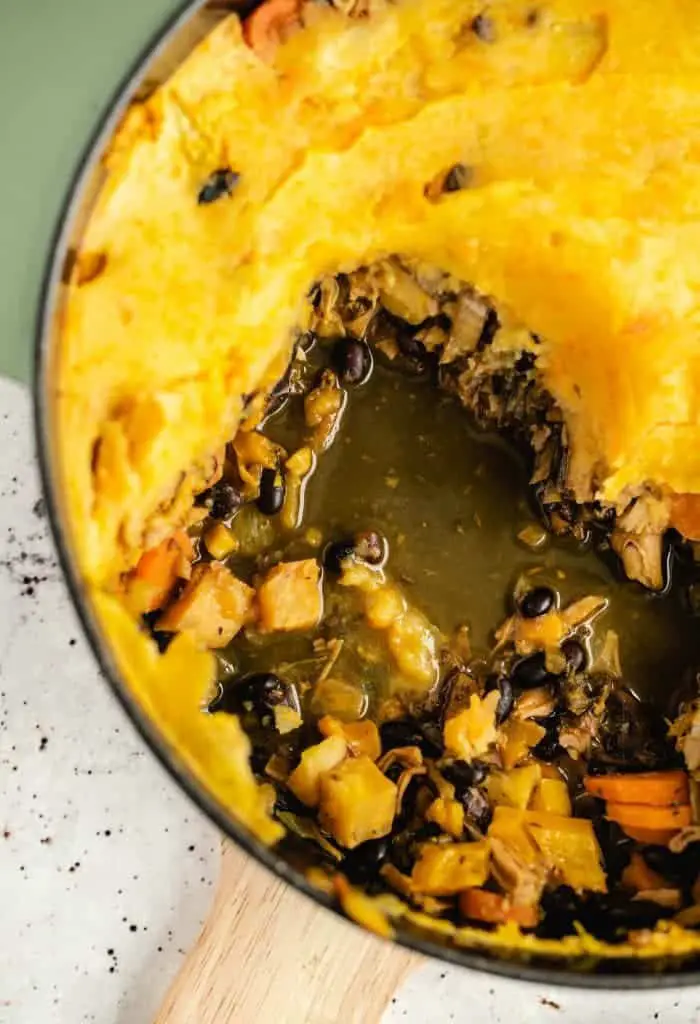 Black bean occupy a very special role among the legumes. The protein in black beans has a special feature, because it is very similar to animal protein. This makes the beans a complete source of protein, ideal for vegans and vegetarians.
But that's not all, because the bean has much more potential:
Rich in carbohydrates or saccharins, especially valuable for a healthy microbiome and balanced blood sugar levels
Vitamin A and B group
Rich in calcium, phosphorus, iron, zinc, potassium and magnesium
Very rich in antioxidants thanks to a special flavonoid (could prove a study that compared 12 varieties of beans).
Low fat content and high satiety potential
Black beans are not only healthy, but also incredibly versatile and hard to imagine vegan cuisine without them. Hearty stew with butternut squash and black beans, falafel patties with black beans and the vegan burger with black beans are just a few examples of the use of the healthy legume. I hope there is also something for you!
The vegan jackfruit casserole is:
High fiber
aromatic
Spicy
filling
Easy to manufacture
Here we go with this delicious vegan oven dish. I hope you enjoy cooking it and I'm happy about a review at the bottom of this page. If you post a picture, use the hashtag #veganevibes.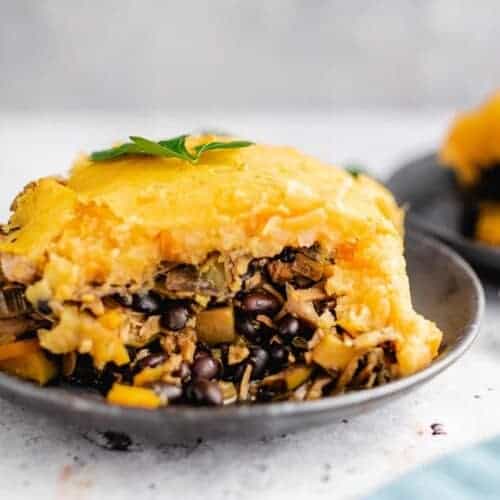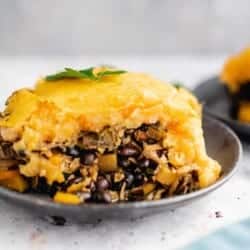 Jackfruit casserole (vegan & gluten-free)
Vegan casserole with black beans, jackfruit and lots of delicious spices. Topped with a puree of fine potatoes. Ideal as a vegan, filling main dish, perfect for portioning, freezing and reheating. Vegan, gluten-free, rich in valuable fiber.
AUTOR: VEGANEVIBES
FOR THE POTATO TOPPING:
500

g

Potatoes

peeled and cut into cubes, like to mix with sweet potatoes.

15

g

Margarine

or olive oil, if oil-free simply leave out

1/8

tbspn

Nutmeg

a knife tip

Salt and pepper to taste
FOR THE BEAN-JACKFRUIT FILLING:
15

ml

Frying and baking oil

alternatively another high heat oil, if oil free deglaze with vegetable stock

1

Piece

white onion

peeled and finely diced

2

Piece

Garlic cloves

peeled and pressed or finely diced, optionally 1 tsp garlic powder

90

g

Celery tuber

diced

150

g

Carrots

peeled and sliced

150

g

yellow bell bell pepper

freed from the core, cut into strips

1 ½

tbspn

Thitalian herbs

½

tbspn

Turmeric

1

Bay leaf

1/8

tbspn

Nutmeg

15

g

Coconut blossom sugar

alternatively maple syrup

7,5

g

Sugar cane molasses

if not at hand simply omit

400

g

young jackfruit

Draining weight 225g, I use the ones from Jacky F. *unpaid brand mention

240

g

black beans

drained and well washed with cold water – equivalent to a can or jar of 400g.

Salt and pepper to taste
TO SERVE:
Basil or other fresh herbs to taste
Anleitung 
Preheat oven to 190 degrees convection and provide a medium casserole dish.

Drain jackfruit and cut into smaller pieces or tear with a fork.

400 g young jackfruit,

1/8 tbspn Nutmeg

Put diced potatoes in a pot and fill with water until potatoes are covered. Bring to a boil and simmer for

15 minutes

until cubes are cooked through. Drain and set aside.

Heat a pan with frying oil, add the onion and garlic and sauté for

2-3 minutes

until translucent. Add thyme, celery, rosemary, turmeric, bay leaf, maple syrup and molasses and mix well once until everything is well combined.

15 ml Frying and baking oil,

1 Piece white onion,

2 Piece Garlic cloves,

90 g Celery tuber,

1 Bay leaf,

15 g Coconut blossom sugar,

7,5 g Sugar cane molasses,

½ tbspn Turmeric

Add carrots, bell bell pepper, jackfruit and black beans and continue stirring.

150 g Carrots,

150 g yellow bell bell pepper,

240 g black beans,

400 g young jackfruit

For the mashed potatoes, place the cooked potato cubes in a bowl or blender, along with the margarine, nutmeg, salt and pepper. Process with a masher or blender to a fine puree.

500 g Potatoes,

15 g Margarine,

Salt and pepper to taste,

1 ½ tbspn Thitalian herbs,

1/8 tbspn Nutmeg,

Salt and pepper to taste

Spread over bean-jackfruit mixture and smooth. Use a fork to draw in patterns as desired.

Put in the oven for

25 minutes

until golden brown.

Remove from oven and let set for 5 minutes.

Portion onto plates, garnish with fresh herbs and serve.

Basil or other fresh herbs to taste

Keep leftovers covered in the fridge for 2-3 days. Alternatively, portion, freeze (up to 1 month).
Nährwertangaben
Serving:
1
Portion
Calories:
255
kcal
Carbohydrates:
50
g
Protein:
6
g
Fat:
5
g
Saturated Fat:
3
g
Sodium:
5914
mg
Potassium:
644
mg
Fiber:
8
g
Sugar:
7
g
Vitamin A:
16143
IU
Vitamin C:
50
mg
Calcium:
84
mg
Iron:
2
mg