Portobello Burger, what a treat. I haven't made anything with Portobello mushrooms in so long, so it was just about time. So when we were at the organic supermarket and those irresistible, big mushrooms smiled at me, I was floored. I just had to grab it and I did. With six large mushrooms in the bag, I left the store and already the brooding started. What to do with it was the big prize question. At first I thought of filling them, however, I already have a very tasty recipe on the site. Then came the idea of a curry, but they were too bad for me. I think shiitake or mushrooms are better off there. Finally, I came up with the idea of simply breading them like a schnitzel and serving them as a burger. The result? Can be seen.
Vegan burger with portobello mushroom patty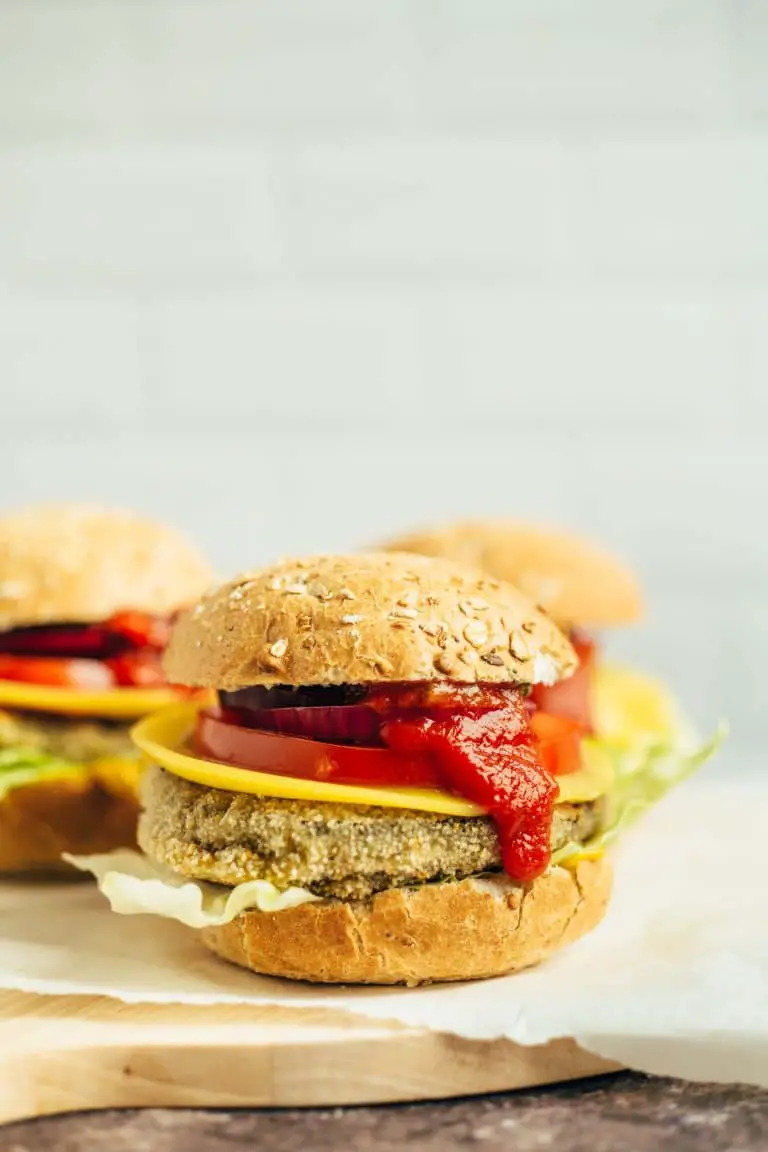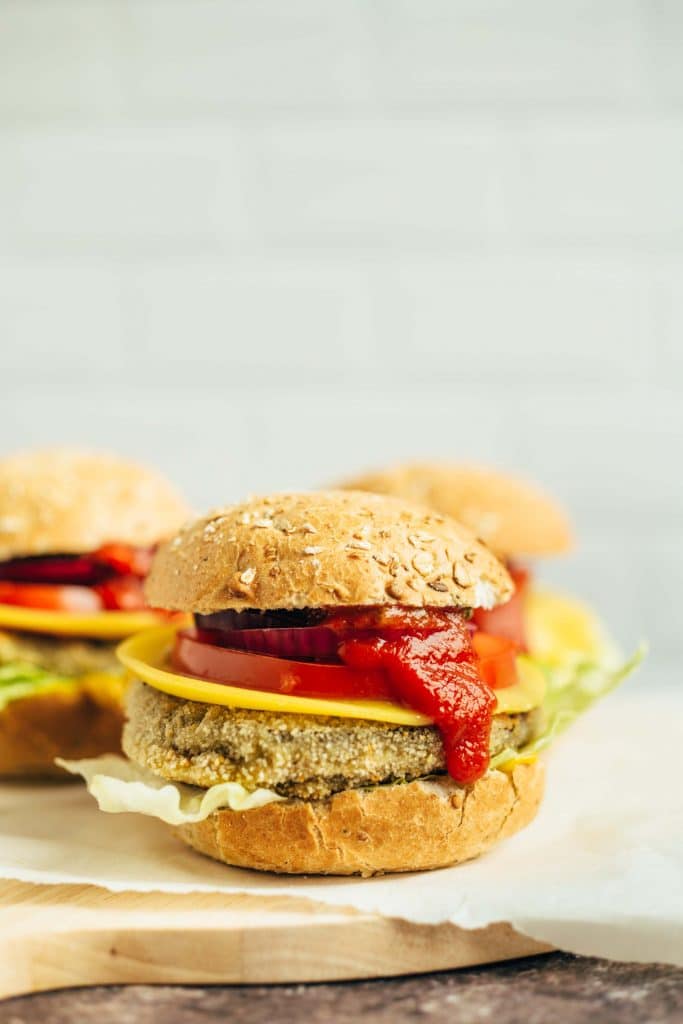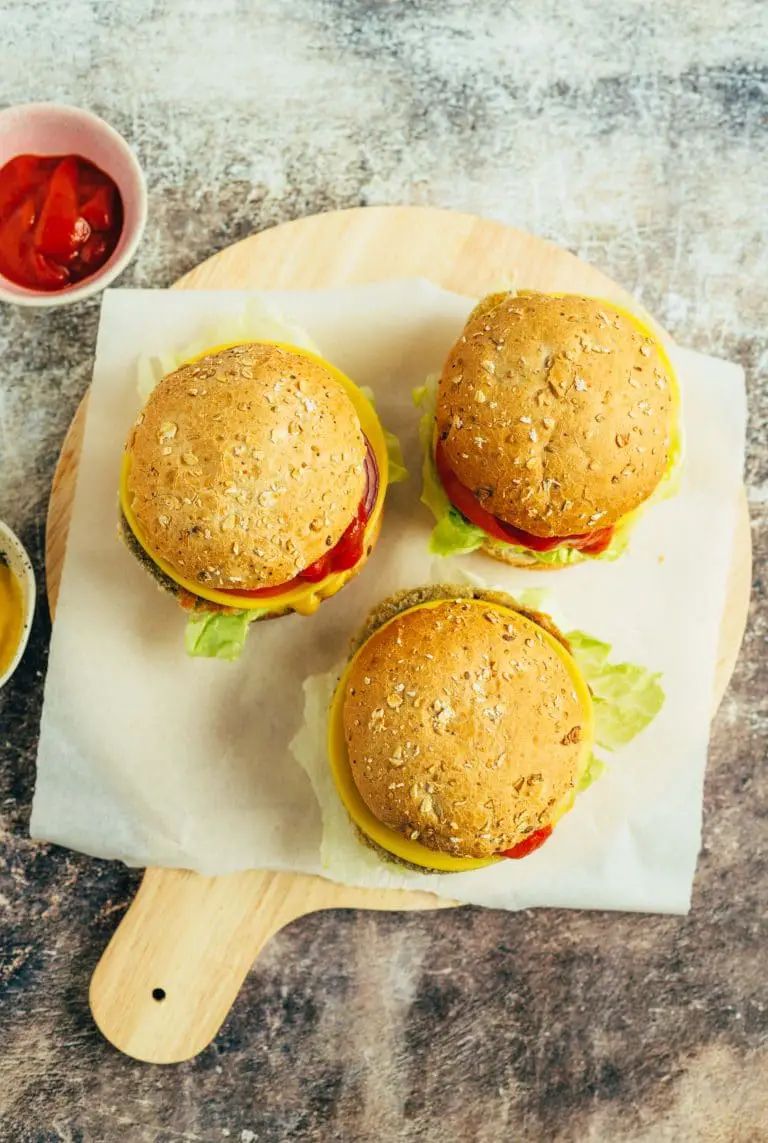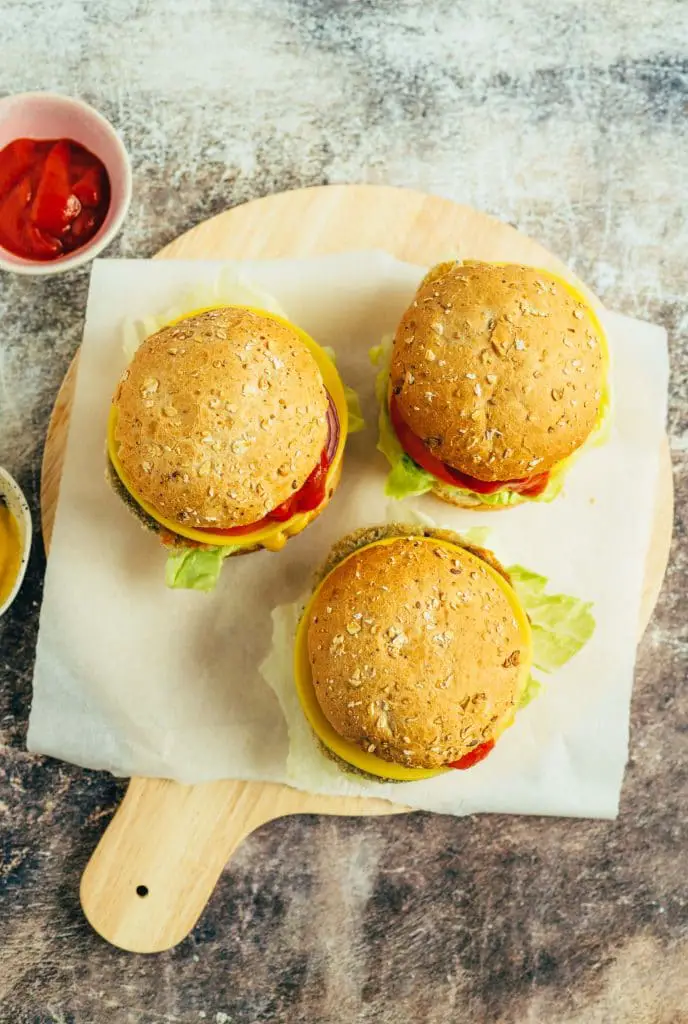 Where do vegans actually get their protein from? Quite simply, from Amino acids and exactly the same way as people who eat meat. Proteins are produced by our organism from amino acids and it is simply important that we have certain essential amino acids in sufficient quantity amino acids available. Vegetable foods in detail often do not have a complete amino acid profile, but this can be achieved quite easily by clever combinations of different foods. For a long time, it was believed that it was important to consume all essential amino acids with a meal. However, this thesis has been refuted in the meantime, because it is enough to record them during the day.
However, there are some stars among protein sources that provide a complete amino acid profile supply, such as the Portobello mushroom. It has an amazingly high content of proteins that are more similar to animal, rather than plant, proteins. For this very reason, it is an excellent high-quality meat alternative for vegans.
TIP: Portobello mushroom contains all eight essential amino acids and only 14 calories per 100g. In addition, the mushroom provides vitamin D, vitamin C, some B vitamins and important minerals and trace elements such as iron, potassium and zinc.
How healthy is the portobello mushroom?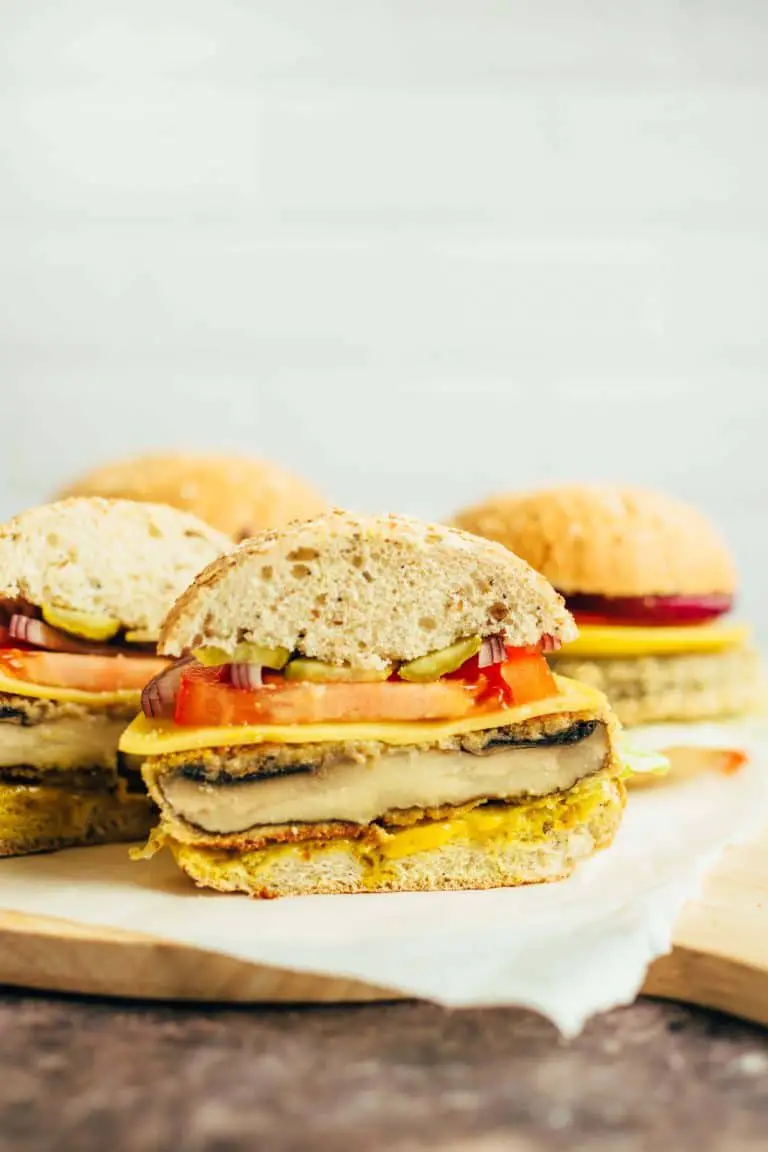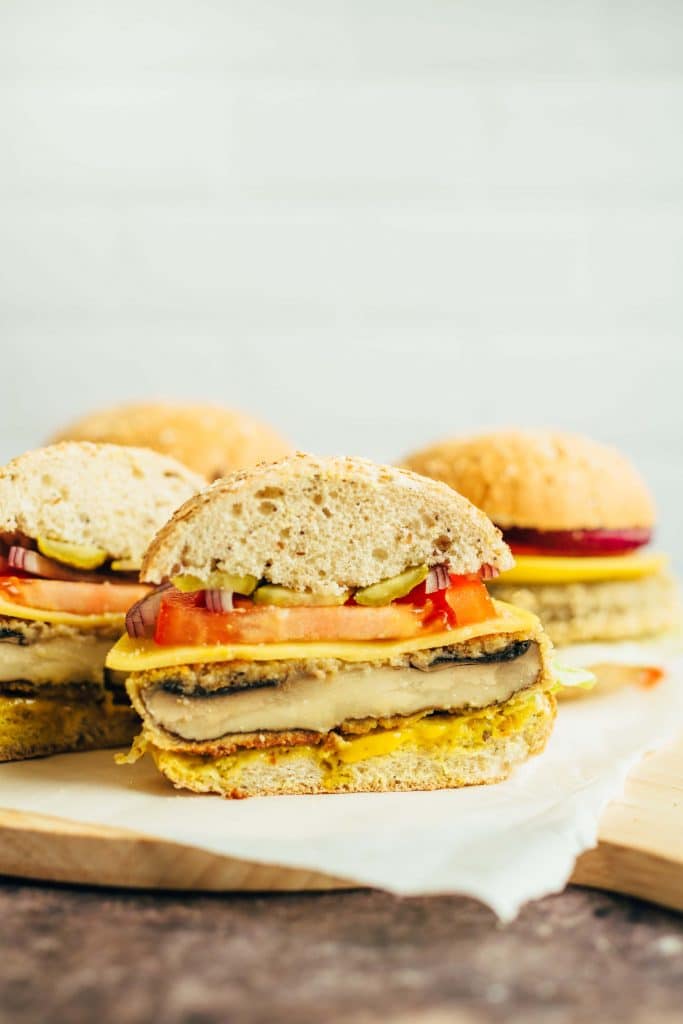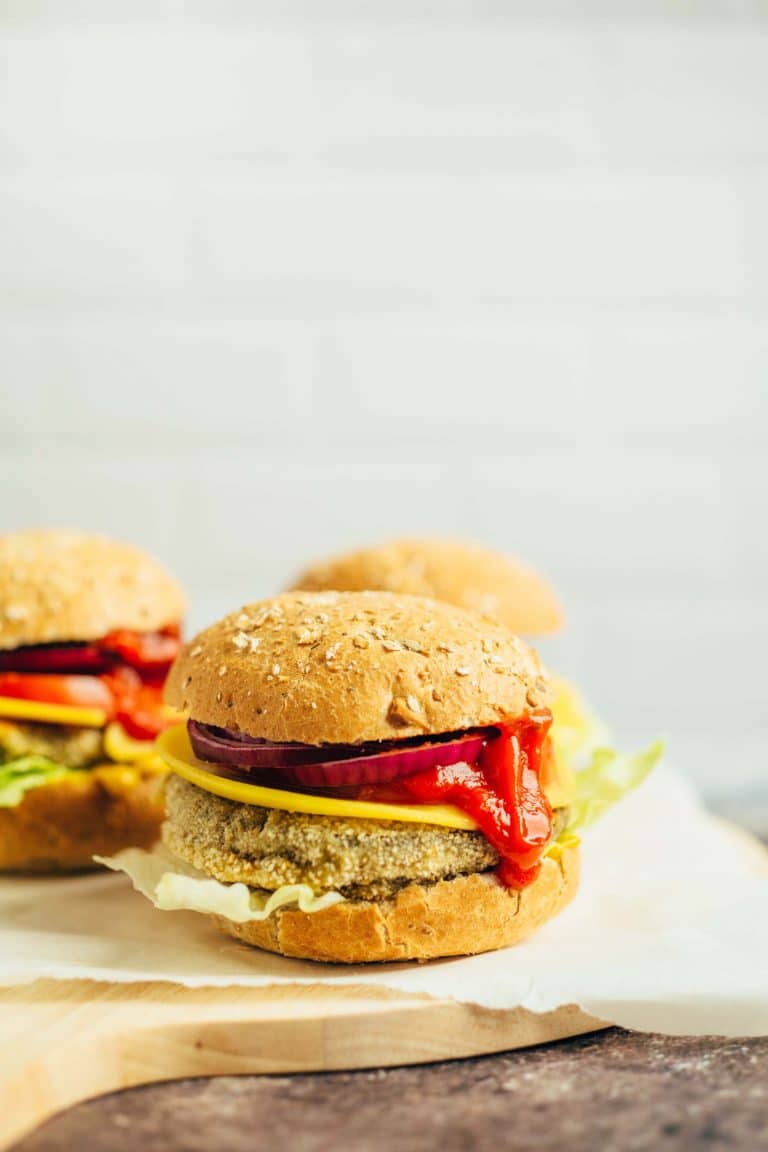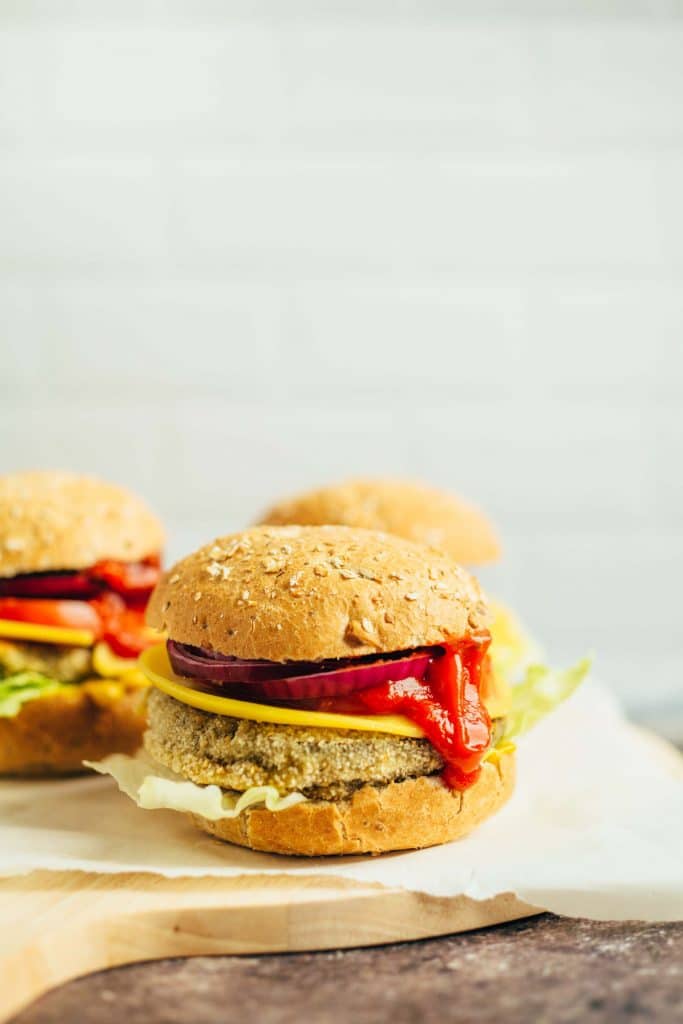 Let's move on to our burger. The pattie consists solely of a Portobello mushroom and a gluten-free breading. The mushroom is first stripped of its stalk, which makes it flatter and easier to fry. Then it goes directly into the pan and is fried hot. For the best results, a little helper comes into play and that is an extra heavy pan or pot. Why we need this? Because the pressure from above causes the Portobello mushroom to flatten, making it easier to use as a pattie.
Now we come to the exciting part, the breading of the patties. To do this, I set up three stations. One with gluten-free flour, the second with a liquid of starch and spices and the third with gluten-free breadcrumbs. Already you can start with the fried mushroom. Roll once in flour, pull through liquid and roll in breadcrumbs. Then return to the pan and fry for a few minutes on each side until crispy. Perfect!
TIP: Those who are not gluten-free on the road can of course replace all products with gluten-containing ones. Breadcrumbs, flour, etc.
Other than that, we need a few more things to make the burger complete. Burger buns, lettuce leaves, tomatoes, pickles, onion rings and burger sauces of your choice. Here you can be very creative and bring your personal touch into play.
Shall we get started? Oh yes, I haven't tested the burger on the grill yet, but think it would bake out better in a skillet. Feel free to write me your experience below in the comments.
The Portobello Burger is:
hearty
Easy to manufacture
Spicy
Protein-rich
Firm consistency
Crispy
What else goes well with this plant-based protein highlight? Homemade fries, sweet potato wedges or a cole slaw. If you want to make a low carb version of this, then I recommend replacing the rolls with large lettuce leaves.
Well, did you get a craving for this crispy, protein-rich vegan burger? I wish you a lot of fun with the re-cooking and of course I am happy about a review at the bottom of this page. If you post a picture, use the hashtag #veganevibes.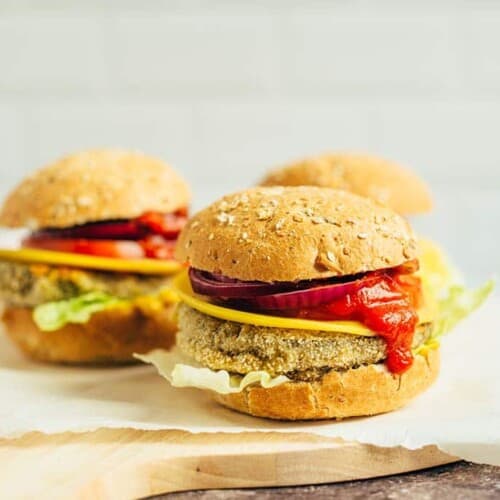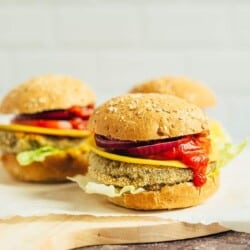 Portobello Burger (35 minutes)
Hearty vegan burger with a breaded portobello pattie. Crispy on the outside, juicy on the inside with a fine bite. The perfect burger for an ideal supply of vegetable protein. Vegan and gluten free.
AUTOR: VEGANEVIBES
FOR THE PATTIES:
5

Piece

Portobello mushrooms
OTHER:
Burger Buns

Red onion

cut into rings

Tomatoes

sliced

Salad leaves

Pickles

sliced

Vegan cheese slices

those from SimplyV melt especially well *unpaid
Anleitung 
FOR THE PATTIES heat a large frying pan and put a small amount of oil. Place Portobello mushrooms (style removed) in pan and sauté until hot. Place another pan (preferably a heavy cast iron pan) on top of the mushrooms.

5 Piece Portobello mushrooms

NOTE: Please check beforehand if the pan is suitable for weighting. Unsuitable are pans with sensitive coatings. For example, I used a stainless steel pot. Cast iron pans are just as ideal.

Turn heat down to medium and fry mushrooms for about

4-5 minutes on

each side until they have lost some of their water and are nice and flat. See video!

Place on a plate lined with paper towels and set aside.

FOR THE PANANDE build a station with three bowls. In the first bowl, add chickpea flour, water, pepper, kala namak (or salt) and nutmeg. Whisk until a uniform liquid is formed.

55 g Chickpea flour,

150 ml Water,

½ tbspn Kala Namak,

Pepper to taste,

1/8 tbspn Nutmeg

125 g gluten free flour mix,

125 g Breadcrumbs

For breading, always work with one hand and keep the other hand clean. Alternatively, work with pliers. Take one Portobello mushroom at a time, roll both sides in the gluten-free flour mixture, pull through the liquid chickpea flour mixture, and finally roll in the breadcrumbs. Repeat until all mushrooms are coated.

Heat large frying pan and add a little oil again.

At least 3-4 tablespoons of oil or margarine for frying

Sear breaded Portobello mushrooms about

3-5 minutes on

each side until patties are crispy browned on the outside.

Slice open vegan burger buns, spread with sauce, place portobello pattie on top, add tomatoes, onion, pickles, vegan cheese and other toppings as desired, place bun lid on top and enjoy!

Burger Buns,

Red onion,

Tomatoes,

Salad leaves,

Pickles,

Vegan cheese slices

Best fresh!
Notizen
*Calorie calculation without bun only the portobello pattie!
Nährwertangaben
Serving:
1
Patties
Calories:
218
kcal
Carbohydrates:
37
g
Protein:
8
g
Fat:
4
g
Saturated Fat:
1
g
Sodium:
227
mg
Potassium:
177
mg
Fiber:
4
g
Sugar:
2
g
Vitamin A:
3
IU
Vitamin C:
1
mg
Calcium:
65
mg
Iron:
3
mg