Celery cutlet, gluten-free and vegan is an absolute classic for me in vegan cuisine. It's just the thing for those days when you're craving a schnitzel. Who wants to go to a restaurant when you can make such delicious schnitzel at home? Corona is a really bad thing, but the pandemic also has good sides. For example, the fact that many more people cook at home. The restaurants are closed and after the tenth pizza from the delivery service, sometimes you long for something homemade. For these situations, a celery cutlet is ideal. Together with jacket potatoes and a cucumber salad, you almost feel like you're in a restaurant. You can dream, can't you?
Vegan celery cutlet made simple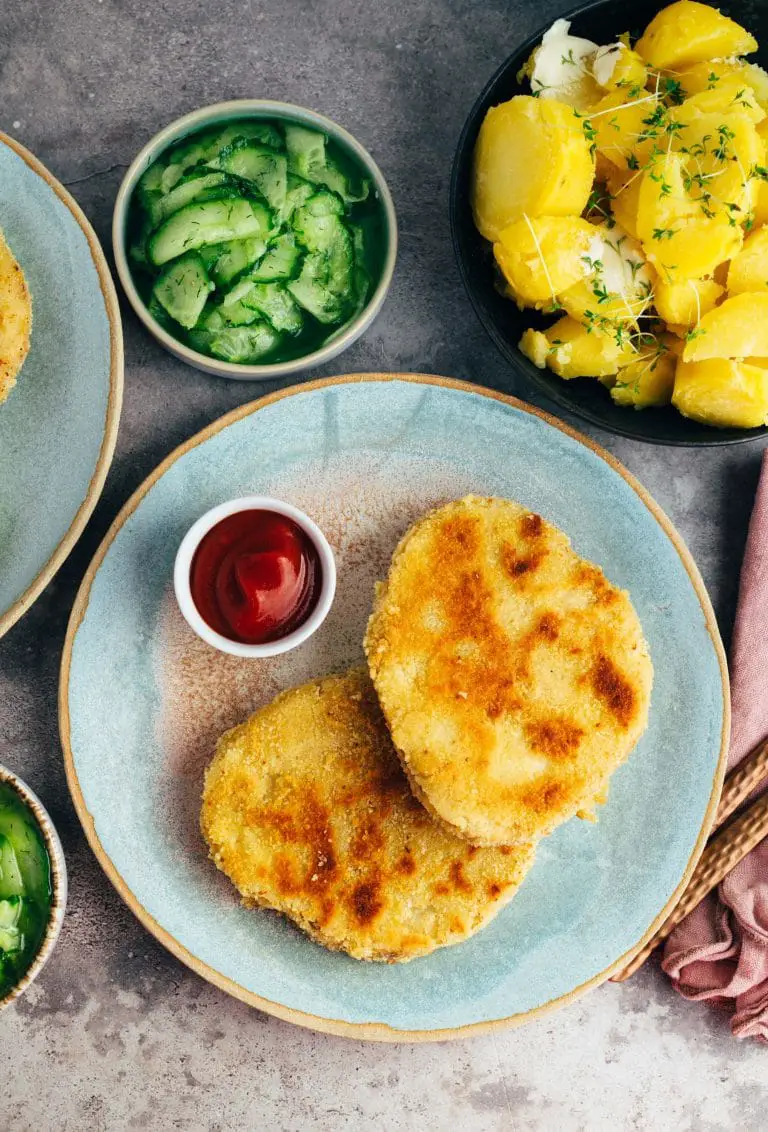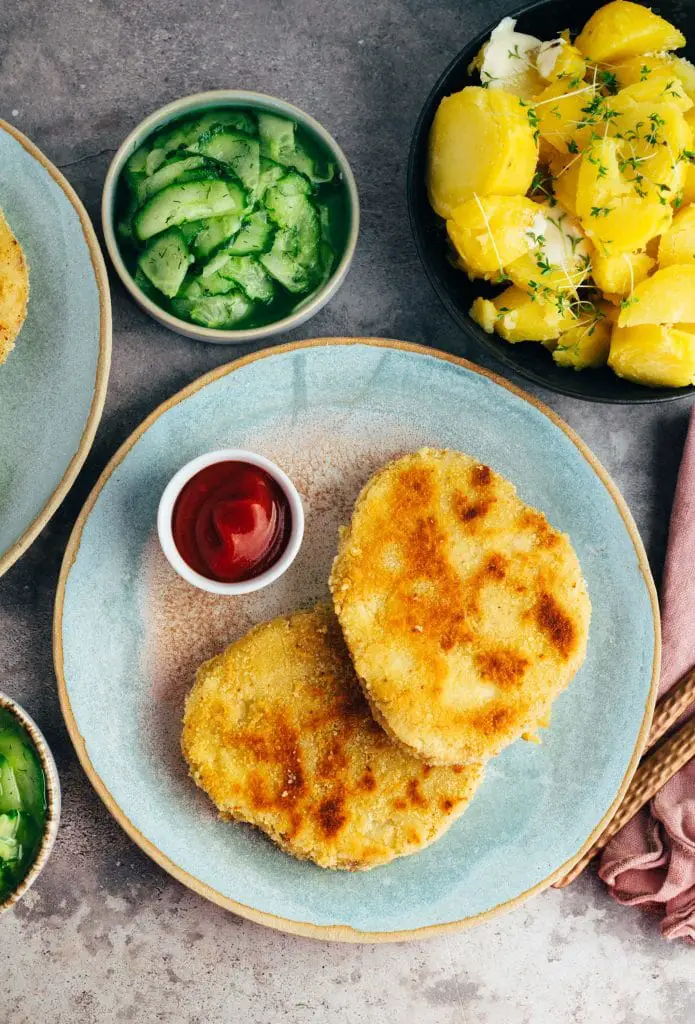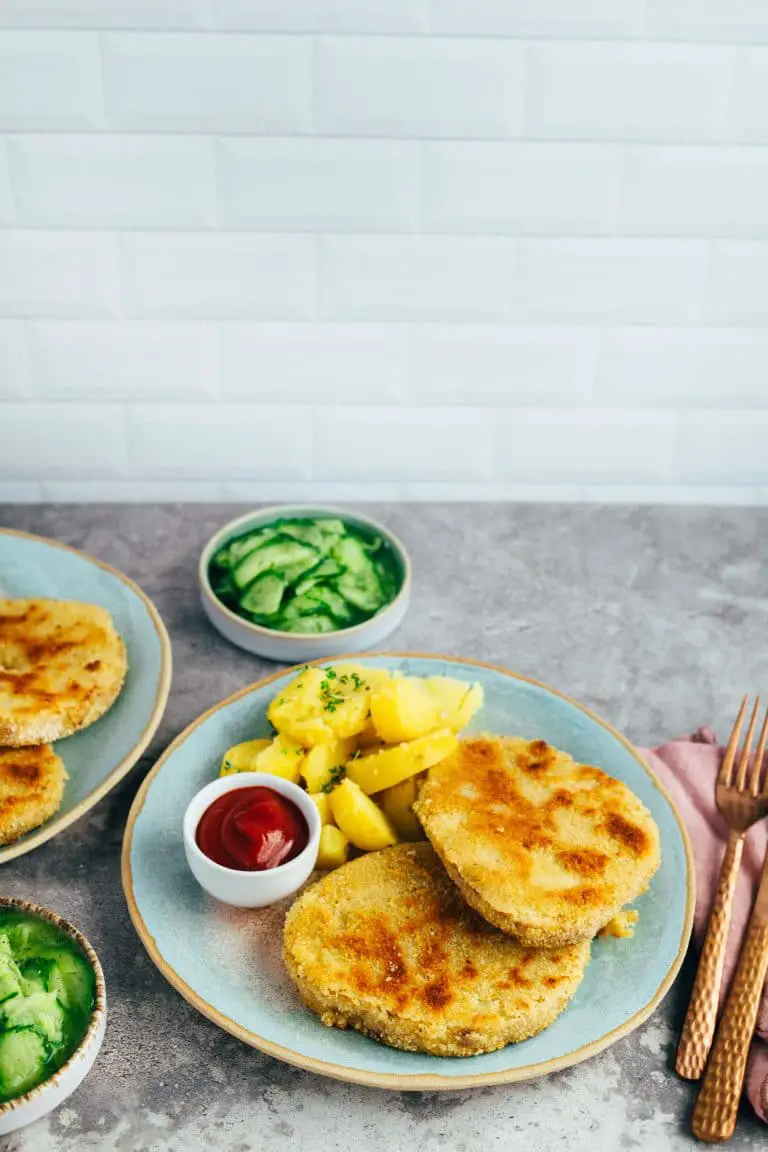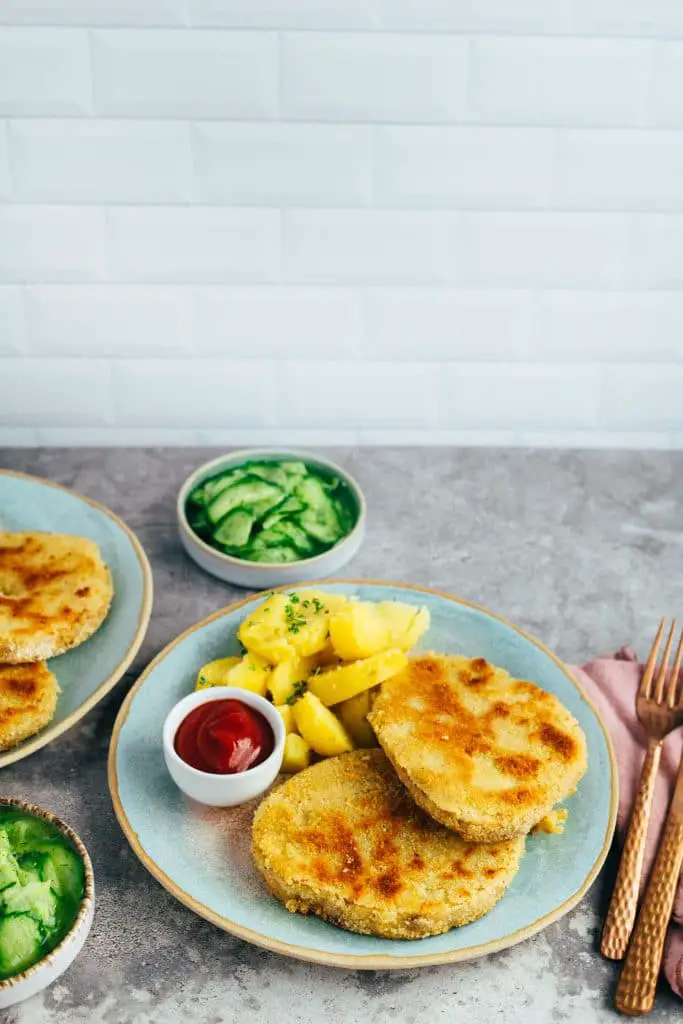 For the celery cutlet we need only 9 ingredients. One celery bulb, gluten-free flour blend, chickpea flour, kala namak, water, pepper, nutmeg and oil for baking out. Celery tuber is first washed and removed remnants of soil. Then we cut them into slices about 1-1.5 cm thick. Now you may be wondering, how do we get the raw tuber firm to the bite? Several options are available here. First and foremost, the classic method of cooking in a pot with a little water. If you have a pressure cooker, congratulations! This one also works wonderfully. As a last option, the steamer can also be considered.
The first step is done and the celery slices are ready for further processing. I like to set up a little station for the breading. First the gluten-free flour in the first bowl, then the liquid part with the chickpea flour in bowl number two and finally the breadcrumbs. As soon as everything is ready in the three plates, you can start.
TIP: Allow the celery slices to cool slightly before processing. For a gluten-free option, make sure to use gluten-free breadcrumbs and flour. When breading, it is best to work with one hand and keep the other clean, then the processing will be easier and you will not dirty your whole kitchen. If you don't have Kala Namak at home, feel free to use plain salt.
The only thing missing is the baking out and also here I have two options for you. Either you decide for the classic method with a lot of oil in a pan or in the oven. Here it simply depends on whether you like to cook with oil, or prefer to go oil-free. One thing I have to tell you honestly at this point, the schnitzel only gets really crispy when you bake it in the pan.
How healthy is celery actually?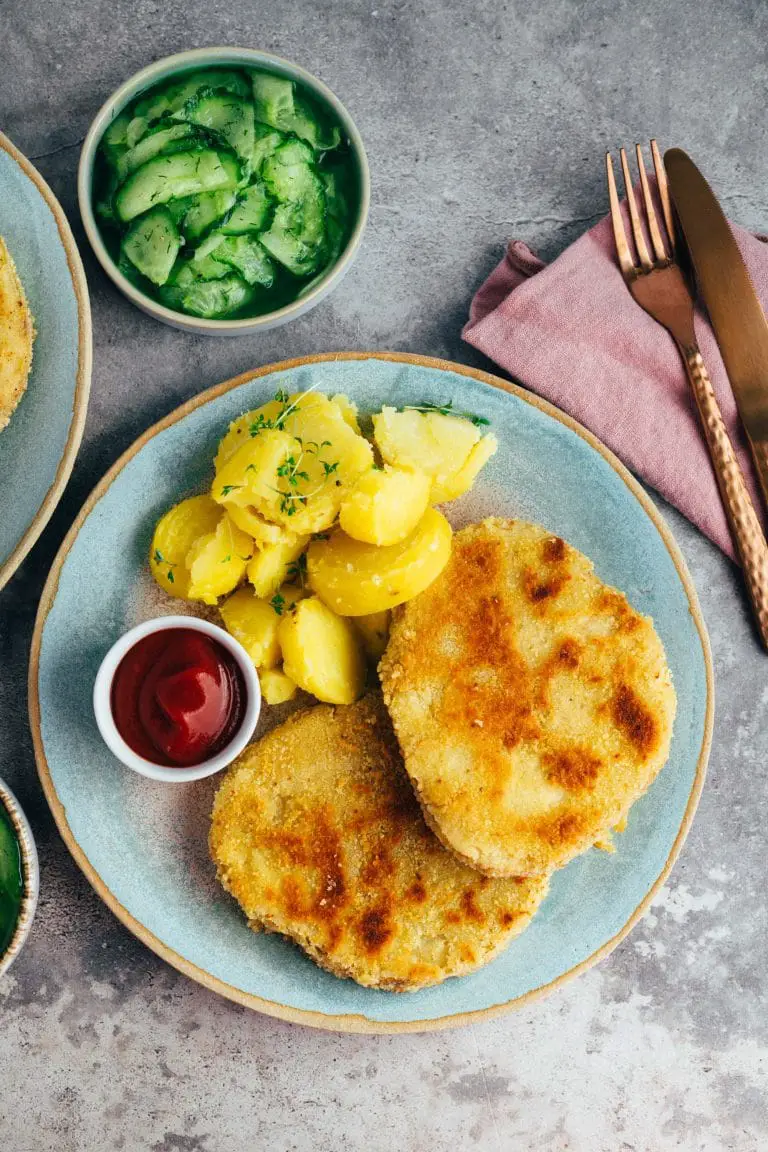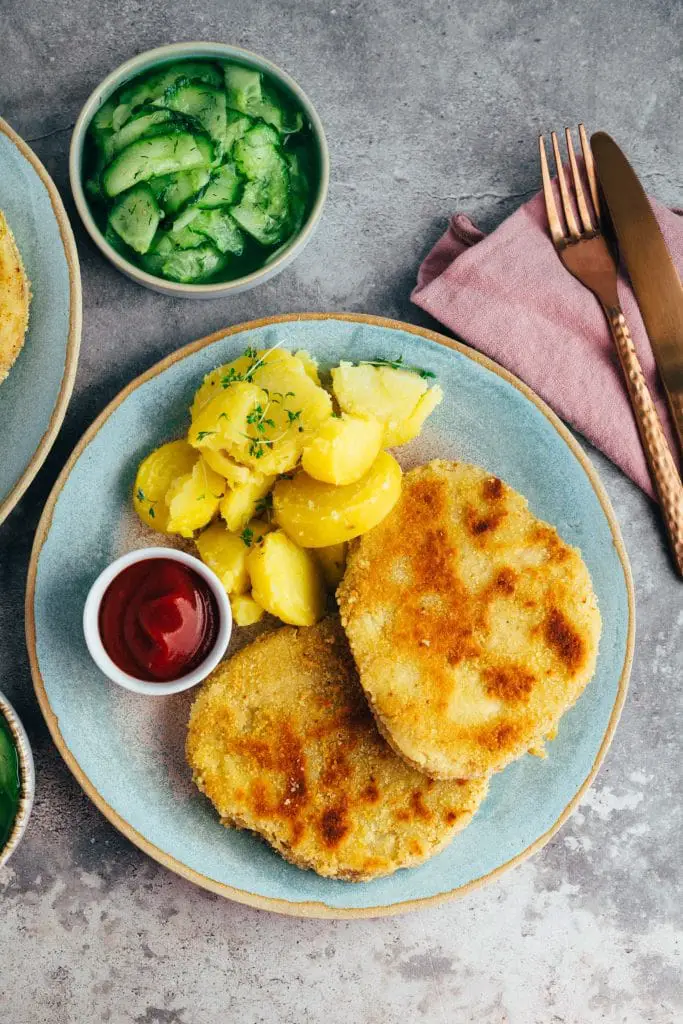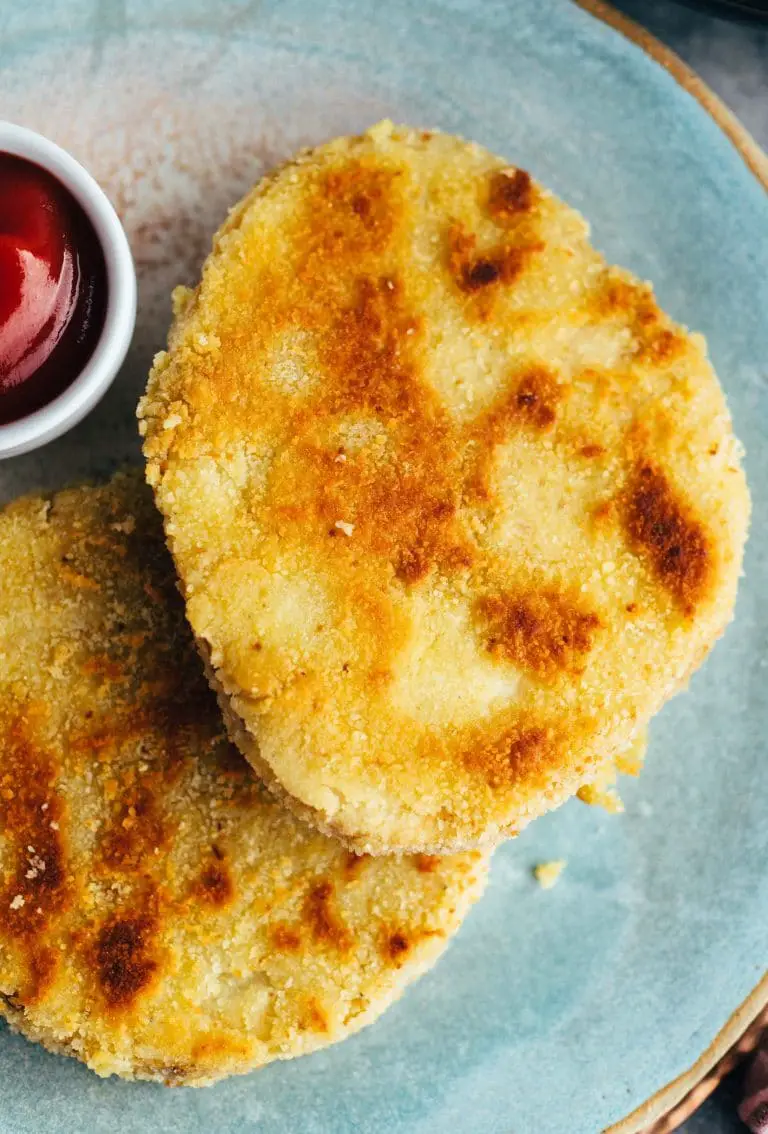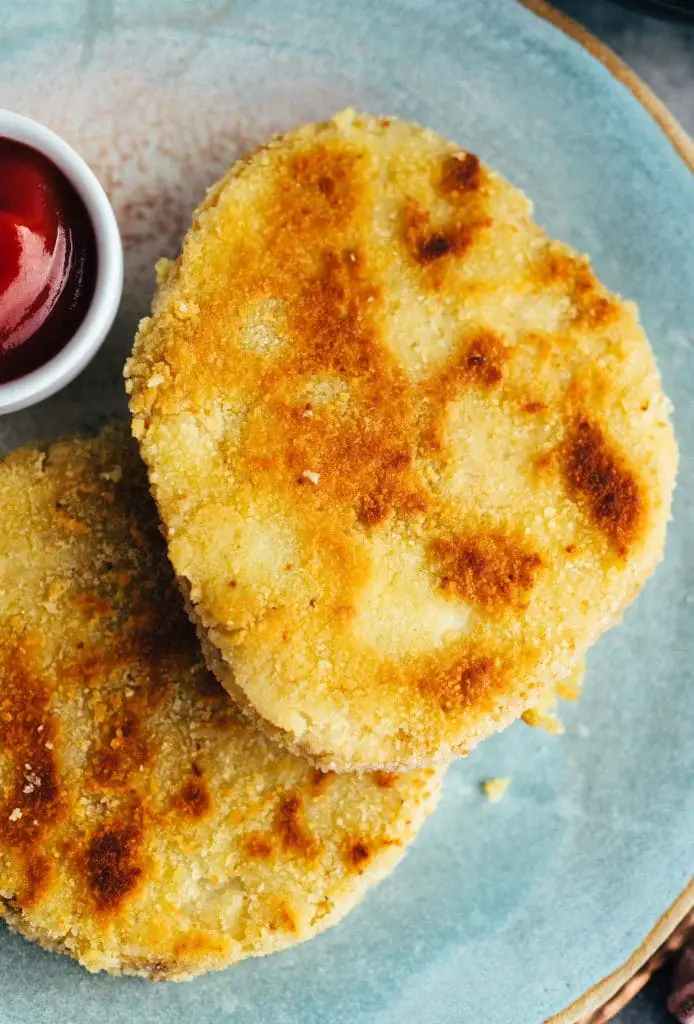 How often does celery end up on your table? Now I don't mean the popular celery stalks that many health gurus and experts turn into juice and drink first thing in the morning every day on an empty stomach. Have you ever done a celery juice cleanse? I've wanted to start doing this before, and then I let it go anyway. I think it takes a lot of effort to buy the fresh produce in advance, get a juicer, and then press the celery fresh every day. Maybe I'll have a phase in my life where I'll put that into practice. Back to the subject of celery, so strictly speaking celery tuber.
Why is celery so healthy and why should you include it in your diet much more often?
Has an antibacterial effect, the essential mustard oils contained have been proven to render pathogenic bacteria harmless
Good for the stomach, thanks to the contained bitter substances and essential oils
Contains appreciable amounts of vitamins A, B, C and E
Contains apigenin, a pale yellow plant compound that has anti-inflammatory and antioxidant properties
High content of sodium and potassium
TIP: Always check celeriac for freshness when buying. It's super fresh when the greens are still on the tuber. Products without fresh greens often come from storage. Here it is best to press the tuber once gently with your fingers and check whether the vegetable is nice and firm. If it can be pushed in too far it is a sure indication that the celery is no longer fresh. Store in the refrigerator for up to two weeks, but it certainly won't be that long before this delicious cutlet is on the table.
If you're in the mood for another hearty dish today, I highly recommend my Skillet Spinach Dumplings, Miso Bowl with Black Cabbage, or my Protein Roast.
The celery cutlet is gluten-free:
Outside crispy
Inside soft
filling
High fiber
Easy to manufacture
Let's get started with this delicious vegan skillet meal. I wish you a lot of fun with the re-cooking and am happy about a review at the bottom of this page. If you post a picture, use the hashtag #veganevibes.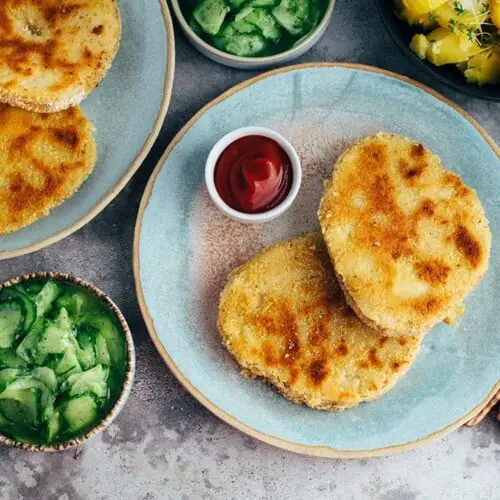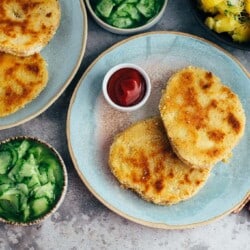 Celery cutlet vegan & gluten free
Healthy vegan cutlet made from fine slices of celery root, coated in a fine gluten-free breading. Crispy on the outside, soft on the inside. Especially suitable for all lovers of cutlets without animal suffering. Rich in fiber, vitamins and minerals. Gluten free.
AUTOR: VEGANEVIBES
FOR THE CELERY BULB SLICES:
1

Piece

Celery bulb (approx. 440g)

green removed, peeled and washed and cut into 1-1.5cm thick slices

2

Liter

Water
TO SERVE:
Boiled potatoes

Cucumber salad

Parsley Green
Anleitung 
FOR THE CELERIAC SLICES Remove celery from its green stalk (if still present).

1 Piece Celery bulb (approx. 440g)

Note: Celery greens are rich in essential oils, save for soups or for decoration.

Tuber wash, optionally peel and cut into 1-1.5cm thick slices.

Bring water to a boil in a large pot. Add a pinch of salt.

2 Liter Water,

1 Pinch of salt

Put in celery slices and cook for

10 minutes

.

Drain water, place half-cooked celery slices on a clean kitchen towel, drain and let cool.

FOR THE PANANDE build a station with three bowls.

In the first bowl, add chickpea flour, water, pepper, kala namak (or salt) and nutmeg. Whisk until a uniform liquid is formed.

55 g Chickpea flour,

150 ml Water,

½ tbspn Kala Namak,

Pepper to taste,

1/8 tbspn Nutmeg

125 g gluten free flour mix

In the third bowl, add the gluten-free breadcrumbs.

For breading, always work with one hand and keep the other hand clean.

Alternatively, work with pliers.

Take one celery slice at a time, roll both sides in the gluten-free flour mixture, pull through the liquid chickpea flour mixture, and finally roll in the breadcrumbs. Set aside and continue breading until all cutlets are coated with breadcrumbs.

Heat pan and pour in oil. Place cutlets in pan and bake for

3-4 minutes on

each side until golden brown. Add more oil to taste if the breading draws a lot of oil.

At least 3-4 tablespoons of oil or margarine for frying

Alternative method with less oil Fry the cutlets briefly on both sides in a small amount of oil and then bake in the oven at 180 degrees convection for 20 minutes.

Optionally serve with jacket potato and cucumber salad and enjoy! Best fresh.

Boiled potatoes,

Cucumber salad,

Ketchup,

Parsley Green
Notizen
https://eatsmarter.de/lexikon/warenkunde/gemuese/knollensellerie
Nährwertangaben
Serving:
1
Portion
Calories:
212
kcal
Carbohydrates:
38
g
Protein:
8
g
Fat:
3
g
Saturated Fat:
1
g
Sodium:
263
mg
Potassium:
365
mg
Fiber:
4
g
Sugar:
3
g
Vitamin A:
2
IU
Vitamin C:
6
mg
Calcium:
86
mg
Iron:
3
mg