Vegan bowls are all the rage, and rightly so. They're usually packed with healthy veggies, a full source of carbohydrates, and delicious dressing. I am an absolute fan of it and love to combine the different building blocks. Rice alone would be boring, but in combination with a dressing and lots of vegetables it becomes a real treat for the palate. Then I put in black cabbage, which I stew in the pan before really delicious. More info on the health benefits of cabbage and much more info can be found in the text.
Tempting healthy vegan bowl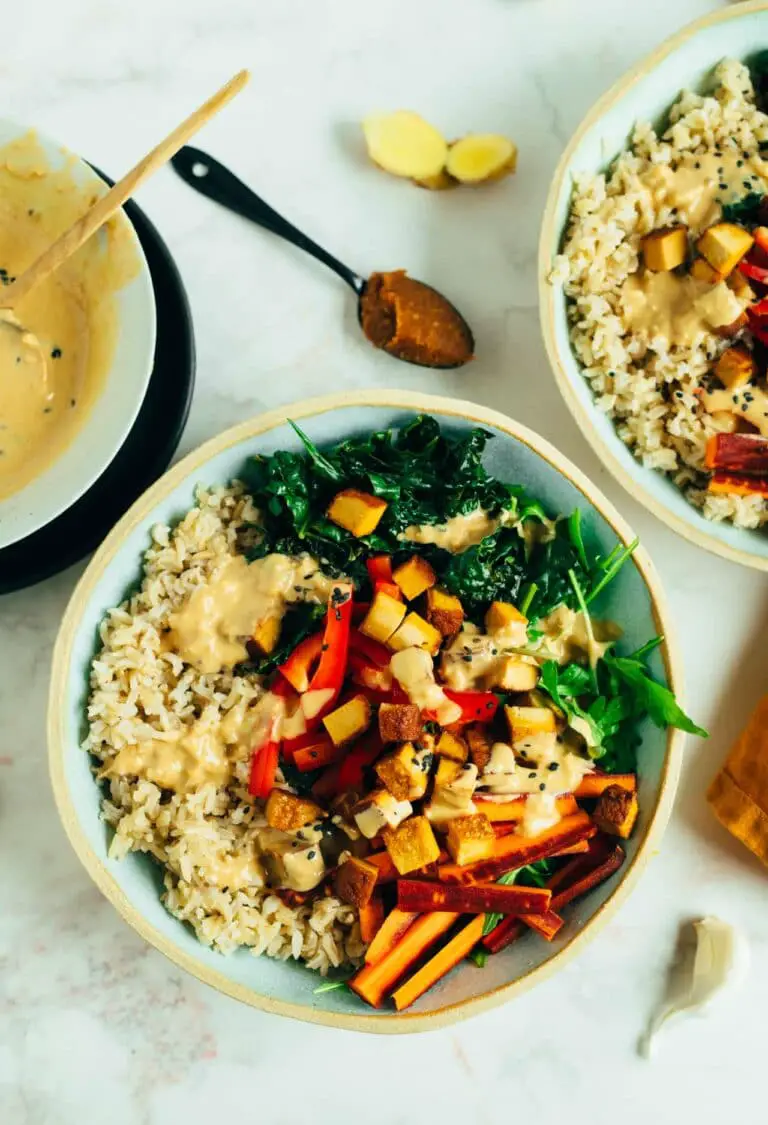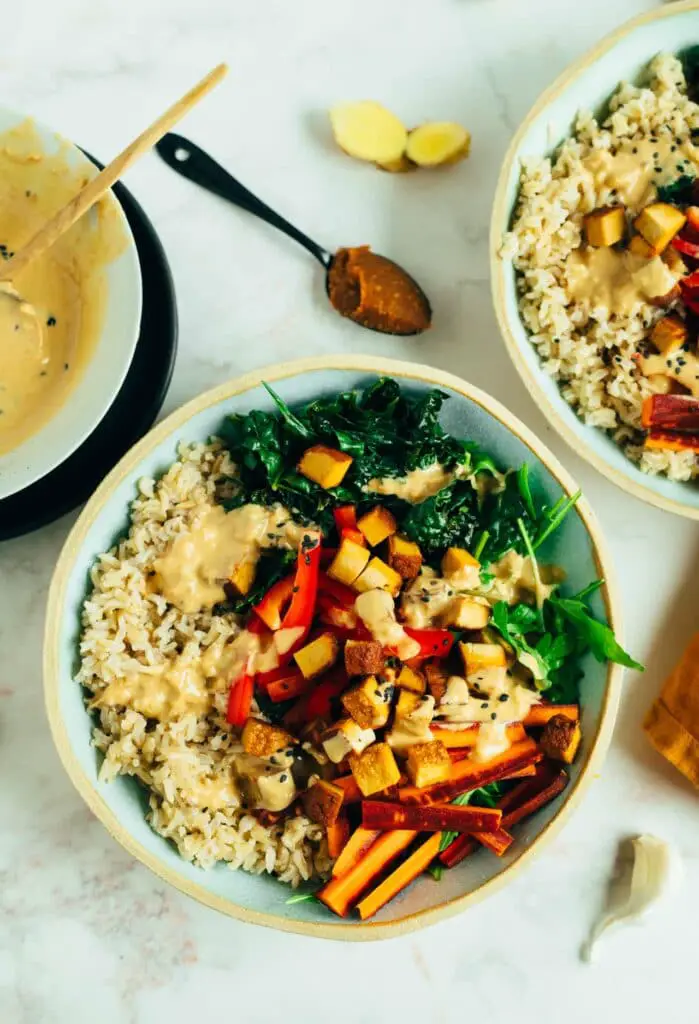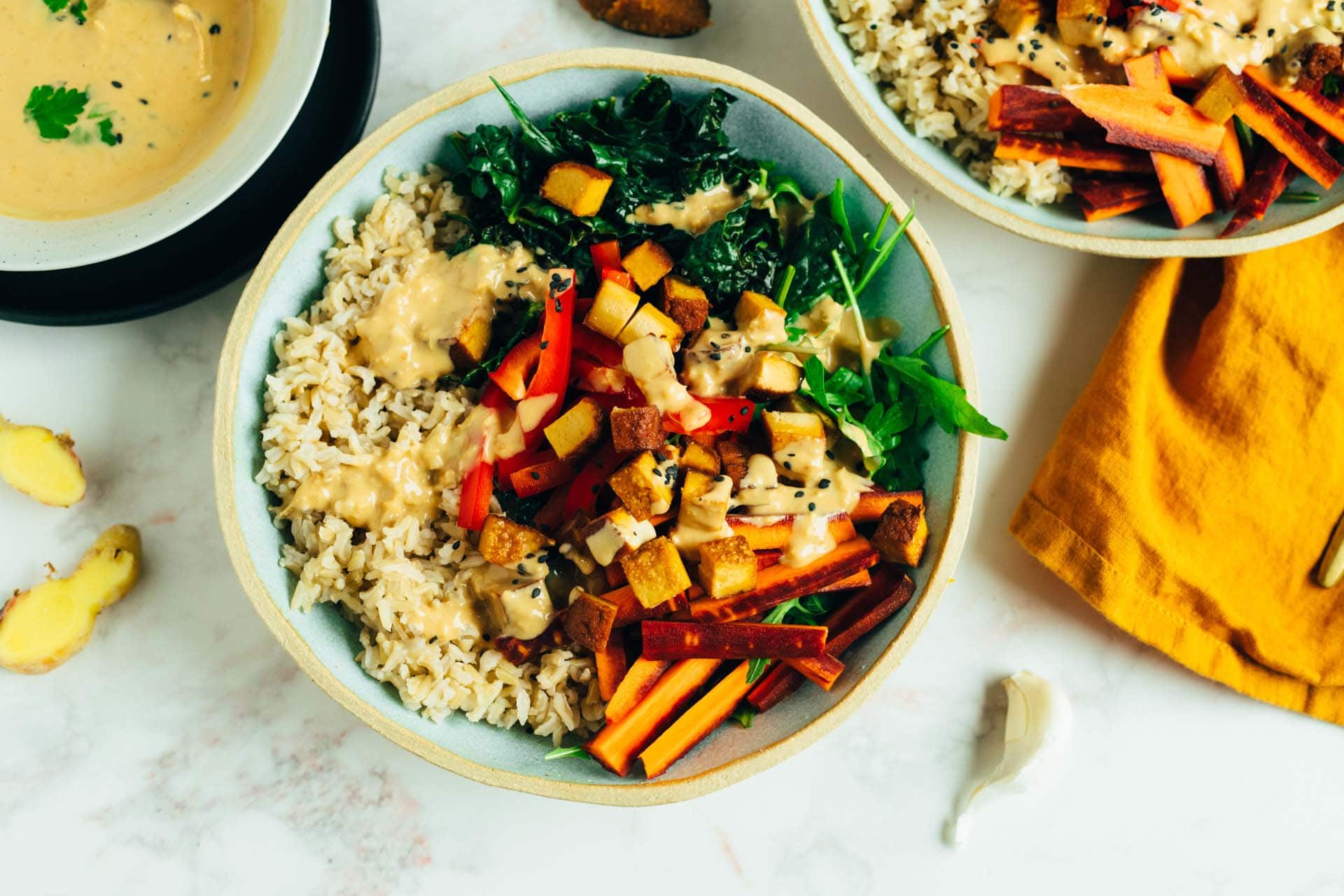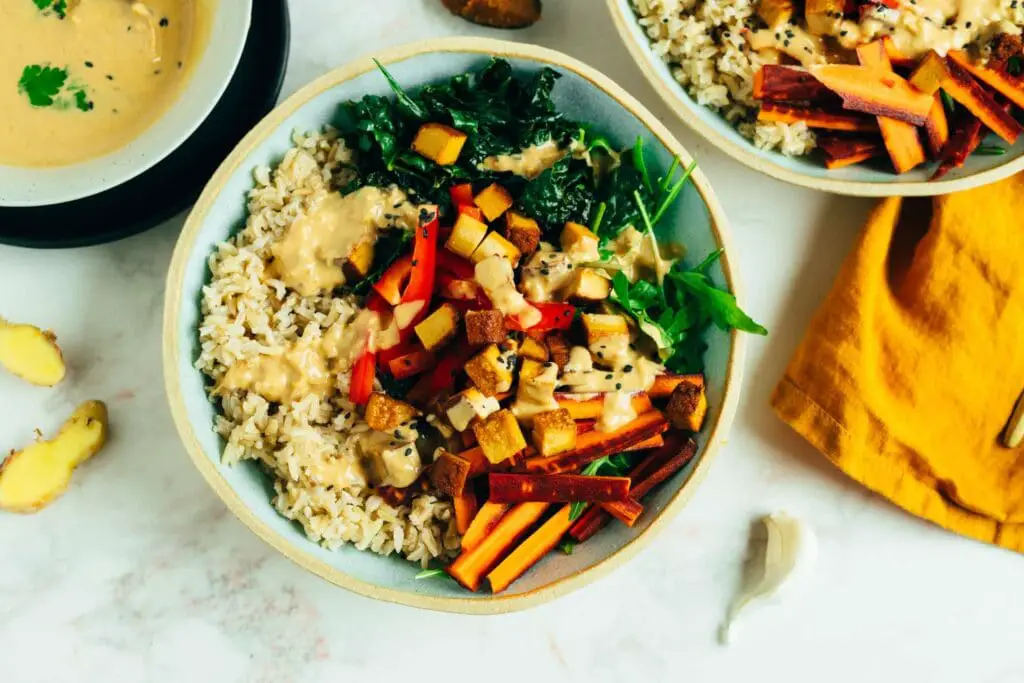 The base for this delicious vegan bowl is the miso dressing I detailed in the last post. If you don't have miso in the house, I recommend my tahini dressing. However, I would encourage you at this point to give miso a chance, as it is an absolute boon to your diet and the good bacteria in your gut. If you're still interested in what umami is now, I recommend reading this post.
Whole grain rice, arugula, fresh carrots, bell peppers, roasted tofu cubes, black kale and an irresistible miso dressing. It's all in this filling and healthy bowl.
Quick vegan dishes? Preparation is everything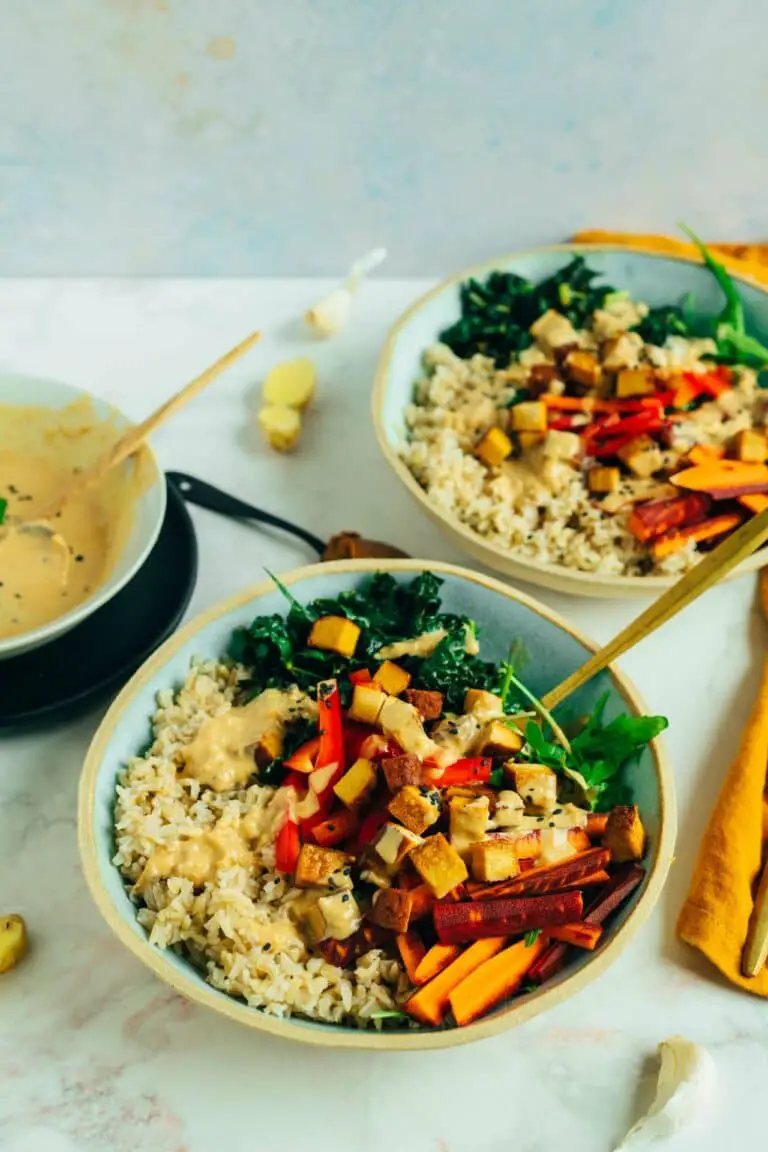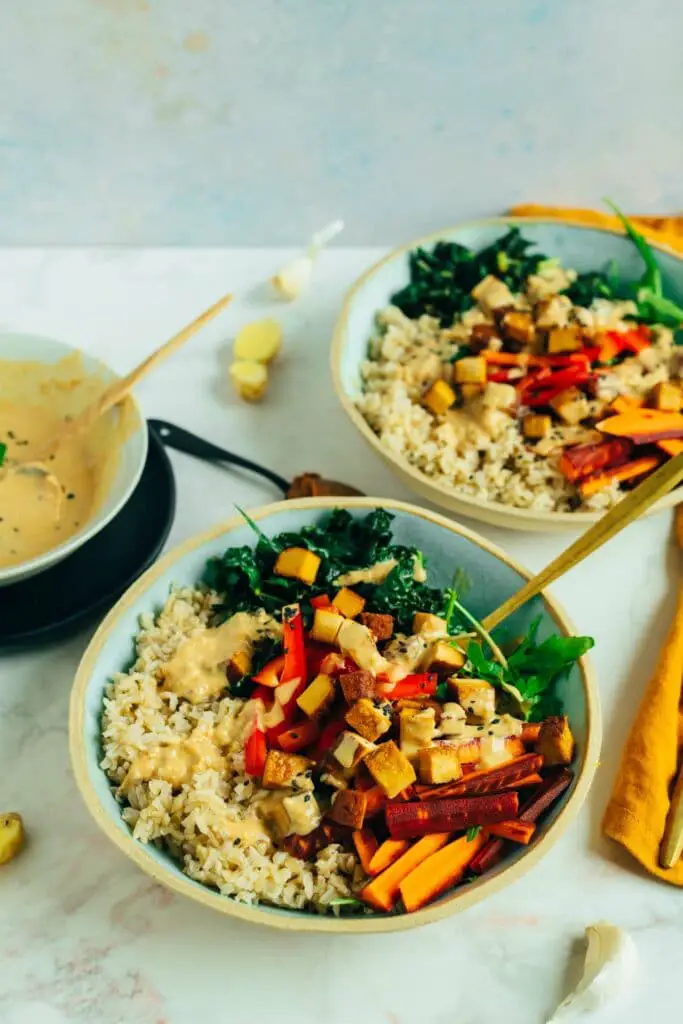 Most of us have enough to organize in our daily lives and time is a precious commodity. Therefore, it makes sense to keep the time in the kitchen as short and concise as possible. And I'm not talking about the activities that guarantee joy or relaxation. Baking cookies, for example, can be super fun. Are you looking for inspiration here? Then take a look here.
Let's get back to the skillful preparation in the kitchen. With a few little tips and tricks, it works quite well. Rice in particular can be wonderfully precooked for a week and stored in the refrigerator. I have a sealable glass box for this and it saves me a lot of time because I just have to heat up the rice quickly.
TIP: I like to use whole grain rice because it has not been polished and is rich in minerals, vitamins and fiber. If you are unsure because various whole-grain rice varieties failed Öko-Test, please read Rapunzel's statement. Whole grain rice is definitely preferable to polished rice, if you incorporate it into your diet 1-2 times a week that would be ideal.
Correctly prepare kale and black cabbage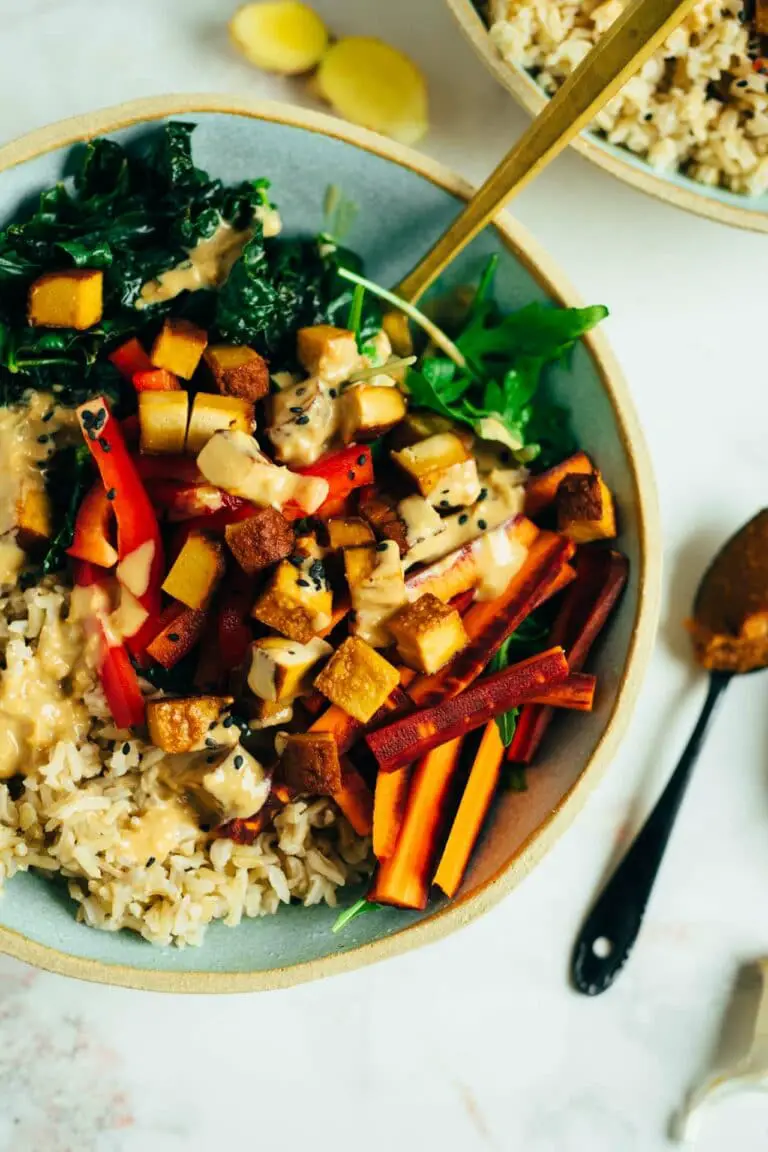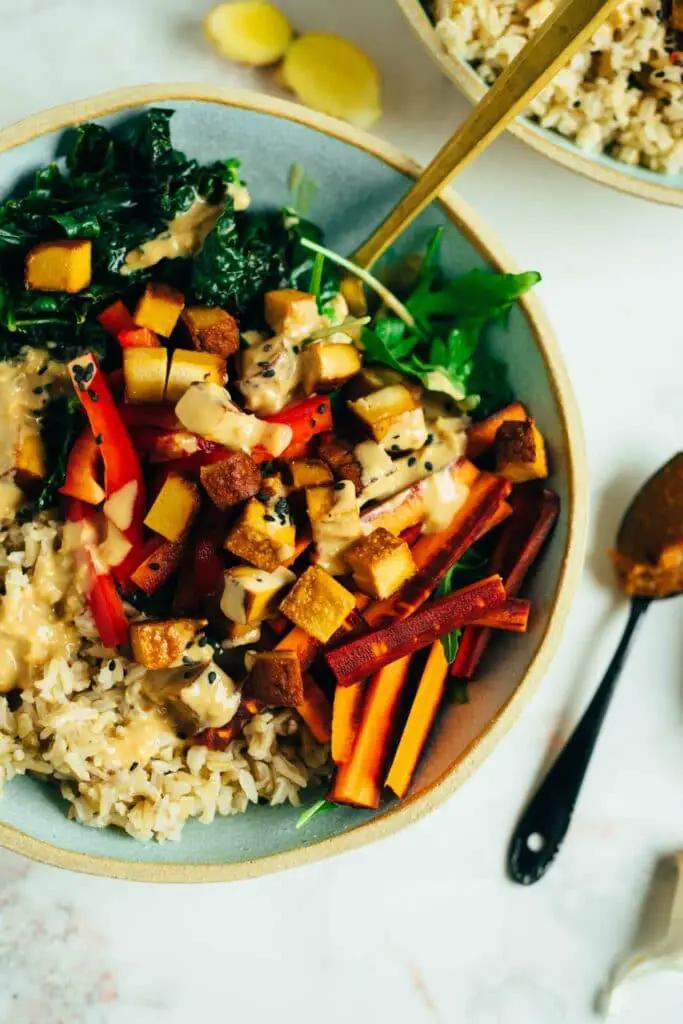 Let's get to the star in our dish, the black cabbage. The tastes pure not so special (I think at least). That's why I steam it in the pan along with orange juice and some tamari. This highlights the flavors in the cabbage and gives it a fruity note.
Why is cabbage so healthy?
Rich in vitamin C, to strengthen your immune system
Vitamin B6, involved in the formation and remodeling of proteins, especially important during pregnancy and breastfeeding
very good source of calcium, important for signal transmission of nerve cells, healthy bones and teeth
Low calorie, can prevent obesity
High in fiber, preventive effect against obesity, diabetes and cancer.
I'm sure you're craving this delicious Miso Bowl by now at the latest. It's perfect for a simple dinner or lunch and provides you with a filling serving of plant-based protein, vitamins and valuable fiber. Simple, fast and straightforward, just the way I like it!
On my site you will find more bowl recipes, such as Asian Bowl with peanut butter tempeh or the Shawarma Bowl with cauliflower. This goes wonderfully with a homemade naan bread with spelt flour or gluten-free. Yum!
The Vegan Miso Bowl with Black Cabbage is:
hearty
aromatic
with umami flavor
Rich in protein
Easy to manufacture
I hope you enjoy this delicious bowl and I'd love to see a review at the bottom of this page. If you post a picture, feel free to use the hashtag #veganevibes.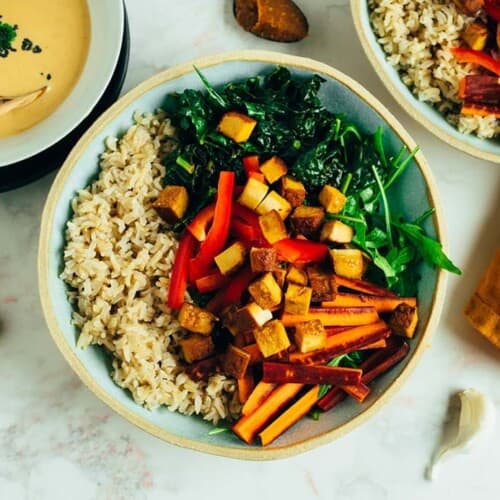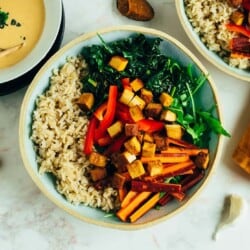 Vegan miso bowl with black cabbage
Aromatic miso bowl with whole grain rice and lots of healthy vegetables, coated in a delicious miso dressing. Pair with cubes of roasted tofu for a satisfying and nutrient-rich bowl for every day.
AUTOR: VEGANEVIBES
FOR THE RICE:
240

g

Rice

cooked, I use an organic whole grain rice
FOR THE BLACK CABBAGE:
200

g

Black cabbage

cleaned, washed and cut into strips, the stalk can be used as well

15

ml

Tamari

Soy sauce or coconut Aminos

30

ml

Orange juice
FOR THE REST:
200

g

fresh arugula

washed

1

Piece

red bell bell pepper

Stalk removed and cut into strips

2

Piece

medium carrots

cut into strips

200

g

Smoked tofu

diced
FOR THE MISO DRESSING:
TO SERVE:
Vegan pita

Flatbread or naan

Fresh coriander greens
Anleitung 
Cook rice according to package directions.

Place a large and a small pan on the stove and let them get hot.

Toast tofu cubes in small skillet on all sides. I don't use any additional oil, they still get super crispy.

Add black cabbage to large skillet, add tamari and orange juice. Stir and steam covered for about 10 minutes until cabbage is tender.

200 g Black cabbage,

15 ml Tamari,

30 ml Orange juice

Divide rice into bowls, arrange black cabbage, arugula, carrots and peppers.

1 Piece red bell bell pepper,

2 Piece medium carrots,

200 g fresh arugula

Add tofu cubes on top and finish with miso dressing.

Decorate with naan and fresh herbs as desired. enjoy!

Vegan pita,

Fresh coriander greens

Tastes best fresh.
Notizen
Calculation of cooking time with precooked rice
Nährwertangaben
Serving:
1
Portion
Calories:
537
kcal
Carbohydrates:
110
g
Protein:
20
g
Fat:
10
g
Saturated Fat:
2
g
Sodium:
373
mg
Potassium:
2205
mg
Fiber:
25
g
Sugar:
9
g
Vitamin A:
41209
IU
Vitamin C:
96
mg
Calcium:
382
mg
Iron:
17
mg