Semolina cake, at first sounded strange to my ears because I have yet to bake a cake with durum wheat semolina. But since I am curious by nature, I dared to experiment and was honestly thrilled and surprised at the same time by the result. Delicious, fluffy, not too sweet, the cake is really wonderful and reminiscent of Bella Italia!
Simple vegan semolina cake, oil reduced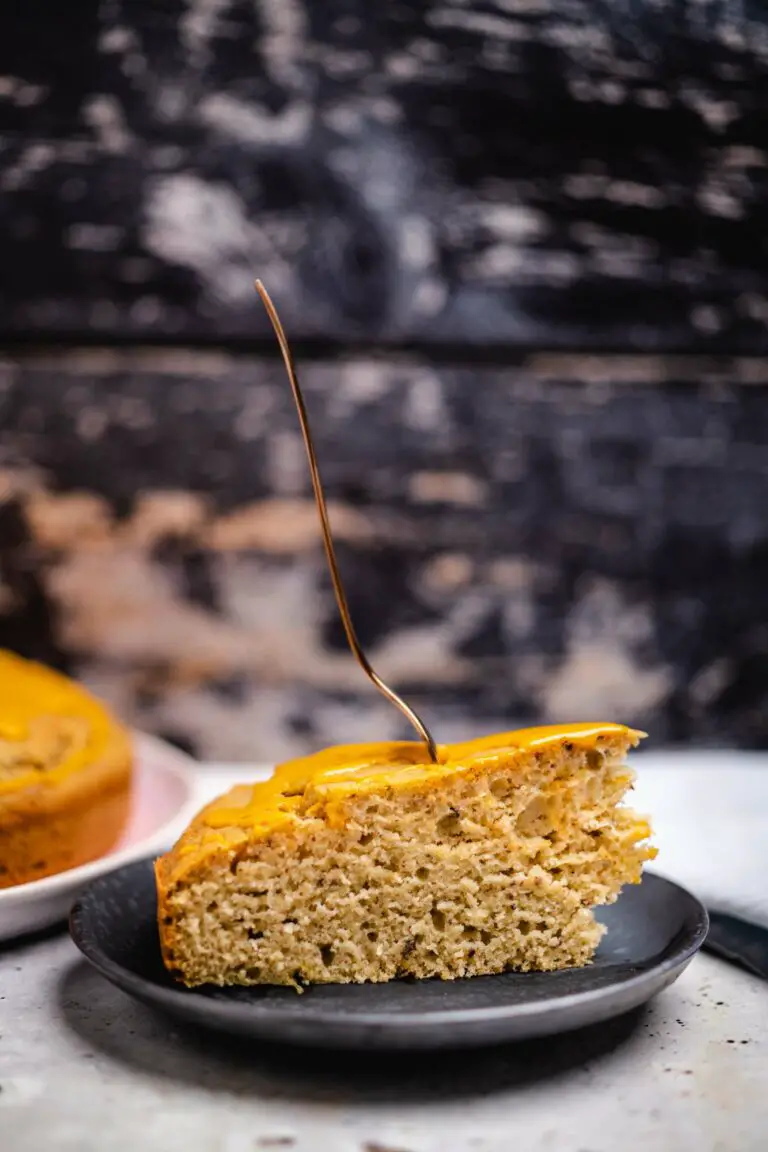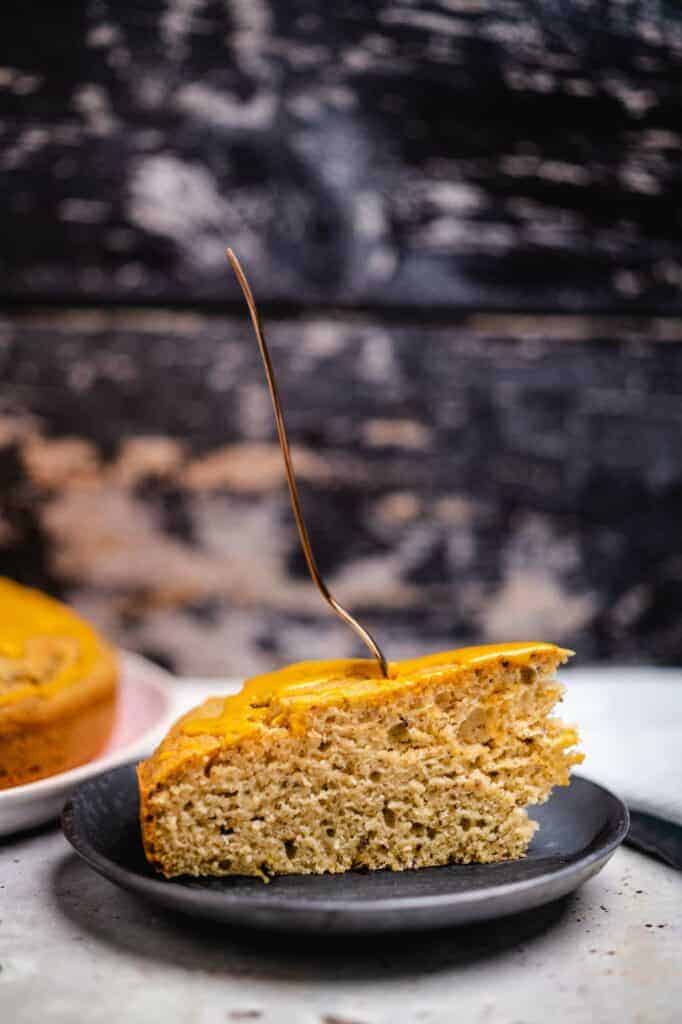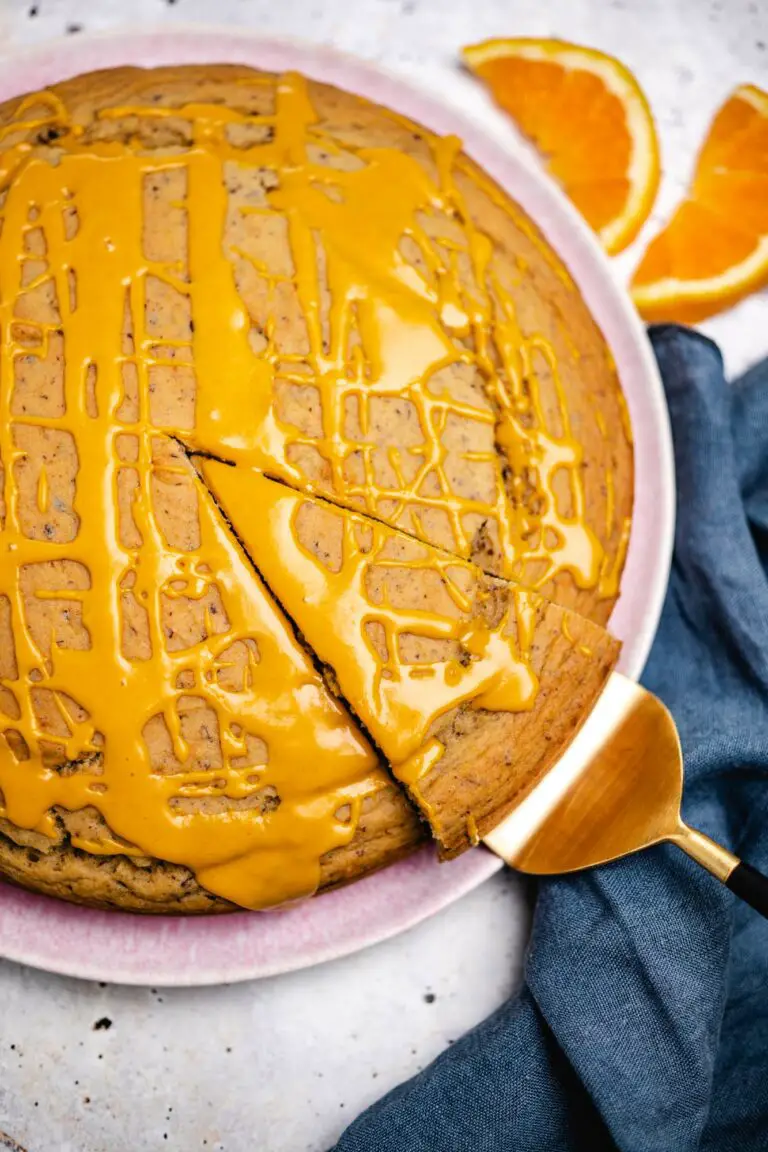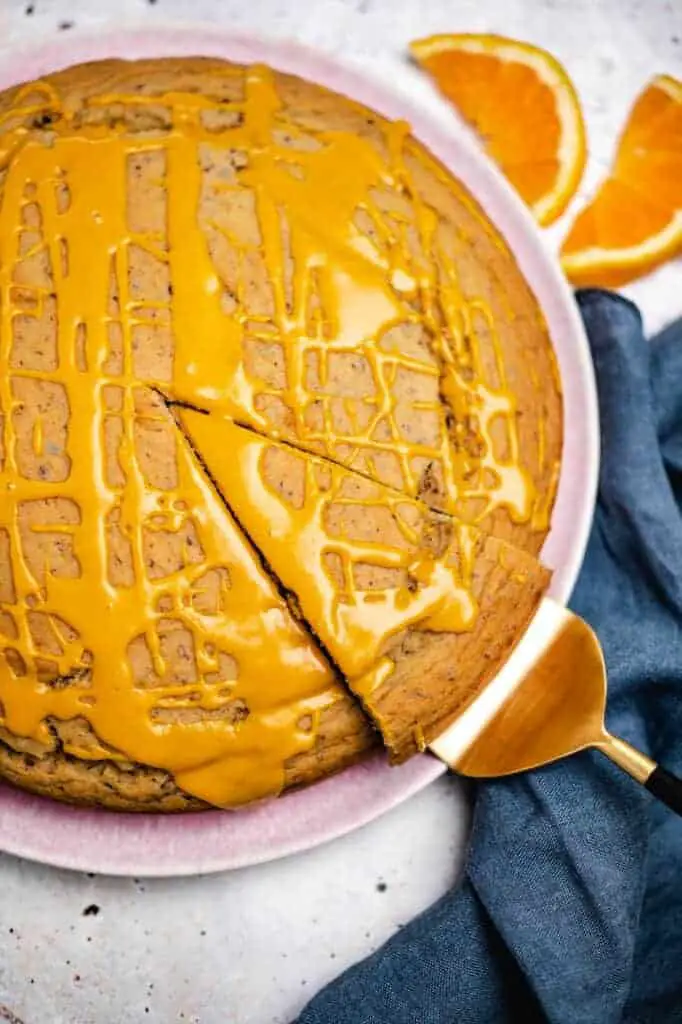 Sometimes I really like to bake completely oil-free, however, I often opt for a reduced-oil version as well. For this recipe, I reduced the originally intended amount by half and it worked great. As a substitute, I use apple pulp, which is 100 percent unsweetened, pureed apples. The remaining dough consists of durum wheat semolina, raw cane sugar, baking powder, baking soda, bourbon vanilla, yogurt, margarine, orange juice, orange zest and flaxseed eggs.
On top, add a fine frosting of powdered sugar, orange juice and turmeric for a beautiful yellow color.
Simple vegan baking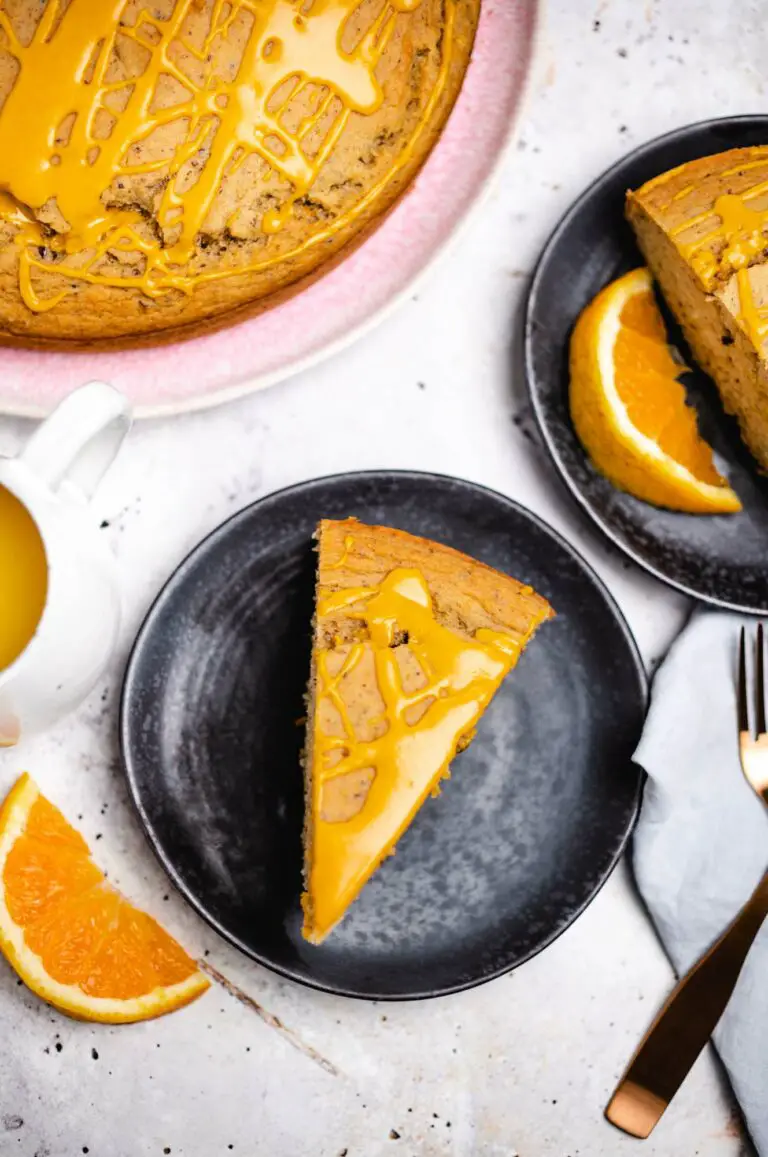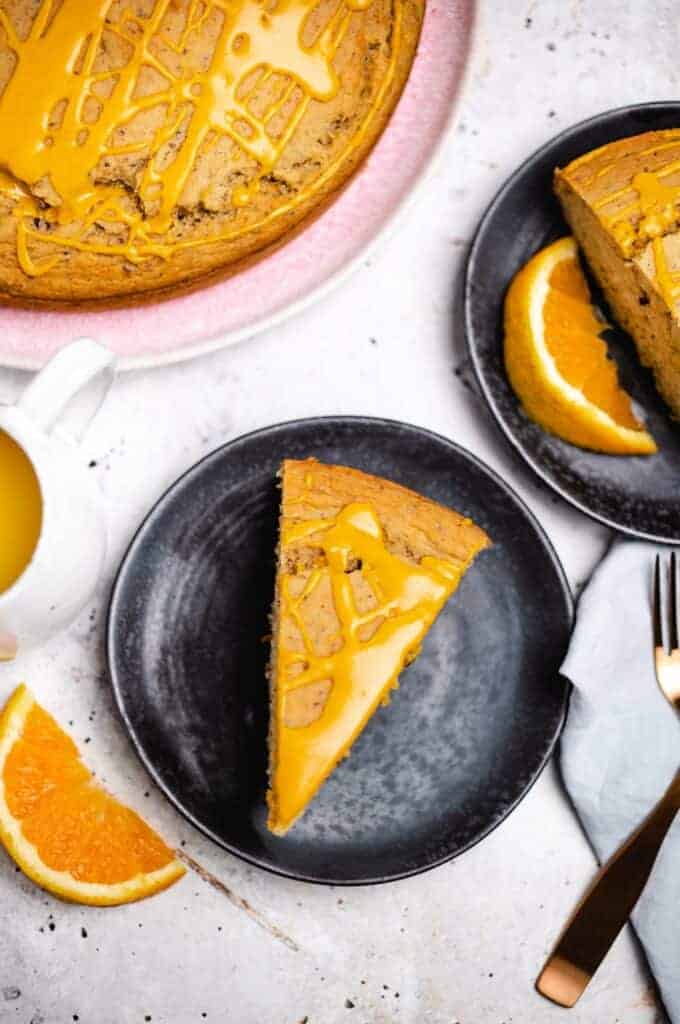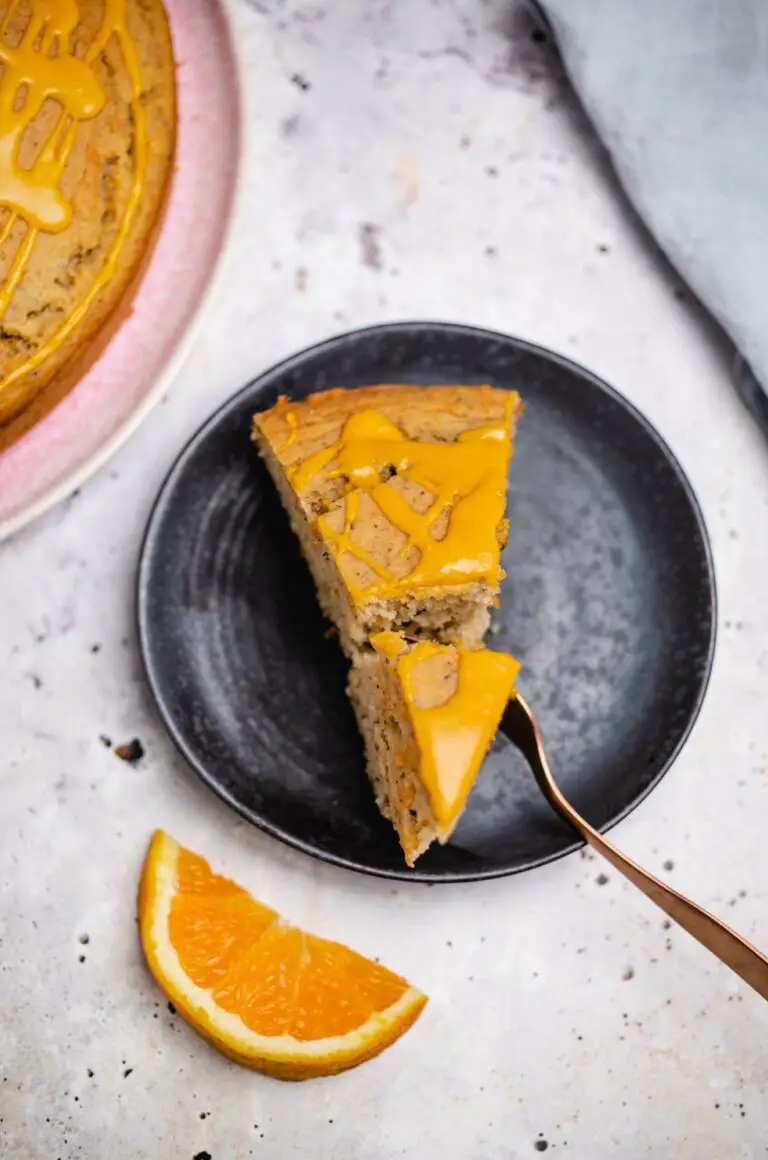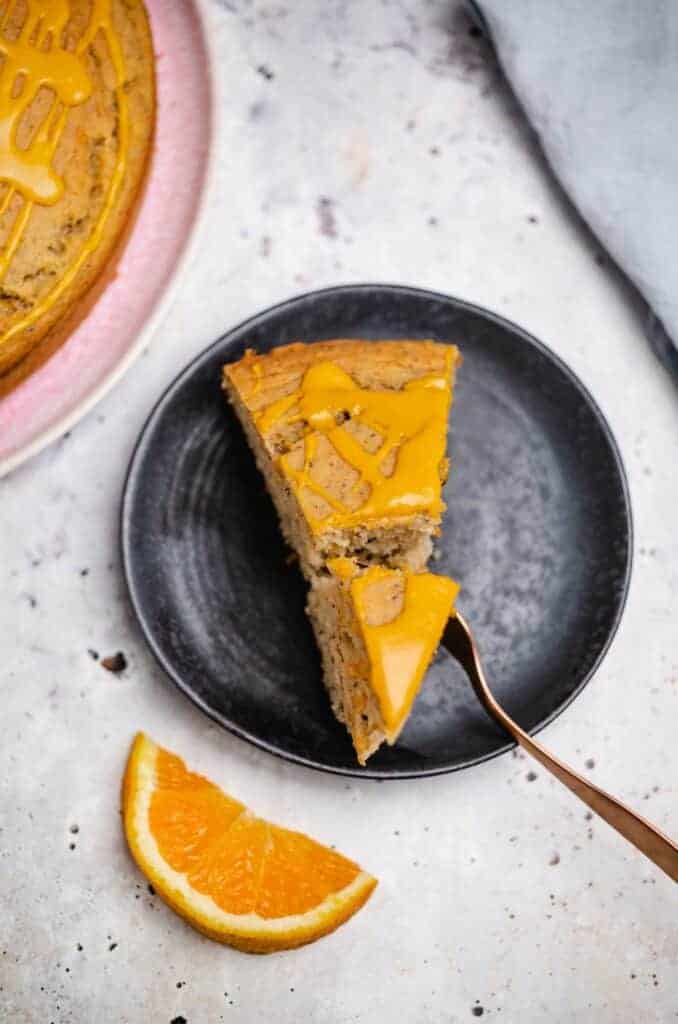 Maybe you are now asking yourself the question, what actually is durum wheat grits? It is produced during the milling of special durum wheat grown as a summer cereal. Actually, you make Italian pasta from durum wheat or durum grits. However, you can also make very tasty cakes from it, as in our example. By the way, semolina cake is also known from Arabic cuisine, where it is called basbousa and is traditionally served in small slices.
If you're in the mood for a different sponge cake today, I have the following recommendations for you:
I hope you enjoy baking and of course about a review at the bottom of this page. If you post a picture, use the hashtag #veganevibes.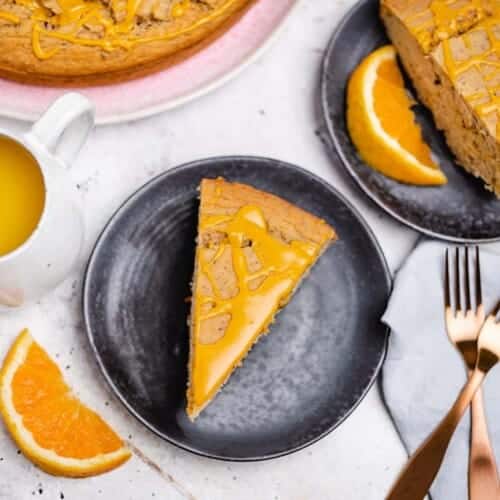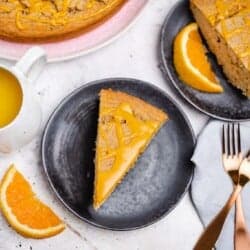 Grieskuchen vegan
Einfacher, saftiger Grieskuchen mit feinem Hartweizengries. Verfeinert mit einem fruchtigen Frosting aus Organgensaft und Kurkuma. Eine etwas andere Alternative zu den klassischen, veganen Rührkuchen. Vegan, ölreduziert, laktosefrei.
AUTOR: VEGANEVIBES
FÜR DEN GRIESKUCHEN:
3

Stück

Leinsameneier

450

g

Hartweizengries

150

g

Rohrohrzucker

1

Packung

Backpulver

1

TL

Natron

400

g

Jogurt Natur

ich verwende Soja Joghurt

100

g

Apfelmark

100

g

Margarine

geschmolzen

Saft einer Bio-Orange

Zeste einer halben Orange

120

ml

Mineralwasser mit viel Kohlensäure
FÜR DAS ORANGEN-KURKUMA FROSTING:
Anleitung 
Backofen auf 150 Grad Umluft (oder 170 Grad Ober- Unterhitze) vorheizen und eine Springform (26cm) mit Backpapier auslegen.

Hartweizengries, Rohrohrzucker, Backpulver, Natron und Bourbon Vanille in eine Backschüssel geben und mit einem Schneebesen verrühren, bis sich alles gleichmäßig verbunden hat .

450 g Hartweizengries,

150 g Rohrohrzucker,

1 Packung Backpulver,

1 TL Natron,

¼ TL Bourbon Vanille gemahlen

Joghurt, Apfelmark, Margarine, Orangensaft, Orangen Zeste und Leinsameneier dazugeben. Vorsichtig weiterrühren und ganz zum Schluss das Mineralwasser dazugeben. Nicht zu lange rühren, ansonsten wird die Triebkraft des Teiges zerstört.

400 g Jogurt Natur,

100 g Apfelmark,

100 g Margarine,

Saft einer Bio-Orange,

Zeste einer halben Orange,

120 ml Mineralwasser mit viel Kohlensäure

Konsistenz des Teiges prüfen, er sollte sich leicht in die Form füllen lassen, aber nicht zu flüssig sein (siehe Video). Falls zu flüssig mehr Mehl, falls zu fest mehr Pflanzenmilch dazugeben.

In die Springfrom geben und glattstreichen.

In den Ofen geben und

45 Minuten

backen.

Nach Ablauf der Backzeit mit einem Holzstäbchen prüfen, ob der Kuchen fertig ist. Falls das Holzstäbchen "sauber" herauskommt, aus dem Ofen nehmen und vollständig auskühlen lassen.

Für das FROSTING Puderzucker und Kurkuma in eine Schüssel geben, Orangensaft vorsichtig hineingießen und umrühren, bis ein glattes Frosting entstanden ist.

112 g Puderzucker,

2-3 EL Orangensaft,

1 TL Kurkuma

Ausgekühlten Kuchen damit dekorieren. In Stücke schneiden und genießen!

Bis zu 4 Tage luftdicht verschlossen im Kühlschrank aufbewahren.
Nährwertangaben
Serving:
1
Portion
Calories:
361
kcal
Carbohydrates:
63
g
Protein:
7
g
Fat:
10
g
Saturated Fat:
2
g
Polyunsaturated Fat:
3
g
Monounsaturated Fat:
4
g
Sodium:
139
mg
Potassium:
216
mg
Fiber:
1
g
Sugar:
29
g
Vitamin A:
361
IU
Vitamin C:
6
mg
Calcium:
80
mg
Iron:
2
mg