Strawberry slices with quinoa base sounds a bit confusing at first, because quinoa is not necessarily the base for many cakes. We also don't use cooked quinoa, but a puffed variety. This is amazingly good to conjure up a fine floor. It does not always have to be a baked cake base. The idea came to me when I made the quinoa bars. It must also be possible to conjure up a delicious and healthy soil from it. No sooner said than done and these irresistibly creamy and fruity slices were ready.
Strawberry slices with fine quinoa base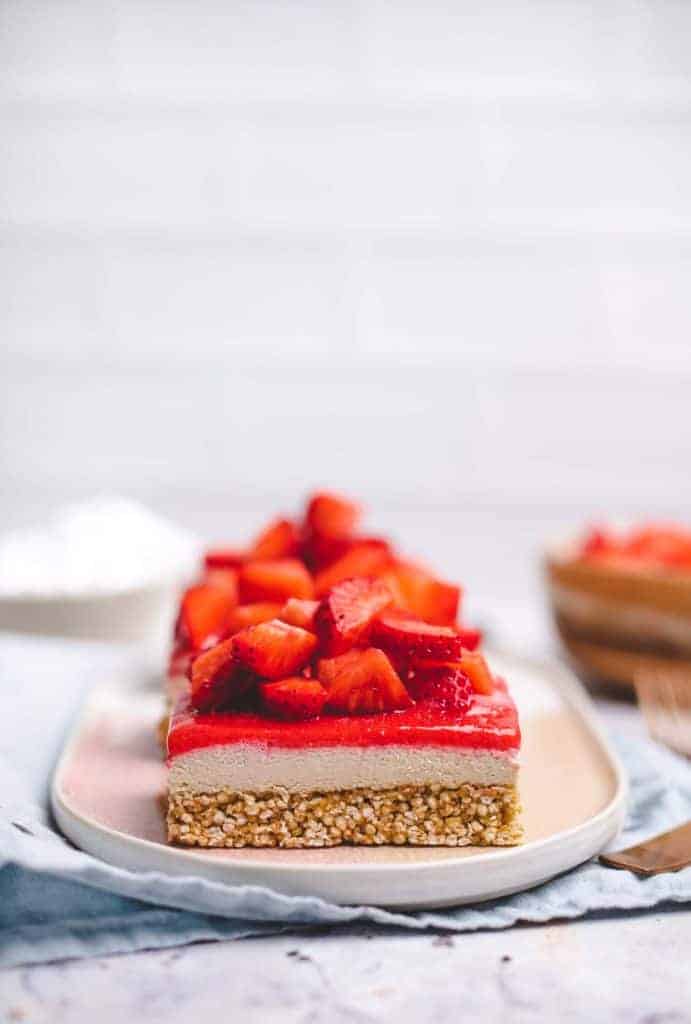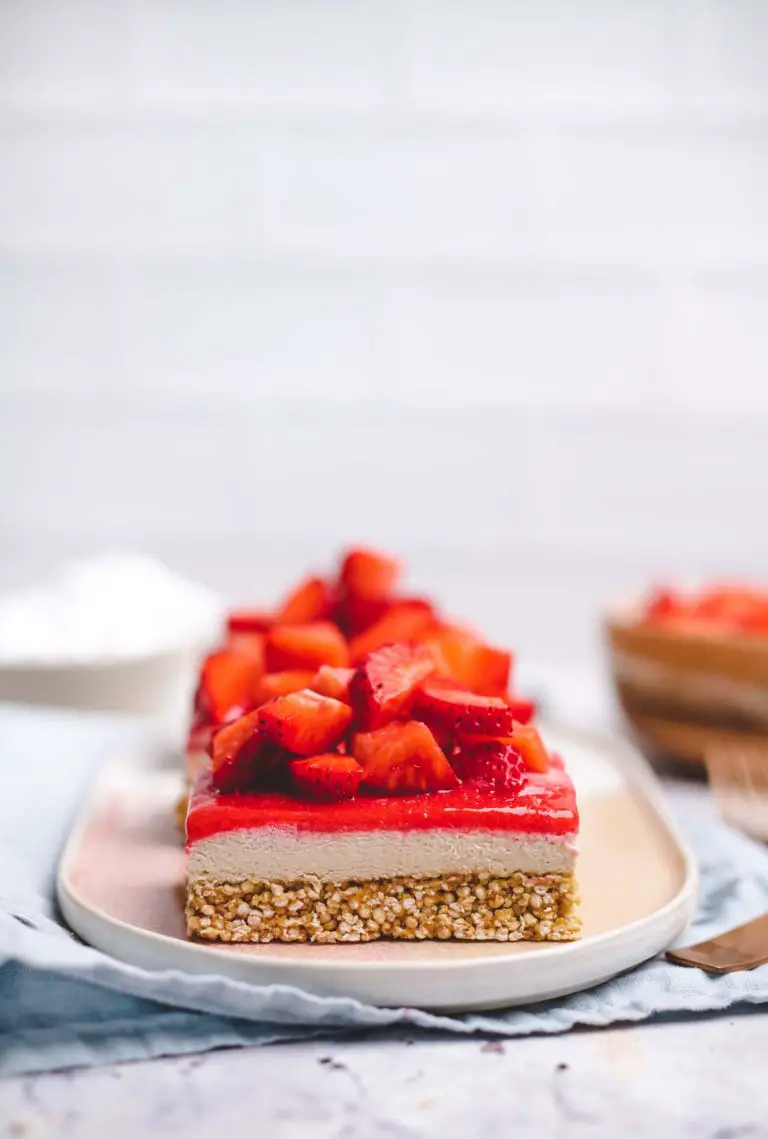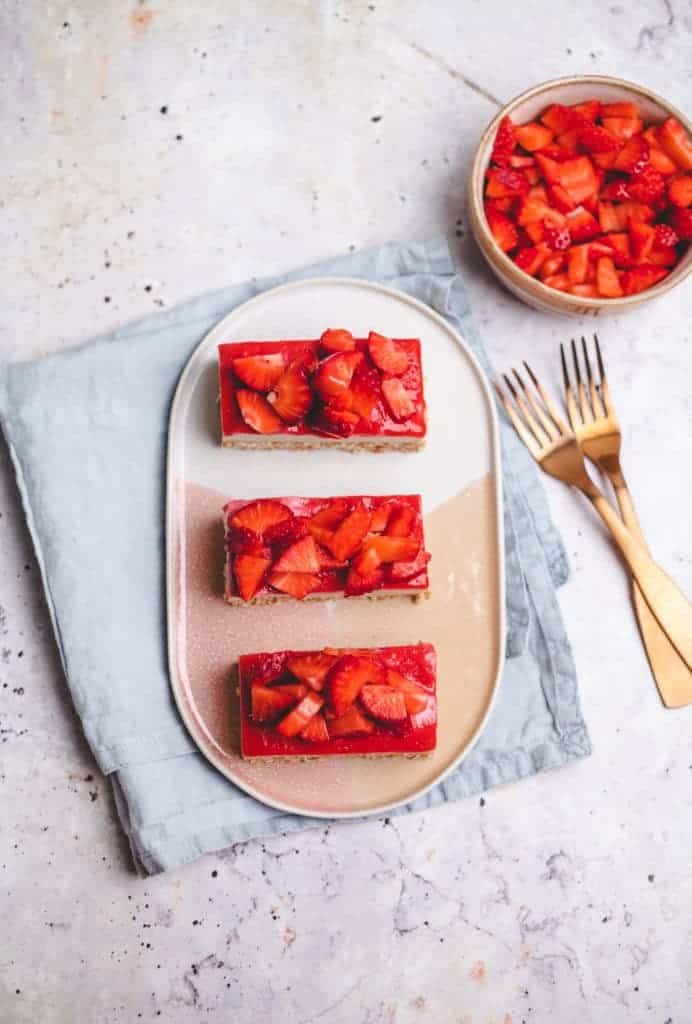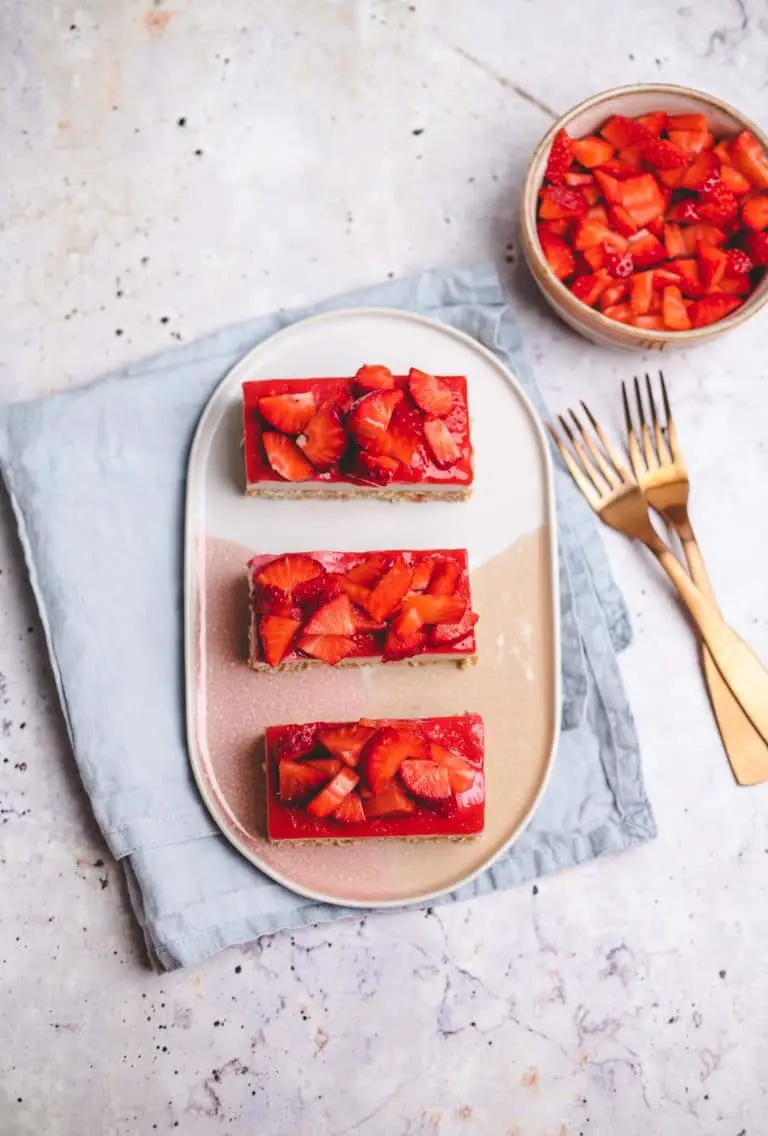 The strawberry slices consist of 3 layers, a base of puffed quinoa, a creamy layer of cashews and vegan curd and a fine strawberry topping that I gel with the help of agar agar.
For the base you will need a mixer, I use my Magi Mix. The popped quinoa is first mixed until it breaks up a bit and becomes slightly crumbly. Add maple syrup and almond paste and continue mixing until you have a slightly sticky mixture. This immediately goes into a brownie mold and is pressed firmly with your hands or a pestle.
Then it's on to making the cheesecake filling. Cashews, lemon juice, maple syrup, vegetable curd, bourbon vanilla and fresh lemon zest. This is all mixed together into a fine cream and(optionally) thickened naturally with xanthan gum.
TIP: You can buy cashews in bulk from either Rapunzel or Koro.
https://amzn.to/3fU4fLz
https://shop.rapunzel.de/produkte/nuesse/3090/cashewkerne-ganz
Vegan slices, easy and quick to prepare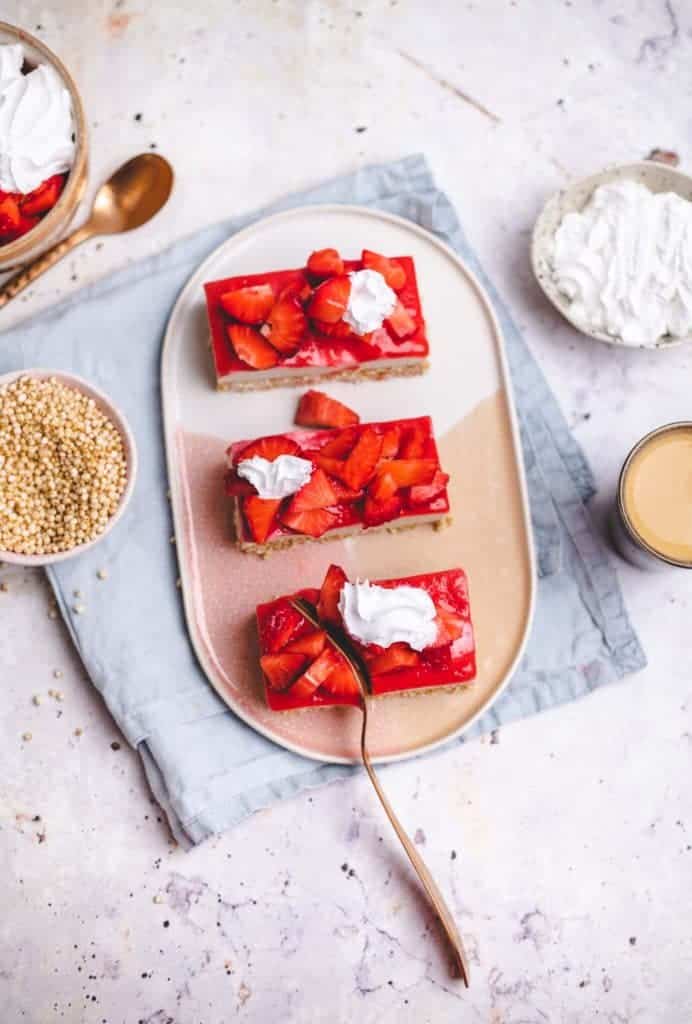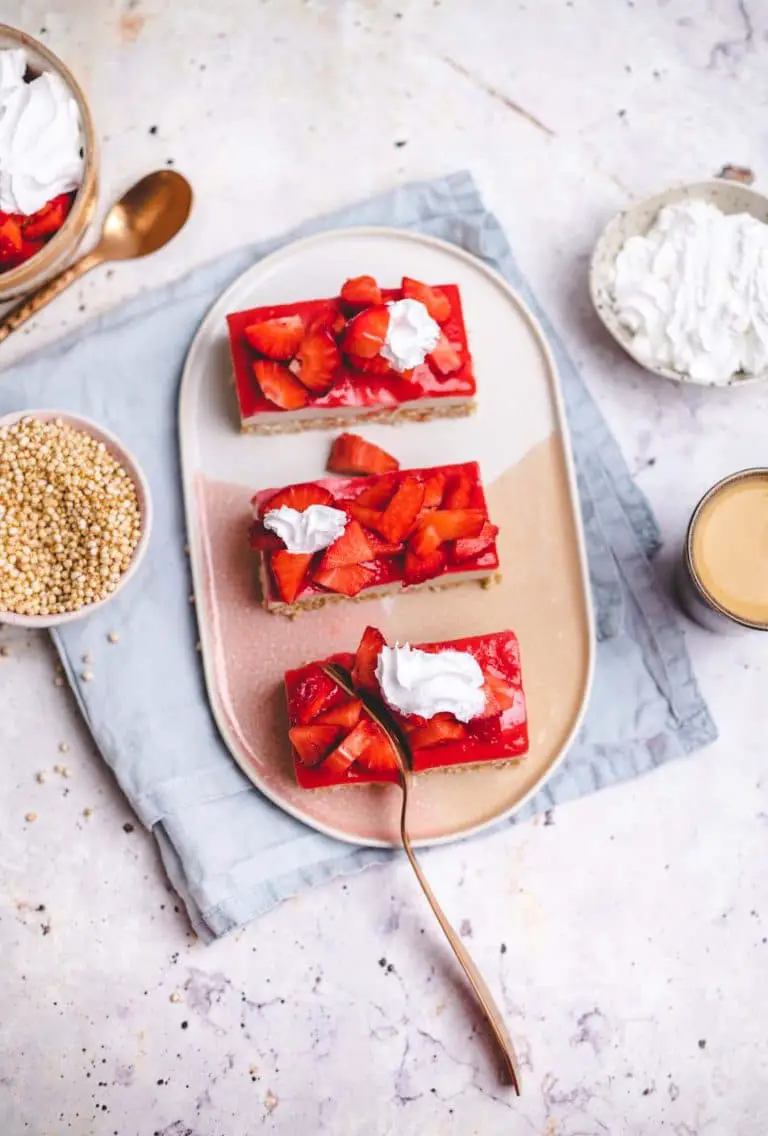 The only thing missing is the fruity strawberry layer made from fresh strawberries, lemon juice and raw cane sugar. If you like, you can press the strawberries through a sieve after pureeing, so that the sauce is really ultra fine. Either use this way if you want to serve the slices as a semifreddo. Otherwise, gel with agar-agar.
Agar-agar is a vegan alternative to ordinary gelatin products, which I explain in detail in the recipe description.
TIP: Rule of thumb when using agar-agar is that it absolutely must be boiled up. Otherwise, it does not gel. It then becomes solid as it cools. You are welcome to make a gelatinization test, for this purpose put a small amount on a plate and let it solidify in the refrigerator. If the jelly is too hard, boil it with a little more water. If too liquid, use a little more agar agar and boil again. Repeat the gelation test.
Healthy sweets with fruits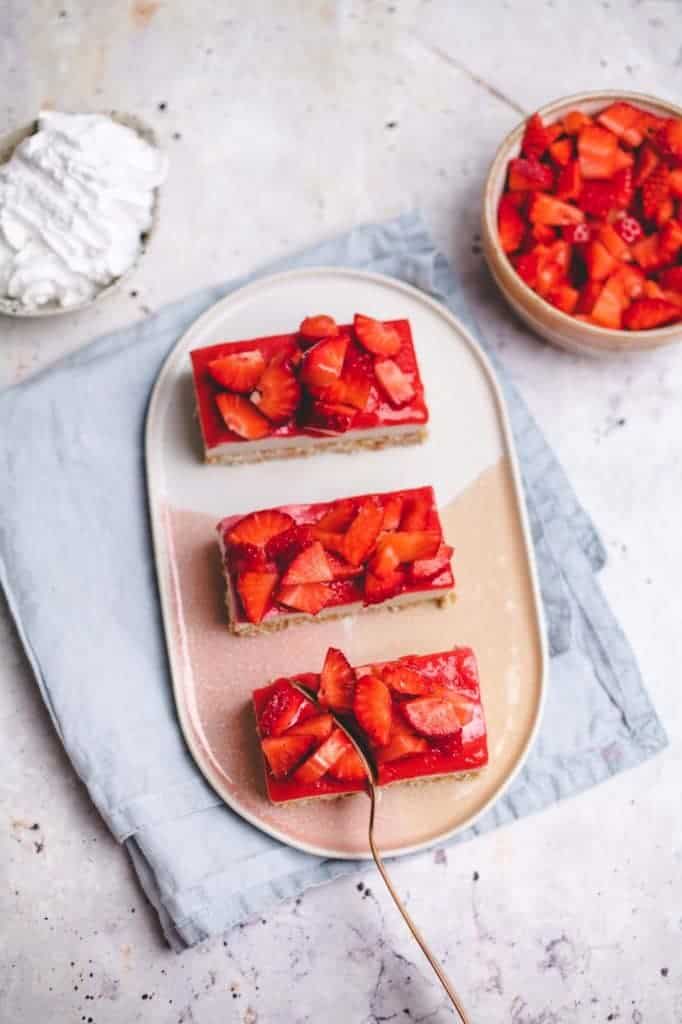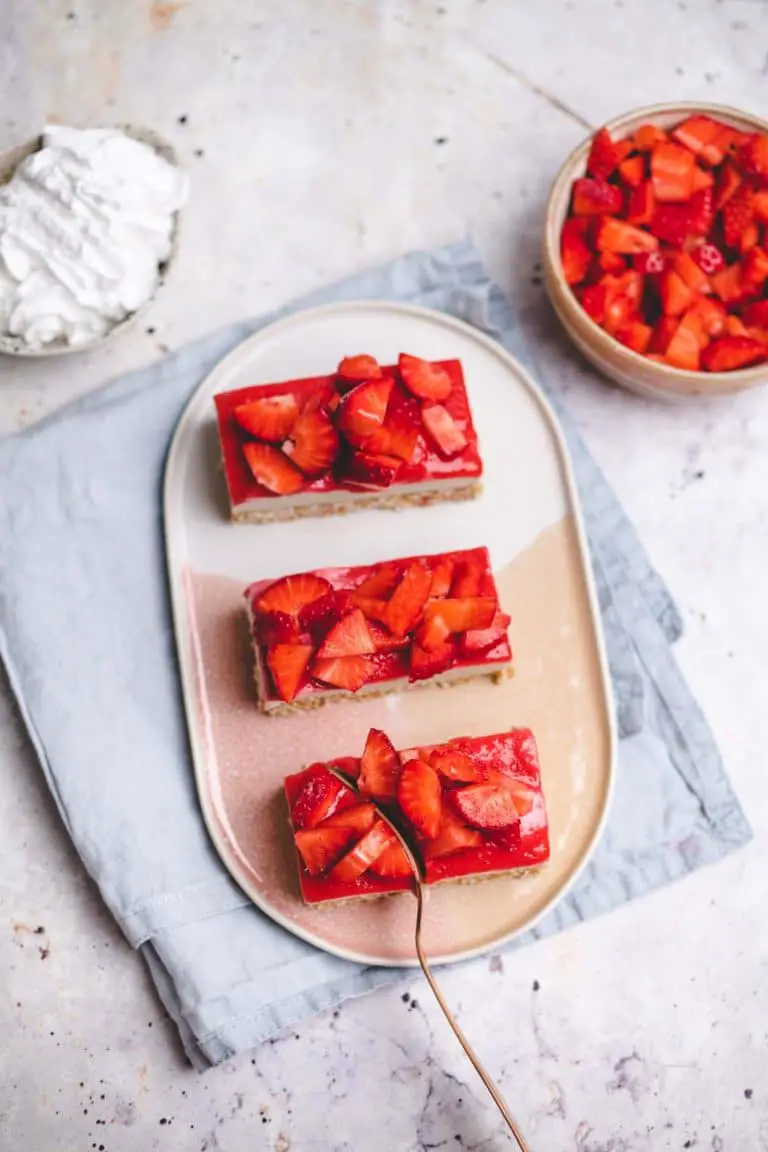 If it should not be strawberry slices today, then I recommend the following:
I hope you now have a desire for a delicious strawberry slice. If yes, then I wish you much fun with the "Nachbacken" and of course about a rating at the bottom of this page. If you post a picture, use the hashtag #veganevibes.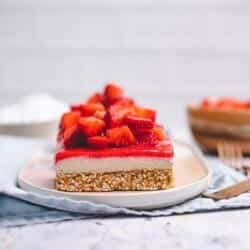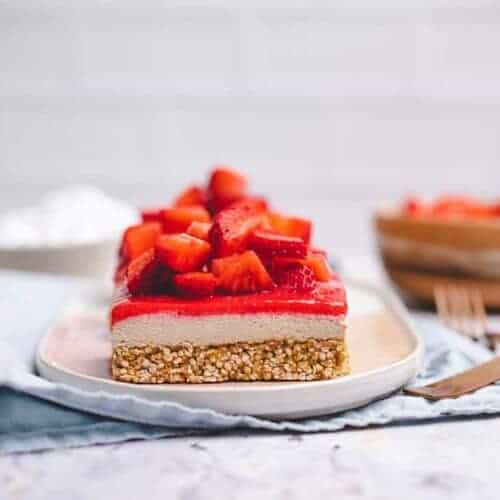 Strawberry slices with quinoa base
Fine vegan strawberry slices with a creamy layer of cashews and cottage cheese on a base of puffed quinoa. Topped with a fruity layer of strawberries, gelled with agar agar. Ideal as a dessert or for a vegan coffee party.
AUTOR: VEGANEVIBES
FOR THE CHEESECAKE FILLING:
FOR THE STRAWBERRY LAYER:
Anleitung 
Line a 20x20cm diameter brownie pan with baking paper. Alternatively, use a mold with similar dimensions.

FOR THE BOTTOM Place puffed quinoa in a blender (I use a Magimix with an S-shaped blade) and blend until the quinoa breaks up slightly and becomes crumbly. Add almond paste and maple syrup and continue to blend until you have a slightly sticky measure and everything is well combined.

100 g Quinoa,

50 g Almond paste white,

60 g maple syrup

Pour into a brownie pan and flatten with your hands or a wooden pestle until you have an evenly firm base.

Place in the freezer.

FOR THE FILLING Place cashews, vegan cottage cheese, maple syrup, bourbon vanilla, lemon juice, lemon zest and salt in a high-powered blender and blend until homogeneous. At the very end, add xanthan gum and mix again on high speed.

180 g Cashews,

200 g Coconut yogurt or another vegetable yogurt,

120 ml maple syrup,

½ tbspn ground bourbon vanilla,

60 ml Lemon juice,

Grated zest of one organic lemon,

1 Pinch sea salt,

½ tbspn Xanthan Gum

Remove the base from the freezer and pour in the filling. Smooth out and set back.

FOR THE STRAWBERRY LAYER put a small saucepan on the stove, pour in water and stir agar-agar with a whisk. Bring to the boil. Cook for 2 minutes and remove heat. Set aside.

½ tbspn Agar Agar Powder,

60 ml Water

Place strawberries, raw cane sugar and lemon juice in a high-powered blender. Add dissolved agar-agar and blend on high speed to a fine puree.

200 g Strawberries,

30 g Raw cane sugar,

30 ml Lemon juice

Pour through a hair sieve and use it to remove the seeds from the strawberries.

Remove base from freezer once again and pour puree over cashew layer.

Cover and place in the refrigerator to set for at least

6 hours

.

When the cooling time is over, remove from the mold and cut into 12 pieces, garnish with fresh strawberries and enjoy!

TIP: Freeze for

15 minutes

before serving, then it will be like a semi-frozen.

Can be stored in an airtight container in the refrigerator for up to 5 days. Alternatively, freeze in pieces for up to 2 months.
Nährwertangaben
Serving:
1
Piece
Calories:
312
kcal
Carbohydrates:
40
g
Protein:
8
g
Fat:
15
g
Saturated Fat:
2
g
Polyunsaturated Fat:
3
g
Monounsaturated Fat:
8
g
Sodium:
11
mg
Potassium:
367
mg
Fiber:
3
g
Sugar:
22
g
Vitamin A:
5
IU
Vitamin C:
22
mg
Calcium:
99
mg
Iron:
2
mg