Quinoa and red lentils go really well together and bomb with these pancakes. I love the pancakes or fritters (amercan) along with a refreshing harissa yogurt, which by the way is my new must have. These healthy fritters have a great texture, are quick to make, and are super easy to prepare. Admittedly, they are also quite delicious cold with a snack. Well, do you feel like it? Let's get started.
vegan quinoa red lentil pancake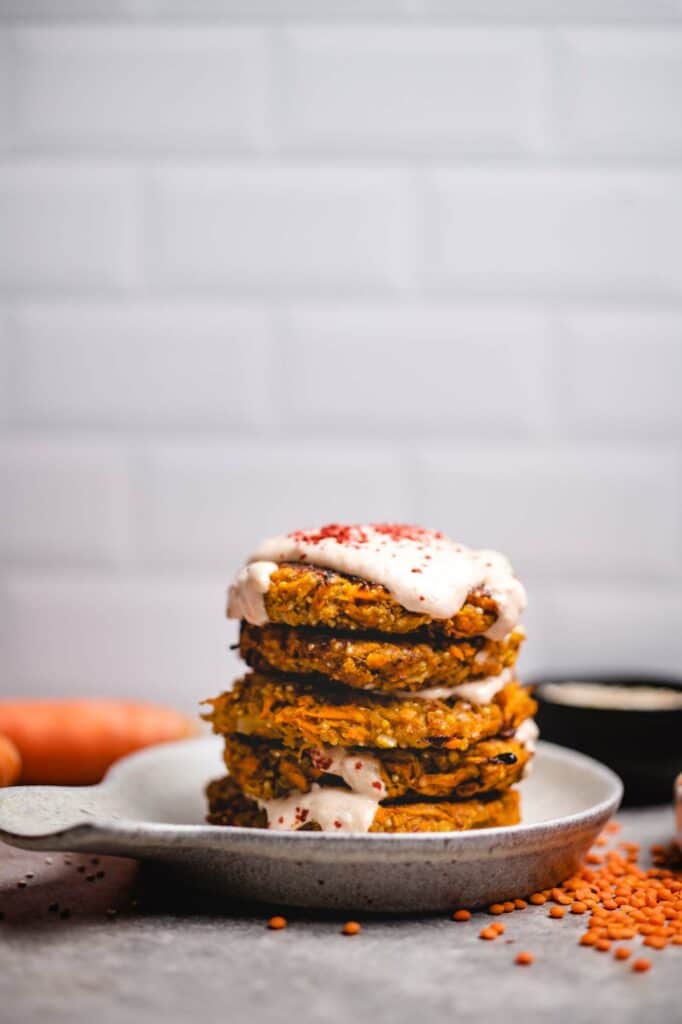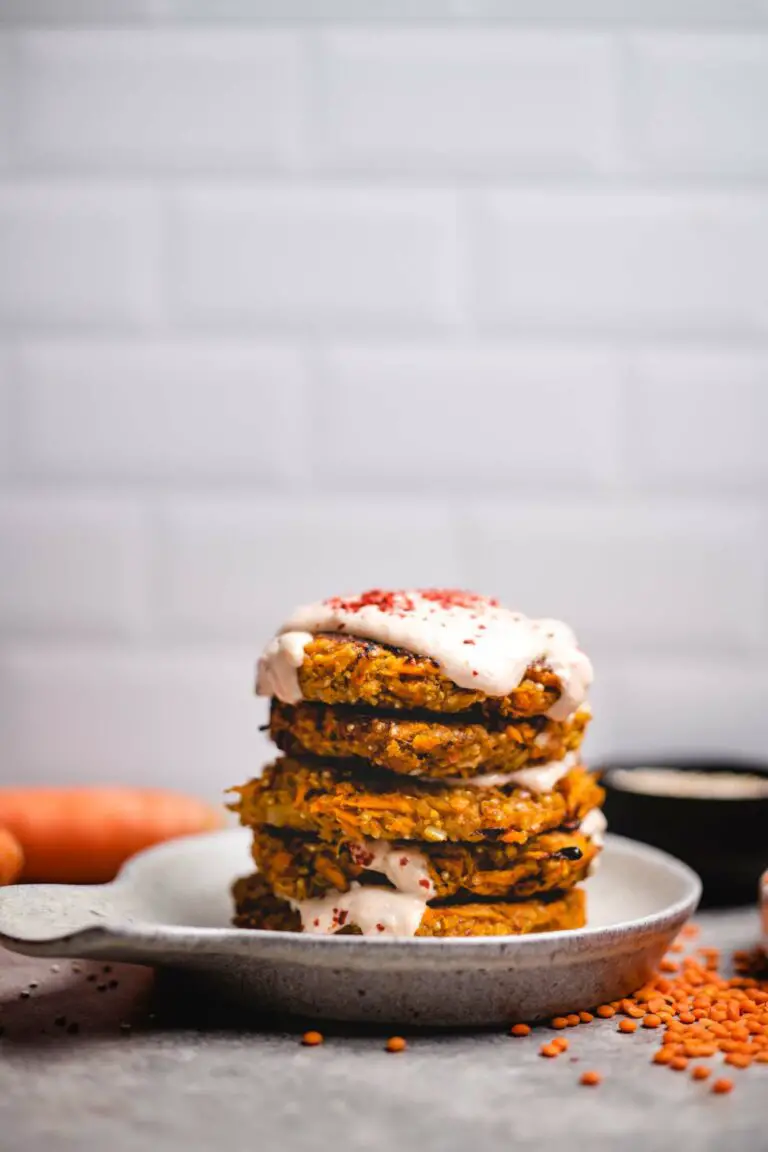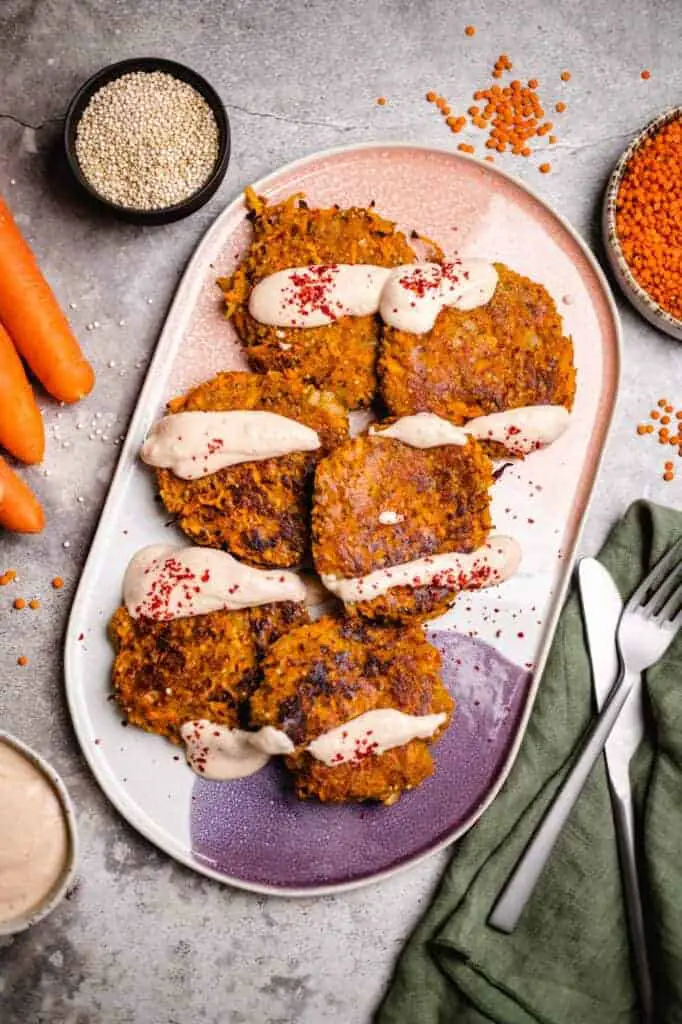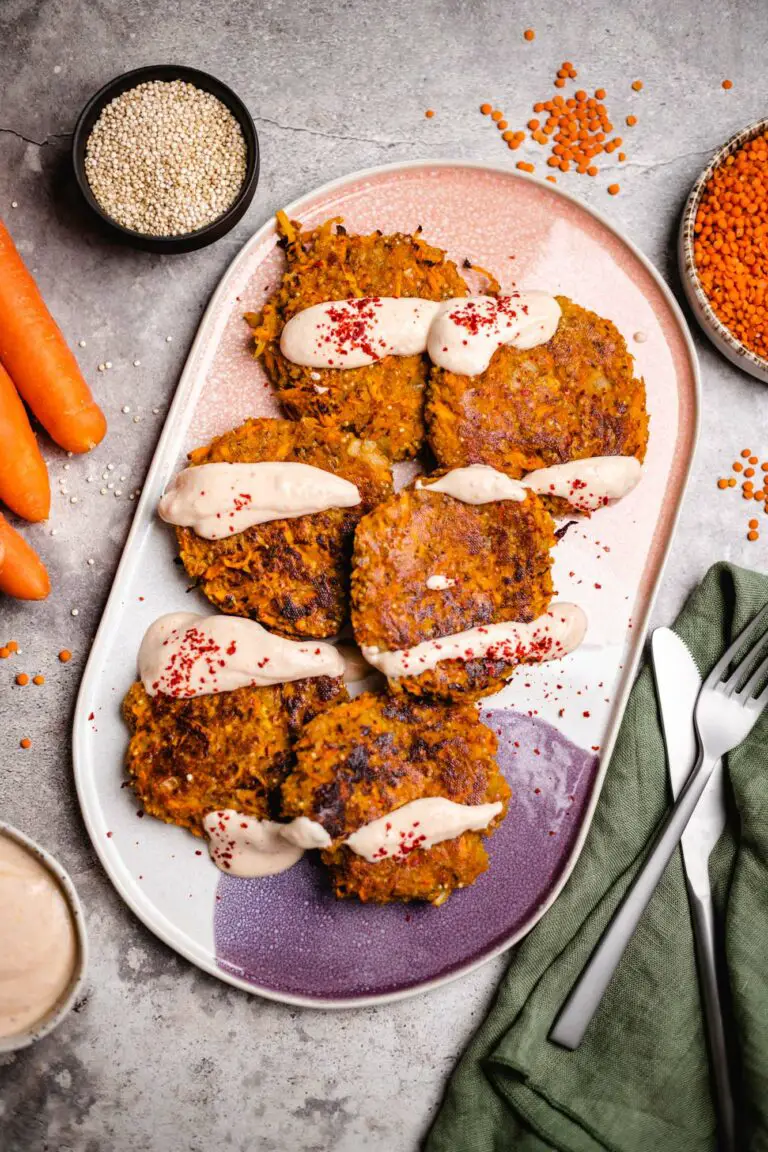 The nice thing is that the red lentils and the quinoa have the same cooking time and we can cook them together in some vegetable broth until soft. While the two ingredients are simmering away, I prepare the rest of the ingredients for the dough. Grated carrots, gluten-free flour (or spelt flour), flaxseed eggs, olive oil, cumin, paprika, salt, harissa paste. Once the quinoa-red lentil paste is cooked, mix all the ingredients with your hands to form a uniform mixture.
Now it depends on whether you want to bake the fritters right away, or still have some time. If it goes on right away, then preheat oven, flour hands and shape fritters. Then it's off to the oven and the delicious fritters are baked for 15 minutes at 200 degrees. Otherwise, the mass can also be stored in an airtight container in the refrigerator until further processing without any problems. After the short stay in the oven, I fry them briefly on both sides in the pan to get them nice and golden brown.
Vegan vegetable fritters simple and delicious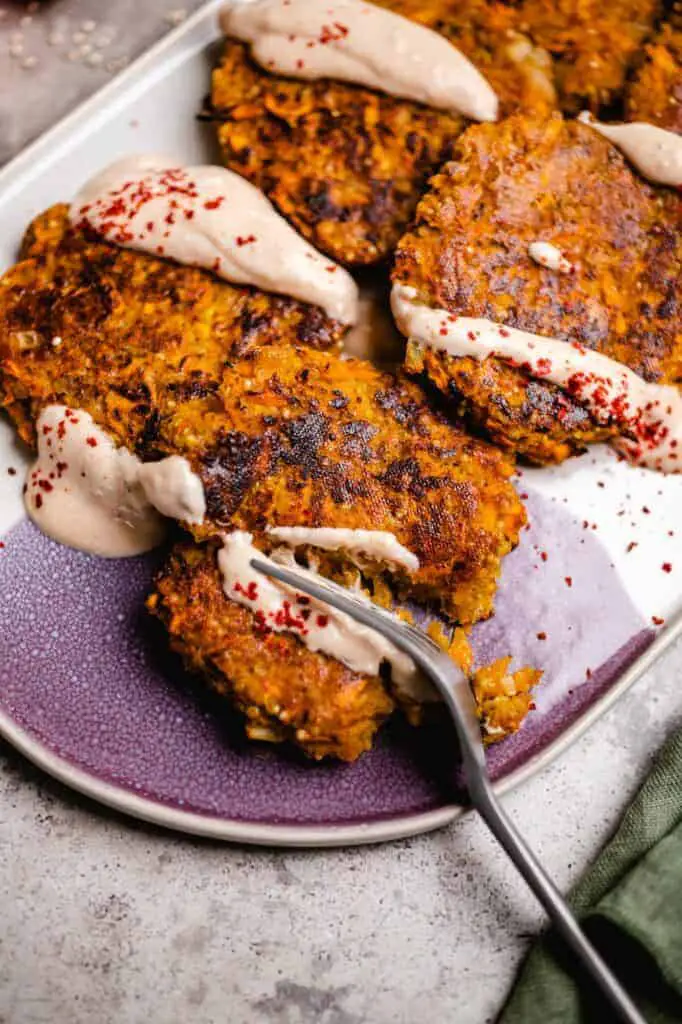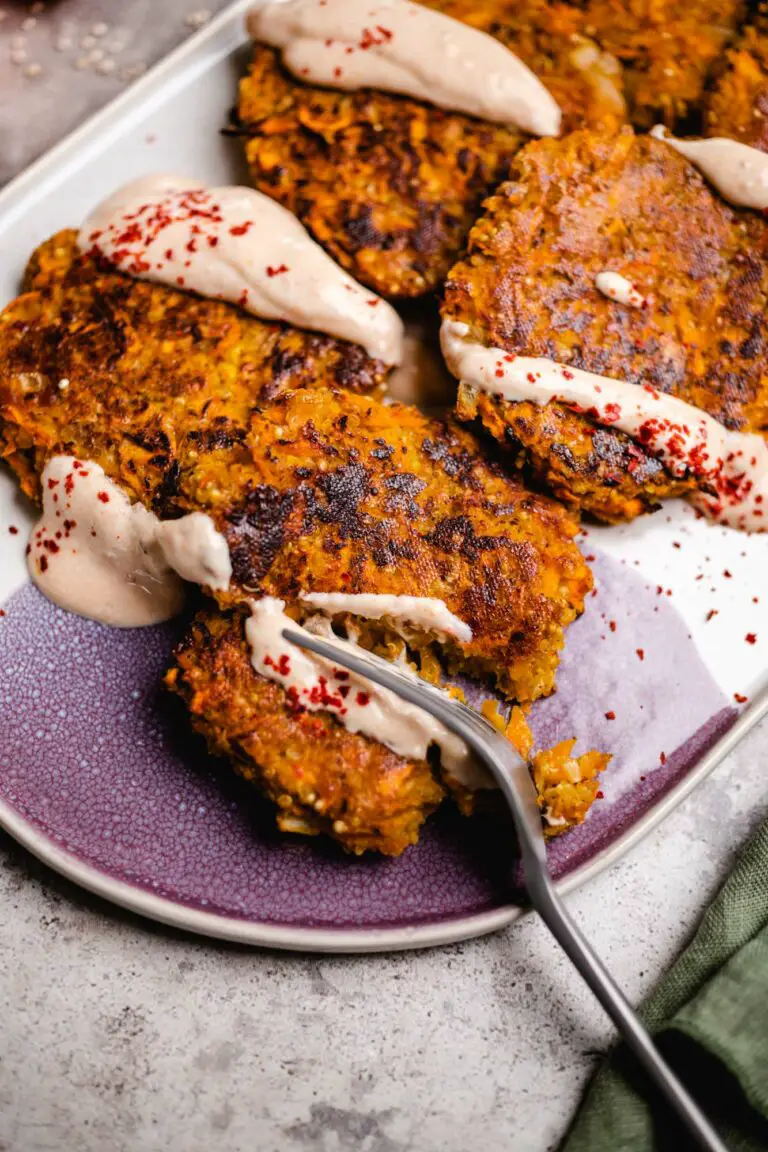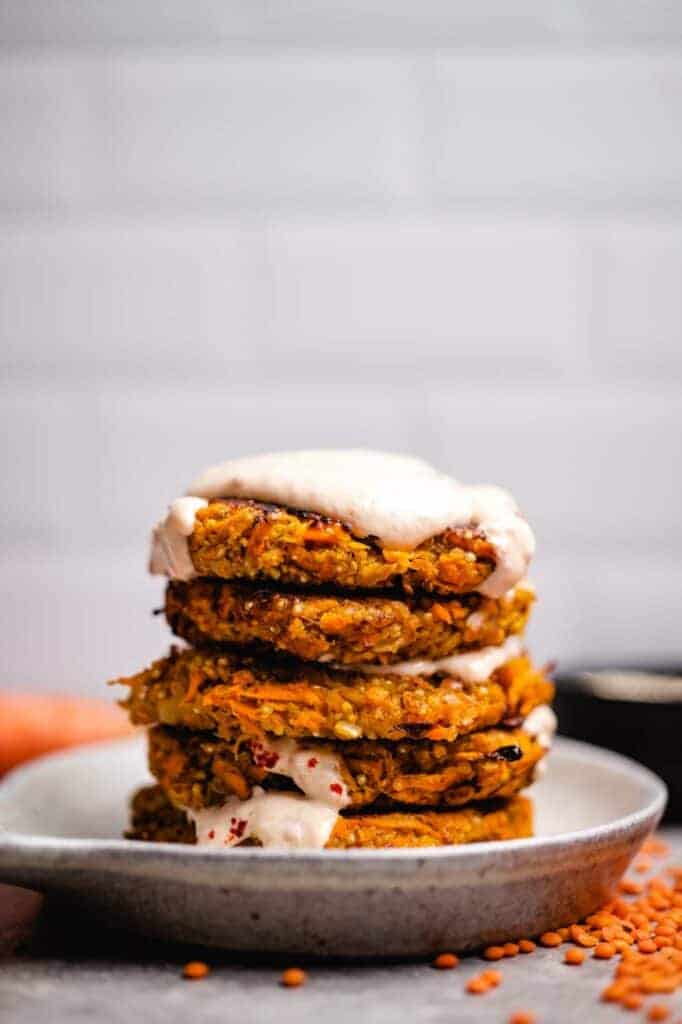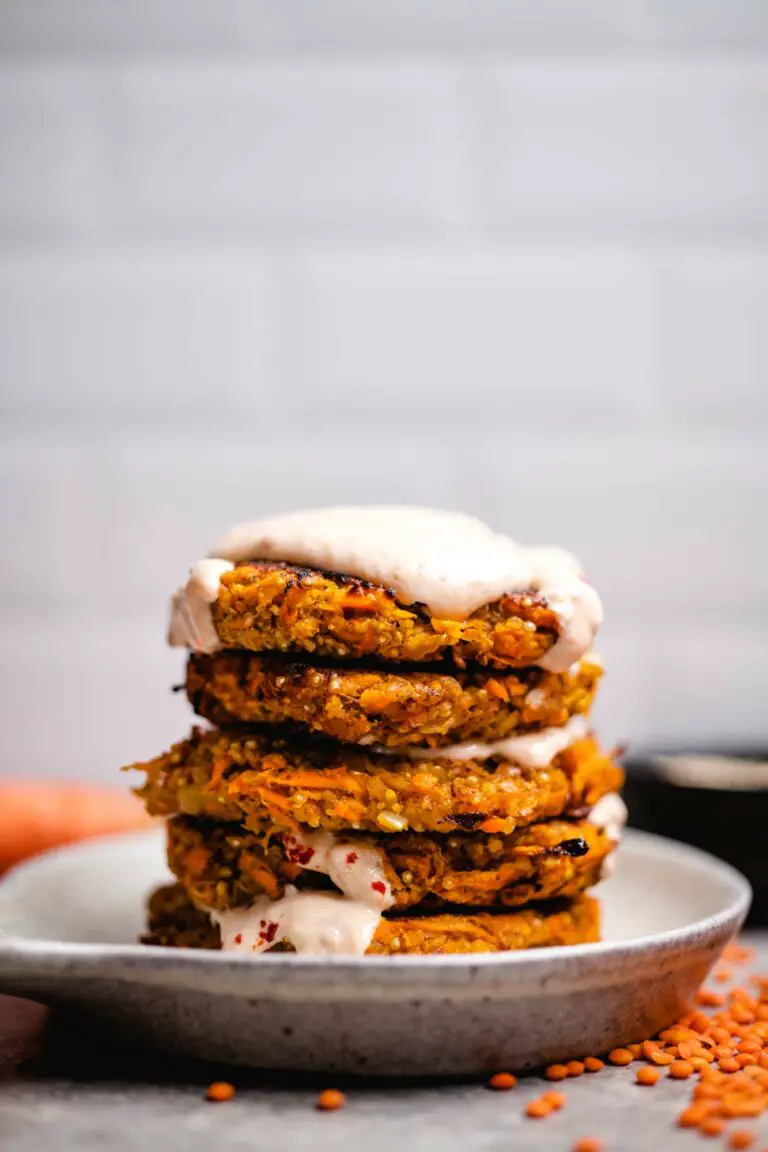 Quinoa and red lentils are an unbeatable combination and provide you with important nutrients. Quinoa is rich in high-quality vegetable protein, folic acid, magnesium, zinc and manganese. Red lentils are also an excellent source of protein and score with 26 grams of protein per 100g.

If you're looking for a different treat from the skillet today, I have the following suggestions for you:
What must not be missing from the buffers in any case? A delicious dip, in this case a harissa yogurt. Ideally, I serve a delicious salad with it and the main course is ready. For dessert, I recommend a piece of chocolate soft serve or a brownie, always with a scoop of vanilla ice cream, of course.
The Quinoa Red Lentil Buffer with Harissa Yogurt are:
aromatic
Protein-rich
Spicy
filling
Easy to manufacture
Let's get started with this delicious vegan pancake. I wish you a lot of fun in the recooking and look forward to a review at the bottom of this page. If you post a picture, use the hashtag #veganevibes.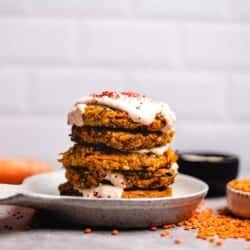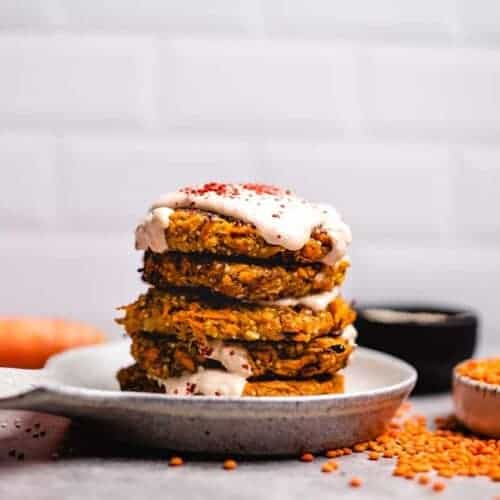 Quinoa Red Lentil Puffer with Harissa Yogurt
Crispy baked pancakes of red lentils, quinoa and carrots served with harissa yogurt. Perfect as a vegan, filling main dish along with a salad. Rich in vegetable protein, vegan and gluten-free.
AUTOR: VEGANEVIBES
FOR THE HARISSA YOGURT
300

g

Yogurt

15

g

Harissa paste alternatively use another chili pasta or spice paste of your choice

30

ml

Lemon juice

A strong pinch of salt

2

tbspn

fresh parsley coarsely chopped
Anleitung 
Provide small pot. Pour in vegetable broth, quinoa and red lentils and bring to a boil. Return to medium heat and simmer for 10 minutes. Turn off the stove and let swell for another 5 minutes.

45 g Quinoa,

45 g Red lentils,

250 ml Vegetable broth

Heat pan with oil. Sauté onion and garlic until translucent.

15 ml Olive oil,

1 Piece Onion,

2 Piece Garlic cloves

Provide a large bowl, put in carrots, harissa paste, lemon juice, flour, oat flour, cumin, paprika, salt, onion, garlic, flaxseed eggs and quinoa-lentil mixture.

1 Piece Onion,

2 Piece Garlic cloves,

100 g Carrots,

15 g Harissa paste,

15 ml Lemon juice,

35 g Oatmeal,

1 tbspn Cumin,

1 tbspn Paprika powder,

1 tbspn Salt,

3 Piece Flaxseed eggs

Knead well with your hands until a compact mass is formed.

Preheat oven to 200 degrees (convection) or 220 degrees (top-bottom heat) and line a baking sheet with a permanent baking mat or baking paper.

Form patties with your hands and place on the baking sheet. Put in the oven and bake for 15 minutes.

Heat a frying pan and add about 1 tablespoon of frying oil.

TIP: I like to work with 2 pans in parallel so the buffers are done faster.

Fry pancakes for 2-3 minutes on each side until golden brown.

FOR THE HARISSA YOGURT Mix yogurt, harissa paste, lemon juice, salt and parsley together in a small bowl and set aside.

300 g Yogurt,

15 g Harissa paste alternatively use another chili pasta or spice paste of your choice,

30 ml Lemon juice,

A strong pinch of salt,

2 tbspn fresh parsley coarsely chopped

Serve on plates with homemade harissa yogurt. Enjoy immediately, or keep warm in oven (or warming drawer) at 100 degrees.

Best fresh. Dough keeps (unbaked) 1-2 days covered in the refrigerator
Nährwertangaben
Serving:
1
Portion
Calories:
254
kcal
Carbohydrates:
34
g
Protein:
10
g
Fat:
9
g
Saturated Fat:
3
g
Polyunsaturated Fat:
2
g
Monounsaturated Fat:
4
g
Cholesterol:
10
mg
Sodium:
411
mg
Potassium:
464
mg
Fiber:
6
g
Sugar:
6
g
Vitamin A:
4520
IU
Vitamin C:
7
mg
Calcium:
127
mg
Iron:
2
mg