Crispy Tofu Sticks, how long have I been waiting for you guys. They remind me just a tiny bit of a fish stick, only without the fish. All kidding aside, these little sticks are really fun and perfect as an appetizer or snack in between meals. Together with the sour cream just to rave. Being in the kitchen and making delicious recipes is currently my balance to this crazy Corona time. At least some relaxations are up-to-date in view and perhaps we stand already soon again in illustrious round around the grill and brutzeln vegan Köstlickeiten. Until then, there's delicious food from the pan, like these crispy tofu sticks.
Delicious Crispy Tofu Sticks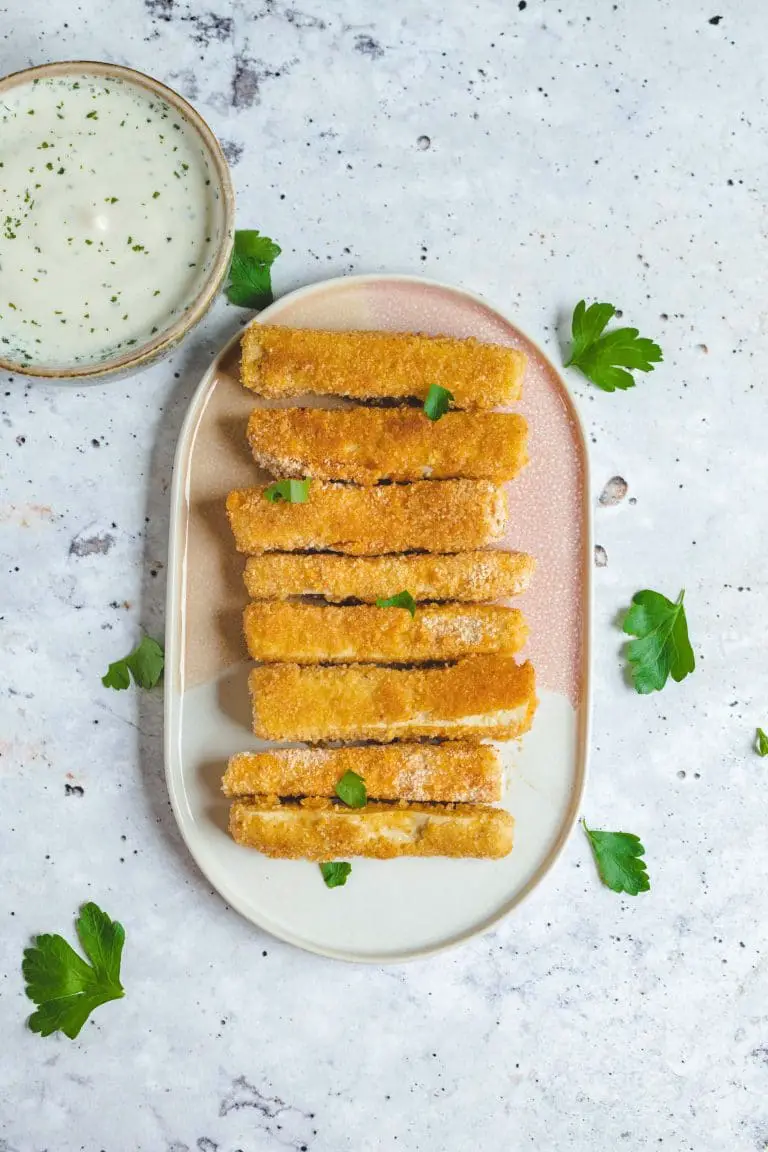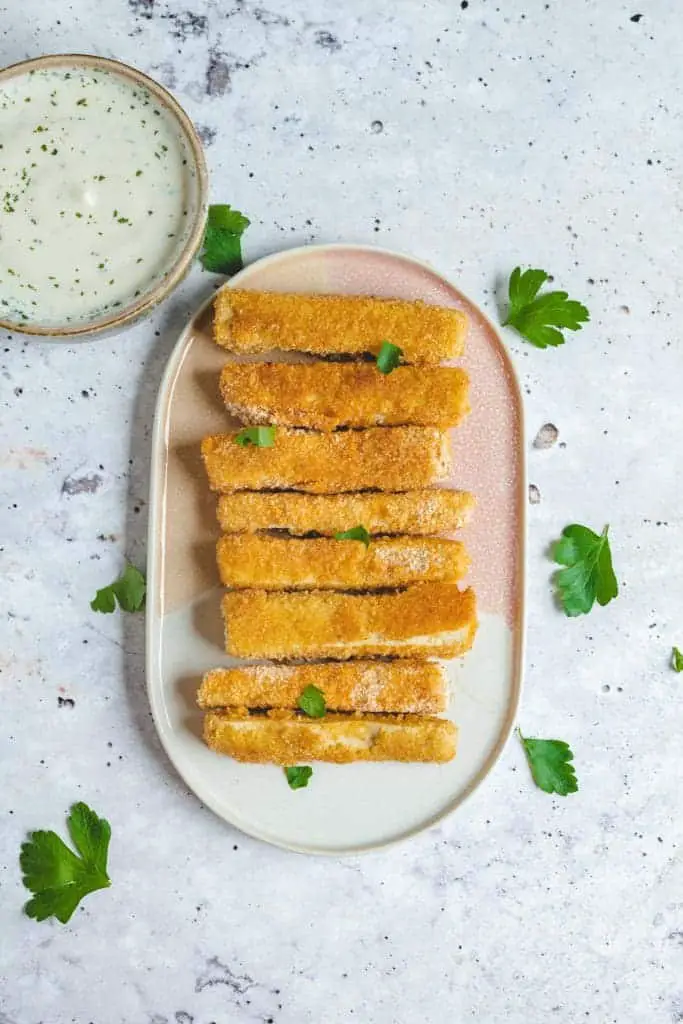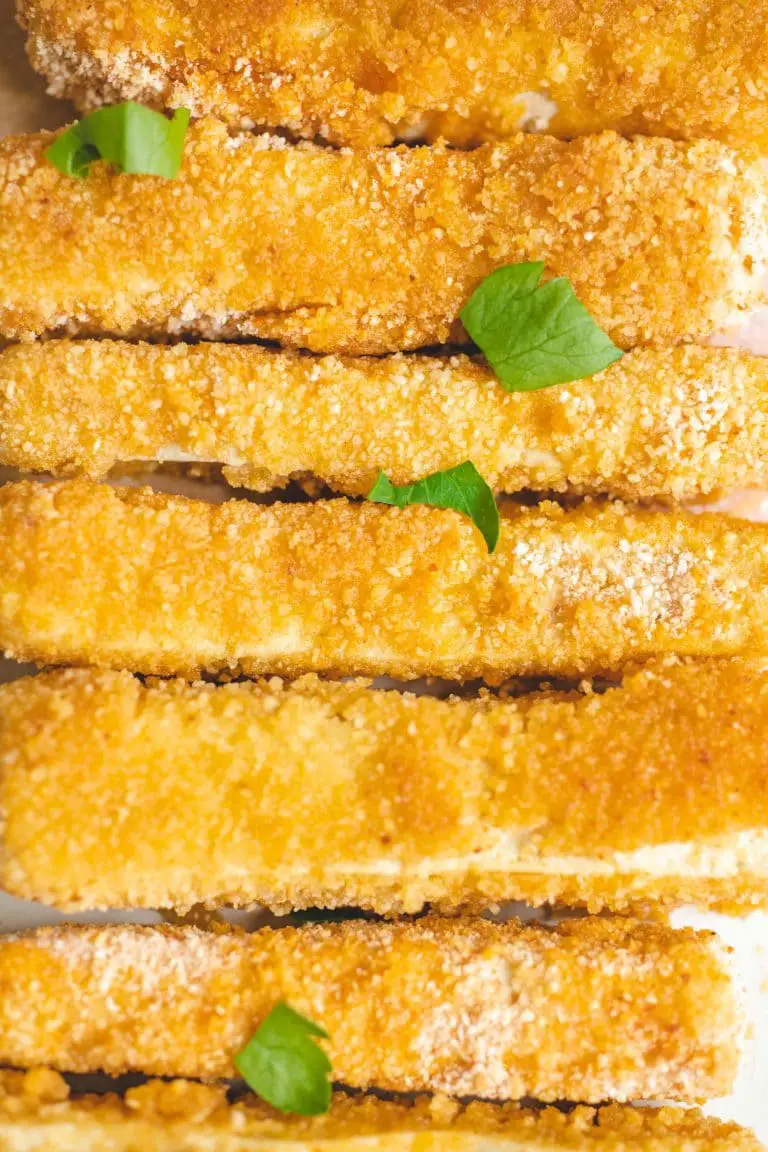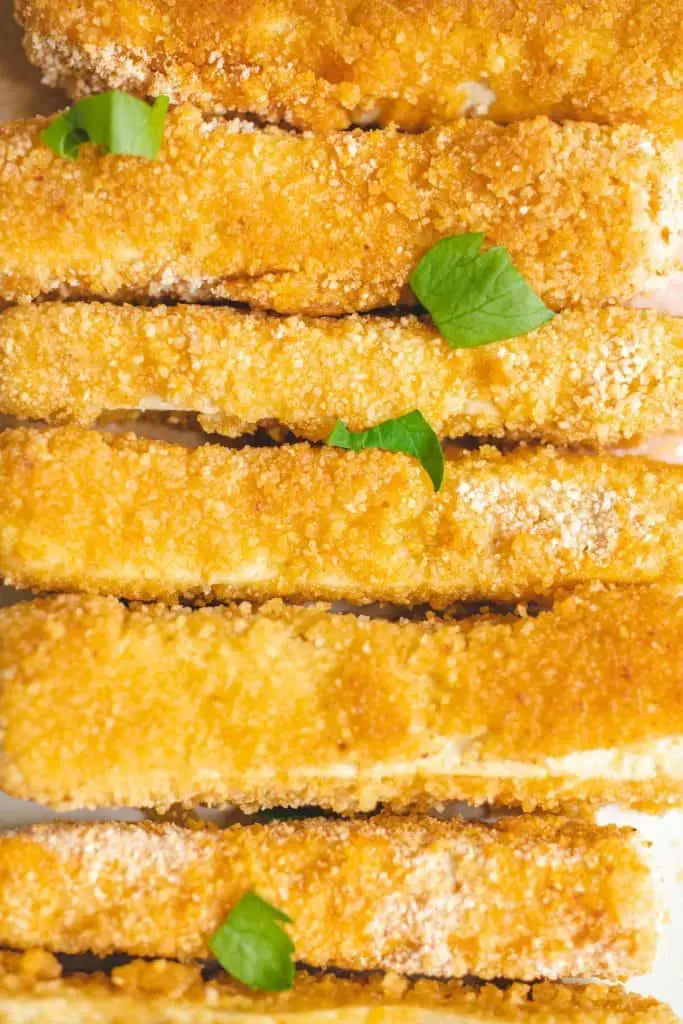 I know the name of the Firecracker or Crispy Tofu Sticks from the USA , better said from my trip to Austin Texas. I don't want to know exactly what went into those sticks, but I definitely still ate them without hesitation at the time. The taste was unique with a subtle acidity and spiciness that harmonized perfectly with the crispy coating. I really wanted to make a vegan version of it, and so these lovely Fire Sticks made with tofu came to be.
First, I press the tofu in a tofu press, which I think is really super good. I used to wrap the tofu in an infinite amount of paper towels and then stack some heavy books on top. This was a very shaky affair every time and every now and then the tower toppled over. In addition to the unsightly stacking, you also need lots of kitchen paper, which doesn't make it very environmentally friendly. A clean kitchen towel isn't the answer either because it can get linty and who wants cotton lint in their dish?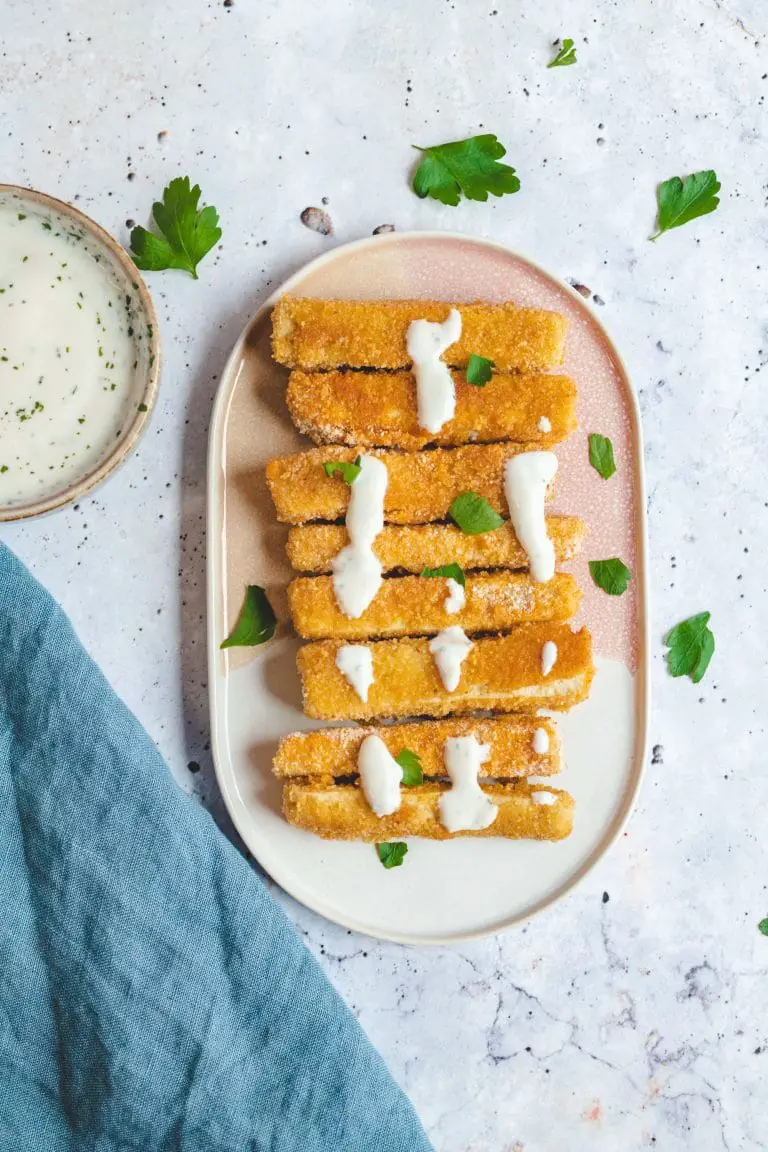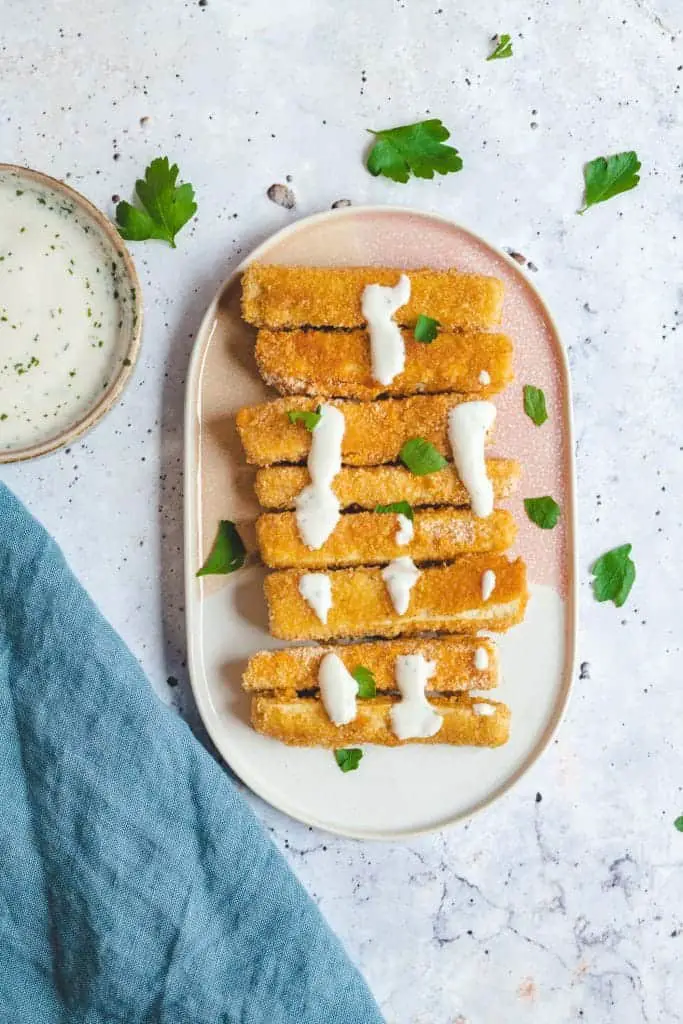 The sauce consists of tapioca starch, water, maple syrup, apple cider vinegar, garlic granules, salt and a Bird Eye chili. This is boiled together once until it thickens. Let's move on to the breading, which consists of gluten-free breadcrumbs, paprika powder (smoked), garlic granules. And a pinch of salt. Then the sticks are further breaded by dragging them through the liquid once and then rolling them in the breadcrumbs. This is repeated until all the sticks are finished. Now just heat the pan and brown the tofu sticks nicely in it. Get Sour Creme out of the fridge and let's go.
TIP: You can also bake the tofu sticks in the oven, but then they will not be as nice crispy.
Simple tofu dishes? Ready in no time, I promise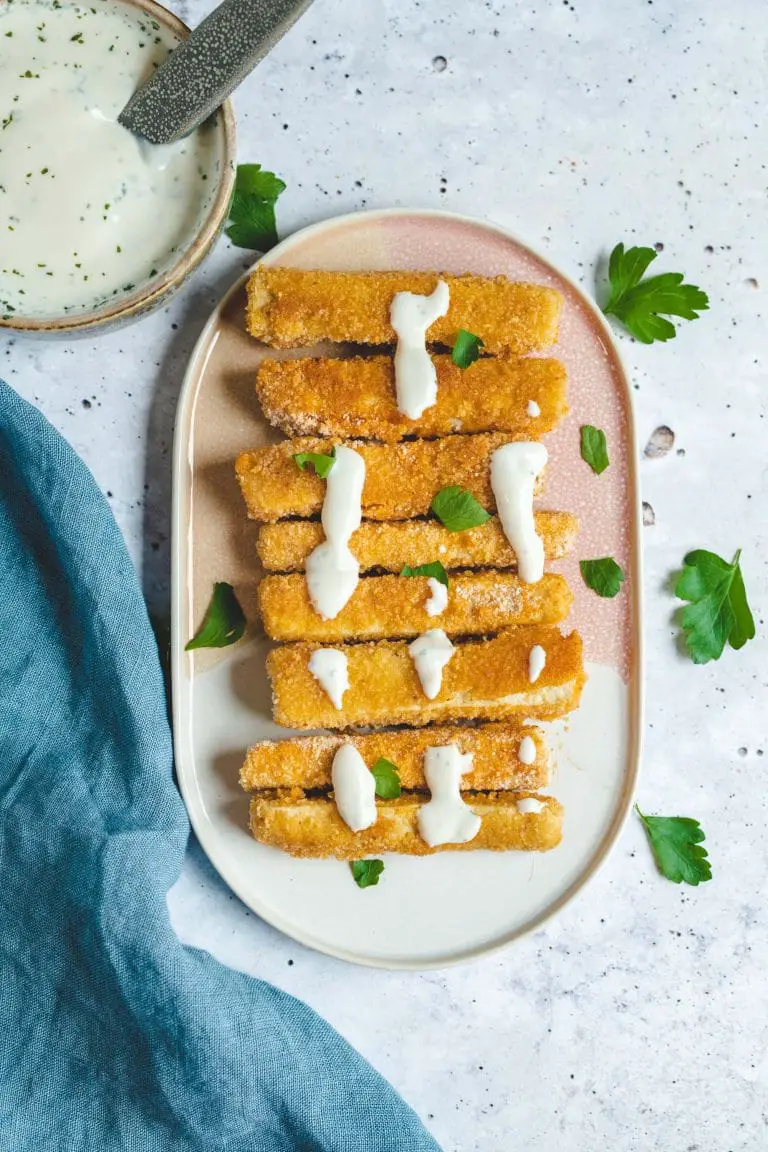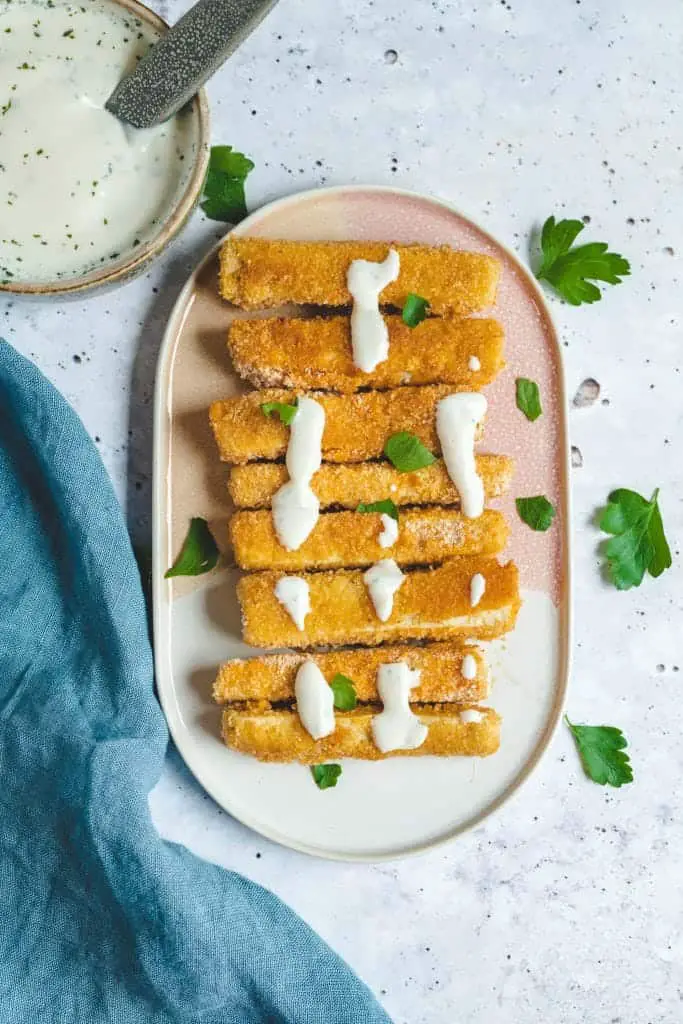 If you want to make the sticks into a main dish, I recommend serving my plain fried rice with them or a salad of your choice. Looking for more finger food dishes? Here are a few more suggestions:
Firecracker Tofu Sticks:
American
Sharp
Light acidity
crispy
high protein
Let's get started with this delicious vegan dish that is sure to blow you and your loved ones away. I wish you a lot of fun in the recooking and look forward to a review at the bottom of this page. If you post a picture, use the hashtag #veganevibes.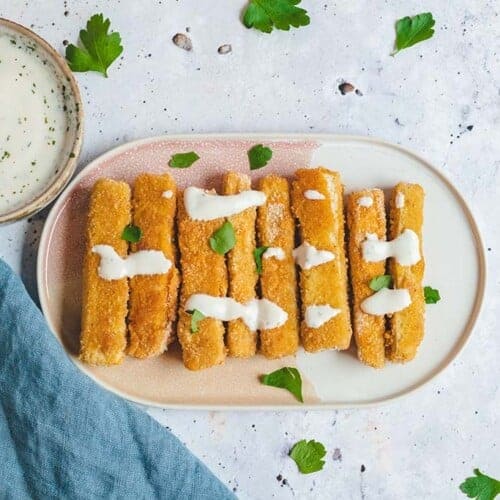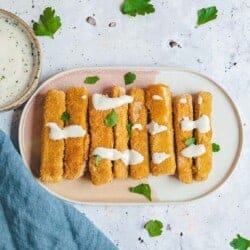 Crispy Tofu Sticks
Crispy Tofu Sticks, the perfect vegan finger foods for any party or snack. Together with rice, quinoa or another side dish, also an ideal main course, topped together with vegan sour cream. The next Superbowl can come. Vegan, gluten-free, high protein.
AUTOR: VEGANEVIBES
Anleitung 
Remove tofu from packaging and ideally squeeze in a tofu press for 15 minutes until almost no liquid remains. The less liquid in the tofu, the better it can absorb the marinade.

Alternatively Wrap tofu with paper towel or a clean kitchen towel and weigh down with a heavy object. Let stand for 15 minutes until the liquid is squeezed out as best it can.

NOTE: Be sure to pat tofu dry (with paper towel or a clean kitchen towel) after pressing. If the tofu is too moist, then the breading will not stick.

Tofu first cut in half lengthwise and then cut into more oblong strips. Pat dry again until no moisture remains. Set aside.

FOR THE SAUCE Place cornstarch, water, maple syrup, salt, garlic granules, white wine vinegar and the Bird Eye Chili in a small saucepan and bring to a boil, stirring.

180 ml Water,

2 tbspn Cornstarch,

45 ml maple syrup,

½ tbspn Salt,

2 ½ tbspn Garlic granules,

60 ml White wine vinegar,

1 Bird Eye Chili

Simmer until the sauce thickens. Remove from heat and set aside.

FOR THE PANADE, in a small bowl, mix together breadcrumbs, paprika, garlic, salt and pepper and set aside.

100 g Breadcrumbs,

½ tbspn Paprika,

½ tbspn Garlic granules,

Salt and pepper to taste

Set out the tofu, sauce and breading so that breading can begin. To do this, pull tofu through the sauce and then place in the breadcrumb mixture until tofu is completely coated. Repeat until all tofu strips are coated.

Heat pan and pour in oil. Put in tofu sticks and fry until crispy on each side.

Arrange on a plate and serve with a portion of sour cream.

Sour Cream,

Fried rice,

Fresh herbs to taste,

Leaf salads

Keep leftovers covered in the fridge for 2-3 days. Best fresh.
Nährwertangaben
Serving:
1
Portion
Calories:
92
kcal
Carbohydrates:
12
g
Protein:
5
g
Fat:
2
g
Saturated Fat:
1
g
Sodium:
95
mg
Potassium:
36
mg
Fiber:
1
g
Sugar:
4
g
Vitamin A:
5
IU
Vitamin C:
1
mg
Calcium:
74
mg
Iron:
1
mg