When I first read Kolhapuri Sauce, I became curious. First of all, I am a big fan of Indian food and then this fancy name? By then it was all over me and I had to veganize the dish. We often have Indian food, both in summer and winter, especially because the combination of spices makes it so wonderfully aromatic. At the Indian restaurant I like the small bowls with the different dishes, which are decorated so lovingly and taste simply wonderful together with rice and naan. I also like to eat spicy, although every now and then it becomes too spicy. The line then blurs between sharp and painful. One or the other knows what I am talking about. As I write these lines, I'm longing for a relaxation of the Corona rules soon, because I'd super love to go to the Indian again sometime. Ok, I know, safety first! But someday it will be time again and until then I just cook my favorite dishes myself.
Tofu in Kolhapuri sauce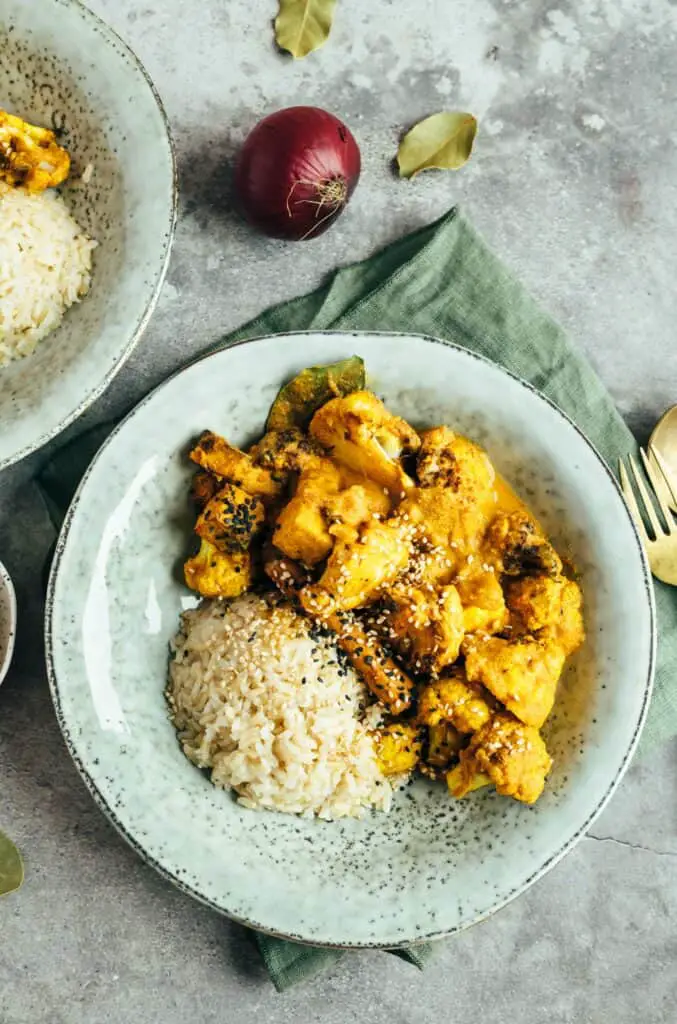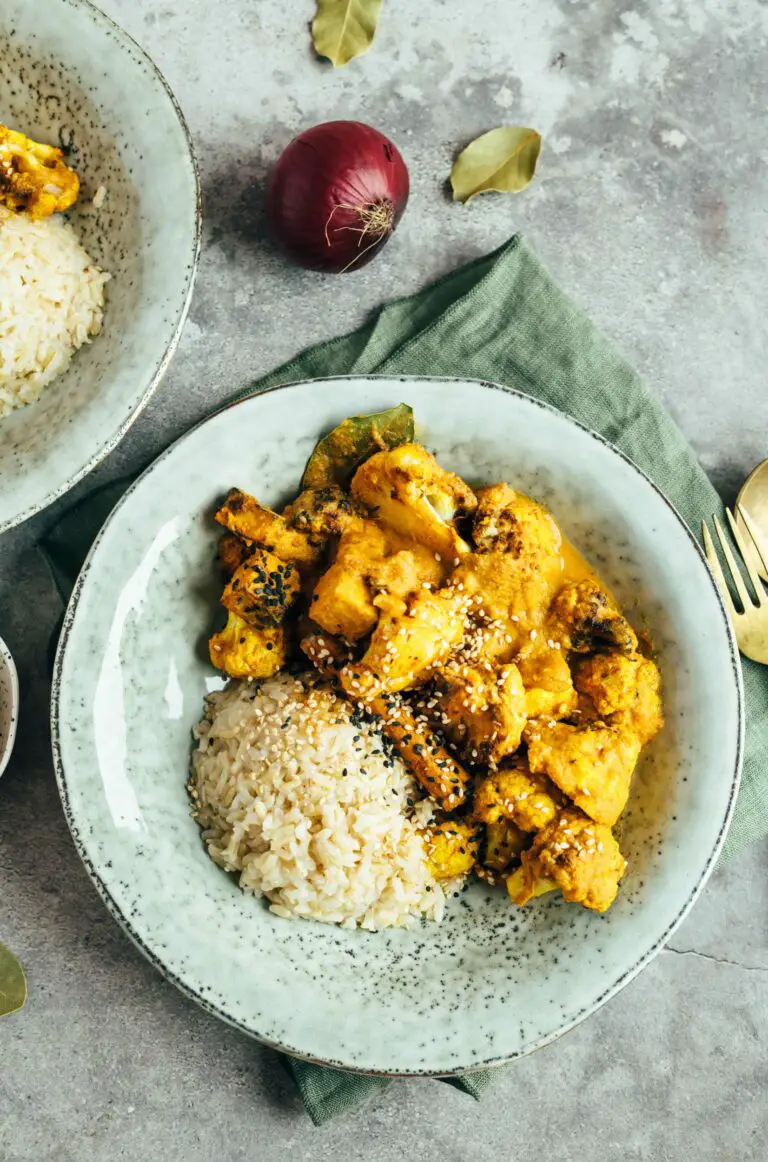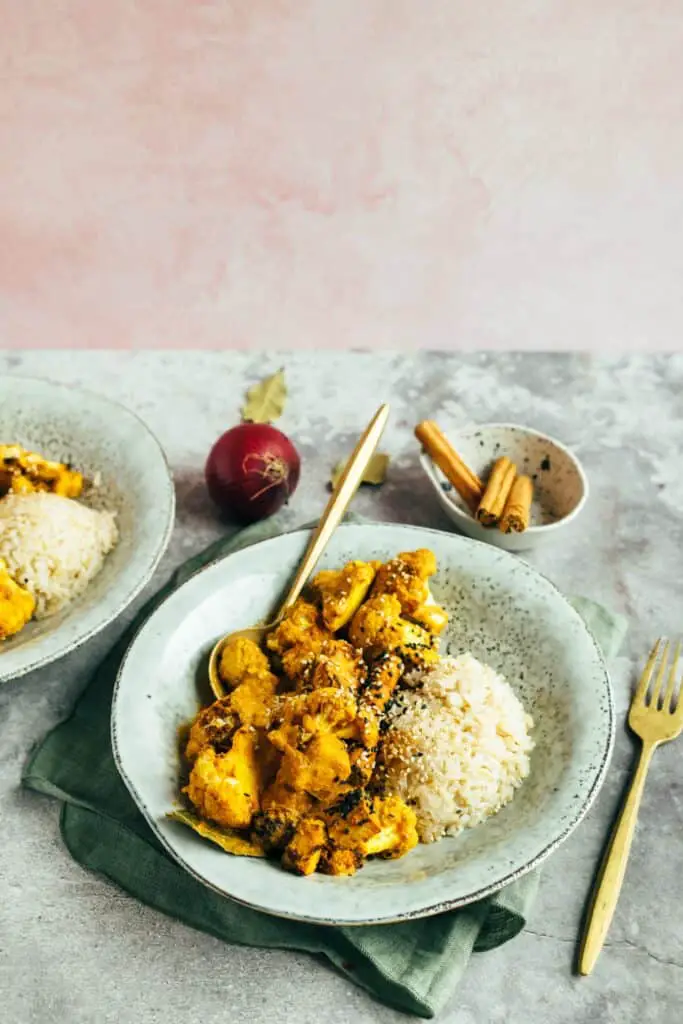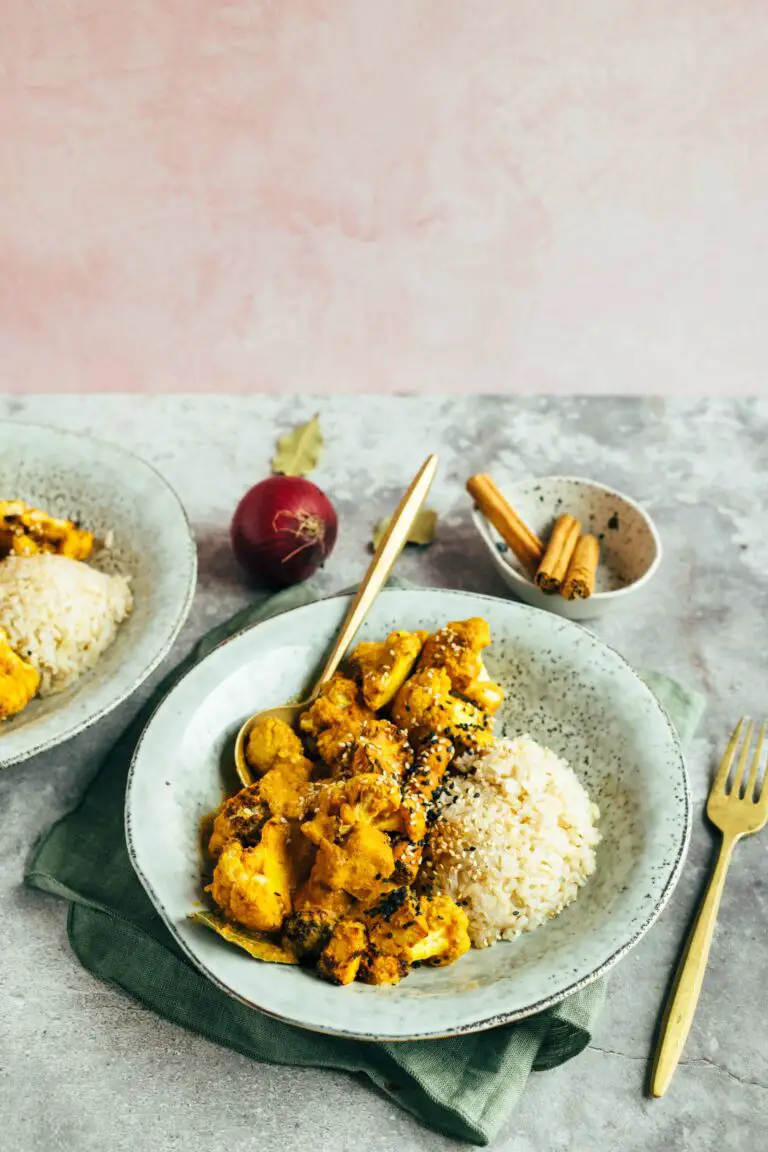 Mumbai Kolhapuri Masala Sauce can even be bought ready-made and the label suggests what is hidden in the dish. Spiciness, if not one of the hottest dishes in the Indian subcontinent from a mixture of roasted spices with coconut. I guess once the coconut is supposed to bring a little mildness to the dish. Do not worry, we do not exaggerate and make the dish only slightly spicy.
Perhaps it is still interesting to know where Kulhapuri has its origins. The recipe originates from the Kolhapur region in Maharashtra, an Indian state in the western and central part of the country. The metropolis is the home of Bollywood and is often associated with the capital Mumbai.
In the original Indian version you will find exotic spices that are rather difficult to find in our latitudes. Malvani Masala, to name just one of them. That's why I focused on the basics, so that anyone can easily replicate it. Maybe I should travel to India sometime to take tutoring from an experienced chef. I imagine that will be exciting.
NOTE: My interpretation of Kolhapuri Sauce is not exactly the same as the Indian version. I base my recipe on the original, as many Indian spices are hard to come by in our country.
Indian vegan dishes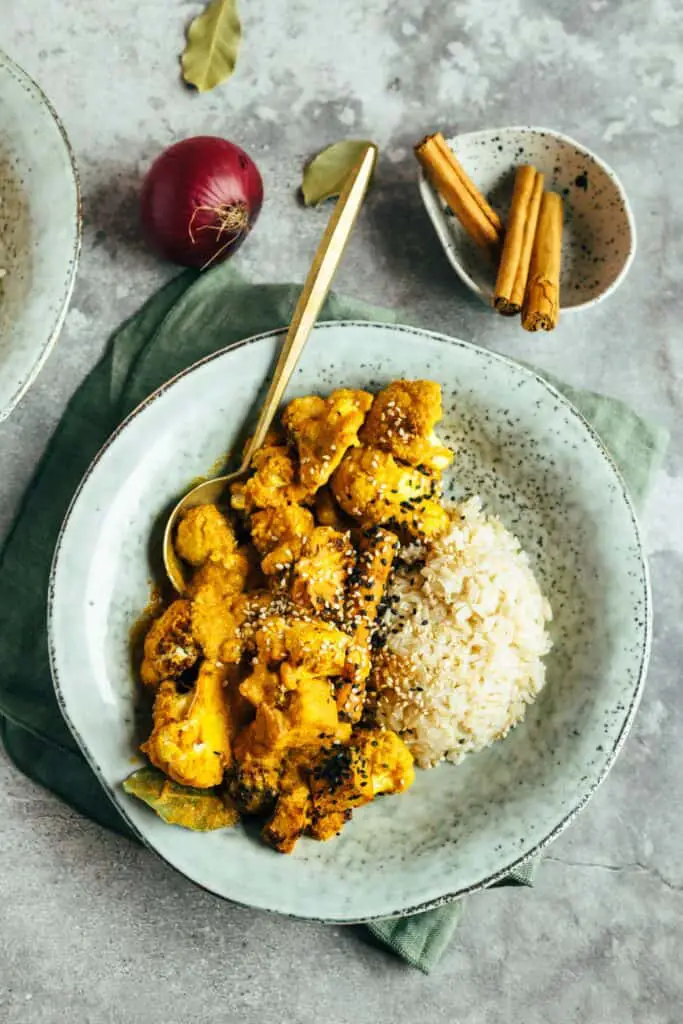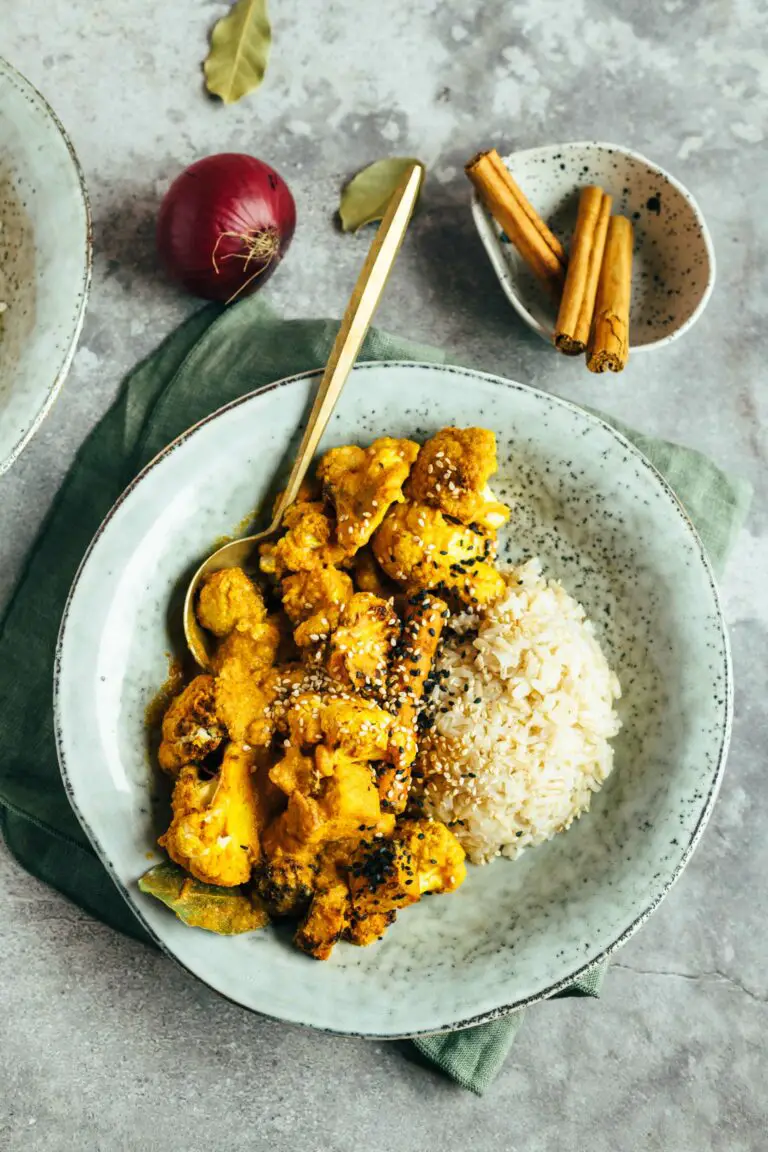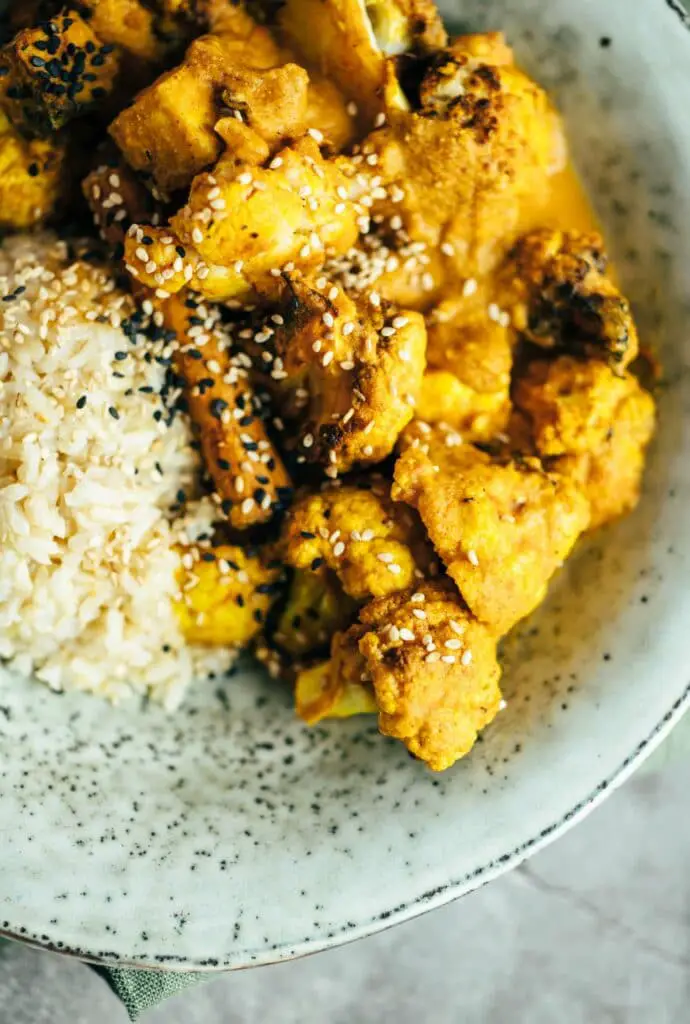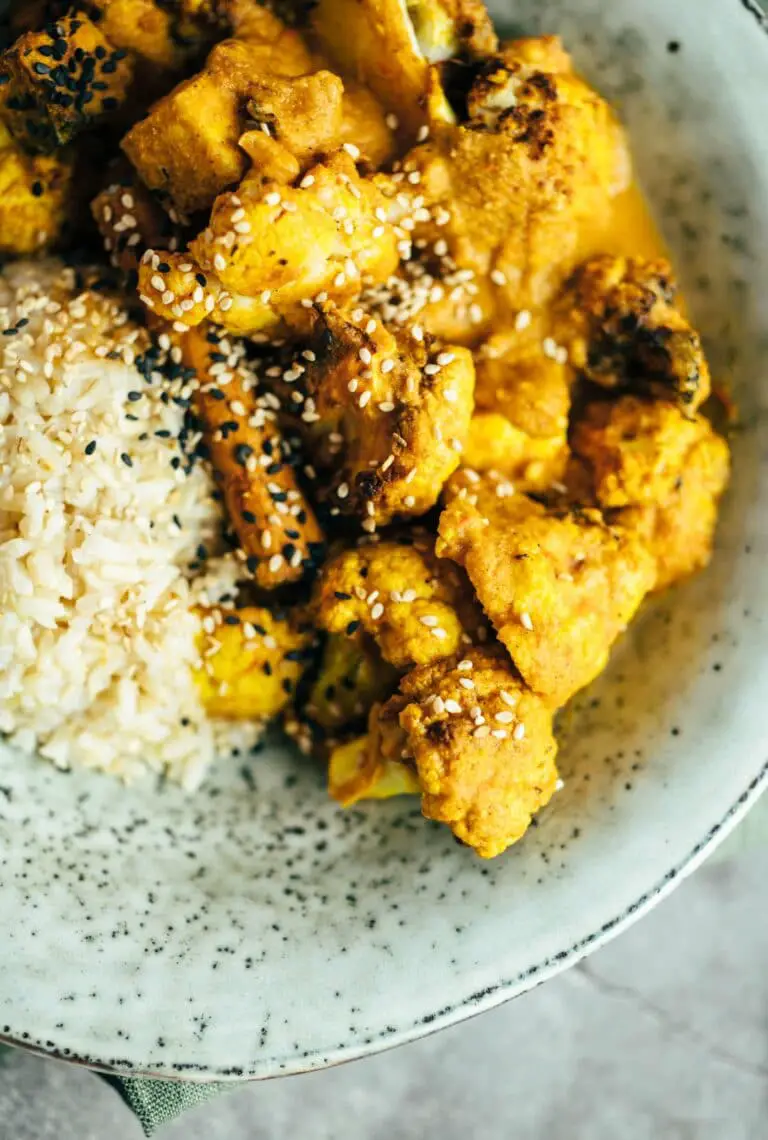 Let's move on to the ingredients. First we bake tofu and cauliflower in the oven. I press the tofu in my tofu press beforehand, preferably a day before or at least an hour. I bought a tofu press some time ago because I was tired of the cumbersome pressing with a heavy object, kitchen towels and other tools. If you are interested in the press, you can find it here in my store.
Before we roast the vegetables and tofu in the oven, we marinate them in fine spices and a little lemon sauce. Chili, turmeric, salt, ginger and garlic. While all this is simmering in the fine flavors, we turn our attention to the sauce.
A little oil, coriander, bay leaf, cinnamon stick, garam masala, onion, sesame seeds, grated coconut, tomatoes, a little salt and water. This may boil down to a fine sauce, to which we add tofu and cauliflower at the end.
TIP: For more creaminess, stir 2 tablespoons cashew nut puree into the sauce or replace the water with coconut milk.
I use brown rice as a side dish, but any other rice of choice will work. What must not be missing is freshly baked naan. Here is a recipe for a gluten-free version.
If you don't feel like Kolhapuri today, I recommend my salad with tikka vegetables and coconut chutney, Indian Potato Stir Fry or Mujaddara with caramelized onions? Then I recommend you my lentil soup, lentil salad with leeks or fried rice with lentils.
The tofu in kolhapuri sauce is:
Inij
High fiber
Fine roasted flavors
filling
Easy to manufacture
I wish you a lot of fun in the recooking and look forward to a review at the bottom of this page. If you post a picture, use the hashtag #veganevibes.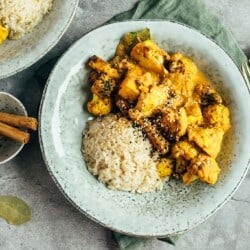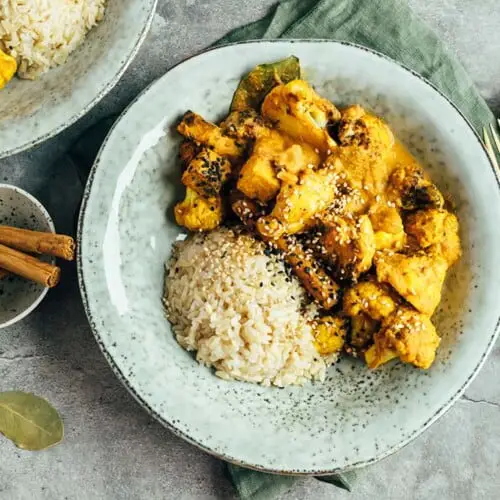 Cauliflower with tofu in kolhapuri sauce (v&gf)
Indian-inspired kolhapuri with oven-baked tofu and cauliflower coated with an aromatic sauce of tomatoes, onions, coconut and subtle roasted Indian spices. Ideal for those who love Indian cuisine. Perfect together with rice and naan bread.
AUTOR: VEGANEVIBES
FOR THE TOFU-CAULIFLOWER MIXTURE:
500

g

Cauliflower

Stalk removed and cut into florets

200

g

Tofu

pressed and cut into bite-sized cubes

4

Garlic cloves

finely chopped or pressed

1

tbspn

Turmeric

½

tbspn

Ginger powder

or 2 tsp fresh ginger grated

½

tbspn

Salt

15

ml

Lemon juice
TO SERVE:
Rice at will

1

Handful of fresh coriander leaf coarsely chopped

if available, otherwise simply omit

Light sesame seeds
Anleitung 
FOR THE TOFU-CAULIFLOWER MIXTURE Preheat oven – 200 (convection), 220 (top-bottom) and line a baking sheet with a permanent baking mat or baking paper.

Provide a bowl, put cauliflower and tofu, garlic cloves, turmeric, ginger, salt, lemon juice and Bird Eye Chili. Mix well until everything is evenly combined.

500 g Cauliflower,

200 g Tofu,

4 Garlic cloves,

1 tbspn Turmeric,

½ tbspn Ginger powder,

½ tbspn Salt,

15 ml Lemon juice,

1 Bird Eye Chili

Spread on the baking sheet, place in the oven and bake for

25 minutes

. Halfway through baking time, mix once for even browning.

In the meantime FOR THE KALHAPURI SAUCE heat a large pan, add oil, bay leaf, cinnamon stick, garlic cloves, sesame seeds, garam masala and pepper. Stir and toast.

15 ml Frying oil,

1 Bay leaf,

1 Cinnamon stick,

2 Piece Garlic cloves,

15 g Sesame seeds,

1 tbspn Garam Masala**,

½ tbspn Pepper

NOTE: Do not allow to get too hot or the spices can easily burn.

Add onion, grated coconut and tomatoes and cook down for 5-10 minutes until onions are soft.

15 g Coconut shavings,

2 Piece medium tomatoes,

1 Piece red onion

Provide blender, pour in water, add the mixture from the pan, Blend on high speed for 60 seconds until fine.

TIP: For more creaminess, stir 2 tablespoons cashew nut puree into the sauce or replace the water with coconut milk.

TOFU-CAULIFLOWER MIXTURE Pour into the pan already used, add sauce and mix through.

Serve together with rice, (optional) naan bread and other toppings of your choice and enjoy!

Rice at will,

Naan bread,

Naan bread gluten free,

1 Handful of fresh coriander leaf coarsely chopped,

Black sesame seeds,

Light sesame seeds

Store leftovers covered in the refrigerator for 1-2 days, best enjoyed fresh.
Notizen
https://www.tarladalal.com/basic-kolhapuri-gravy-33505r NOTE: Calorie calculation without side dishes
Nährwertangaben
Serving:
1
Portion
Calories:
171
kcal
Carbohydrates:
11
g
Protein:
8
g
Fat:
12
g
Saturated Fat:
4
g
Trans Fat:
1
g
Sodium:
89
mg
Potassium:
427
mg
Fiber:
4
g
Sugar:
3
g
Vitamin A:
19
IU
Vitamin C:
65
mg
Calcium:
144
mg
Iron:
2
mg