Mujaddara with caramelized onions is my answer to a rainy winter day like today. The last days and weeks were just fantastic, snow without end and I could let off steam every day with a different winter sports equipment. Once with the skis, then with the cross-country skis, sleds, snowshoes and bobsled. All together with my husband and the dogs, a dream come true, because in our area the winters were rather snow-free in recent years. Reality has caught up with us again today, because when I look out the window, I see rain, pouring rain and the next few days should not get much better. Well, then I can go back to my recipes with full concentration. My highlight today is a super exciting recipe that actually originated in the Middle East and definitely made me feel better about the bad weather. Well, do you feel like it? Then let's get started together.
Vegan mujaddara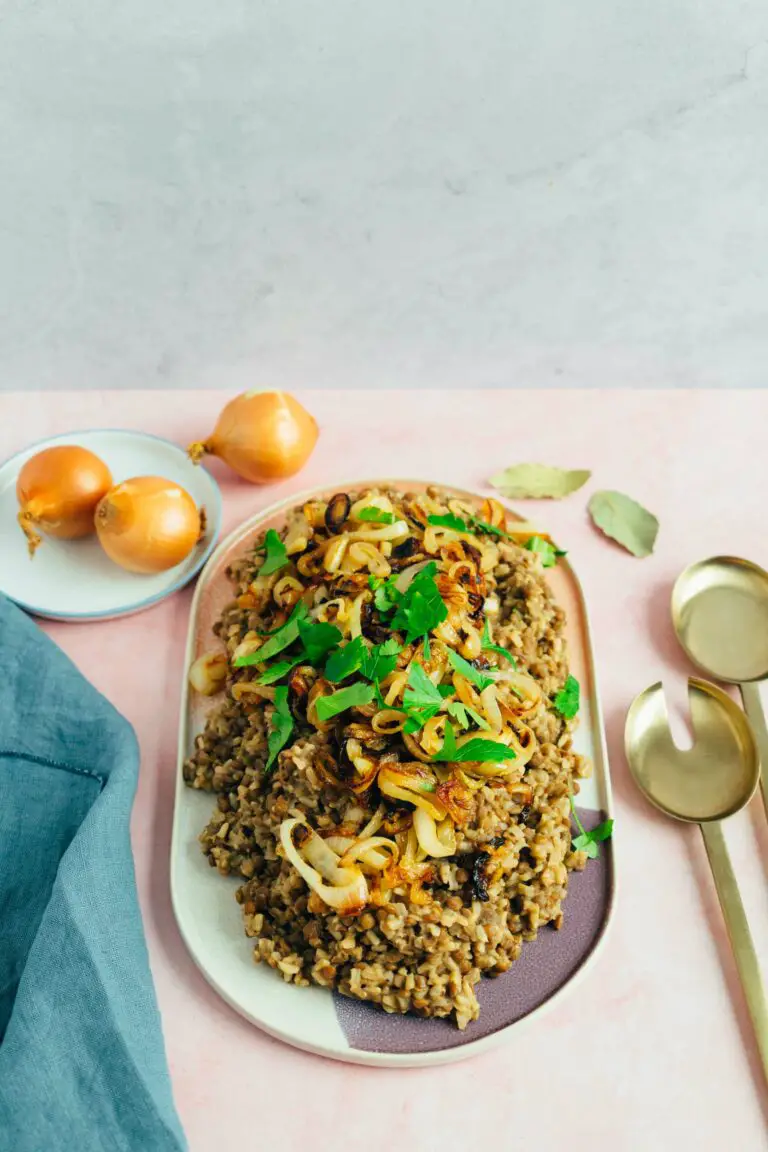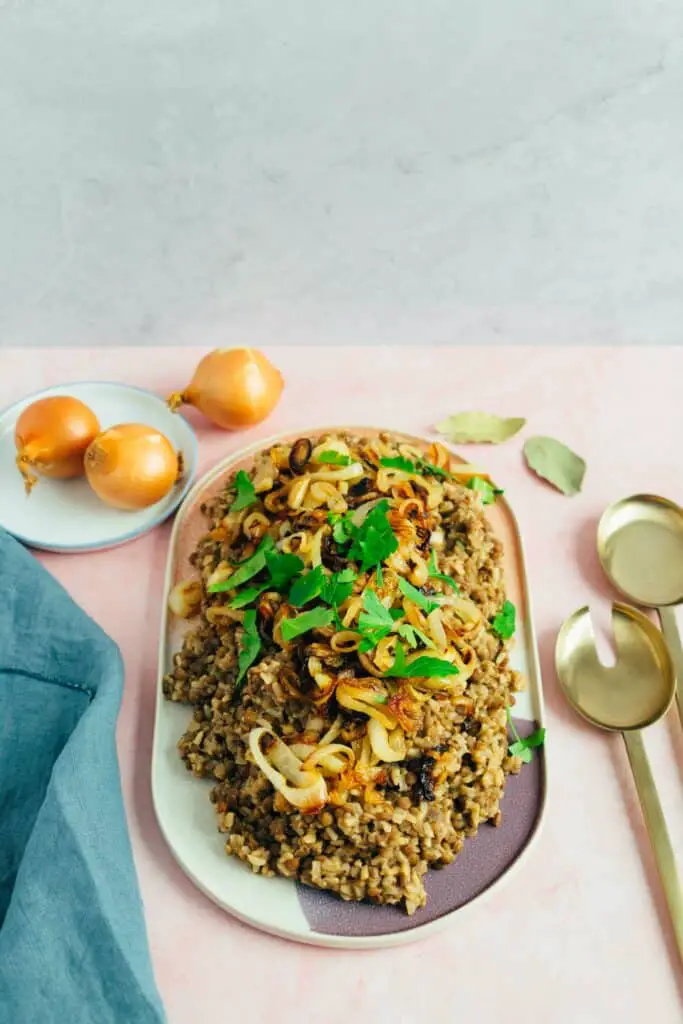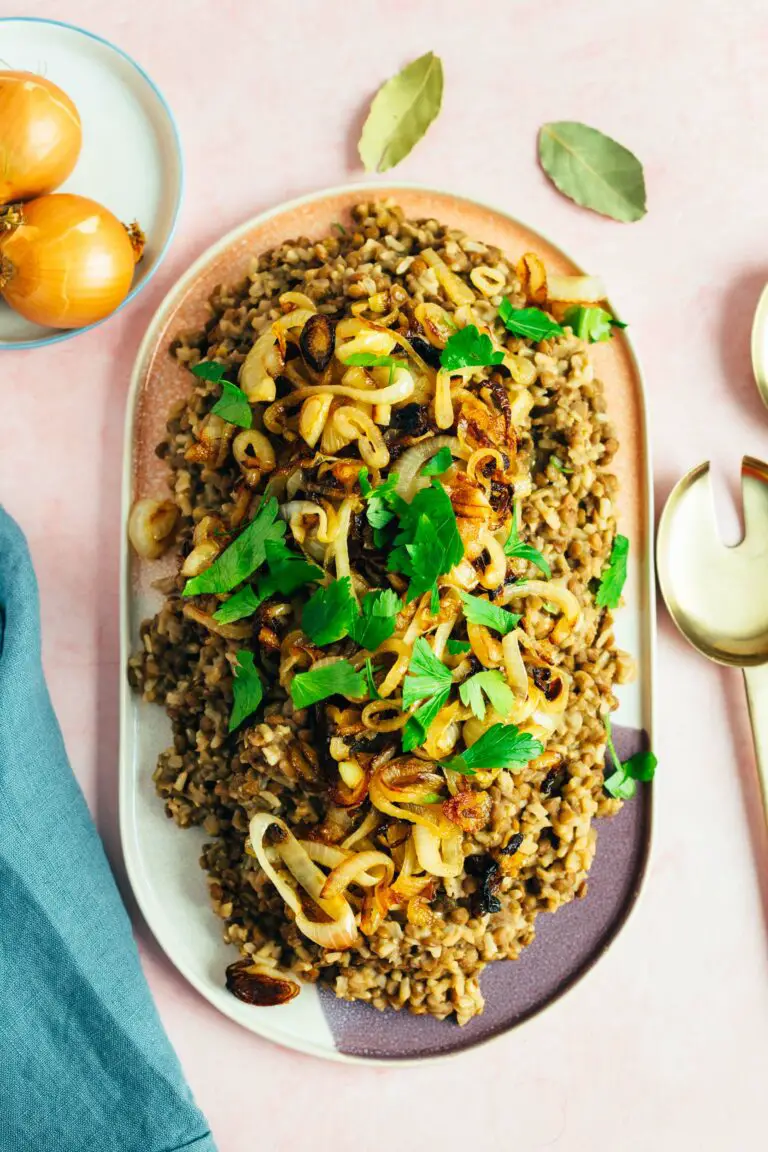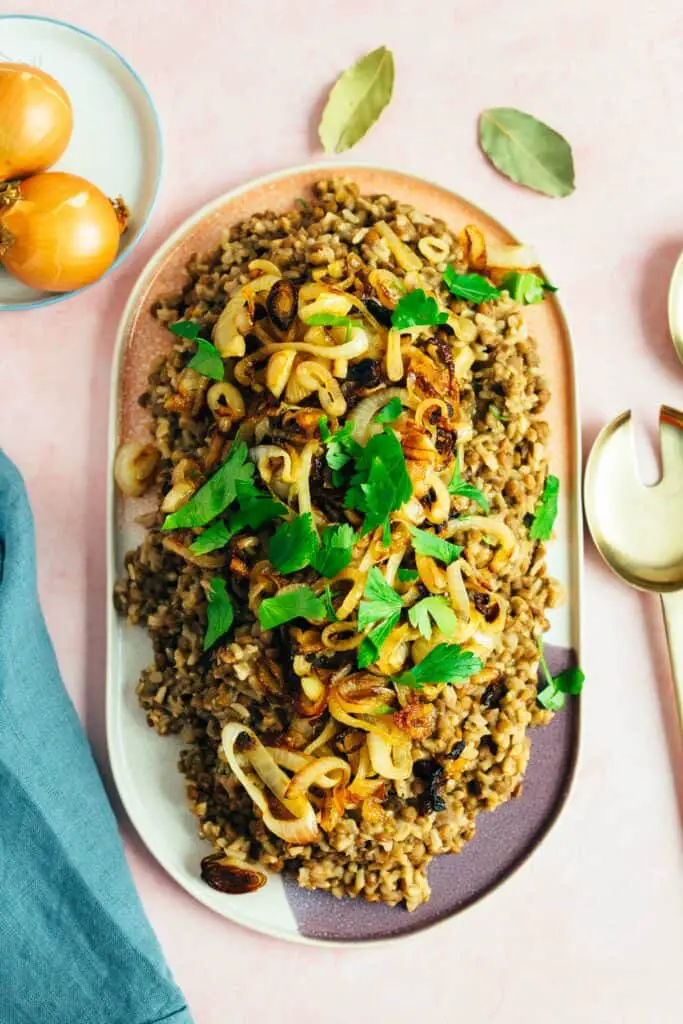 Have you ever heard of Mujaddara? I honestly hadn't until I came across this recipe. It is a traditional lentil dish that originated in the Arab region and is a typical fasting dish in the Middle East. It is served together with a spicy yogurt sauce. There is a vegetarian version and a festive version with meat. I'd say we'll just make the holiday version vegan. Because every vegan day is a day of celebration , at least in my world. It is prepared with rice, less often with pearl barley or bulgur.
Actually, the dish is not difficult to make. First, you create a broth, seasoned with garlic, cumin and pepper. In it the rice is cooked and a few minutes later the lentils are added. I use uncooked rice and lentils. This is important in this dish because the broth gives the two ingredients the wonderful flavors. While the rice and lentils simmer away, I prepare the caramelized onions.
For this white onions are cut into rings and roasted in olive oil. I then lower the heat a bit and let the onion rings simmer for a few more minutes until the rice is cooked.
TIP: The onions do not require additional sugar for caramelization, as roasting evaporates liquid and activates the natural sugars in the vegetables. That's good news, considering how much sugar we often consume hidden throughout the day.
Once the lentil and rice mixture is ready, I arrange it on a nice big plate. The whole thing is topped with the caramelized onions and some parsley. The only thing missing is the yogurt sauce, which I mix quickly and easily. Vegetable yogurt, garlic, lemon juice, a little salt and pepper, ready! If you like it even spicier, I recommend a hot chili sauce to go with it. Aromatic, filling, high in fiber, what more could you want?
Arabic vegan dishes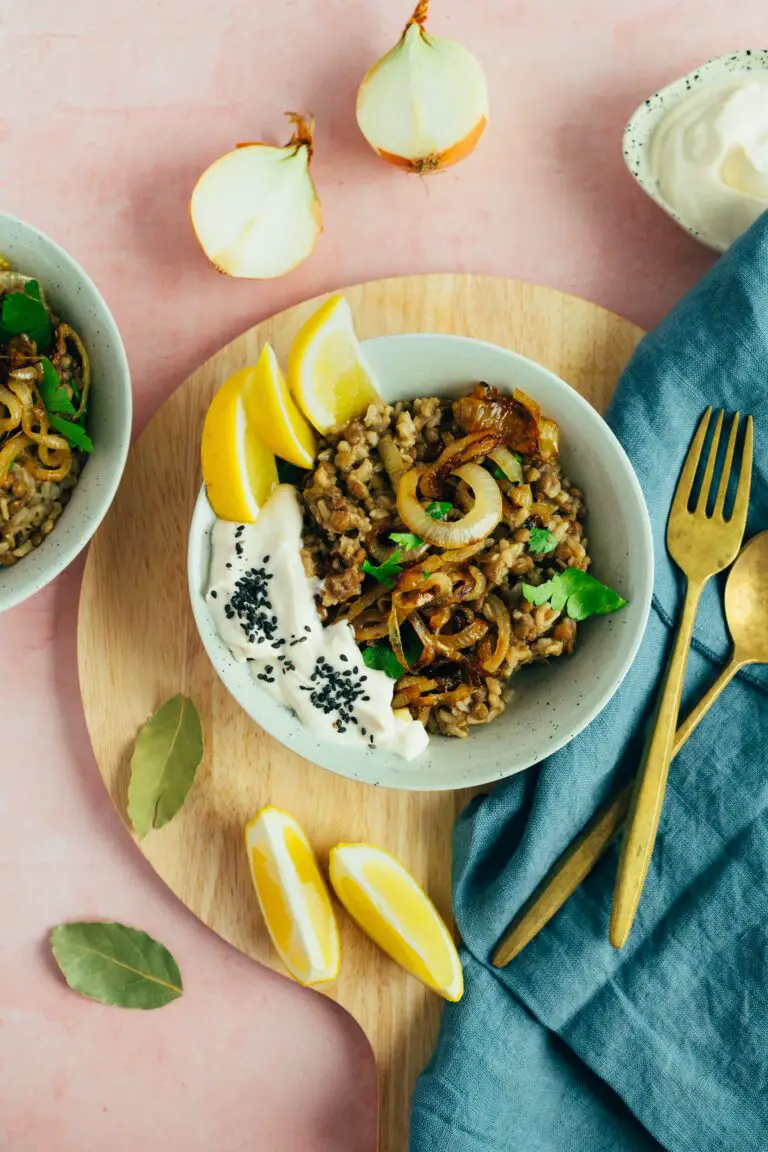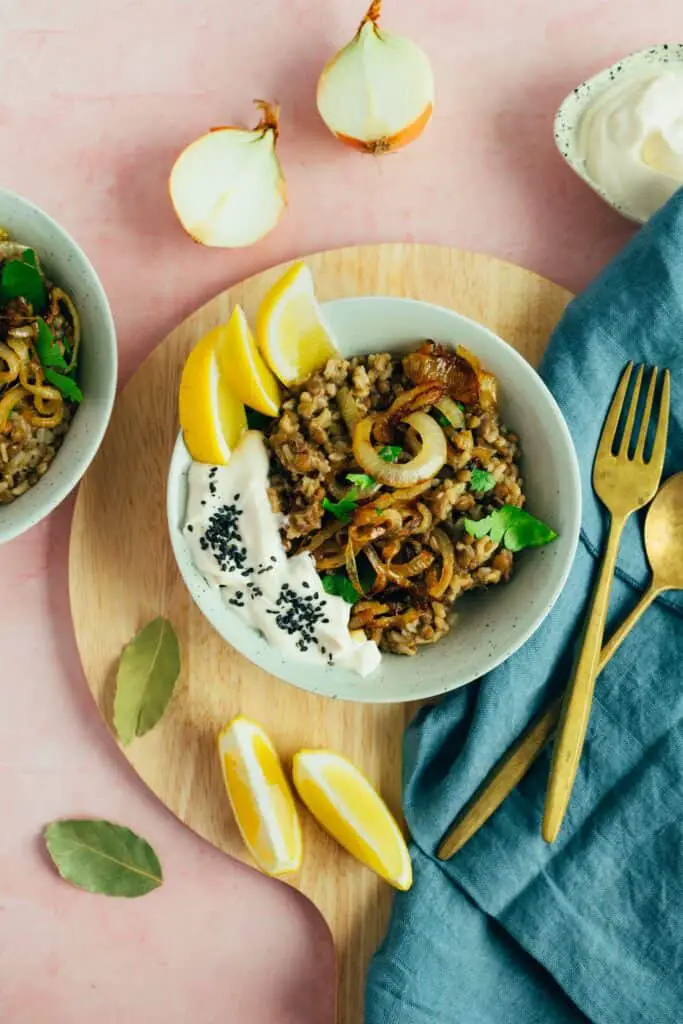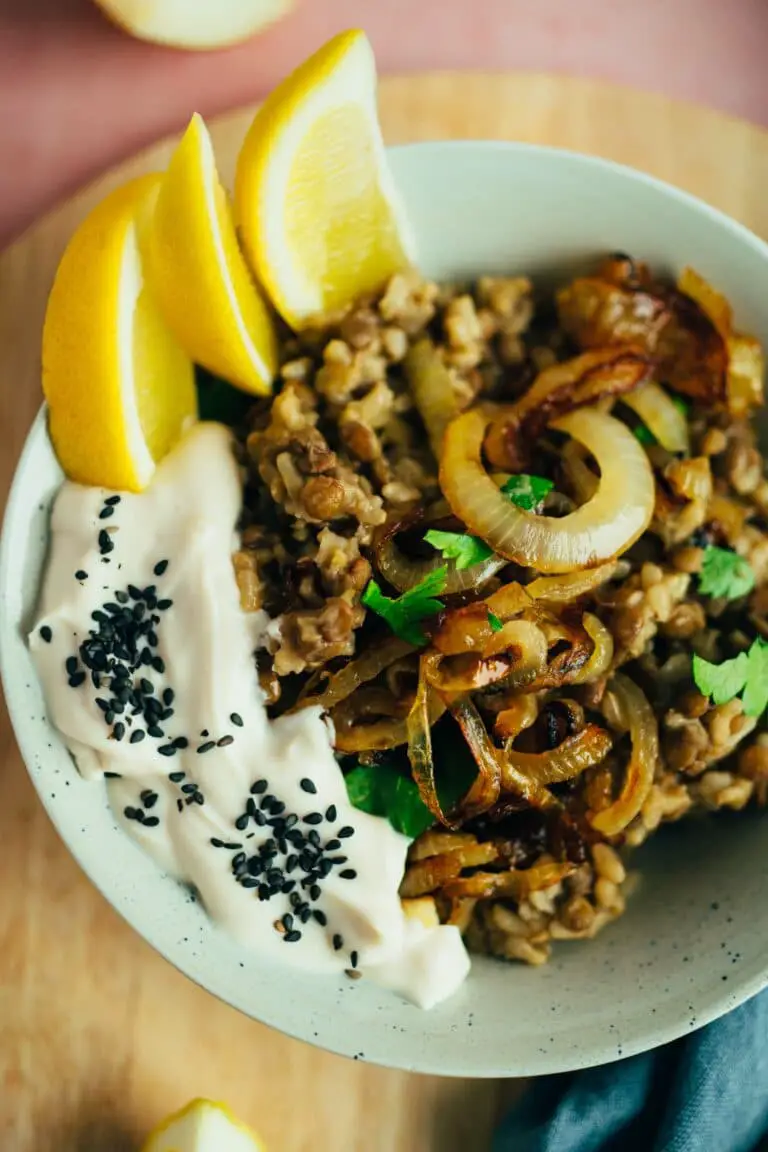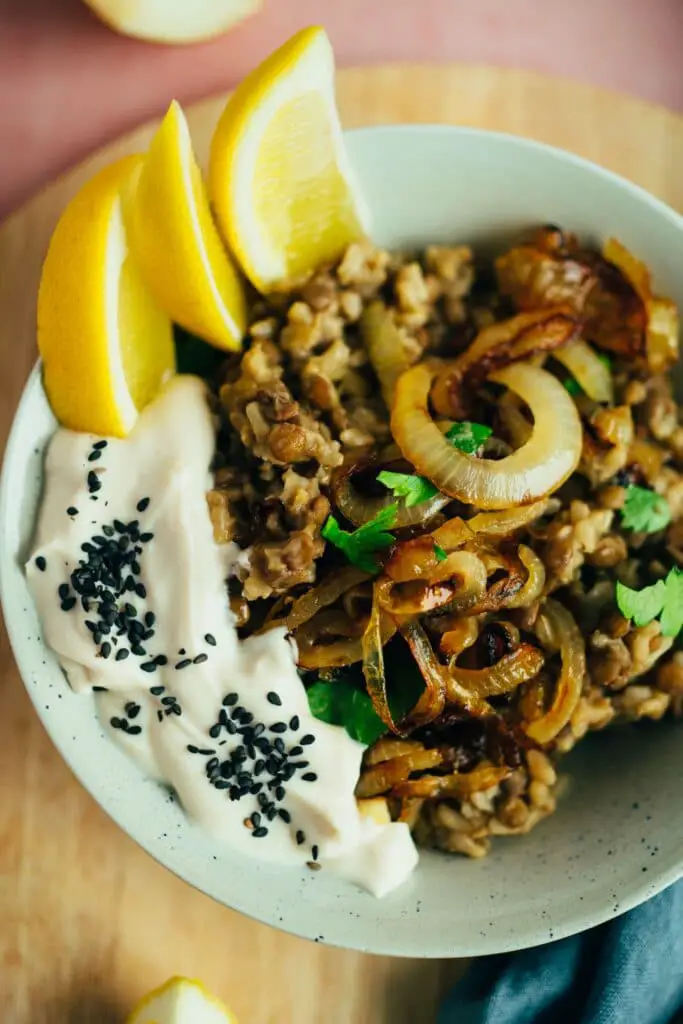 I usually find the side dishes in many cuisines around the world much more exciting than the actual main dish, which is usually made with meat. I'm particularly fond of Arabic cuisine with its many spices. For the basic version, I'm holding back on too many spices, though if you're in the mood for "more," I recommend the following additions:
Dill ½ tsp dried or 6 stems fresh
Allspice ½ tsp
Cinnamon ½ tsp or one stick fresh
Here are some tips for choosing the right lentils and rice:
I use a whole grain basmati rice because it contains more fiber, minerals and vitamins than the white variety. If you use white rice, the cooking time will be reduced accordingly.
For the lenses, I chose brown mountain lentils. Any lentils that stay nice and firm to the bite even after cooking work here, such as mountain lentils, green lentils, mountain lentils, brown plate lentils or Puy lentils.
If today you do not feel like this kind of lentils? Then I recommend you my lentil soup, lentil salad with leeks or fried rice with lentils.
The mujaddara with caramelized onions is:
Arabic
High fiber
Fine roasted flavors
filling
Easy to manufacture
I wish you a lot of fun in the recooking and look forward to a review at the bottom of this page. If you post a picture, use the hashtag #veganevibes.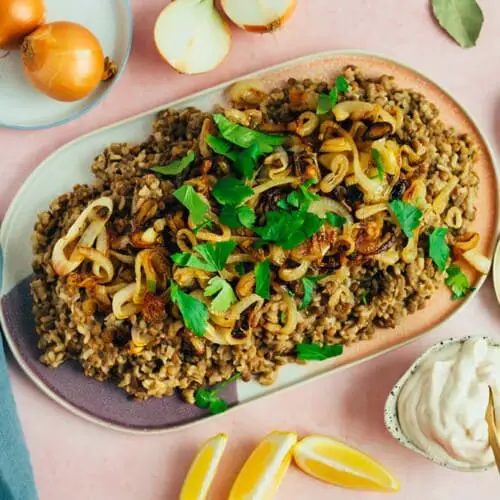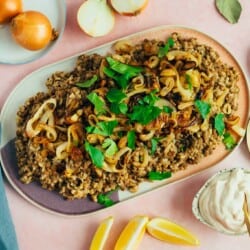 Mujaddara (lentils + rice) with caramelized onions
Arabic inspired mujaddara with caramelized onions made with fine basmati rice, lentils and caramelized onions. Refined with an aromatic yogurt sauce. A delicious side dish or together with a salad an ideal main course, for all those who love oriental food.
AUTOR: VEGANEVIBES
FOR THE MUJADDARA:
15

ml

Frying and baking oil

if oil-free, work with vegetable broth or water

4

Piece

Garlic cloves

finely chopped or pressed

2

Piece

Bay leaves

1

tbspn

Cumin

ground, or whole

½

tbspn

Pepper

Freshly ground

1250

ml

Water

or vegetable broth

200

g

Whole grain basmati rice

or any other rice of your choice, please note that cooking times may vary, check package instructions – wash well before use.

190

g

Brown mountain lentils

uncooked, alternatively green lentils, plate lentils or Puy lentils
FOR THE CARAMELIZED ONIONS:
45

ml

Olive oil

4

Piece

medium white onion

with me it was 371g, peeled and cut into rings
FOR THE YOGURT SAUCE:
300

g

vegetable yogurt

I use creamy soy yogurt

15

ml

Lemon juice

15

ml

maple syrup

Fresh pepper to taste

1

Handful of fresh coriander leaf coarsely chopped

if available, otherwise simply omit
Anleitung 
FOR THE MUJADDARA heat a large pot and pour in oil.

15 ml Frying and baking oil

Add garlic, bay leaves, cumin and pepper and sweat briefly.

4 Piece Garlic cloves,

2 Piece Bay leaves,

1 tbspn Cumin,

½ tbspn Pepper

Note: Do not let oil get too hot, otherwise the garlic can easily burn.

Deglaze with water and add basmati rice. Stir, cover and simmer for 10 minutes. After

10 minutes

, cover and add lentils (uncooked). Simmer, uncovered, for another

25 minutes

over medium heat.

1250 ml Water,

200 g Whole grain basmati rice,

190 g Brown mountain lentils,

Sea salt to taste,

Fresh pepper to taste

Heat the pan on a stove, put the frying oil. Add onion rings and fry for 3-5 minutes until hot. Turn heat down to medium and let onion rings continue to caramelize. Stir occasionally and be careful not to let them burn too much.

45 ml Olive oil,

4 Piece medium white onion,

Salt to taste,

Pepper to taste

After 25 minutes, check if the lentils and rice are cooked. Remove from heat, stir and season with salt to taste.

Arrange on a large serving plate and top with the caramelized onions. Garnish with fresh parsley greens if desired.

With Yogurt sauce serve and enjoy!

15 ml Lemon juice,

15 ml maple syrup,

300 g vegetable yogurt

Store leftovers covered in the refrigerator for 1-2 days and heat up best in a steamer or with some a vegetable broth in a pot.

1 Handful of fresh coriander leaf coarsely chopped
Nährwertangaben
Serving:
1
Portion
Calories:
365
kcal
Carbohydrates:
53
g
Protein:
12
g
Fat:
12
g
Saturated Fat:
3
g
Sodium:
11
mg
Potassium:
359
mg
Fiber:
10
g
Sugar:
5
g
Vitamin A:
36
IU
Vitamin C:
9
mg
Calcium:
102
mg
Iron:
3
mg