Vegan jambalaya surprised me in a positive way. Right now I'm looking a lot for quick, everyday vegan meals that I can pre-cook well. Long hours in the home office and then you need something healthy on the lunch table. I have consistently gotten into the habit of cooking ahead over the past few weeks. Put it in the steamer and a healthy, hot meal is on the table in 15 minutes. When I look out the window right now, I am overjoyed. It's snowing and I can hardly believe it. The last years were very snowless in the area and we had to go to Austria to make nice snow walks with the huskies. Now it's lockdown and the snow is coming to us!
Vegan jambalaya, quick and easy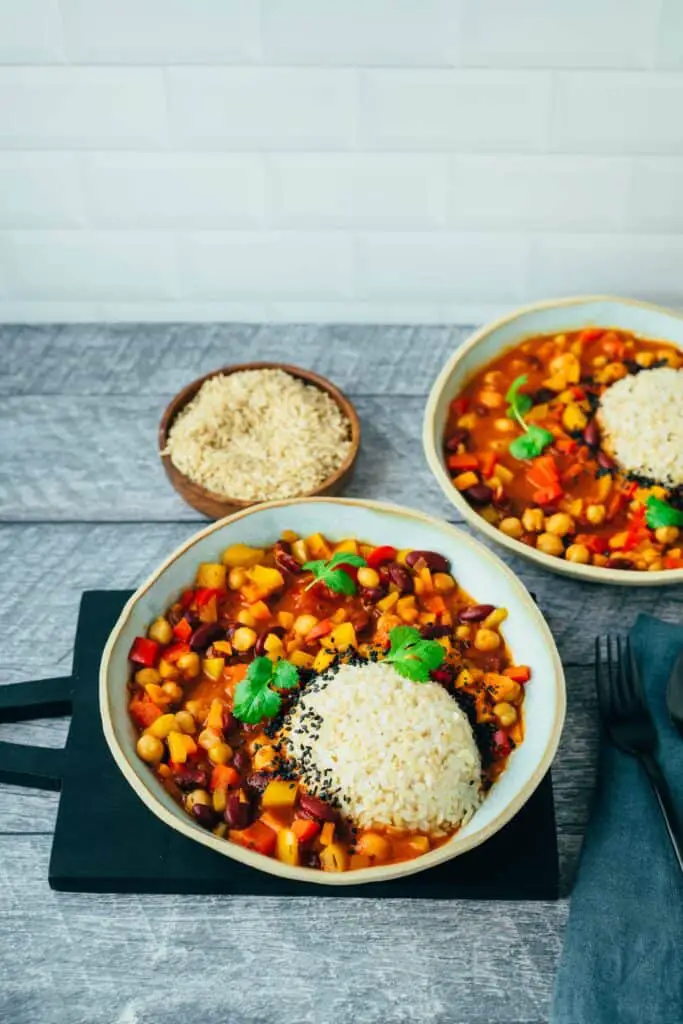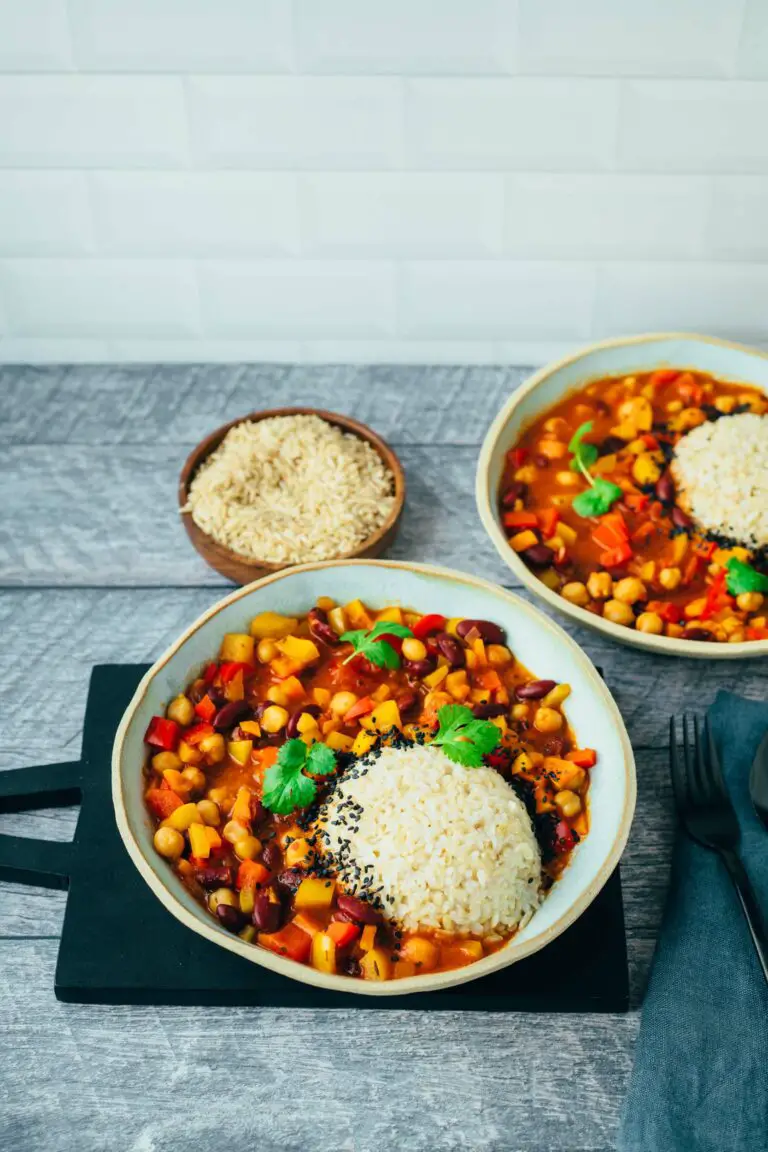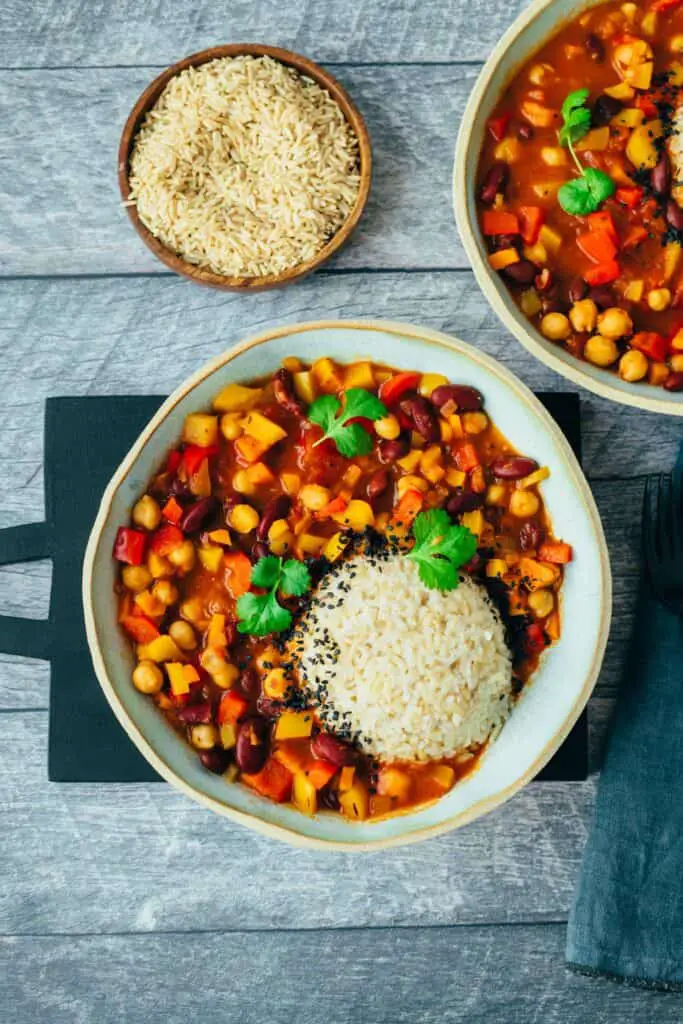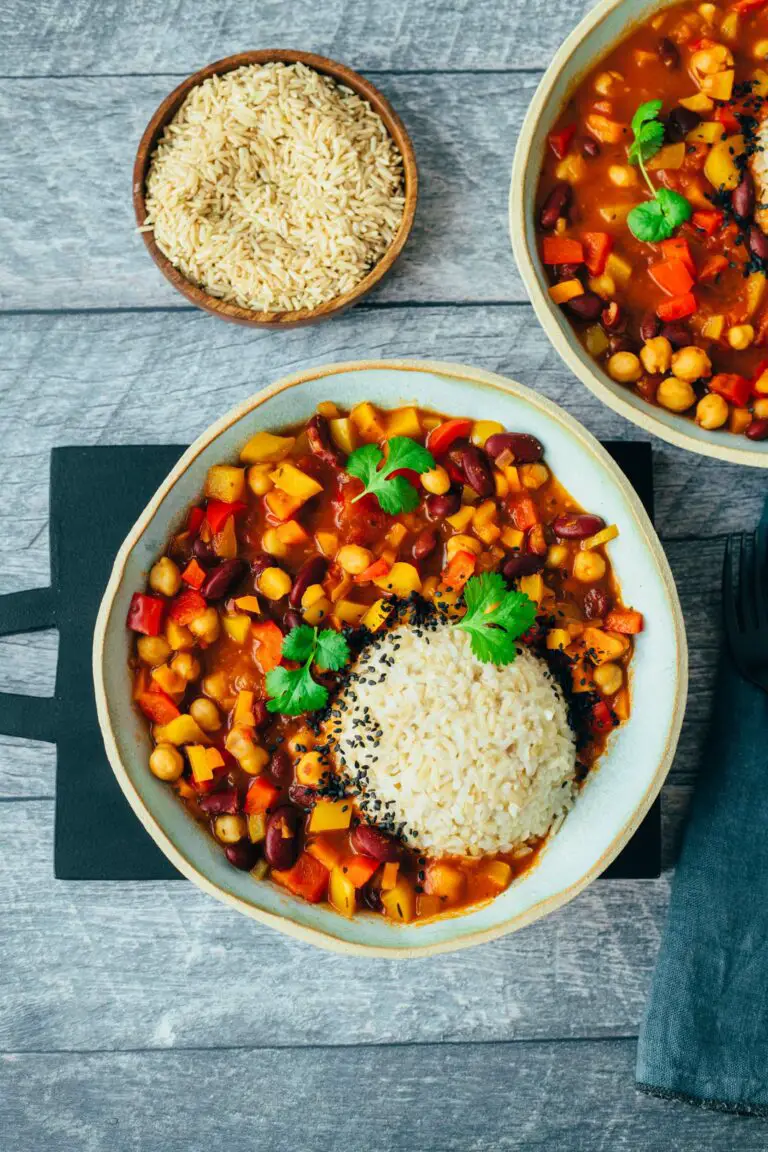 At this point, you may be wondering what exactly a jambalaya is. The dish is cooked with long-grain rice and is at home in Cajun and Louisiana Creole cuisine. It probably derives from the Spanish paella, which was present in Louisiana during the period of Spanish rule. Add to that French and African influences and perfect was this great tasting mix.
So, the dish consists of rice, vegetables, spices, chili and a protein insert. Here I very much like to resort to legumes and have chosen chickpeas and kidney beans. However, you could just as easily use black beans or borlotti beans.
Originally, you cook the rice together with the rest of the ingredients. However, I like to pre-cook the rice in large quantities and serve it ready-cooked with the jambalaya. This saves time and brings yet another advantage.
TIP: Pre-cook the rice and let it cool. This creates resistant starch, which is particularly valuable for our digestion. It behaves similarly to dietary fiber, is not water soluble, and cannot be broken down by enzymes in the digestive tract. It is fermented in the large intestine and is a special treat for the good, health-promoting intestinal bacteria. This applies not only to rice, but also to pasta and potatoes.
Why is resistant starch so healthy?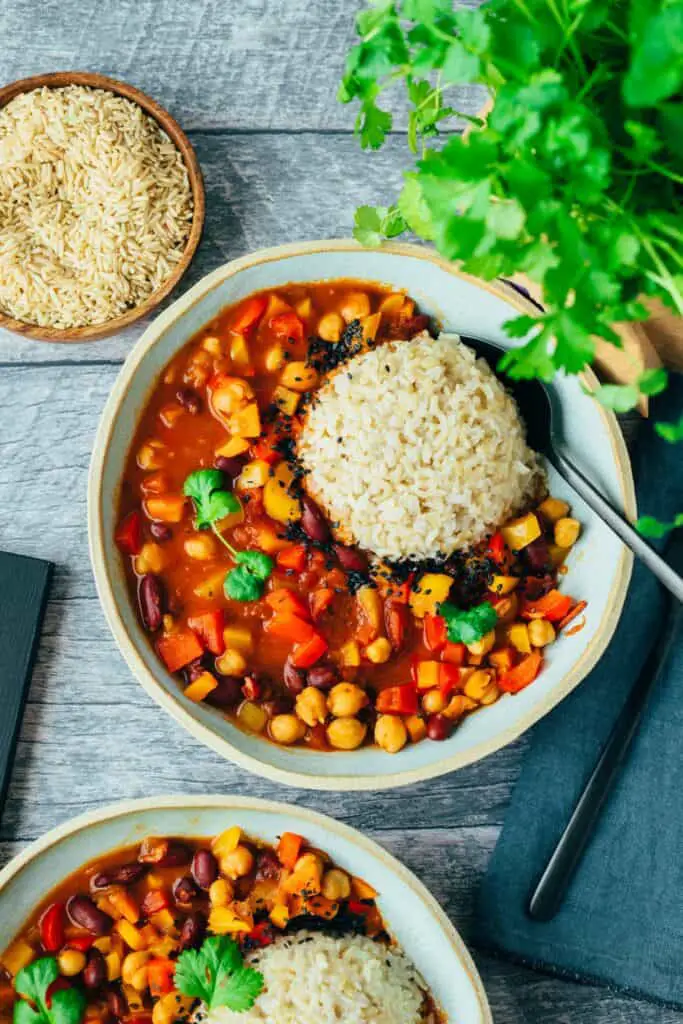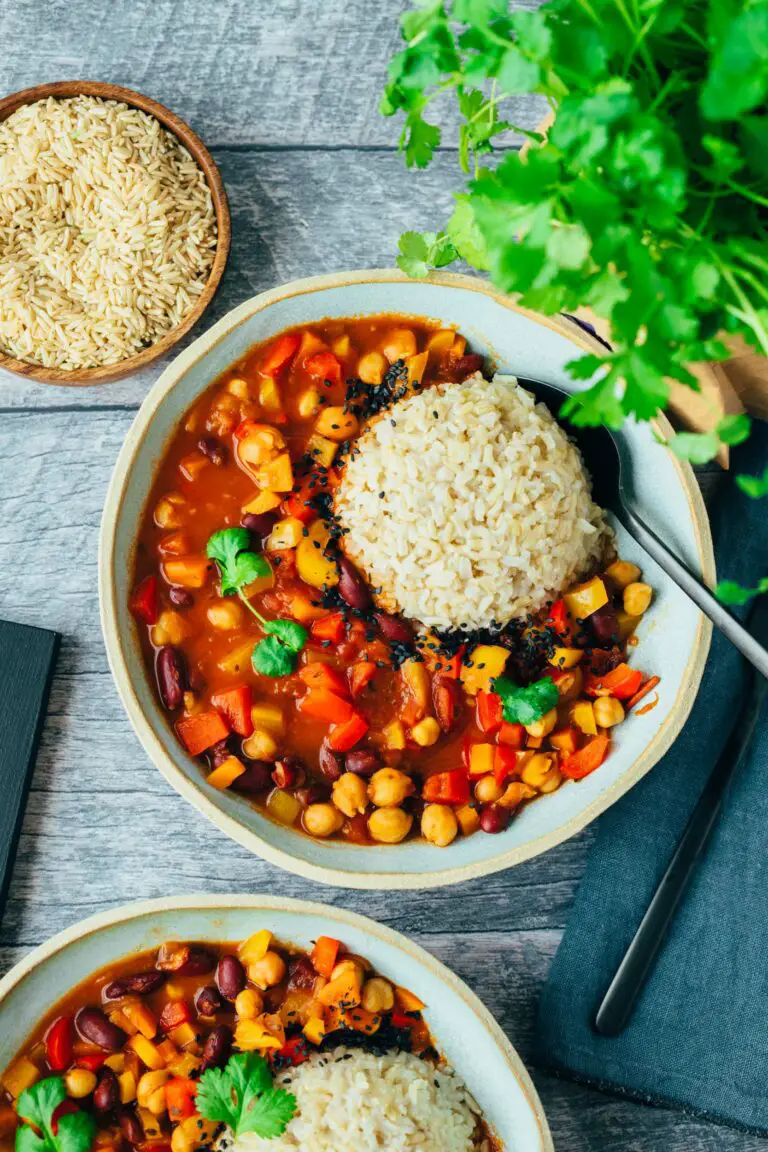 The good is often so close and you don't even notice it. Who would have thought that cooled potatoes, rice or pasta could be so healthy? Let's take a close look at the different forms of resistant starch to see what health value they have for us. Maybe you will feel like leaving the jacket potato more often and make delicious fried potatoes out of it.
In general, a distinction is made between three forms of resistant starch:
RS1 (Physically Resistant Starch): it is encapsulated in intact plant cells and is not vulnerable to our digestive tract. Example: Whole or crushed cereal grains.
RS2 (resistant starch granules): an amylose-rich native starch that cannot be broken down by our digestive tract. Example: raw potatoes, corn or green bananas
RS3: formed during cooling after heating by crystallization of the components amylose and amylopectin in starchy foods such as rice, pasta or potatoes.
TIP: The type RS3 is particularly interesting because it is not digested by the body and thus saves calories. It is fermented in the large intestine and, among other things, butyrate is produced, a short-chain fatty acid that helps stabilize intestinal bacteria and healthy intestinal flora. Butyrate is the main source of energy for the intestinal mucosa and has an anti-inflammatory effect.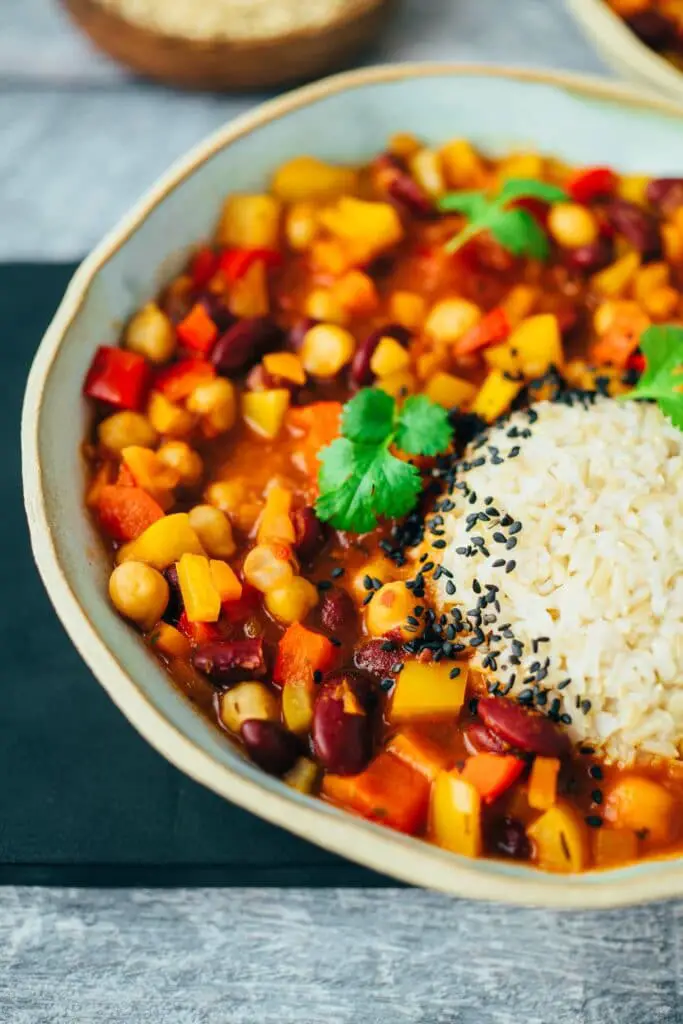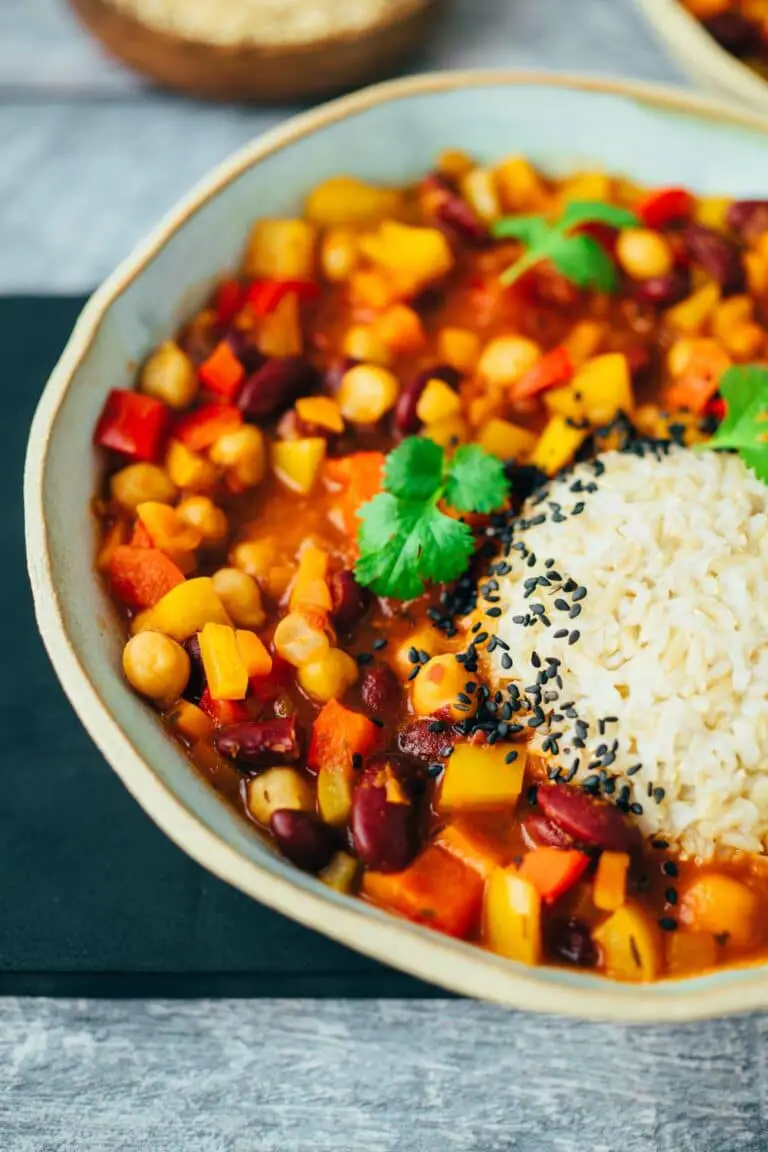 If it's not jambalaya today, I recommend my High Protein Oven Dish, 3-Bean Chili or High Protein Pasta.
The vegan jambalaya is:
High protein
Spicy hot
filling
High fiber
Easy to manufacture
Let's get started with this delicious vegan dish. I wish you a lot of fun in the recooking and look forward to a review at the bottom of this page. If you post a picture, use the hashtag #veganevibes.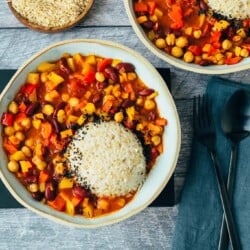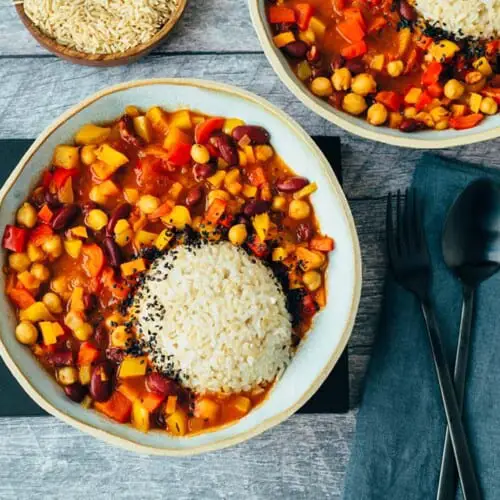 Vegan jambalaya
Protein and fiber rich dish with kidney beans, chickpeas and rice. Spicy and exotic with a slight spiciness. Especially suitable for active people or vegans who want to cover their protein needs with high-quality plant ingredients.
AUTOR: VEGANEVIBES
FOR THE JAMBALAYA:
15

ml

Frying oil

Replace with water if oil-free

1

Piece

red onion

diced

2

Piece

Garlic cloves

peeled and pressed

1

Piece

red bell bell pepper

Core removed and diced

1

Piece

yellow bell bell pepper

core removed and diced, alternatively a green bell pepper

1

Piece

big carrot

diced

2

tbspn

Italian spice blend

1

tbspn

Cumin

1

tbspn

Paprika

noble sweet

½

tbspn

smoked paprika powder

optional

1

Piece

Bird Eye Chili

30

g

Tomato paste

400

g

Tinned tomatoes

240

g

Kidney beans

drained and washed – or a jar before draining alternatively use other beans of your choice

265

g

Chickpeas

drained – save chickpea water for other recipes. 1 can or jar with 400g

30

ml

Soy sauce

250

ml

Vegetable broth

600

g

cooked long grain rice

I use whole grain rice, note: if you want to cook the rice directly with it, then use 200g uncooked rice and increase the amount of vegetable stock to 750ml instead of 250ml. With whole grain rice the cooking time is long, if you want it fast, use white long grain rice
TO SERVE:
Fresh cilantro to taste

Black sesame
Anleitung 
Cook rice separately and set aside. If the rice is to be cooked directly with it, continue with point 11)

Heat large pot or pan with large filling volume.

Pour in the frying oil. If oil-free, use a little vegetable broth or water.

Add in the onion and garlic, stir.

1 Piece red onion,

2 Piece Garlic cloves

Add bell bell pepper, carrots. Continue stirring and sweating.

1 Piece red bell bell pepper,

1 Piece yellow bell bell pepper,

1 Piece big carrot

Add Italian spice blend, cumin, sweet paprika, smoked paprika (optional) and Bird Eye chili.

2 tbspn Italian spice blend,

1 tbspn Cumin,

1 tbspn Paprika,

½ tbspn smoked paprika powder

Stir well until everything is well combined.

Add bird eye chili, cayenne pepper, garlic and salt. Stir with a wooden spoon or by hand until everything is evenly combined.

Add canned tomatoes, kidney beans, chickpeas and tamari. Continue stirring.

30 g Tomato paste,

400 g Tinned tomatoes,

240 g Kidney beans,

265 g Chickpeas,

30 ml Soy sauce,

Salt to taste,

Pepper to taste

Deglaze with vegetable stock, cover and simmer for

20 minutes

.

If the rice is to be cooked directly with it, use 200g of rice and use 750ml of vegetable stock instead of 250ml. The cooking time of whole grain rice is relatively long, alternatively use white long grain rice.

At the end of the cooking time, either mix with the rice or serve the rice and jambalaya separately in a plate.

600 g cooked long grain rice

Garnish with fresh herbs and black sesame seeds as desired, serve and enjoy!

Black sesame,

Fresh cilantro to taste

Keeps up to 5 days airtight in the refrigerator or 2 months frozen. If it is frozen, it is best WITHOUT rice.
Notizen
Nährwertangaben
Serving:
1
Portion
Calories:
814
kcal
Carbohydrates:
162
g
Protein:
25
g
Fat:
7
g
Saturated Fat:
1
g
Sodium:
874
mg
Potassium:
992
mg
Fiber:
14
g
Sugar:
10
g
Vitamin A:
584
IU
Vitamin C:
14
mg
Calcium:
128
mg
Iron:
7
mg