Another vegan roast? There are already three of them on the site. Yes, that's right, but I thought there is still one variant missing and that is a super quick version . Sometimes it has to go fast and should also be healthy. That's why I came up with this recipe. Christmas doesn't always have to mean spending hours in the kitchen. My suggestion today is a roast that consists of a very healthy stuffing with lots of vegetables, lentils and spices. The delicious "vegan roast" is rolled in a ready-made puff pastry, vegan of course. I make my quick gravy to go with it, dumplings from a ready-made dough from the organic supermarket and a side salad. With cutting vegetables and baking I was done in 40 minutes can you break the record?
Roast vegan in puff pastry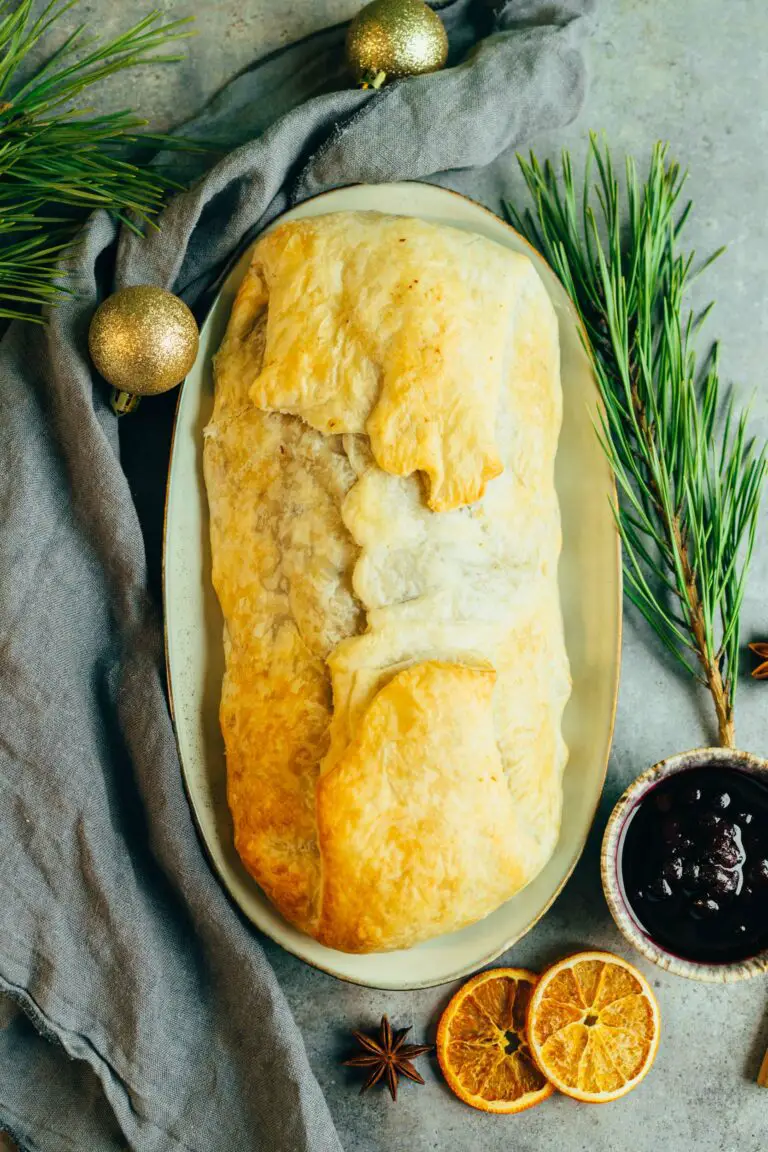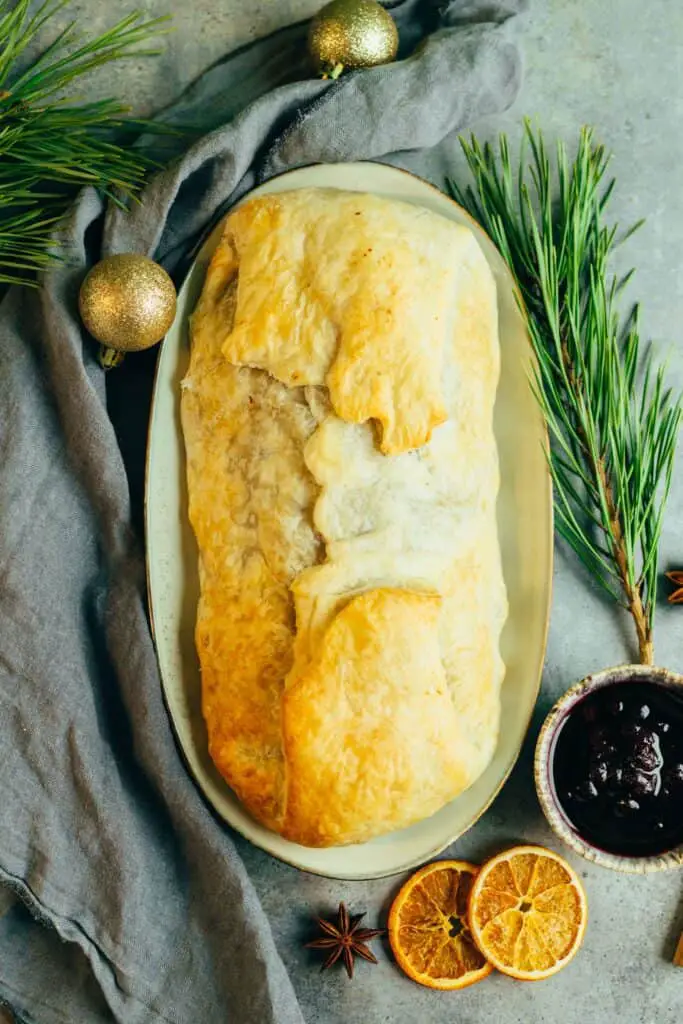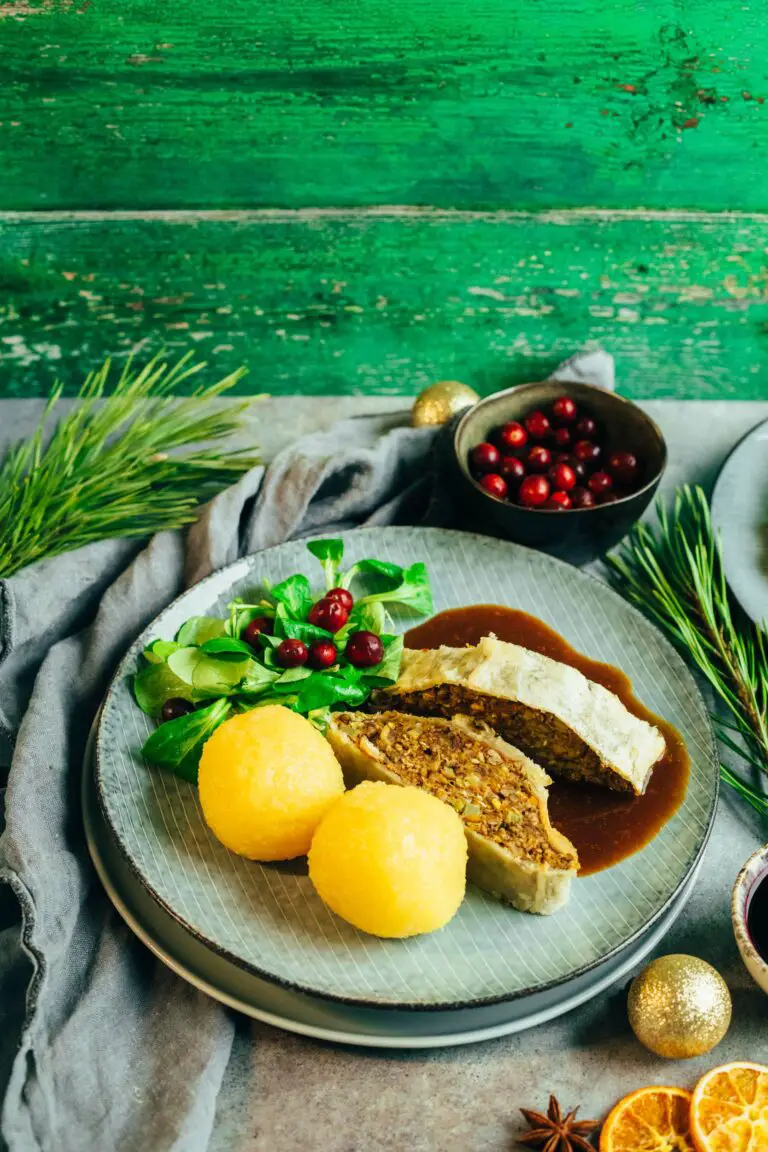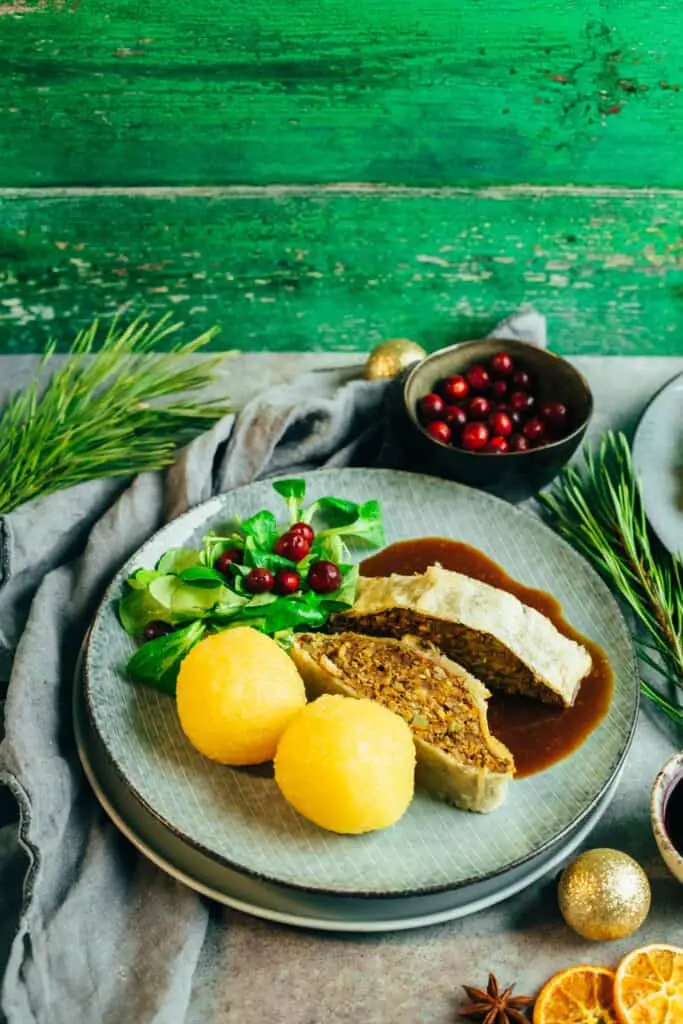 For our roast we need ready cooked lentils, a little oil, onion, garlic, celery, carrots, mushrooms, oatmeal, ground flax seeds, Italian herbs, soy sauce, nuts, salt and pepper. These are the basic ingredients, which you can always modify or add to your own taste.
vegan christmas roast

Here are my top tips for modifying or adding ingredients:
Lentils: I use cooked mountain lentils, but any kind of bite size lentils will work, such as beluga lentils, brown lentils, or champagne lentils. Optionally, I recommend chickpeas or black beans.
Oatmeal: here I simply grind rolled oats into fine oatmeal in my high-powered blender. Alternatively, you can buy it in well-stocked organic stores. If you are gluten-free, please look extra for a gluten-free declared version.
Mushrooms: Here you are spoiled for choice. I used oyster mushrooms, but mushrooms, shiitake or herb mushrooms will also work.
Soy sauce really brings flavor to the roast. I always use tamari, my favorite gluten-free soy sauce. A shot of the extra long matured version should not be missing either.
Nuts: My favorite is pecans, followed by cashews. Hazelnuts or almonds can be a tad too hard and walnuts bring in a slightly bitter taste. One option would be to simply mix the nuts colorfully.
For the herbs, a ready-made mixture is best if you need to do it quickly. Otherwise, feel free to create your own herbal composition or add nutmeg, turmeric, and many others.
Alternatively, you could replace the flax seeds with chia seeds.
The only thing missing is the puff pastry, which I buy ready-made at my favorite organic supermarket. There is also possibility to order ready-made puff pastry on the Internet. Just google here. Perfect, because that's all we need for our roast. Put in the oven and bake for 20 minutes .
Vegan roast with lentils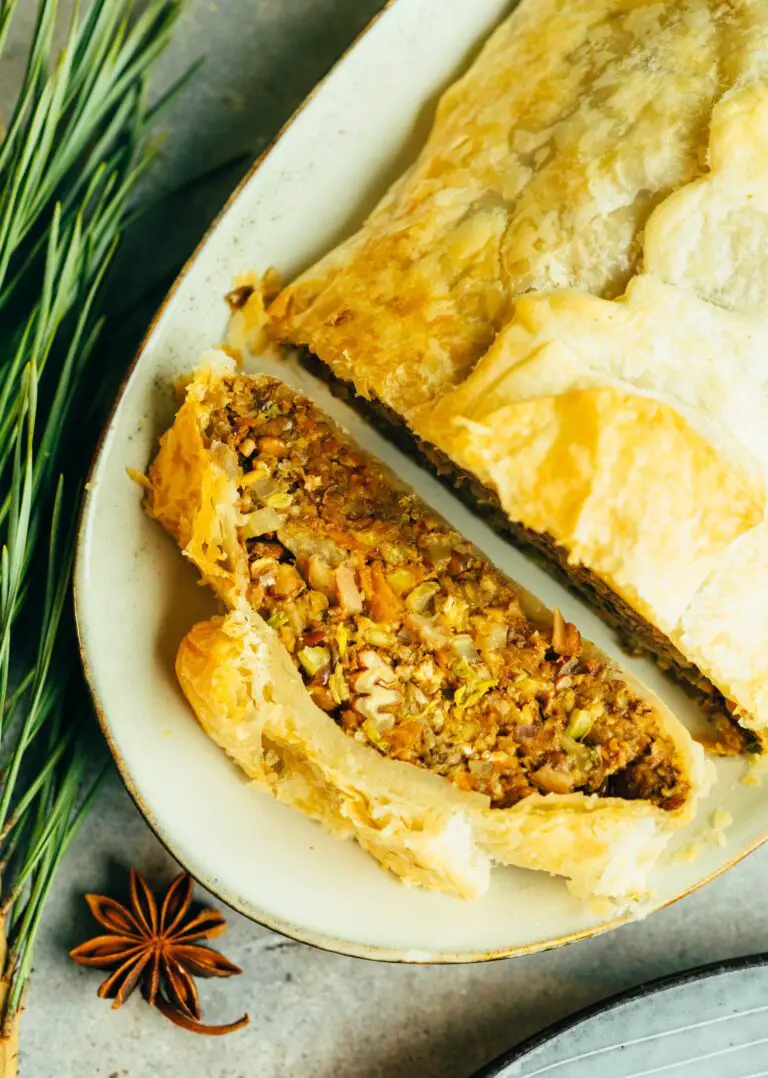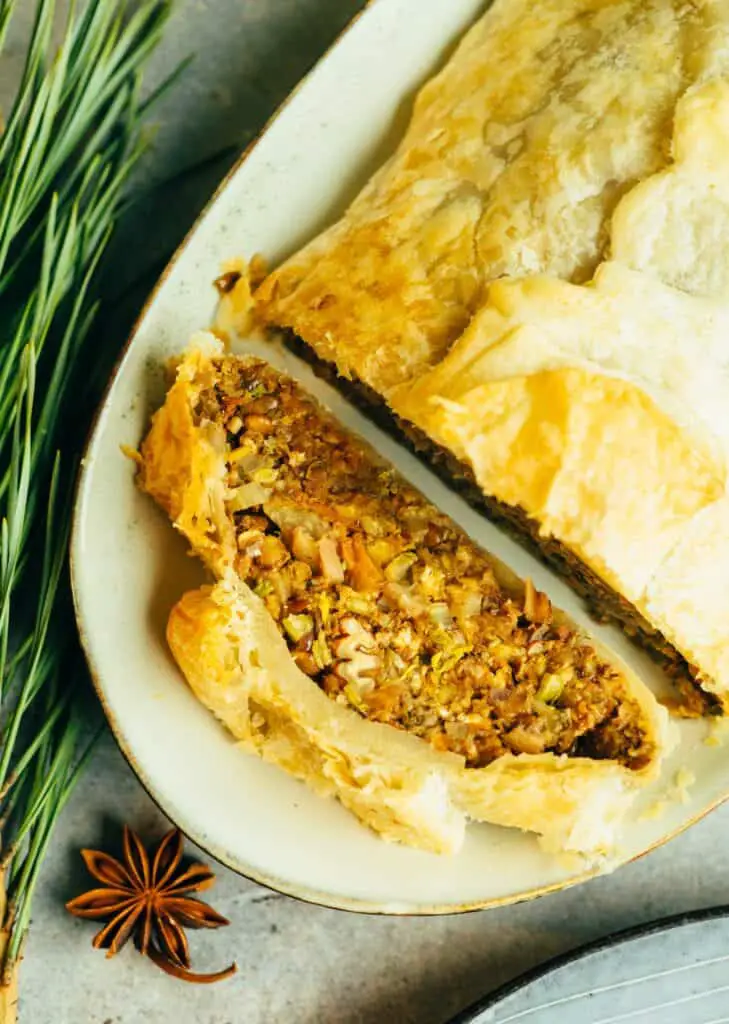 The only thing missing is a potato or dough side dish and a sauce. Here are my favorite combination options:
Potato dumplings: My grandma used to make them herself and it's really hard work. Peeling, grating, squeezing and cooking is for people who have time and patience. I prefer to resort to an organic potato dumpling dough and save time.
Spaetzle: Are one of my favorites. Meanwhile, there are many organic alternatives that are ready to cook in a few minutes. Otherwise, you could also make spaetzle yourself, maybe there's a recipe from me soon.
Gravy: I prefer to make my own gravy, though there are organic alternatives that are ready in 5 minutes. You decide whether you want to cook yourself, or prefer the quick version.
Salad or another side dish must be, because without a fresh component something is missing in the overall picture. If I need to make it quick, I make a simple leaf salad, tossed with my balsamic dressing. Add a few cranberries or pomegranate seeds for decoration and the Christmas main course is perfect.
Vegan roast with sauce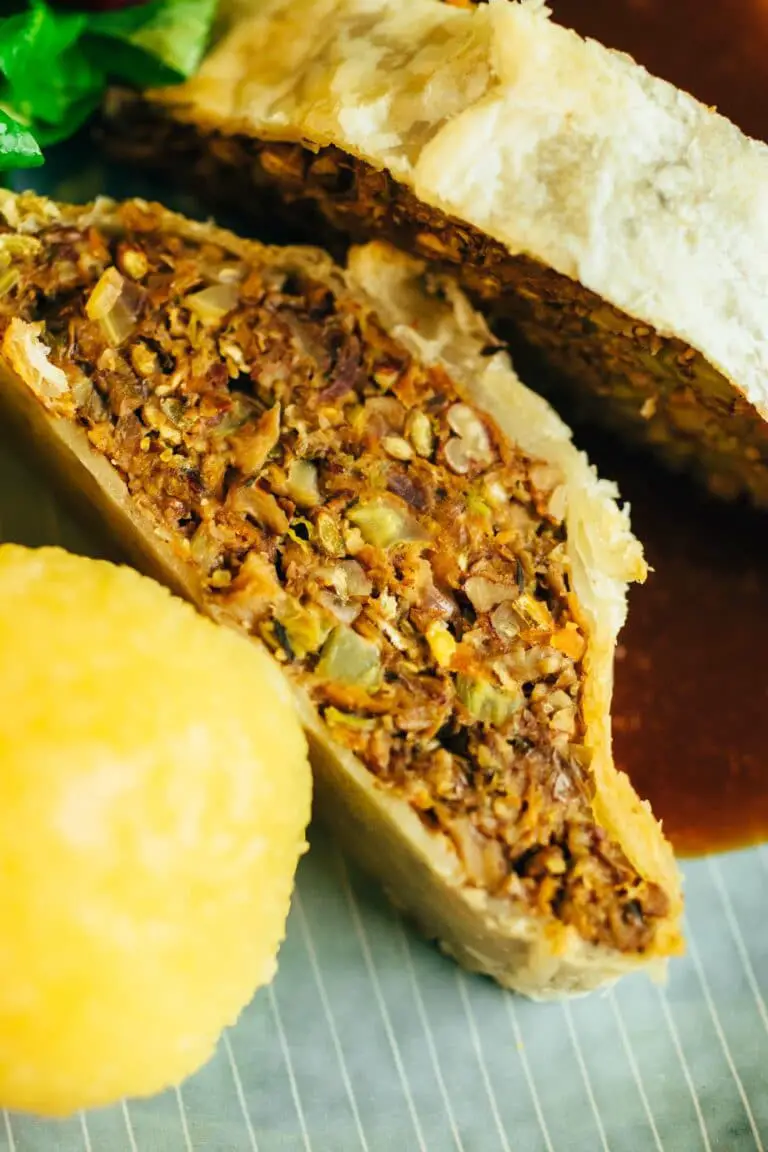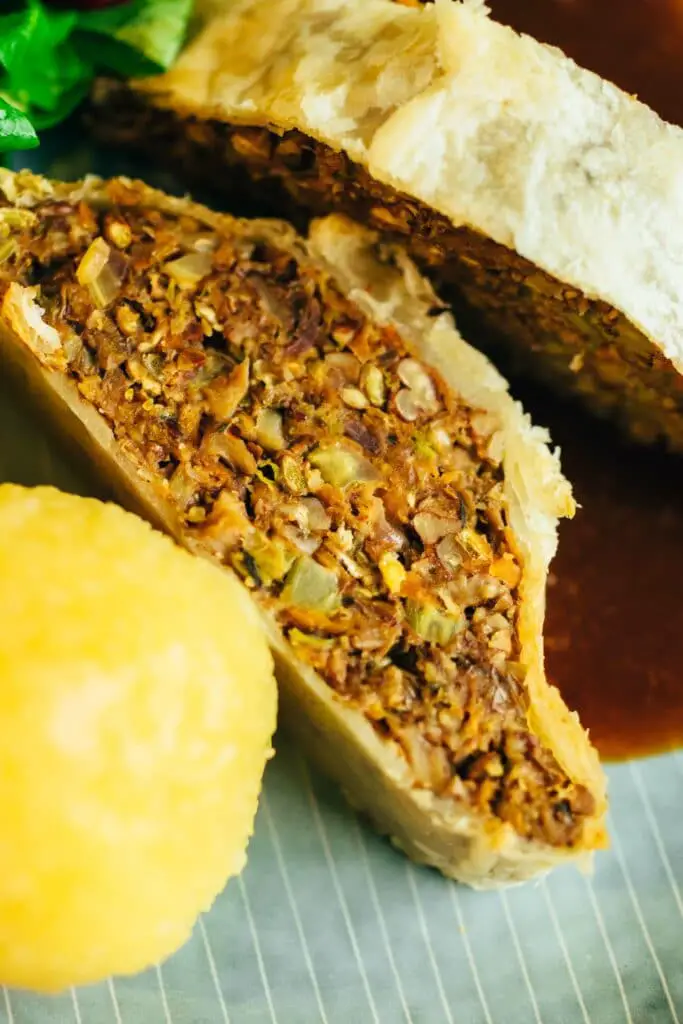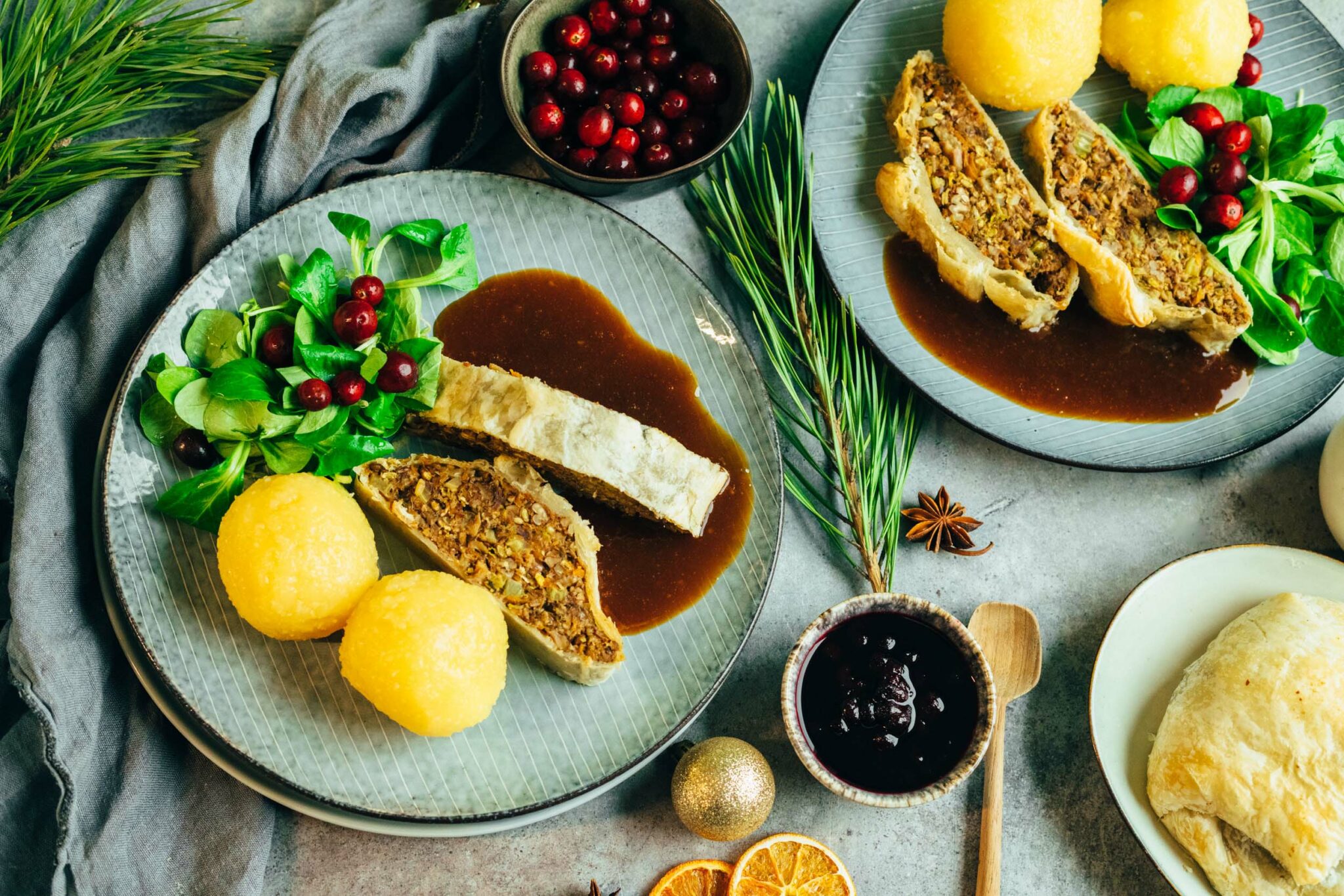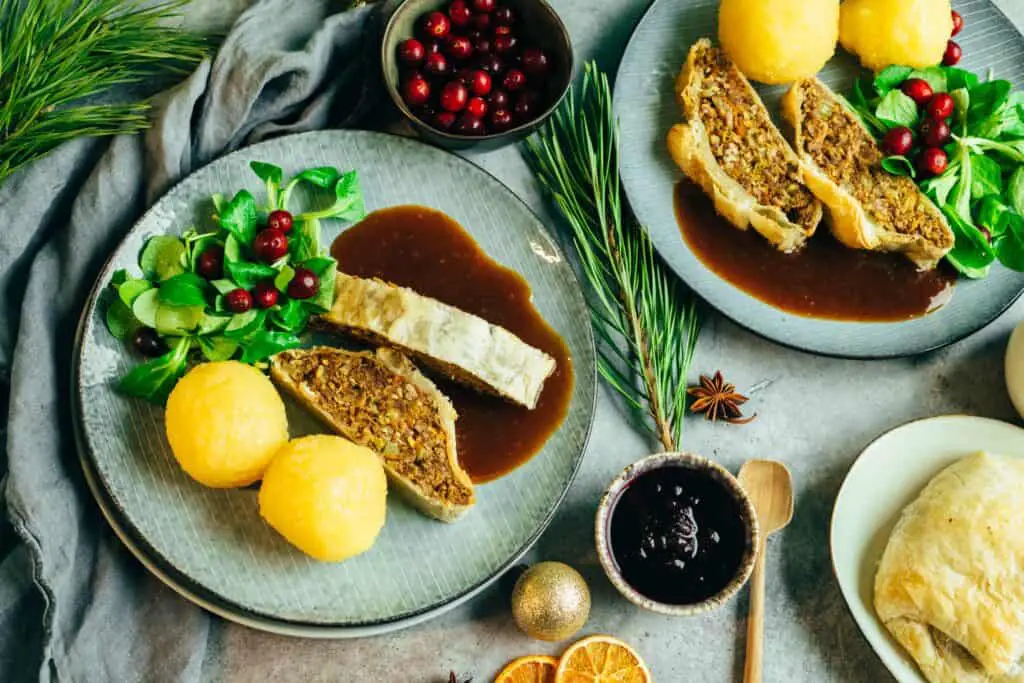 Anything left over can be wonderfully sliced and stored sealed in the refrigerator for up to 3 days. Alternatively, you can freeze the roast slices and defrost them in the steamer or at room temperature. In times of Food waste more and more people are thinking about how leftover food can be reused and not immediately dumped in the trash.
The remaining roast could be served for a hearty brunch, for example. Together with vegan salmon, horseradish, bread and a glass of champagne. Put in a sandwich along with fresh lettuce leaves and vegan mayo, or just snack on plain as a healthy snack.
The vegan roast Super-Quick is:
hearty
Quick and easy to make
filling
Festive
Firm consistency
Extremely tasty
Now you are perfectly prepared for your vegan Christmas. Believe me, you will not lack flavors. I'm really looking forward to our Christmas menu and am still deciding which dessert will make the running. I wish you a lot of fun with the re-cooking and of course I am happy about a review at the bottom of this page. If you post a picture, use the hashtag #veganevibes.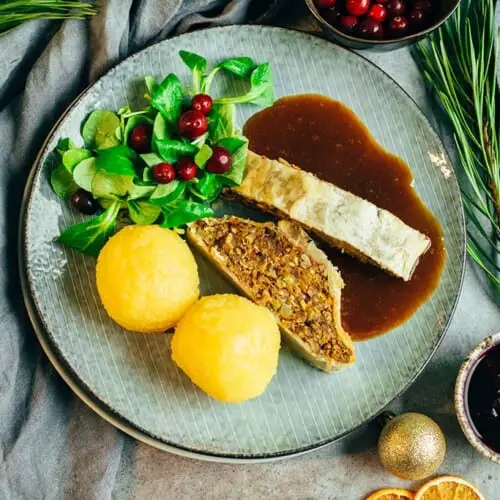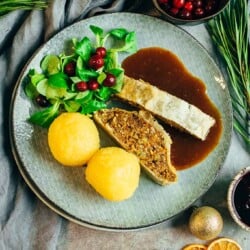 Vegan Roast Super Quick
Quick vegan roast of lentils and vegetables in puff pastry coating, made quickly and easily. Perfect for festive occasions, such as Christmas or New Year's Eve. Healthy, with lots of vegetable protein and fiber. Together with potato side dishes and homemade vegan gravy a poem.
AUTOR: VEGANEVIBES
FOR THE FRY:
1

Piece

Puff pastry roll

vegan, bought ready to use, to be on the safe side buy a second one in case one is too small for the amount of filling, this can vary depending on the size and weight of the puff pastry

30

ml

Frying oil or other high heat oil

extra oil for brushing

110

g

red onion

finely chopped (equivalent to a medium onion) alternatively white onion or shallots

1

Piece

Garlic clove

finely chopped or 1 tsp garlic granules

150

g

Celery

finely grated

200

g

Carrots

medium carrots, finely grated

150

g

Mushrooms

I use oyster mushrooms, alternatively shiitake, mushrooms or herb mushrooms, cleaned and cut into pieces

75

g

gluten free oat flour

I grind oatmeal for this in the food processor

25

g

ground flaxseed

Flaxseed meal or even more oatmeal

240

g

brown or green lentils(ready cooked)

drained and well washed with cold water corresponds can or jar with 400g

50

g

Nuts

roughly chopped, I use pecans, alternatively cashews or a nut mixture (unsalted)

2

tbspn

Italian herb mix or fresh or dried herbs of your choice

30

ml

Tamari
TO SERVE:
Potato dumplings

Leaf salad
Anleitung 
FOR THE ROAST Heat a large frying pan. Pour in oil, add onion, garlic cloves and sweat for

1-2 minutes.

30 ml Frying oil or other high heat oil,

110 g red onion,

1 Piece Garlic clove

Add the celery, carrots and mushrooms. Continue to sauté until the vegetables have softened a bit. Add oatmeal, flaxseed and Italian herbs and stir once until everything is well mixed.

150 g Celery,

200 g Carrots,

150 g Mushrooms,

75 g gluten free oat flour,

25 g ground flaxseed,

2 tbspn Italian herb mix or fresh or dried herbs of your choice

Deglaze with tamari and fold in nuts. Season once briefly and add a little more sea salt, pepper or soy sauce to taste.

30 ml Tamari,

A pinch of sea salt,

Black pepper to taste,

50 g Nuts

Transfer to a large bowl and add the finished lentils to the vegetable mixture. Knead with your hands until everything is combined.

240 g brown or green lentils(ready cooked)

Preheat the oven to 180 degrees and line a baking tray with baking paper.

Roll out the puff pastry flat on the baking sheet and add the filling in the middle. Flatten a bit until it looks like the picture. Be sure to leave the edges free. Depending on the size of the puff pastry, you may need a second one. Fold in edges until filling is completely covered.

Depending on your preference, cut a check pattern with a knife (optional). Brush with a little oil and put in the oven. Bake for

20 minutes

until golden brown. Remove from oven, let cool slightly, slice and serve quickly or return to oven and keep warm.

To serve, place one or two slices of vegan roast on each plate, add leaf lettuce and potato dumplings, and pour sauce over the top. enjoy!

Potato dumplings,

Leaf salad,

Balsamic dressing

Best fresh. Roast can be frozen for up to 4 weeks, preferably sliced.
Notizen
Hint:
Calorie calculation without sauce, dumplings.
Nährwertangaben
Serving:
1
Slice
Calories:
180
kcal
Carbohydrates:
20
g
Protein:
9
g
Fat:
8
g
Saturated Fat:
3
g
Sodium:
5999
mg
Potassium:
411
mg
Fiber:
9
g
Sugar:
2
g
Vitamin A:
3351
IU
Vitamin C:
3
mg
Calcium:
37
mg
Iron:
2
mg