Apple Crisp, what is that actually in German? Apple crisp or apple crisp au gratin? Somehow everything doesn't sound really fluid. Then I'd rather take the American version. It's getting to be autumn and the leaves are starting to change color. The weather is really gigantic and I really enjoy my breaks in the sun. Together with a serving of Apple Crisp, I couldn't imagine it being any nicer.
Apple Crisp – juicy, vegan and gluten-free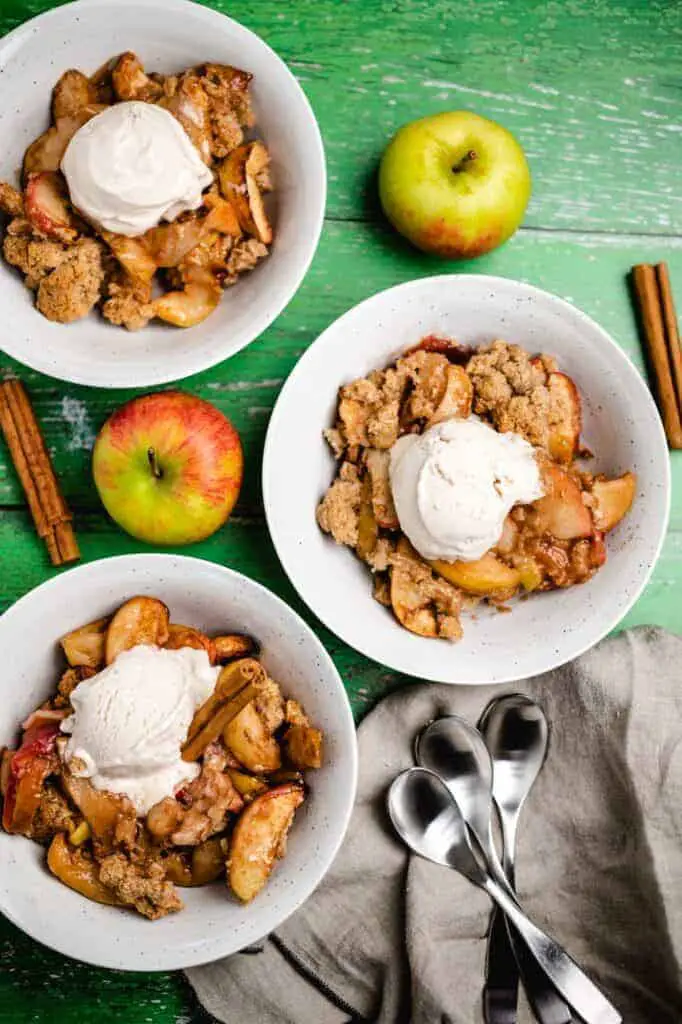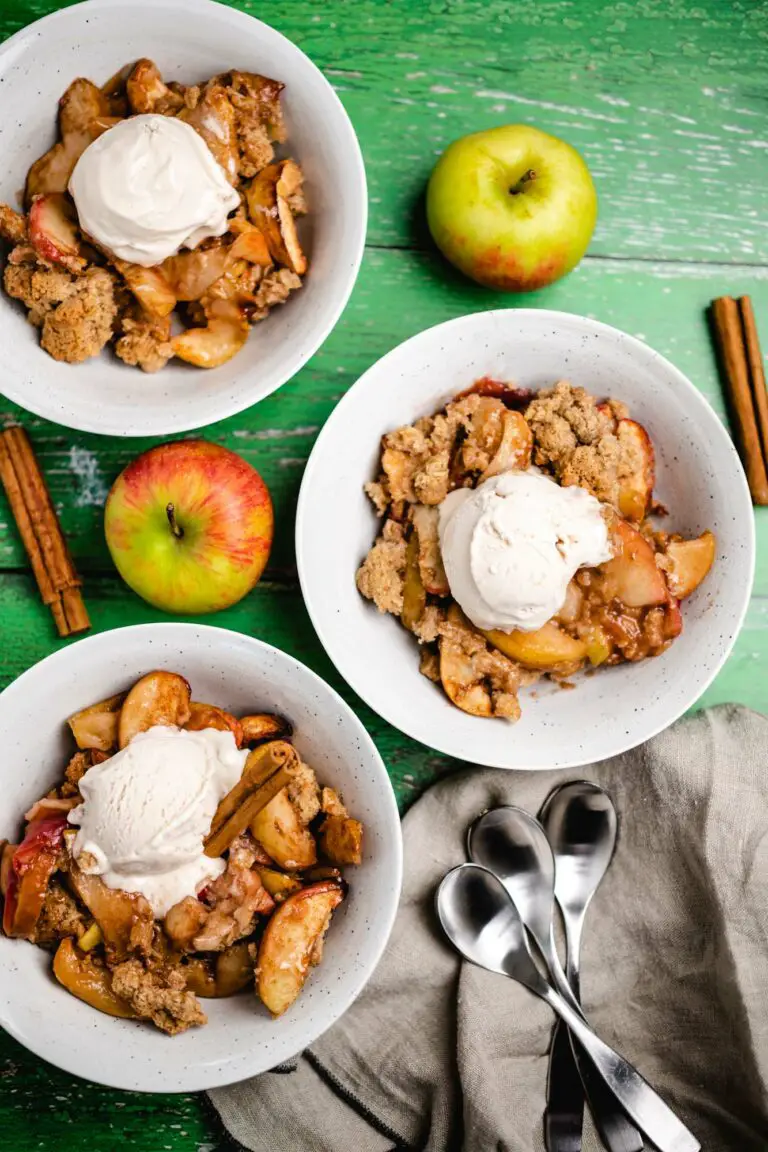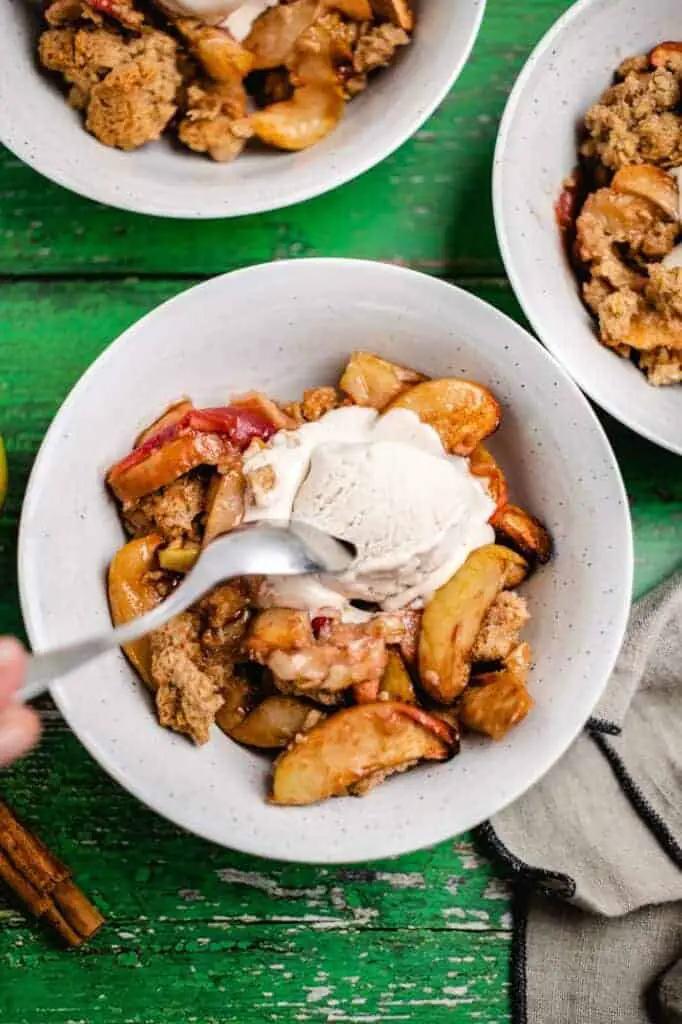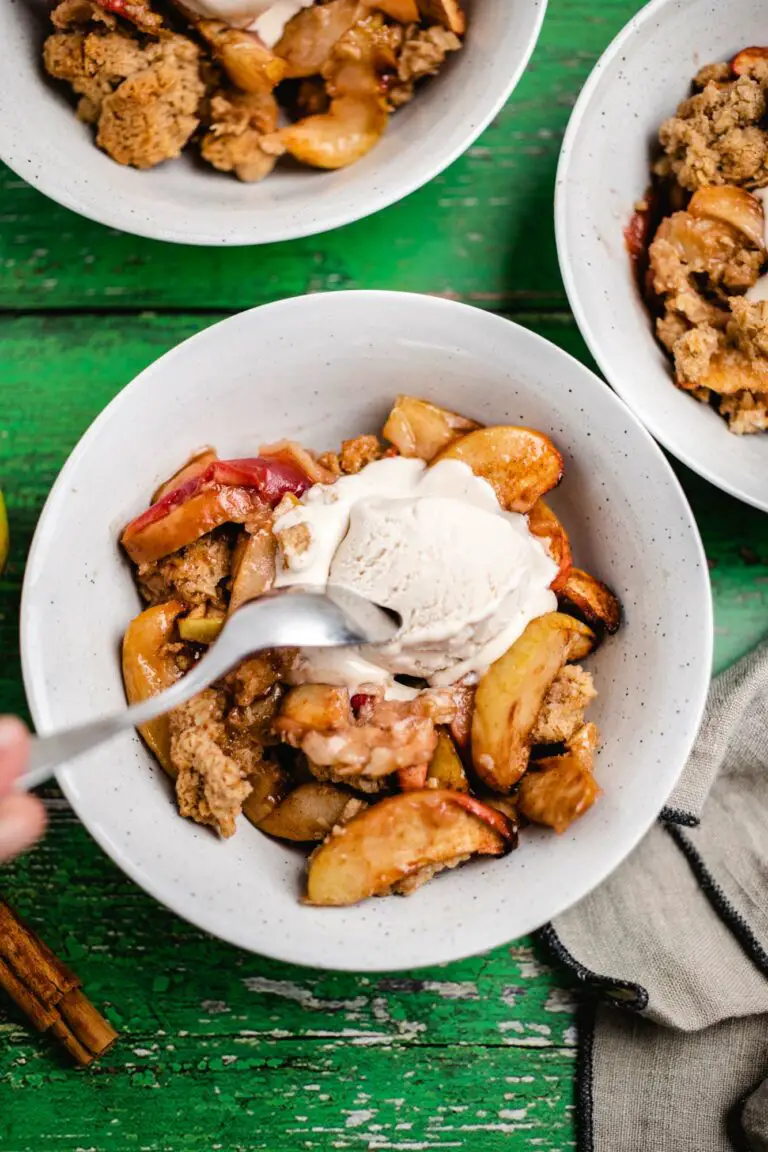 The Apple Crisp consists of two preparation steps. First, core the apples and cut them into slices. To this is added raw cane sugar, corn starch, cinnamon. Lemon juice and a pinch of salt. I mix this directly in the baking dish with my hands and set it aside to make room for making the crumble.
The crumble is made with raw cane sugar, gluten-free rolled oats, gluten-free flour blend, oat flour, cinnamon, ginger, nutmeg and melted margarine. This is again all mixed with your hands until a compact, slightly crumbly mass is formed.
Vegan and gluten free desserts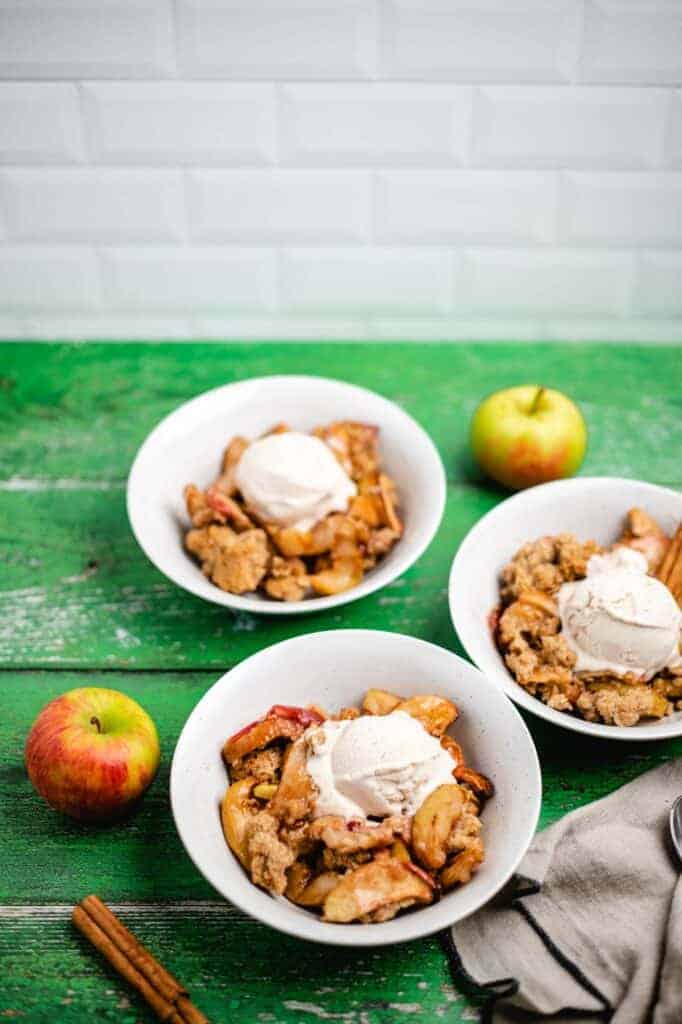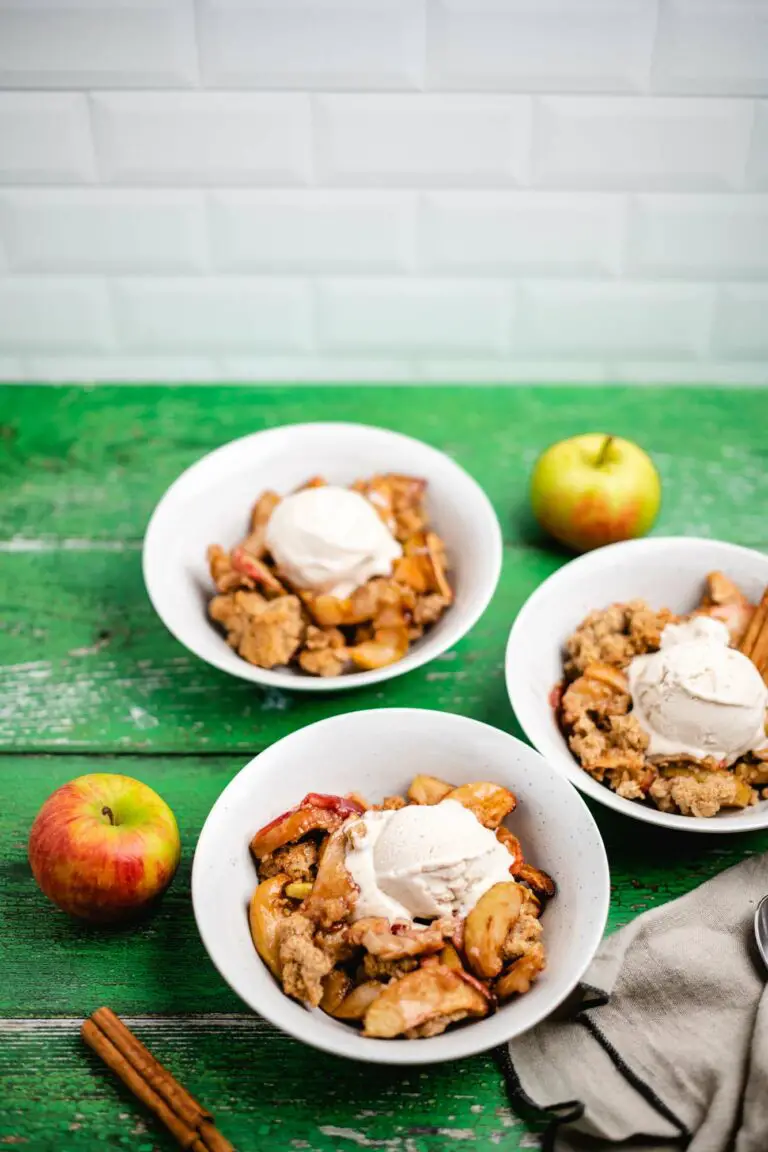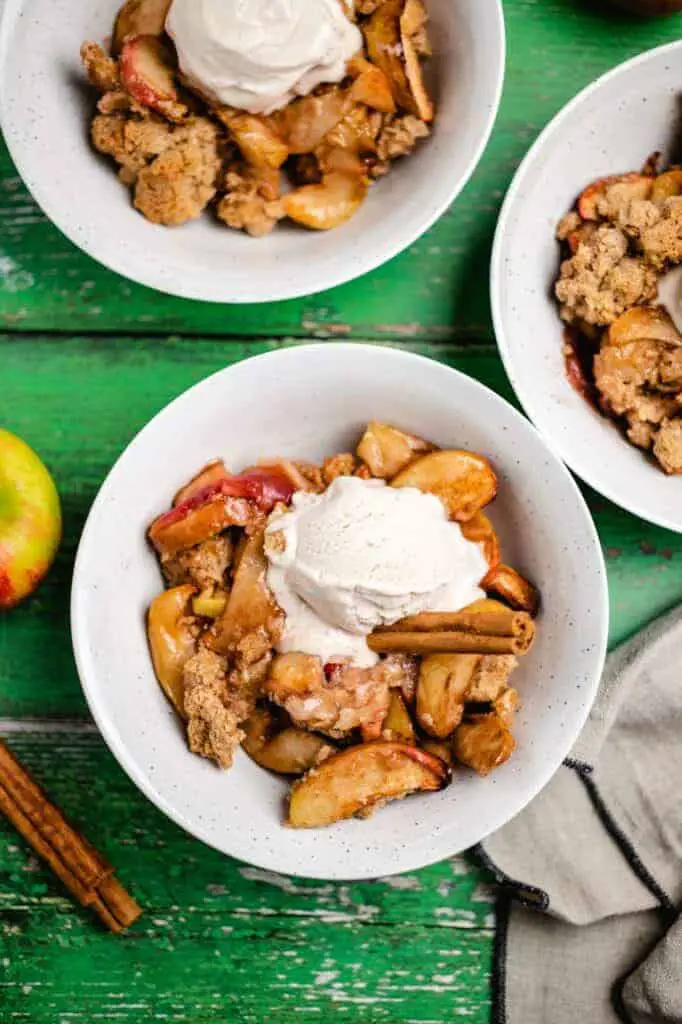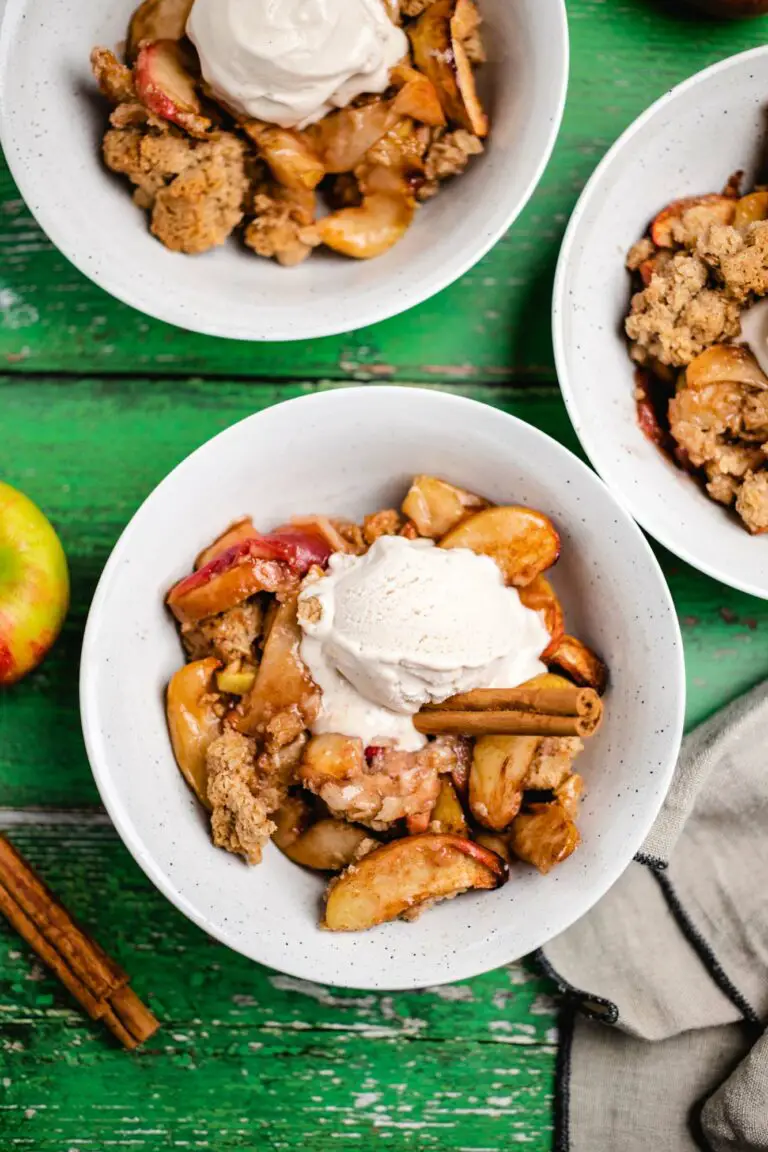 Now spread the crumble evenly over the apples and it's off to the oven. 45 minutes and a delightfully fragrant kitchen later, the crumble is ready to be served straight from the oven.
TIP: The crumble tastes simply wonderful in combination with a scoop of vanilla ice cream. An absolute poem!
If you don't want to make the Apple Crumble with apples, then I can imagine other stone fruits like plums, peaches, or even pears super well. Feel free to let me know below in the comments if you've tried it with a different type of fruit.
TIP: Click here to go directly to a blog article about the health benefits of apples.
If you're in the mood for another autumnal dessert today, I recommend the following variations:
Let's get started with this awesome Apple Crisp. I hope you enjoy baking and of course about a review at the bottom of this page. If you post a picture, use the hashtag #veganevibes.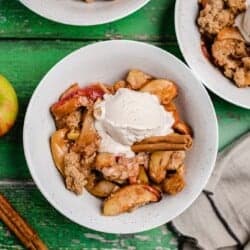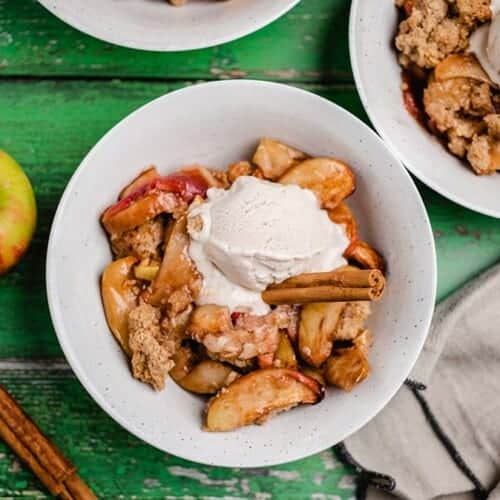 Apple Crisp (gluten-free)
Simple, juicy, gluten-free Apple Crisp with fine apples, rolled oats and autumnal spices. Perfect as an autumnal dessert together with a scoop of vanilla ice cream. Vegan, gluten free and easy to make.
AUTOR: VEGANEVIBES
Anleitung 
FOR THE APPLE , put apple slices, lemon juice, raw cane sugar, cornstarch, cinnamon and a pinch of salt in a baking dish and mix well with your hands until all is well combined.

8 Piece Apples,

30 ml Lemon juice,

60 g Raw cane sugar,

7 g Cornstarch,

1 tbspn Cinnamon,

A pinch of salt

Flatten once with your hands and set aside.

Preheat oven to 175 degrees convection (195 degrees top and bottom heat).

FOR THE TOPPING provide a bowl, add raw cane sugar, gluten free flour mix, oat flour, rolled oats, cinnamon, ginger powder, nutmeg and melted margarine and mix with your hands until you get a slightly crumbly dough.

60 g Raw cane sugar,

22 g Oatmeal,

50 g Oatmeal,

1/4 tbspn Cinnamon,

½ tbspn Ginger powder,

1/8 tbspn Nutmeg,

20 g vegan margarine,

40 g gluten free flour mix

Spread evenly over the apples and place in oven. Bake for

45-50 minutes

and serve while still warm, ideally with a scoop of ice cream. Best fresh!
Nährwertangaben
Serving:
1
Portion
Calories:
259
kcal
Carbohydrates:
55
g
Protein:
3
g
Fat:
4
g
Saturated Fat:
1
g
Polyunsaturated Fat:
1
g
Monounsaturated Fat:
1
g
Trans Fat:
1
g
Sodium:
26
mg
Potassium:
247
mg
Fiber:
5
g
Sugar:
36
g
Vitamin A:
211
IU
Vitamin C:
9
mg
Calcium:
24
mg
Iron:
1
mg