Ketchup is something I wouldn't want to live without because it's versatile and can be used anywhere. Especially when I eat my beloved fries, I don't want to miss out on the fruity and spicy sauce. It just goes everywhere, with burgers, fries and much more. Today we're making a homemade healthy ketchup version that's really easy to make in a snap, so to speak. Let's get started together.
What is tomato ketchup?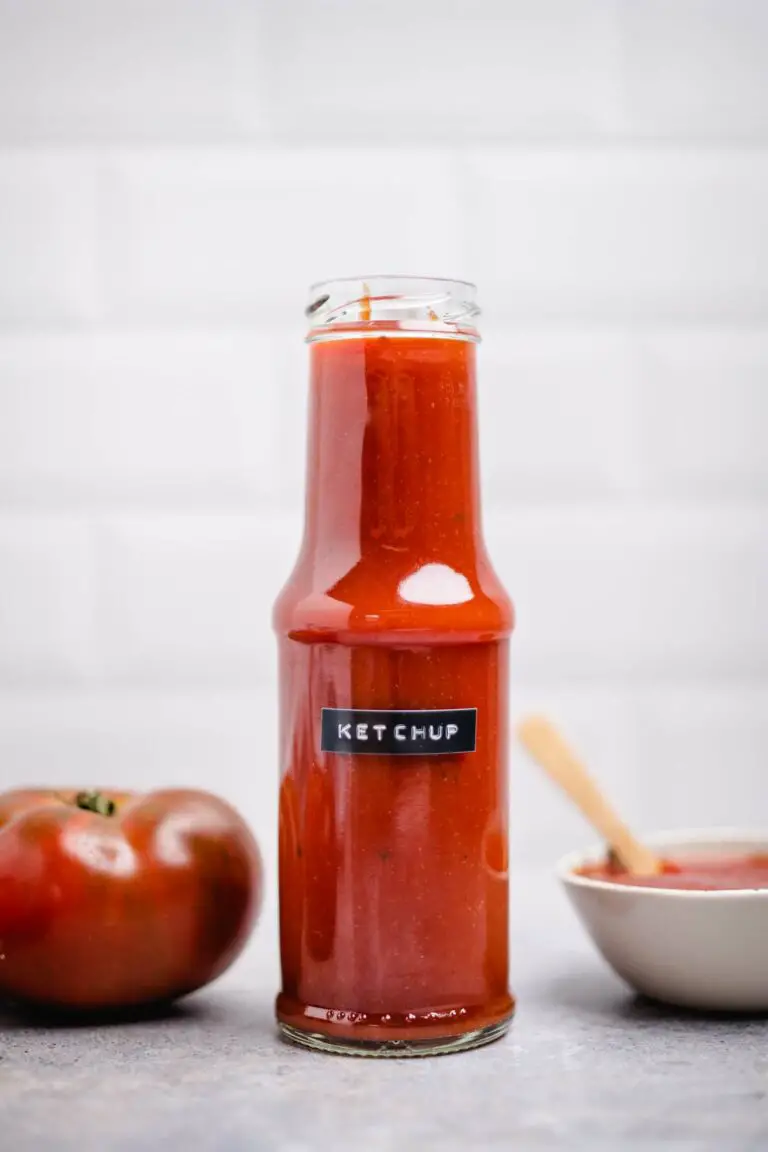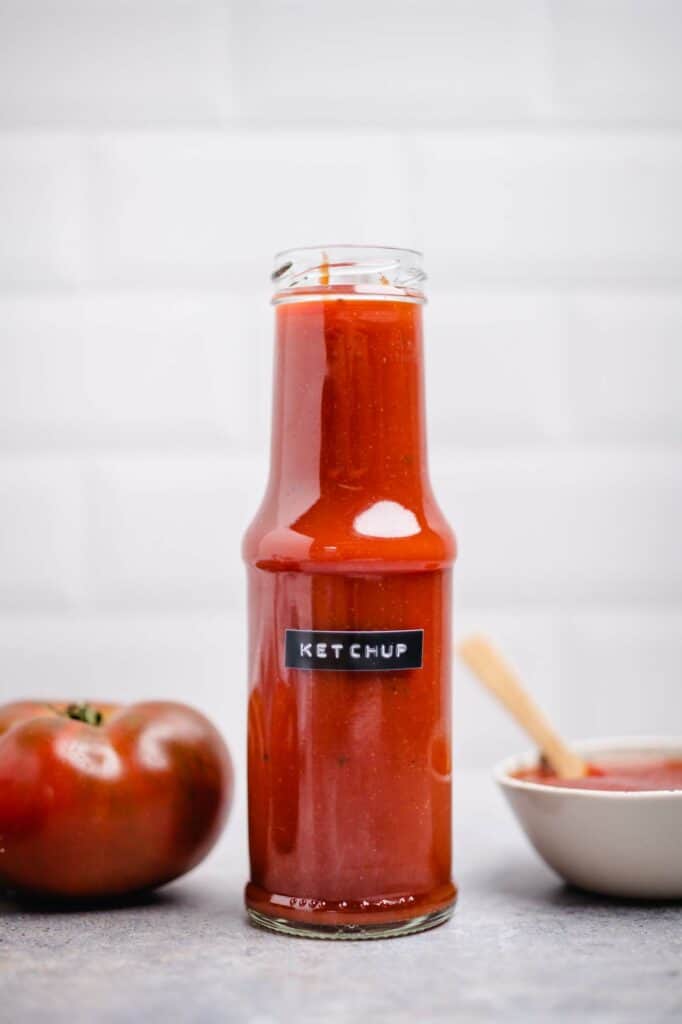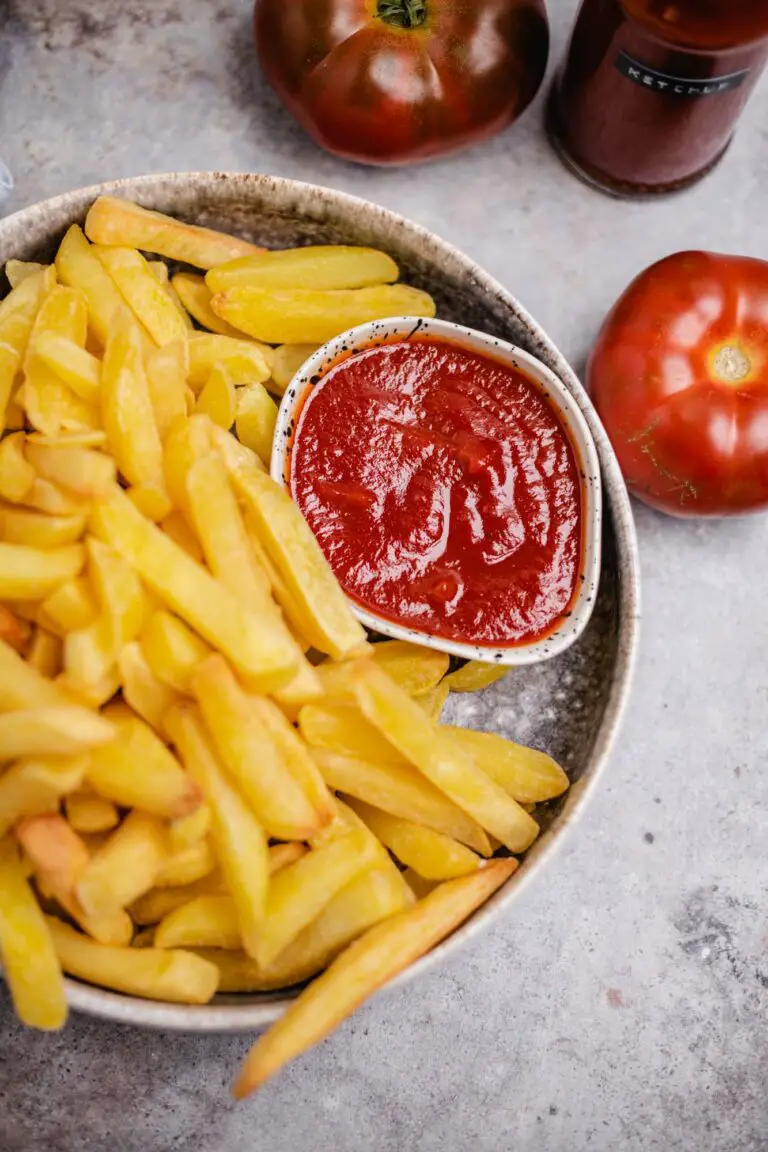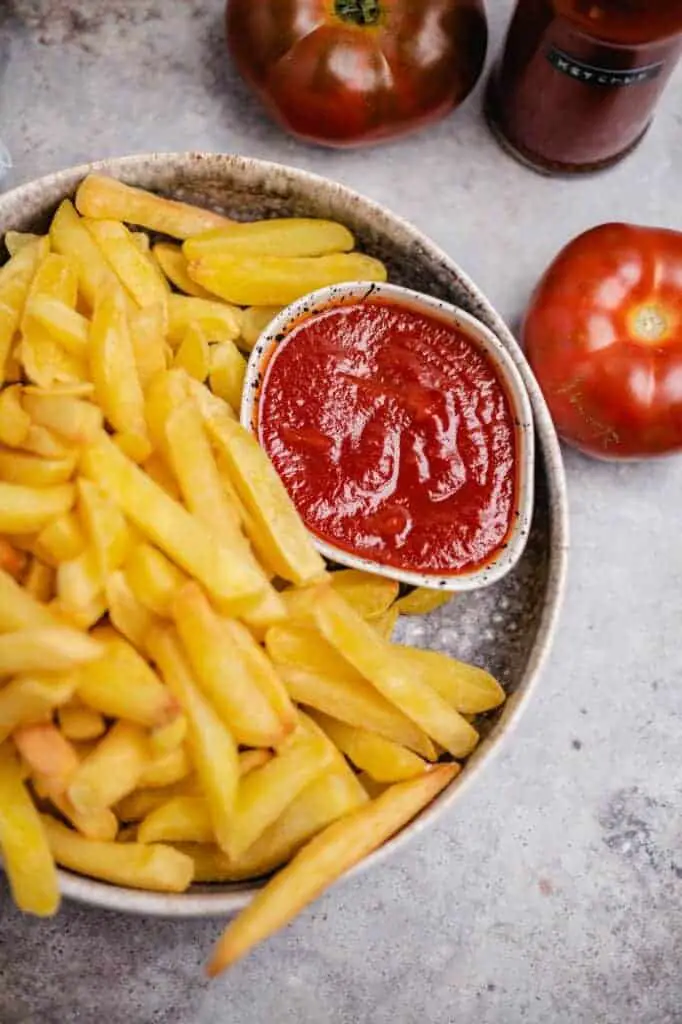 Tomato ketchup is a sauce made from tomatoes, vinegar a sweetener and spices, which is thickened over a long period of time. The special thing about ketchup is the interplay of acidity, sweetness and the flavors of the spices. When I think of ketchup, I think and the USA and the numerous fast food burger chains that offer ketchup with every dish. In this country, in addition to the classic ketchup, the so-called spiced ketchup is very well known and popular. Honestly, I could never do anything with it, but my husband was downright addicted to it.
Why should we now make ketchup ourselves? Because that way we can determine what's in it. Mostly, the lists of ingredients of ketchup are very short, yet we do not know where the raw materials come from. Of course it makes sense to buy organic ketchup but such a homemade version has something very special.
Tip: Packaged in a beautiful bottle, a homemade ketchup variety is also wonderful to give as a gift.
How to make tomato ketchup?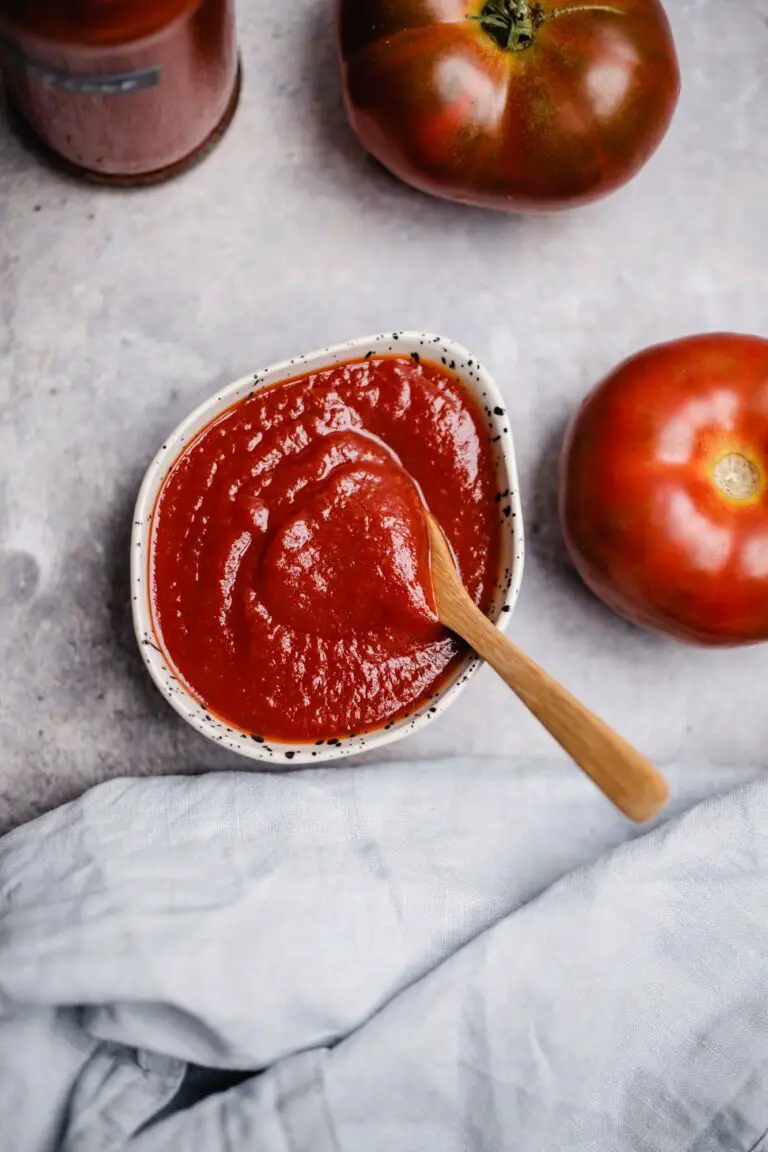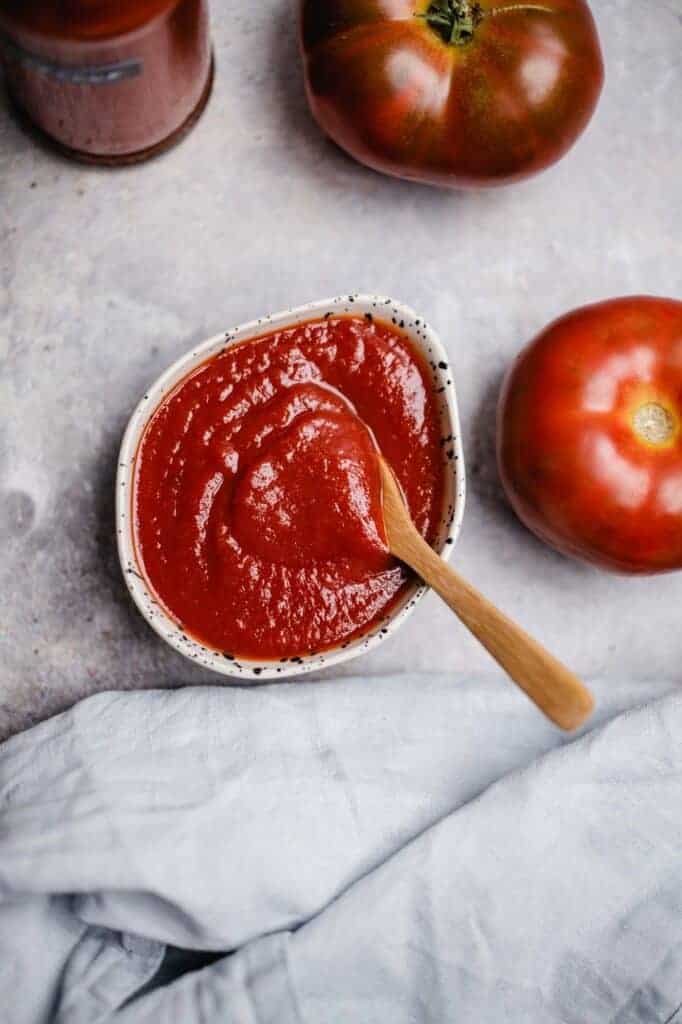 The base for tomato ketchup in our case is tomato puree or passata, maple syrup, apple cider vinegar, white wine vinegar and a homemade spice blend. For spices I use cinnamon, nutmeg, cloves, garlic powder and onion powder. Onion powder in this case is more automatic than fresh onions.
This all goes together in a pot, stirred once and brought to a boil. Now it is allowed to simmer and thicken for up to an hour. I stir every quarter of an hour so that it cooks evenly. Once an hour has passed, you will notice that most of the liquid has evaporated and the ketchup has become thick. Now we are also already finished. Now just bottle the sauce and it's ready to enjoy.
Here are some more ideal combinations for ketchup:
The vegan ketchup is :
Super fast made
versatile
Full aroma
Few ingredients
fruity
Do you love this fruity vegan ketchup as much as I do? Then I look forward to a review at the bottom of this page. If you post a picture, feel free to use the hashtag #veganevibes.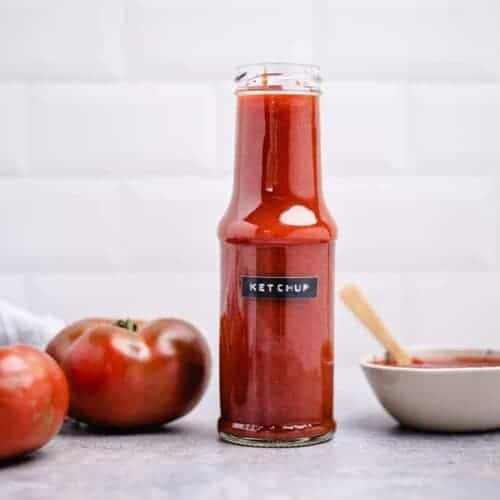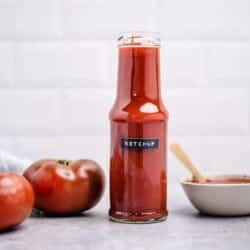 Make your own ketchup (how-to)
HOW TO instructions for making delicious ketchup, from tomato passata, vinegar, maple syrup and spices. Perfect with burgers, fries and grilled meats. Simple, versatile, gluten-free and naturally sweetened.
AUTOR: VEGANEVIBES
Anleitung 
Place a pot on the stove. Add tomato passata, maple syrup, white wine vinegar, apple cider vinegar, onion powder, garlic powder, salt, cinnamon, cloves and nutmeg. Heat while stirring and bring to a boil.

800 ml Tomatoes Passata,

150 ml maple syrup,

100 ml White wine vinegar,

80 ml Apple cider vinegar,

1 tbspn Onion powder,

1 tbspn Garlic powder,

1 tbspn Salt,

½ tbspn Cinnamon,

¼ tbspn Cloves,

1/8 tbspn Nutmeg

Simmer for

60 minutes

, stirring once every 15 minutes.

I partially cover the pot and leave only a small slit open so that the steam can escape.

After the cooking time, check once to see if the ketchup has thickened well. Remove from heat, taste and season if necessary.

Pour into bottles while still hot and seal.

Keeps for about two weeks in an airtight container in the refrigerator. Properly canned in sterilized jars, sealed airtight can be kept for several months.
Nährwertangaben
Serving:
1
Portion
Calories:
27
kcal
Carbohydrates:
6
g
Protein:
1
g
Fat:
1
g
Saturated Fat:
1
g
Polyunsaturated Fat:
1
g
Monounsaturated Fat:
1
g
Sodium:
21
mg
Potassium:
133
mg
Fiber:
1
g
Sugar:
4
g
Vitamin A:
136
IU
Vitamin C:
3
mg
Calcium:
11
mg
Iron:
1
mg