Potato salad with arugula and edamame, is once another variation of the classic potato salad. The other day I saw them, these beautiful new potatoes in the organic supermarket and felt like making a potato salad. Classic potato salads are available in all sorts of variations and I wanted to do something different. Creamy it may be, with fine edamame and arugula. I find the combination just gorgeous and could literally lie down in it. I can imagine this salad also really good with grilled food, as a fine side dish to an oyster mushroom steak? A dream
Potato salad with arugula and edamame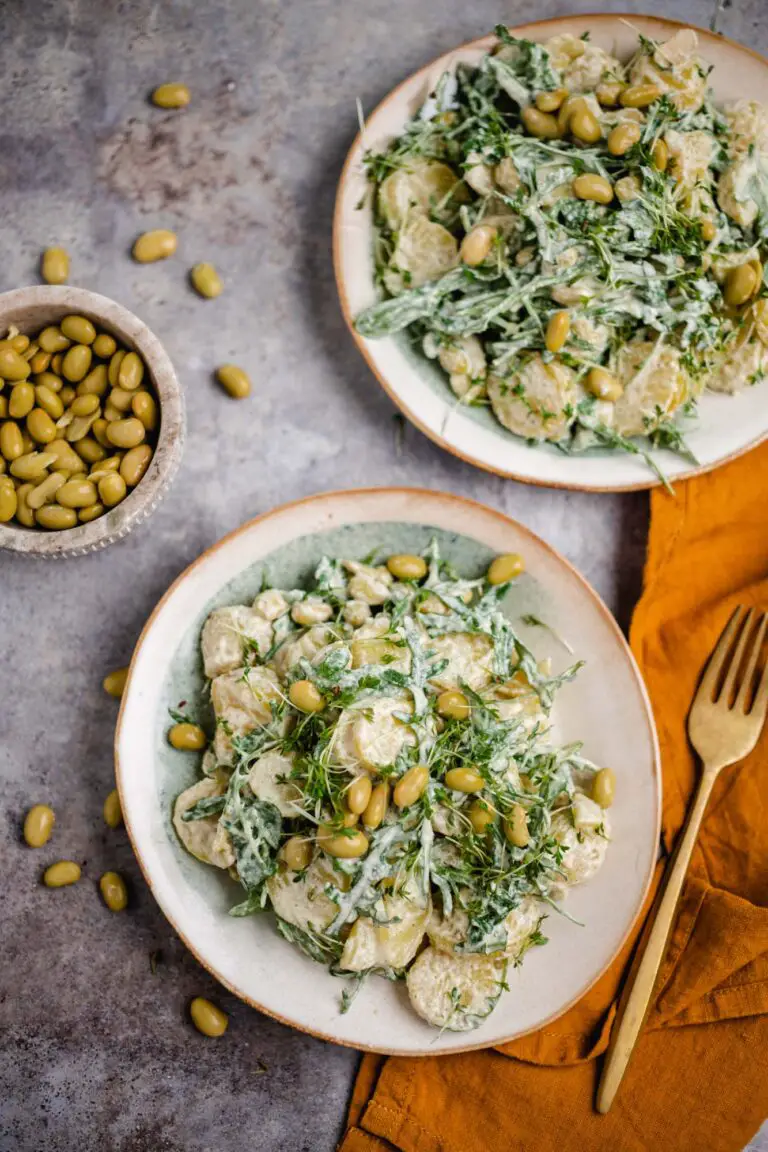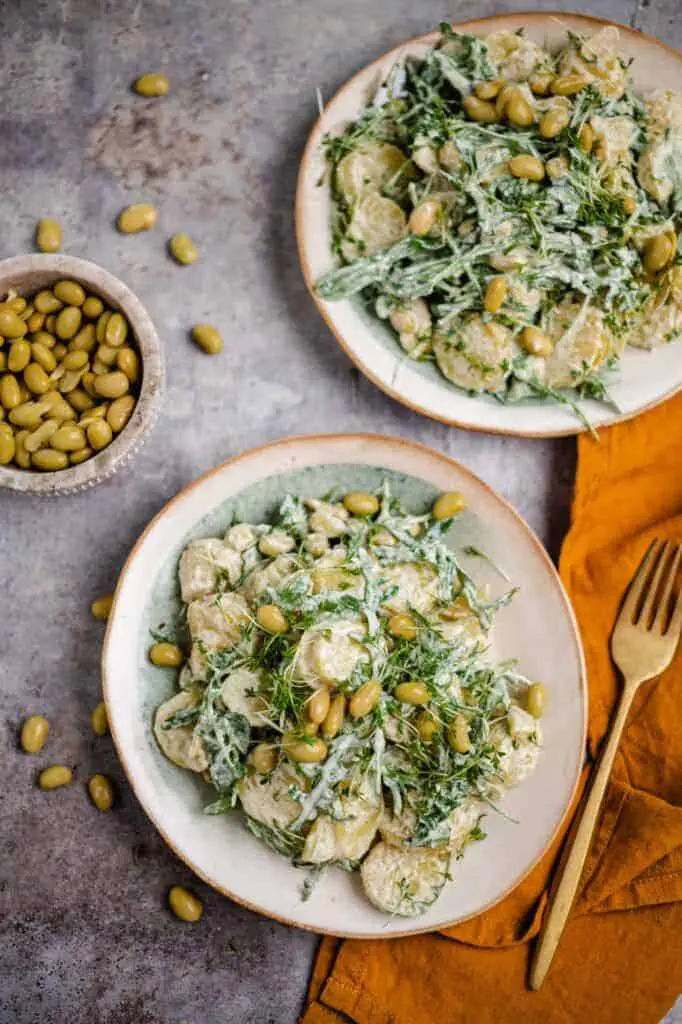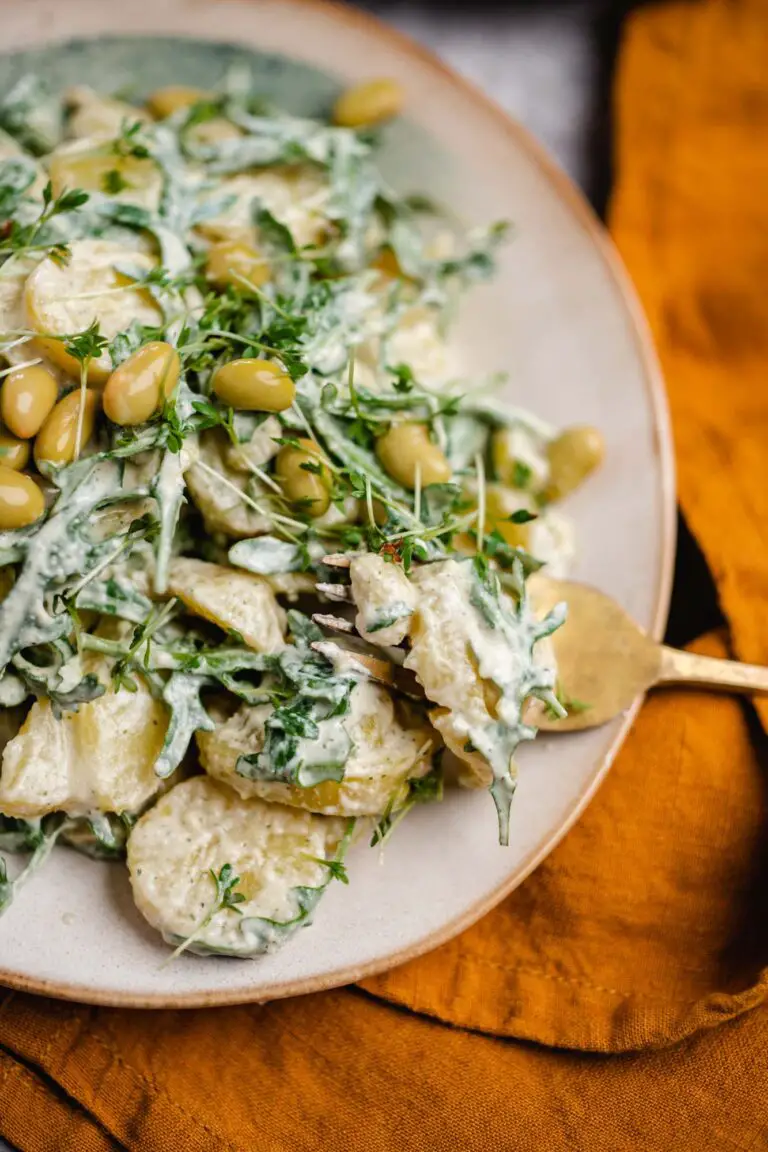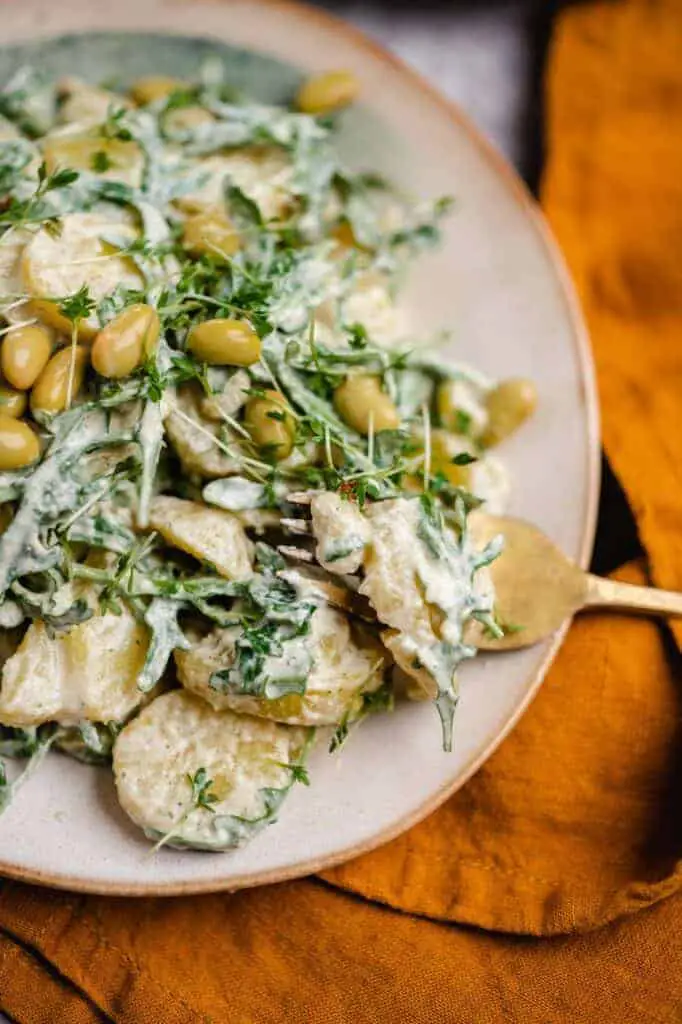 This fine salad is quick and easy to make, at least when the potatoes are eventually cooked. Currently I like to make them in the steamer, or else in the pressure cooker. The latter is, of course, much faster than in a steamer or classically in a pot on the stove. Sometimes I boil the potatoes a day ahead, let them cool completely, and don't process them until the next day.
TIP: Allowing potatoes to cool completely after cooking also has a health benefit, as it creates so-called resistant starch, which is wonderful food for our good gut bacteria.
Let's get back to the salad, for which we need the above potatoes, arugula and edamame. Add to this a fine, creamy dressing of cashews, water, dill, salt, pepper, garlic granules, mustard, lemon juice and maple syrup. This is all mixed into a fine, creamy dressing. Season once and you're done.
How healthy are actually potatoes?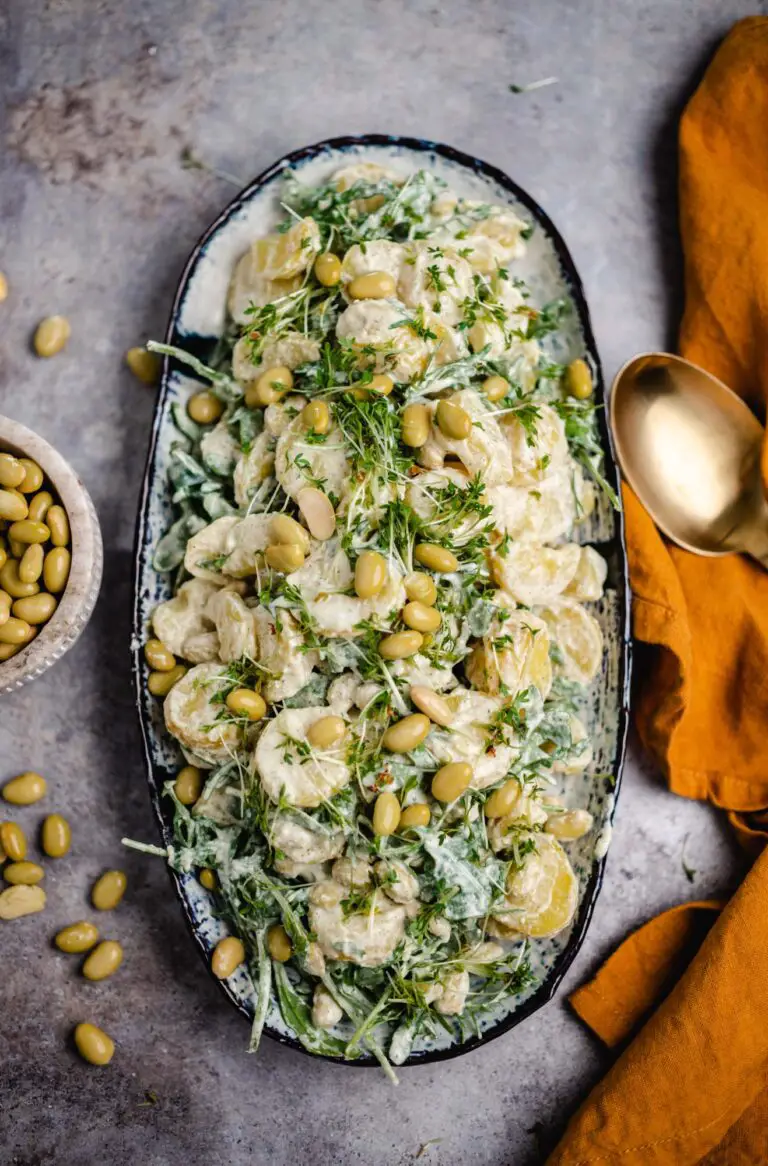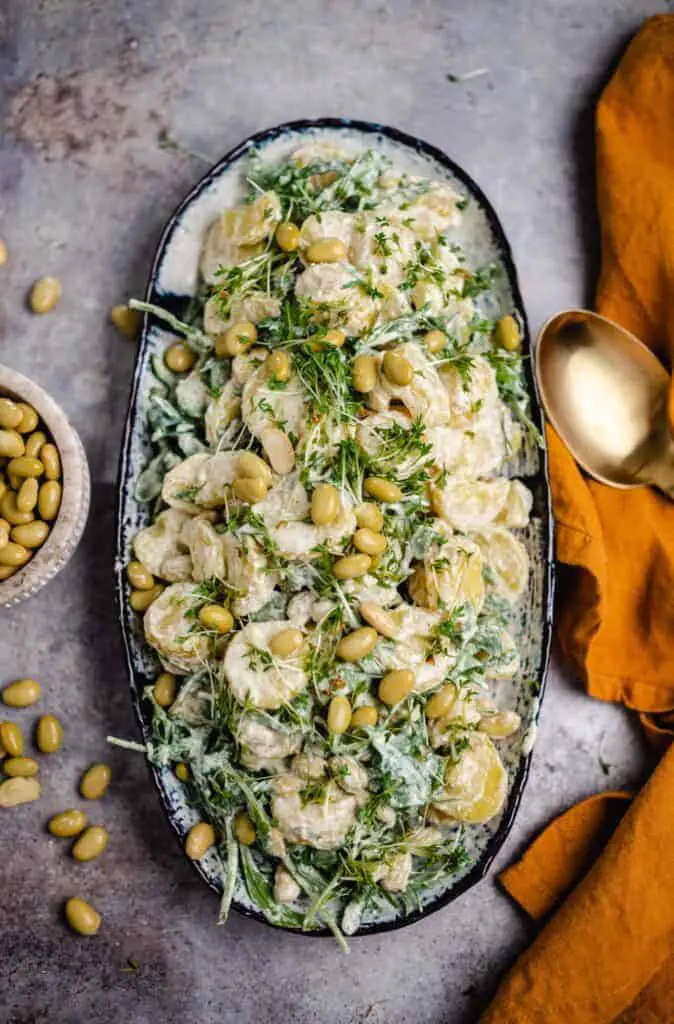 Potatoes are a wonderful, low-calorie food. why? I'll tell you here:
consist of 80% water (very low in calories)
form healthy resistant starch during cooling
rich in high-quality protein, potassium, B vitamins and vitamin C
contain flavonoids and anthocyanins (valuable secondary plant compounds)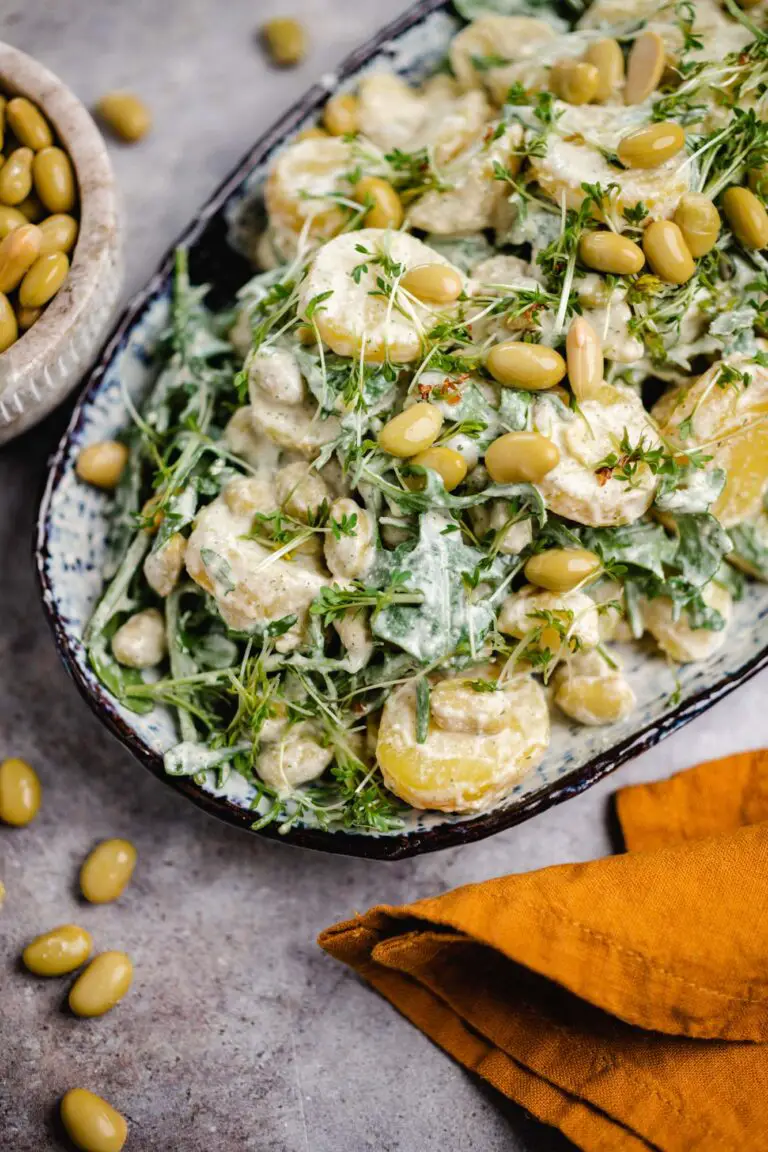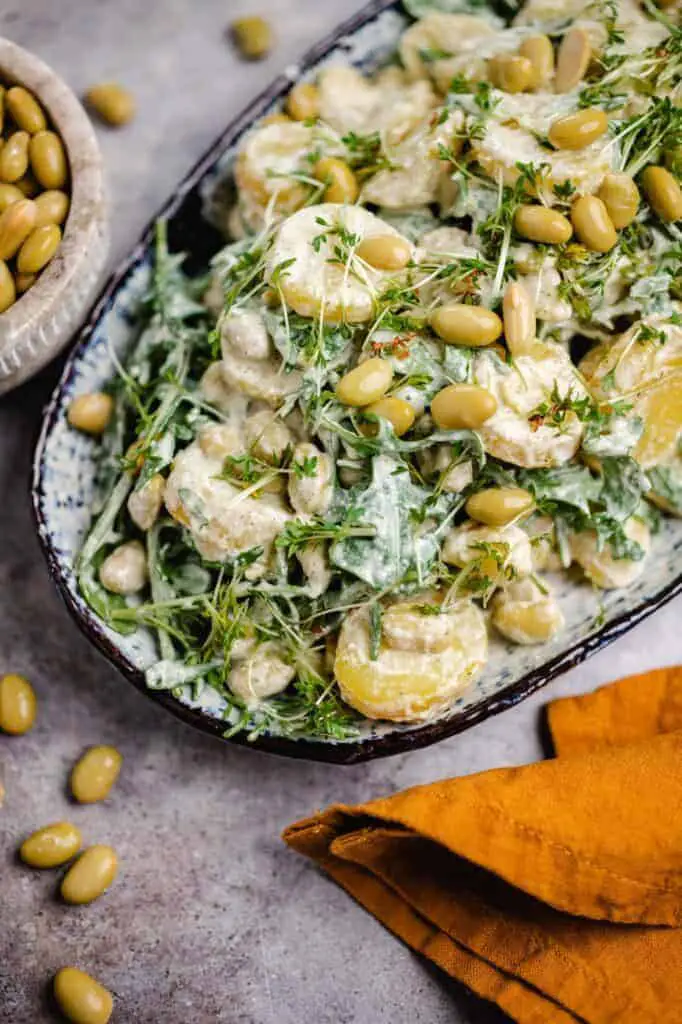 Organic or conventional potatoes? I have a clear opinion here and always buy organic quality! why? Organic farmers do not use synthetic mineral fertilizers and thus the finished potatoes do not contain residues of synthetic pesticides or fungicides, which are anything but healthy. So if you don't necessarily have to watch your wallet, organic quality is definitely a better and healthier choice.
If you're not in the mood for potatoes today, but want a different salad, I have the following suggestions for you:
The creamy potato salad with arugula and edamame is:
creamy
Super nutritious
aromatic
Crisp
Perfect with grilled food and picnic
Well, did you get a craving for this delicious vegan potato salad? I wish you a lot of fun in recooking and of course a review at the bottom of this page. If you post a picture, use the hashtag #veganevibes.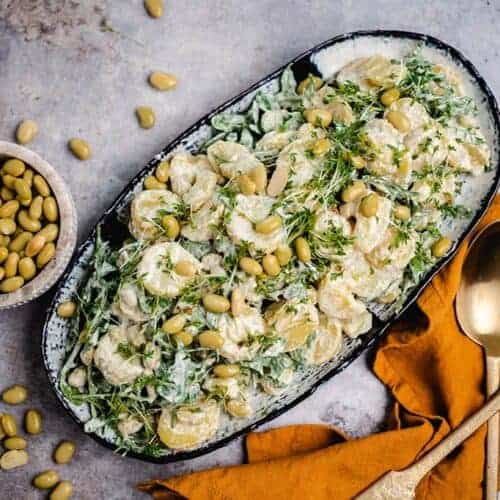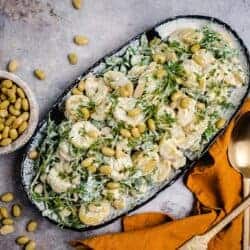 Potato salad with arugula and edamame
Incredibly creamy, spicy potato salad with delicious cashew dressing edamame and arugula. The perfect side dish for grilled food or as a TO-GO salad for the summer picnic. Easy to prepare, delicious and healthy! Vegan, gluten free.
AUTOR: VEGANEVIBES
FOR THE FAVORITE SALAD:
500

g

Potatoes at will

roughly cleaned(tip: the smaller the potatoes, the faster they are cooked)

125

g

Arugula

200

g

Edamame
FOR THE DRESSING:
120

g

Cashew nuts

1

tbspn

dried dill

or 4 tablespoons fresh dill

1

tbspn

Garlic granules

or 1-2 cloves of garlic pressed or finely chopped

½

tbspn

Salt

more at will

15

ml

Olive oil

or mild vegetable oil at will

1

tbspn

Dijon mustard

or other spicy mustard

80

ml

Water

or any other plant milk

30

ml

Lemon juice
TOPPING:
Fresh cress or herbs to taste
Anleitung 
Heat a large pot with about 2 liters of water and bring to a boil with the potatoes. Cook for about 20 minutes until tender. Check with a fork or wooden stick. Rinse with cold water, set aside and allow to cool. Peel, slice and place in a large salad bowl.

FOR THE DRESSING: Blend cashews, dill, garlic granules, pepper, salt, olive oil, mustard, water and lemon juice in a high-powered blender to make a creamy dressing. Season and set aside.

120 g Cashew nuts,

1 tbspn dried dill,

1 tbspn Garlic granules,

½ tbspn Salt,

Black pepper to taste,

15 ml Olive oil,

1 tbspn Dijon mustard,

80 ml Water,

30 ml Lemon juice

Peel and slice cooked potato and place in a large salad bowl. Add edamame, arugula and the dressing. Mix well until everything is combined.

200 g Edamame,

125 g Arugula

To serve, plate or pour into glasses, optionally garnish with cress or other fresh herbs of your choice and enjoy!

Fresh cress or herbs to taste

Keeps up to 3 days airtight in the refrigerator.
Nährwertangaben
Serving:
1
Portion
Calories:
367
kcal
Carbohydrates:
38
g
Protein:
14
g
Fat:
20
g
Saturated Fat:
3
g
Polyunsaturated Fat:
4
g
Monounsaturated Fat:
11
g
Trans Fat:
1
g
Sodium:
75
mg
Potassium:
1075
mg
Fiber:
7
g
Sugar:
5
g
Vitamin A:
759
IU
Vitamin C:
36
mg
Calcium:
114
mg
Iron:
5
mg