Roasted soybeans (edamame), the world has been waiting for this, hasn't it? First of all, I wish you a wonderful, successful and happy New Year! We were quite well-behaved at home on New Year's Eve and celebrated small and manageable with family and friends. In the process, I came up with the idea of doing something with the edamame that have been in my cupboard for so long. Why not make a snack out of it? That would be the perfect opportunity, wouldn't it? No sooner said than done, I tried it out. The result is impressive. More here in the text!
Roasted soybeans or edamame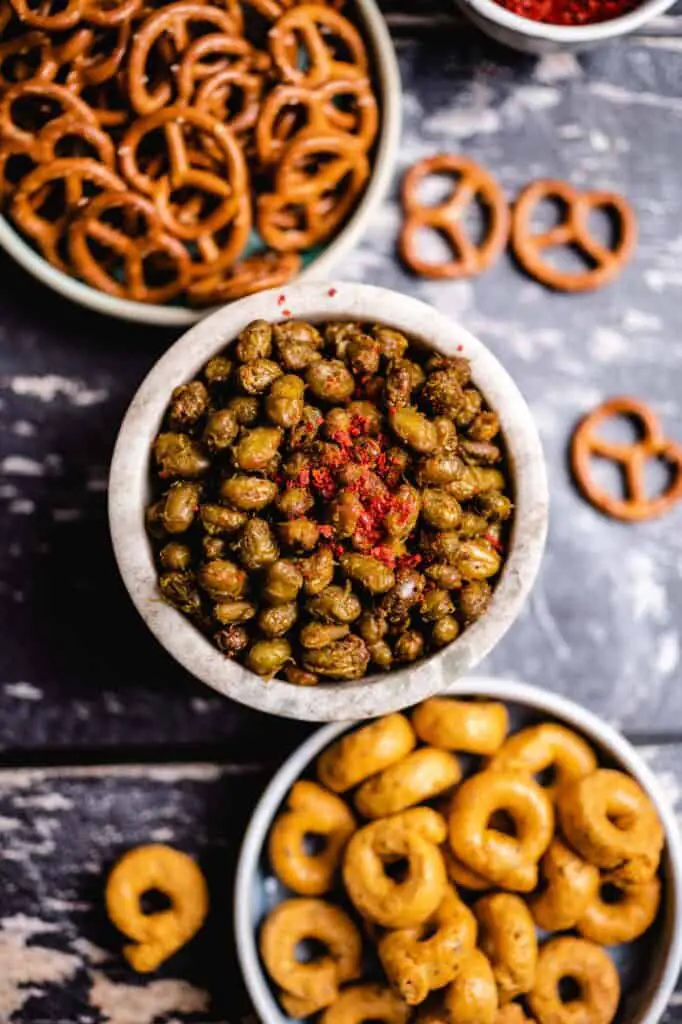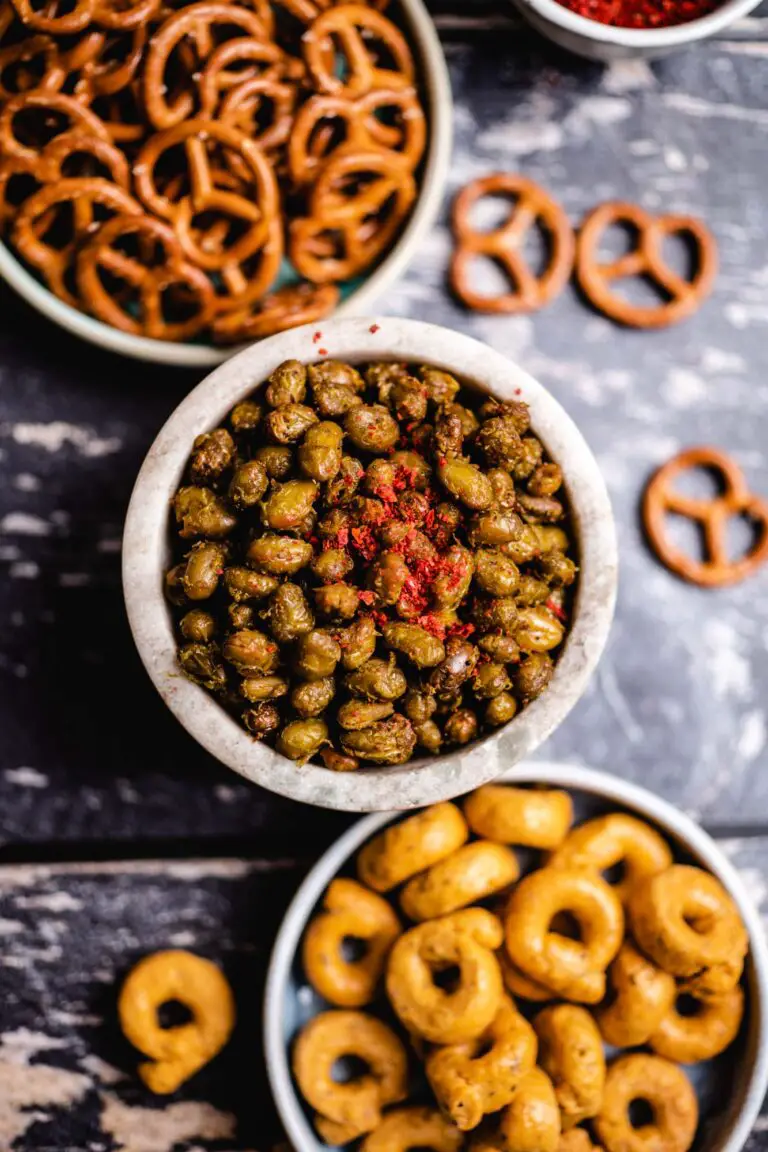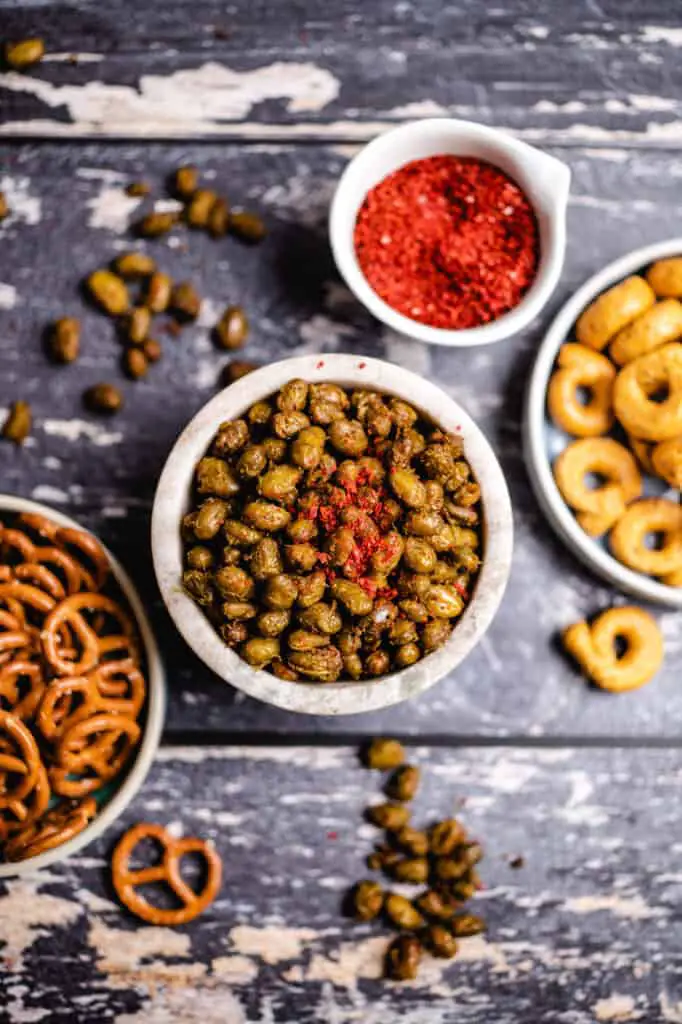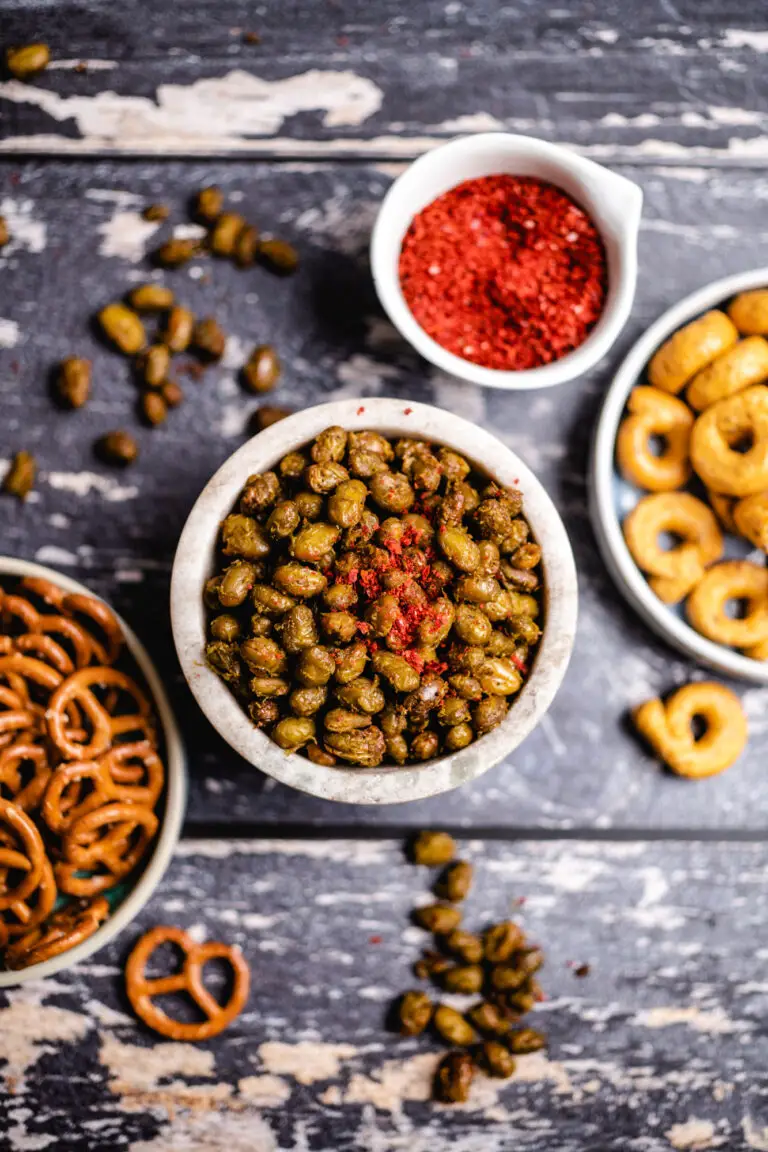 For the roasted soybeans you will need approx. 25 minutes time , an oven and a handful of ingredients. I use the soybeans ready cooked from the can in organic quality. Here you are spoiled for choice, because the beans can also be bought frozen or (in summer) fresh. If you buy them frozen, thaw them before processing and pat them dry so the spices will hold better on them. To the soybeans add a little olive oil, a mixture of spices and a good pinch of salt. This is all put together in the oven and allowed to roast for 25 minutes. Then we are also done with this simple snack recipe.
TIP: I have used a ready-made organic spice blend "Garam Masala". Other blends of your choice will also work here, I'm thinking BBQ, herb blends, shawarma and more for example.
Vegan snacks with soybeans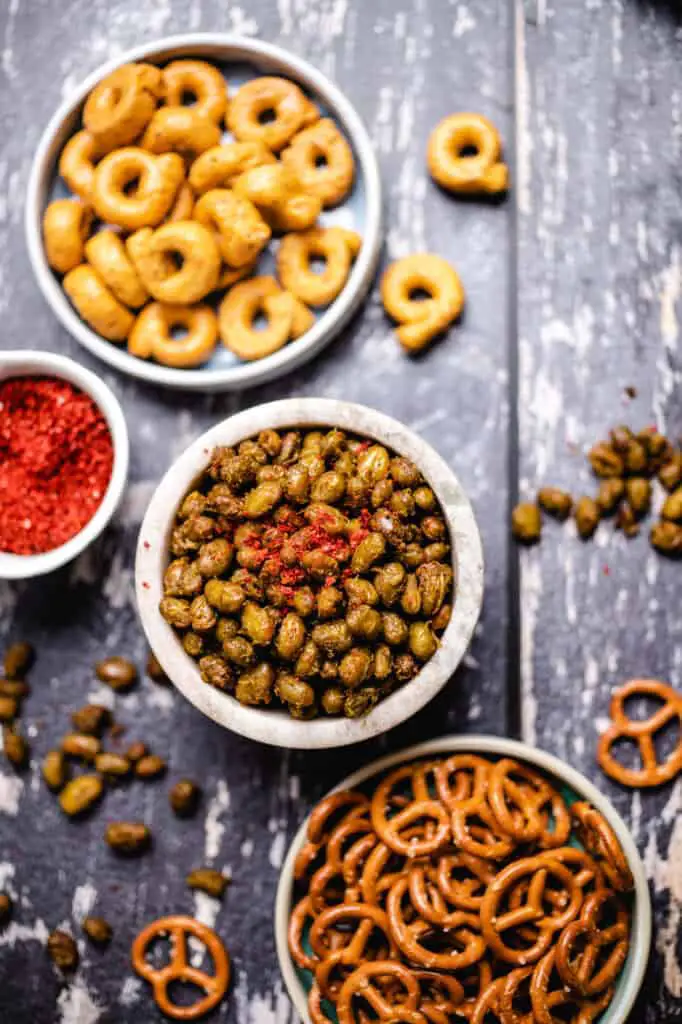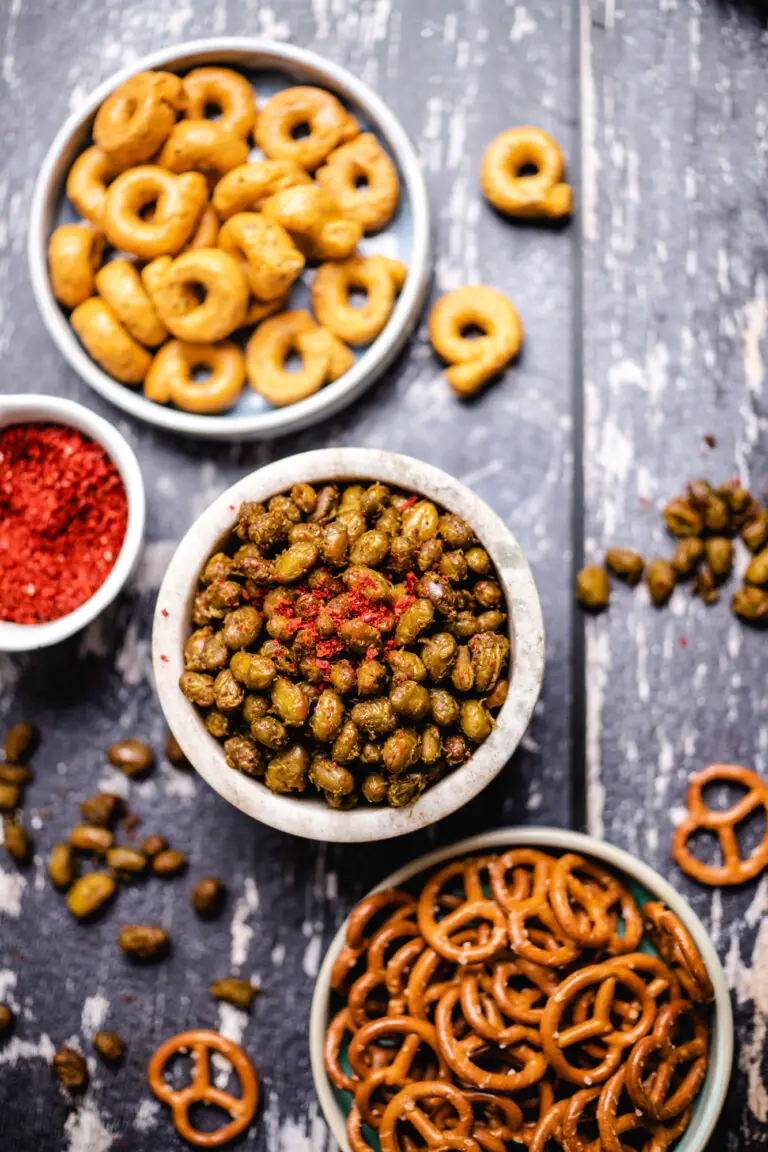 Soybeans (or edamame) are a healthy food, however they are not really common in our latitudes. Edamame, like chickpeas, lentils and beans, are among the Legumes and are at least as valuable from a nutritional perspective. They are rich in Dietary fiber have few calories with only 125 kcal per 100g. In addition, they provide valuable vegetable protein, vitamins A, C and E, magnesium, calcium, iron and folic acid.
TIP: If you don't want to snack on the beans on their own, feel free to add them as a topping over a superfood bowl, salad or soup.
If you're looking for more of a different snack today, I have the following suggestions for you:
The roasted soybeans (edamame) are
hearty
Spicy
versatile
High fiber
Crispy
I hope my 25-minute snack has convinced you? If so, I'm happy to receive a review at the very bottom of this page. If you post a picture, use the hashtag #veganevibes.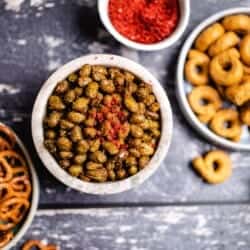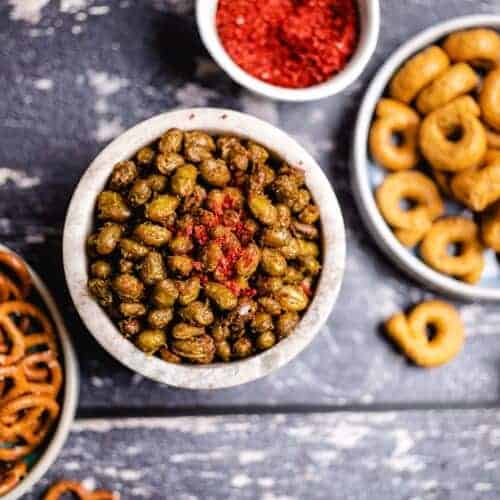 Roasted soybeans (edamame)
In the mood for a delicious, healthy snack? Then I recommend these delicious seasoned soybeans. Quick to make, simple and versatile. Perfect also as a topping on a colorful salad, soup, or bowl. Gluten-free, vegan and high in fiber.
AUTOR: VEGANEVIBES
Anleitung 
Heat oven to 175 degrees convection (195 degrees top-bottom heat) and line baking sheet with baking paper or a permanent baking mat.

Wash soybeans thoroughly and pat dry. This is important so that the spices hold well.

NOTE: Thaw frozen soybeans completely first, then pat dry and continue to use.

Put in a bowl, along with the olive oil, spice mixture and salt. Mix well until everything is combined and spread on a baking sheet.

15 ml Olive oil,

1 tbspn Spice mixture of your choice,

½ tbspn Salt

Put in the oven and roast for 25 minutes. If you like them even crispier, you can roast them for another 10 minutes and only then remove them from the oven.

Store leftovers in an airtight box at room temperature for up to 1 week.
Notizen

TIP:
If the soybeans become a little softer again over time, simply place them in the oven for another 10-15 minutes at 120 degrees convection (140 degrees top/bottom heat) and roast. After that they are nice and crispy again.
Nährwertangaben
Serving:
1
Portion
Calories:
32
kcal
Carbohydrates:
3
g
Protein:
2
g
Fat:
2
g
Saturated Fat:
1
g
Polyunsaturated Fat:
1
g
Monounsaturated Fat:
1
g
Sodium:
27
mg
Potassium:
75
mg
Fiber:
1
g
Sugar:
2
g
Vitamin A:
11
IU
Vitamin C:
7
mg
Calcium:
7
mg
Iron:
1
mg