Potato Kibbeh is a Syrian dish that has definitely been missing from this blog. I love trying dishes from other countries and the kibbeh had been in my head as an idea for a while. I remember it more from Turkey, in the form of small particles that were served as an appetizer. Today's kibbeh is made a little differently, in a casserole dish with onions and walnuts. I find it incredibly delicious and it adds a nice variety to the kitchen.
Vegan potato kibbeh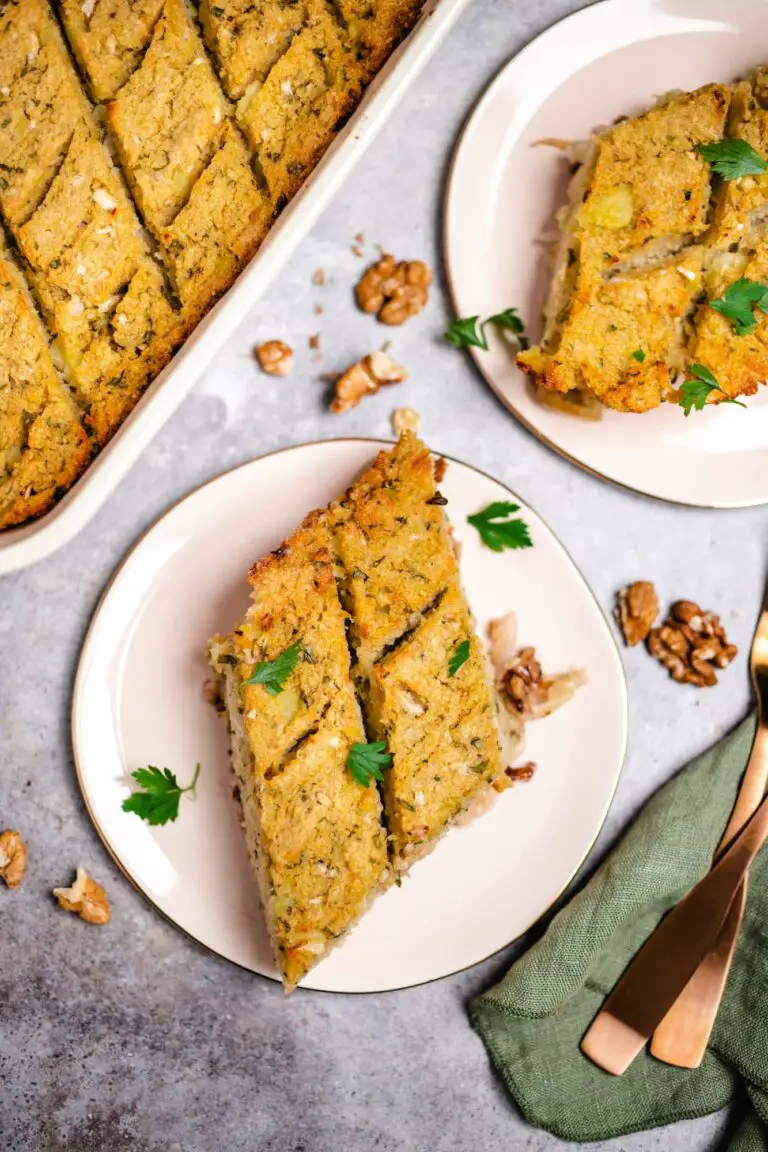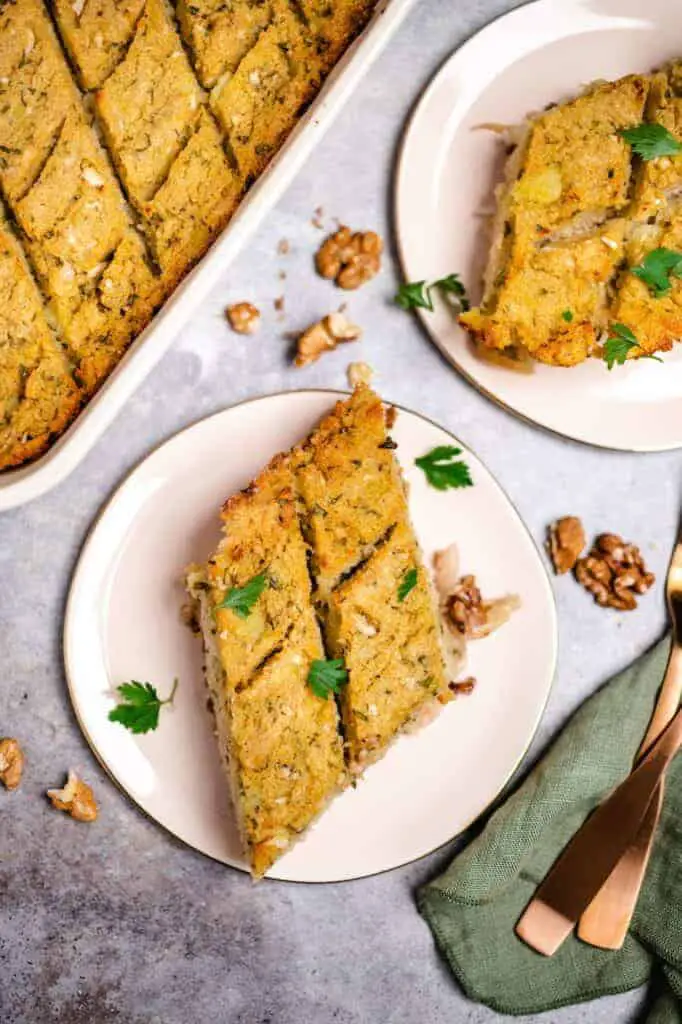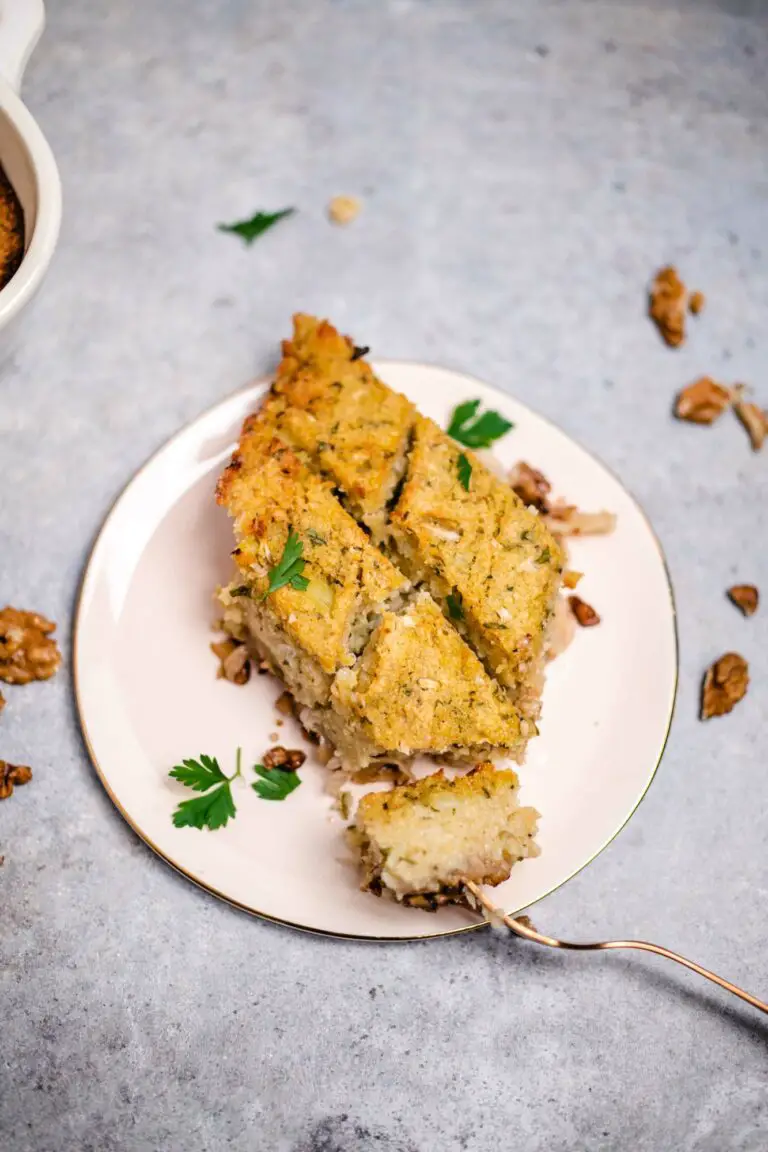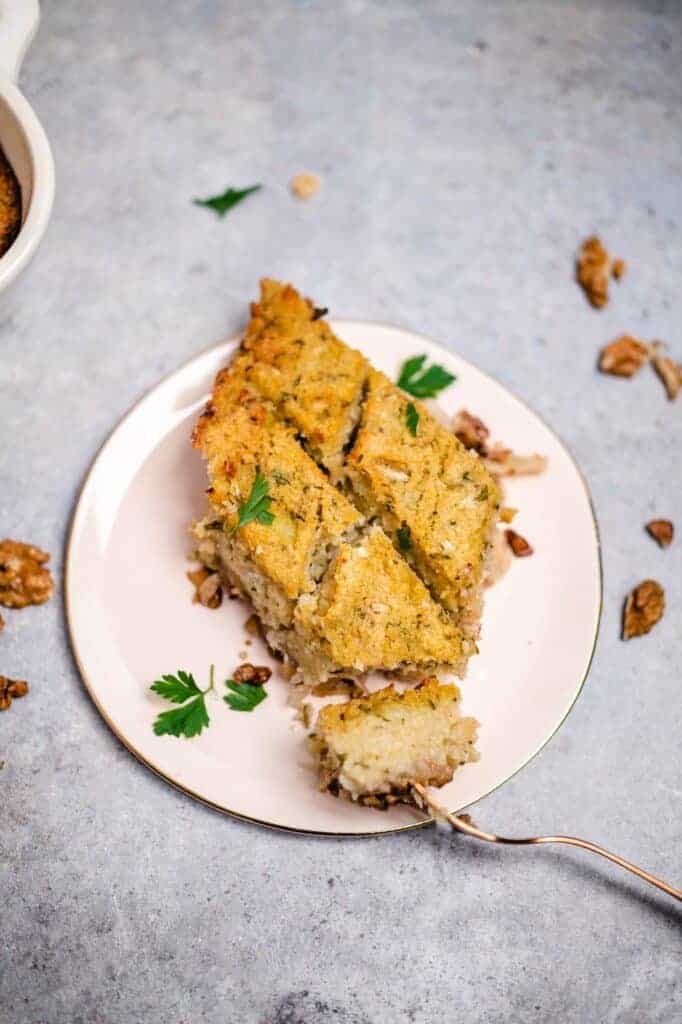 The preparation is simple, but takes some time. This is due to the potatoes , which are first boiled and then mashed. In the meantime, prepare the bulgur, with hot water and a little vegetable broth. After 10 minutes of infusion, this is already ready and ready for further processing.
The bulgur goes directly into the bowl with the mashed potatoes, along with the onion, parsley, cinnamon, salt, cumin (optional) and pepper. All this is processed with the hands into a compact mass.
I use a casserole dish with a length of 26cm and a volume of 2.4 liters, which is the perfect size. On the bottom are chopped walnuts and onion rings, which are finely caramelized during baking. The potato-bulgur measures is placed directly over the onion and walnuts and pressed flat. As a final step, I draw a diamond pattern on the surface and it's off to the oven.
Vegan potato dishes from the oven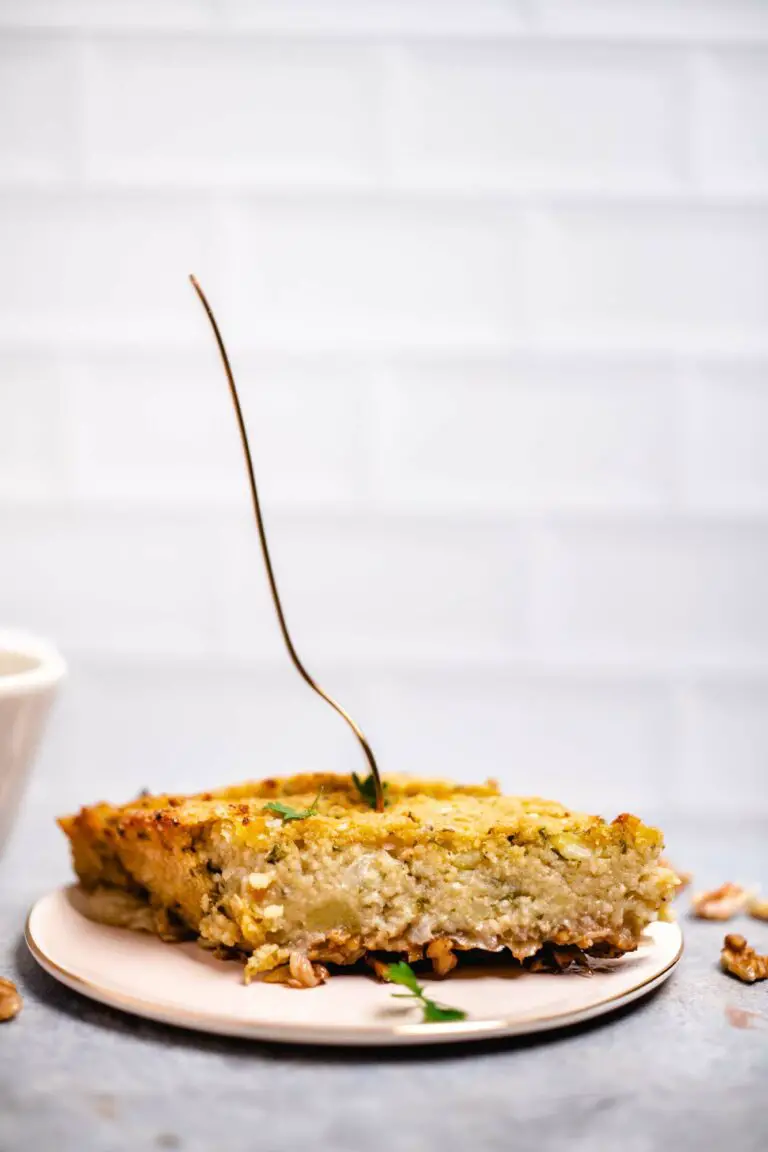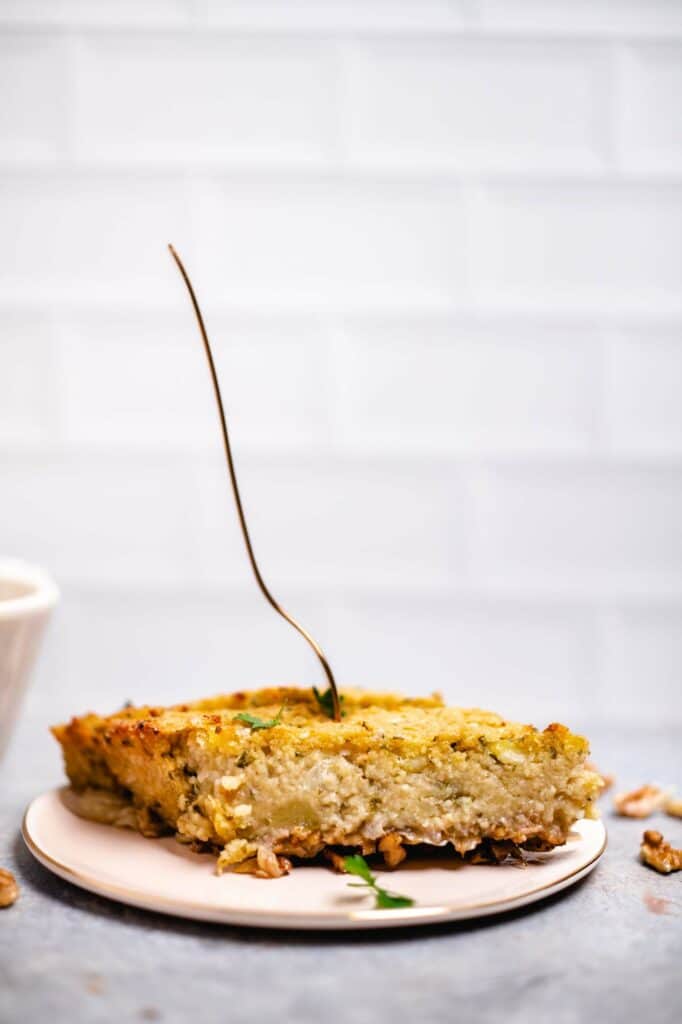 The kibbeh is especially good as a side dish or with various other appetizers. I'm thinking a big appetizer plate with various antipasti, fresh naan and dips. If you are looking for other vegan dishes with potatoes today, I have the following suggestions for you:
How healthy are actually potatoes?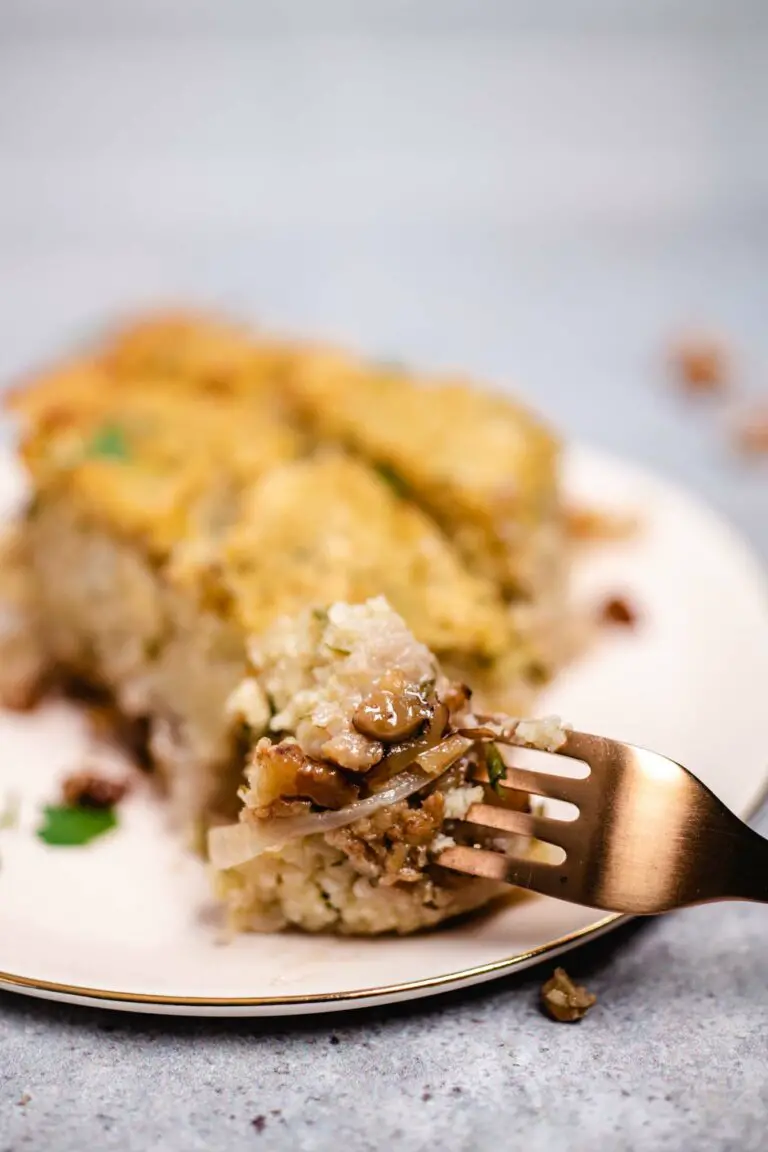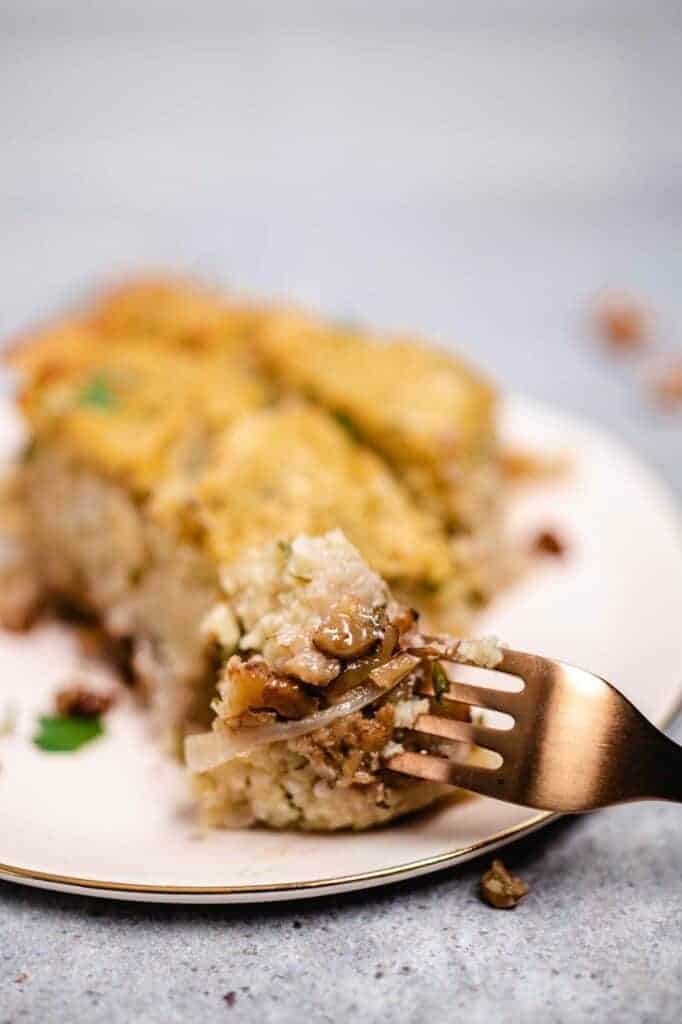 Potatoes are very healthy and unjustly have a bad reputation:
low in calories, consist of up to 80% water
formresistant starch (indigestible) when cooled, a valuable "food" for the healthy intestinal bacteria
contain vegetable protein, B vitamins, vitamin C and potassium
rich in flavonoids and anthocyanins (valuable secondary plant compounds)
Which is better, organic or conventionally grown potatoes? Here, as almost always, organic wins! why? Organic farmers do not use synthetic mineral fertilizers. The potatoes thus contain on average 30 percent less nitrate and many times less pesticide residues. I always buy organic potatoes directly from the farmer at the farm. This saves money and unnecessary transportation.
The potato kibbeh is:
Syriac
filling
Oriental
Spicy
Perfect appetizer or side dish
Well, did you get a craving for this delicious, vegan potato kibbeh? I wish you a lot of fun in recooking and of course a review at the bottom of this page. If you post a picture, use the hashtag #veganevibes.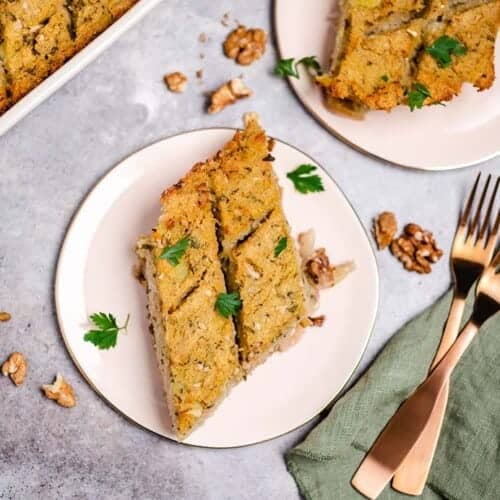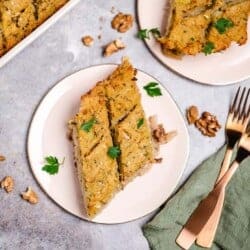 Potato kibbeh
Syrian kibbeh made from potatoes, bulgur and oriental spices. Aromatic appetizer, which is served with pleasure with other small dishes "mezze". Together with a refreshing yogurt sauce a delight. Vegan and lactose free.
AUTOR: VEGANEVIBES
750

g

Potatoes

Roughly cleaned ( Tip: The smaller the potatoes, the faster they are cooked).

200

g

Bulgur

1

tbspn

Organic vegetable broth powder

2

Piece

yellow onion

peeled and finely chopped

3

tbspn

parsley

washed and finely chopped

½

tbspn

Cinnamon

2

tbspn

Salt

1

tbspn

Cumin ground

50

g

Walnuts

2-3

yellow onions

peeled and cut into rings
YOGHURT SAUCE (optional):
Anleitung 
Heat a large pot with about 2 liters of water and bring to a boil with the potatoes. Cook for about

20 minutes

until tender. Check with a fork or wooden stick. Rinse with cold water, set aside and allow to cool. Peel and mash small with a potato masher.

For the bulgur, bring water to a boil. Mix bulgur with the vegetable broth powder and pour over twice the amount of water (400ml). Leave to infuse for

10 minutes

, covered.

200 g Bulgur,

1 tbspn Organic vegetable broth powder

Add bulgur to potatoes after stewing time. Add the onion, parsley, cinnamon, salt and (optional) cumin and mix with your hands until you have a firm mixture.

2 Piece yellow onion,

3 tbspn parsley,

½ tbspn Cinnamon,

2 tbspn Salt,

1 tbspn Cumin ground

The potato-bulgur mass should be well malleable. If too dry add a little more water, if too firm add a little more flour. Set aside.

Preheat oven to 200 degrees convection (220 degrees top bottom heat). Put walnuts and onion rings in a baking dish and pour a little olive oil over them.

Pour potato-bulgur mixture over the top and smooth. With a knife, draw a diamond pattern and pour a little more olive oil over it.

Place in the oven and bake for 40-45 minutes until the kibbeh is nicely browned.

In the meantime, prepare the YOGHURT SAUCE prepare the yogurt. For this, a bowl provide yogurt, tahini, lemon juice, cilantro, salt and pepper and stir until everything is well mixed.

400 g Yogurt,

30 g Tahini,

30 ml Lemon juice,

1 tbspn Coriander,

½ tbspn Salt,

Pepper to taste

Remove kibbeh from oven, let cool for

10 minutes

, arrange on plates and garnish with yogurt sauce and other garnishes.

Keeps airtight in the refrigerator up to 5 days. Can be eaten cold or lukewarm from the oven.
Nährwertangaben
Serving:
1
Portion
Calories:
546
kcal
Carbohydrates:
90
g
Protein:
16
g
Fat:
16
g
Saturated Fat:
4
g
Polyunsaturated Fat:
8
g
Monounsaturated Fat:
4
g
Cholesterol:
13
mg
Sodium:
448
mg
Potassium:
1181
mg
Fiber:
17
g
Sugar:
16
g
Vitamin A:
26797
IU
Vitamin C:
14
mg
Calcium:
236
mg
Iron:
3
mg