Pide with spinach and feta I could eat every day. Crispy on the outside and filled with fine spinach and vegan feta cheese on the inside. Especially the pizza dough with the crispy crust is always the absolute highlight for me personally. If then spinach and vegan Greek cheese is included, then there is no stopping me. I remember so well the last time I was in Istanbul and ate a vegan version. Finally there is also a variant on my blog.
Pide with spinach and feta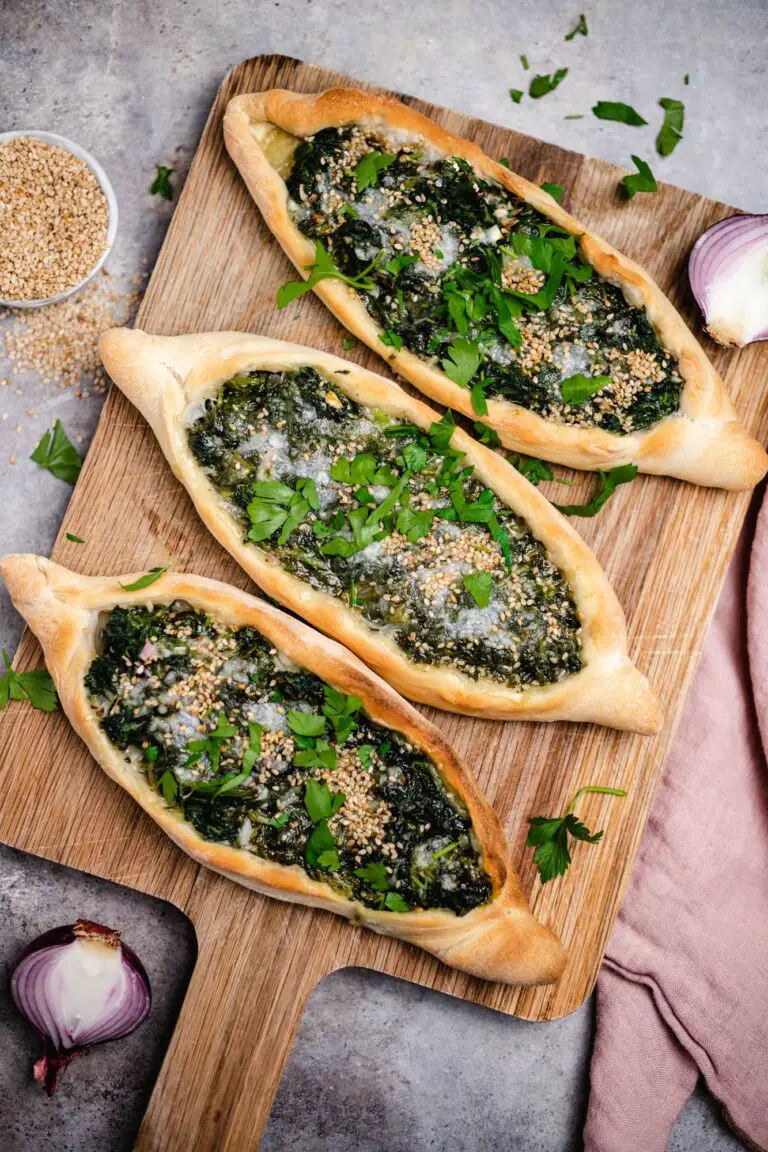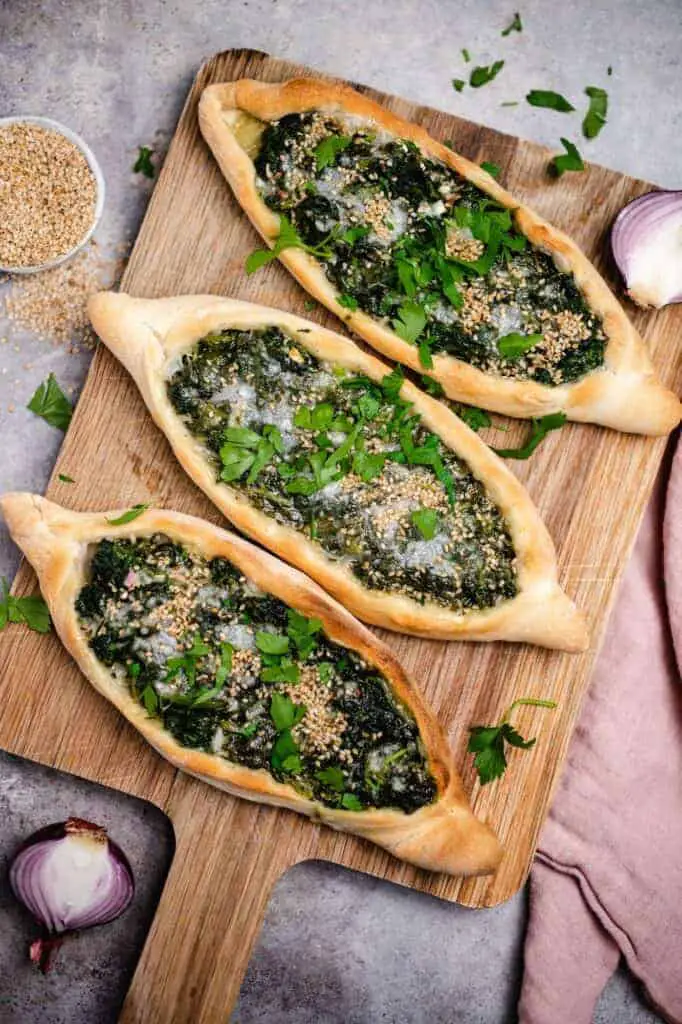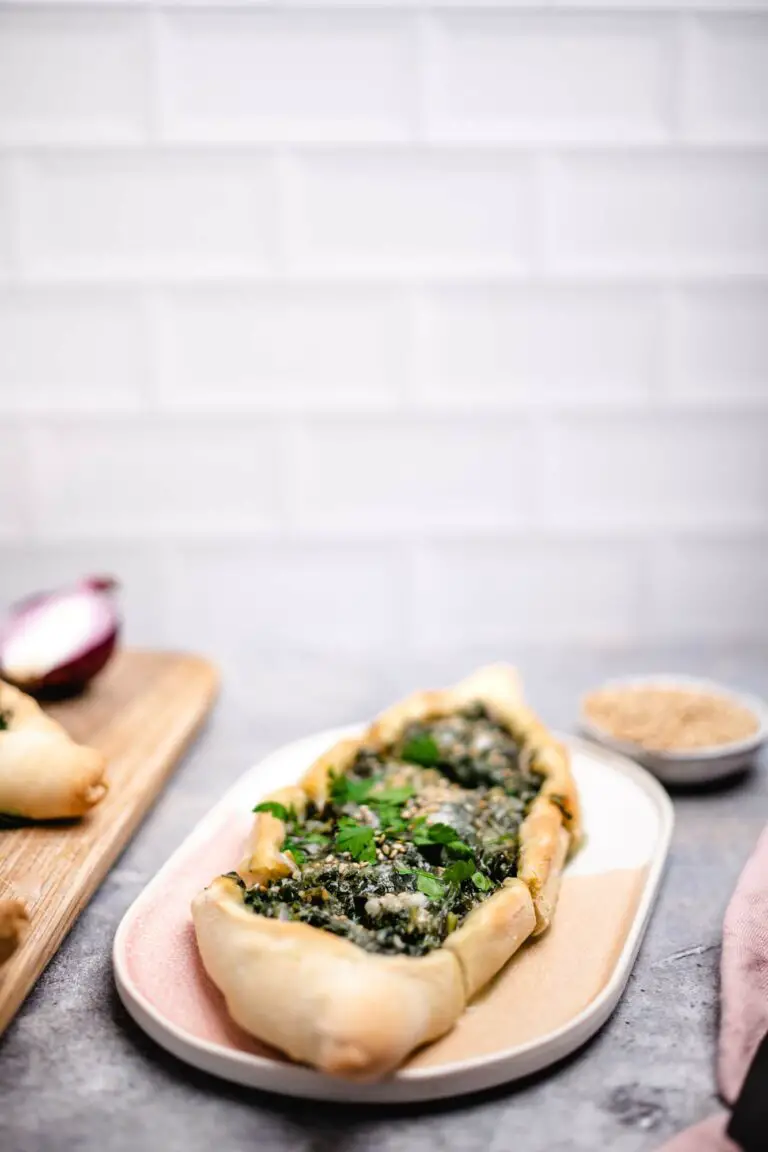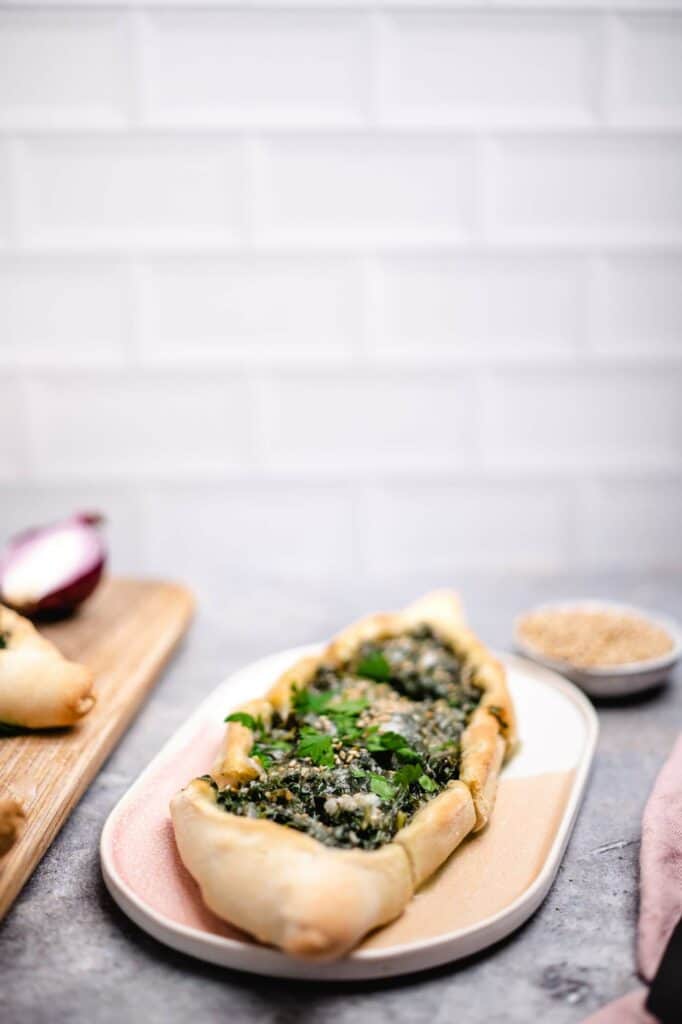 The pide basically consists of two components, the dough and the filling. The dough is a simple pizza dough, for which there are already some variants on this blog. I chose to use fresh yeast, but it works just as well with dry yeast.
The filling is a mixture of spinach, red onion, garlic, salt, pepper and nutmeg. This is all mixed together and topped with feta. Then it's off to the oven to bake for 20 minutes. I tried a new vegan feta this time and was surprised at how authentic the feta flavor was. Shortly before the end of the baking time, I add sesame seeds and let them roast for a few minutes.
Vegan Turkish recipes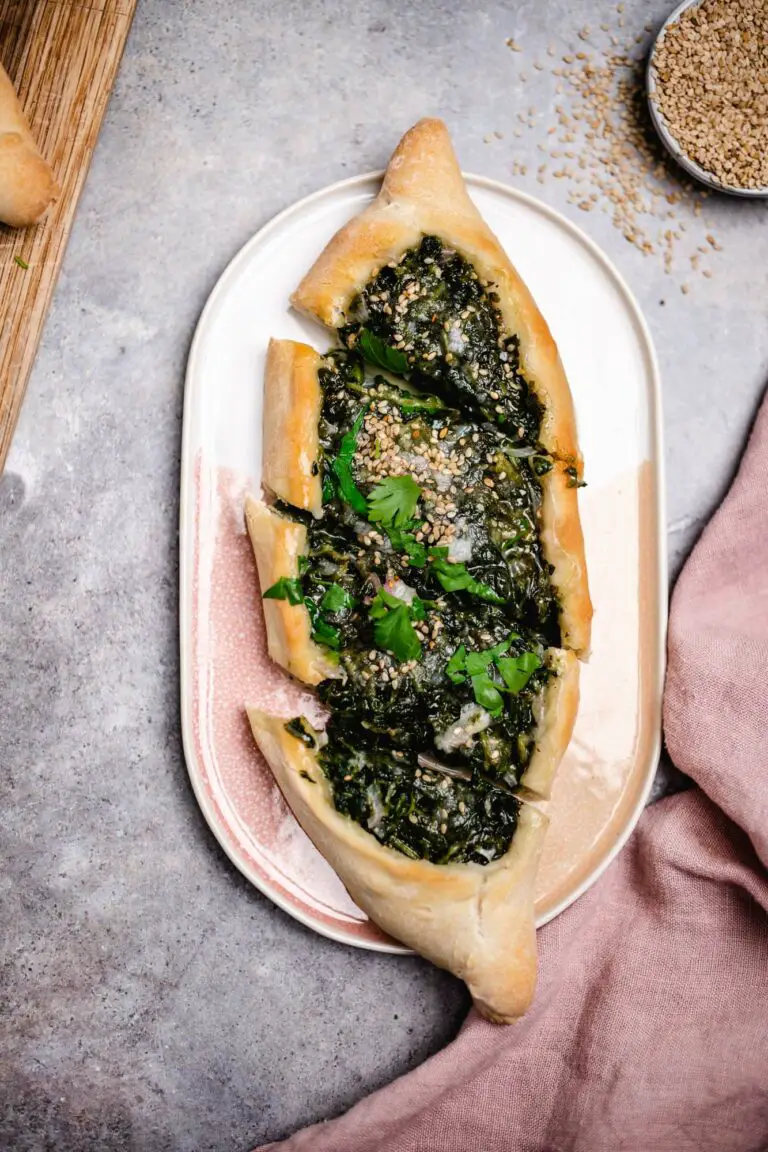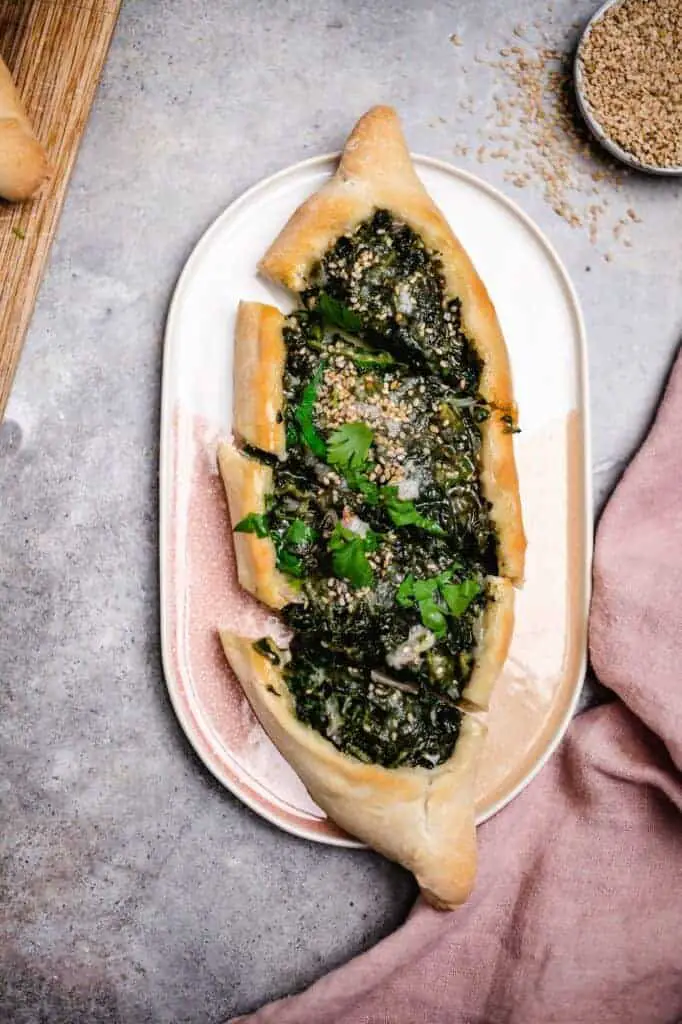 I have fond memories of my trips to Turkey and especially the hospitality. The first time I traveled to Turkey, I was 19 years old and only had a backpack with me. Together with two friends we drove once across the country, far away from tourist areas. I remember how nice the people were and they always invited us to eat.
If you're not in the mood for pide today, but want another pizza variation, I recommend the following recipes: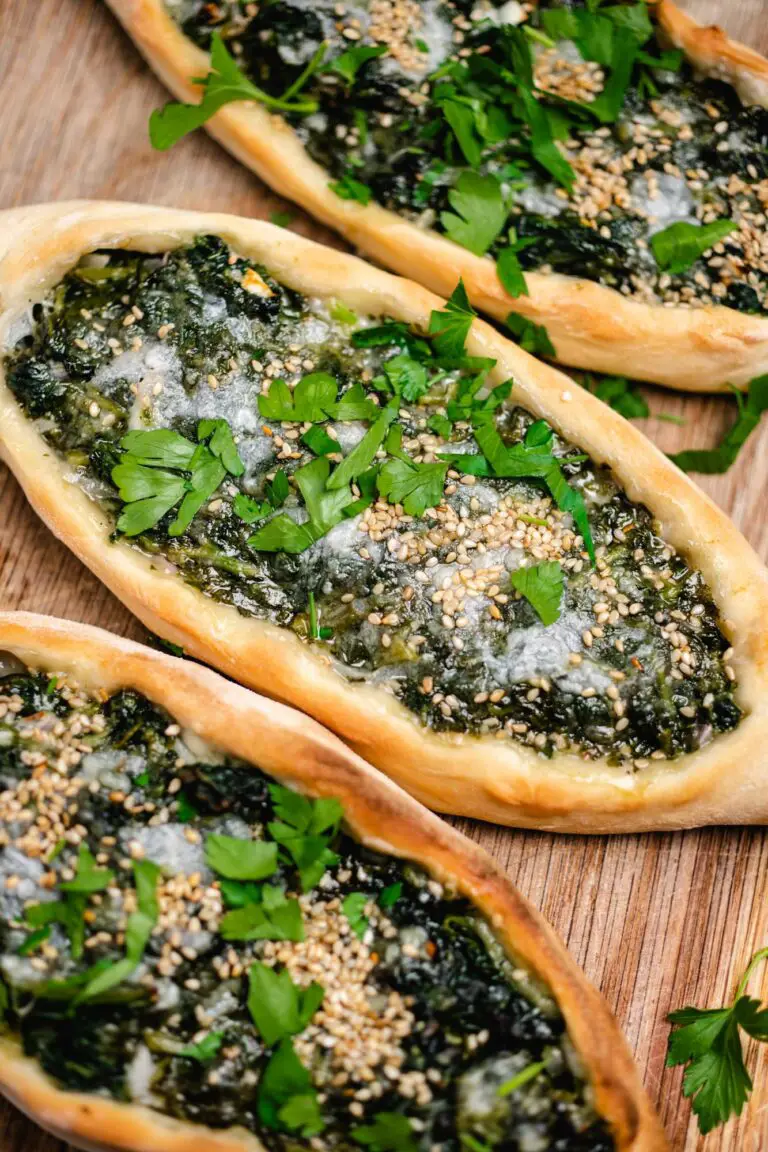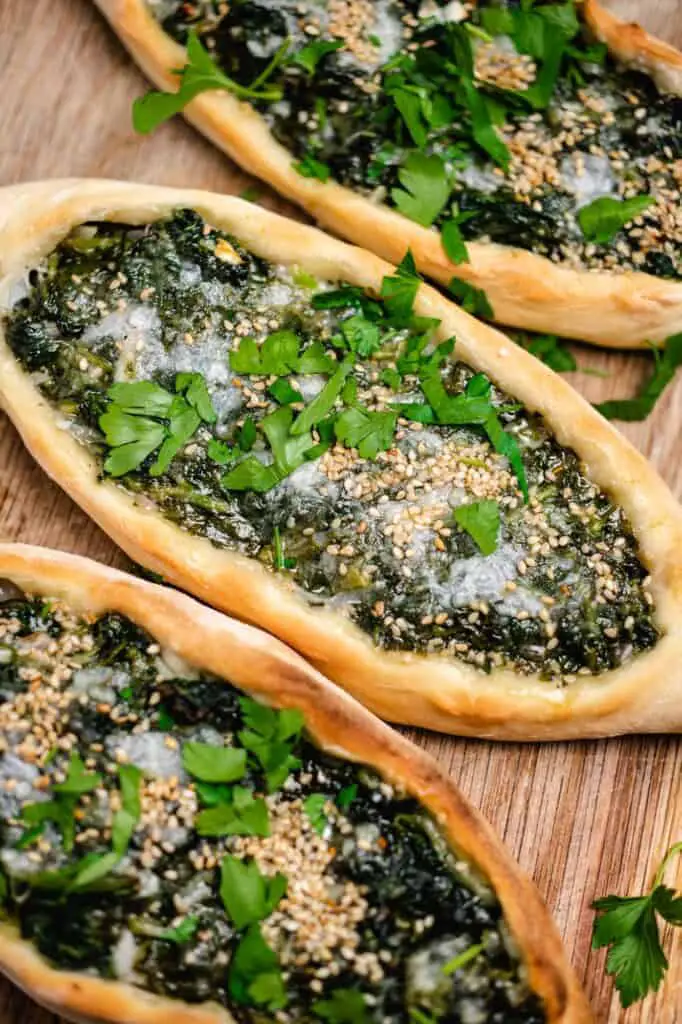 The pide with spinach and feta are:
aromatic
juicy
Crispy
filling
Easy to make
Are you ready for this delicious pide? I wish you a lot of fun in recooking and of course a review at the bottom of this page. If you post a picture, use the hashtag #veganevibes.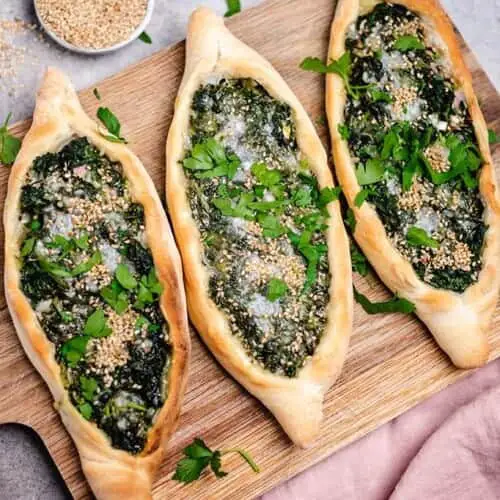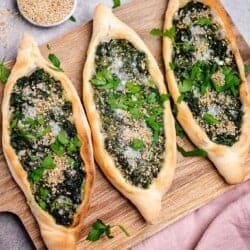 Pide with spinach and feta (vegan)
Delicious crispy vegan pide filled with spinach and feta. A fantastic combination of flavors and a great alternative if you don't want a classic vegan pizza. Crispy on the outside, juicy on the inside. Vegan, lactose free.
AUTOR: VEGANEVIBES
FOR THE DOUGH:
FOR THE FILLING:
500

g

Spinach

frozen or 1 kg fresh spinach *see notes below

230

g

vegan feta

1

Piece

red onion

peeled and finely diced

1

tbspn

Garlic granules

or 2 fresh garlic cloves, peeled and finely chopped

½

tbspn

Salt

¼

tbspn

Nutmeg
TOPPING:
Sesame seeds to taste

Fresh parsley
Anleitung 
Defrost SPINAT (if frozen).

FOR THE DOUGH put lukewarm water and yeast in a bowl and stir with a whisk or your hands until the yeast has dissolved. Gradually add olive oil and flour and knead with your hands until smooth. Cover and let rise a warm (not hot!) Place without drafts for an hour.

170 ml lukewarm water,

2 g fresh yeast,

1 tbspn Olive oil,

250 g Flour

NOTE: Yeast bacteria do not like it too hot or too cold. Always choose a medium, warm temperature.

While the yeast dough is rising, prepare the filling. To do this, place thawed spinach, onion, salt, pepper, garlic granules and nutmeg in a large bowl and stir until everything is well combined. Set aside.

1 tbspn Salt,

500 g Spinach,

1 Piece red onion,

Pepper to taste,

¼ tbspn Nutmeg

After the rising time, transfer the dough to a floured work surface and knead well again with your hands. The dough should have a smooth, firm consistency. Divide into four equal portions. Place on a surface and roll out with a pastry roller four oblong pastry bases (about 20x10cm). If necessary, a little extra flour is needed here.

Now preheat oven to 220 degrees convection or pizza level.

Place filling in center of pastry shells, leaving edges generously free. Sprinkle with a generous amount of vegan feta.

Place in the oven and bake for 20 minutes until the edges are really nice and crispy browned. Sprinkle with sesame seeds 2-3 minutes before the end of the baking time and roast briefly.

Remove from oven, sprinkle with fresh parsley and enjoy!

Perfect for freezing.
Notizen

Tip:
If using fresh spinach, blanch in a pan beforehand along with onion, garlic and the spices. This is important so that the spinach collapses and can be used as a filling.
Nährwertangaben
Serving:
1
Portion
Calories:
410
kcal
Carbohydrates:
52
g
Protein:
19
g
Fat:
14
g
Saturated Fat:
9
g
Polyunsaturated Fat:
1
g
Monounsaturated Fat:
3
g
Cholesterol:
51
mg
Sodium:
889
mg
Potassium:
800
mg
Fiber:
4
g
Sugar:
3
g
Vitamin A:
11965
IU
Vitamin C:
35
mg
Calcium:
419
mg
Iron:
4
mg