Roasted cauliflower on mashed potatoes and mango chutney just puts you in a good mood. I put the three components together rather randomly and was all the more surprised at how good it tasted together. If I ever open a restaurant, this dish will be on the menu. Fine roasted flavors from the oven meets creamy puree and the fruity chutney. I can't imagine it any better in my dreams. It's time for spring and an extensive dinner on the terrace. I can imagine this dish super for it. Maybe a scoop of ice cream afterwards and the feast is perfect.
Roasted cauliflower on mashed potatoes and mango chutney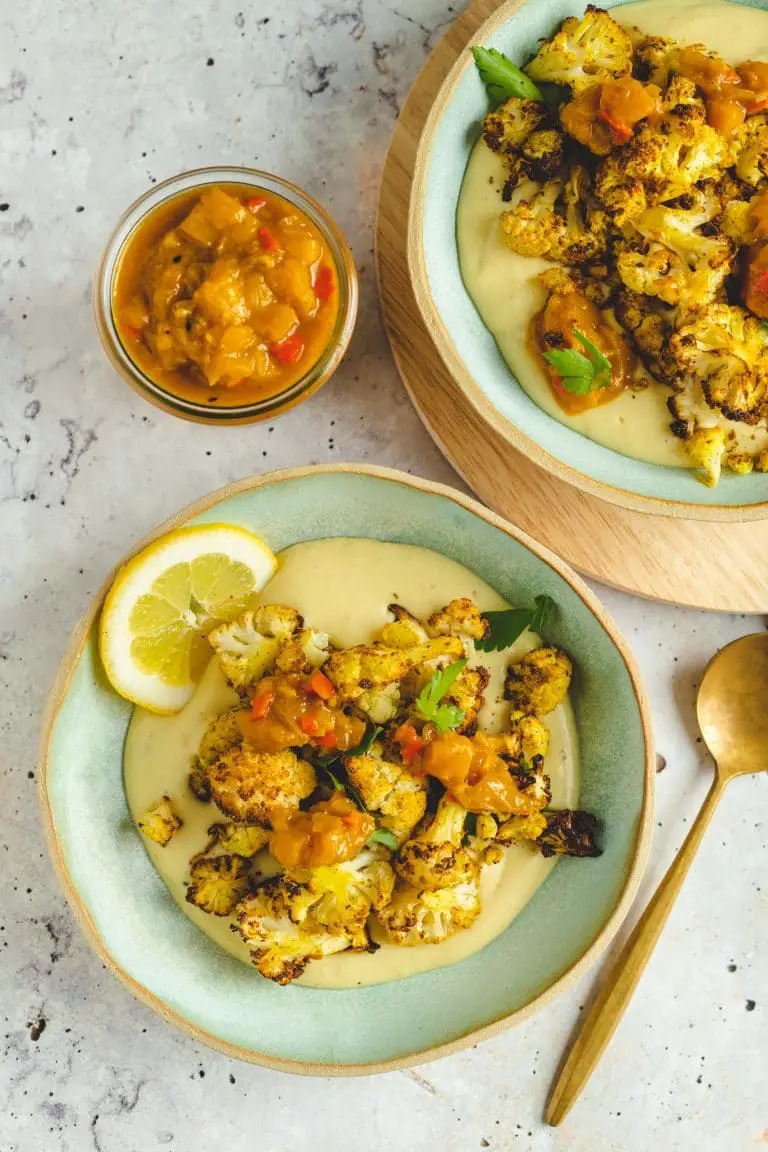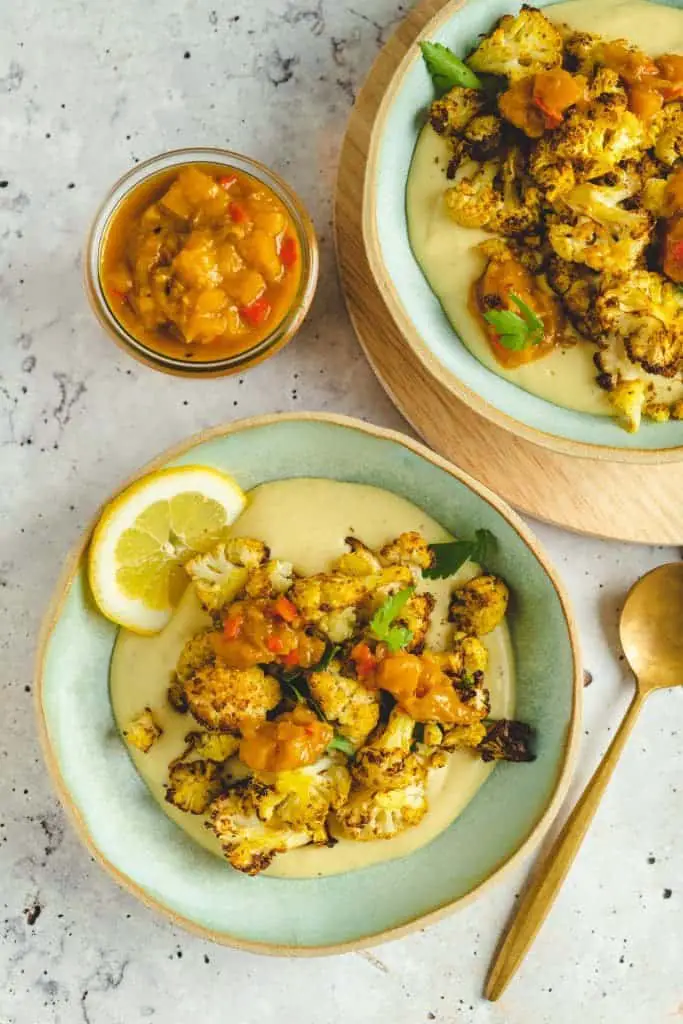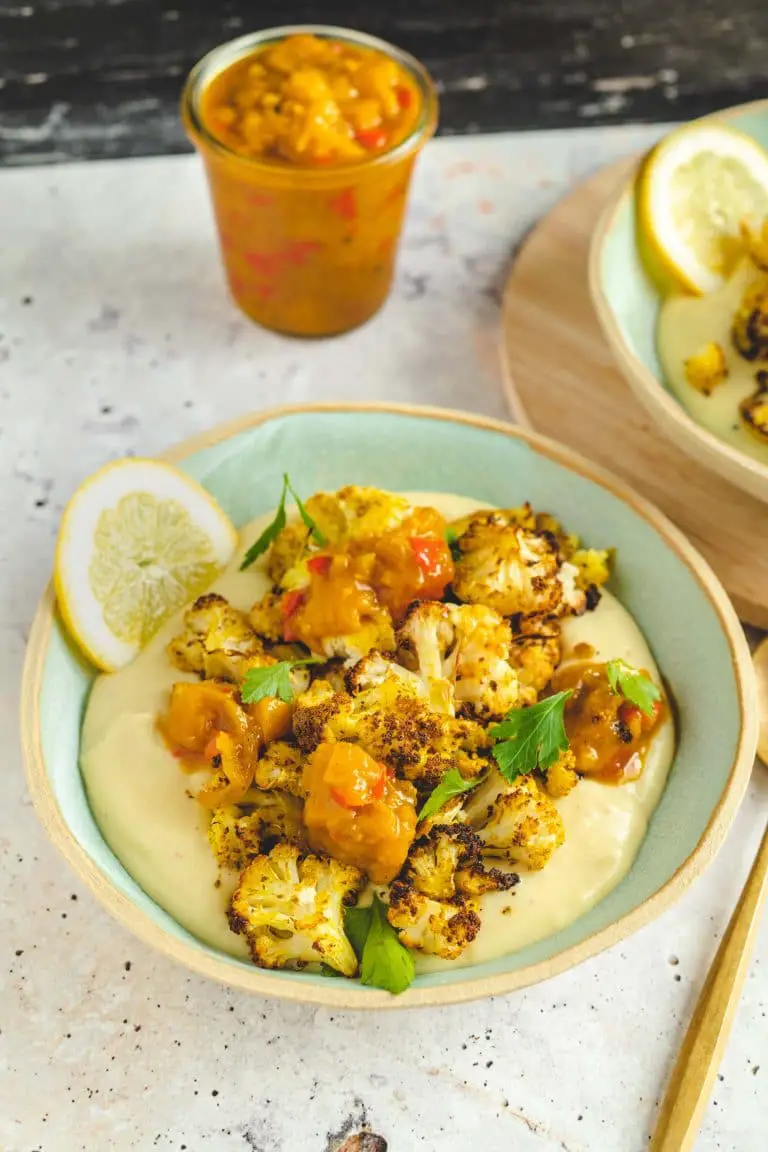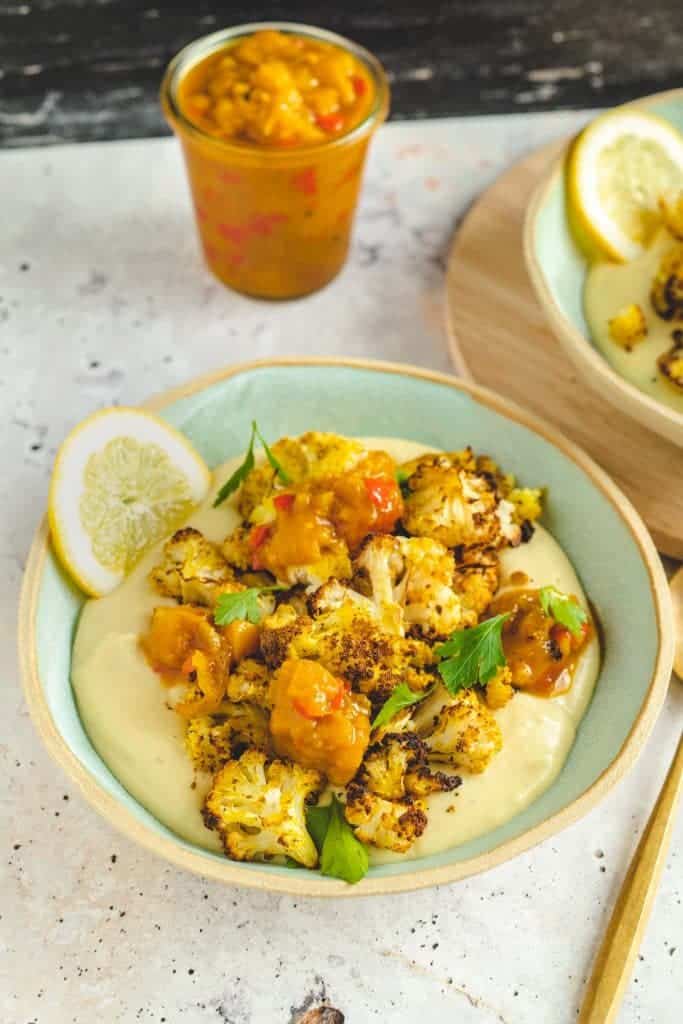 The other day I read an article about a star chef who claimed that he couldn't cook at star level using only plant-based products. I've given this some thought and I have to say that I don't see it that way. The variety inplant-based cuisine is endless and with it the different textures, tastes and possible combinations. There is already a star chef who cooks vegan and from these pioneers you can also see that everything is possible. I'm definitely looking forward to the future and especially to seeing many new, innovative faces in the hospitality industry. At some point, Corona will be defeated and then it's back to feasting.
But as long as we are still sitting at home, we simply cook ourselves amateurishly at star level. Roast cauliflower, prepare mashed potatoes and boil down the chutney. Then garnish everything nicely and serve to your loved ones. A nice glass of wine and good music, ready is the restaurant evening at home. For those who are not so fond of wine, I recommend a chilled (non-alcoholic) beer.
Cook vegan menu at home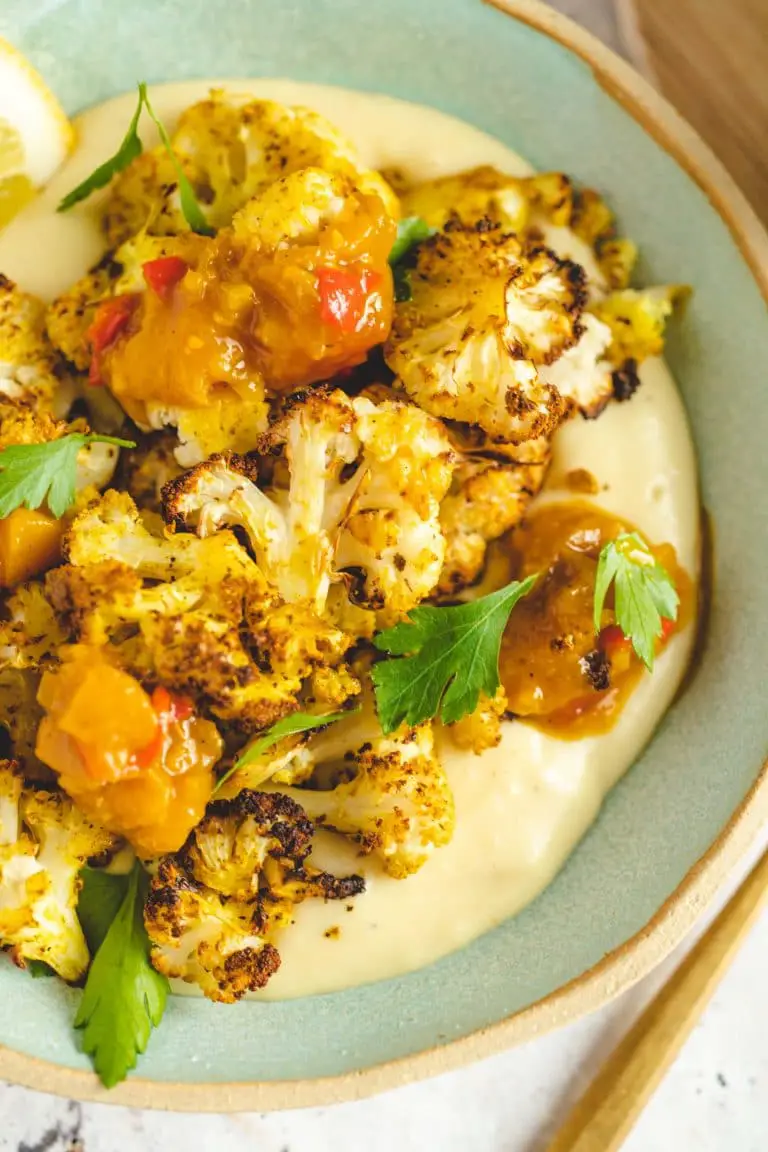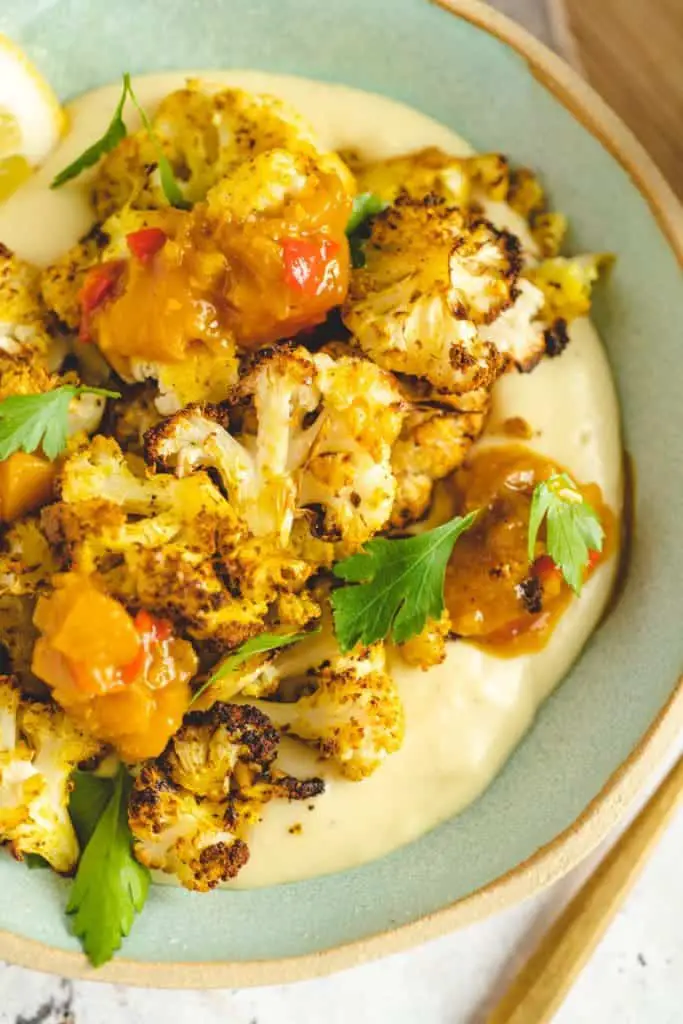 Maybe you're still wondering what appetizers and desserts might go with your vegan candlelight dinner. Here are a few suggestions.
Starters:
Desserts:
TIP: Why not incorporate a creative cooking night in times of Corona. The days are already sometimes quite one-sided, in times like these. Planning a menu stimulates creativity and makes for a nice change of pace.
The roasted cauliflower on mashed potatoes and mango chutney is:
aromatic
creamy
fruity
Full of roasted aromas
Easy to manufacture
Let's get started with this delicious vegan dish. I wish you a lot of fun in the recooking and look forward to a review at the bottom of this page. If you post a picture, use the hashtag #veganevibes.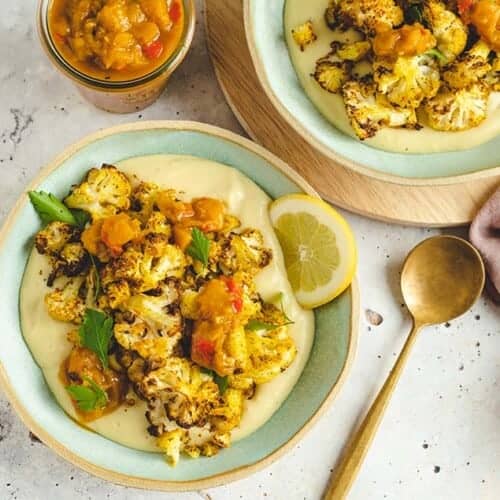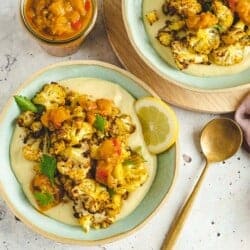 Roasted cauliflower on mashed potatoes and mango chutney
Delicious vegan main course of three components. Fine oven roasted cauliflower, creamy mashed potatoes and fruity mango chutney. A wonderful dish that really tastes great in this combination. Perfect for a vegan dinner night at home. Vegan, gluten free.
AUTOR: VEGANEVIBES
FOR THE ROASTED CAULIFLOWER:
Anleitung 
600 g Cauliflower (instruction),

30 ml Olive oil,

1 tbspn Curry powder,

strong pinch of salt

150 ml Vegetable cream,

150 ml Plant milk,

1 tbspn Salt,

¼ tbspn Nutmeg,

600 g Potatoes (instruction)

50 g Onion,

12 g Ginger,

1 Piece red bell bell pepper,

125 ml Orange juice,

1 tbspn Curry powder,

1-2 Piece Bird Eye Chili,

500 g Mango,

35 g Coconut blossom sugar,

15 ml Apple cider vinegar,

½ tbspn Salt,

15 ml high heat oil (instruction)

To serve, first place a portion of mashed potatoes in a plate (feel free to preheat plate), then top with roasted cauliflower florets and drizzle with mango chutney.

Garnish with fresh herbs of your choice. enjoy!

Best fresh.
Nährwertangaben
Serving:
1
Portion
Calories:
448
kcal
Carbohydrates:
71
g
Protein:
9
g
Fat:
17
g
Saturated Fat:
2
g
Trans Fat:
1
g
Sodium:
268
mg
Potassium:
1520
mg
Fiber:
9
g
Sugar:
35
g
Vitamin A:
1587
IU
Vitamin C:
168
mg
Calcium:
130
mg
Iron:
3
mg