Mango chutney is something very fine. I never thought this sauce could taste so delicious. Right now I'm totally into delicious dishes that consist of different components, like mashed potatoes with mango chutney and roasted cauliflower florets. It's just fun to have lots of delicious things on your plate, colorful, with different flavors and textures. What else surprised me is the combinability of mango chutney. The sweetness of the mango goes just wonderfully with the spiciness of the chili and can be combined with a wide variety of dishes. Spring is finally here and you feel like doing something new again. This dish perfectly ushers in the new season for me.
What is mango chutney?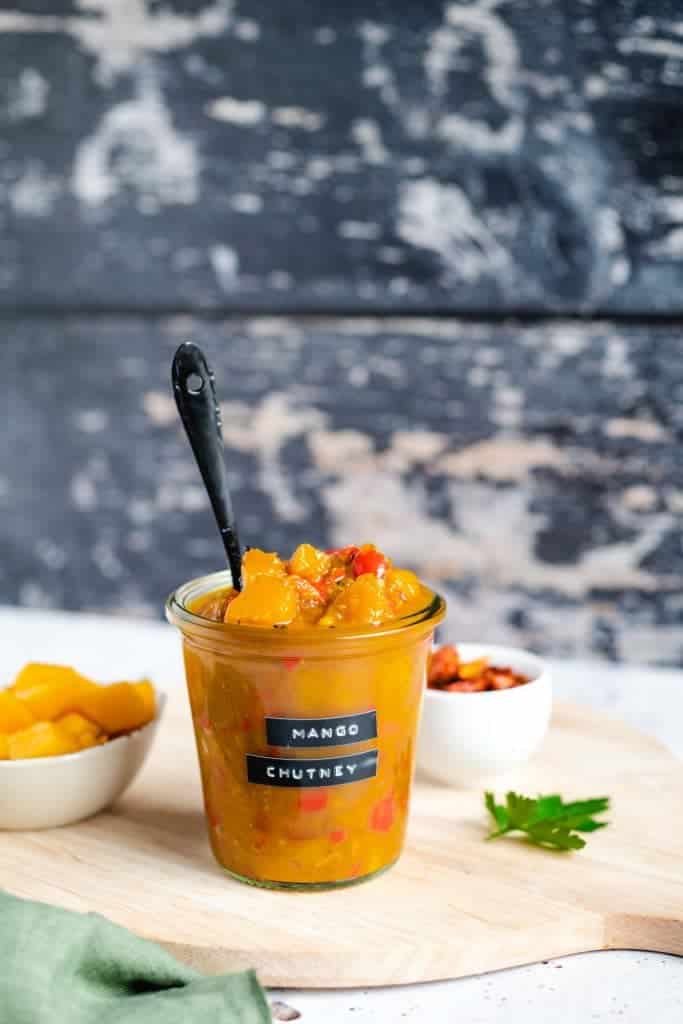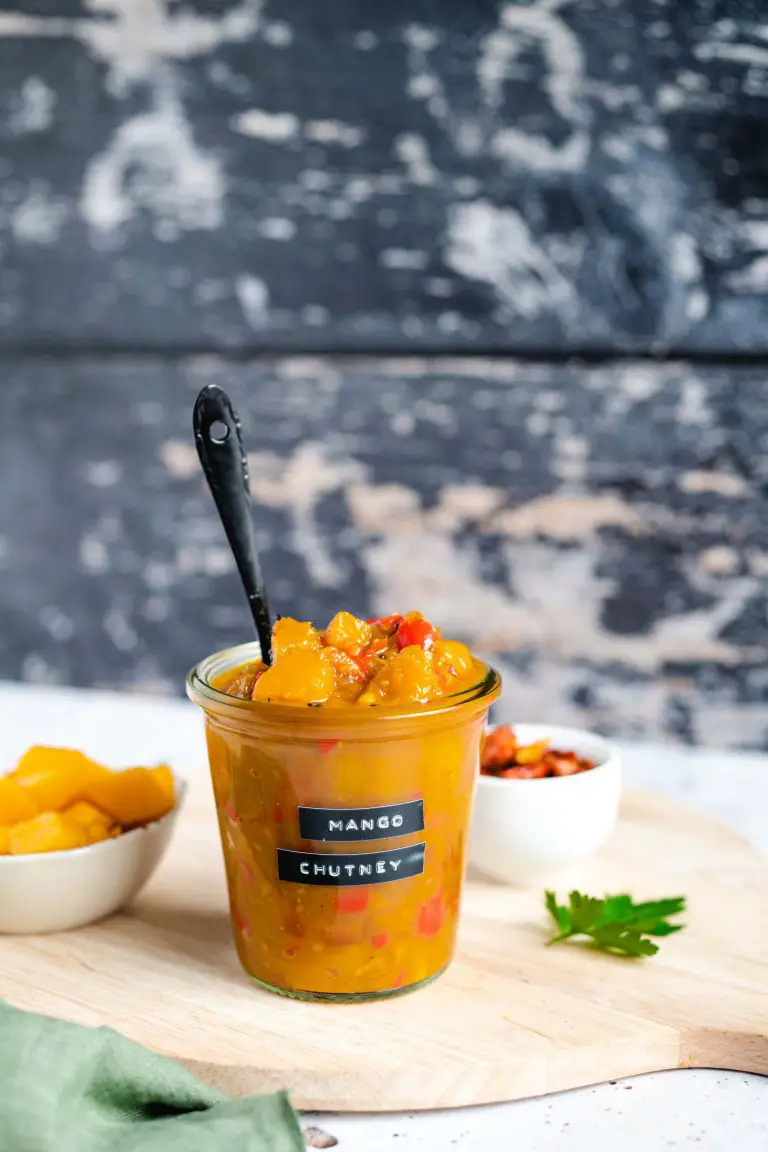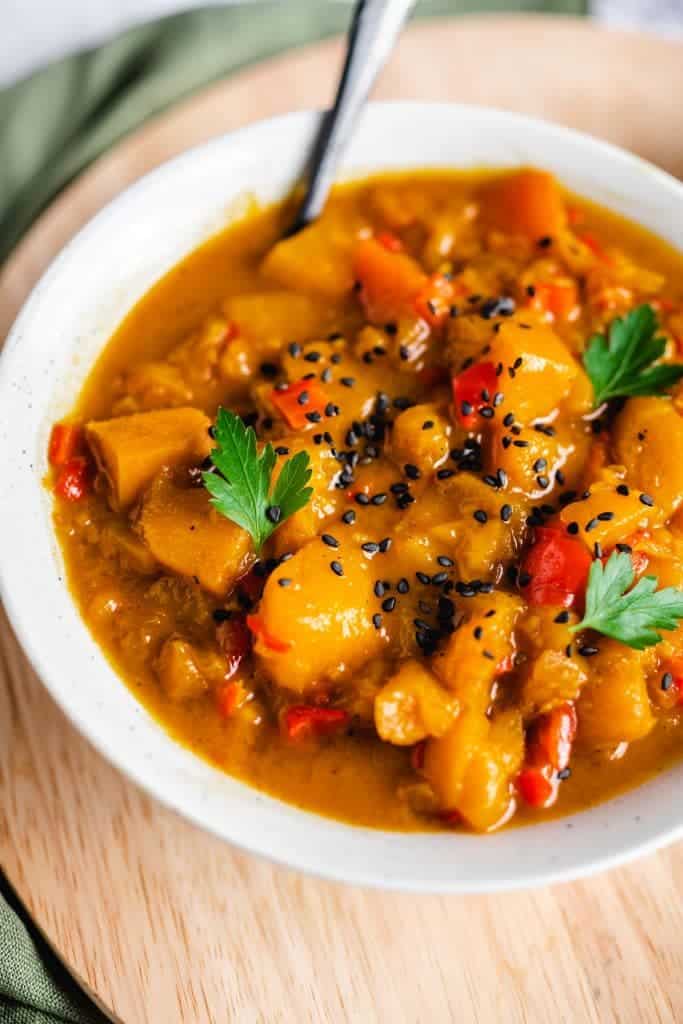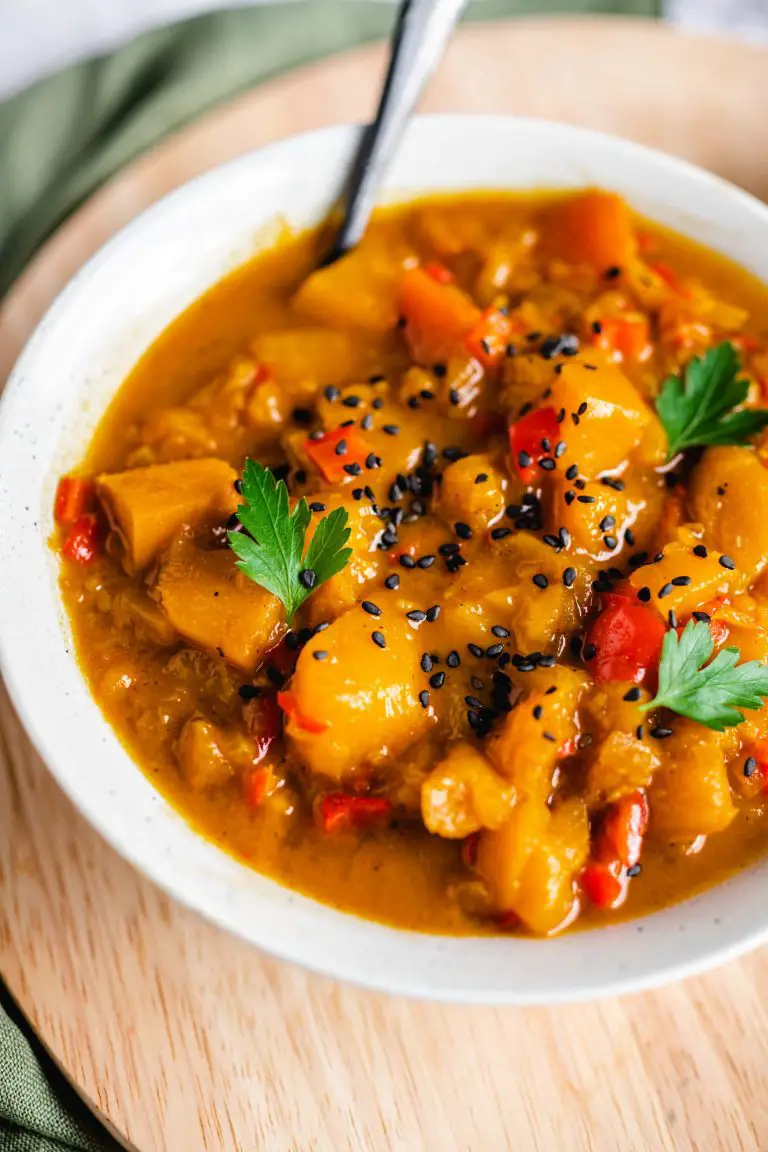 Chutney is a spicy, automatic sauce that actually originated in India. It can be made from a variety of different fruits or vegetables, and varies from region to region. Mango chutney contains many micronutrients, vitamins and minerals. Especially for the upcoming barbecue season, this side dish is quite wonderful because it goes well with a wide variety of barbecue recipes.
TIP: You can also combine your chutney in a completely different way and let your imagination run wild. I think for example of pineapple chutney, tomato chutney or paprika chutney. The most diverse combinations are allowed and are really fun .
How to make mango chutney?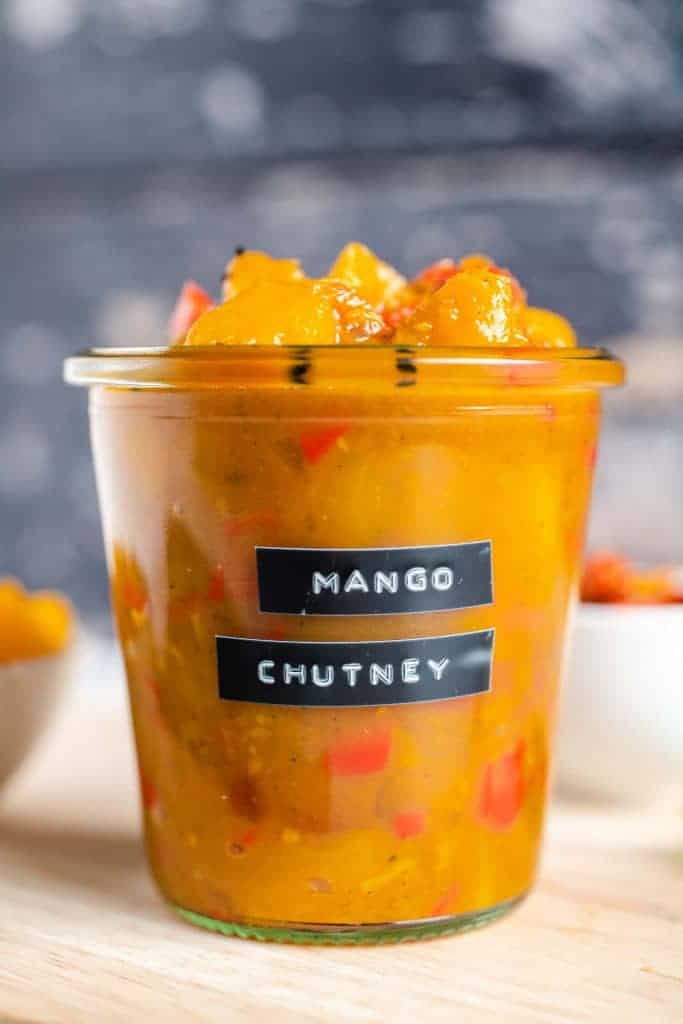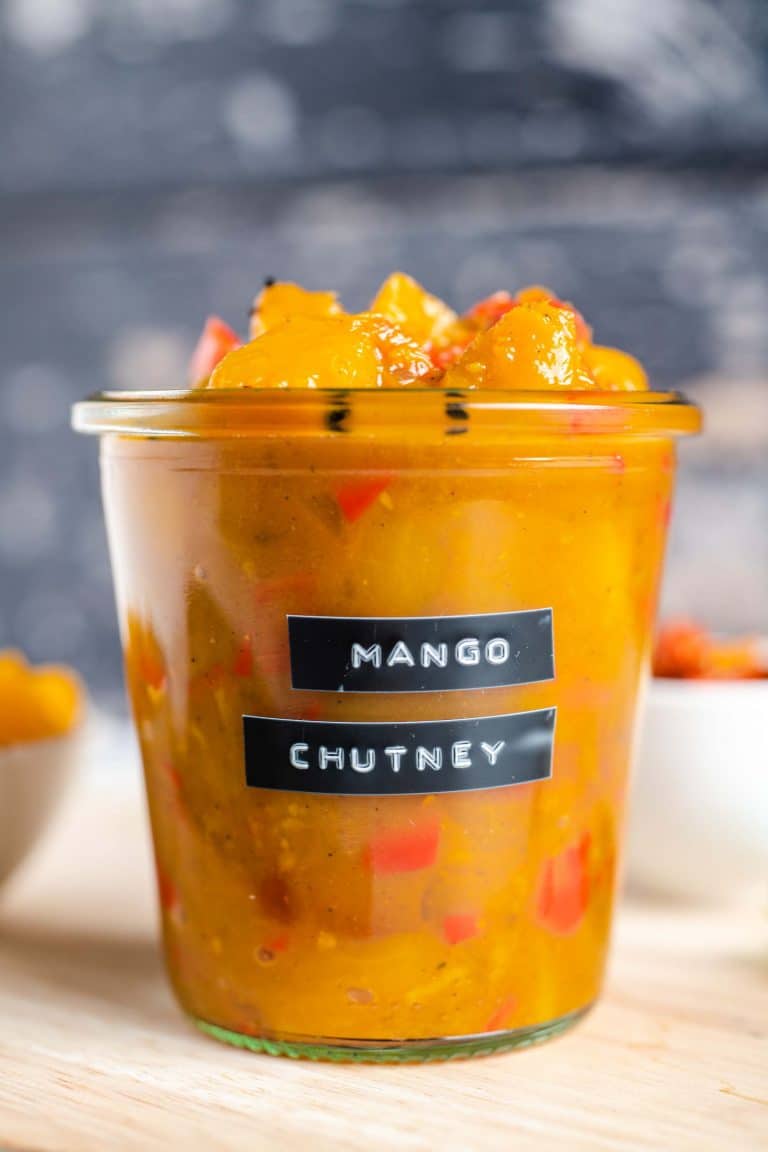 The chutney is quick and easy to make, saute onion, add in mango, along with red bell pepper, ginger and Bird Eye chili. Add some orange juice and coconut sugar for a natural sweetness, apple cider vinegar for the acid component and salt to taste.
I add a curry powder for a more intense flavor. Other than that, there's not much to consider with this simple vegan sauce. What I find particularly interesting about chutney is the coming together of the different flavors, acidity from vinegar, sweetness from coconut blossom sugar, the fruity of the mango and last but not least the spiciness of the chili. It gives a unique combination. When I tell you about it, my mouth is already watering.
Tip: the mangoes should be nice and ripe before processing. I currently buy my mangoes from Jurassic Fruits, an online vendor that sells fruit from small local farmers. I think the quality is really excellent and I have never had such good mangoes. When I buy the fruit in the supermarket, it happens to me very often that the mangoes are woody or not ripe. This annoys me especially, because I have no desire to let the fruit ripen for days. Small note, this is an unpaid brand mention.
Here are some more ideal combinations for mango chutney: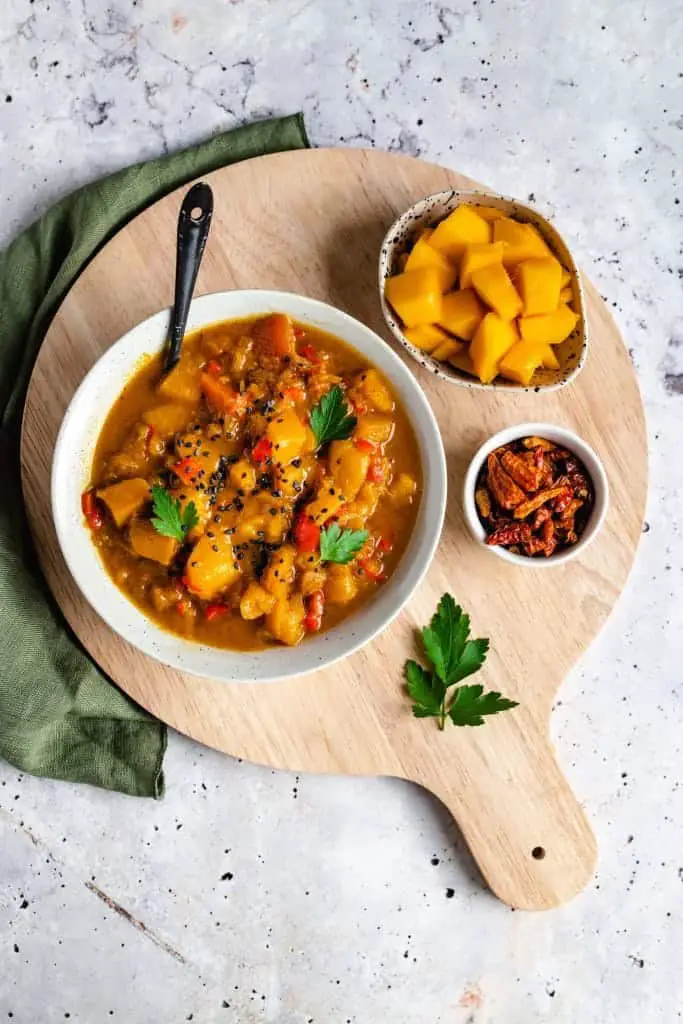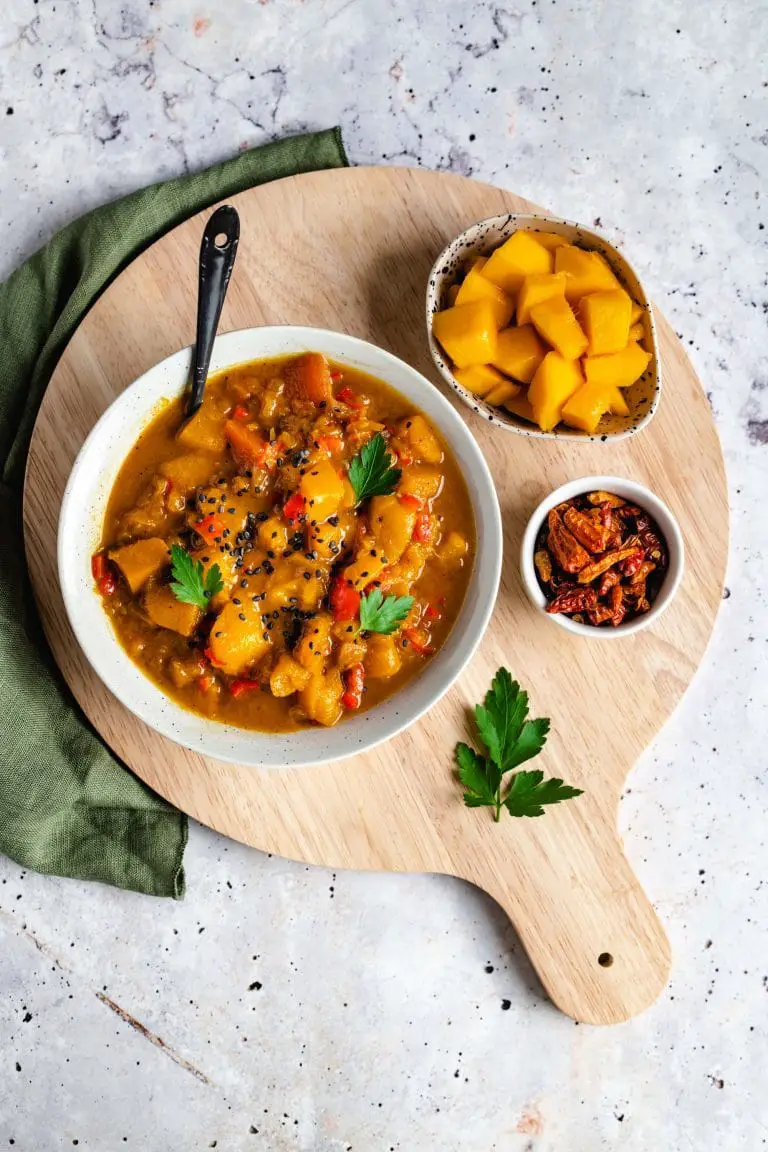 The vegan mango chutney is :
Super fast made
versatile
Full aroma
Few ingredients
The perfect side dish
Do you love this fruity chutney as much as I do? Then I look forward to a review at the bottom of this page. If you post a picture, then like to use the hashtag #veganevibes.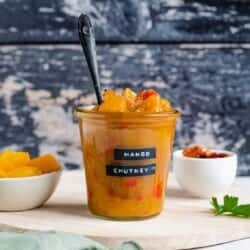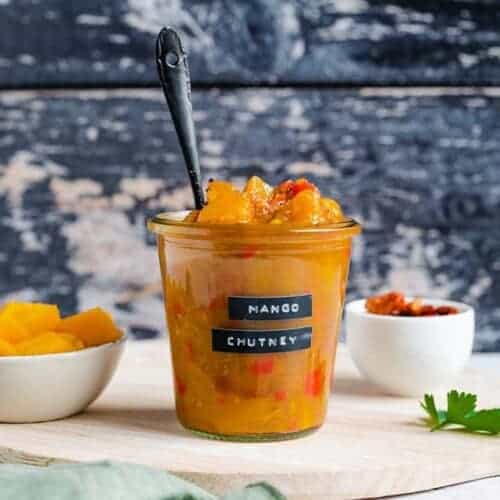 Make your own mango chutney (HOW-TO)
HOW TO Instructions for making delicious mango chutney, from juicy ripe mangoes, chili, paprika and curry powder. The perfect sauce to very many dishes and especially delicious for the grilling season. Simple, versatile, gluten-free and keeps very well.
AUTOR: VEGANEVIBES
15

ml

high heat oil

50

g

red onion

peeled and chopped

12

g

Ginger

freshly grated or 1 tsp ginger powder

1

Piece

red bell bell pepper

Core removed and cut into cubes

125

ml

Orange juice

or another fruity juice of your choice

1

tbspn

Curry powder

or curry paste of your choice

1-2

Bird Eye Chili or any other chili of your choice

500

g

Mango

peeled and cut into cubes

35

g

Coconut blossom sugar

or another sugar of choice

15

ml

Apple cider vinegar

or another light vinegar of your choice

½

tbspn

Salt
Anleitung 
Place a small pot on the stove and heat. Pour in the oil and add the onion. Sauté while stirring. Add ginger and add paprika. Deglaze with the orange juice.

15 ml high heat oil,

50 g red onion,

12 g Ginger,

1 Piece red bell bell pepper,

125 ml Orange juice

Add curry powder, bird eye chili, mango pieces, coconut blossom sugar, apple cider vinegar and salt. Stir until everything is well combined.

1 tbspn Curry powder,

1-2 Bird Eye Chili or any other chili of your choice,

500 g Mango,

35 g Coconut blossom sugar,

15 ml Apple cider vinegar,

½ tbspn Salt

Cover and simmer over medium heat for

20-25 minutes

.

Depending on personal preference, finely blend some of the chutney and return to the pot. This step is optional.

Enjoy immediately or pour into sterilized canning jars.

Keeps for about a week in an airtight container in the refrigerator. Properly canned several months. Frozen up to one month.
Nährwertangaben
Serving:
1
Portion
Calories:
32
kcal
Carbohydrates:
6
g
Protein:
1
g
Fat:
1
g
Saturated Fat:
1
g
Trans Fat:
1
g
Sodium:
14
mg
Potassium:
62
mg
Fiber:
1
g
Sugar:
5
g
Vitamin A:
285
IU
Vitamin C:
13
mg
Calcium:
4
mg
Iron:
1
mg