A beet latte is the perfect drink for you if you either like the earthy notes of the red tuber or are into bright colors per se. I imagine it's because I'm desperate to make an impression, and I can't do that with a simple latte. Sorry, but I have to laugh myself when I read these lines. Once again from the beginning. Imagine you invited your girlfriends to a vegan coffee party (assuming the Corona rules allow it). Want to present something really cool that really makes an impression? Then I recommend this red bright, earthy beet latte. It really puts you in a good mood and also contains a lot of health-promoting ingredients. More about this further down in the text.
Vegan beet latte – a very special hot drink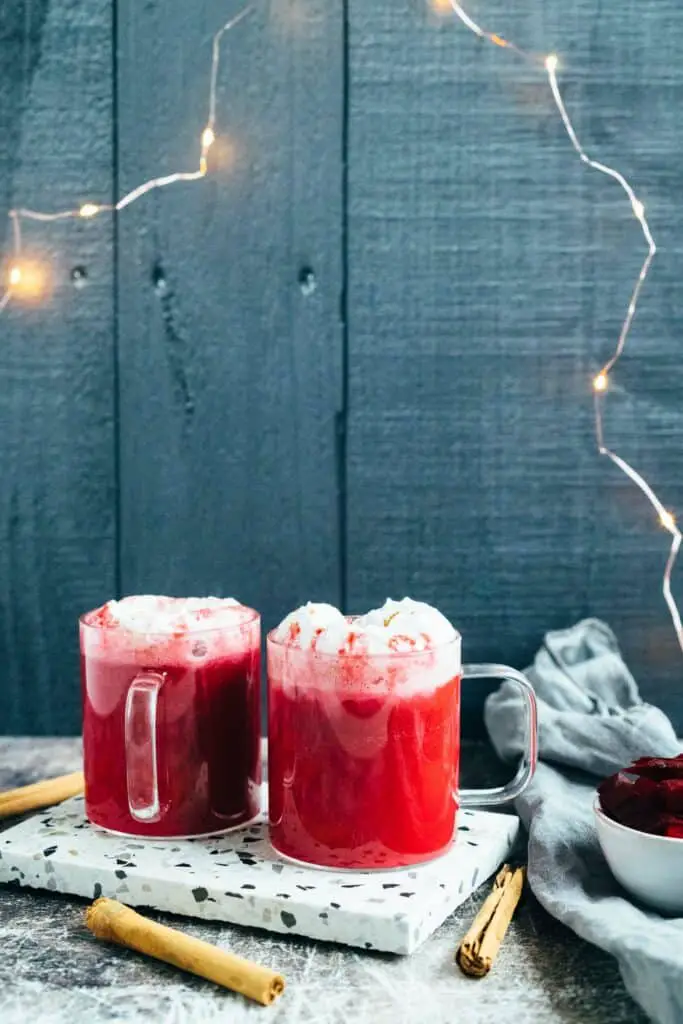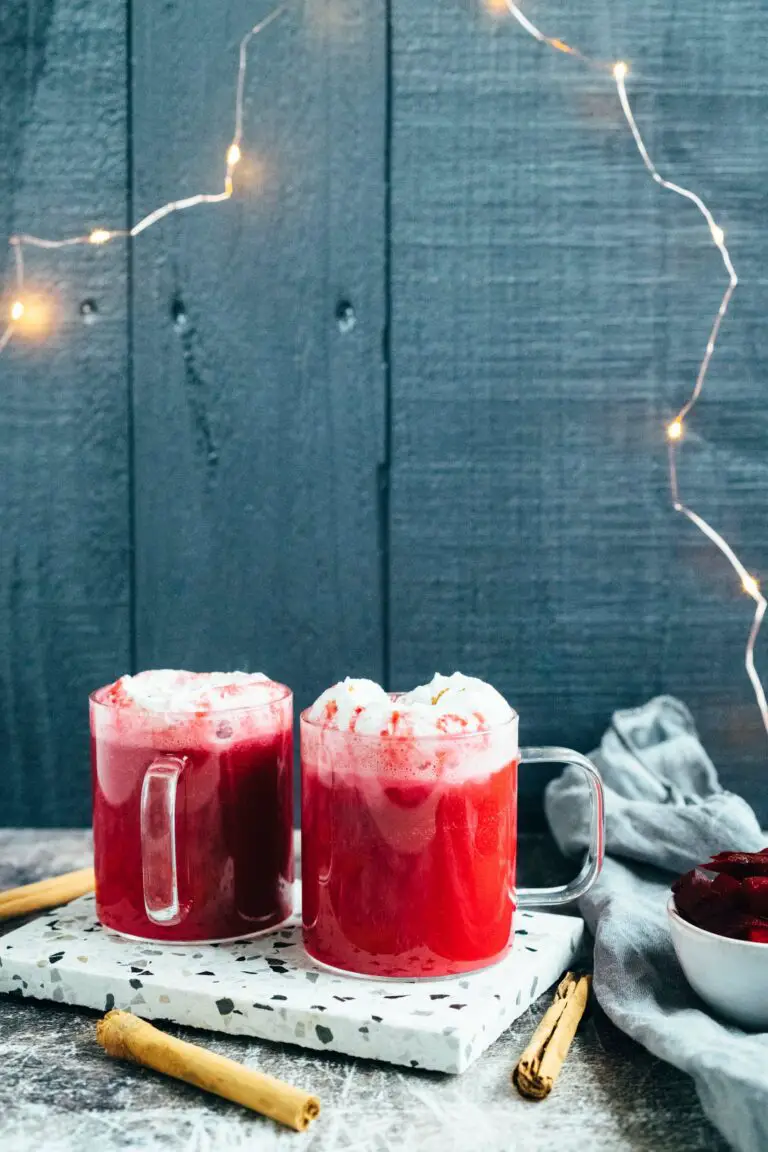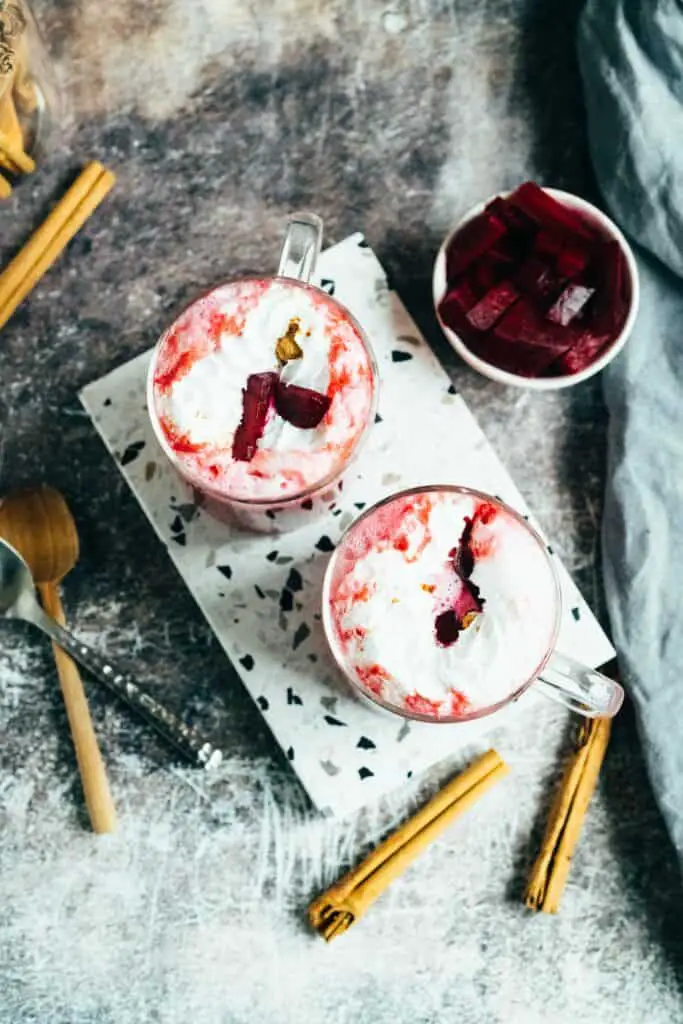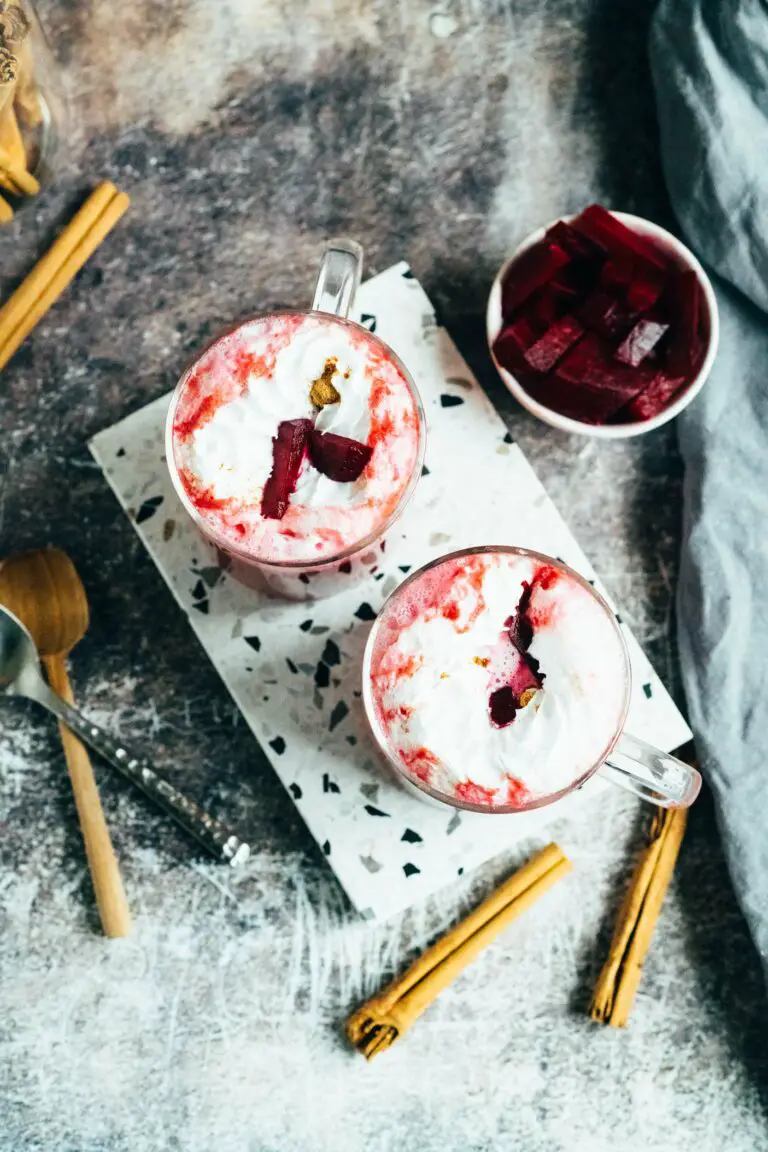 There are many people who do not like coffee or do not tolerate it very well. Exactly for them, our today's latte variant is a quite great alternative. Next to tea, hot chocolate and my golden latte, the bright pink hot drink is welcome to join the ranks. You have the choice between cooked beetroot or powder. Here is a brief overview of the differences:
Cooked beet is much more intense than the powder. It also makes the latte a tad creamier and "heavier" because all the ingredients remain contained. You could almost call it a hot smoothie call it.
Beet powder is just as the tuber in pure form, but dried and powdered . I personally find the powder not as intense in flavor as the cooked tuber. The best thing is to try it out for yourself.
How healthy is beet?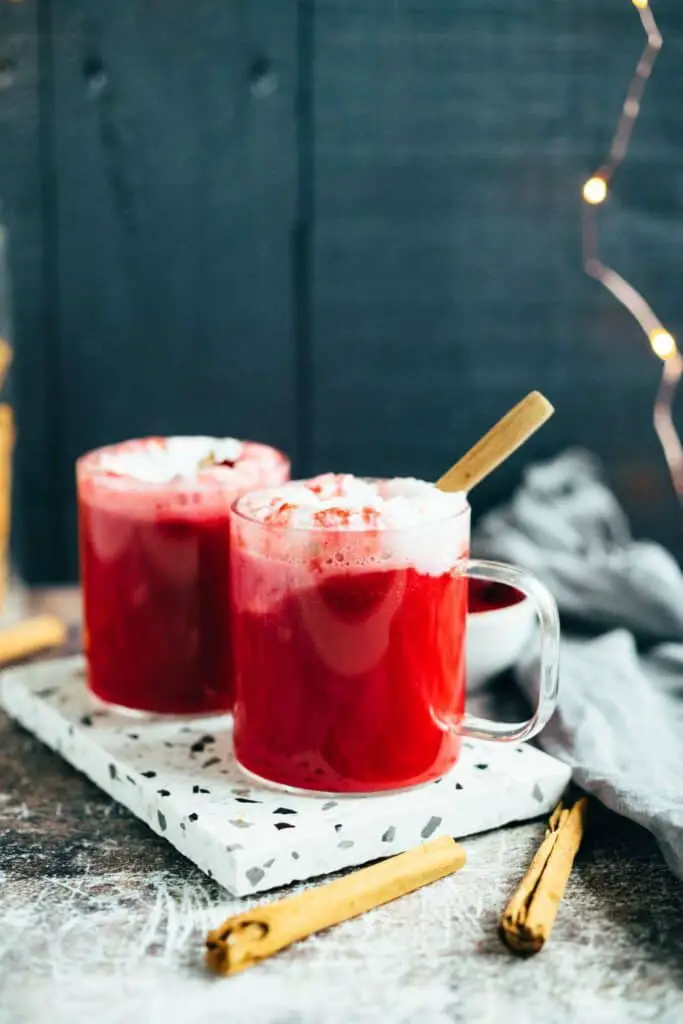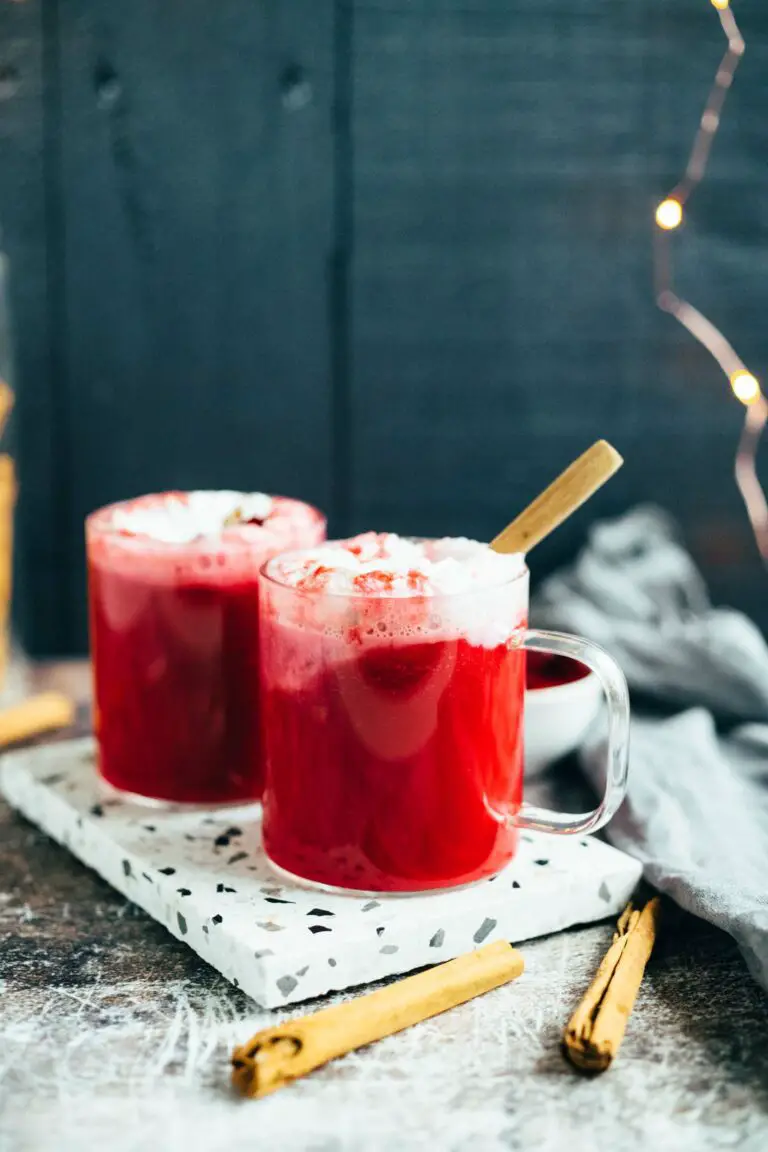 Why look for a long time, when the good is so close. Beet you can find almost everywhere, it is cheap to have and Full of health promoting ingredients. I can still remember when I used to go to the alternative practitioner with my parents. He recommended me beet juice after x-rays. "This will ensure that the radiation is conducted out of the body again." were his words. I have remembered that to this day. Whether it's true or not, I can't answer you. However, we all know the saying that faith in something can move mountains. Instead, let's take a look at the assured health-promoting properties of beetroot. Beet is rich in:
Iron, zinc, magnesium
Potassium, folic acid
Vitamin A and C
The B vitamins B1, B2 and B6
Is said to strengthen the immune system, regulate blood pressure and promote performance
A recently published study was able to show that the consumption of beetroot in athletes increases performance and endurance. The decisive factor here is the nitrates contained, which are converted to nitrite under bacterial control. The result is dilation of blood vessels, increased oxygen levels in the blood, and increased blood flow to muscles and organs.
Make beet latte yourself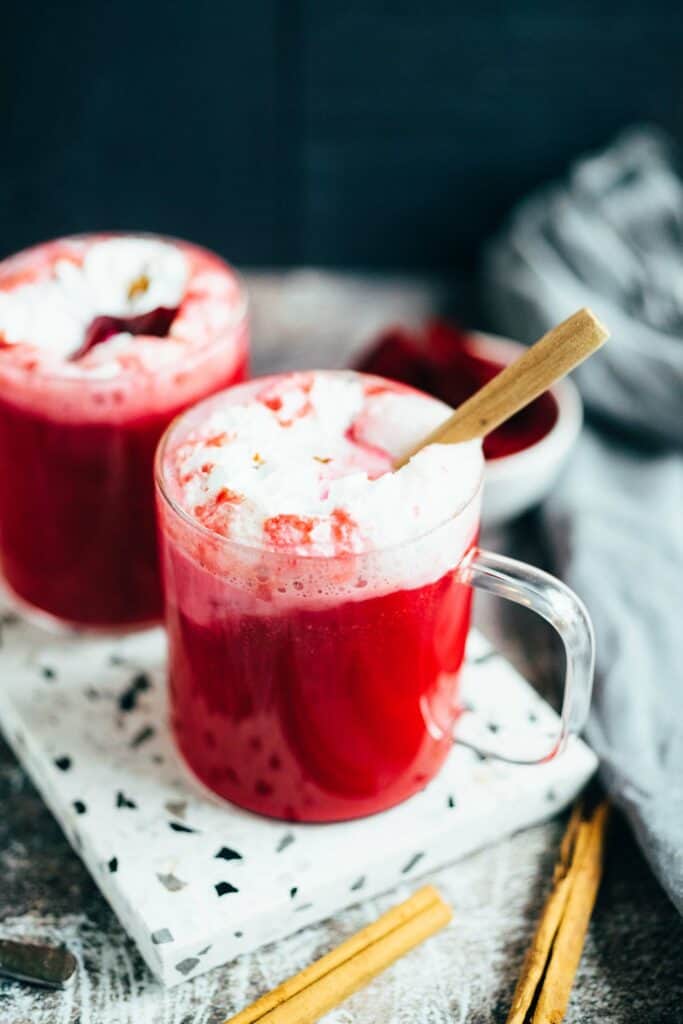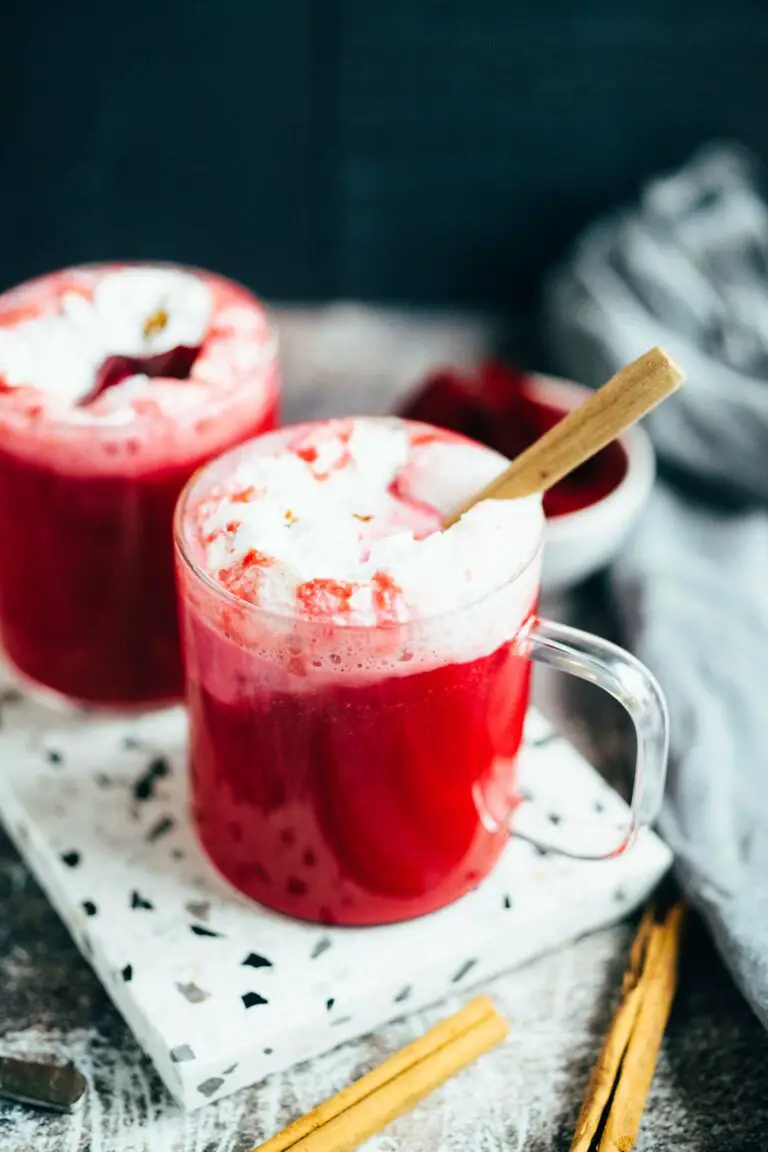 Unlike the products you get in make coffee chains, today we make a really healthy product. We don't use high-fructose corn syrup, we don't use artificial flavors, and at worst, we indulge in some saturated fat in the form of a cream topping. Here are the facts for your perfect latte:
Plant milk: I like vanilla soy milk, store-bought oat barista or my homemade oat barista milk best. NOTE: Please heat the homemade version only carefully and not too much, otherwise it will thicken!
Sweetener: I use maple syrup, for a more caramel flavor coconut blossom sugar is also very good. Otherwise, you can use raw cane sugar, date syrup or agave syrup. Everything is allowed.
Spices: Less is more! Use rather less at the beginning and then re-season. Otherwise, it quickly becomes too intense or too bitter.
What else goes with our delicious, creamy and warming hot drink? A great piece of cake, preferably a muffin with caramelized apples, coffee cake or gingerbread slices.
Enough text I would say and off we go with this great tasting, healthy and immune system boosting beet latte:
Warming
aromatic
Naturally sweetened
Without additives
Very tasty
It's beet latte time! If you love the recipe, I appreciate a review at the very bottom of this page. If you post a picture, then like to use the hashtag #veganevibes.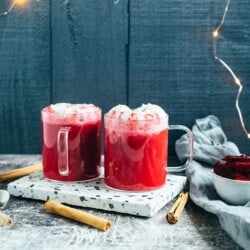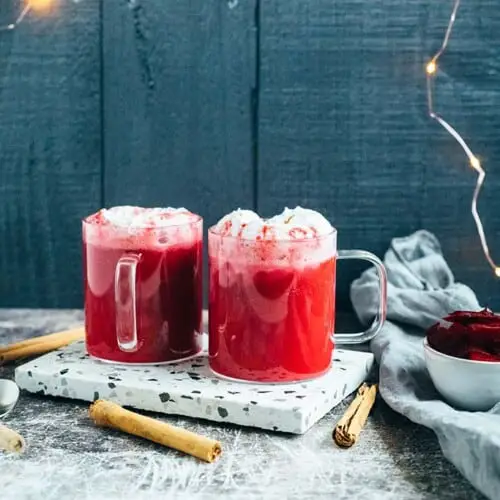 Beet latte
A deliciously warming beet latte with cooked beetroot, autumnal spices and plant milk. Naturally sweetened, for all those who love healthy hot drinks.
AUTOR: VEGANEVIBES
500

ml

Oats Barista Milk

or any other vegetable milk of your choice

1

Piece

small beet (~150g)

alternatively 2 tablespoons beet powder, organic quality

30

ml

maple syrup

alternatively coconut blossom sugar or another sweetener of choice

¼

tbspn

Bourbon vanilla ground

optional 2 espresso shots
TOPPING:
optional vegetable cream

Cinnamon powder
Anleitung 
Boil one small beet unpeeled in a pot with enough water. I use my pressure cooker for this, which reduces the cooking time to ⅓. Alternatively, use ½ raw beet, or 2 tablespoons beet powder.

1 Piece small beet (~150g)

Add plant milk, beet, maple syrup and bourbon vanilla to a high-powered blender and blend on high speed until combined.

500 ml Oats Barista Milk,

30 ml maple syrup,

¼ tbspn Bourbon vanilla ground

Pour through a sieve into a small saucepan and heat. NOT Boil, but remove heat when boiling point is reached. The drink should be hot, but not boiling.

If desired, pour one shot of espresso into each cup and top with the hot beet latte.

optional 2 espresso shots,

optional vegetable cream,

Cinnamon powder

Optionally garnish with vegetable cream and cinnamon and enjoy!
Nährwertangaben
Serving:
1
Cup
Calories:
107
kcal
Carbohydrates:
18
g
Protein:
2
g
Fat:
3
g
Saturated Fat:
1
g
Sodium:
382
mg
Potassium:
266
mg
Fiber:
3
g
Sugar:
14
g
Vitamin C:
4
mg
Calcium:
328
mg
Iron:
1
mg