Amaranth Schnitten and I can say with a clear conscience that I have not eaten something so delicious in a long time. The amaranth is puffed and has a very light crunch, which together with the chocolate is just fantastic. i just couldn't resist and can't even count how many times i ran to the fridge. At some point everything was eaten and I immediately provided for replenishment. My favorite organic supermarket has ready-to-eat puffed amaranth and I am over the moon. If you also want to float on cloud amaranth No. 7, then stay tuned, there's the recipe further down in the text.
Amaranth slices (3 ingredients)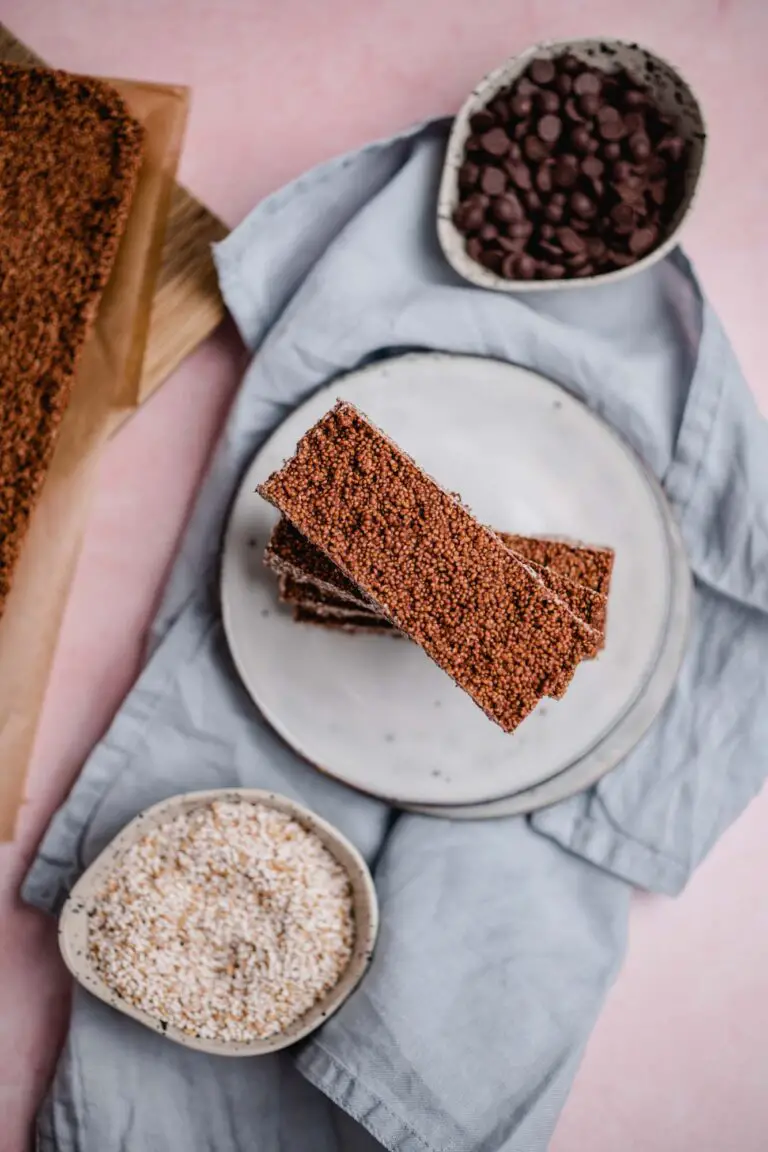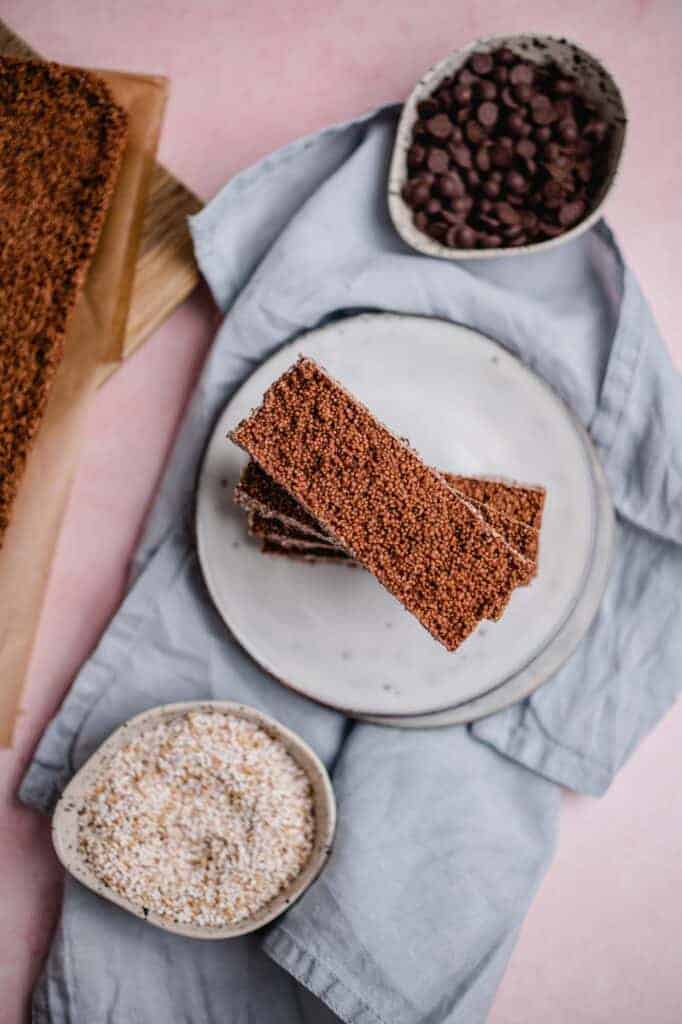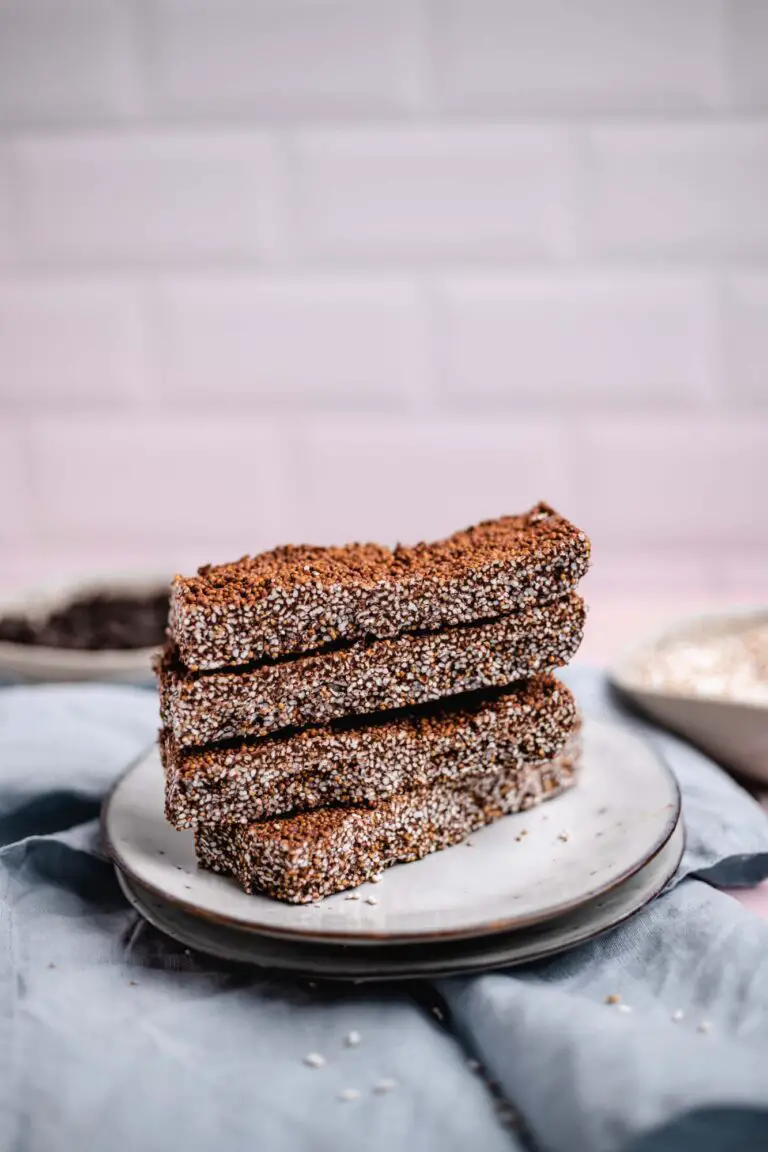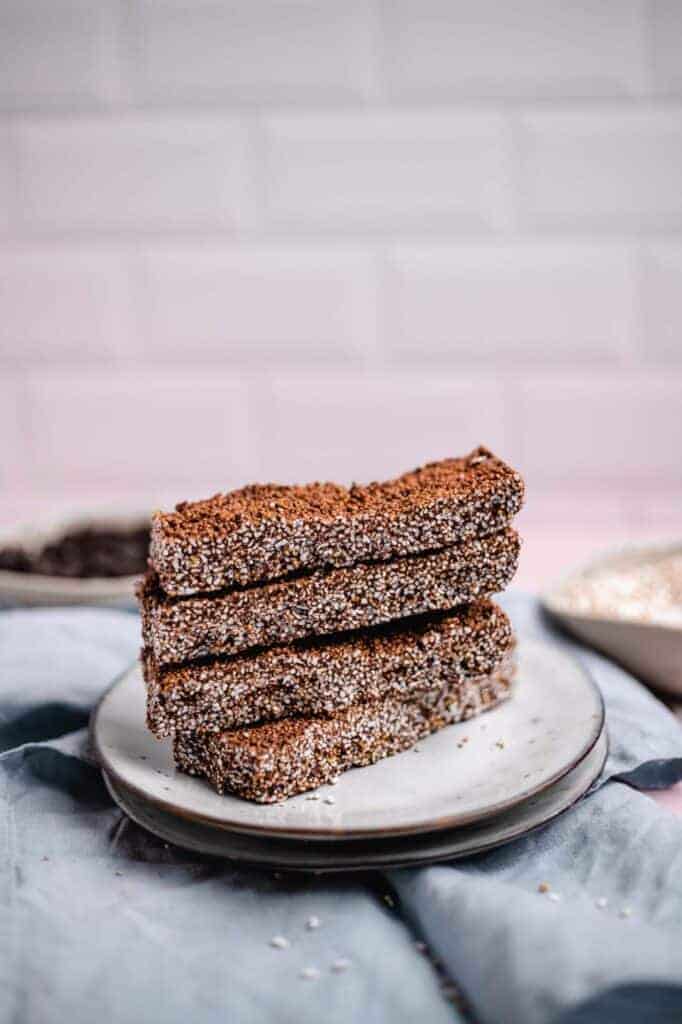 Our cuts today could not be simpler. Puffed amaranth, peanut butter and melted chocolate. This all goes together in a bowl and is mixed through until everything is well combined. After that, everything goes into a mold and flattened. Put it in the freezer and let it set. After about 20 minutes, you could theoretically already eat the fine slices.
This recipe is absolutely geling sicher, however, it is important that the quality of chocolate is good. Otherwise, it can quickly become bitter and I get a bad rating. Joking aside, the quality of the chocolate is actually crucial. Too much cocoa and very little to no sugar in the chocolate will cause the slices to become bitter very quickly.
TIP: You can also use any other nut puree instead of peanut butter. I'm thinking, for example, of almond paste or hazelnut paste.
Healthy vegan amaranth slices without added sugar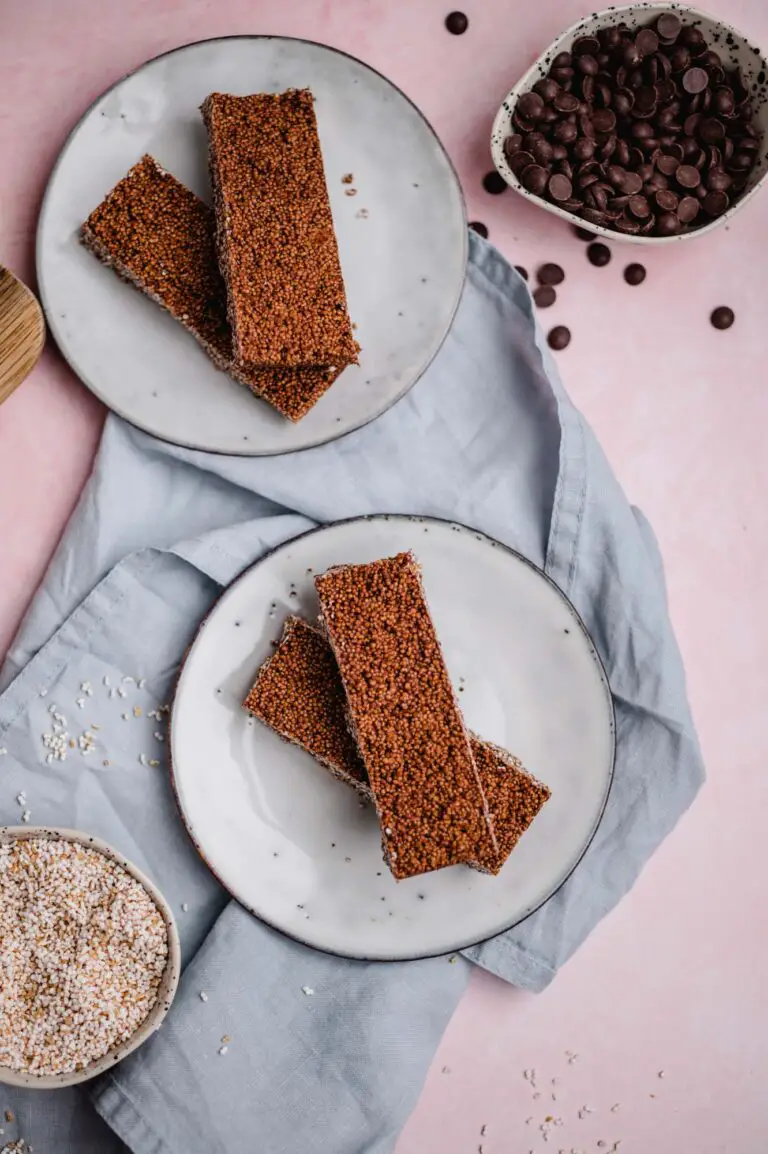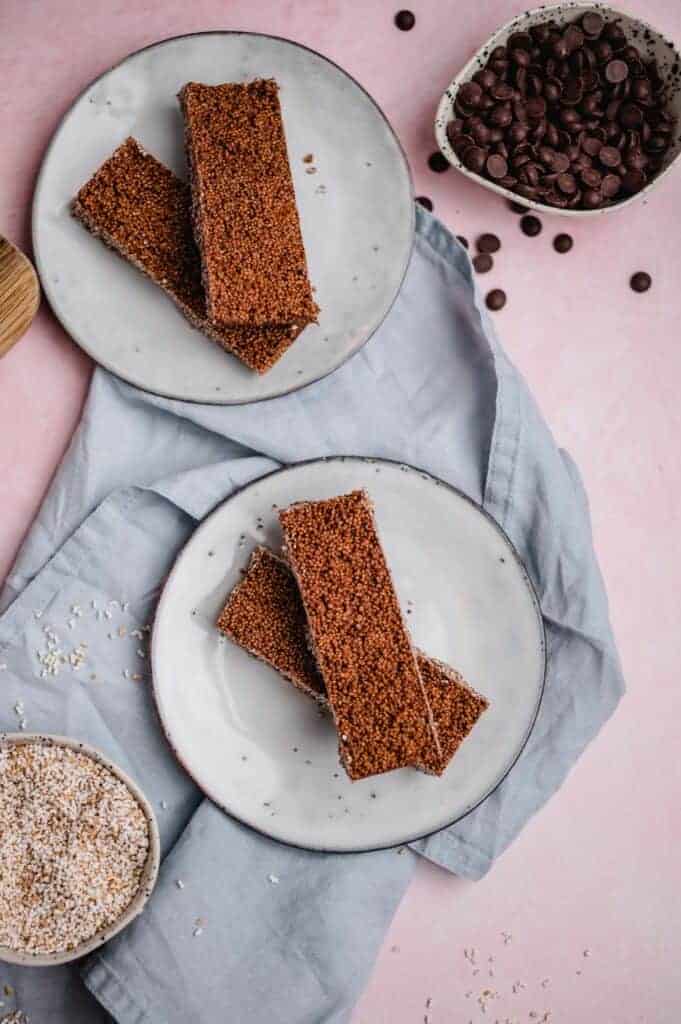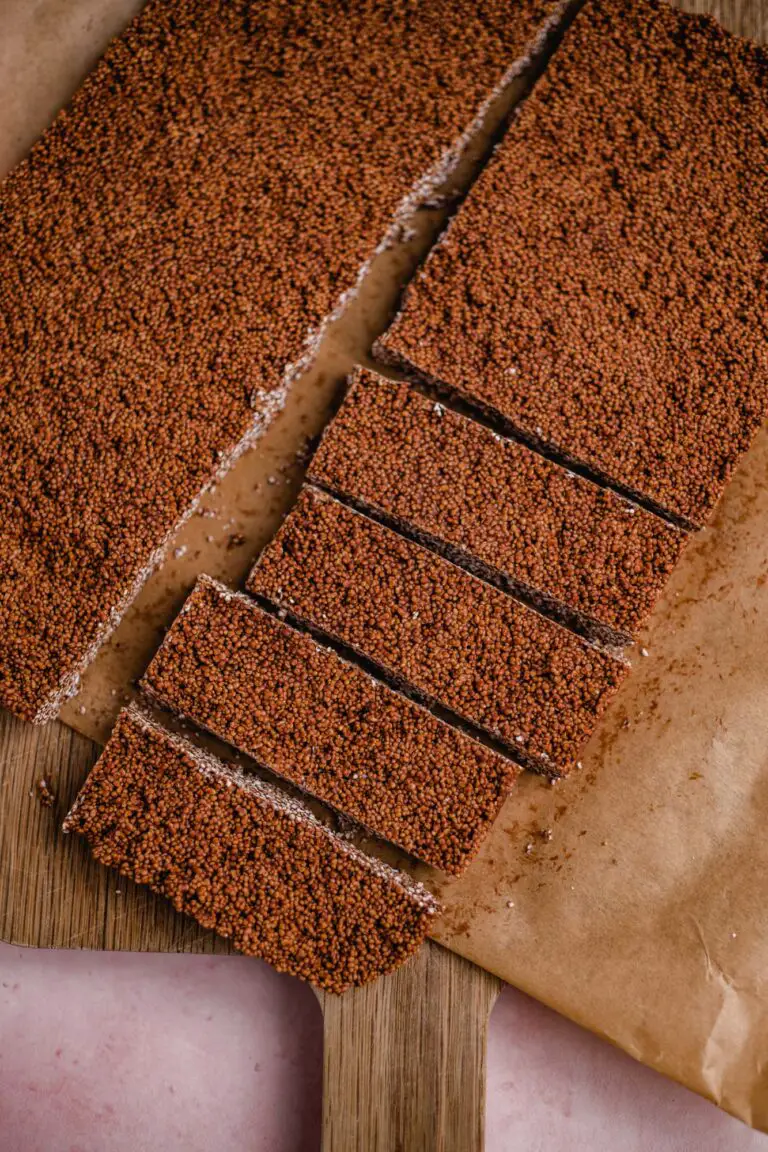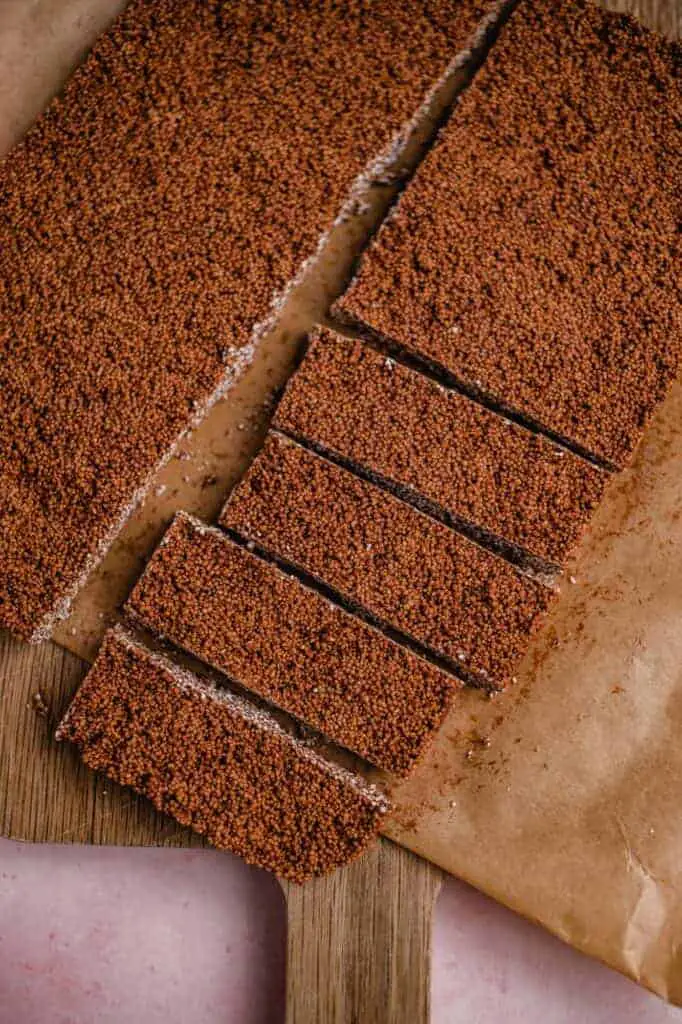 Amaranth is a wonderful pseudo-cereal and also particularly healthy:
Rich in fiber, vegetable protein and valuable fatty acids
The cereal is also ideal for vegans, because it contains the limited amino acid lysine and this has according to studies a positive effect on calcium absorption
Especially interesting for people who suffer from celiac disease or prefer a gluten-free diet, as it does not contain gluten
If you're in the mood for another healthy snack today, I recommend the following alternatives:
Matching the healthy snacks is a delicious drink like a vegan Nutella Protein Smoothie, Hazelnut Milk or Immune Booster Latte.
Amaranth slices (3 ingredients):
chocolaty
Naturally sweetened
nutty
crunchy
Quickly made
Let's go with this dream of amaranth, nut puree and chocolate. I wish you a lot of fun with the imitation and of course about a rating at the bottom of this page. If you post a picture, use the hashtag #veganevibes.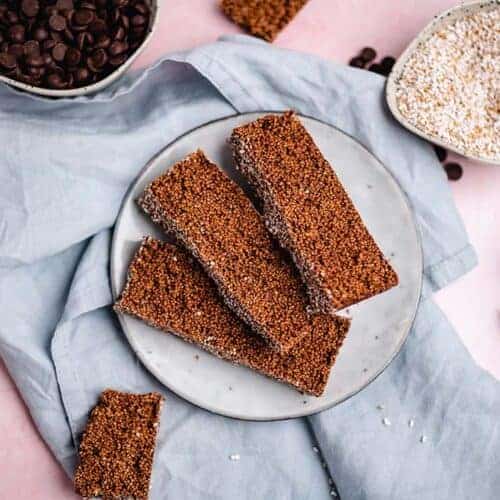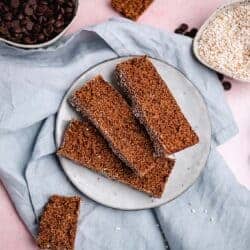 Amaranth slices (3 ingredients)
Fancy some healthy, naturally sweetened slices? Then these fine amaranth slices are just the thing. Few ingredients, quick to make, crunchy, nutty and chocolatey. Gluten-free, naturally sweetened, oil-free and vegan.
AUTOR: VEGANEVIBES
150

g

Amaranth

puffed, 2 cups

50

g

Peanut butter

¼ cup, I use unsalted peanut butter, alternatively hazelnut butter or almond paste
Anleitung 
Carefully melt chocolate over a water bath and place in a bowl. Add nut puree and puffed amaranth and stir until everything is well combined.

150 g Amaranth,

200 g dark vegan chocolate coating,

50 g Peanut butter

Pour into a brownie pan lined with baking paper (20x20cm or similar size) and gently press down until everything is evenly distributed. Place in the freezer and allow to set for at least 2 hours.

Cut into 16 equal pieces and enjoy! Store leftovers in the freezer or refrigerator. Enjoy cold!
Nährwertangaben
Serving:
1
Piece
Calories:
119
kcal
Carbohydrates:
13
g
Protein:
3
g
Fat:
8
g
Saturated Fat:
4
g
Polyunsaturated Fat:
1
g
Monounsaturated Fat:
3
g
Sodium:
14
mg
Potassium:
65
mg
Fiber:
2
g
Sugar:
5
g
Vitamin A:
1
IU
Vitamin C:
1
mg
Calcium:
16
mg
Iron:
1
mg