Healthy quinoa bites because I love puffed quinoa. Often you feel like a snack and it should preferably be healthy and delicious at the same time. I am completely in love with puffed quinoa and could bake with it all day. Today I wanted to make something very simple with it, a snack that goes quickly and is best snacked on straight from the freezer. Quinoa together with peanut butter and chocolate, can it get any better? I don't think so, and that's why I would say let's get right into it.
Quinoa bites (5 ingredients)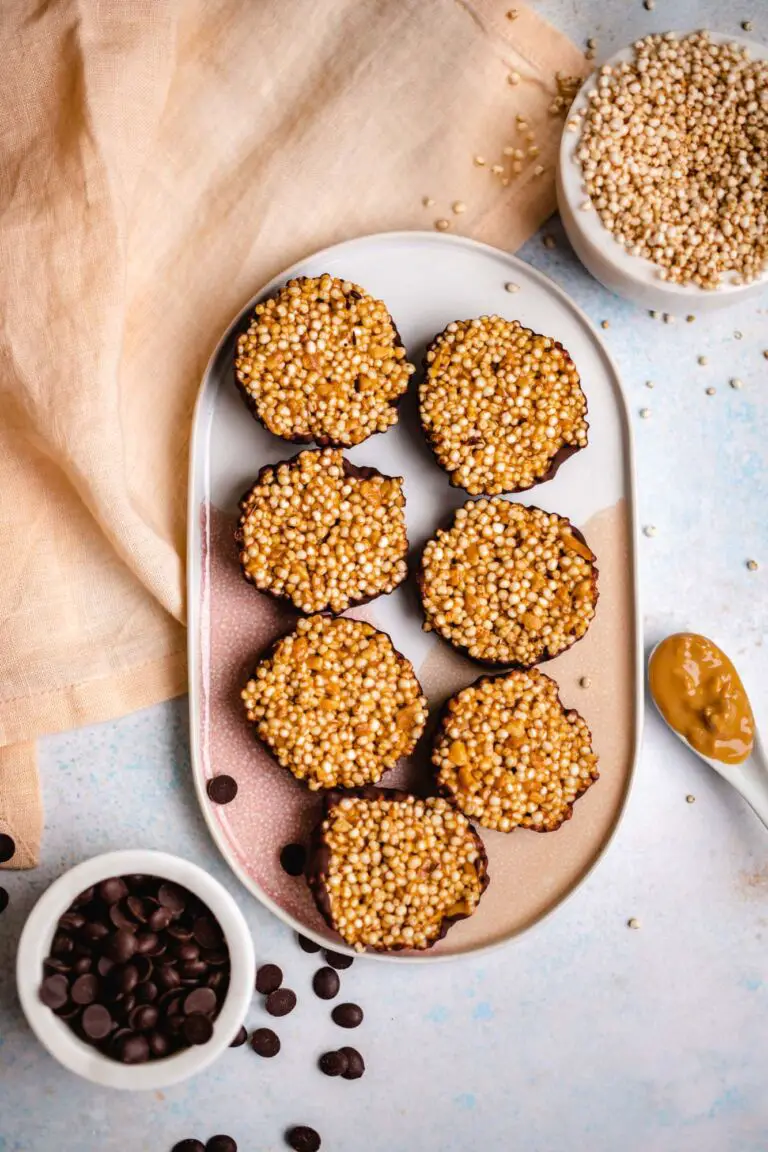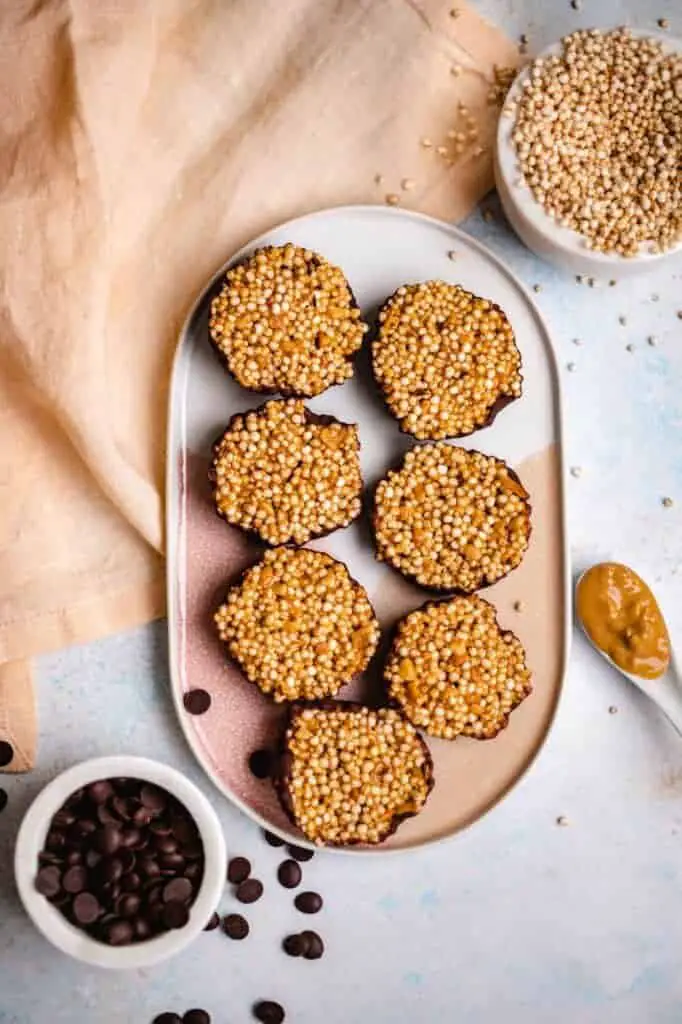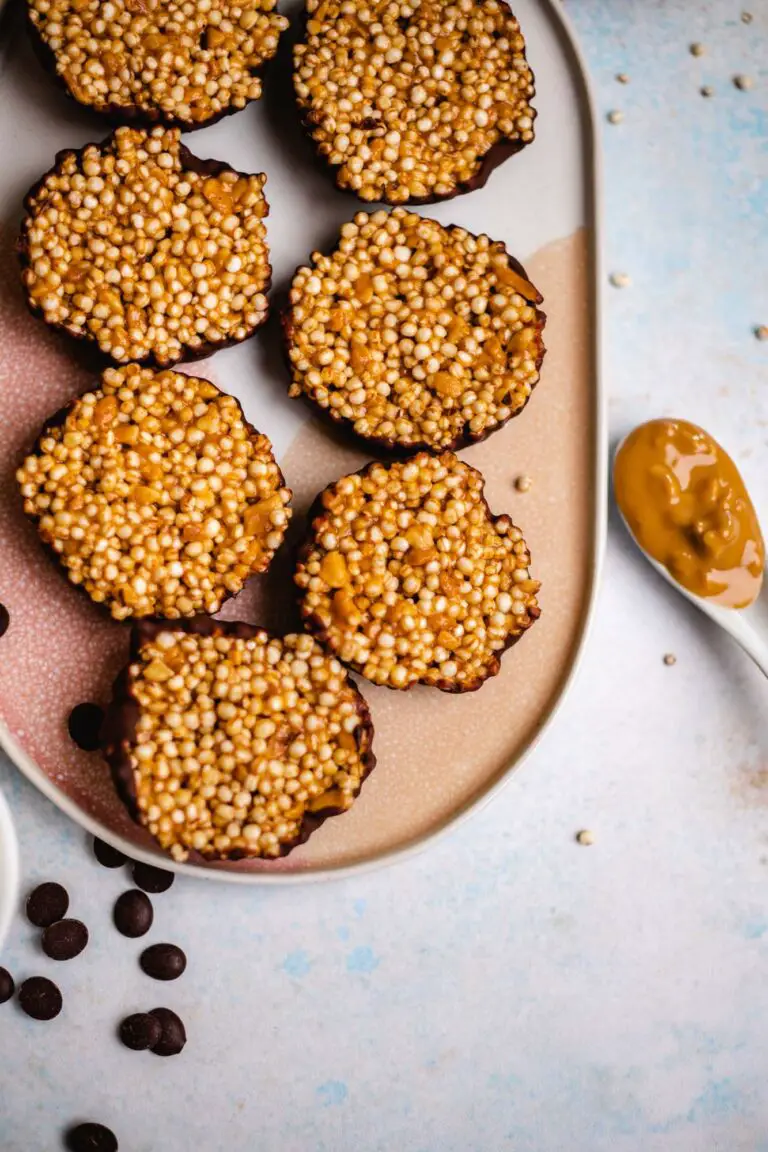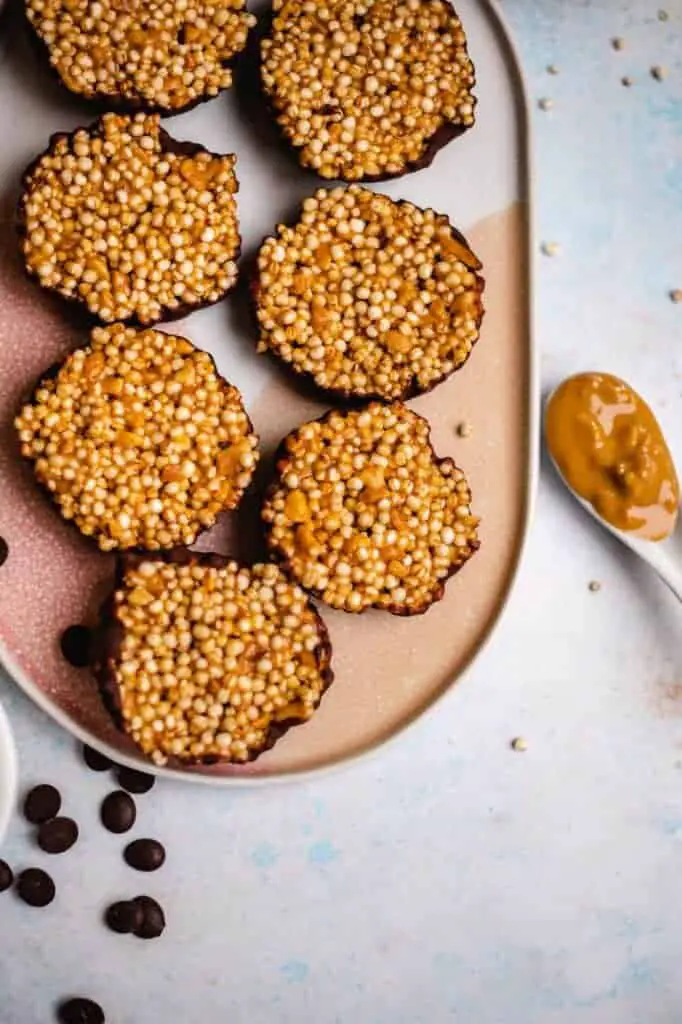 Our snack today really couldn't be simpler. Puffed quinoa, maple syrup, peanut butter and bourbon vanilla. This is all made into a fine measure and pressed into muffin tins. Then it also goes straight into the freezer and in the meantime the chocolate is melted. Finally, dip in and let chocolate set. Sound simple? It is.
You can't really go wrong with this recipe, however there is one thing that is a little tricky and that is filling and flattening the quinoa mixture into the ramekins. For this purpose, your fingers should be slightly moistened, otherwise the dough will stick easily. Also, be sure to solidify the quinoa bites in the freezer before coating with chocolate. Otherwise, they are too soft and difficult to remove from the molds. But that's all and the rest is really easy.
TIP: You can use either fine peanut butter or the crunchy variety. Both varieties work wonderfully for this recipe. If you are using a peanut butter without salt, then I recommend adding a pinch of salt.
Healthy vegan snacks without sugar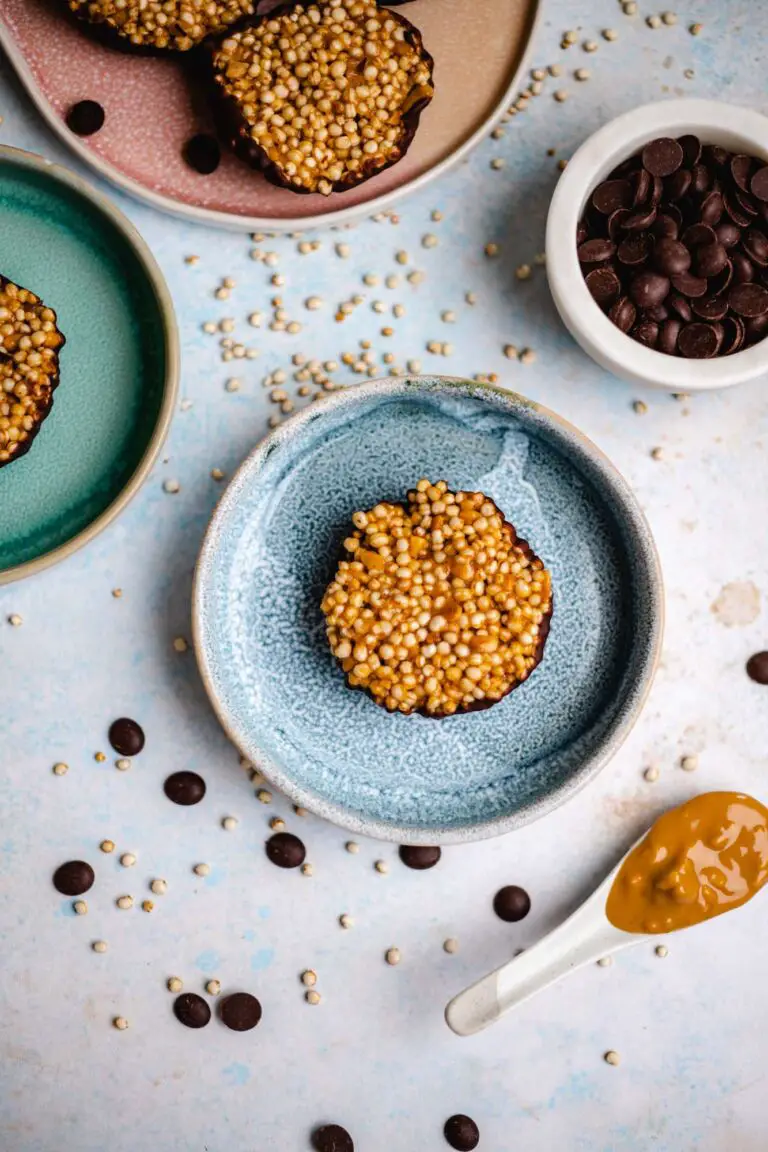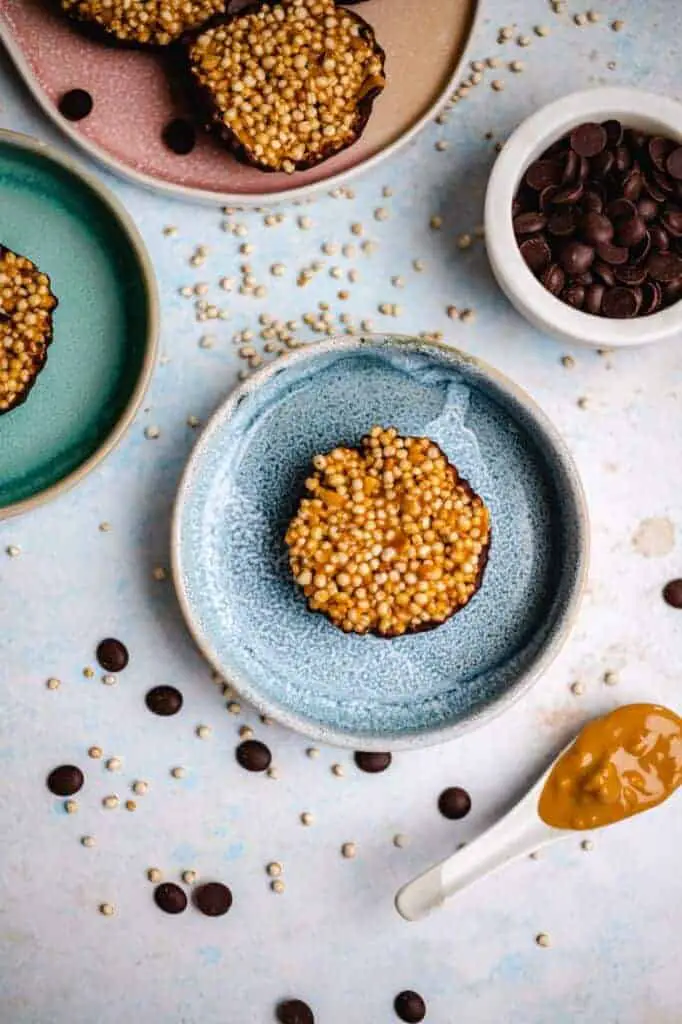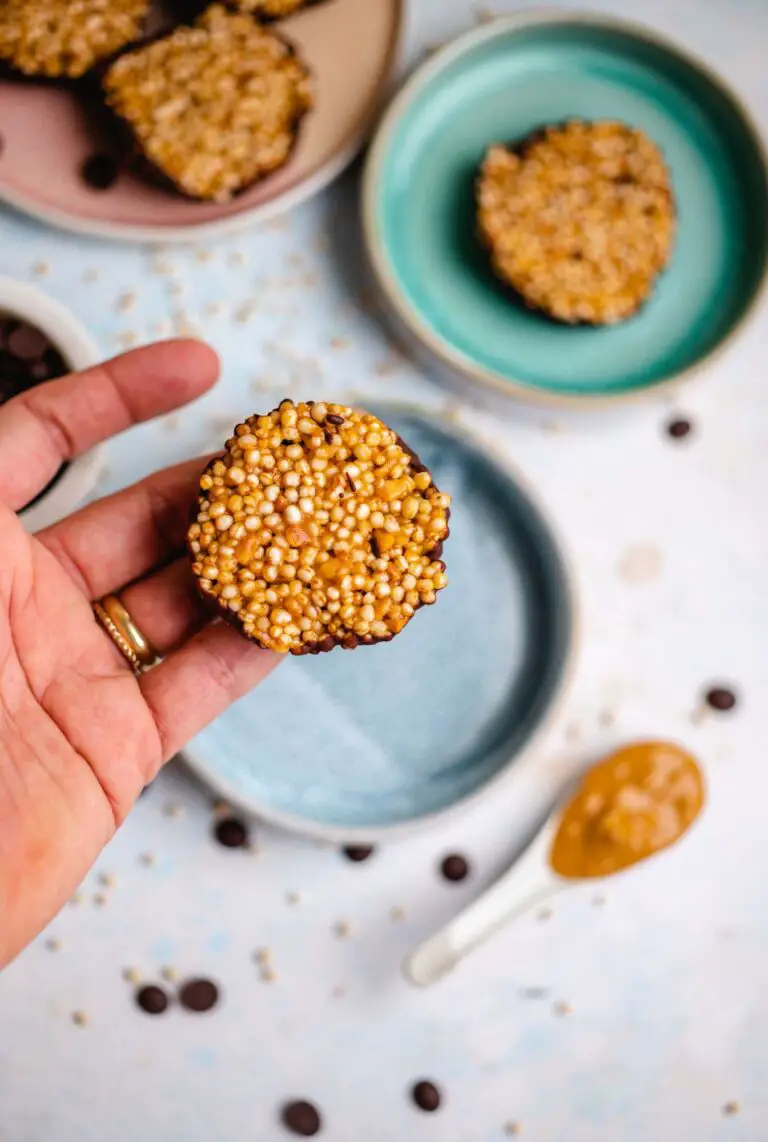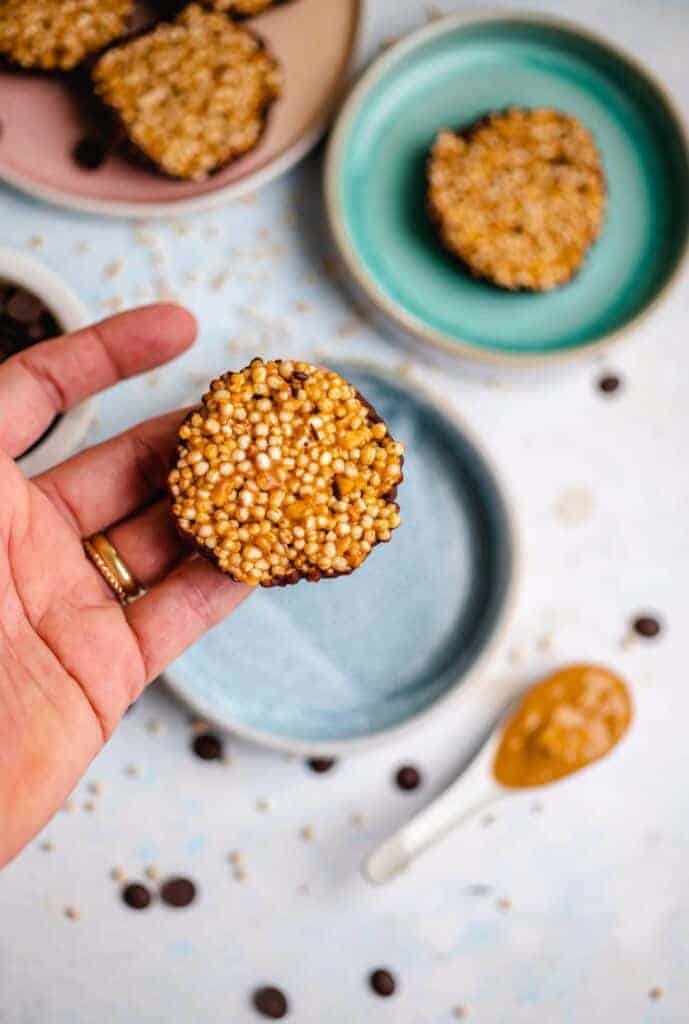 For those who do not like quinoa, I recommend puffed spelt, amaranth, rice or millet as a substitute.
If you're in the mood for another healthy snack today, I recommend the following alternatives:
Matching the healthy snacks is a delicious drink like a hot chai chocolate, hazelnut milk orimmune booster latte.
The quinoa bites (5 ingredients) are:
chocolaty
Naturally sweetened
nutty
soft
Quickly made
Let's go with this dream of quinoa and nut puree. I wish you a lot of fun baking and of course a review at the bottom of this page. If you post a picture, use the hashtag #veganevibes.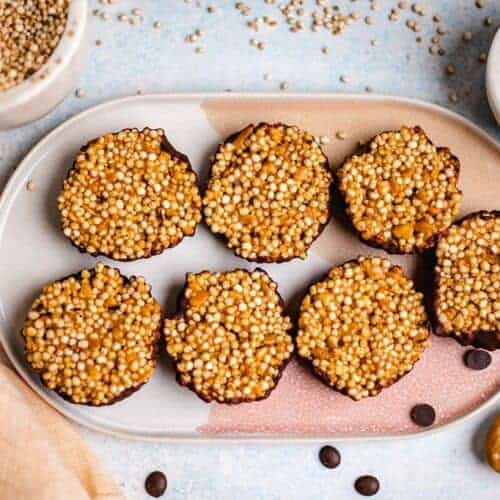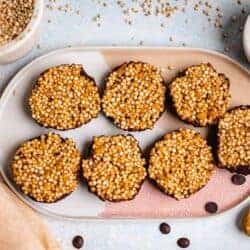 Quinoa bites (5 ingredients)
Craving a healthy, naturally sweetened snack? Then these fine quinoa bites are just the thing for you. Few ingredients, quickly made, soft, nutty and chocolaty. Gluten-free, naturally sweetened, oil-free and vegan.
AUTOR: VEGANEVIBES
Anleitung 
Provide 12 muffin cups and a small bowl of water.

Provide a large bowl, pour in Puffed Quinoa, Peanut Butter, Maple Syrup and Bourbon Vanilla and stir gently until well combined.

70 g Puffed quinoa,

120 g Peanut butter,

60 ml maple syrup,

¼ tbspn Bourbon vanilla

Divide quinoa-peanut butter mixture evenly among the 12 muffin cups. Slightly moisten fingers and gently press down. Place in freezer and allow to set for at least 2 hours or overnight.

Once the bites are firm, carefully melt chocolate over a water bath.

80 g dark vegan chocolate coating

Dip quinoa peanut butter bites and place on a draining rack (or on baking paper). Allow chocolate to set and enjoy!

Store in the freezer or refrigerator for up to four weeks. Enjoy cold!
Nährwertangaben
Serving:
1
Piece
Calories:
129
kcal
Carbohydrates:
12
g
Protein:
4
g
Fat:
8
g
Saturated Fat:
3
g
Polyunsaturated Fat:
2
g
Monounsaturated Fat:
3
g
Sodium:
47
mg
Potassium:
109
mg
Fiber:
2
g
Sugar:
6
g
Vitamin A:
1
IU
Calcium:
12
mg
Iron:
1
mg