Healthy date muffins are the answer for those who want healthy, sugar-free alternatives. Lately, I keep getting the hint that I should offer more healthy and sugar-free recipes. In doing so, one must " sugar-free " must first be defined. I mostly use raw cane sugar because I consider it a cheap and natural alternative to refined sugar. However, some readers would like alternatives that also do not contain raw cane sugar. No sooner said than done, I got right to work making these fine muffins. They are sugar-free and also flour-free. However, to be fair, dates are also full of sugar. However, this one is a bit different because it comes in a total package with lots of fiber, minerals and vitamins. I'd say let's get right to it.
Healthy date muffins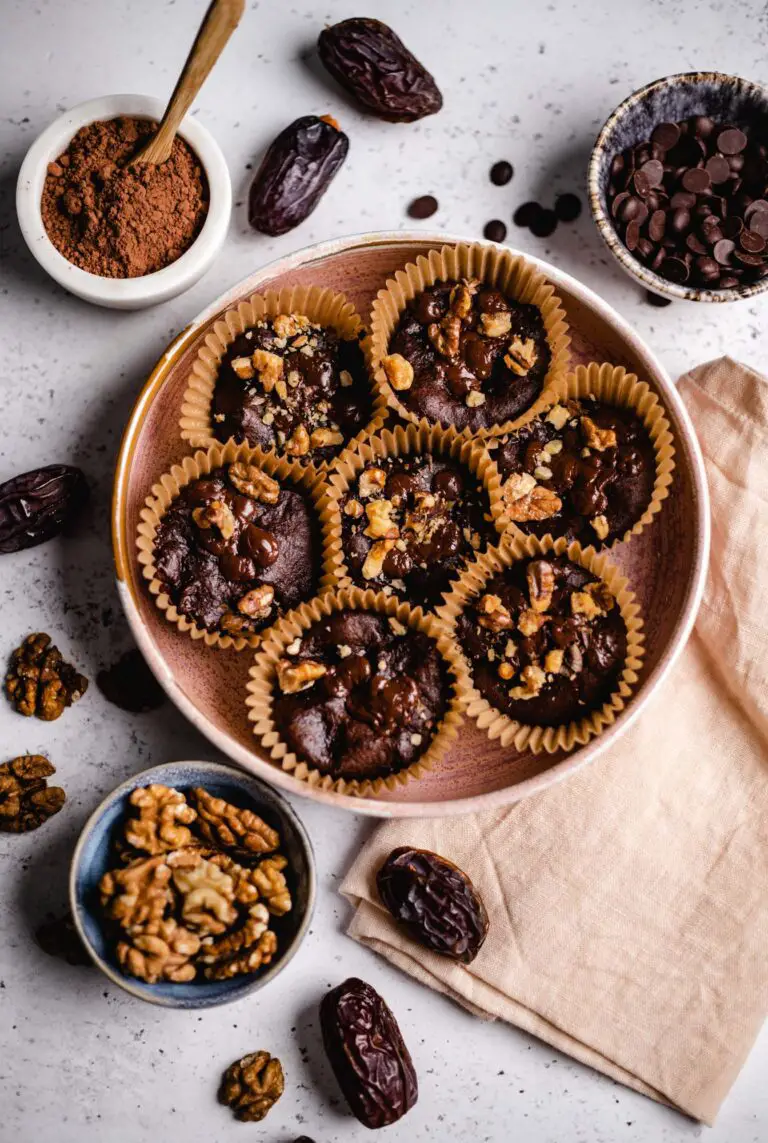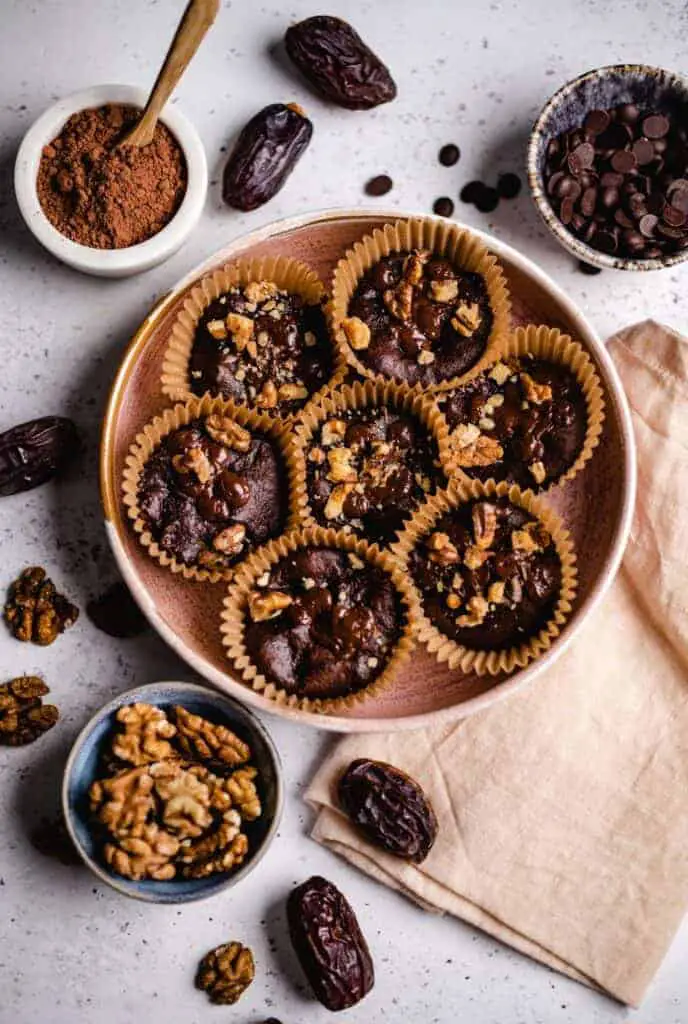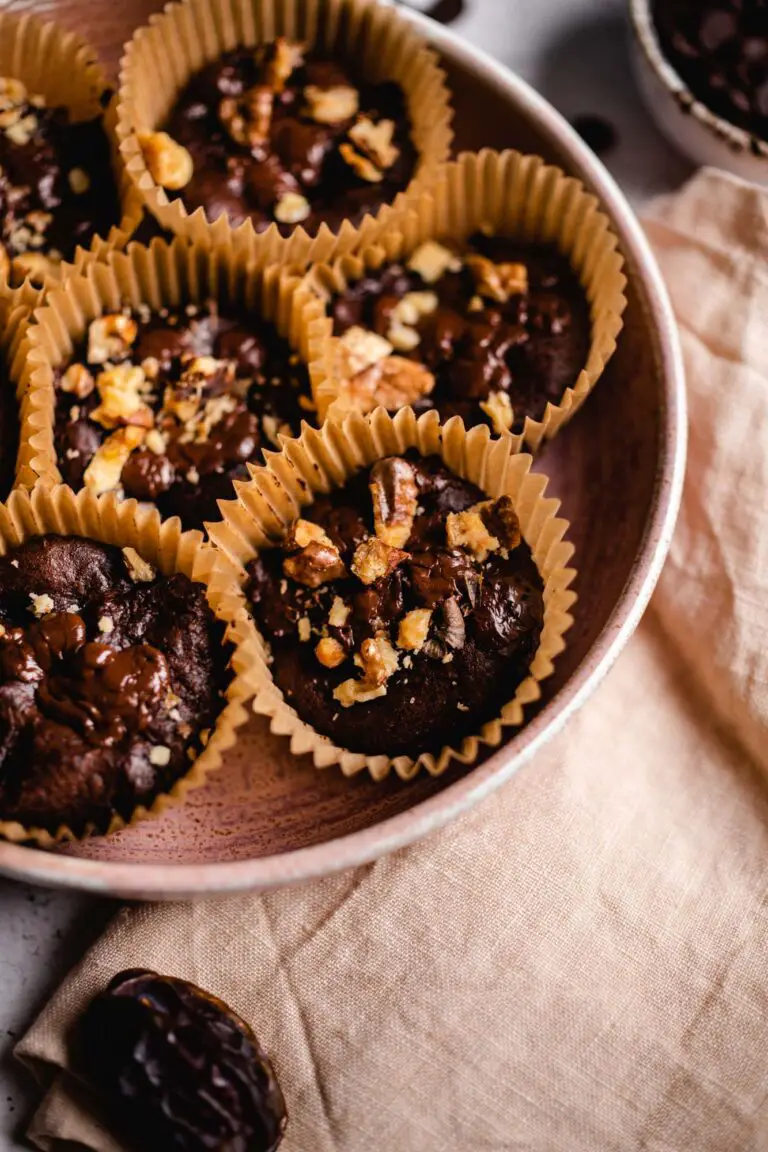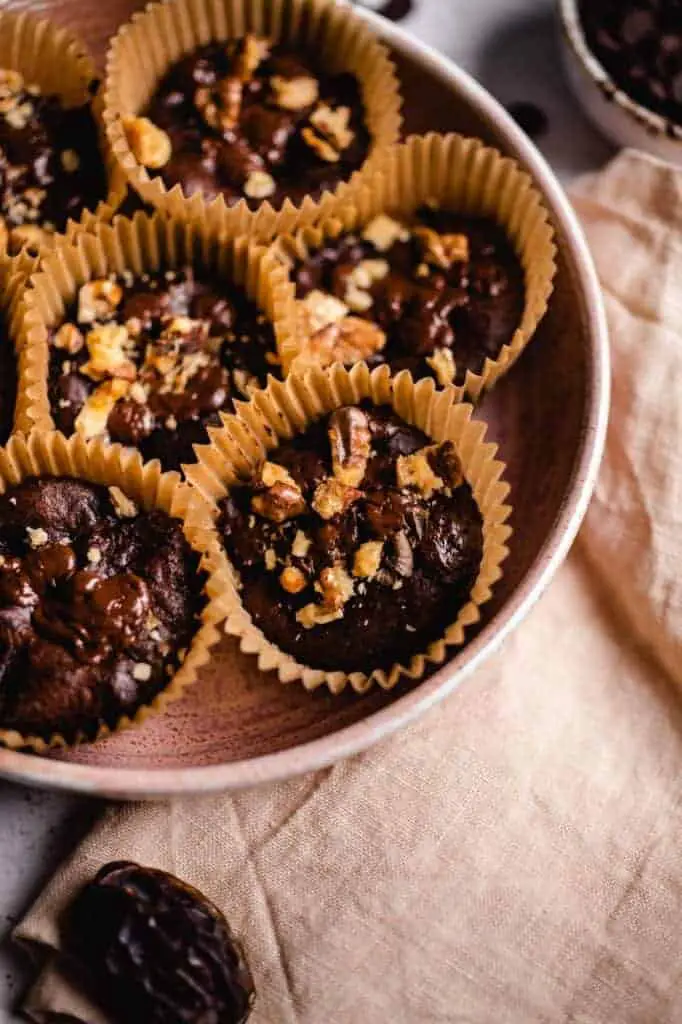 Actually, I was going to name these muffins "sugar free". Before that, however, I typed "what sugar-free actually means" into Google and got all sorts of different answers. For some, everything is sugar-free that no refined sugar includes. For others, there should be virtually no sugar at all, and then there are those who have their own definition of " sugar-free " and like to use sugar substitutes or sweeteners.
To be honest, I have a bit of a hard time with the term "sugar-free" because there is definitely sugar in dates, coconut blossom sugar, and many other alternatives. This is definitely not the case with erythritol and xylitol, but in return these sugar alternatives have no nutritional value and provide absolutely no minerals, vitamins or phytochemicals. Strictly speaking, they are not sugar either, but sugar alcohols. As you can see, the topic of "sugar-free" is complex, so I'll just say now that these muffins are "naturally sweetened" but definitely not "sugar-free".
TIP: I always buy my dates in a 5kg box and store them in the fridge for several weeks. You can buy them individually in the supermarket, but they are usually more expensive. Dates are also a wonderful snack pure and rich in valuable minerals. Here I buy my 5kg box (unpaid advertising).
Bake healthy vegan muffins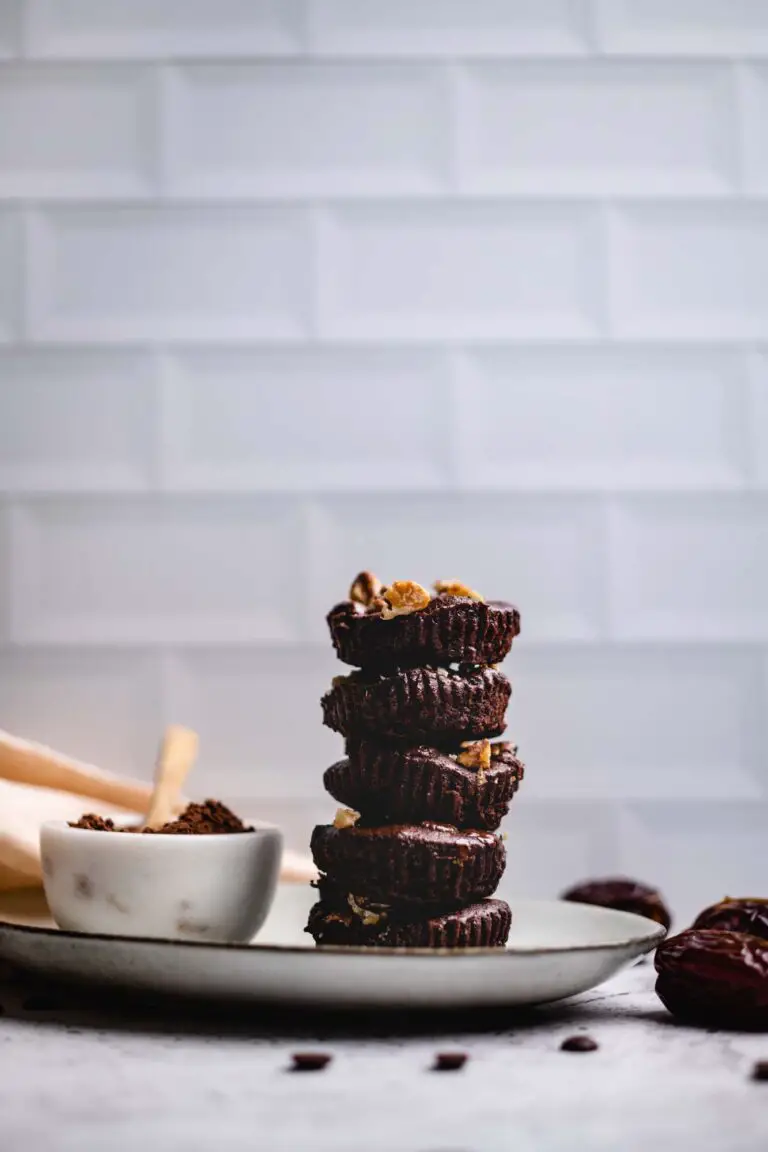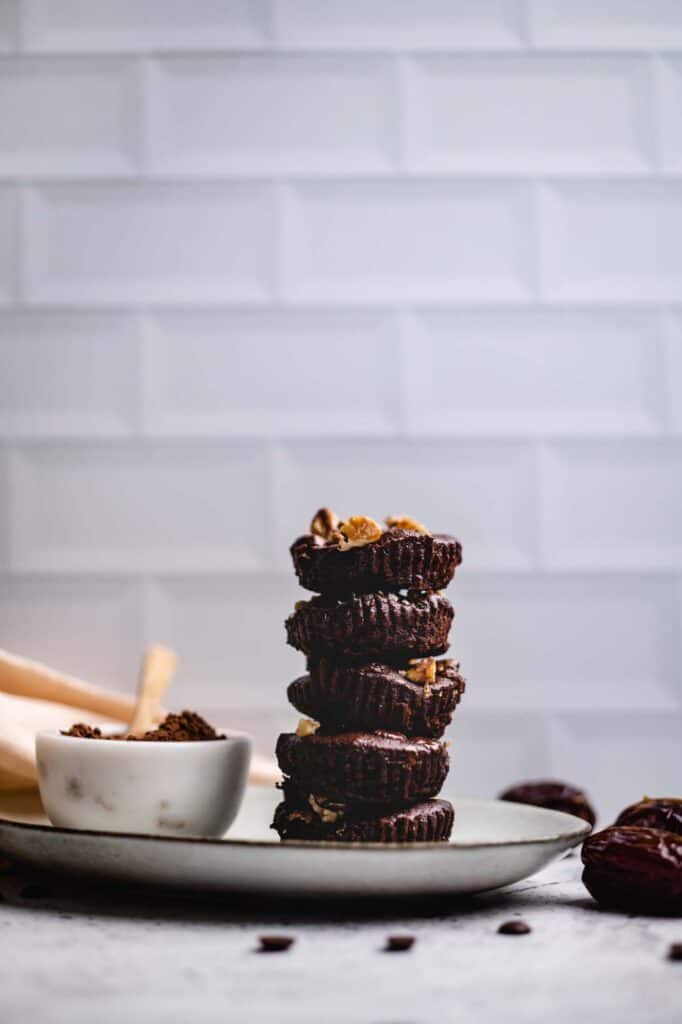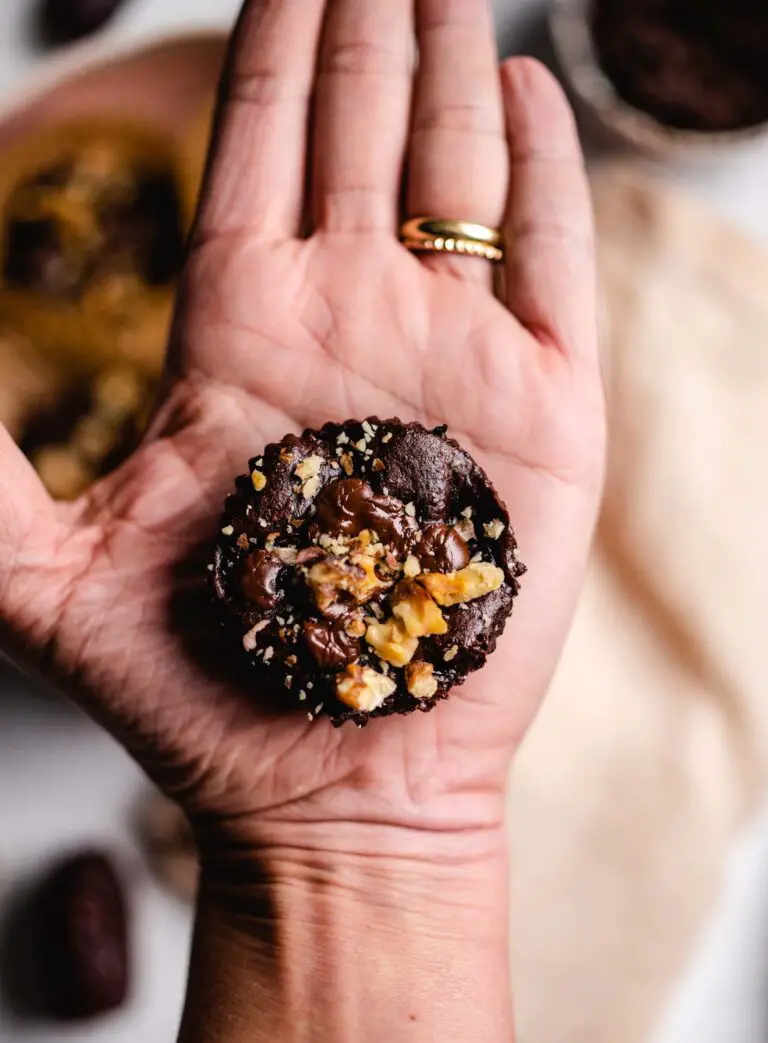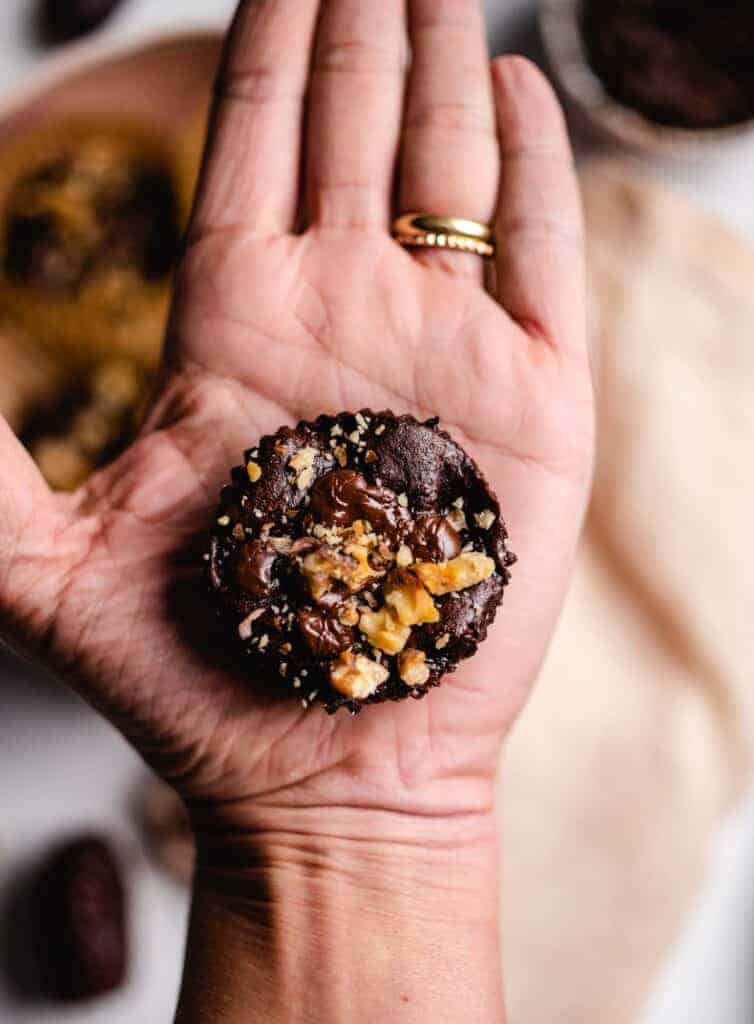 Please forgive me for being so long on the subject of sugar in this recipe. Let's get to the real star in this post and that is the healthy muffins. For this we need dates, water and nut puree, which is processed in a blender to a fine paste. Add cocoa, flaxseed meal, baking powder, salt and bourbon vanilla. Now mix the ingredients into a fine batter and pour into muffin tins. I top it with chocolate drops and nutsand off it goes into the oven. After 15-20 minutes of baking time, the little beauties are also ready. Just let them cool and they are ready to be snacked on.
If you're in the mood for a different muffin variation today, I have the following suggestions for you:
Pair these healthy muffins with a warming hot beverage like a vegan golden milk, hot chocolate or Pumpkin Spice Latte.
The healthy date muffins are:
soft
chocolaty
fudgy
Naturally sweetened
Quickly made
Let's go with this dream of dates and chocolate. I wish you a lot of fun with the Nachbacken and of course via a rating at the very bottom of this page. If you post a picture, use the hashtag #veganevibes.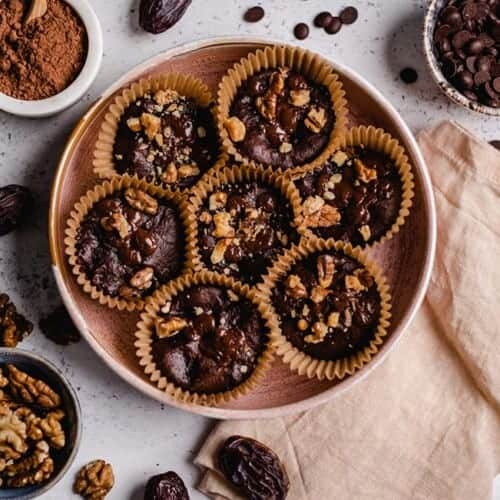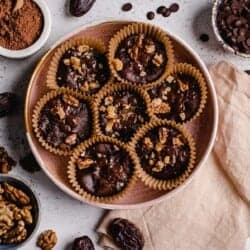 Healthy date muffins
Healthy and delicious muffins that are whole without flour and refined sugar. Dates, nutmeats and cocoa and bourbon vanilla make these super sweet and delicious muffins. Ideal for those looking for naturally sweetened snacks. Gluten-free, grain-free, oil-free and vegan.
AUTOR: VEGANEVIBES
Anleitung 
Preheat oven to 175 degrees C (195 degrees F) and line muffin tin with paper cups. It also works without paper cups, but be sure to grease the muffin tin.

Place Medjool dates, water and nut puree in a food processor (preferably with an S-shaped knife) and blend to a fine paste.

170 g Medjool dates,

60 ml Water,

120 g Nut puree

Add cocoa powder, flaxseed meal, baking powder, salt and bourbon vanilla and mix to a fine dough.

38 g Cocoa powder,

1 tbspn Flaxseed meal,

2 tbspn Baking powder,

A strong pinch of salt,

½ tbspn Bourbon vanilla ground

Using 2 tablespoons, divide batter evenly between 11-12 muffin cups and top with chocolate drops and walnut pieces.

Place in the oven and bake for

15 minutes

, until the muffins have run out and look dry on the surface.

Remove from oven and let cool completely. enjoy!

Place remaining muffins in a resealable box and store in the refrigerator for up to 5 days.
Nährwertangaben
Serving:
1
Muffin
Calories:
160
kcal
Carbohydrates:
16
g
Protein:
4
g
Fat:
11
g
Saturated Fat:
1
g
Polyunsaturated Fat:
4
g
Monounsaturated Fat:
5
g
Sodium:
21
mg
Potassium:
255
mg
Fiber:
4
g
Sugar:
11
g
Vitamin A:
24
IU
Vitamin C:
1
mg
Calcium:
66
mg
Iron:
1
mg